In most, if not all grilling groups and forums, charcoal grills rule supreme. 'Purists' say you do not get a proper BBQ flavor on a gas grill, it's cheating, you may as well use your kitchen oven, etc.
So, in this article, we'd like to weigh in on the debate and discuss charcoal vs gas grills.
What is the reality? Which is better? Is there a better one? Or does each type suit different people, or different situations, better than the other only some of the time.
Let's consider the pros, the cons, the contrasts, and comparisons of each.
Note: This is one in a series of 4 grill comparison articles where we compare the different fuel types, so we also invite you to check out: Pellet Grill vs Charcoal Grill, Pellet Grill Vs Gas Grill, and Electric vs Gas Grill.
Charcoal Vs Gas Grill: Contrasts and Comparisons
In the following sections, we take a close look at some of the key factors in buying and using a grill, and how they apply to the choice of using charcoal or gas as a fuel.
Impact on Final Flavor
Words used to describe the flavor imparted by charcoal: "smoky," "rich," "earthy."
Words used to describe the flavor imparted by propane: "There are none. Propane is naturally odorless which has an additive that does have an odor to alert users to leaks. (If you find your gas-grilled meat does occasionally taste odd, check to be sure the fuel is flowing properly.) By contrast, being made from wood, charcoal has a suite of aromatics."
What people like about charcoal is that the rich, meaty taste of a steak is given an added depth of flavor from the smoke. Of all the different types of grills, most would agree that charcoal imparts the very best flavor.
Propane can only give you a cooked version of the meat's flavor. For Joshua Bousel of SeriousEats, the sight of smoke coming from a gas grill only reminded him of the smoky flavor that could've been, if only it had been a charcoal grill. Seasoning will have to provide any additional flavor you may want to have.
Initial Cost
The basic cost of a charcoal grill ranges from dirt cheap to sticker-shock high. Gas grills start at pricey and go up to let's-talk-financing pricing, with the best natural gas grills also typically a shade costlier than propane fueled.
If you opt to connect to your domicile's gas line, depending on your setup, local codes, and the cost of materials and labor (unless you're a DIYer), browsing estimates online suggests an average of $700.
Operating Costs
Charcoal grills require a very steady supply of renewable fuel. A 3-hour grilling session would need at least one refill. By contrast, if using gas, grilling could continue nonstop. Cost considerations would include the type of charcoal used, grill size, and frequency of grilling.
How much grilling can be had from a propane tank? There are several factors, but CWanamaker of Delishably provides a formula to help you figure it out.
In one example, it worked out to a month per tank. But, for a few hundred bucks, connect grill to domicile's gas line, and you're good to go as long as you pay the bill.
Ease of use
A gas grill is ready to cook within minutes of pushing the start button. By contrast, charcoal takes a good 15 to 45 minutes which is far longer to get going. So the best gas grills win on convenience.
Then with charcoal grills, there's the extra stuff to haul out like a chimney starter, briquettes or lumpwood, and firelighters. And then the grill has to be brought up to the right temperature. Learning how to use a charcoal grill properly is not an exercise for the impatient cook.
Clean-up is the least favorite part of grilling. Both grill types require soap, water, and scrub brushes. Both should be thoroughly cleaned inside and out at least once a year. The gas grill has more pieces (deflectors, burners) to be taken apart, individually scrubbed, rinsed, and dried before being put back together.
The charcoal grill only has the grate and the pans. A gasser can be cleaned while it's cooling down but for safety's sake, the charcoal grill should be allowed to completely cool before dumping ashes. This may take a while.
There are products on the market for cleaning both types inside and out. For a charcoal grill, some consider a ball of foil the only equipment needed for cleaning.
Versatility
Gas grills need additional hardware for smoking (See our article on converting one into a smoker).
The cost of an inbuilt or freestanding smoker can run from a few dollars to a few hundred. Smoking requires adjusting gas flow and burner controls.
By contrast, a charcoal grill mostly only needs a lid, some wood, and a pan of water to make ridiculously good smoke-enhanced food. Both types can be used to roast foods and can be set-up for 2-zone grilling.
Temperature Range
A charcoal grill can operate from extremely low to searing (+1200° F) temperatures.
J. Kenji López-Alt of Serious Eats notes though that there's rarely a need for such extreme temperatures; the 225 °F to 600 °F range of a gas grill neatly covers most grillers' needs.
Temperature Control and Management
Learning to manage the temperature of charcoal grills takes time and involves arranging the pieces of fuel, tweaking vents to control airflow, and a few other variables.
By contrast, gas grills with their simple to operate gas burners are an excellent source of evenly controlled heat that you can instantly control with the simple turn of a knob.
But you'll still need to learn the cool and hot zones on your model, the best configuration of temperature settings across all burners, and be comfortable adjusting the gas flow.
Charcoal Vs Gas Grill: A Great Video Comparison
The most significant comparisons are neatly summarized in the following video from Reviewed.com which is worth a look.
Summing It All Up
To summarize what we've discussed so far, and what was shown in the video:
Charcoal Grills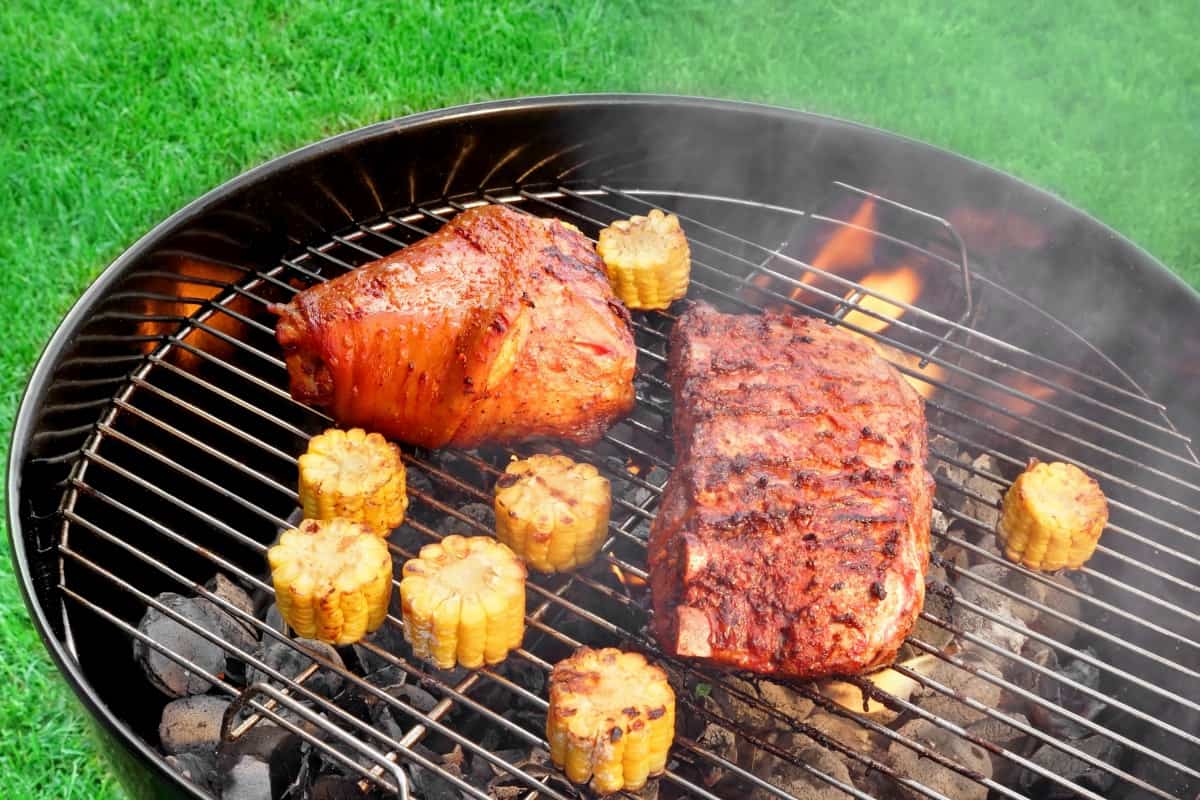 What We Like About them
The lovely blue smoke that means enhanced flavor to whatever cooks
A better range of prices than gas, making a better fit for different budgets
The ability to produce higher temperatures when charcoal grilling, needed for a good sear
What We Don't Like About Them
They can be messy
Having to come back hours later to clean it
Smoke getting in our eyes, lungs, hair
Cost of the fuel
Having to replenish fuel multiple times during a long cooking session
They are Best Suited to Those Who
Are fans of the whole primal thing
Like to travel and grill (gas grills can travel too, they're just not as pack-and-go friendly)
Think it's not 'cue if there's no real charcoal
You May Prefer Gas if…
You like quick meals on the grill
Your domicile runs on gas
You're uncomfortable pumping toxic gases into the atmosphere
You don't feel the need for super hot temperatures
Gas Grills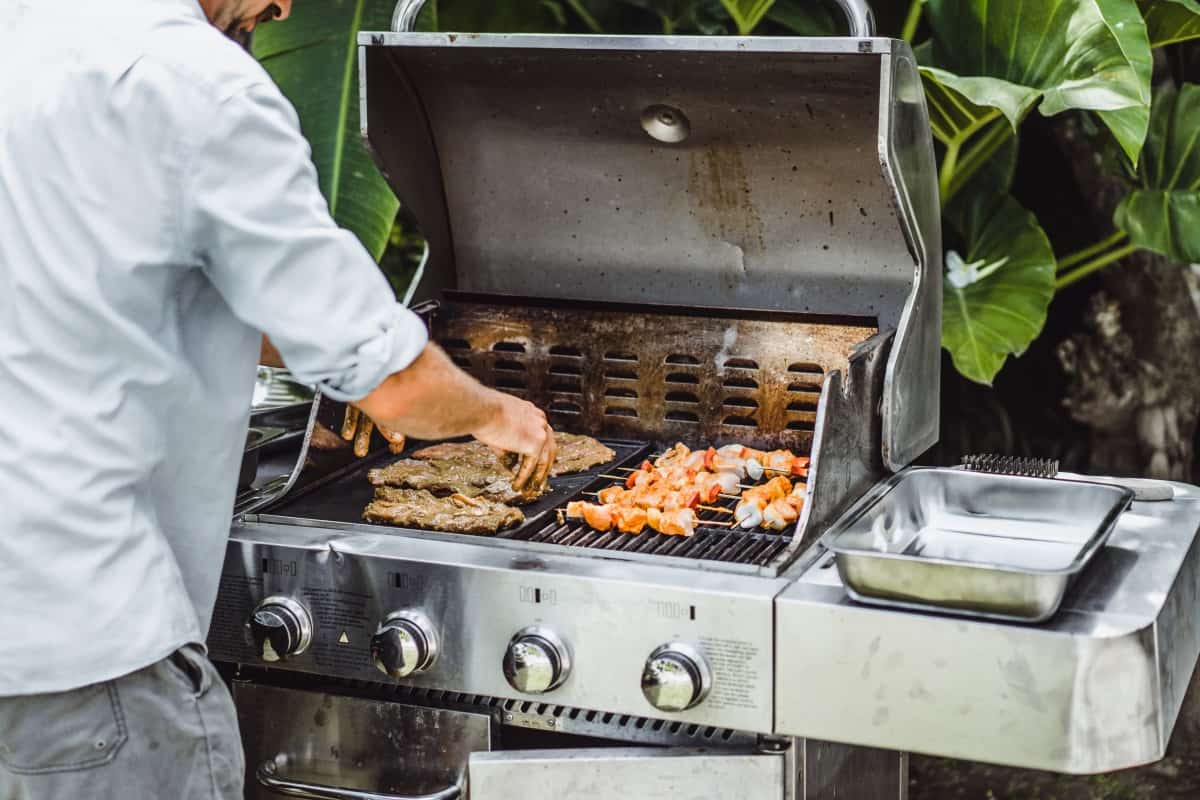 What We Like About Them
Short start-to-serve time
Fast clean-up
Unrestricted grilling (see note below)
No toxic gases contributing to global warming
What We Don't Like About Them
Working harder to get a smoky flavor
Low upper temp (<500) makes searing nearly impossible
The potential risk of leakage which can create serious health issues. According to MedlinePlus of the U.S. National Library of Medicine, these include nausea, dizziness, nervousness, vomiting, increased heart rate, weakness, and fever.
They're fueled by a highly flammable substance
They are Best Suited to Those Who
Can take or leave smoke flavor
Like quick meals from the grill
Hate waiting hours to clean up a grill
You May Prefer Charcoal if…
You're leery of handling a volatile substance (gas)
Smoke flavor is non-negotiable
You want to try (cold) smoking nuts, fish, or cheeses
Conclusion
Like beans in chili and sauce on brisket, Charcoal vs gas will continue to be a topic over which good friends can come to blows. Staunch supporters from both camps will be happy to tell their view.
The open flame, smoked flavor, and fast cooking (super hot temps) make charcoal grilling and charcoal grills our favorite kind of barbecue. But we're happy with either and here at FoodFireFriends own both charcoal and propane grills. As long as you're grilling, you're winning 😉
What about you? Have you firmly taken your stand on one side or is there room for consideration of a broader view?