Here's our hands-on review of the Z Grills Multitasker 11002B pellet grill with Wi-Fi, including unboxing, assembly, and performance assessment.
Have you ever heard that phrase, "jack of all trades, master of none"? Some people and some products are good at many things but truly great at nothing. And sometimes, that's fine. Like a weekend warrior DIYer or a Swiss Army knife, not the best candidates for the job but usually sufficient to get it done.
Some products (and some people) claim to be so good at everything you don't need specialized gear, like the Z Grills Multitasker 11002B pellet grill.
Join me as I go in-depth and hands-on with a brand new 11002B, from unboxing to clean-up and everything in between. By the time we hit the final period, you'll know whether the Z Grills Multitasker 11002B pellet grill is the right one for you and if it's worth the money.
Z Grills calls it "the ultimate grilling experience" and promises "grill mastery made simple." Mastery, eh? We shall see.
Disclosure: Z Grills were displaying this grill in a 'home and garden exhibition' local to me, when they asked me to come and pick up this grill for free, in exchange for a review. But all thoughts and opinions are honest and my own.
Z Grills 11002B Pellet Grill Review — Key Takeaways
It's a sturdy grill with unrivalled build quality at this price point: It's built like a tank!
Ease of use couldn't be more straightforward.
It's well sealed with a gasket right around the lid, double walled construction for insulation, and hence highly fuel efficient.
It hits cooking temperatures fast, is accurate and holds temperature well.
'Super Smoke' setting is great for adding extra smoky flavor! A direct answer to many peoples complaint that pellet grills do not impart enough smoke.
The Wi-F- capability is a nice addition, and though the smartphone app is good for monitoring and control, the app is simple and needs some work.
Overall, we are happy to recommend this grill, and have found it excellent value for money!
First Impressions
Z Grills 11002B Multitasker Wood Pellet Grill and Smoker with PID Controller and Wi-Fi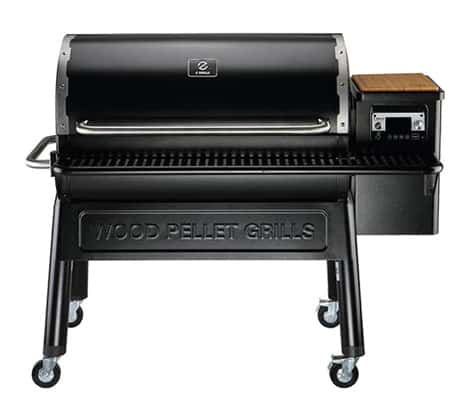 A large capacity, 'built like a tank', well insulated and fuel-efficient wood pellet grill with a few nifty features.
The PID controller ensures accurate and stable temperatures. Double walled body with lid gaskets holds in smoke and heat. The Wi-Fi capability allows you to control and monitor the grill from a smartphone app. And a front shelf, included bamboo cutting board and two meat probes included round out this excellent package from Z Grills.
I like the design. It's instantly recognizable as a pellet grill with looks similar to offerings from Traeger and Weber, and has attracted compliments from friends that have seen it.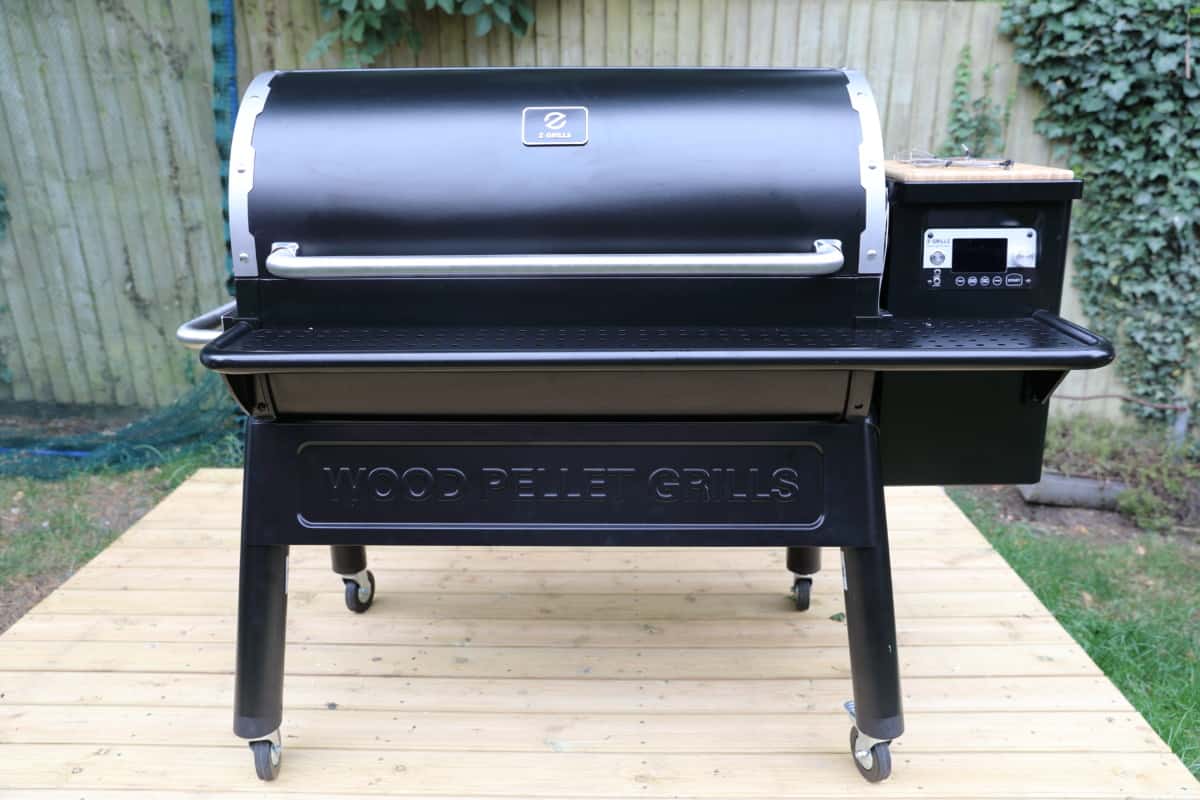 But if you expect to be floored by the great looks and flashy exterior of the Z Grills Multitasker 11002B pellet grill, you will likely be disappointed.
It's almost entirely matte black powder-coated steel, and the closest thing to a design flourish is the silver strips of metal on either side of the lid.
I actually find the embossed "WOOD PELLET GRILLS" comically decorative. Like it's from ACME, and the Coyote just ordered it to cook up some beer can Roadrunner. I would prefer it if it didn't have this detail, but it's easily ignored and I've already gotten to the point where I don't see it.
But, it looks sturdy as heck with the sawhorse-style construction, casters, tubular handles, and large front shelf. It appears well-made and practically engineered — and there's not a darned thing wrong with that.
Now, let's get into detail.
Overview and Core Features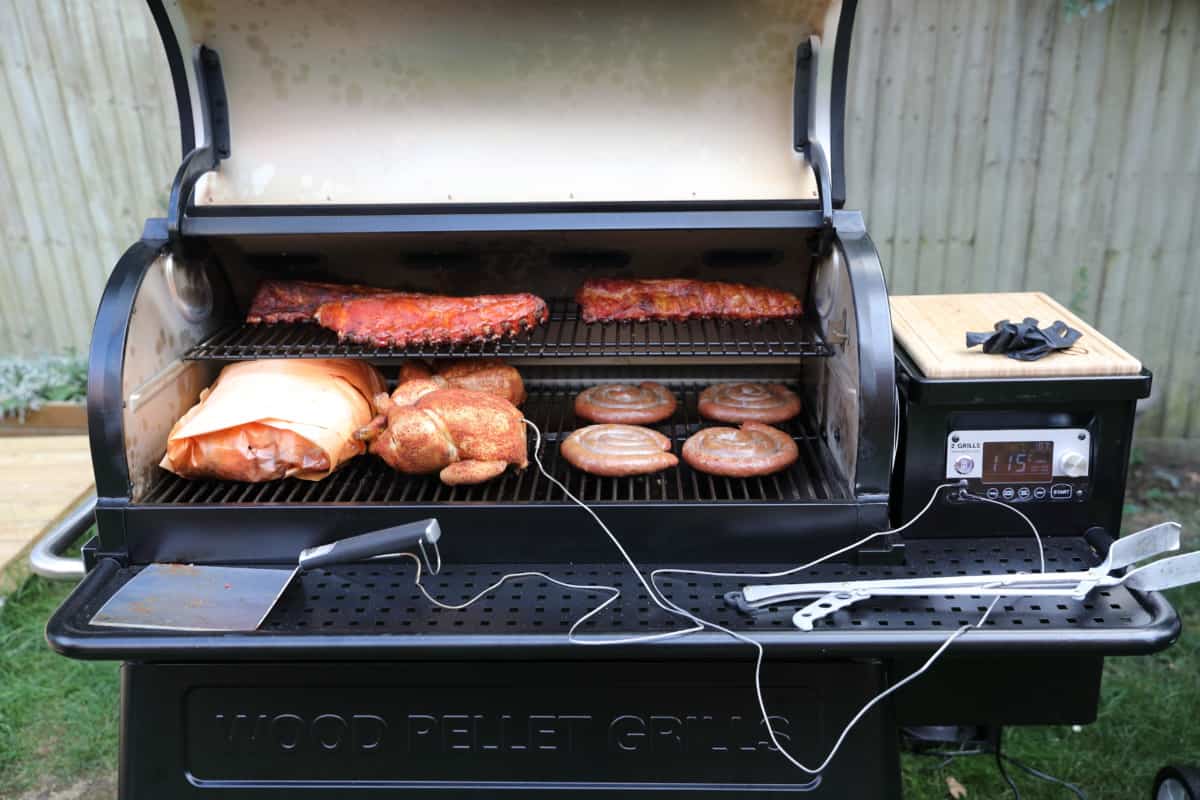 The Z Grills Multitasker 11002B pellet grill is, obviously, a pellet-fueled grill and smoker.
The large hopper holds up to 28 pounds of wood pellets, allowing for extended smoke sessions without reloading.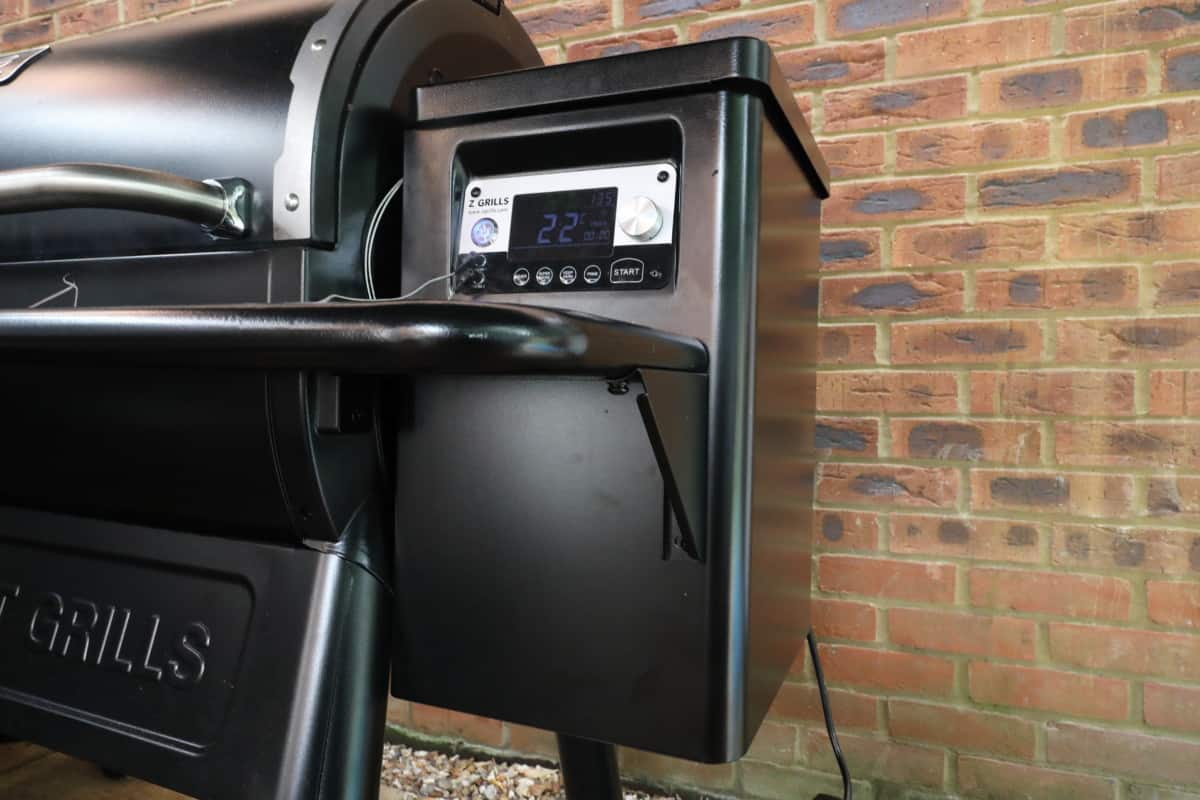 Should you wish to switch to another type of wood before the hopper is empty, use the pellet cleanout door on the rear of the hopper to drain the pellets. (where you will also find a handy power cable tidy!)
All your cooking parameters are set and monitored through the built-in PID controller. From here, you can set target temperatures for any cooking style, from low and slow to grilling.
The controller has ports for up to two meat probes (included) for ongoing real-time doneness readings. Meanwhile, the controller also maintains your target temperature, automatically adding pellets to the firepot as needed.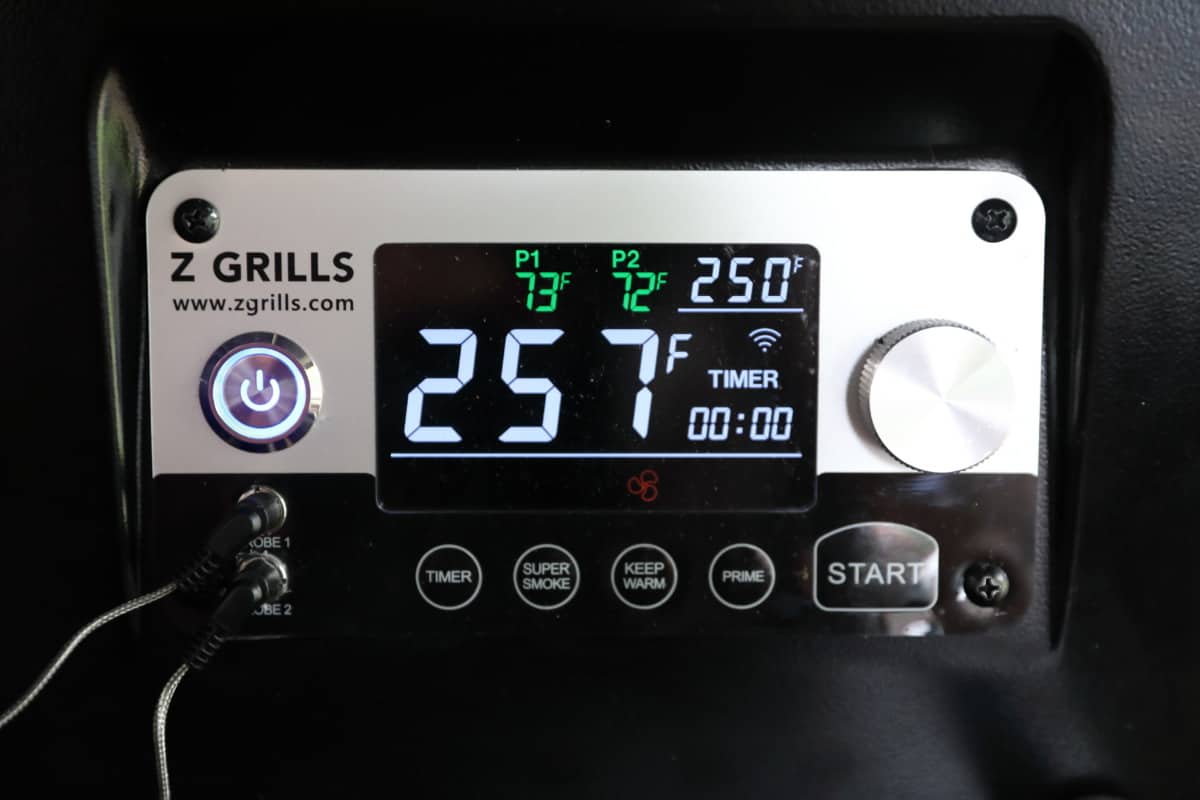 Inside the spacious cook chamber, you'll find a two-piece main cooking area and a one-piece upper warming and cooking rack. Both are made of porcelain-coated steel and combine for 1068 square inches of cooking space.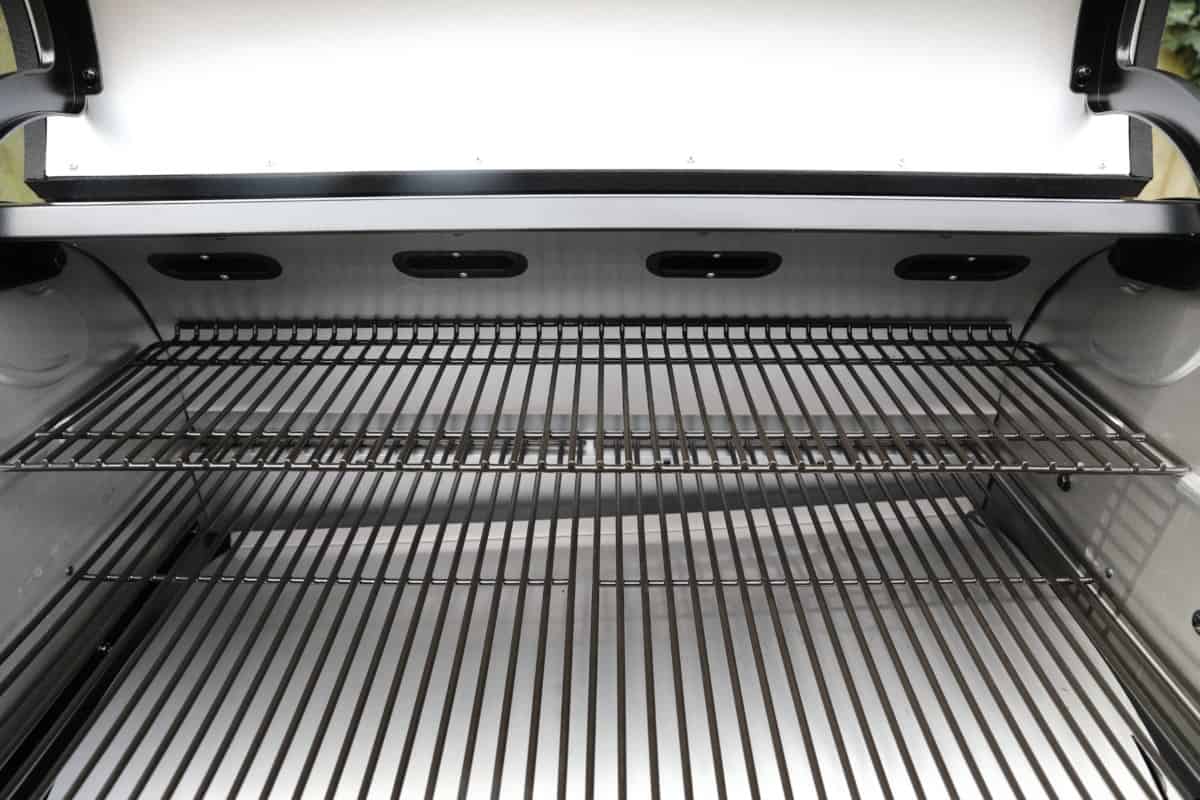 Cooking is accomplished through indirect heat; pellets burn in the small firepot at the bottom center of the cooking chamber, and the heat deflects in all directions. It's not unlike a convection oven in that sense. Thanks to the excellent gasket seal on the lid, the Z Grills Multitasker 11002B really holds in the heat and the smoke.
One of the key features of this pellet grill is the Wi-Fi-enabled controller. Z Grills has a free app available for Android and iOS that allows you to set, monitor, and tweak your cooking session from your phone. You can ignore it, of course, and do everything from the base unit, but it's a handy addition that frees you up to go about other tasks. Like opening a cold one and watching the game.
Additional convenience features include Super Smoke mode for low-temperature smoke-infusion, Keep Warm mode to keep cooked food hot and ready, and the Prime feature for quickly feeding the firepot or cleaning out pellets from the auger if need be.
Manufacturer's Specs
Here's how the Z Grills Multitasker 11002B specs out:
Main Cooking Surface: 693 square inches
Secondary Cooking Surface: 375 square inches
Total Cooking Surface: 1068 square inches
Fuel: Wood pellets
Hopper Capacity: 28 pounds
Temperature Range: 160–500 °F
Weight: 192 pounds
Height from Grill to Lid: 12 inches
Exterior Dimensions (L, W, H): 57" x 32" x 47"
Wireless Connectivity: Bluetooth & Wi-Fi
What We Like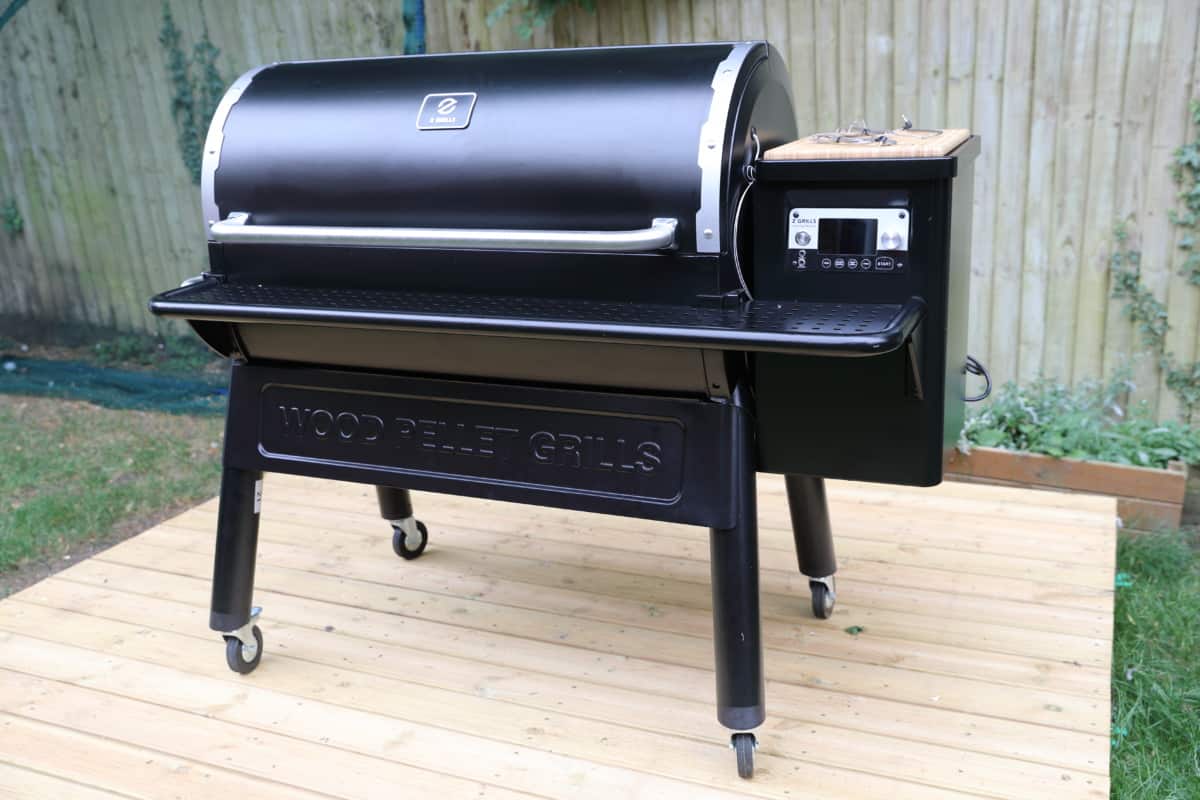 It's built like a tank! Very solid construction, with double walls and lid, thick tubes for legs and around the front shelf, and for the price point thick metal all around.
The seal around the lid is excellent, helping keep smoke inside, hold the temperature more efficiently, and improving fuel efficiency, which results in less money spent on pellets over the long run.
There's lots of room inside in all three dimensions, opening up many possibilities for cooking larger items or lots of food simultaneously.
Z Grills provides two food probes to connect to the controller, saving you the hassle and added expense of purchasing one or both separately.
Despite its large size and weight, it's easy to roll the 11002B where you want it, thanks to the four robust swivel casters and an end handle.
It's very easy to position the upper rack where you want it, at least in terms of whether it's towards the back or the front, with the warming rack sliding effortlessly back and forth.
The spacious front shelf provides a lot of space for utensils, rubs, sauce, and more. And the addition of a cutting board on top of the hopper makes for a useful bit of workspace that I have used again and again.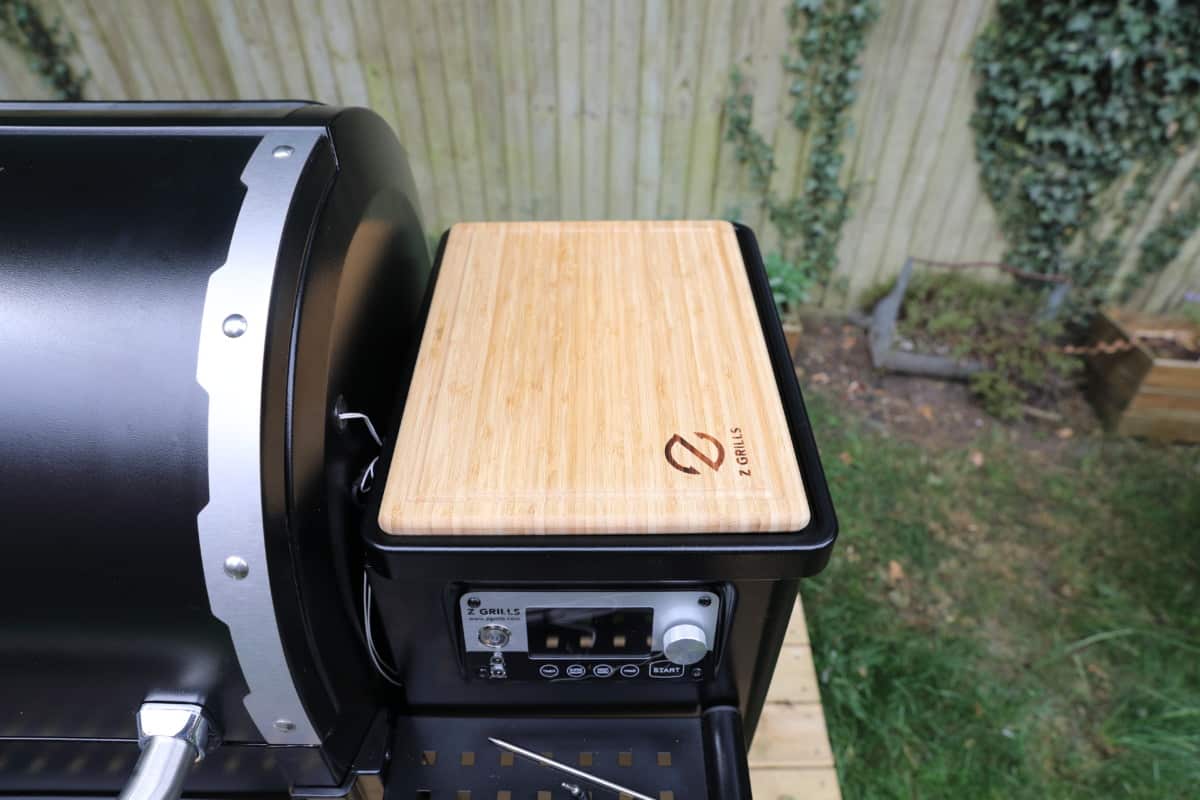 What Could Be Improved
The Z Grills app can clearly be improved! As a first-go effort it does what it needs to do in that it allows you to monitor your cook remotely, change your cooking temperature, and turn the grill off if need be. But it doesn't have many features compared to competitors' offerings.
I also suspect the app is repurposed from an off-brand smart home app for controlling smart home devices, like Wi-Fi light bulbs and power plugs?
Secondly, 'real' searing is difficult to achieve without direct flame access, regardless of what Z Grills says in its FAQ section. You CAN sear; it is hot enough at 500 °F, but it's not comparable to direct flame grilling.
Who is this Grill Best Suited to?
If you dislike the taste of smoke on your food, this is not the grill for you. Go get a gas grill or electric grill. But if you love smoky flavor and want more of it, you're reading the right review.
People who enjoy (or would like to learn more about) cooking a variety of foods will get a lot out of owning the Z Grills Multitasker 11002B pellet grill. It smokes without the hassle of tending a wood fire, roasts without needing a separate thermometer, and grills without the fear of flare-ups. That's a lot of positives in one paragraph!
Also, anyone with limited outdoor space will be thrilled with how much they can accomplish with a single unit. And, it's ideal for people who are easily distracted or prefer socializing with other humans to babysitting a grill.
Z Grills 11002B Multitasker Wood Pellet Grill and Smoker with PID Controller and Wi-Fi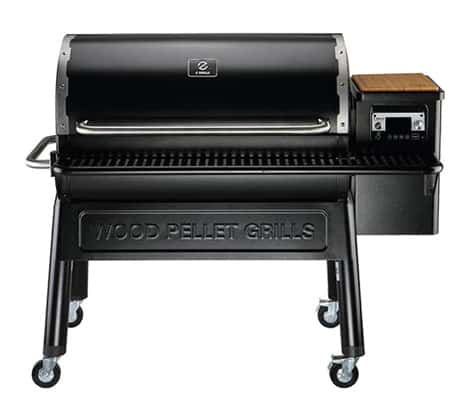 A large capacity, 'built like a tank', well insulated and fuel-efficient wood pellet grill with a few nifty features.
The PID controller ensures accurate and stable temperatures. Double walled body with lid gaskets holds in smoke and heat. The Wi-Fi capability allows you to control and monitor the grill from a smartphone app. And a front shelf, included bamboo cutting board and two meat probes included round out this excellent package from Z Grills.
Unboxing and Assembly
Time for the not-really-that-fun part! Unboxing is cool, but I can't say I enjoy building a new grill tremendously, though firing it up the first time is always a treat. Let's see what's in the box and how well this thing goes together.
What's In The Box
Inside the huge box — if you have it delivered, like as not, it'll come on a skid — you'll find a warranty card (more about that later), an owner's manual, a user's manual for the app, and a shrink-wrapped card with all the nuts and bolts required for assembly.
Also included on the card are a small Phillips screwdriver and a double-ended wrench for those who might not have these basic tools already.
Z Grills kindly provides two stainless steel meat probes to connect with the built-in PID controller.
And as a nice bonus, you'll find a wooden cutting board branded with the Z Grills logo. It fits neatly on top of the hopper lid and looks pretty great in addition to being functional.
Oh, and obviously, all the pieces needed to construct your new Z Grills Multitasker 11002B are packed in there, too.
Ease of Assembly
Given the size of this grill, I expected to struggle at least a bit to get it all together. However, I can happily say this wasn't the case. Assembly was not difficult, with all parts clearly labeled and all the holes lining up neatly.
A lot of the assembly is actually pre-done for you! In the user guide, there are instructions for assemble and attachment of the hopper, auger mechanism and more, but this is already assembled and attached to the main grill body in the box. So the hardest part is already done, which is nice.
Here are two assembly tips for you:
There are a lot of screws, so I highly recommend having a cordless drill available.
It's heavy, so you'll probably want someone to help you stand it upright once the casters are in place.
Overall Build Quality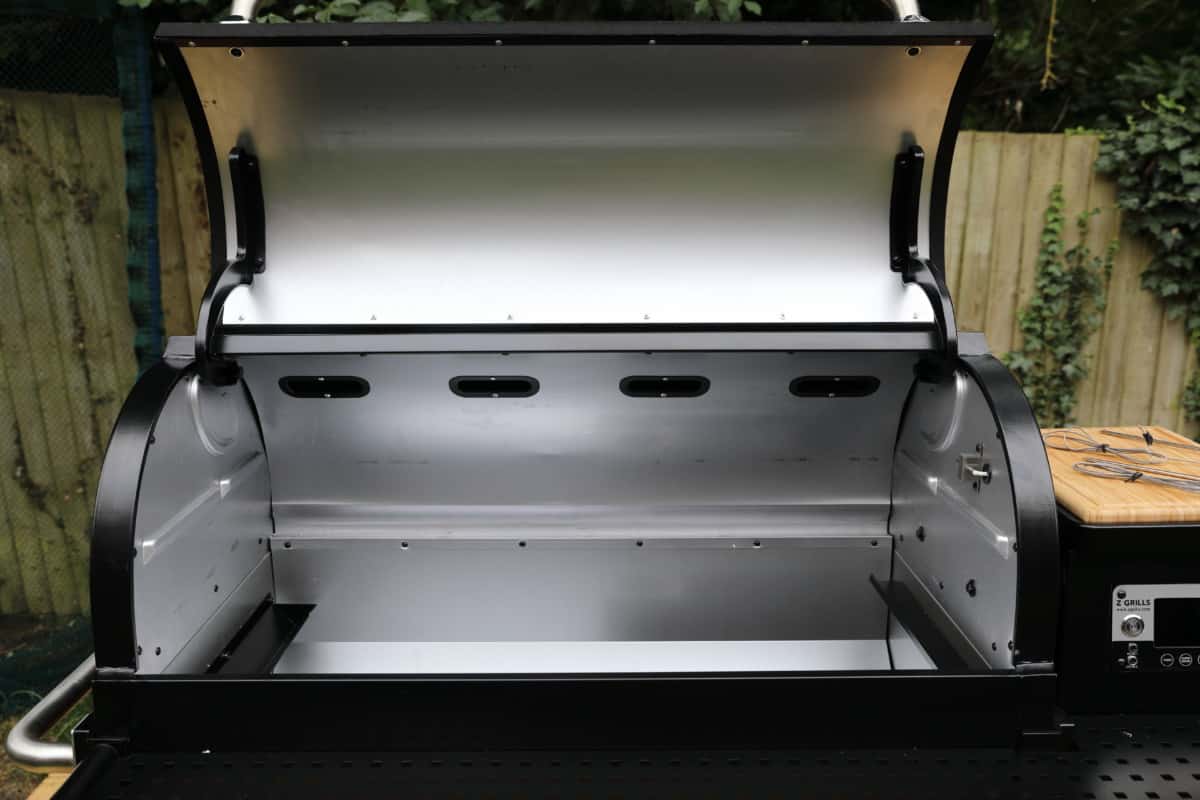 I am not the first to say this, nor will I be the last: the Z Grills 11002B is built like a tank!
It weighs nearly 200 pounds, which is no surprise since it's made of powder-coated steel. Inside the cook chamber, everything is double-walled for excellent heat retention.
The wire cooking racks are also made of steel and coated with porcelain. Wire racks aren't my first choice for the main cooking surface; cast iron does a better job at giving you the perfect sear due to the increased surface area and superior heat distribution. Still, it's standard fare for pellet grills, so I won't quibble overly.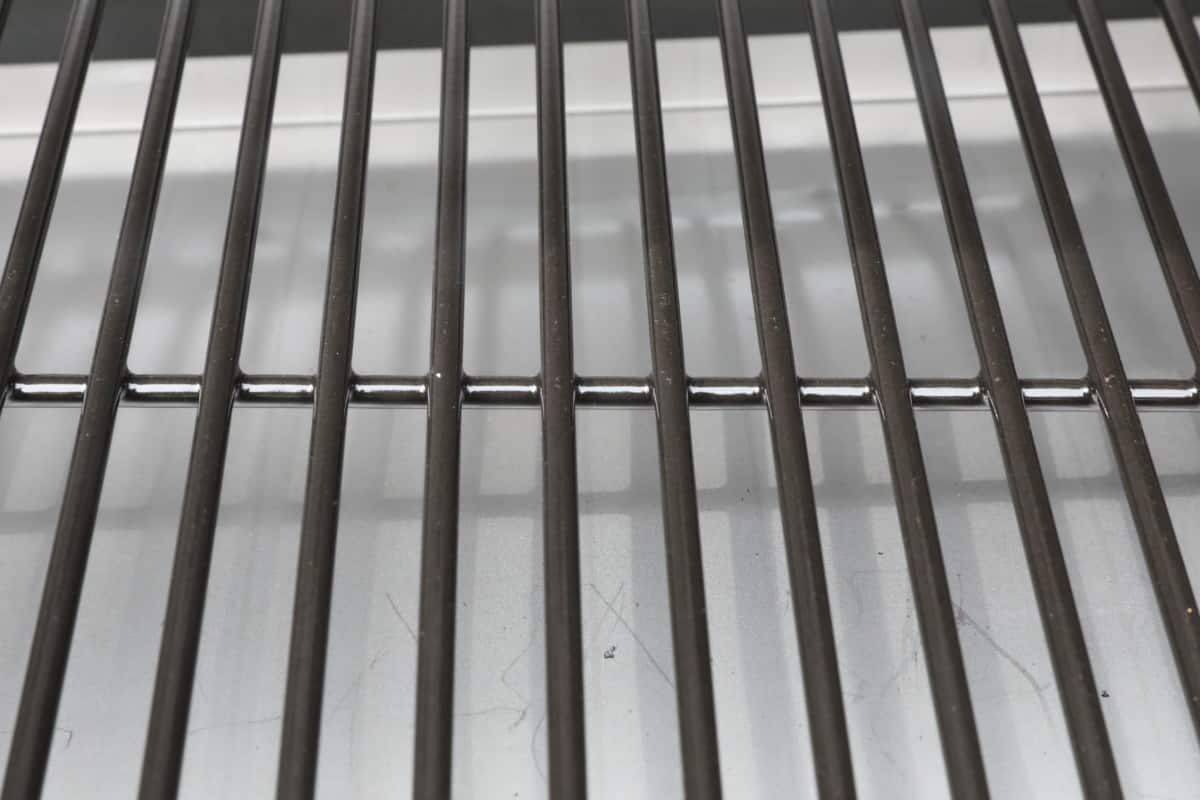 Everything about this grill says it means business, and it's built to last. The tubular legs are solid and sturdy, the four swivel casters are heavy-duty, and end brackets amply support the front shelf.
I also love the impressive lid gasket. It runs the entire lid perimeter where it meets the body for as close to an air-tight seal as you'll find without a locking mechanism.
This gasket means more smoke inside, less leaking out, and fewer pellets wasted trying to keep up the temperature.
Z Grills Multitasker 11002b User Experience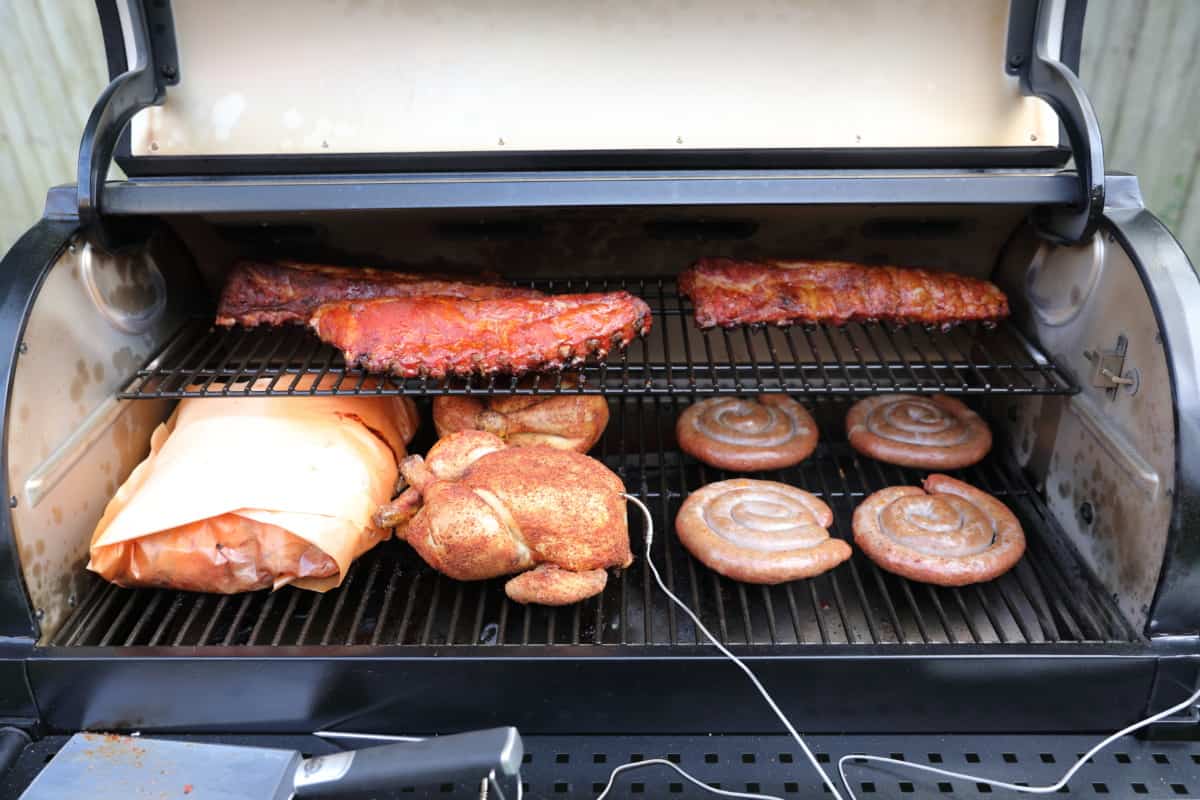 Some reviews quit before they get to this point. Not this one! I own this grill, so I can tell you firsthand how it performs.
For my inaugural cook, I went all out and cooked a brisket point, two large whole chickens, three racks of baby back ribs, and some spicy boerewors, as seen in the image above.
So how do I find it during use? Let's break it down into key categories.
Overall Ease of Operation
Even someone new to pellet grilling should find the Z Grills Multitasker 11002B easy to get up and running. It's as easy as loading the hopper with your pellets of choice (up to 28 pounds), turning on the power, and pressing the START button on the PID controller.
From there, just dial in your target temperature on the controller or smartphone app (more on that in the next section). I like that you have to press the control knob to make changes, reducing the chance of accidentally messing up a cook session with an unplanned "adjustment."
The PID controller is smart enough to determine if the fire has gone out and will reignite should the temperature drop below 120°F.
Shutting down is just as easy as starting up; hold the START button for three seconds, and the automatic shutdown sequence engages, while the display shows 'OFF' in large letters.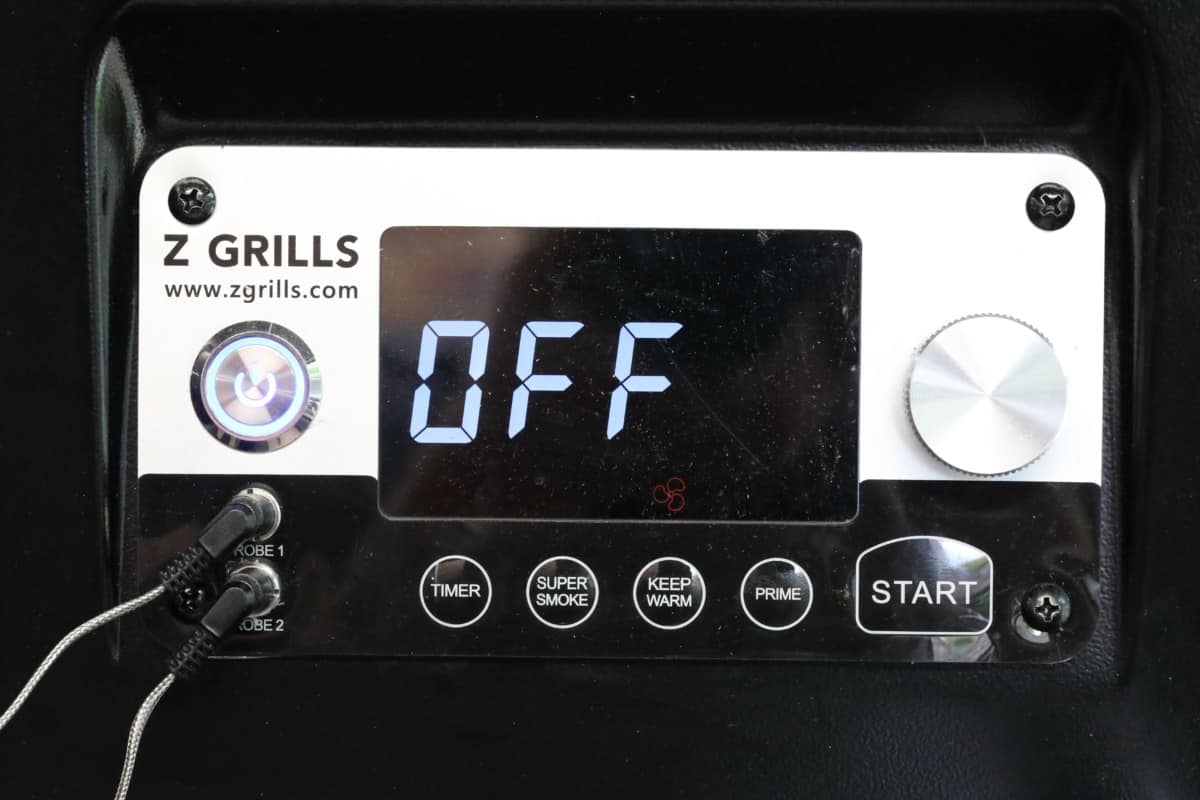 In the shutdown sequence, the fan is left running for approximately 15 minutes, to ensure all pellets in the firepot are burned out, and to cool the grill down. Piece of cake!
The PID Controller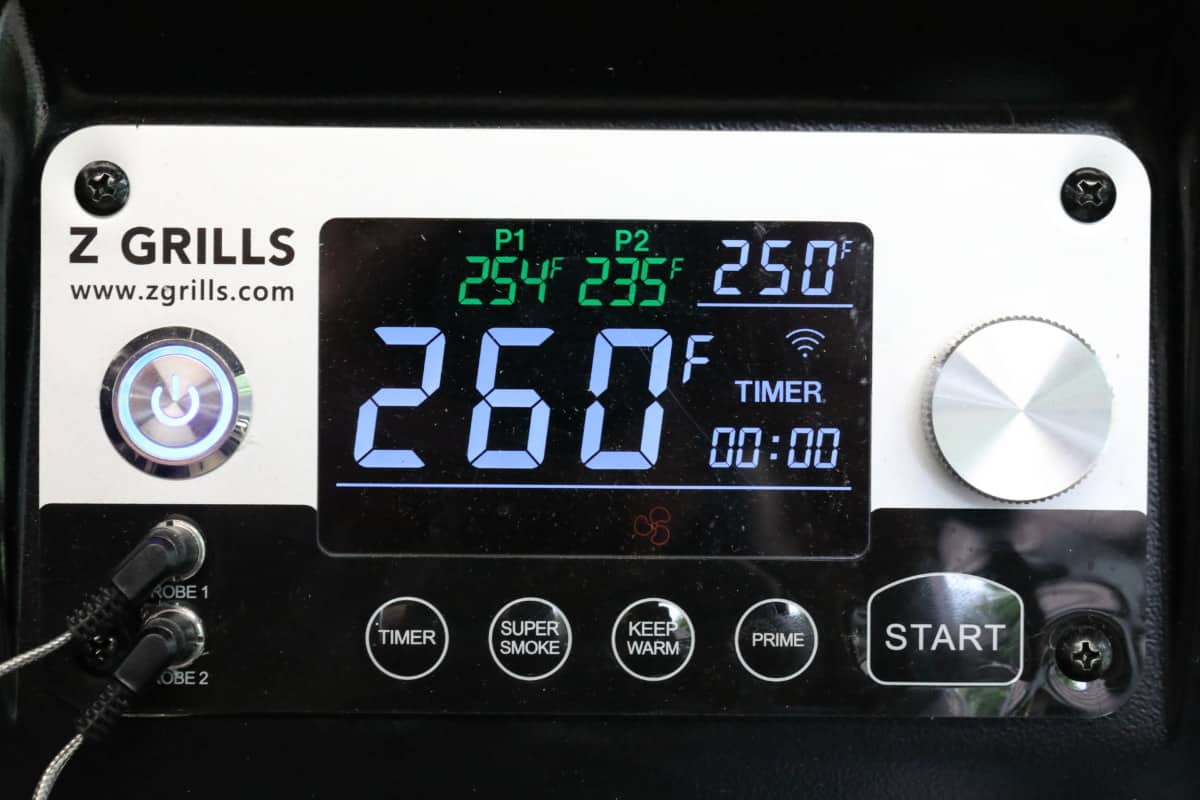 The Z Grills 11002B multitasker pellet grill PID controller is easy to use.
The display is bright and clear and can be seen in the dark, in direct sunlight, and everything in between.
The display shows the ambient pit temperature in large, clear white letters, the food probes 1 and 2 in smaller green lettering toward the top, your chosen pit temp target in the top right corner, and a Wi-Fi symbol (if connected) and a timer on the bottom right.
There is a large, recessed power button on the left. It being recessed is good because it avoids any accidental pressing.
To the right of the display is a large dial. It does nothing until you press it in. Once you press the dial in, it cycles through the two food probes and the set pit temperature, allowing you to set temperatures for them by turning the dial up or down.
Underneath the display are five buttons, which are large and easy to press, have a solid travel, and a robust feel to them.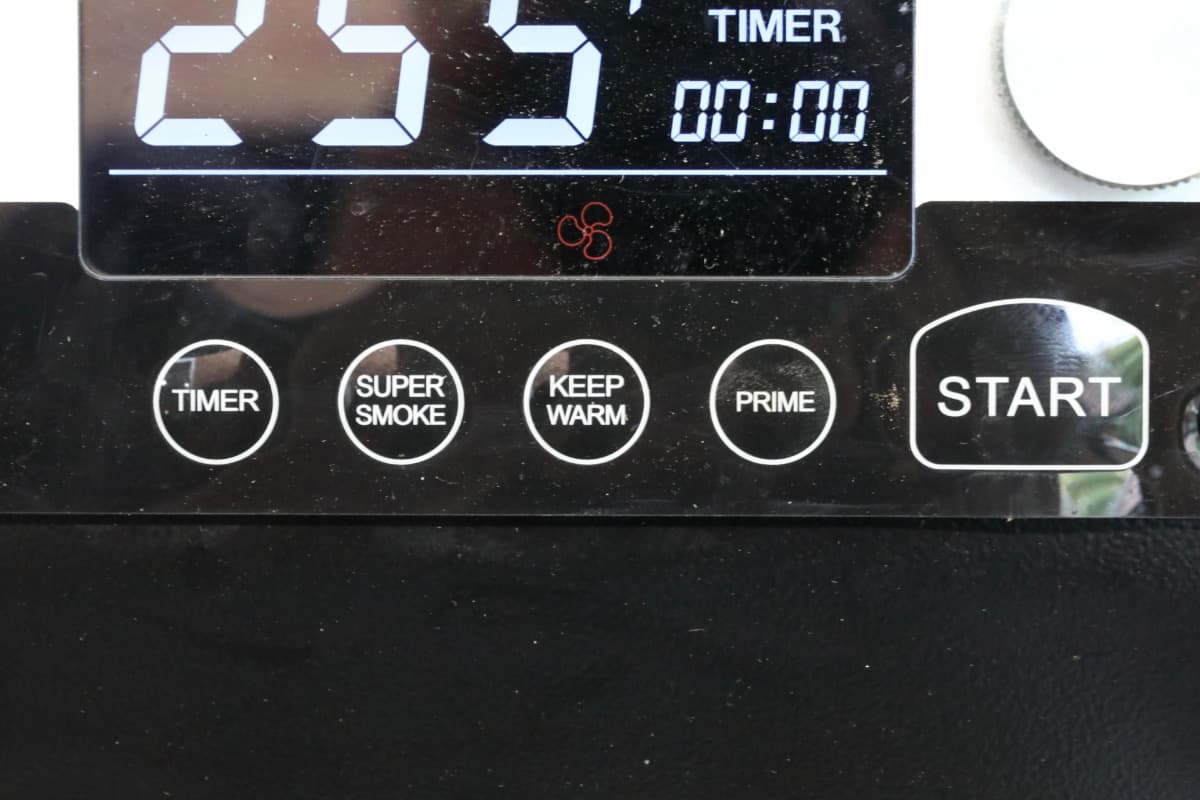 The five buttons have the following functionality:
Timer — Pressing this allows you to start a 'count up timer.' Pressing and holding stops and clears the timer.
Super Smoke — Starts a setting where the temperature drops down to between 158°F to 194°F, more pellets are pushed through for burning, and more smoke is generated to impart stronger flavor onto your food. Pressing this a second time returns the grill to its previous settings.
Keep Warm — Pressing this button puts the grill into a state where it will keep food warm. It sets and maintains a temperature of 165 °F. Pressing it a second time returns the grill ot the settings before the initial pressing.
Prime — Pressing and holding this button forces an extra feed of pellets to be pushed through the firepot. This only works while the button is pressed. Releasing it stops the additional feeding. This is useful when you want a quick burst of heat.
Start — Pressing the start button starts the grill up (as long as it has power connected and has been turned on by the power button.) Pressing and holding this button for 3 seconds puts the grill into shutdown mode.
The Z Grills Smartphone App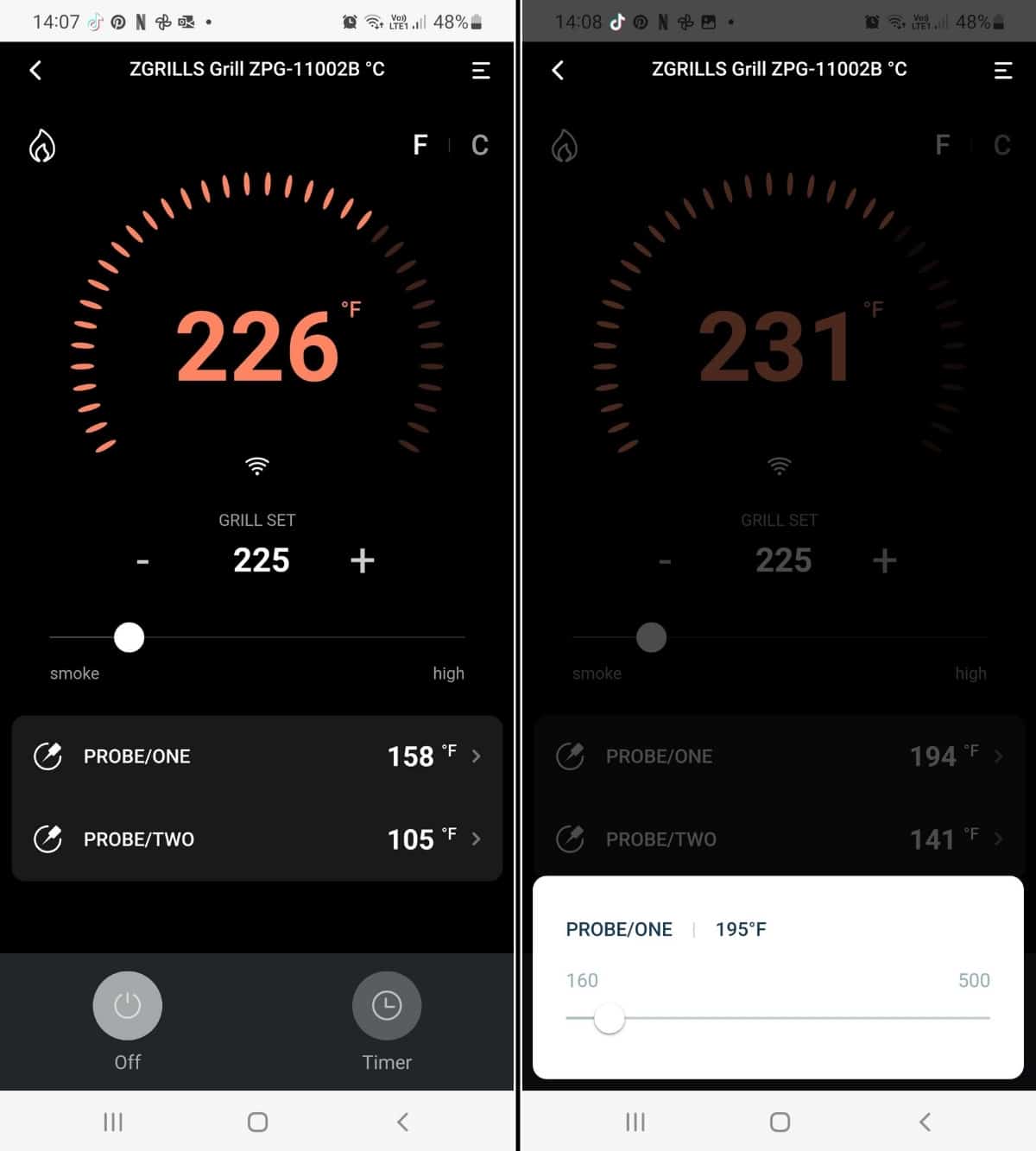 Upon opening and exploring the app, I thought it seemed like the coding was likely cribbed from some other app without being fully rejigged for Z Grills. Little details like the "+1" in the "email" field as if it wanted a phone number and the custom icon option that's obviously a Mickey Mouse silhouette with a cut-out added for a nose (and to dodge legal action).
Still, it was easy to find and add the grill via Bluetooth, and connecting to my wireless network was straightforward.
Once connected, it's a simple matter to set a target temperature and monitor both probes. You can turn off the grill from the app, but you cannot turn it on remotely. That seems like a reasonable safety precaution!
My earlier thoughts on the app being "borrowed" were confirmed as I explored the Intelligence options: Scene and Automation.
In theory, this is where you'd set up custom cooking parameters for easy recall. In reality, this was designed to control smart home devices, like turning on the living room light at a particular time every day. You can set alarms and timers, but the whole thing needs a complete overhaul to be taken seriously.
If you ignore all that garbage (and the Message Center, Family Management, Device Sharing, and a few other not particularly useful features), the app does what it needs to do at its core — allow you to monitor and manage your cook from a distance. What it won't do is store any cooking data for you to review later to see what went right and what went wrong.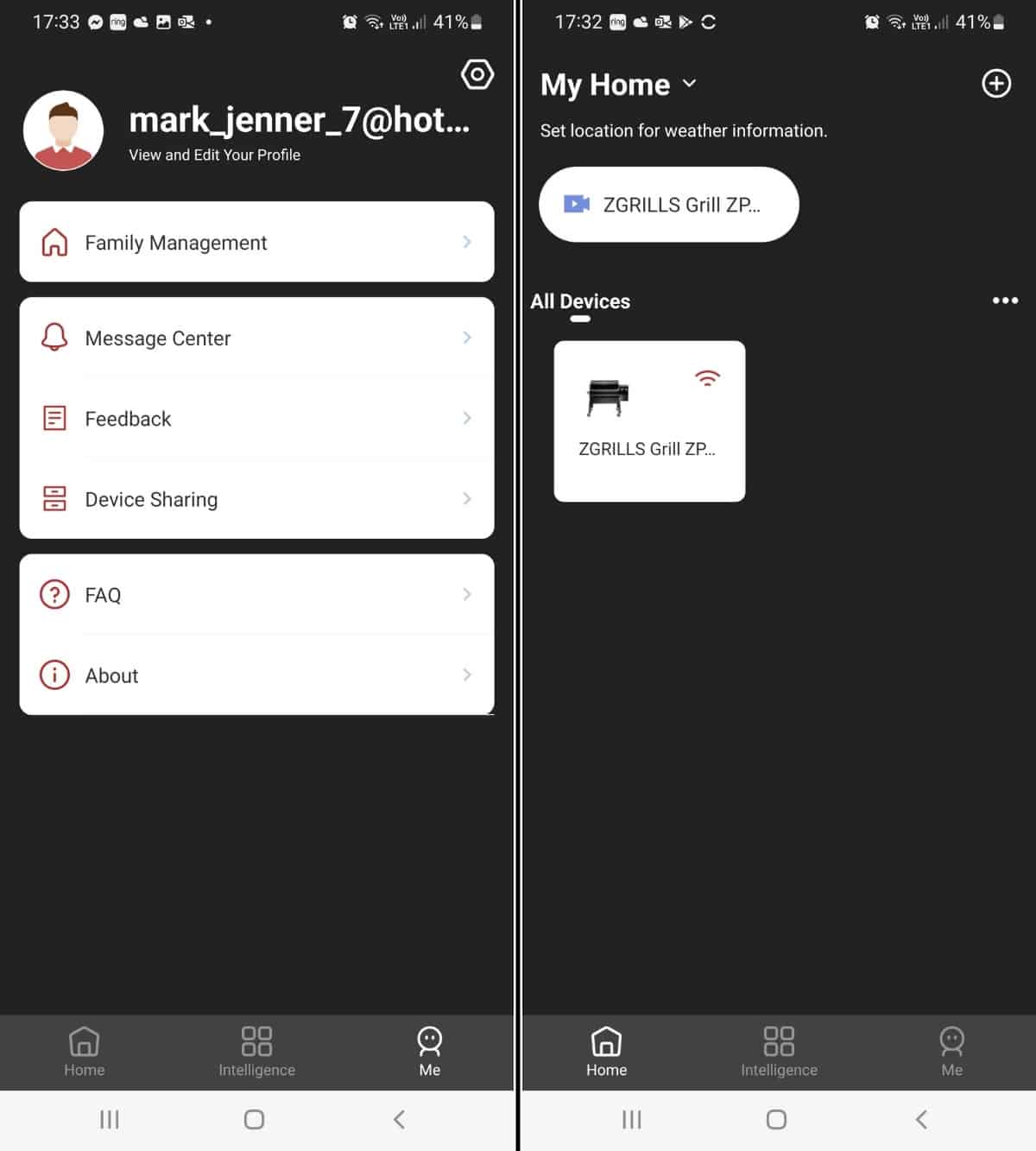 I also found that there are no alarms, alerts, or push notifications whatsoever. You can set a 'target temperature' for either of the probes, but when reached the app does nothing. You are not notified. Same with the grill going too high or too low a temperature, there are simply no alerts. So you must remember to manually check the details the app provides to ensure your cook is going smoothly.
This is Z Grills' first foray into the wireless world. Hopefully, things will improve with time and experience, but right now, it's pretty messed up and makes the app a very obvious blight on an otherwise excellent product.
I will update this section as app improvements are made in future releases.
Temperature Control and Accuracy
Nothing is more critical to pellet grill performance than the controller. Z Grills' PID controller is excellent, combining ease of use with tremendous accuracy. My test runs rarely showed fluctuations beyond ±10°F, which is perfectly acceptable.
Should you experience a sudden drop in temperature, likely from opening the lid, just hit the PRIME button to instantly add a few pellets and get back up to your target ASAP.
Smoking Performance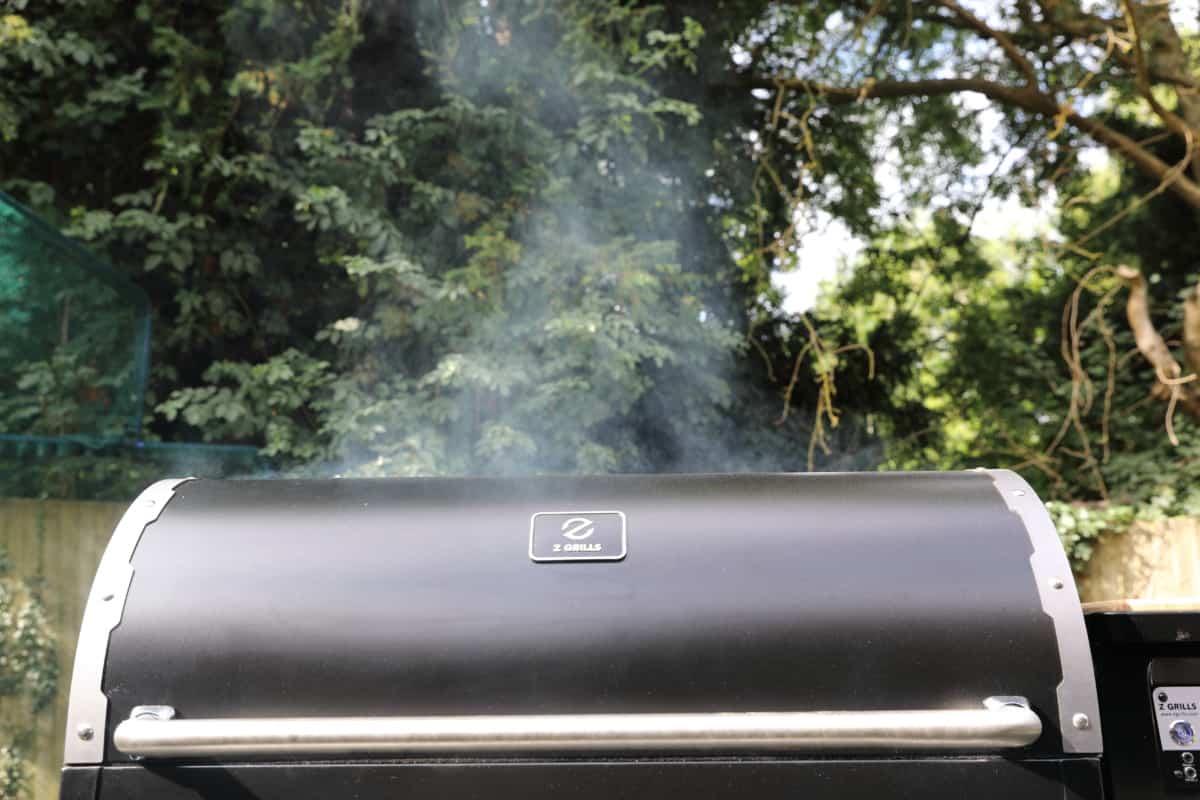 For my money, this is where the Z Grills Multitasker 11002B truly excels. It's a terrific smoker, infusing your food with lots of smoky flavor, something not every pellet grill can do, despite their claims.
That's thanks in large part to the lid gasket. It's a simple addition, but it makes a world of difference, keeping more smoke inside the chamber and giving it ample opportunity to penetrate your food.
And if you like a big hit of smoke, you'll love the Super Smoke Mode. On the PID controller, there's a button marked SUPER SMOKE. According to Z Grills, when this mode is activated, "the temperature will swing between around 158°F to 194°F with cycles of smoke released every 5 to 10 minutes."
Using Super Smoke effectively bumps up the smoke volume during that critical early stage of cooking. Do this for up to an hour (or whatever suits your taste), and then return to normal cooking mode to finish.
In my tests, this worked beautifully. I own numerous pellet grills, and they tend to burn a little too efficiently, generating little noticeable smoke. Compared to charcoal grilling with the addition of wood chunks, the smoke flavor profile can seem 'weak' from pellet grills. The Super smoke feature on this Z Grills grill goes a long way toward solving this and works well.
I love the possibility of extra smoke flavor on a lot of my food, so I'm delighted with this aspect of the Z Grills Multitasker 11002B's performance.
Grilling Performance
Pellet grills, especially a good one like this, are excellent at holding a consistent temperature. That means they excel at smoking, roasting, and even baking. However, they are less adept at grilling.
That doesn't mean you can't grill on the Z Grills Multitasker 11002B. It gets plenty hot enough to cook your steaks and burgers, and it doesn't suffer much from hot and cold zones, so you can cover it with food and grill effectively. Z Grills claims a capacity of 30 burgers — I have not tested that yet, but I am sorely tempted.
The grill got up to temperature quickly enough, and it's pretty competent at grilling. Where it's lacking, though, is in the ability to apply a truly great, dark sear. The lack of a direct heat source, the inability to reach temperatures well above 500°F, and the low surface area of the wire grates all work against a truly great sear.
It cooks just fine, and I don't mind some hamburgers, sausages, and chicken pieces on it (and for SURE whole chickens). But I'll likely save my steaks for a different grill.
Versatility
It's tough to beat a pellet grill for versatility unless maybe you compare it to a kamado grill and smoker.
I love how easy it is to cook in so many styles and that I don't have to switch cookers to go from smoking to roasting to grilling. The Z Grills Multitasker 11002B is so simple to use and ticks so many boxes for cooking styles, one could readily have this as their only grill and be quite content.
I'm a fan of the sliding upper rack, too. Because it's not fixed in place, I can bring it forwards if I need height in the back or place it centrally to ensure even heat circulation inside the chamber. Plus, if I want all the vertical space for turkeys or large standing rib roasts, it slides right out for easy removal.
Ease of Cleaning
The Z Grills Multitasker 11002B has a basic grease management system, but it's effective enough. Most drippings flow down the angled internal heat shield, down into the grease pan and into the slide-out drawer below.
The heat shield serves as a guide, channeling grease down into a collection gutter at the opposite end to the hopper.
You access the drawer from the end opposite the hopper; just pull it out and dump it. I always recommend lining the grease pan with foil to speed things up.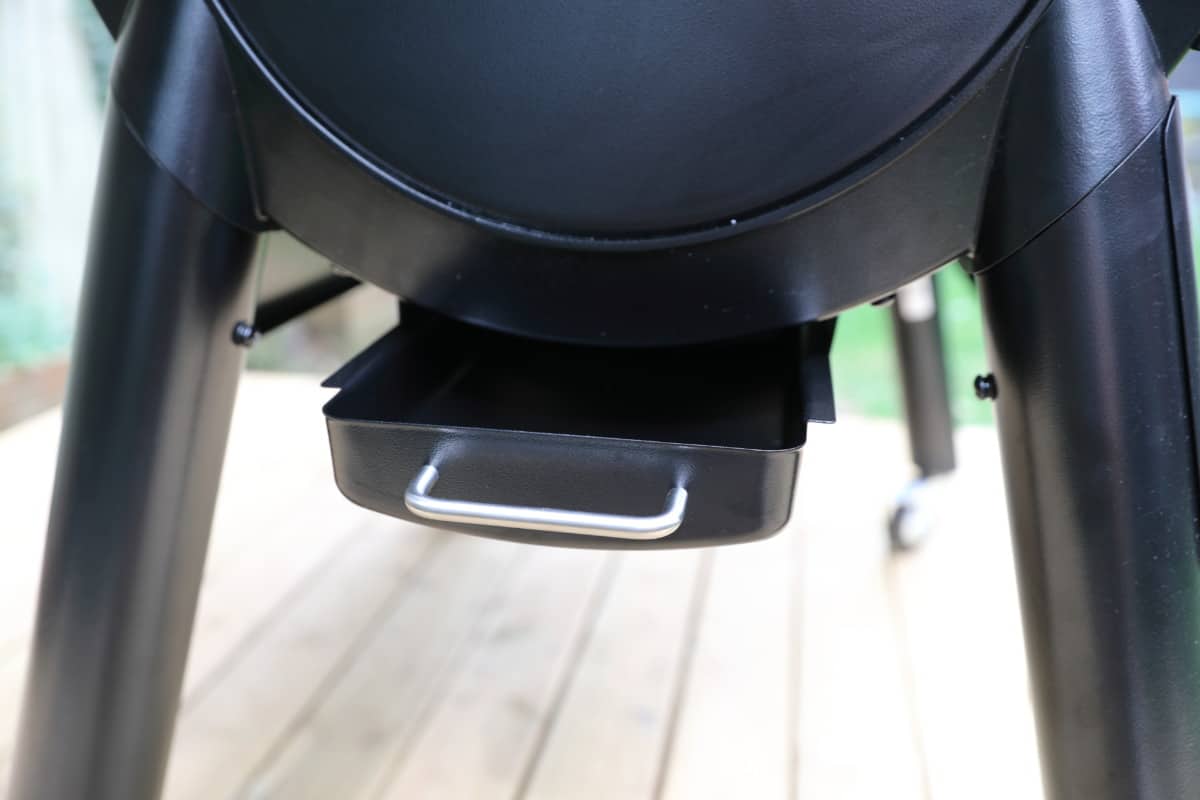 Beyond that, there's no special maintenance required; just do what you'd do for any grill, including scraping the wire grates (easy-peasy, thanks to the porcelain coating) and wiping down the exterior as needed. There's no stainless steel, and frankly, that's a bonus for cleaning.
For any ash build-up in the firepot and main cooking chamber, lift out the grates, the grease pan, and the heat deflector and get in there with your shop vacuum.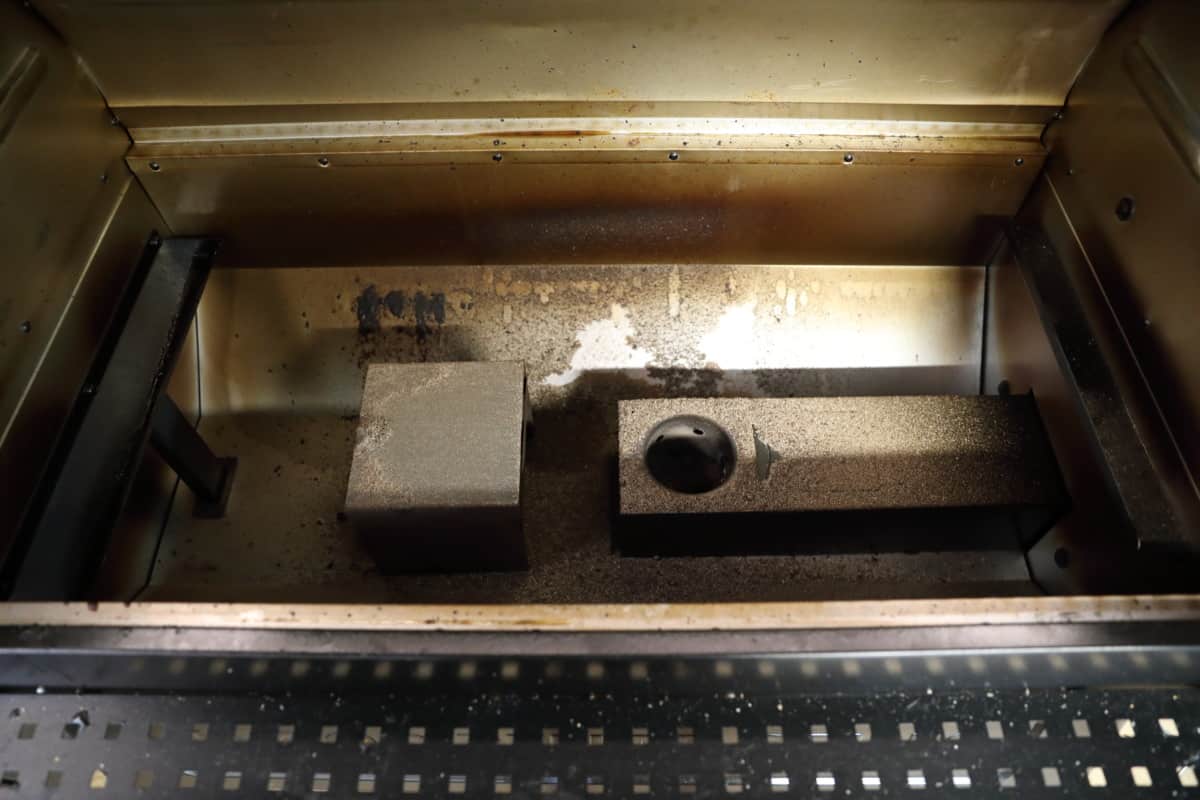 A removable ash catcher would have been a nice addition, as seen on some competing products, but at the price point of this grill one mustn't grumble.
So there are no issues with keeping this grill in tip-top shape!
Z Grills Company Overview, Warranty, And Support
Technically In business since the early 1990s, Z Grills originally built grills for other companies. In 2017, that all changed after a crowdfunding effort secured enough cash for Z Grills to release pellet grills under its own badge. From the start, Z Grills has positioned itself as a cost-effective alternative to the big names in pellet grilling.
Z Grills' keeps adding to their line-up of grills, and they're now divided into six series, totaling nearly 30 different models. It's worth noting that the last time we looked at Z Grills, they offered around ten grills in three series. They're obviously doing something right!
Z Grills provides a 3-year warranty against defects in materials and workmanship. Note that it's a limited warranty and doesn't cover the paint, firepot, or any corrosion. You can return your defective unit within 30 days for a refund, but only if you haven't used it yet.
In need of support? Go to the Z Grills Knowledge Center first to access FAQs and troubleshooting articles. If that doesn't help, you can call them toll-free Monday–Friday, shoot them an email or fill out the online form, or initiate a chat.
To get social, you'll find official and fan-based accounts on Facebook, YouTube, Instagram, and Twitter.
Summary of Pros and Cons
Pros
Incredible value for money
Impressive, solid construction not seen at this price point
Double walled to help heat retention and fuel efficiency
Gasket seal around lid also helps heat retention and fuel efficiency
Large cooking chamber for cooking lots of different foods simultaneously
Two food probes included as standard
Robust, all weather swivel casters make it easy to move, despite its weight
Upper (warming) rack can be positioned or removed easily
Spacious front shelf is handy for workspace or utensils, sauces, or rubs
Cutting board on top of the hopper is a nice feature and highly useful
Cons
Smartphone app clearly needs improving upon
True searing is hard to achieve without there being direct exposure to a flame
Do We Recommend the Z Grills Multitasker 11002B?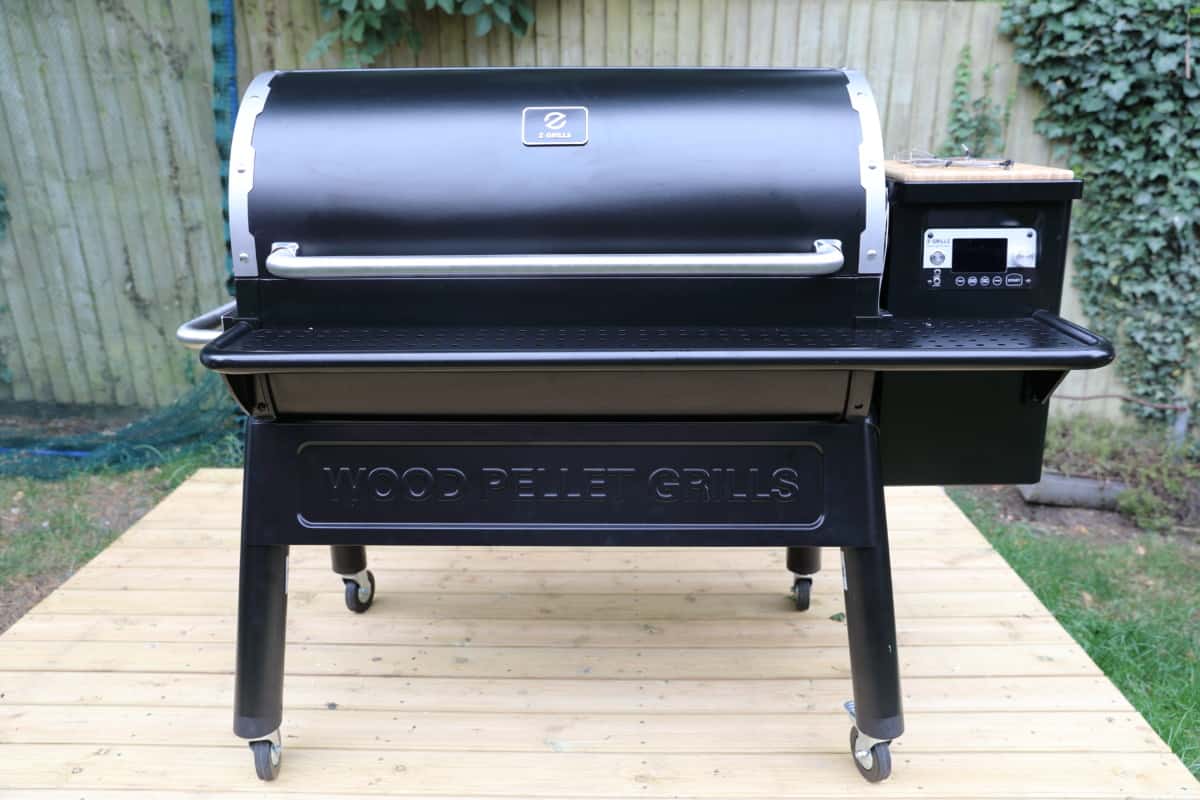 That is an absolute affirmative!
I'd argue the Z Grills Multitasker 11002B is probably the best value in pellet grills in its price range, based on what it does, how well it's built, the quality of the insulation and sealing, fuel efficiency, Super Smoke setting to really impart smoke flavor, temperature accuracy and stability, and the quality of food it produces.
Honestly, for this level of build quality — as previously stated, it's built like a tank! — You will not find a competing grill at this price point.
The only downside of this grill for me is the smartphone app. It's Z Grills first foray into Wi-Fi-enabled grills, and it's good to see them adding this functionality. It's a useful app for monitoring and controlling your grill remotely, but the app really does need improving, especially with remote alarms and alerts.
If you figured owning a good-quality pellet grill was outside your budget, have a look at this beauty. You'll want to rethink that point of view.
We are happy to recommend this grill, but with the caveat that if a fully functional and feature-rich smartphone app is a deal breaker for you, you may want to look elsewhere.
Z Grills 11002B Multitasker Wood Pellet Grill and Smoker with PID Controller and Wi-Fi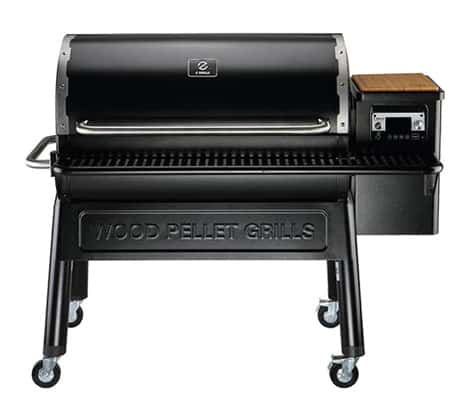 A large capacity, 'built like a tank', well insulated and fuel-efficient wood pellet grill with a few nifty features.
The PID controller ensures accurate and stable temperatures. Double walled body with lid gaskets holds in smoke and heat. The Wi-Fi capability allows you to control and monitor the grill from a smartphone app. And a front shelf, included bamboo cutting board and two meat probes included round out this excellent package from Z Grills.
Final Thoughts
I won't definitively say the Z Grills Multitasker 11002B pellet grill with Wi-Fi is, as claimed, the "ultimate grilling experience." But, it is a damn good cooker, especially regarding hassle-free smoking, especially at this price point!
This grill achieves Z Grills goal of bringing high-quality pellet grilling to the masses, and it's well worth the investment.
Thanks for coming to Food Fire Friends for directions on the journey to owning your perfect grill. If you still have questions, please send them along, and we'll do our best to answer. And, you're invited to browse the site for more reviews of grills & gear, plus how-tos and top tips & tricks to help you get the most out of your BBQ or smoker.