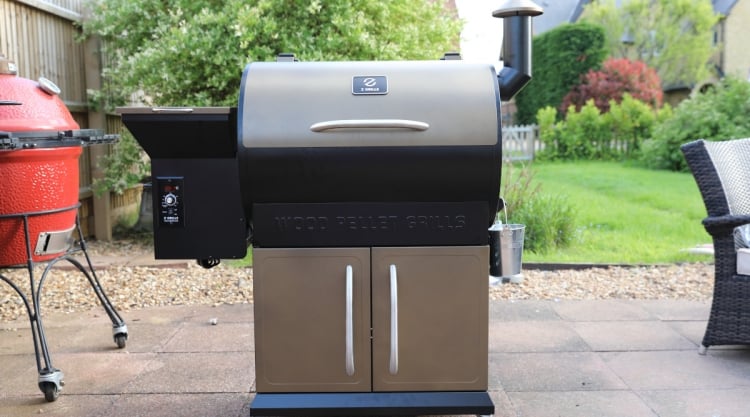 Let's get to know the Z Grills 700D wood pellet grill. This detailed review covers aesthetics, build, functionality and, ultimately, value to help you decide whether to buy or not.
The more time you spend in your backyard cooking, the more time you have to think about other things you can cook in your backyard. (That's what I do, anyway.)
A standard gas or charcoal grill can do many things if you put your mind to it and use it correctly. At the end of the day, though, they're best when you stick to basic grilling. Not a darn thing wrong with that either.
Beyond the typical grill, there are smokers. These are truly one-trick ponies, though that trick is spectacular — smoked meat should be a food group.
And then there are pellet grills. Pellet grills were sent from either a divine power or an alien race to let regular folks barbecue and smoke (and everything else) all in one unit. For a price.
Now, you can spend a bundle on a big-name, high-end pellet grill. (Been there; done that.) But, here's the good news: you don't have to.
Today, I'm sharing the Z Grills 700D with you as I put it through its paces. I'm going to give you my honest opinion of everything from how it looks to how it works, including building and operating it in my own yard.
By the end of this review, you'll know if this mid-range pellet grill is right for your needs and if it's worth the money. Let's start by giving it a once-over.
First Impressions
They say beauty is only skin deep. That may be the case, but, hot damn, this grill has my attention!
The Z Grills 700D has clean lines, looks sturdy as heck, and comes with classic features, including a stainless steel grease bucket and angled side chimney. So far, so good for first impressions!
And look at all those coordinated bronze accents — the chimney hood, cabinet doors, cooker, and hopper lids all look sophisticated and striking on the black base.
A skirted base partially hides the four wheels, but we can see they're all the same size, and they all pivot. Two of the wheels also feature locking brakes. So moving the 700D should be a breeze, as will keeping it firmly in place.
Z Grills 700 D Pellet Smoker and Grill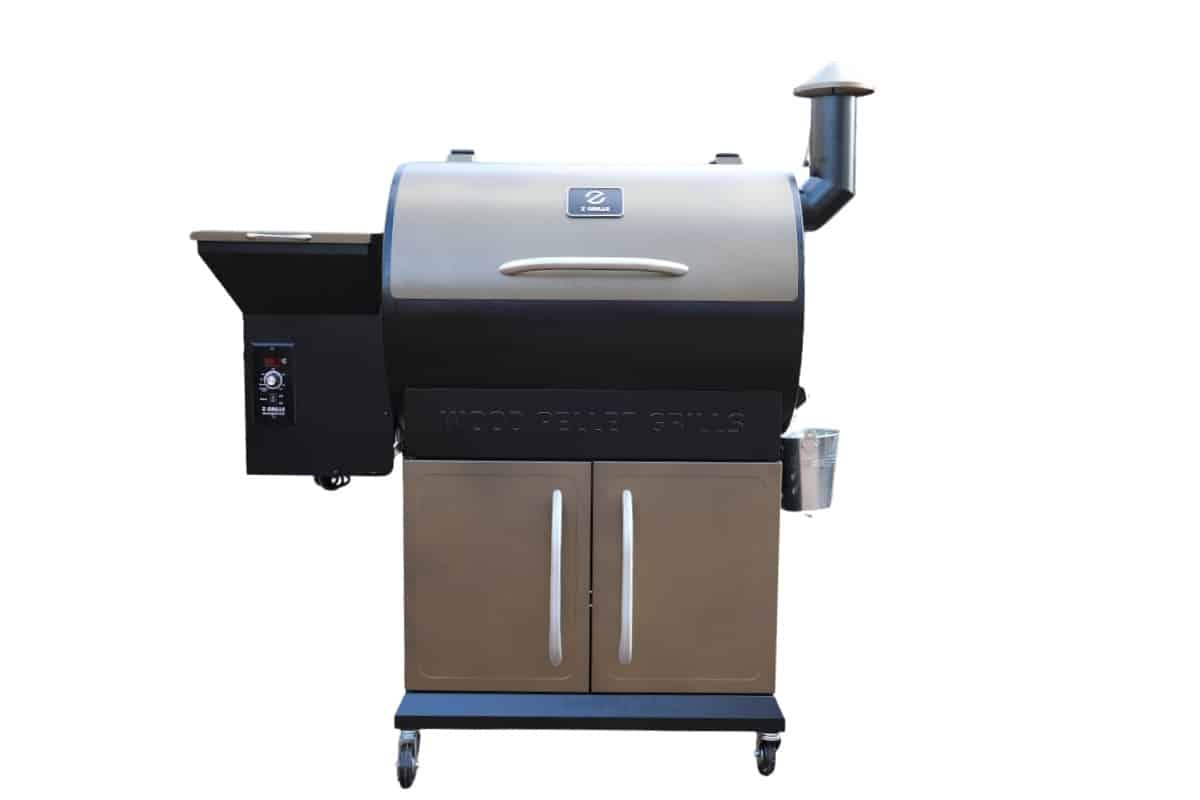 2021 upgrade version, with new PID controller giving improved temperature stability and accuracy.
This is a highly capable, but no-frills, budget-friendly pellet grill.
Overview and Core Features
Now that we've discussed appearances let's dig more deeply into the build, specs, and features of the Z Grills 700D pellet grill and smoker.
Manufacturer Specs
Lower Rack Area
504 sq. In.
Upper Rack Area
193 sq. In.
Total Rack Surface Area
697 sq. In.
Hopper Capacity
20 lbs. Of pellets
Height of Cooking Surface to Lid
9 in.
Temperature Range
180–450 °F
Grill Grate Material
Porcelain-coated steel
Dimensions (in.)
48 L × 22 W × 51 H
Weight
144 lbs
Warranty
3 years
What's Included
1 × 700D pellet grill
1 × Rain cover
1 × Pair of assembly gloves
Z Grills touts this unit as an 8-in-1 cooker: with a temperature range of 180F to 450F, you can grill, bake, smoke, sear, roast, barbecue, braise, or char-grill. I'd argue there's little more than a semantic difference between some of those "abilities," but we'll let it go. Pellet grills are at least one of the most versatile type of smokers.
Load the hopper with up to 20 pounds of pellets, and you can smoke low and slow all day. Just turn on the automatic auger with the on-board digital controller and dial in your target temperature. A powered fan provides true convection for even, all-over cooking. Z Grills says the 700D got an upgrade in 2021, so it hits and holds temperatures even more accurately.
There are two levels of cooking surfaces inside, including an upper warming rack totaling 694 square inches. The main grate alone is over 500 square inches, providing tons of space for large cuts of meat or enough burgers to feed a crowd in a single session. Need more height for turkeys or roasts? Just remove the upper rack –there's plenty of height underneath the lid.
The Z Grills 700D is made of powder-coated steel, so my expectations for durability are high. Under the lid, the cooking grates are made from porcelain-coated steel wire — ignore the sites that say they're cast iron!
Summary of Pros and Cons
Pros
An appealing combination of high-end features and cost-saving measures on the Z Grills 700D pellet smoker and grill.
The cooking grates are a step-up from simple steel wire grates but aren't nearly as expensive as cast iron.
The powder-coated steel body looks and performs great and keeps this cooker more budget-friendly than stainless steel units.
The big, 20-pound hopper is ideal for extended smoke sessions, and I'm a big fan of being able to dump in an entire bag at once if I feel like it.
I love that there are four wheels on this unit and a completely enclosed storage cabinet. Even though I recommend storing your pellets elsewhere, extra storage in the backyard for tools and accessories is always welcome.
Cons
The fact that you cannot empty the hopper. There is literally no way to empty it, except for tipping the grill upside down, which nobody is going to do.
Storage there may be, but workspace, there is not. The lack of a side or front shelf a disappointing exclusion.
There aren't even tool hooks for hanging your spatula or tongs when not in use.
The digital controller is simple to operate but lacks plug-ins for meat probe thermometers.
The lack of anywhere to cook directly over the flame. You can still grill at high heat of 450 F, but, to me, it isn't real searing without radiant heat from fire.
The biggest gripe for me is there is no way I could empty the hopper. You can see here there is a wide holed steel plate halfway down in the hopper that is not easily removable, unless you unscrew it.
This probably serves two purposes: preventing large items from getting down into the auger and jamming it and as a safety measure to prevent you from getting your hands down into the auger and harming yourself.
But sadly, it does mean there is absolutely no way to empty the pellets. So when I wanted to change wood pellets to alter the flavor of my cook, I was unable to. But also, if I was to store the grill for an extended period, I cannot remove the pellets to put them into storage, which means they may absorb moisture while sat in the hopper…which can lead to clogging it up! So a way to empty out pellets would have been nice.
Also, the lack of a work surface (side or front table) is a shame. Yes, you could use the flat lid of the hopper for resting things (and I do!), but you want to watch you don't scratch the finish, and I'm not sure how much weight it can take?
Finally, you will need to use a separate thermometer to monitor your meat. If you have your own, that's not a huge issue. But if you don't have a digital thermometer, You'll need one now; smoking and roasting must be done to temperature, not to time. So pick one out from our guide to smoker and grill thermometers.
But overall, I love this grill. It's benefits way outweigh any improvements I'd like to see, and overall I recommend it.
Z Grills 700 D Pellet Smoker and Grill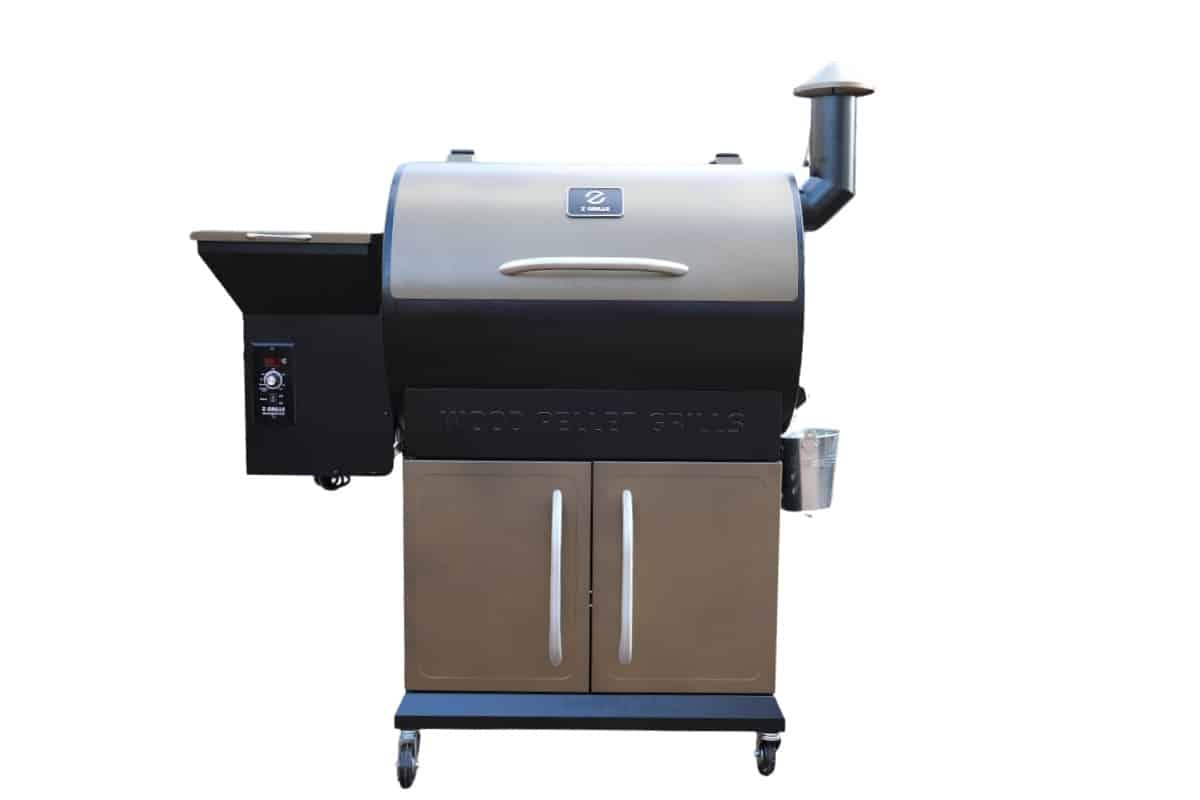 2021 upgrade version, with new PID controller giving improved temperature stability and accuracy.
This is a highly capable, but no-frills, budget-friendly pellet grill.
Who is the Z Grills 700D Pellet Smoker & Grill Best Suited to?
Z Grills has carved out an interesting niche for itself with the 700D. It's certainly not the cheapest pellet grill out there, but it's also very far from the most expensive. There's a great balance between premium and budget features.
It's a user-friendly cooker, and while I won't say it's "basic," it's for sure approachable, and is a great smoker for beginners and the more experienced backyard chefs.
If you're experienced with a regular grill, and you'd like to open up new possibilities, including smoking and baking, but you aren't ready to commit to a six-figure price tag, the Z Grills 700D is in your wheelhouse. It has enough bells & whistles to keep you happy but not enough to overwhelm you.
Unboxing and Assembly
Let's preview what's inside the box and what you can expect when you build your Z Grills 700D pellet smoker and grill.
What's Included
The 700D comes broken down into two boxes, so have that retractable knife handy. It's nicely packed, with lots of interior boxes and cardboard and foam fillers.
Inside are all the parts required to put together the base, hopper, and cook box. The main chamber comes largely pre-assembled, as does the hopper, auger, and fire pot. Don't worry, though, DIY-lovers — there are plenty of nuts, bolts, and screws to put in!
It does come with a basic wrench and screwdriver if you don't own any decent tools for some reason. You also get a user's manual, and this kit comes with a fitted cover as a free bonus.
Ease of Assembly
There is no shortage of screws and bolts to install, but overall, it's not hard to put this together. As mentioned above, the hopper/auger/fire pot combination comes pre-connected, making installation easy. Wires snap together with easy-fitting clips, and it's tough to get it wrong. I'd suggest having a second pair of hands nearby for hoisting the cooking chamber onto the stand to reduce the risk of dropping it or scraping the metal. Those extra hands will also be handy when you mount the hopper for tucking the wires in safely to avoid pinching.
Expect to take about 45 minutes to assemble, assuming there are no issues. This is approximately how long it took me.
Overall Build Quality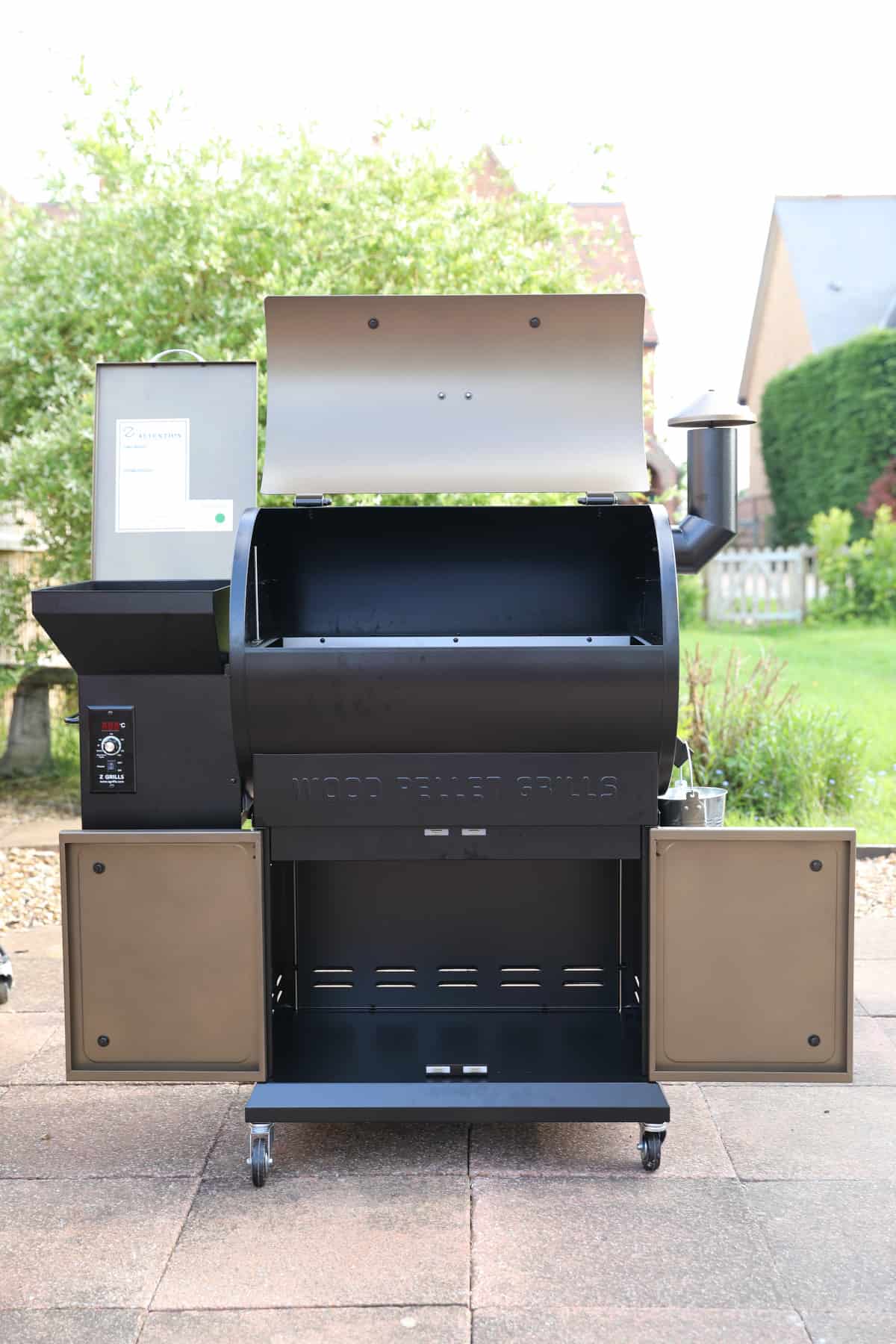 Like I covered earlier, the build quality is good but not exceptional — you get what you pay for. Powder-coated steel is a pretty good material, but it's not heavy gauge, nor stainless like you find on many high-end grills.
The grates are better than the cheap wire grills we see on so many low-cost barbecues; I found cleaning the porcelain coating is simple. However, they don't have the durability or even heat distribution of cast iron.
Still, compared to other grills in this price range, the quality is on par with the crowd and is pretty much what you'd anticipate.
At the time of writing, I've now had this grill for about 10 weeks and have cooked on it upwards of 15 times.
What follows is my assessment of its performance in a few key areas, both good and bad, after over 100 hours of hands-on use.
Ease of Operation
After plugging it in, turning it on with a simple on / off switch, and filling the hopper with your chosen smoking wood pellets, it really couldn't be any easier to use.
Simply turn the rotary temperature control dial to the 'smoke' setting until you see flames from the fire pot, then assemble the 'innards' (the fire pot cover, drip tray, and grates.)
Then turn the dial to your chosen smoking temperature, anywhere from 180 to 450 degrees Fahrenheit. Place your food on the grates, and you're literally smoking.
The digital controller then varies the pellet delivery system and fan speeds to maintain a steady cooking temperature and requires no further input from you.
Temperature Control and Accuracy
Setting the cooking temperature is as simple as it gets. You twist a numbered rotary dial to your desired temp…and that's it.
If cooking at 225 F, it takes approximately 15 minutes to get up to temp. Once there, it sits quite close to temp, varying by about 7 F either, at most between 218 and 232 F, though typically sitting rock solid at 225 F.
If cooking at the highest setting of 450 F, it takes approximately 35 minutes to get to temp, which is quite impressive. At this highest setting, the temp did vary quite a bit more from the target at first, by as much as 15 degrees Fahrenheit either way, but it is again impressively consistent after some 'settling in time.'
Please note that varying from set temp by up to 15 F is perfectly normal and acceptable. I've cooked on many pellet grills, and they have all done this!
Smoking Performance
You will often hear me say on this site that pellet grills are actually fantastic smokers that can (debatably) do some grilling but aren't great at it. The Z Grills 700D is no exception.
As a smoker, it is fantastic. You can smoke low n slow at 225 F, or smoke roast high at up to 450 F. This makes it an out-and-out smoker, and you can cook on it anything that you would inside your kitchen oven.
Smoked Beef Ribs
One of the first cooks I performed was a couple of racks of beef ribs.
I hit them with one hour of the smoke setting, then set the smoker to 225 F and smoked them for 4 hours unwrapped, before wrapping and braising with beer to finish them off and keep them moist.
The results were fantastic! The ribs were moist, smoky, fat fully rendered, beefy, and enjoyed by all. The smoke flavor is exactly what I expect from a pellet grill, that being less pronounced than from my charcoal smokers, a bit 'cleaner' and more delicate, but definitely there and delicious.
Bone-in 45 Day Dry Aged Sirloin of Beef
A second cook I performed was a 45-day dry-aged, 3.5 kg bone-in sirloin.
I started it off with 1 hour on the smoke setting before removing the meat and turning the smoker up to 450 F. I then cooked at this temp for a full half hour, before turning the temp down to approx. 320 F until it hit 125 F internal, so it would come up to 130 F during resting and carryover cooking. This mimics how I would cook such a joint in the oven, but with an additional hit of smoke flavor.
The smoker performed brilliantly, hit and stayed at my desired temps, and the meal was fantastic. I did notice temperature fluctuations of up to 15 F at the higher temps. But as already stated, I've seen this with every pellet smoker I've cooked on…and I've used many.
Pork Ribs — No Smoke Setting Used
I next chose to cook some pork ribs with the aim of NOT using the 'smoke setting', to see what flavor profile is created from a straight-through cook.
As these were only small baby back ribs, I followed a modified 3-2-1 style for this cook. I cooked an approximately 2 – 0.75 – 0.5 at 225 F throughout, with no use of the smoke setting at the start.
Conclusion? The smoke flavor was very mild. I was using a 'competition blend' of pellets, which isn't the strongest smoke profile anyway, but compared to the previous two cooks using the same pellets where I used the smoke setting, the flavor on these ribs was very mild (and I prefer it more pronounced.)
This is a good thing really because if you like a mild, delicate smoke flavor, you can use a mild-tasting pellet such as a fruit wood and not use the 'smoke' setting.
If you like a heavier, more pronounced smoke flavor, you can use a stronger tasting wood pellet and use the smoke setting for an hour or two.
I think it's good to have this option, makes it more flexible, and gives you more options.
Grilling Performance
I went in expecting the grilling performance not to be too great because, quite frankly, grilling is not what pellet smokers are good at.
True grilling requires direct radiant heat via exposure to fire for a fantastic sear, and most pellet grills cannot do this. The Z Grills 700 D is no exception.
However, the top temp of 450 F is enough to give a good crust, brown any meats cooked in the smoker, and create a sear and crust comparable to anything you would roast in your oven.
I first tried grilling some chicken wings and moink balls.
They turned out fantastically. The chicken wings and moink balls developed a nice crust from the Maillard reaction. I was happy with these.
I then tried some pork chops and lamb chops as part of a mixed grill. However, they didn't 'brown' anywhere near as much as I would like! Sadly, I forgot actually to take photos of this!
The chops cooked through fine and were slightly browned but comparable to if I'd cooked them in an oven. There was no deep, dark crust or much Maillard reaction that occurred.
So for out-and-out grilling, the performance isn't outstanding. I would recommend still using an actual grill for smaller cuts, burgers, and the like. But for larger roasted foods at high temps, the grilling performance is OK.
Versatility
As you can see above, I've used the grill for cooking beef ribs, pork ribs, chicken wings and moink balls, pork and lamb chops, and more.
I've cooked at 225 F throughout a cook, up at 450 F for an entire cook, and varied the temp between both ends of the spectrum during another cook.
With the combination of the temperature range and the possibility of using the smoke setting or not, you can indeed smoke, roast, bake, grill (sufficiently), and more.
I enjoy this smoker's versatility and the food it produces.
Ease of Cleaning
A grease management system consists of a large plate that sits between the grates and the fire pot. This serves a dual-purpose of distributing heat more evenly while also channeling all fats and drippings down through a channel into a bucket, making grease removal easy.
Z Grills recommend covering this plate with foil to make cleaning up easier. I did this a couple of times, and it did indeed make cleanup very easy. I soon stopped doing so and regret it now because I have hard-baked-on grease and sugars on this plate, which I will need to give a deep clean or burn off at high heat. So I recommend following Z Grills advice here!
The cooking grates are also to clean. They are porcelain coated and clean up very easily after or between uses.
There is no way to clean out ash from the fire pot or cooking chamber, so for this, I recommend an ash vacuum. This is also common for most pellet smokers, particularly at this price point, so no loss of points here.
Finally, I wish there was a way to empty out the pellet hopper, but sadly there isn't. There is on some of their higher-end and newer models, but not on the 700 D I reviewed. Not a deal-breaker, but it would be nice.
Z Grills Company Overview, Support, And Warranty
The team at Z Grills learned the trade making parts for other pellet grill companies before launching their brand in 2017. Since then, they've made a name for themselves in the pellet grilling world and built up a roster of about 15 different cookers (in multiple colors, making it seem like there are more.)
They have a US-based call center (Salt Lake City, Utah), so you can pick up a phone and talk to a real human being if you have an issue. In addition, the Z Grills website has an array of FAQs you can browse, including troubleshooting and maintenance questions.
Z Grills provides a 3-year limited warranty, plus you can return your unused grill within 30 days for a full refund if you change your mind. It's not a stand-out warranty in terms of length, but the company has shown itself to be trustworthy and responsive to customer issues.
Do We Recommend the Z Grills 700D?
If you match the ideal customer profile — you appreciate quality but don't need or want the best of the best, and you know a few things about grilling — I definitely recommend the Z Grills 700D pellet smoker and grill.
It represents good value for the money, with upgraded features versus budget grills and reliable performance. It's not the best pellet grill on the market, but it's a very good grill that I'd put up against any other with a similar price tag. I've been using it frequently for 7 or 8 weeks at this point, and it's proven to produce incredible food, with consistent and reliable performance. It's easy and a joy to use.
So yes, I'm happy to recommend this grill. It's a great mix of performance and price, making it value for money. And most importantly of all, it produces great food!
Z Grills 700 D Pellet Smoker and Grill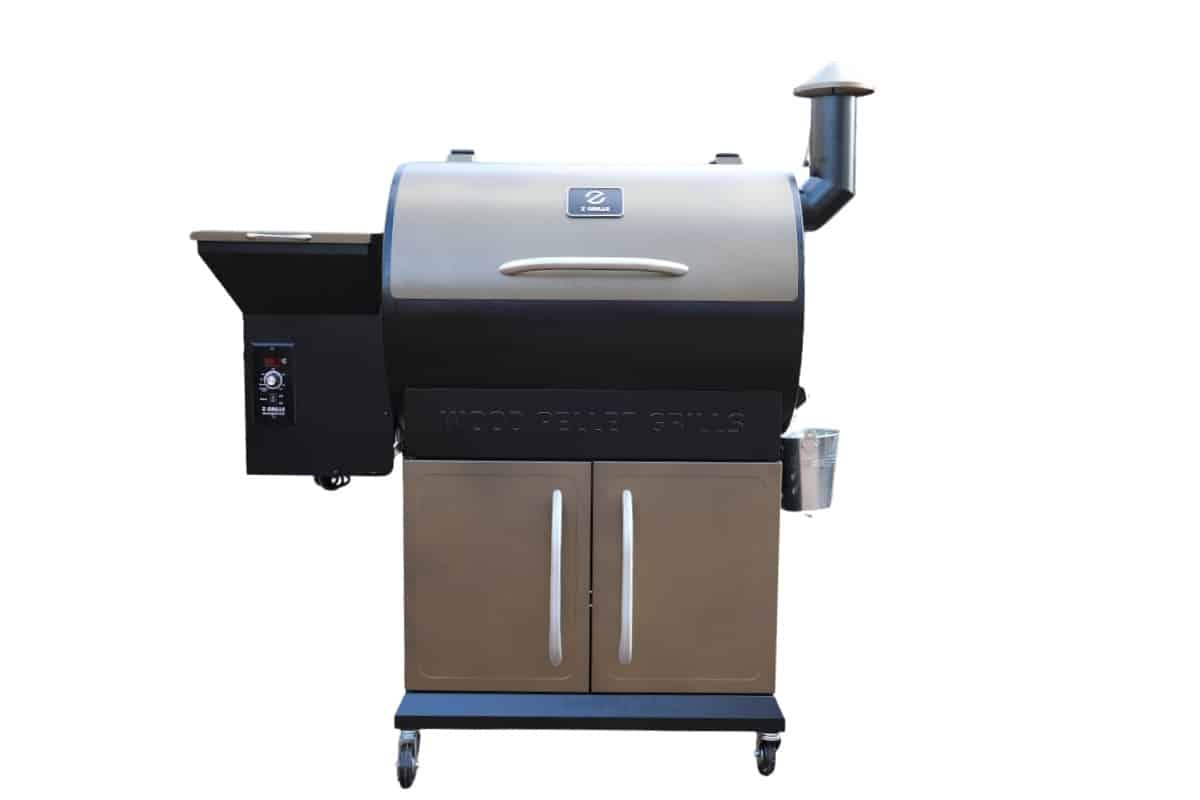 2021 upgrade version, with new PID controller giving improved temperature stability and accuracy.
This is a highly capable, but no-frills, budget-friendly pellet grill.
What are the Alternatives?
What else could you choose? Well, where should I start?!
When it comes to pellet grills, there are so many different manufacturers producing a whole swathe of different sized grills with different features. We have covered the best of the best from each in different 'face off' guides where we compare different brands offerings, and we suggest you check those out.
First we have Z Grills vs Pit Boss where we compare the 700D and other grills from Z Grills to Pit Boss best grills.
Next, check out these comparisons where we look at the best from each brand:
Finally, we also have a guide to the best grills from Camp Chef. I love their grills, with the Woodwind Wi-Fi pellet grill being one of my favorites that I own and use often.
Final Thoughts
I've enjoyed getting to know the Z Grills 700D pellet smoker and grill. Done right, a pellet grill is a joy to have around for its versatility and ease of use. The 700D delivered a grilling and smoking experience that was spot on for the money, and I look forward to more sessions with it and more delicious food.
If you'd been on the fence before, I hope this honest review helped make up your mind.
You can learn even more about pellet grills and how to use them on Food Fire Friends; just search or browse the site for news, reviews, and how-tos, and you'll soon discover how much a pellet grill can add to your backyard cooking.
Thanks for reading, and please shoot me your questions and comments — we love to hear from our readers!