This is a hands-on walkthrough and review of the Kamado Joe Junior, a portable ceramic grill, to help you decide if one is right for you.
Go big or go home. The bigger, the better. Making the big time. There's an obsession with all things big in this world. Don't believe me? Go to any parking lot and look at the pick-up trucks and SUVs.
I admit I fall victim to it myself — I like more burners, more cooking racks, more square inches. More, more, more.
Sometimes, though, a smaller solution is the right one. That's the way I'm approaching my hands-on review of the Kamado Joe Junior ceramic grill.
To help you determine if a Joe Jr. Is right for your needs, I gave it a complete going over, from unboxing to start up and a few cooking sessions.
Read on to learn what I thought of cooking on the Kamado Joe Jr., who I think it's best suited to, and in what situations.
First Impressions
Kamado Joe KJ13RH Joe Jr. Charcoal Grill and Smoker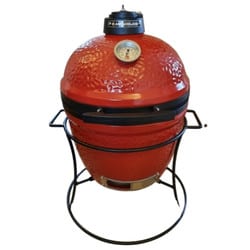 31 Kg, with a 13.5″ diameter cooking surface. Small but mighty, and incredibly versatile being capable of grilling, smoking, searing, baking and roasting.
In a world of black, maybe bronze, and, if you're lucky, stainless steel, the fiery red of the Joe Jr. Is a sight for sore eyes.
Buying one of these in its striking red livery not only means you own a quality grill, but it also means you want people to notice you own a quality grill.
The Kamado Joe Junior looks like a scale model of a full-size ceramic grill. It's only 27" on the stand! I suppose that's basically what it is? It's a classic design, and the black accents and stainless steel vent badge really set it off.
Can a thing look both small and robust at the same time? There's no doubt this is a tiny grill, but it seems solid. Even the stand, which is simply made of metal rods, has every appearance of being tip-proof.
Time to get up-close-and-personal and see what makes the Kamado Joe Junior tick.
Overview and Core Features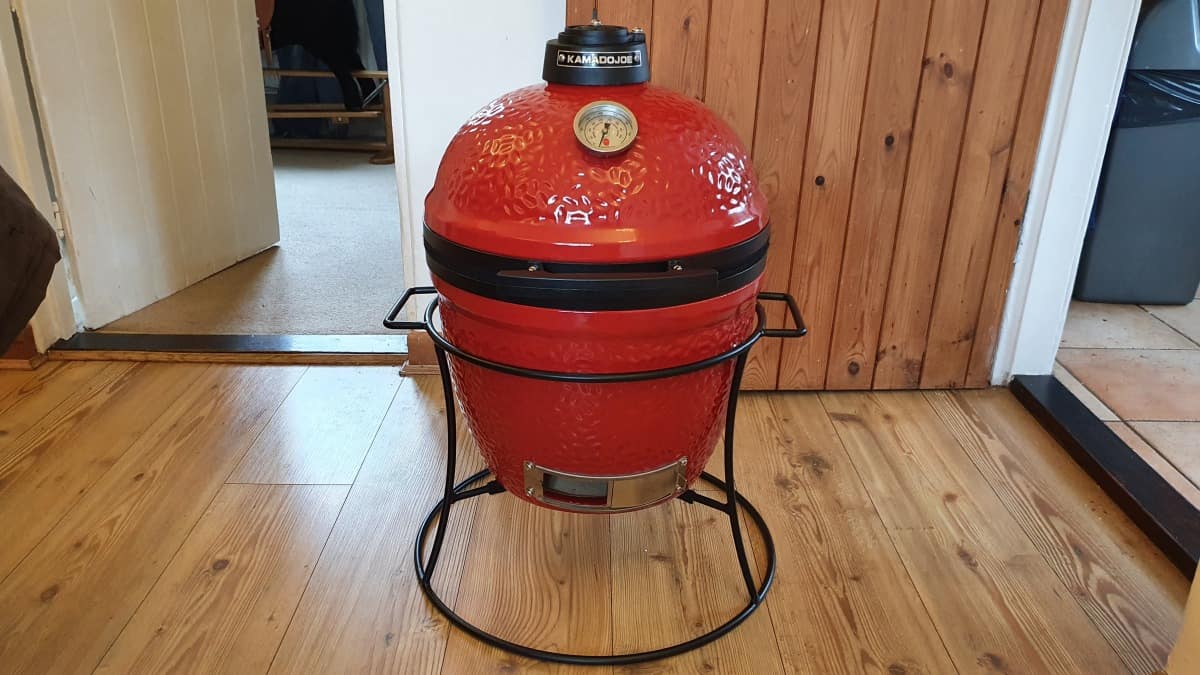 Starting with the basics, the Joe Jr. Is a portable ceramic kamado grill. It runs on charcoal, and you can use it for both grilling and smoking food.
As I've already mentioned, it's a small grill; the cooking grate measures 13.5" in diameter, providing 148 square inches of cooking space. To put that size in perspective, many standard gas grills have upper warming racks bigger than that.
For such a small grill, the Kamado Joe Junior has a wide temperature range. You can smoke low and slow at 225F, or you can crank it up to a screaming 750 °F for an epic sear in just minutes.
Now, don't get me wrong on its size — this is meant to be a portable grill. At under 20" across and about two feet tall without the stand, the Joe Jr. Is easy to stow and go. Fair warning, though: it weighs 68 pounds empty, so you might want a hand loading and unloading. It's a 2-person job for sure.
Specifications
Width: 50.165 cm
Height: 68.58 cm (w/ stand)
Depth: 52.705 cm
Temperature range: 107 °C — 399 °C / 225 °F to 750 °F
Weight: 30.8443 kg / 68 lb
Cooking surface: 34.29 cm / 13.5", diameter 375.92 sq. Cm. / 58.3 sq. In
What We Like
It's impressive how Kamado Joe has virtually duplicated the full-size kamado experience in a portable unit.
Functionally, it's the same, including the lower sliding vent and the rotating top vent. And you can also smoke low n slow, roast, bake, grill, and sear. It can do it all, a true Swiss army knife of a portable cooker.
Temperature control is easy (after a learning curve), and it holds a steady temperature with ease.
The drop-in cast iron stand makes setup simple no matter where you're cooking, and its built-in handles take a lot of the strain out of moving the Kamado Joe Jr. Around.
What Could Be Improved
About my only criticism is the lackluster stainless steel cooking grate. You can purchase a cast iron grate separately, of course. But, given the grill's overall quality and price point, I'd like to see it included in the box.
You could complain about the heavy weight, for what is ostensibly a portable grill and smoker. But I won't because the thickness and quality of the ceramic that makes up the weight is precisely why it's such an efficient, stable, and effective outdoor cooker.
Who is the Kamado Joe Junior Best Suited to?
This is not a cooker for hardcore smokers or anyone cooking for a large group. For that look at full-sized kamado smokers. But that's not to take anything away from it — it's just too small for big jobs.
As a backyard grill, it's ideal for couples or anyone who lives alone. It's especially suited to anyone who fits in one of those categories who also has a small outdoor space.
Where the Kamado Joe Junior shines, though, is on the road. It's built with weekend campouts, tailgating, fishing trips, and cottage escapes in mind. If you and your partner like getting back to nature, this grill is just the right size.
Unboxing and Assembly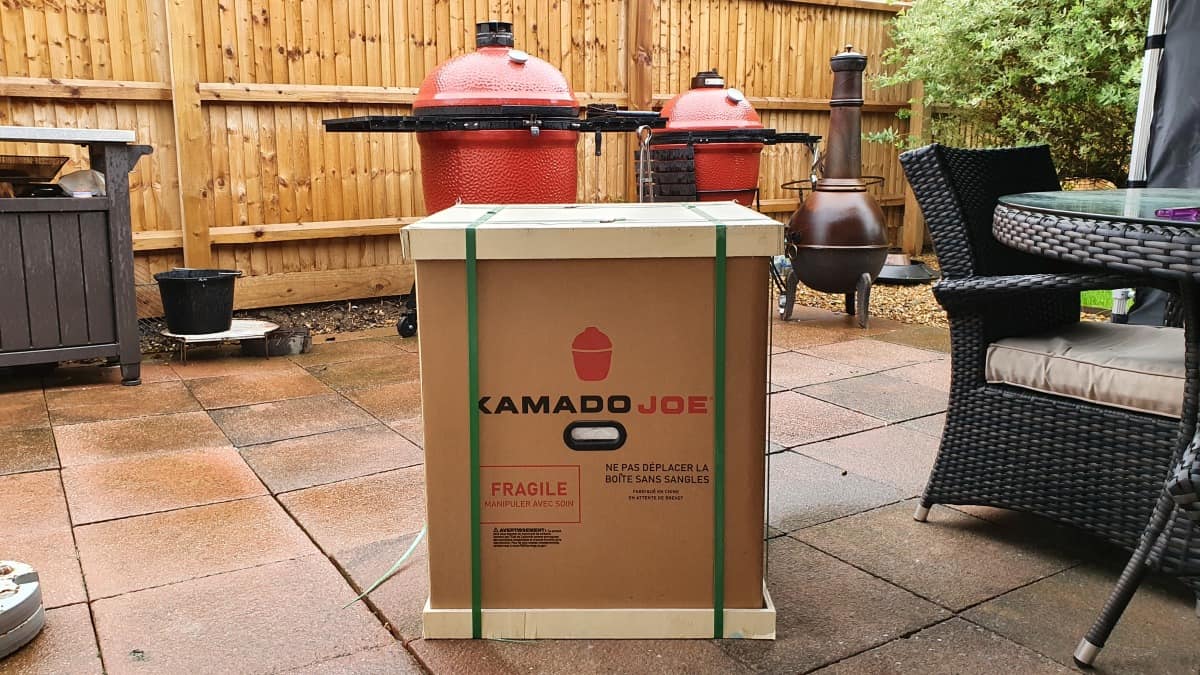 Do you have to be a handy person with hours to spare to put together your new Kamado Joe Junior?
Let's find out.
What's In the Box?
The KJJ comes in a single box, and it's expertly packed with styrofoam and cardboard inserts. Inside the cooker's body, you'll find the stainless steel grate and heat deflector, the fire ring, and the firebox.
Outside the cooker, we've got the stand, the top vent, and the lid-mounted thermometer.
Kamado Joe kindly provides an ash tool for cleaning out ash from the bottom and a grill gripper for moving your hot grate when you need to add more charcoal.
Ease of Assembly
Putting the grill together is very easy indeed. In fact, it arrives pretty much assembled with the main body of the grill in one piece, the lid and base already joined by a hinge and the metal banding on each half.
To assemble, you just need to unwrap things, then place a few items inside the grill in the correct order.
First, remove the crate lid, exposing the top of the grill. Remove the outer packaging.
Next, empty all the innards of the grill and set them aside. Remove the outer cardboard box surrounding the grill, and then remove the polystyrene packaging and accessory boxes from underneath the grill.
Now lift and remove the Joe Jr from inside the stand. Unwrap the stand…and this is probably the most tedious and time-consuming bit of the whole task, as it's pretty well and tightly wrapped. But 2 or 3 minutes, and you're done.
You can now place the Joe Jr into its stand.
Now open the grill, and place the components inside in this order:
Place the firebox into the grill, making sure to line up the cutaway with the bottom vent door, so you get good airflow and can scoop ash out after a cook.
Place the fire ring on top of the firebox, with the little notches at 2, 6, and 10 o clock. I have them here so that when the grate is in place, the hinge is at the front and most accessible for adding smoking wood or coal if you wish to.
Now place the cast iron fire grate into the bottom of the firebox, with the flat surface up.
Put the heat deflector into the rack, and then place the rack onto the fire ring, with the rack sitting in the three notches of the fire ring.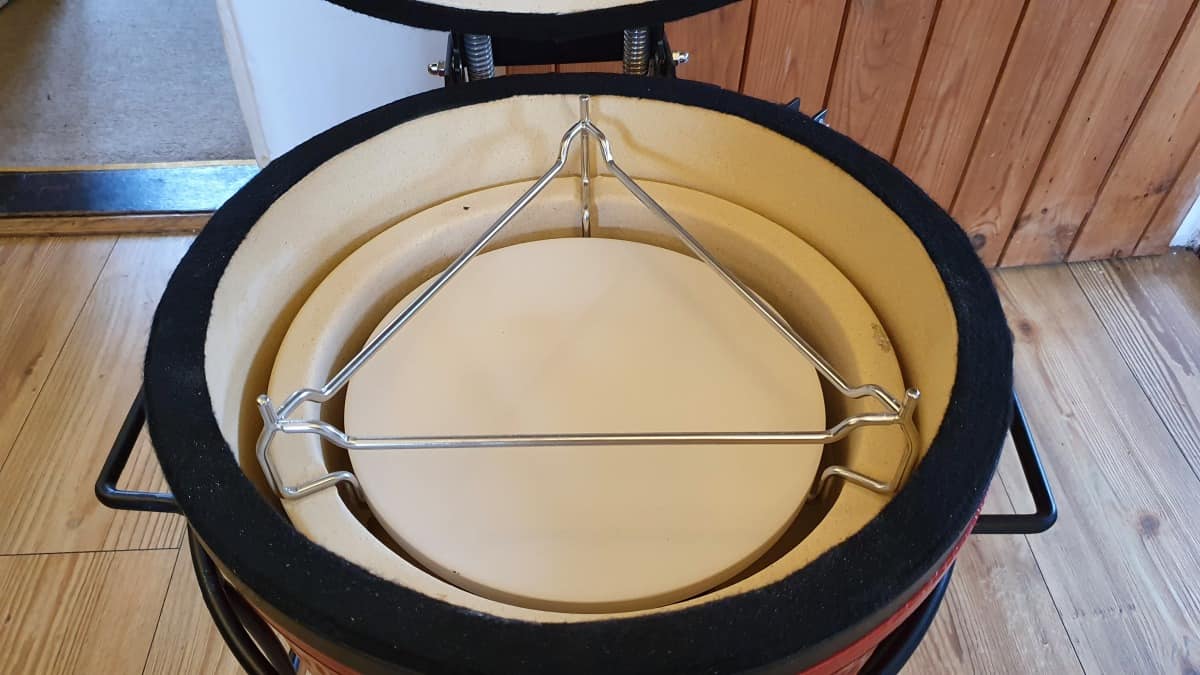 Finally, place the stainless steel grate onto the rack, with the hinge facing forward.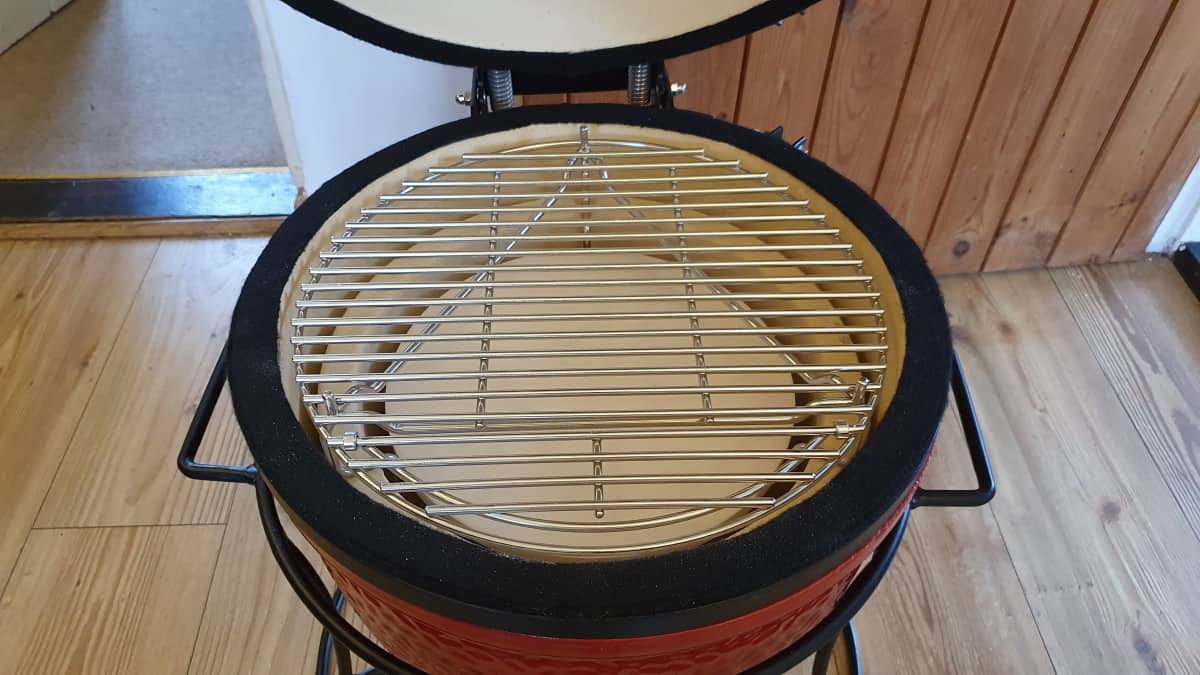 For the final step, you now simply close the grill lid, and place the top vent over the chimney.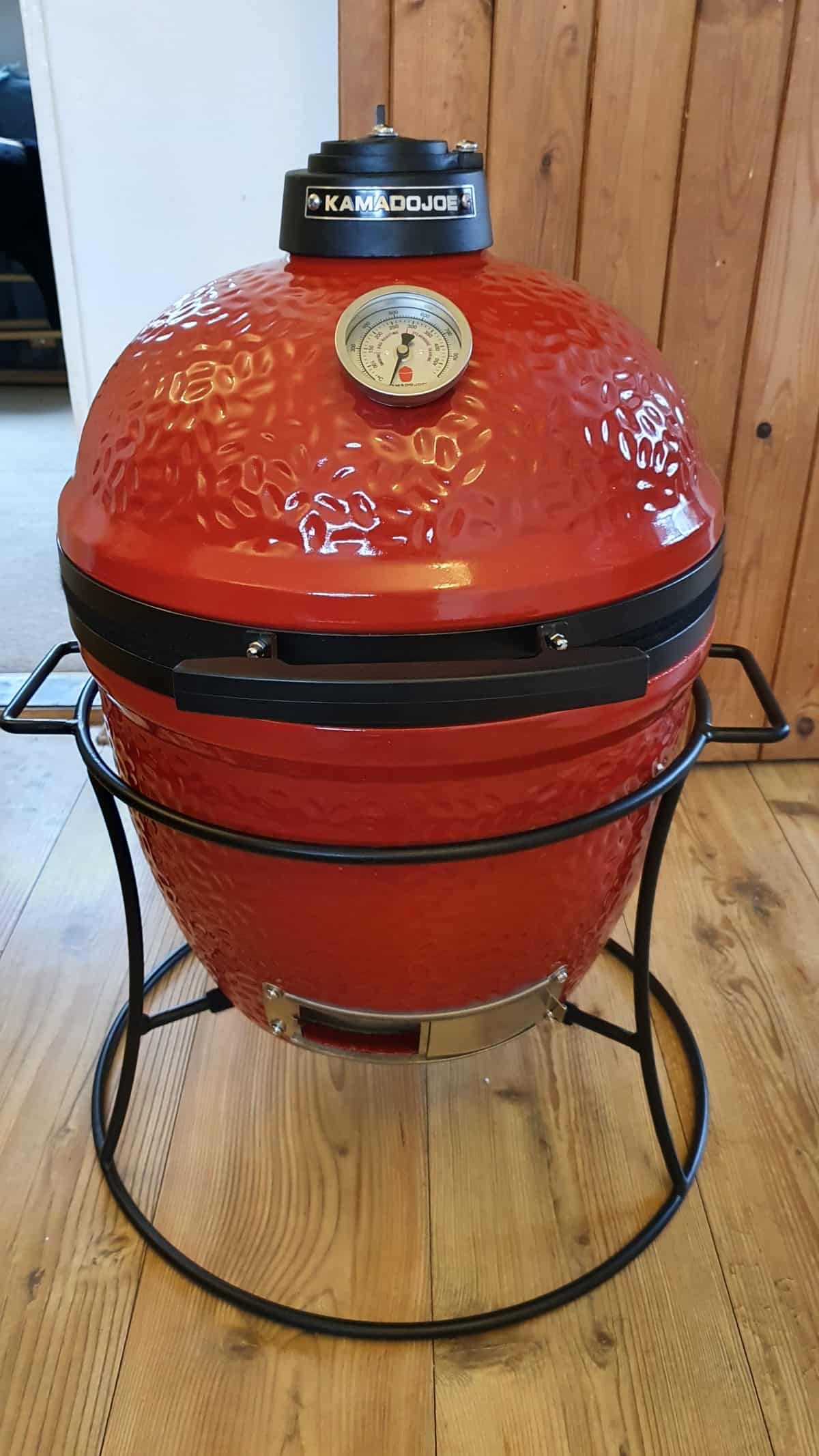 And that's it! This whole process takes about 10 minutes.
Overall Build Quality
Like all Kamado Joe grills, the Joe Junior is a very solidly built premium product using high-quality materials.
It's tough to beat ceramic for heat retention, and it's one of the things I love about cooking on a kamado. Yes, it's also the reason why such a small grill weighs almost 70 pounds. But, the quality of the cook compensates for the extra exertion when you're moving it around.
Additionally, the fire grate is made from solid cast iron and should last essentially forever.
The Cooking grate is stainless steel, as is the bottom vent. Even the lid hinge is top-drawer; it's a breeze to lift the spring assisted dome, and it stays in place as you tend your food or the charcoal.
The stand is made from powder-coated cast iron, which gives a good stable base that will last a long time. The grill does sit very low on the stand, though, so you will need to bend over to use it or place it on a raised surface. The base of the grill sits high off the ground, though, when in the stand, so putting it on a table is fine and will not be a fire hazard.
The handle to life the dome is HDPE, doesn't get hot during use and is comfortable and easy-to-use.
Kamado Joe KJ13RH Joe Jr. Charcoal Grill and Smoker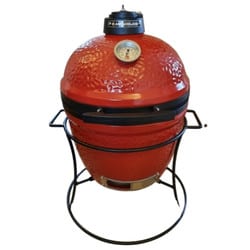 31 Kg, with a 13.5″ diameter cooking surface. Small but mighty, and incredibly versatile being capable of grilling, smoking, searing, baking and roasting.
The Kamado Joe Junior in Use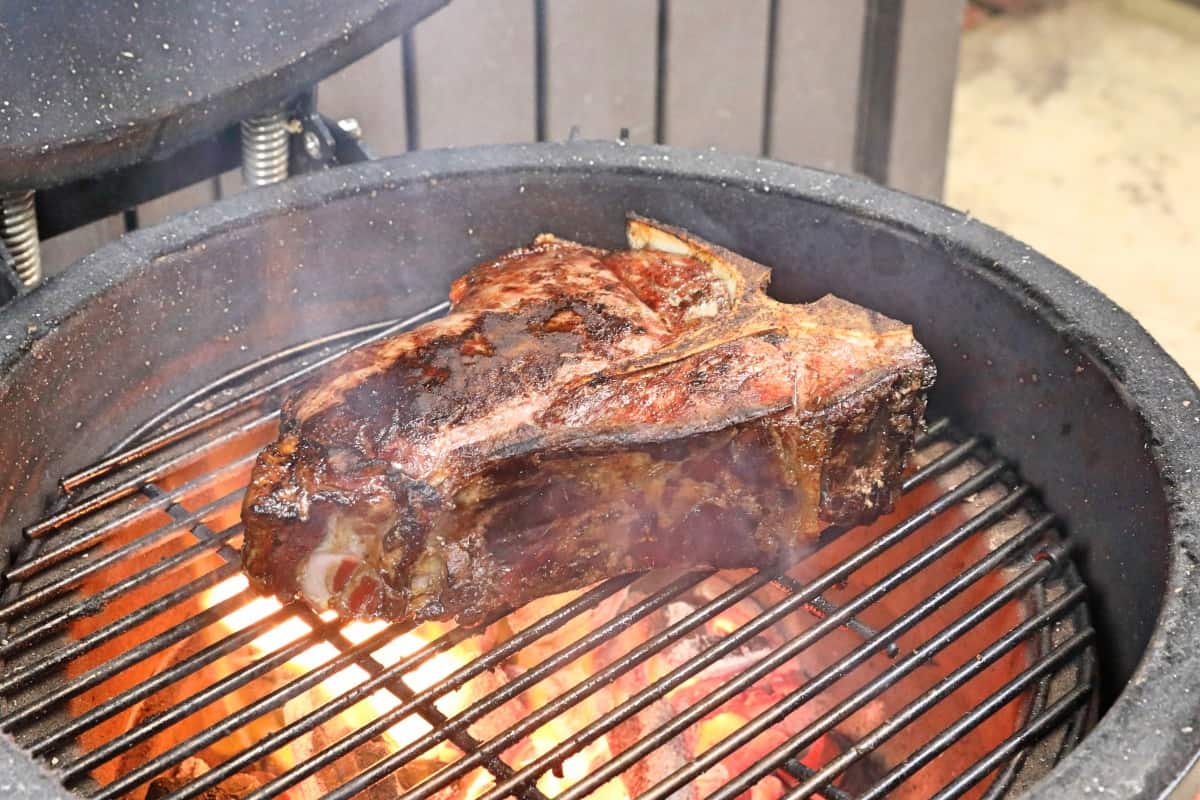 I'm an experienced Kamado user, as this Joe Jr is my third one (I also have the classic 1 and the Big Joe 3.) I have owned and used Kamados for many years now. So for me, there was no learning curve.
But how is it for new users to the Kamado world?
Overall Ease of Use
There is a bit of a learning curve for new users in starting the fire, bringing the grill up to temp, then learning how to control the events to stabilize the temperature at the heat you want to cook with.
But as long as you are patient, follow the guidelines, it's actually straightforward.
There are literally dozens of YouTube videos you can follow along with, so anybody should be fine to get up and running quickly.
Getting to grips with using the Kamado Joe Jr is no more complicated than using any charcoal grill. And in fact, because it is so well insulated, the temperature swings are way less severe than with a typical charcoal grill, so it is easier to use than, say, a weber Kettle.
I reverse seared a large 1KG+, 45 day dry-aged porterhouse steak for illustration purposes to discuss different elements of the grills' use and performance. Here it is, heavily salted and waiting to go on at 250 °F for a quick smoke before being seared later.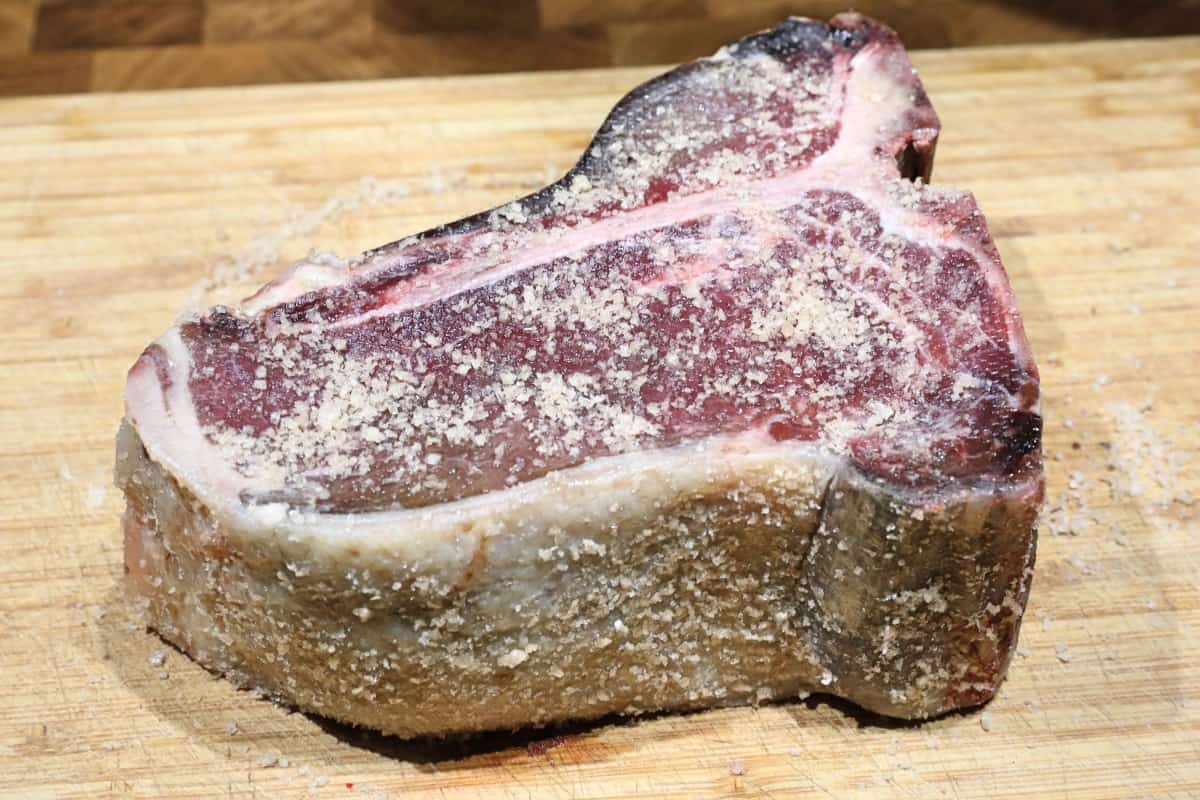 So here's how I got on for this two-part cook and how the grill performed in use.
Lighting the Grill
The best way to light a kamado grill is to start a small fire and allow the grill to come up to temp slowly. Do not overshoot, as it's then hard to bring the temperature back down.
So my preferred method is to use a single firelighter in among the charcoal. I bank the coals up toward the back, and dig a natural firelighter into the coals before setting it alight.
Let it burn for 5 minutes with the lid open, then I spread the coals about a bit more evenly across the fire grate:
I then place the cooking grate in, and for now place the heat deflector on top of the cooking grate, so it can heat soak and come up to temp with the grill, without restricting the airflow.
Now close down the bottom vent to about halfway, and the top daisy wheel fully open, so the grill can slowly up to temp with less chance of overshooting. Be patient with it while it comes up to nearly your target temperature, (in my case here, 225 to 250 °F.)
You want all the components, the grill walls, grates, deflector, everything, to heat soak and be at your cooking temperature before you start. I typically allow about half an hour.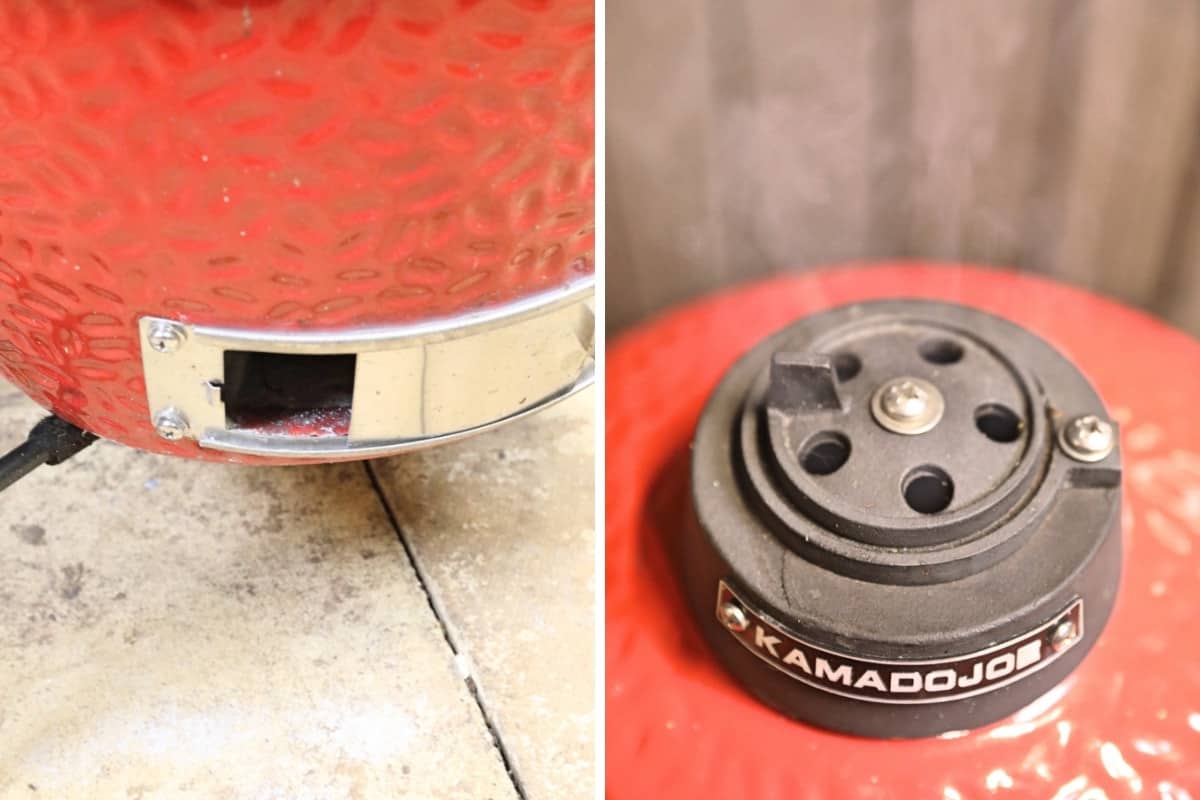 Once you get to your final target temperature, dial the vents down further to stabilize it. There's more on this a little later.
So as you see, it's very easy to get lit in my opinion. Just start small, and be patient.
Temperature Range, Control, and Accuracy
The manufacturer specs state this grill can be held between 225 °F and 750 °F. However, I'm able to hold it at about 180 °F successfully, and have had it way over 750 °F (by accident.)
I've had this grill settled at 225 °F for low n slow smoking for up to 5 hours. I've seared at 600 °F. I've even had it blow right off the scale during a burn-out self-clean, where it exceeded 900 degrees Fahrenheit!
I do not recommend doing this high a heat ever, as it can lead to drying out and reducing the lifetime of the felt gaskets between the lid and body. I just had the vents wide open and forgot about it…so it happened.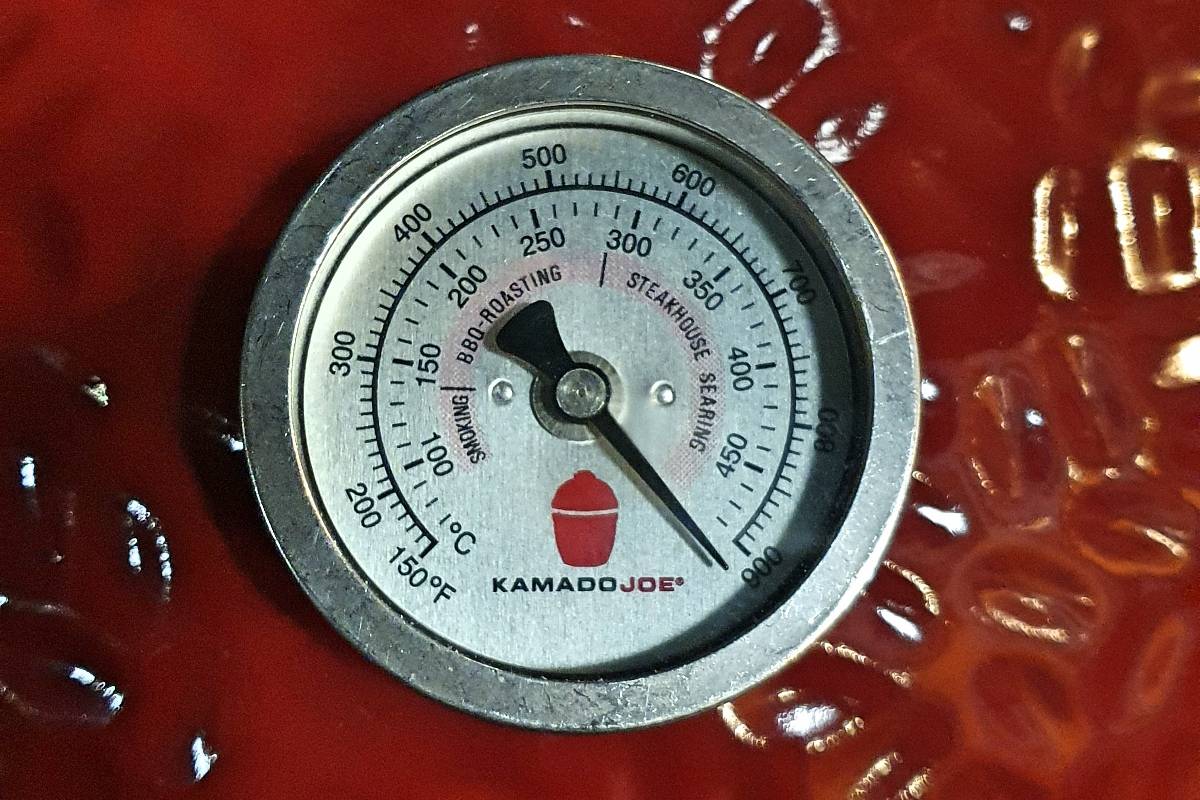 For me, temperature control is easy because I'm experienced with these grills (unless I forget all vents are wide open! Lol.) For a new owner, it is something you need to learn.
The great thing about ceramic grills is they are so well insulated, they hold temperatures well. So once you learn vent control, achieving and maintaining a steady cooking temperature is easy indeed.
It's a process that is too long to detail here. But I have a highly detailed guide to using a kamado grill. Temperature control is explained in depth here. And fear not, it's not at all difficult!
The one issue most people have with any Kamado — and this is true for the Joe Jr — is overshooting your target temperature and then being unable to bring the temperature back down.
Make sure you start a small fire and allow a good half hour to come up to cooking temp, slowly controlling things with the vent. If the fire gets too big too quickly, it will get too hot, the ceramic will absorb the heat, and then dropping temp can be slow and difficult.
Understand and avoid this, and then things are straightforward.
For a cooking temperature of approximately 250 °F, I had the top vent daisy wheel about one-third open and the bottom vent open about a finger width.
The grill then held a steady temp of about 235 °F for the hour it took to bring my steak up to 120 degrees Fahrenheit internal. The temperature fluctuated only by single digit degrees during this time.
I used a Meater wireless thermometer probe to measure temps during this cook, as can be seen inserted into the steak here:
Smoking Performance
It works well.
I used a single piece of cherry wood for my steak, as it's mild and gives a good color. To do so, simply place the smoking wood atop the burning charcoal, and wait for the worst of the heavy white smoke to finish before placing your meat on.
The grill held a steady 235 °F for the duration of my low n slow phase of the cook, and the smoke, although white, wasn't heavy.
Kamado grills do tend to give a slightly heavier, whiter smoke than the most desirable 'blue smoke' you often hear about, but that's the nature of the beast, having such a small and not too hot fire inside. It's unavoidable, but perfectly acceptable.
This smoke from a Kamado isn't heavy, bitter, creosote flavor producing. It's just a little heavier and whiter than you'd get from a pellet grill or an offset smoker. Still good and very tasty!
This is my steak after the low n slow, indirect heat smoking stage: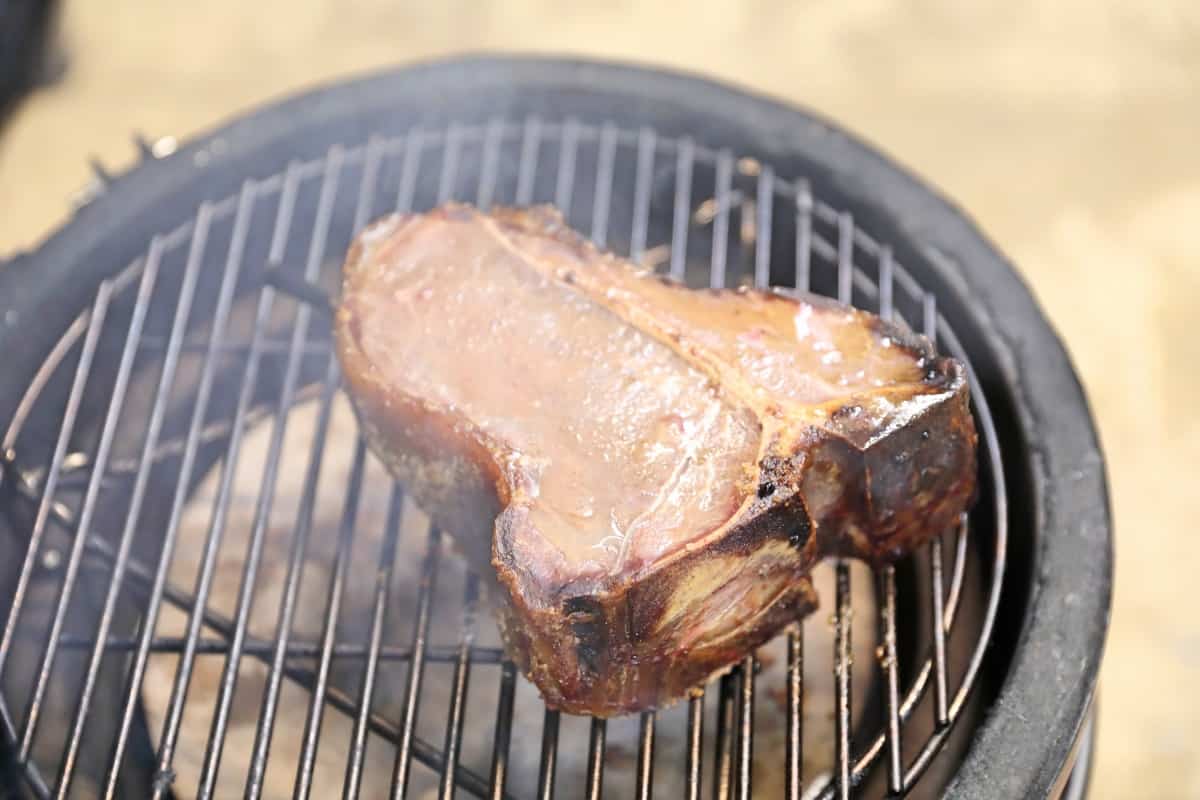 Grilling Performance
Once my steak had hit 120 degrees Fahrenheit internal, I removed it to rest uncovered while I brought the grill up to a grilling temperature.
I removed the heat deflector, opened the bottom and top vents wide, and then just waited. Within 20 minutes, all the coals were glowing red and white-hot, the ambient temperature (as measured with a digital smoker thermometer) peaked at about 550 degrees Fahrenheit.
The grill can go hotter, but it would require more fuel. And this is plenty hot enough for searing.
I then seared my steak until it had a nice Maillard crust, and the internal temperature had reached 130 °F, so it would come up closer to 135 °F after resting again.
Ease of Cleaning
Cleaning the Kamado Joe Jr requires either an ash vacuum or scraping ash out of the bottom vent using the supplied ash raking tool. I do have an ash vacuum, but it's just easier to scrape it out, in my opinion.
What I tend to do, is if there's much charcoal left, I close the vents and let the fire go out, because I can reuse the fuel on the next cook.
If there is little charcoal left, open all vents wide and let it burn right out, which helps clean the insides. I can then let it cool before cleaning.
To empty out the ash:
If you burned all the fuel, remove the fire grate and empty all ash into the bottom.
If you have fuel remaining, stir it so that ash falls through the fire grate into the bottom, leaving unburned fuel still in the firebox.
I now place a metal bucket over the bottom vent and use the ash rake tool from the inside to first push all ash down the sides into the bottom, and then toward and out of the vent door.
I then use the ash rake tool to scrape the ash out from the outside into the bucket.
This can be made easier by having the grill on a table, with the vent just overhanging the edge, so ash can fall into the bucket, as seen in the pics below.
Note: I would always wait for the grill to cool before cleaning out the ash, but did so while it was still slightly hot and some ash still glowing red, purely so I could get the necessary photos. Always wait for a cool grill if I were you, for safety reasons.
Portability
I have taken my Joe Jr camping before and to the beach a couple of times, so I have experience of 'grilling on the go' with it.
It weighs 30KG, so two people need to carry it and move it to where you wish to cook. So it's heavy, but it is still portable and earned a well deserved place in my list of the best portable charcoal grills.
There are two handles, one on each side, and they are OK to carry it with, but not great. In my opinion, they are a bit on the thin side and hurt the palm of your hand or fingers a little if you need to carry it for anything more than a minute or two.
What we have done when moving it is to wear 'winter gloves.' Something with a bit of padding. This solves this issue.
But anyway, in all honestly, I now only take the Joe Jr traveling if I want to smoke something, such as these three racks of baby back ribs you can see I smoked in my friend's backyard.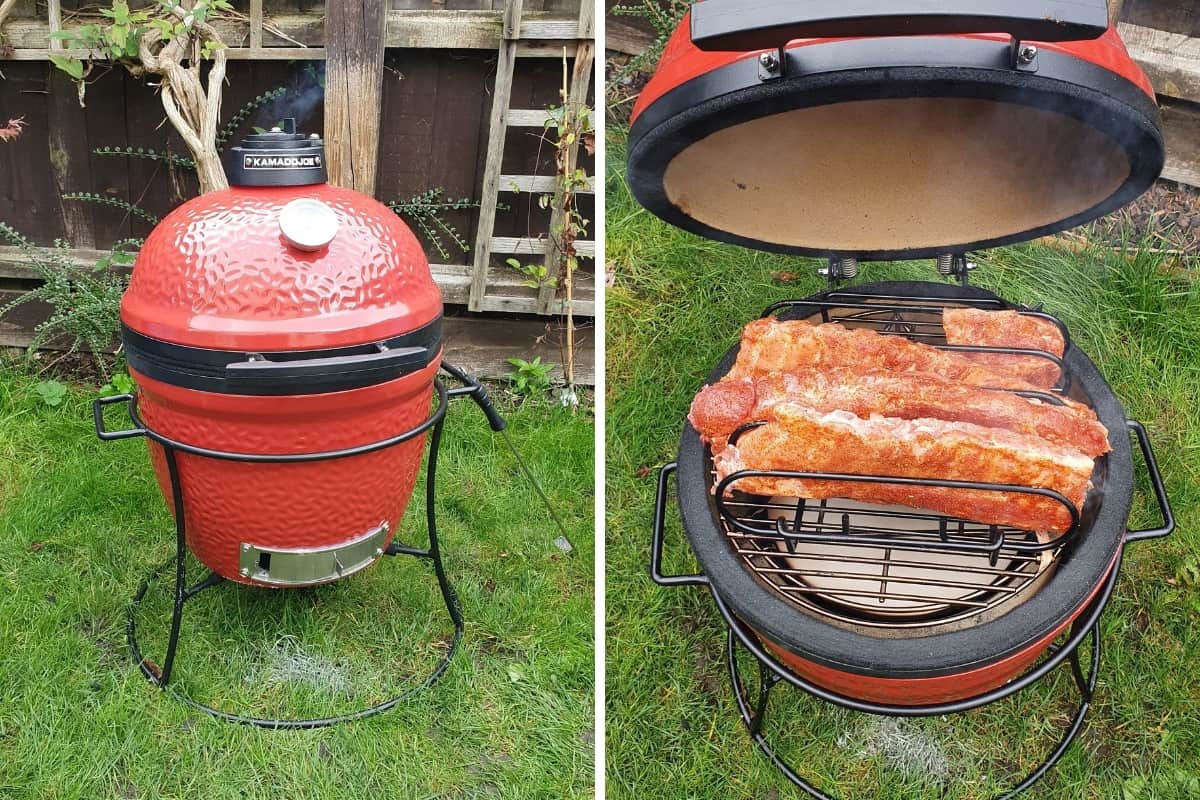 If I only to want to grill while away, I would take a much lighter unit, such as my Weber Go Anywhere charcoal grill, or one of my portable gas grills.
But for smoking on the go, the Joe Jr is great and my go-to device. And if you do not have multiple options for travel grilling like I do, or are looking for something that can do both jobs of grilling and smoking, this is a very capable product.
Charcoal Consumption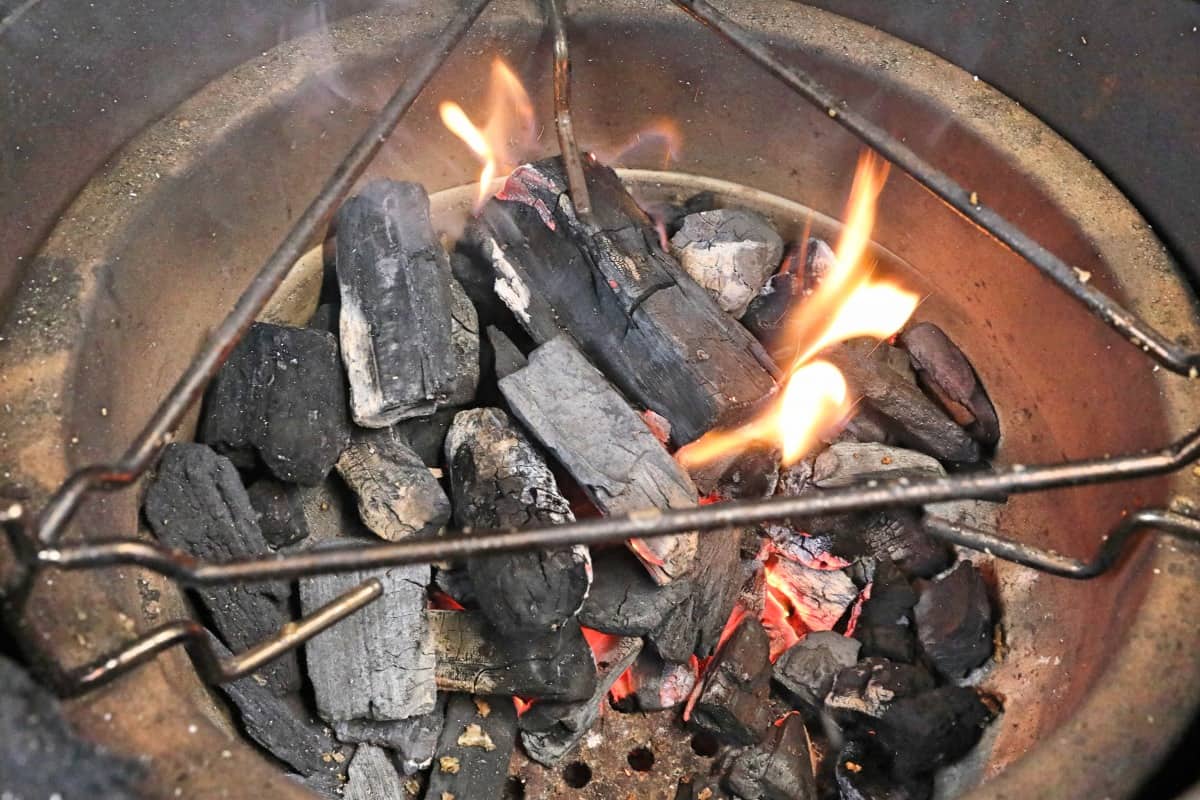 The Joe Jr is fuel-efficient. You can see in the photos in previous sections how much charcoal I added to start a reverse sear of my steak, about half a basket full. And the photo directly above is what remained after about an hour of low n slow cooking at 250 °F.
I was then able to crank up the heat and perfectly sear the 1KG steak without adding any extra fuel.
You can see the baby back ribs in the previous section, I managed to smoke for 4.5 hours using a single load of charcoal, and there was approximately half of the fuel remaining when I finished. So to find out fuel consumption, I continued to let it run until all fuel was burned through and the temperature dropped.
On a single load of charcoal, the Joe Jr managed to hold a temp between 225 °F and 250 °F for a little over 8.5 hours. This is quite impressive!
Your mileage may vary and depend on the quality, density, and energy contained in the different charcoals you might use. I used a 'mixed hardwood blend.' But either way, 8.5 hours on a single load of charcoal is impressive, considering how little you can get in the small basket!
Quality of Food Produced
Amazing. This is all I can and need to say really.
It holds temp well, can smoke and grill, maintains a moist cooking chamber during use, and produces wonderfully moist, flavorsome food.
It is a highly capable little grill, and so long as you have some cooking chops and know how to make great BBQ, you will produce great food on the Joe Jr.
Kamado Joe Company Overview, Support, And Warranty
The Kamado Joe company was conceived and founded by a couple of guys who felt something lacking in their own grills. It's a nice backstory for a startup that's made a name for itself in a niche area of grilling that was previously dominated by a single name — Big Green Egg.
They've come a long way and have proven themselves to be innovators dedicated to building quality products.
There's a good selection of FAQs on the Kamado Joe website should you run into trouble. They also provide tips and guides for operation, and there are over 450 videos on their YouTube channel.
You won't be able to call KJ, but they have a highly detailed contact form on the website. You can even attach photos to help explain your issue.
They have a strong presence on social media, too, including Facebook, Instagram, and Twitter. They're a great place to find real-world answers to your burning questions. And, why not join one of the many unofficial groups too?
You got to love a company that stands behind their workmanship; every Kamado Joe grill comes with a lifetime warranty against defects on all the ceramic parts, five years on metal parts, three years on the heat deflector, and one year on the gaskets and thermometer.
Summary of Pros and Cons
Pros
An excellent portable smoker, capable of reproducing what the bigger kamados can do
Highly versatile, you Can smoke, grill, sear, roast and bake
Excellent build quality, so will last a long time
Well insulated, so holds a steady temperature for consistent results
Fuel efficient for reduced running costs
Easy to clean by simply brushing ashes out of the lower vent
Cast iron stand with built in handles keeps it off the gorund for safe use, and makes it easy to carry
Lifetime warranty on the ceramics
Cons
Somewhat expensive compared to competing cermaic grills (but you are paying for higher quality!)
Heavy for a portable grill, but is due to the great build quality
No slide out ash drawer included, which is a feature of the larger models
Do We Recommend the Kamado Joe Junior?
You bet we do! …but ONLY if you want a pint-size portable grill and smoker.
Like I said before, invest in a Kamado Joe Junior if you're cooking at home for two people, max, or you want to take it camping to smoke and grill, or to smoke your catch of the day — even if you only "caught" some burgers at the store.
If you've got more than two people at home, if you like to host, or if you don't feel the need to bring a ceramic grill on your travels, skip the Joe Junior in favor of the larger Kamado Joe Classic.
Kamado Joe KJ13RH Joe Jr. Charcoal Grill and Smoker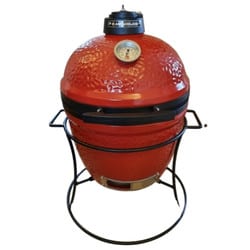 31 Kg, with a 13.5″ diameter cooking surface. Small but mighty, and incredibly versatile being capable of grilling, smoking, searing, baking and roasting.
Final Thoughts
I was already a fan of Kamado Joe before I started my deep dive into the Joe Junior. And with this third addition to my collection, I was not disappointed.
It does a lot of what the bigger Joes do, but it does it on a smaller footprint, and it's not limited to my backyard. Just be ready to answer lots of questions from gawking grillheads if you take it on the road!
If you decide to buy one of your own, let me know what you think! Did it live up to your expectations? You can send a message through the site or join us on Facebook and share your thoughts with the crowd.
Thanks for reading — and if this is your point of entry into the world of kamado cooking, welcome!