If you love outdoor living, don't miss my hands-on review of the Solo Stove Bonfire with Cast Iron Grill Top + Hub, with unboxing and honest evaluation of fire pit and grilling performance.
I don't know if you've ever seen one of those DIY fire pits made from the inside of a clothes dryer? I have, on more than one occasion. And maybe that says something about the places I go and the company I keep, but we'll let that be for now.
It turns out that, while horrendously unattractive (the fire pits), those guys may have been on to something with the solid metal construction and air holes. Or, they may just have been on something. Hard to say.
Fast-forward a few decades, and we have the Solo Stove Bonfire, an all-stainless steel barrel of a fire pit with multiple perforations for airflow. Only this unit is supposed to be properly engineered for optimal burns with extreme heat, near-total reduction to ash, and virtually no smoke. Obviously, I had to try it out. And, since I love to grill, I also had to add on the grilling kit.
If a nifty new fire pit is on your backyard makeover list or seems like the missing element for the perfect camping experience, you'll want to stick this one out to the end. I'm going hands-on with my own Solo Stove Bonfire to see if it is a better fire pit and test its grilling performance. I'll walk you through unboxing, setting up, and enjoying a fire, plus installing the grill attachments.
By the end, we'll both know whether it was worth the investment. And if those awesome dudes with the home appliance fire pits were more brilliant than I realized at the time.
What is the Solo Stove Bonfire?
Solo Stove Bonfire
Experience the beauty of flame without the smoke with the Solo Stove Bonfire. This beautifully designed fire pit offers a smokeless burning experience with its unique 360-degree airflow design.
Crafted from premium stainless steel, it showcases a stunning minimalistic design that complements any setting.
It's compact and portable, perfect for backyard gatherings or adventurous getaways.
The Bonfire is one of three fire pit models made by Solo Stove; it's the "medium" in a "small, medium, large" trio of pits that are the Ranger, Bonfire, and Yukon.
In the most basic terms, it's a stainless steel drum or barrel built to contain a small wood-burning fire. It's large enough to burn pretty decent-sized logs and sticks without having to do a lot of chopping.
The design is such that the Bonfire safely contains the fire, especially compared to a hole in the ground lined with stones, burns efficiently, and (so they claim) is smoke-free.
And it's portable.
As a bonus, you can also cook over your fire if you have the right accessories…which, of course, I do!
How Does it Work?
Straight from the horse's mouth, Solo Stove describe the way their firepits work as follows:
Our Signature 360° Airflow super-heats air to burn off smoke before it can get to your clothes and hair. And without that pesky "post-fire" smell, teary eyes, or a game of musical chairs to dodge smoke, you can enjoy ultimate warmth without sacrificing comfort.

-solostove.com
The Solo Stove Bonfire has a very clever design that results in an 'almost smoke-free' experience. More on this later in my section on 'Overview and Core Features.'
Anyhow, how to use it?
You wouldn't think burning wood in a barrel needs a lot of instruction. But, to get the most out of your Solo Stove Bonfire and enjoy its advantages over other firepits, there are some simple steps to follow.
How to Use as a Firepit
If you just want to enjoy the ambiance of a roaring fire or perhaps roast a marshmallow or two, it's a simple matter to get a good fire going, not much different than lighting a fire anywhere.
First, make sure the upper ring is in place and facing upwards. You'll know it's the right way because it adds to the height and tapers in. This helps direct airflow and causes secondary ignition of gasses emitted from the fire.
Build a small structure at the bottom of the firepit on the perforated grate, just as you would any campfire. It could be a stack of kindling and small logs in the "Lincoln Logs" fashion, a pyramid shape, or simply piled up so they can burn freely.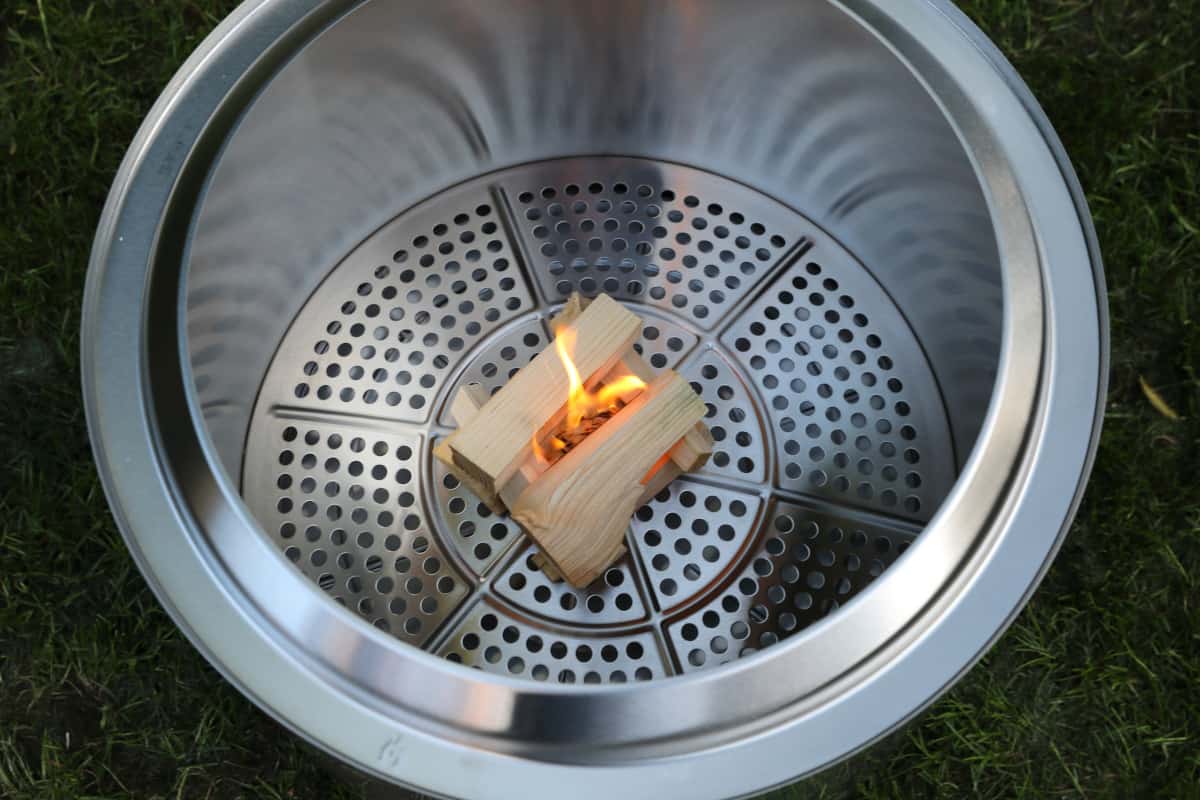 Place fire starter material below the wood and ignite with a long match, butane lighter, or Looftlighter.
Once the fire is going and you have built a small bed of embers, you can add logs as desired but do not allow them to extend up past the ring of air vents inside the top of the Bonfire.
And that's it. It will now light up extremely quickly, within 5 minutes or so, giving a beautiful hot and high flame.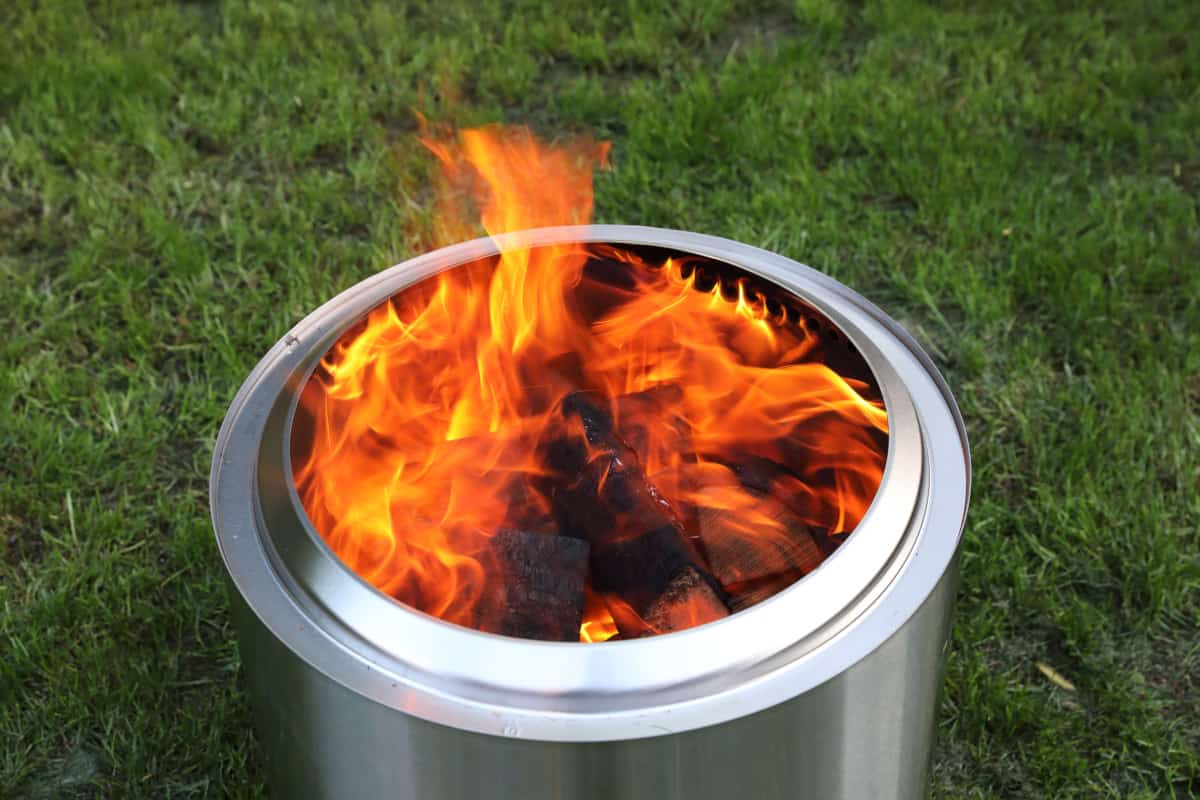 Once lit, full of burning wood, and fully warmed up for 20 minutes, it becomes almost completely smokeless due to the unique airflow and secondary burn.
Also, this secondary burn creates mesmerizing flame patterns, with what appears to be a stream of fire coming from each of the holes around the inside diameter at the top. This is best seen from a photograph I took in the dark.
How to Grill With it
You're in luck if you want to go beyond cooking things on a stick! Solo Stove offers a variety of accessories. One of your best bets is the Cast Iron Grill Top + Hub bundle.
The Hub is a stainless steel stand that fits on top of the Bonfire, adding about 9.5 inches of height. The ring at the top of the Hub fits several cooking accessories.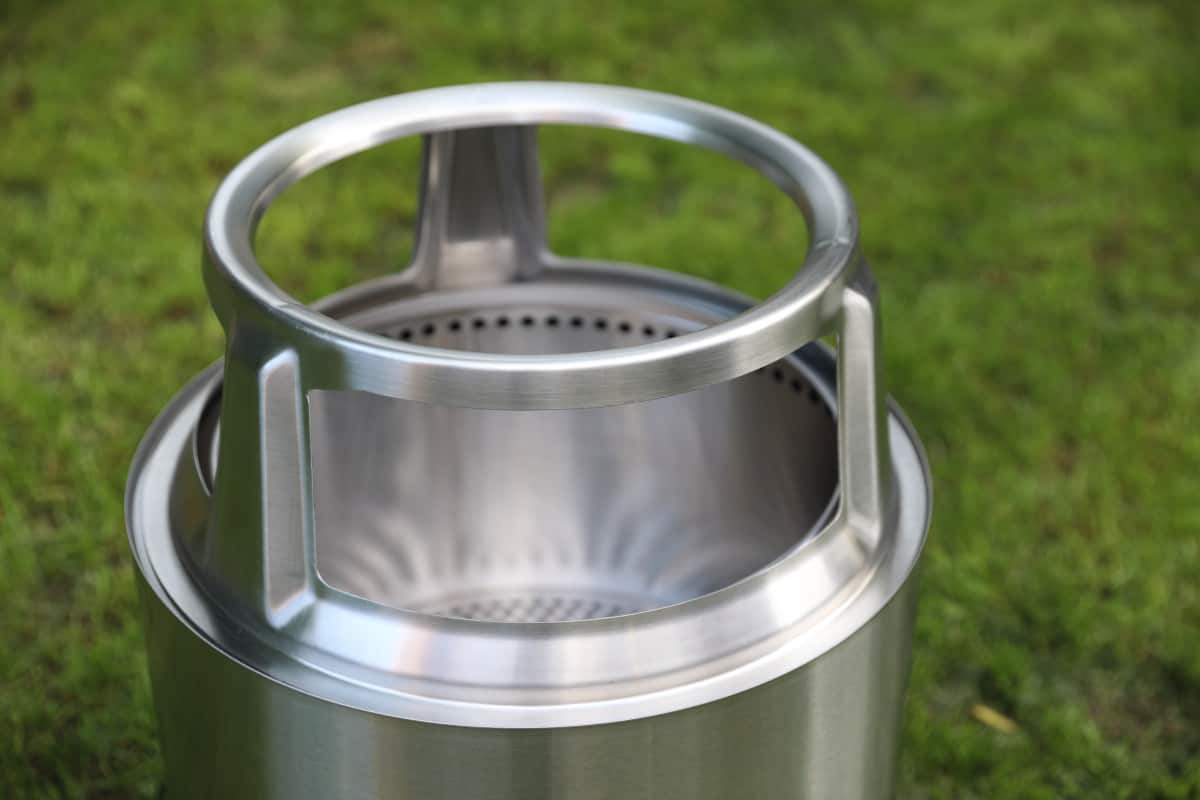 The bundle I bought comes with a 17.5-inch diameter cast iron grill.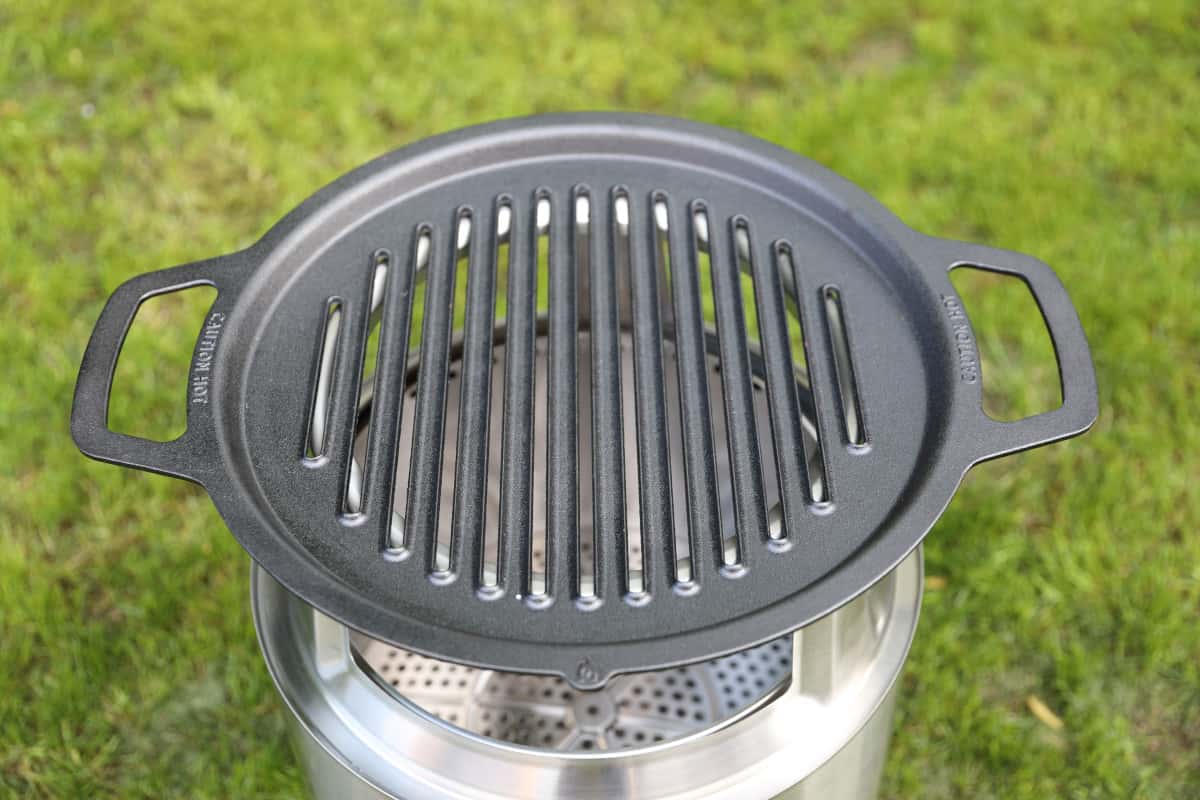 There's plenty of space for a few steaks, chops, or enough sausages and hot dogs to feed the family.
Other cooking accessories include a cast iron griddle and a cast iron wok. These add-ons work with the same Hub, so you could snag all three to expand your cooking options.
To grill over the Bonfire, you should start a fire as usual, then allow it to burn down to a bed of embers, with only a few inches of actual flame visible. Otherwise, it will simply get too hot and burn your food.
Once you have the bed of embers, place the hub and grate on top, allow it to heat up for 10 minutes, then get grilling.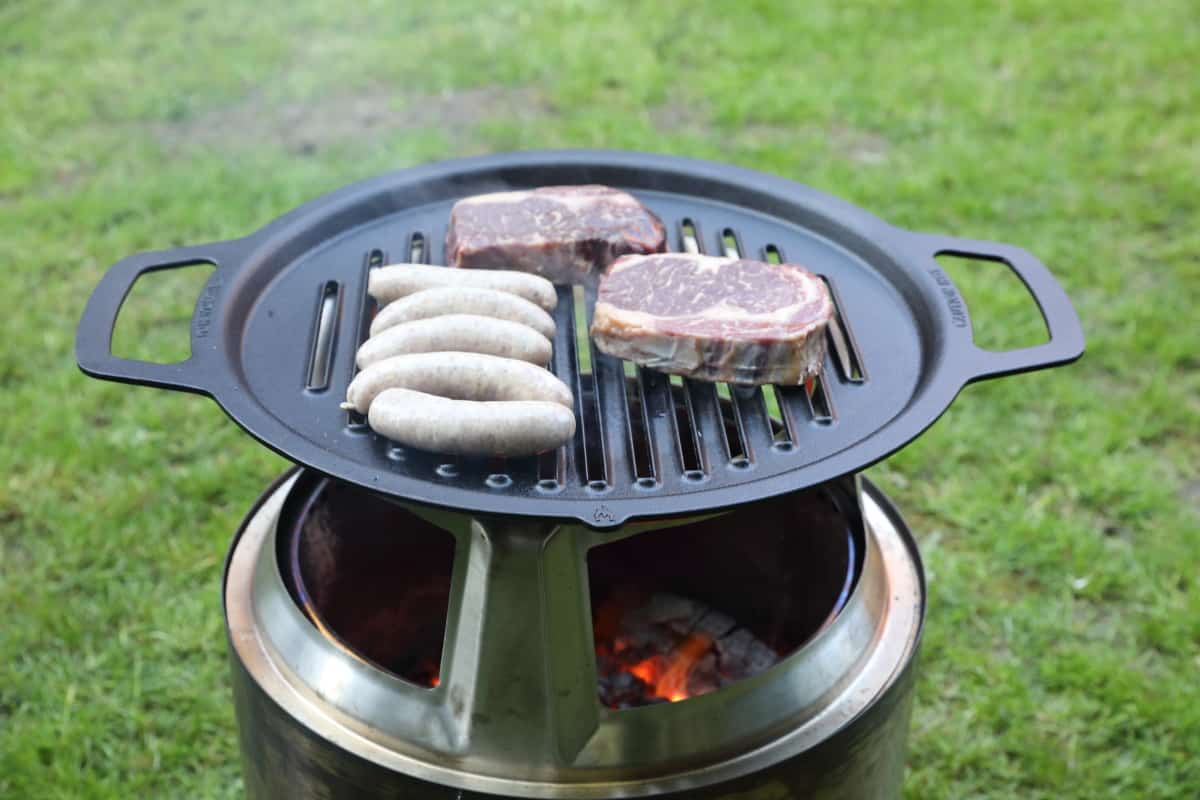 First Impressions
The Solo Stove Bonfire is simple but clean and modern in appearance. There's not much more to it than a cylinder of stainless steel. It'll fit right in if you have other stainless steel backyard gadgets. Even if you don't, it won't look out of place with any decor style.
The Solo Stove name and logo are subtly applied, so you can show off your good taste without being flashy about it.
It looks well-built and durable, and it seems like a suitable size for gathering a few friends around the fire.
What We Like
The double-wall construction and 360° Airflow venting system with the 'secondary burn' allow the wood to burn very hot and clean, creating an almost smokeless fire, and leaving you with little more than ash after a complete burn.
It's light enough to be portable, so you can enjoy it at home, tailgating, at the trailer or cottage, or anywhere without a burn ban in effect.
With the 'Bonfire Stand' you can safely place the Bonfire on any surface without fear of burning. I have used it on wooden decking, concrete, and even grass. After burning for hours, no grass died underneath the firepit, and zero damage was done. So, of course, it was perfectly fine on my patio and decking too.
Though it may not replace your regular grill, it's fun and handy to be able to cook a few items over the campfire. It works decently enough as a grill, though temperature control does have a learning curve and requires fire management.
The Solo Stove Bonfire is blaze-ready right out of the box, thanks to its simplicity.
The capacity is large enough to burn what you'd call "standard-size" firewood.
What Could Be Improved
Lighting the fire isn't as convenient as it could be; you have to reach the bottom of the unit to ignite your starter unless you have a Looftlighter or similar device.
There is no way to extinguish the fire when you've had enough. You have to plan in advance and let it burn itself out, which can take up to two hours.
Frankly, I think the Stand for raising the unit off the ground should be included with the Bonfire; it's virtually a necessity but has to be purchased separately.
I find the Solo Stove products burn through wood at quite a pace compared to my other firepits. This is because of the created airflow, constantly fuelling the flames. This isn't really something to be improved, it's a side effect of the design! Bigger, brighter flames result in faster burning, that is all. But it is something you should be aware of (especially as it will cost you more money in fuel!)
Finally, it is a pain to empty out after use. You have to either turn it upside down to empty it out, or use an ash vacuum to suck out the ashes.
Edit: Solo Stove has now come out with a Solo Stove Bonfire 2.0 with a removable ash pan, making emptying it a breeze. Excellent product development, in my opinion, that has solved a significant issue.
Overview and Core Features
You can burn wood in just about any container. What makes the Bonfire special is the unique double-wall construction and airflow.
With a fire lit, holes drilled into the outer wall of the fire pit all around the base draw air into the burn chamber, around the ash pan, and through the perforated grate beneath the firewood.
This allows a steady flow of air to fuel the fire and get those roaring flames happening faster than you'll believe.
This airflow up into the fire also has the effect of continuously 'fanning the flames', similar to if you blew on a fire. It feeds the fire with oxygen-rich air, which keeps it burning hot and fast, with wonderfully large bright flames.
Air drawn in at the bottom also travels up the inside the space between the inner and outer walls, exiting through the inside vents, a ring of holes drilled into the complete circumference of the inner wall near the top of the fire pit.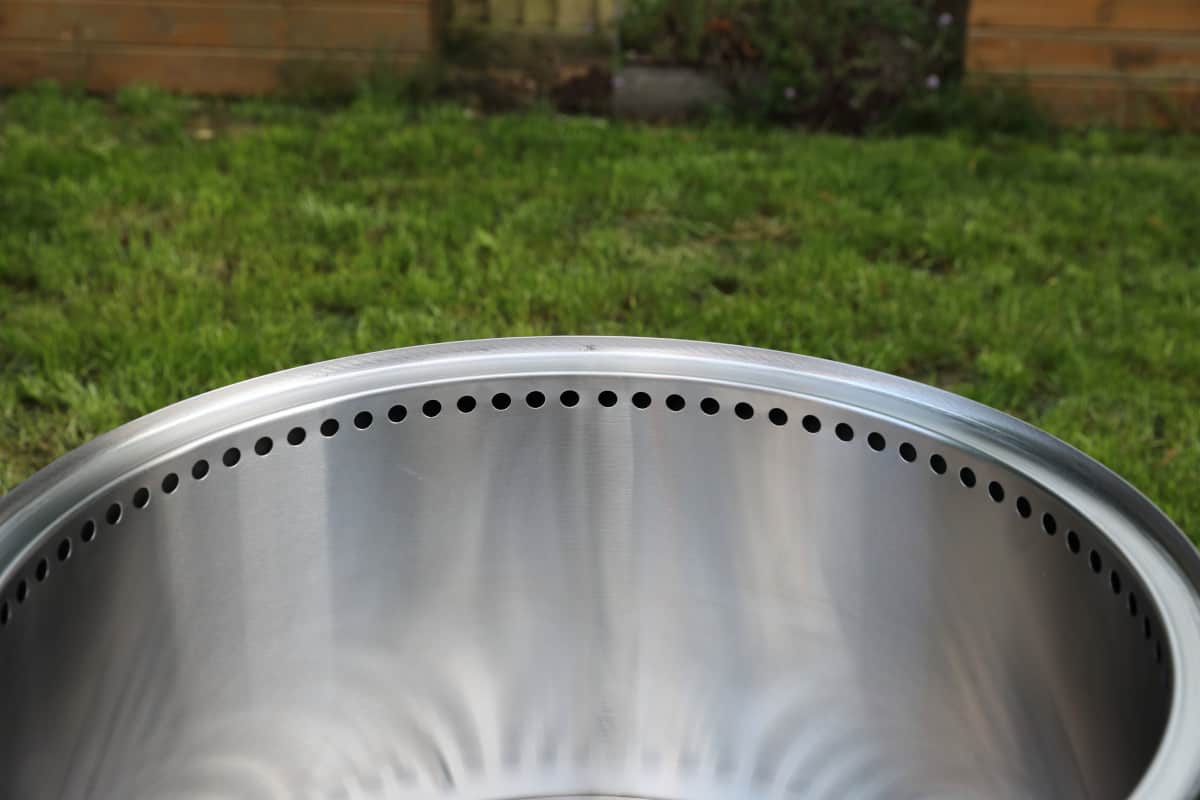 This air gets super-heated on its way up through the walls, and this super-heated air creates a secondary burn at the top, increasing the intensity of the heat (Solo Stove claims as much as an extra 400°F versus a "regular" fire) and burning off and eliminating virtually all the smoke.
It also creates beautiful, mesmerizing patterns of flames for you to enjoy.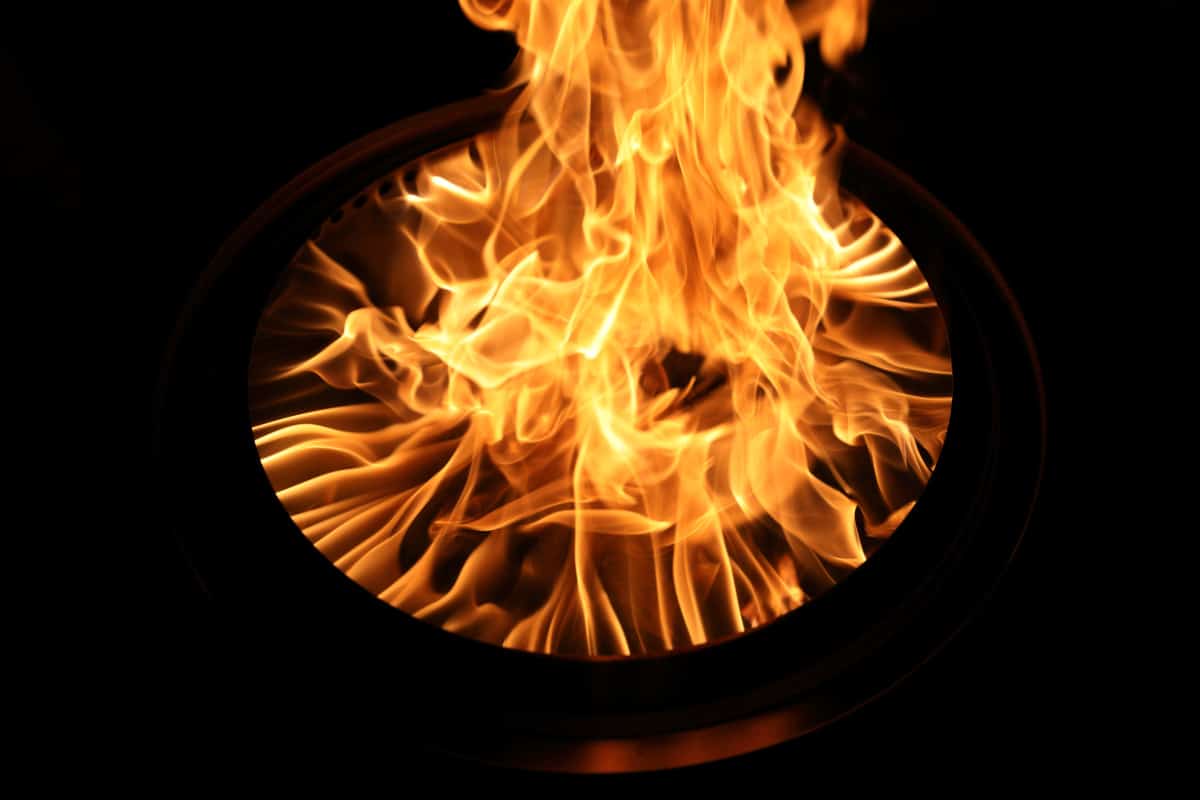 It's also incredibly efficient, burning the wood down to ash, and pretty quickly at that. Ash falls through the perforated grate and into an ash pan, preventing it from clogging up the air supply and choking out the fire.
The Bonfire's lower section stays relatively cool, even with a scorching hot fire inside, thanks to the bottom grate's raised position. When also placed onto the Stand (sold separately) this means you can use it on virtually any surface without causing any burn marks or risking a fire.
For the record, we'd absolutely recommend picking up the Stand accessory to boost the Bonfire an additional few inches if you plan to use it on wood, a composite deck, or grass. It's a small stainless steel ring that fits inside the bonfire for storage when not in use.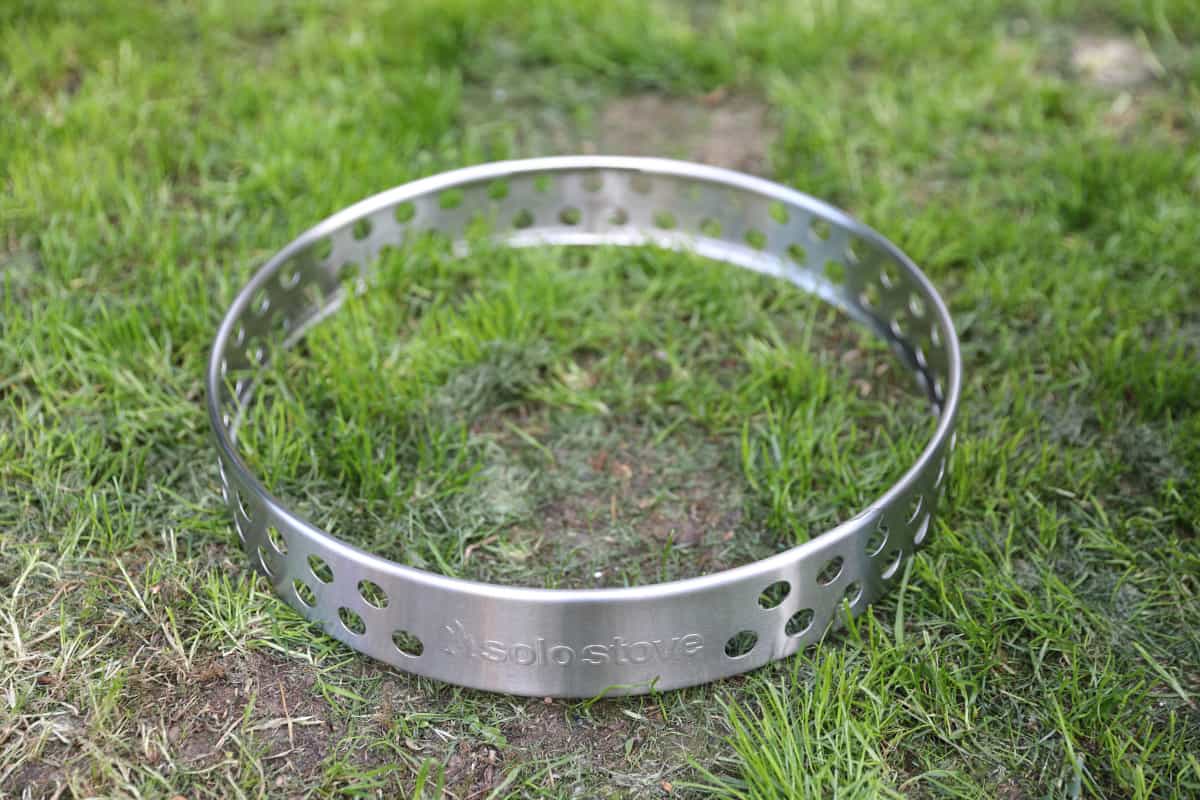 Manufacturer Specs
Material: 304 stainless steel
Height: 19.5 inches
Height with Hub: approx. 29 inches
Diameter: 14 inches
Weight: 20 pounds
Available Upgrades and Accessories
Being a savvy manufacturer, Solo Stove offers a range of accessories and add-ons for the Bonfire. These include:
Heat Deflector – a disc that fits on the Hub to direct heat outwards
Shield – two-piece mesh screen to keep embers inside; comes with two hooks for lifting the Shield when it's hot
Lid – stainless steel cap to help fully extinguish coals after a fire by reducing air intake
Stand – a vented ring that holds the Bonfire about 2.5 inches above the ground, allowing for safe use on grass or wood surfaces
Shelter – weather-resistant PVC-coated polyester fitted cover to keep the rain, snow, and critters out of your fire pit
Handle – slips inside the Bonfire to make it easier to carry
Hub – as described earlier, a stand for holding interchangeable cooking surfaces: Grill, Griddle, and Wok
If you don't already own a set, you may want to invest in a set of tongs and poker for moving firewood around. Personally, I derive great satisfaction from optimizing my fire with the logs already in place.
When ordering accessories, always take care to order the correct size. Fitted accessories are custom-made for each of the three fire pit sizes offered.
Who is the Solo Stove Bonfire Firepit and Grill Suited to?
Since the primary function of the Bonfire is to be a decorative fire pit, it's best suited to anyone who enjoys entertaining a small crowd. It's not huge, so it's optimal for up to half a dozen people, give or take one or two.
Without the heat deflector, it doesn't provide a huge amount of heat, so don't buy it thinking it'll extend your patio season deep into autumn if you live somewhere that gets cold. But, again, the Solo Stove Bonfire is primarily for ambiance and having a focal point for social gatherings after the sun goes down.
It's portable, too, so if you enjoy camping, RVing, and cottaging, you'll love the convenience of bringing along a safe, efficient fire pit that needs no set-up.
And if camp cooking some casual eats is something you enjoy, adding the Cast Iron Grill Top + Hub bundle just makes sense.
Solo Stove Bonfire
Experience the beauty of flame without the smoke with the Solo Stove Bonfire. This beautifully designed fire pit offers a smokeless burning experience with its unique 360-degree airflow design.
Crafted from premium stainless steel, it showcases a stunning minimalistic design that complements any setting.
It's compact and portable, perfect for backyard gatherings or adventurous getaways.
Unboxing and Assembly
Honestly, unboxing a new gadget, whether a cell phone, a collectible, or an offset smoker, is one of the best parts of adulting.
So, let's grab a box cutter and crack open a brand-new Solo Stove Bonfire.
What's in the Box?
First of all, we have the main Bonfire:
Cracking open the box and removing a big ol' piece of styrofoam packing reveals a large plastic bag with everything inside. The first item you'll come to is the fire ring, the device that helps funnel flames out the top and shelter the upper ring of inside vents.
The Bonfire is a single piece of stainless steel, with all fittings inside preinstalled and welded in place. There is no assembly to perform on the main unit.
Also in the box is a large, heavy-duty drawstring carrying bag with handles, which is an excellent addition for anyone planning on road-tripping with their fire pit.
Additionally, a brief instruction manual is included.
Secondly, we have the hub plus cast iron grate:
As you can see, there's not a lot to it, simply the hub stand and the cast iron grate.
Ease of Assembly
There are three words seldom uttered in the world of backyard living: "no assembly required." But guess what? The Solo Stove Bonfire is ready to rock right out of the box. Simply place it where you want to use it and flip the fire ring to the upright position. That's it. Done.
To switch to grilling mode, add the Hub stand. Place the grate on top, and you're all set.
It's probably safest to do this over a cooled fire pit, but I think you could pull it off easily enough after the fire dies down a little, provided you have your heat-proof gloves on.
Overall Build Quality
The Solo Stove Bonfire proves that even the simplest devices benefit from quality craftsmanship and materials.
The fire pit is made from 304 stainless steel, a highly rust-resistant material that should withstand years of use, especially if you perform some basic maintenance.
The perforated ash grate is solidly and smoothly welded into place, so don't expect that to go anywhere.
There are many accessories for the Bonfire, most of which are also made from 304 stainless steel. The cooking surfaces are all heavy-duty cast iron, so, again, you'll enjoy these over and over for many years to come.
The Solo Stove Bonfire in Use
Since this is a hands-on review, let's enjoy a fire and discuss my honest opinions of the Bonfire, the pros, and the cons.
Overall Ease of Use
You'd be hard-pressed to make this any easier to use. It's pretty much all one piece, there are no dampers or vents to adjust, and wood catches fire easily.
The only minor complaint I have is the need to reach all the way inside it to ignite your fire starter; a little vent in the side for lighting could be a great addition.
Firepit Performance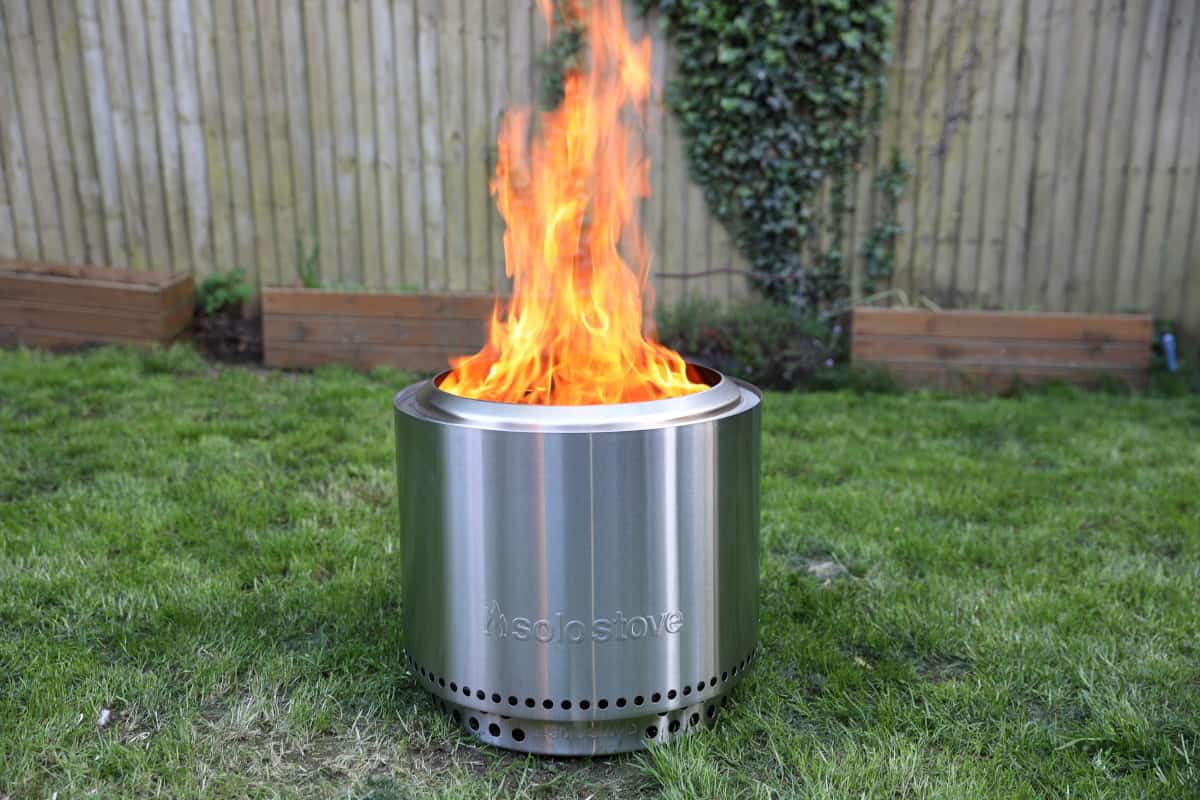 As promised, it's easy to light a roaring fire in no time – no time working out to about 5 minutes. If you have the least amount of experience building a fire, this will be a piece of cake. If not, check out this video from the Solo Stove YouTube channel on how to get the best fire in your Bonfire.
The fire burned very hot, and the flames climbed attractively up and out of the fire pit, exactly what you want when you set up your chairs for an evening of chit-chat, drinks, and even singing, provided there were enough drinks already.
As others have warned, and I can corroborate, the Solo Stove Bonfire does burn through good, dry wood faster than a typical fire pit. That doesn't mean you'll have to tend and feed it constantly. But having a ready supply of firewood on hand is a good idea.
It's worth noting that most of the heat generated by the Bonfire goes up as a function of its design. That means that, though it's hot as heck, it doesn't radiate much of that heat outwards. So, on a chilly night, you'll likely need a blanket or a jacket to stay warm, no matter how lovely the fire may be.
If you want to enjoy the warmth from your Bonfire, we'd recommend adding the Heat Deflector to your order, a 304 stainless steel disc that perches above the Bonfire to force the heat outwards.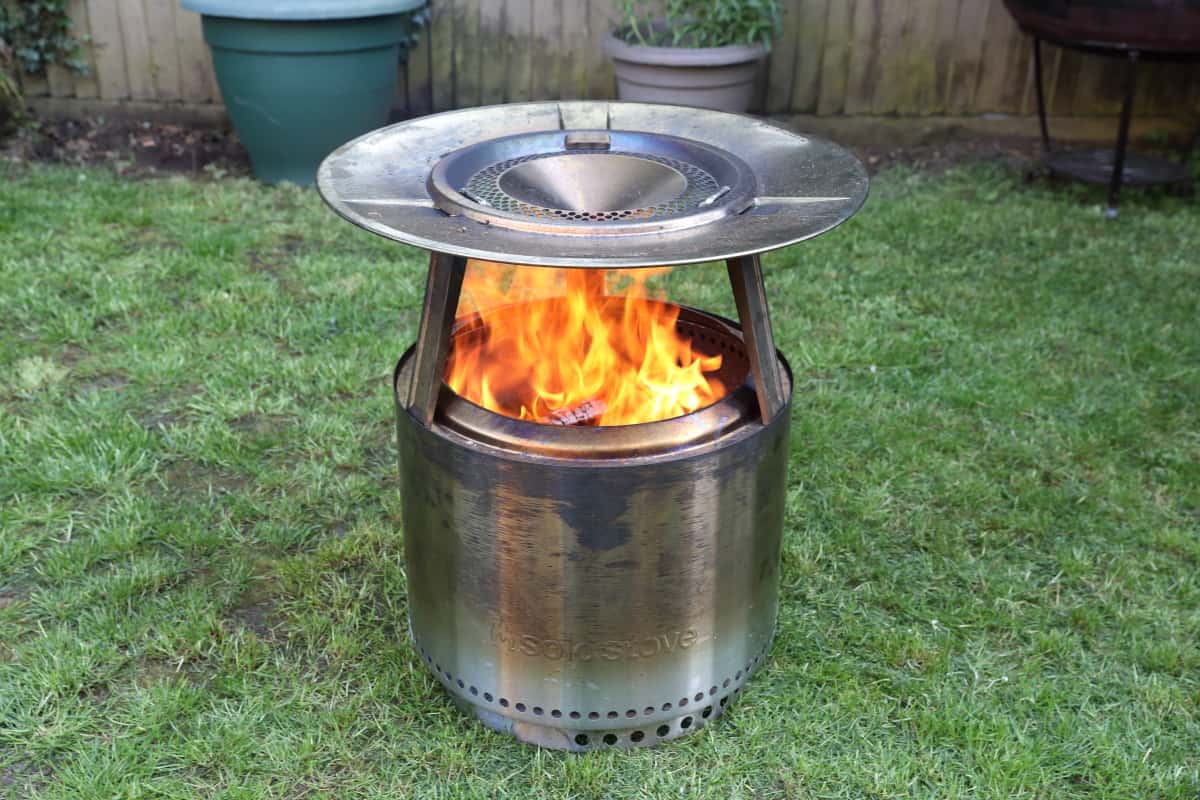 It's not unlike the downward deflectors you see on propane patio heaters, and works in exactly the same way.
As the fire burns, hot air rises, hits the disc, and is forced outward instead of straight up. Also, radiant infrared energy from the burning wood gets reflected downward and outward.
The overall effect is a far larger area of warmth radiating out from the Bonfire. I have the attachment, it works incredibly well, you can really feel the difference, and I pretty much use it all the time. I definitely recommend the Heat Deflector accessory.
Grilling Performance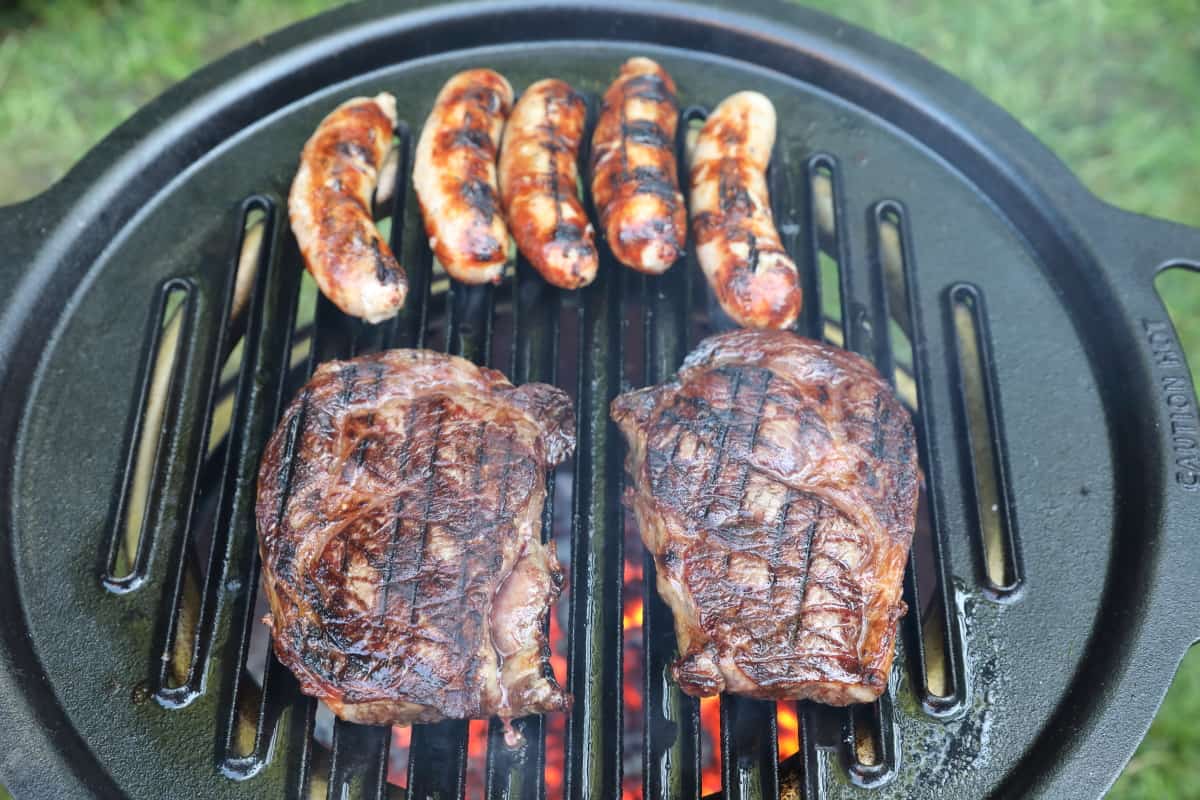 Cooking over an open fire is always a bit of a dicey situation. It's not like a gas or charcoal grill, where you can control the heat with reasonable accuracy. You must be very attentive to an open fire because you are at the mercy of the flames. That's especially true with the Bonfire – it burns so darn hot!
Make sure to follow my recommendation of burning a fire down to a bed of embers with only a few inches of flames before attempting to cook, and you will be just fine.
Flames larger than this are just too hot, and you will cook too quickly, leaving the insides raw, or simply burning your food.
With the Hub and Grill in place, though, it's a lot of fun to cook on the Bonfire.
Because it doesn't radiate much heat outwardly, you can stand close enough to the grate to tend your food comfortably. The grate best suits basic stuff like pork chops, steaks, hot dogs, and sausages. Chicken, too, if you go with thinner pieces, or you risk burning the surface before the inside is safe to eat.
I didn't buy the Skillet or Wok, but both are well-suited to high-heat cooking. You could have a complete breakfast of bacon, eggs, home fries, and pancakes in minutes. And a quick stir fry of veggies and meat would make a fun alternative to the usual BBQ fare.
While it won't replace your home grill, it's thoroughly enjoyable to whip up a simple meal over the fire. In fact, this versatility makes the Bonfire even more practical for camping — no need to pack a separate propane stove.
Is it Really Smokeless?
There's no such thing as a completely smokeless fire. However, the Solo Stove Bonfire is about as close to it as you'll find, especially if you use it as recommended. That means keeping the wood below the upper air vents and using the driest wood you can; kiln-dried firewood is highly recommended.
In my experience, it smokes like any fire during the initial startup. But once the firepit warms up, the flames are roaring, and the 'secondary burn' kicks in, I was able to build a nice fire with only minimal wisps of smoke; no one felt the need to suddenly pick up and move their chair upwind of the pit.
I own a number of firepits, with a handful claiming to be 'smokeless,' and in my experience, this is the most 'smokeless' firepit I have ever seen and used.
Ease of Cleaning
Though you don't need to do it after every fire, it's a good idea to dump the ash regularly.
To do so, turn the Bonfire upside-down and give it a shake. It's small enough to dump the ash into a garbage bag easily. Just be sure the metal has completely cooled, and no live embers remain.
Alternatively, you can use an ash vacuum to simply hoover out the ashes.
To maintain the exterior of the Bonfire, simply wipe it down with a dry cloth and use a non-abrasive stainless steel cleaner as needed.
Between uses, either store the Bonfire indoors or purchase the Shield cover; the carrying bag closes at the top, so it's not ideal for outdoor storage.
Portability
At 20 pounds, it's not exactly weightless. Still, the Solo Stove Bonfire is meant to travel, and they've made it easy to move. I had no trouble toting it about in the bag.
For starters, the fire ring inverts when not needed, so you can leave it in place when you're traveling.
Secondly, they've provided a bag with handles in the box, and that's a great bit of added value. The handles are long, making it easier to carry than you might expect.
Solo Stove also sells a handle that slips easily inside the Bonfire when you want to move it but don't want to bag it up.
Warranty and Support
Solo Stove offers one of the most impressive warranties we've seen. Your Bonfire comes with a lifetime warranty against defects. If you have an issue, you can file a claim through their website, including pictures. They'll replace the unit if the problem is due to a defect.
Now, if the problem stems from any kind of misuse or abuse, naturally, that's not covered. However, they will try to help you rectify the issue with repairs you can perform yourself. And if that doesn't help, they'll offer you a one-time deal for 50% off the price of a new Solo Stove product. That's pretty generous!
Also, there's a 30-day Satisfaction Guarantee if you're unhappy with your purchase.
Should you require support, Solo Stove provides a slew of FAQs and tips on their website and tons of instructional videos on YouTube.
Final Verdict
Solo Stove Bonfire
Experience the beauty of flame without the smoke with the Solo Stove Bonfire. This beautifully designed fire pit offers a smokeless burning experience with its unique 360-degree airflow design.
Crafted from premium stainless steel, it showcases a stunning minimalistic design that complements any setting.
It's compact and portable, perfect for backyard gatherings or adventurous getaways.
I was very impressed with the Solo Stove Bonfire. It's easy to use, provides an attractive fire to sit around with friends and family, and won't blow smoke in anyone's face.
The option to cook food was a real plus, and I enjoyed the back-to-basics experience of cooking over an open wood fire.
I occasionally find myself missing the radiant heat some fire pits provide, but, for me, this wasn't a deal-breaker; that's not what I bought it for. And this is easily fixed with the heat deflector accessory.
Speaking of buying, the Solo Stove Bonfire does not come cheap, nor do any of the accessories. But, they are all well constructed from quality materials, and the performance is exceptional. Personally, I feel I've got my money's worth, and I expect to get a lot of use out of my Bonfire at home, at the beach, and anywhere else I can lug it – and legally light a fire!
The Solo Stove Bonfire comes highly recommended as a premium add-on to your outdoor living experience.
Final Thoughts
Before placing your order, research fire restrictions where you live and anywhere you intend to use your Solo Stove Bonfire. You don't want to shell out only to discover you're not allowed to light it up.
Also, think about whether this size is suitable for your lifestyle. The small Ranger model might be more appropriate if you tend to fly solo or with a partner. Alternatively, the larger Yukon is better for larger groups.
Whichever Solo Stove you end up with, I'm positive you'll enjoy it as much as my family and I have.
If you have questions or comments about this or any other article, please send them our way. Thanks for reading!