Many outdoor cookers claim in their marketing copy, "And you can make pizza, too!" Yeah, you can, but it isn't always easy. Meanwhile, the Ooni Karu is devoted to making pizza as its primary function. Homemade wood-fired pizza in a purpose-built oven? Oh yeah, we need to check this out.
This article is a complete overview of the Ooni Karu Multi-fuel Pizza Oven and an in-depth review of how it works. Ultimately, you'll know whether it's right for your life and worth your money.
When you talk about favorite foods for cooking outdoors, you hear the same answers over and over. Ribs. Brisket. Steak. Burgers. Beer can chicken. I get that. I love all those things.
But there's SO much more you can prepare in your backyard. Actually, you can make pretty much anything outside you can make inside.
And that includes one of my favs — pizza. Not just any pizza, either. I mean authentic wood-fired pizzas. Nothing else even comes close.
Unfortunately, the ability to cook a pizza is an afterthought on many grills. That's not the case with the Ooni Karu 12 multi-fuel pizza oven. Its sole mission in life is to help you make incredible pizza as easily as possible.
I'm going to share my experience with this cooker with you, including unboxing and assembly, a look at the pros and cons, and an honest assessment of how well it works and the value for my money. By the time we're done, you'll know if the Ooni Karu 12 is something you need in your line-up.
Let's start with a casual look and see what we think.
First Impressions
Ooni Karu 12 Multi-Fuel Pizza Oven
A small but mighty pizza oven that uses wood or charcoal to create authentic Neapolitan pizzas in 90 seconds or less.
It can get up to temp in as little as 15 minutes, and a gas burner can be bought separately for the ultimate in fuss-free and easy pizzas.
At just over 16 pounds total weight, it's also highly portable for pizza on the go if camping or tailgating is your thing.
At first glance, the Ooni Karu looks small; but how big does a pizza need to be?
Having said that, this shiny little cooker certainly has a lot of personality! I can't help but think it looks a bit like some kind of robotic pet from The Jetsons or the like, with its trio of legs and space-age stainless steel body. It even has a tail-like handle at the back.
The splayed legs give it apparent stability, despite its small stature. The large smokestack seems almost out of proportion, but it's well-sized to keep the smoke out of your work area — and your face.
Overall, first impressions are good! I like the looks of it — now, let's get technical.
Overview and Core Features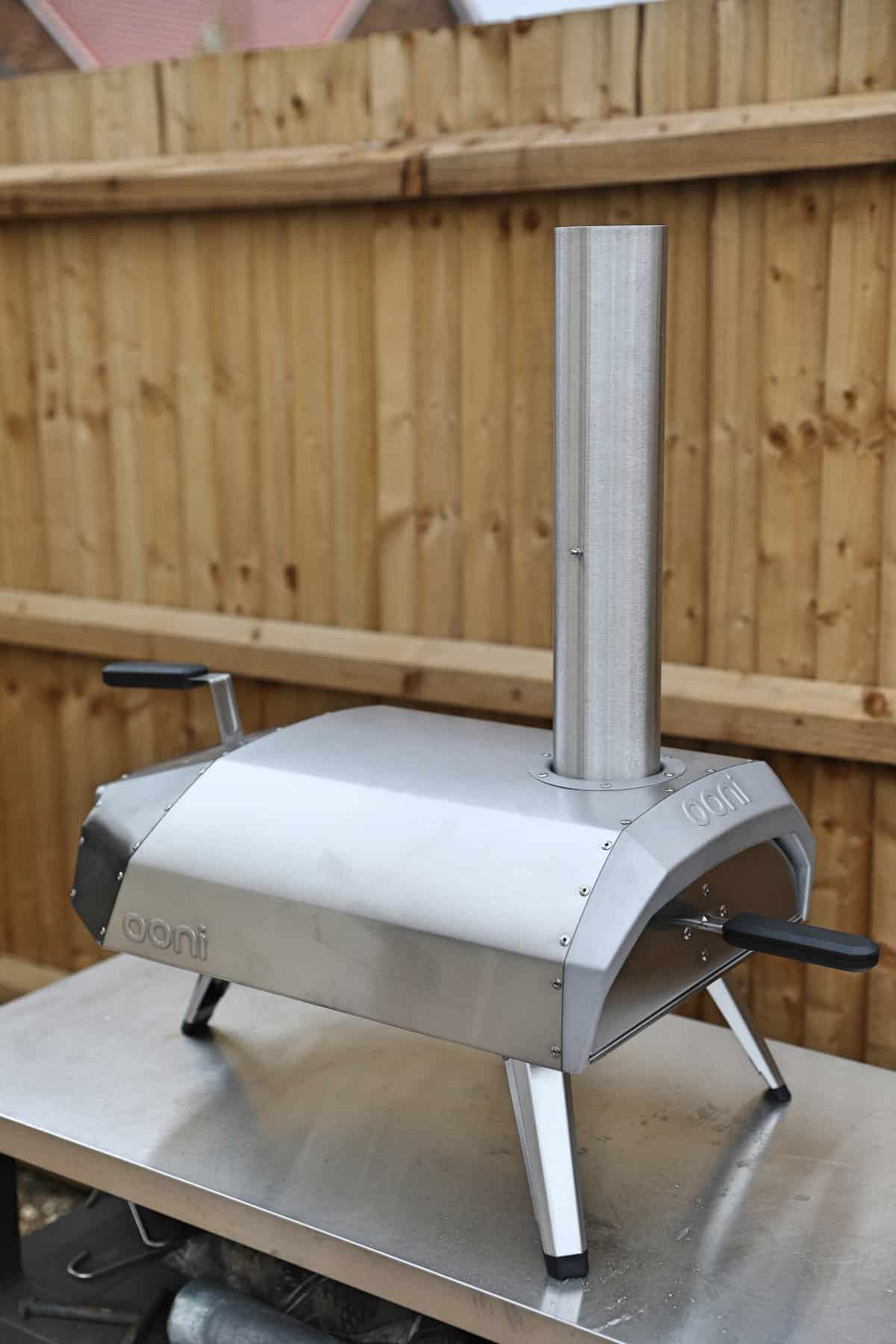 I said the Ooni Karu 12 was on the small side. The exact dimensions are 28.8 inches long (including the rear handle), 15.75 inches wide, and 16.81 inches to the top of the chimney. The cooking surface is just over 13 inches across, and the whole thing weighs just 26.4 pounds.
It's built from brushed 430 stainless steel, so not only does it look great, but it's also durable and easy to clean. Glass-reinforced nylon provides the insulation needed to hold in the intense heat generated in the firebox. (More on that in a bit.)
You can power the Ooni Karu 12 multi-fuel pizza oven with either wood or charcoal out of the box. Simply remove the rear access hatch and load up with your favorite hardwood or charcoal. (The hatch makes mid-cook refueling simple, too.)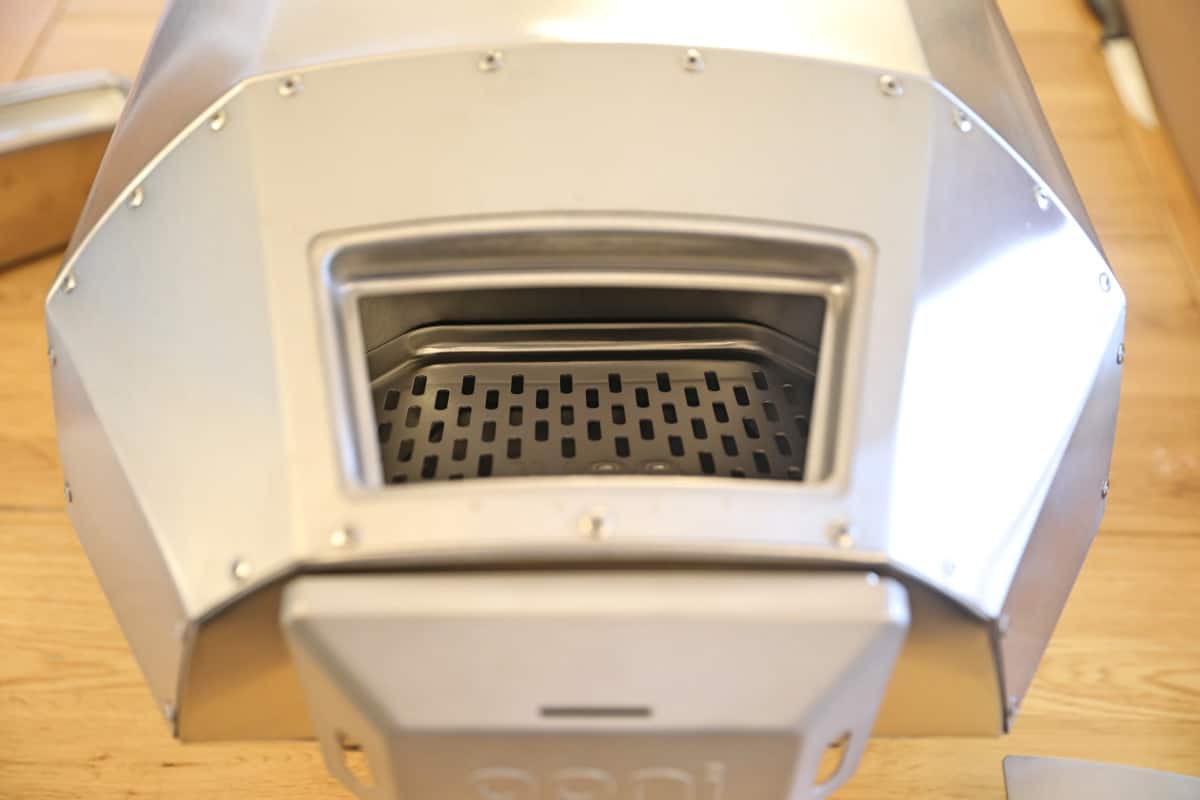 You have the option to purchase a propane adaptor for a third power source, too, if you prefer cooking with gas.
High temperatures are key to cooking great pizza, and the Ooni Karu delivers. In just 15 minutes, you can get the surface temperature up to 932F. (This is the figure given in the manual; the webpage says 950F.) That means you can go from raw pizza to wood-fired perfection in just 60 seconds. I hate to use this word ever, but I have to say it — that's insane!
Inside the chimney, there's an adjustable baffle. Much like a grill or smoker vent, opening or closing the baffle controls airflow and, consequently, the interior temperature. This simple feature allows you to cook at lower temperatures.
Why would you want that? Well, this isn't a one-trick pony — reducing the temperature a bit allows for skillet cooking of fish, steaks, nachos, wings, and more.
If you truly love pizza, you'll love that the Ooni Karu 12 is portable; enjoy wood-fired pizza anywhere you go! The three legs fold up, and the chimney detaches for easy packing and toting. You can even buy an optional carry cover, though, oddly, you leave the chimney in place, which is not ideal for stowing in the back of a vehicle.
What We Like
This is an appealingly simple cooker to operate. If you think a Kamado grill looks intimidating, this little oven should take away your anxiety about moving past basic grilling.
For all its apparent simplicity, though, it's perfectly designed to hit scorching temperatures. What's the benefit? You get to eat sooner! Thirty-minute delivery? Try 60 seconds! Discover what fresh pizza tastes like. Plus, you get that authentic wood-fired flavor that separates a gourmet pizza from fast food in a box.
Also, I'm a big fan of the multi-fuel capabilities. I like to cook with wood and charcoal, so I usually have plenty of both available. That means I can use whatever I have a surplus of if I'm not feeling picky. I like the propane add-on, too, for total flexibility.
What Could Be Improved
Stylish though it is, I think a fourth leg would be a welcome addition, especially since the solo support is at the back, where you're fiddling around with the access hatch for lighting and refilling your fuel.
Your maximum pizza size will be about 12 inches in diameter. That's a bit on the small side when considering the typical large pizza from a chain is 14 inches. If that doesn't seem like much, let's look at the math:
The formula for the surface area of a circle is 𝞹r2
That means a 12" pizza is (3.14)62 = 113 square inches
And a 14" pizza is (3.14)72 = 154 square inches
That's a good bit of extra pizza! So, if you're cooking for more than 2 people and pizza is the main course, be ready to make at least 2 pies.
My only other small beef is with the baffle handle on the chimney. It's pretty small and close to the chimney. For safety, you should have heat-proof gloves on before making adjustments. Either that or try to grab it with a pair of tongs to keep your fingers clear of the hot metal.
Who is the Ooni Karu Pizza Oven Best Suited to?
First and foremost, you have to LOVE pizza. Yes, you can cook other things in the Ooni Karu. But the primary function is making pizza. You'll want to make a lot of pies to get your money's worth out of it.
Specifically, you'll need to be a fan of wood-fired pizza. There's a difference between this and what you usually get from a pizza chain or the frozen section at the grocery store. Wood-fired pizza is usually crispier, often charred, and with smoky notes. I think it's glorious, but I know it's not for everyone.
As I said in the previous section, you can only make smaller pizzas in the Ooni Karu 12 and just one at a time. If you're planning a pizza party, you'll have to pre-make all your raw pizzas and then start feeding them in one at a time. This oven is better for small groups and couples.
And, if you don't take it camping or picnicking, you're missing out on a big part of what this oven is best at. If you aren't the type to spend time cooking when you're RVing or cottaging or what have you, you'd be better off with a larger oven, such as the Ooni Karu 16.
Unboxing and Assembly
Ok, time to see how well I follow instructions. Let's pop the box and see what's inside.
What's Included
Opening the box reveals a friendly welcome to the "Ooni community," as well as an instruction manual and Allen key to help with assembly.
The oven comes broken down into just seven parts: the oven body, front and rear doors, the chimney, the wood/charcoal tray, a cap to keep the elements out of the chimney when not in use, and a cordierite stone baking board.
Ease of Assembly
Putting the Ooni Karu 12 together is very easy in a few simple steps, taking only 5 minutes max, including all the unwrapping.
Fold out the legs on the main body and place it on a stable surface.
Insert the chimney into the obvious hole in the roof, and twist until it locks into place.
Using the supplied Allen key, insert two screws into the back end and drop the air intake baffle into place before tightening further.
Drop the supplied pizza stone into the oven's body, where it sits and is held snugly.
Insert the fire grate into the firebox, put it inside the oven from the front, and push it toward the back.
Place the fuel hatch into the hole at the rear.
Place the front door into place.
And that's it! You are now ready to cook.
Overall Build Quality
I'm very pleased with the quality of materials and the build of the Ooni Karu 12 multi-fuel pizza oven.
The stainless steel is high-quality, and the oven is tightly sealed with frequent rivets. The insulation is remarkably thick for such a small oven but also remarkably light.
This is absolutely a premium product, and I'm expecting excellent performance.
Ooni Karu 12 User Experience
Now we have it out of the box and assembled, how is it to actually cook on? I put it to the test, and here are my findings.
Overall Ease of Operation
It is an extremely easy oven to use. There is little more to it than starting and managing a fire, waiting for the stone to come up to cooking temperature, then cooking in it.
There are no real moving parts and no complicated processes. After all, it is just a simple oven (though cleverly designed and does what it needs to do well.)
If you have the gas burner accessory, this is easier to use than managing a wood fire, but you lose out on some fun and flavor. We'll dig into this more in the following sections.
Quality of Pizza Produced
I've now used the Ooni Karu 12 multiple times, so I've had a ton of practice. I also own the Karu 16, which I bought first, and so I have practiced on that too.
I will be the first to admit that it took me multiple cooks to nail down the process of making a good 24-hour pizza dough, shaping it well, and cooking it well for the best results. It didn't come right away.
I use the 'Pizzapp smartphone app' for my dough recipes, and I prefer to cook using a mix of charcoal and wood.
And I am happy to say that I have now nailed the process, and the pizzas I create are absolutely top-notch! You can see a few examples in the carousel of images above.
Cooking With Wood
The best pizza ovens are wood-fired. And the Ooni Karu 12 is a miniature wood-fired oven that produces the best pizzas when fueled by wood too.
Compared to cooking with charcoal — and even more so with gas — cooking with a wood fire is more challenging, with more to learn. There is a steeper learning curve, but the results are the best, and with a bit of practice, I'd say everyone is capable.
To cook with a wood fire in the Ooni Karu 12, in this order:
Remove the chimney cap (if it was inserted.)
Make sure the chimney baffle is wide open.
Place your wood, or a mixture of charcoal and wood, into the firebox through the fuel hatch at the rear.
Add firestarters and light your fire.
Wait for your oven to come up to temperature (as much as half an hour in my experience!)
Cook your pizzas.
In my cooking sessions, where I made between 10 and 12 pizzas for friends and family, I found that the temperature falls quite quickly when fueling the oven with wood and having to keep the front door open to add, remove, and turn pizzas.
I have an IR thermometer and could get the stone right up past 900 °F, but after cooking just a couple of pizzas, it would fall quite dramatically to as low as 500 °F to 550 °F.
This means after every two pizza cooks, I would need to put the front door back in to retain more heat and then wait a few minutes before cooking the next one.
You can cook pizza at the lower temps, but they take 3 to 5 minutes, instead of the 60 seconds to 2 minutes that they take at 750 °F to 900 °F. And at the lower temperatures, it's almost impossible to get the 'leoparding' we love to see on the crust, the black spots around the crust of hot wood-fired Neapolitan-style pizzas.
Another thing with a wood fire is you have to feed it little and often. Keep it constantly fueled, check on it often, and make sure there is always fresh fuel inside the firebox to burn. There isn't much room to add a lot of fuel, and it burns quickly, so you must refresh it often.
With all the above said, cooking with wood inside the Ooni Karu 12 is fun, produces excellent results, and is highly rewarding. Highly recommended, and my favorite way of cooking in this oven.
Cooking With Gas
I have to confess that I haven't cooked with gas on the Ooni Karu 12, as I didn't buy the gas burner accessory. But as you can see in my Ooni Karu 16 review, I have cooked on gas with its bigger brother.
Controlling the temperature with gas is incredibly easy. You simply leave the chimney baffle wide open and turn a dial up and down to fuel more or less gas.
I found you could reach temperatures of up to 750 °F easily and quickly, and the time required to reheat the stone after each pizza cook is shorter too. And there is nothing to learn, no fire to manage, no need to keep adding fuel, and no ashes to clean up after.
So cooking with gas is far more convenient and also requires less skill due to there being no fire management necessary. It's a good way to cook with little fuss.
Gas Vs Wood Fired – Which is Better?
If you want convenience, then gas is better. If you want the best flavor, then wood-fired is better.
Using a gas burner, you can only get the stone temperature up to about 750 °F, which is plenty hot enough for an authentic, crispy Neapolitan pizza, but the cook will take a little longer, and you get less leoparding on the crust. And a gas fire imparts no extra flavor to your pizza.
With a wood fire, you can get the stone up to 900 °F, can cook pizzas much quicker, get a crispier base, and that leoparding effect on the crust. And you also get that wood-fired smoky flavor that elevates your pizza to new heights!
So for me, wood-fired is best as the pizzas look slightly better and have added flavor. But cooking with gas is far easier, requiring no fire management and refueling.
So wood-fired is best for flavor, and gas is best for convenience. Which way you go is up to you.
Ease of Cleaning
Keeping your Ooni Karu 12 clean is easy. There's less to do if cooking with gas, but little do even with a wood fire.
When you finish cooking, turn your gas regulator up to full, or build a large and hot wood fire in the fire basket, then let it burn for 20 minutes. Any residues inside will turn to ash. Then allow your oven to completely cool down before cleaning.
If you used solid fuel, ensure everything has completely cooled, remove the firebox and grate, empty the cool ashes into your bin, and clean the firebox in your kitchen sink. You must make sure to empty this after every use, or ash will build up and restrict airflow, with the result of making it harder to get a hot fire going.
Now, simply wipe down the inner walls, then brush off the pizza stone. There is no need to use an abrasive brush of any sort, simply brush off the ashes. You do want to keep the inner walls clean. Otherwise, soot will build up and eventually fall onto your pizzas, so please do wipe it down.
For the outside, you can wipe it down with a damp cloth.
Portability
The Ooni Karu 12 only weighs about 26 pounds. So it's easy for one person to lift and move about.
When transporting it, I simply remove the chimney, fold in the three legs, remove the fuel hatch, door, and firebox so they do not rattle about, and then place the pieces in the trunk of my car. It is that simple and easy.
There is a cover available from Ooni that doubles as a carry case, but I haven't felt the need to buy it because it's small enough for me to store inside my garage and light enough to carry to and drop in my car for transport. The cover is a good idea if you intend to keep your oven outside, though.
Ooni Company Overview, Support, And Warranty
Do not watch this video about Ooni, hosted by co-founder and CEO Kristian Tapaninaho. If you do, you will likely realize that your job sucks, and you'll want to quit and go work with these people. Not only do they make pizzas together at their Edinburgh, Scotland headquarters, but they also have an on-site microbrewery.
The company launched as a crowdfunded start-up with their first product, the world's first portable wood-fired pizza oven. Today, they sell six different models and a range of accessories.
Ooni's website provides a decent selection of FAQs on both general topics and model-specific inquiries. It's not what I'd call robust, but it's not nothing, either. I am impressed with the huge line-up of videos on their YouTube channel; it's like Netflix for homemade pizza. They're active on most social media channels, too.
Speaking of social media, if you like to hang with like-minded people, you can join many Facebook groups. Groups like these are excellent resources for everything from troubleshooting to hacks to recipes.
Contacting Ooni is currently limited to filling out a question form, though they seem to have a "schedule a call" feature in the works.
It's worth noting that, though this is a UK-based company, they also have people and dealers in North America. If you live in the United States or Canada, your new Ooni pizza oven will ship from Nevada or New Jersey, depending on which coast you're closer to.
Ooni is so sure you'll love your new pizza oven, they offer what they call "The Ooni Great Pizza Guarantee." Stay with me here — if you've owned your Ooni for at least 28 days and tried it no less than 5 times without successfully making a great pizza, notify the company within 60 days of the delivery date to arrange a free return.
You can also return an unused Ooni within 60 days for a complete refund.
Every Ooni pizza oven comes with a 1-year warranty. Register your purchase within 60 days to extend your coverage to 3 years.
Compared to some stalwarts in the grilling world, Ooni is a relative newcomer. But, they've shown themselves to be innovators and committed to making great ovens — and great pizza.
Should You Buy the Ooni Karu?
Ooni Karu 12 Multi-Fuel Pizza Oven
A small but mighty pizza oven that uses wood or charcoal to create authentic Neapolitan pizzas in 90 seconds or less.
It can get up to temp in as little as 15 minutes, and a gas burner can be bought separately for the ultimate in fuss-free and easy pizzas.
At just over 16 pounds total weight, it's also highly portable for pizza on the go if camping or tailgating is your thing.
If you've read the section above, Who is the Ooni Karu Pizza Oven Best Suited To? and feel like you tick all the boxes, then yes, you'll love this product.
It's well built, easy to use, doesn't take up much space, and you can use it just about anywhere. And it makes a delicious pizza. I'd call this a must-buy.
Final Thoughts
The ability to cook a gourmet-style wood-fired pizza in about a minute is pretty impressive. And so is the pizza itself. I can imagine using the Ooni Karu repeatedly, both home and away, to treat myself, my family, and my friends to an incredible meal. It's fun, it's easy, and it's just so tasty. I highly recommend this pizza oven!
If you have any questions about this item (or anything else), please don't hesitate to contact us. And be sure to browse the site for more reviews and articles to help you discover, explore, and enjoy the world of outdoor cooking.
Thanks for reading, and remember to always save the last slice for yourself.