Check it out, pizza fans! Here's my hands-on review of the Ooni Karu 16 pizza oven, from unboxing to assembly to cooking.
I'm sorry, but did someone say "latest & greatest"? Yes, I thought so — it was Ooni founder Kristian Tapaninaho introducing the Ooni Karu 16 in the summer of 2021.
Generally speaking, I'm a sucker for shiny new things. Shiny new outdoor cooking equipment? Forget about it.
The prospect of making restaurant-quality wood-fired pizza in my own backyard was simply too mouth-wateringly good to ignore. So I placed my order for a brand-new Karu 16, along with some fun accessories, and waited.
Now, it's time to share my pizza-making adventure with you.
I will walk you through the unboxing, tell you what makes this such a special cooker, and why you might want one. But since I'm always honest with my reviews, I'll also share a few things I thought could have been done better.
Let's begin with some early thoughts. Was it love at first sight?
First Impressions
Ooni Karu 16 Multi-Fuel Pizza Oven
A large multi-fuel pizza oven that can accommodate up to 16-inch pizzas and cook them with charcoal, wood, or gas (with an optional gas burner accessory) for maximum versatility.
Can reach 950°F (500°C) in just 15 minutes and cook a Neapolitan-style pizza in 60 seconds!
A glass door keeps heat in while allowing you to see your cooks, and an integrated thermometer informs you of your oven temperature.
In Ooni's own words: "The first pizza oven to be 'Recommended for Domestic Use' by the Associazione Verace Pizza Napoletana, the acclaimed international authority on true Neapolitan pizza."
Well, there's no mistaking that this is an Ooni oven. It has the signature irregular hexagon front and the trio of folding legs common to all their products. And it has a chimney, just like the Fyra 12, Pro 16, and Karu 12.
I won't say it's a beautiful unit, but it's not ugly, either; let's call it "unique" and move on, shall we?
What's clearly different about this oven is the front door. The Karu 16 is the only Ooni oven with a window built into the door.
I'm pretty excited about this feature because it means superior heat retention (versus an open portal), and I'll be able to watch my pizza cook, unlike on other models with solid front covers. Why is that so important?
Ooni says you can cook a pizza in just 60 seconds in the Karu 16. Even allowing for a bit of hyperbole/laboratory conditions on their part, it's still a crazy fast oven. So, the difference between nicely charred on the edges and burnt beyond recognition could be a matter of seconds. Keep a close eye on your pizzas, my friends!
So far, so good. Now, let's get into the details.
Features and Benefits Overview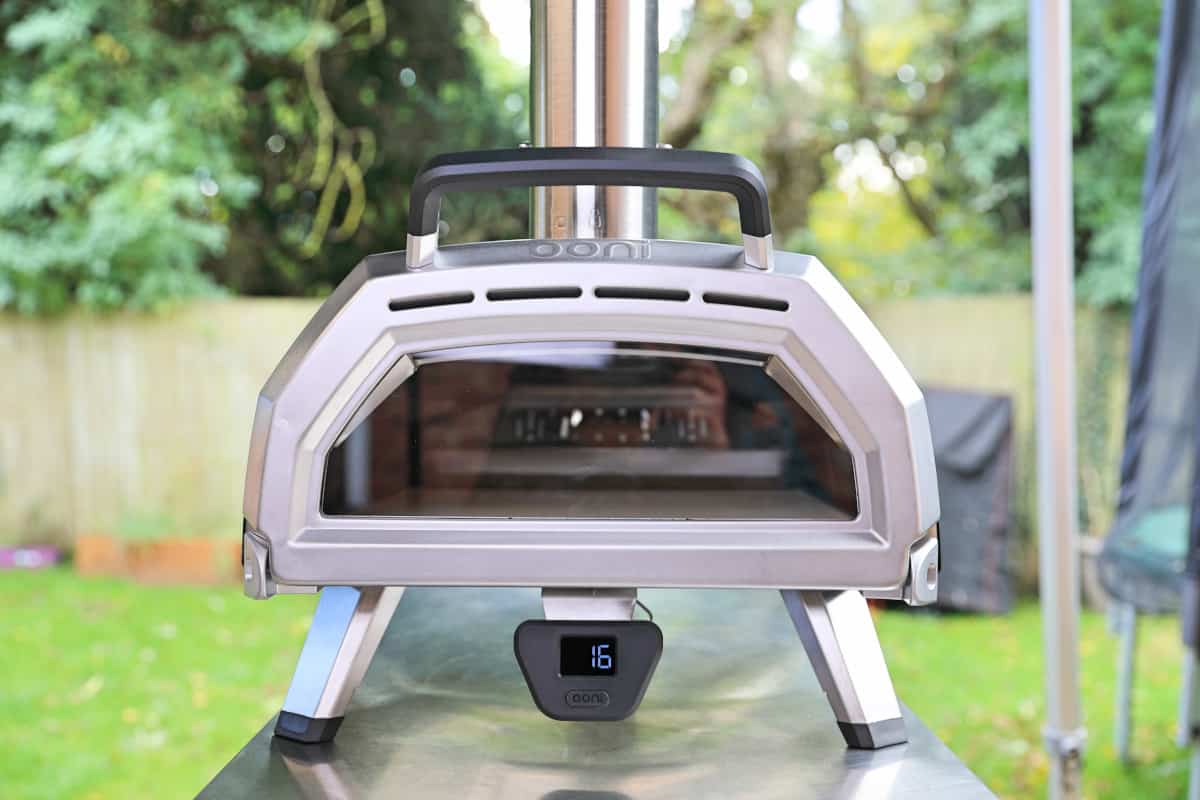 The key feature of the Ooni Karu 16 is the multi-fuel functionality. You can choose from wood, charcoal, propane, or natural gas, depending on your preference. That's amazing for versatility in terms of cooking style, speed, and skill.
The 16 in the name denotes the maximum diameter, in inches, of pizza you can cook on the two-piece pizza stone. That's a fairly typical family-size pizza measurement, so you can make one big pizza and feed the whole gang. Of course, if you can cook one in a minute or so, it's not a big deal to make a second while the first one is still being sliced.
Just like on a charcoal barbecue or a smoker, there are vents to help you control the airflow to and from your fire. Adjusting these allows you to raise or lower the temperature inside the oven. So, you're not limited to just torching pizzas in seconds; with some practice, you'll be able to roast and bake many items at lower temperatures and maybe even do a little smoking.
Another key feature (and there are many, all of which I'll get to through the rest of the article) is the insulation.
Ooni padded this oven with 0.79 inches (20mm) of ceramic fiber insulation. This type of insulation performs exceptionally well at high temperatures, keeping the heat in the oven. Not that you should go around leaning on working ovens, but you'll find there's a low risk of burning yourself on the exterior, even when the fire is roaring.
Manufacturer's Specifications
Material: powder-coated carbon steel and stainless steel
Cooking area: 16.7" x 16.7" (278.9 square inches)
Dimensions: 33" x 32" x 20"
Weight: 62.6 pounds
Fuel: wood and/or charcoal, or propane
Peak temperature: 950°F (510°C) for wood or gas; up to 570°F (300°C) for charcoal
What We Like
If pizza is your thing, you can't beat a homemade, flame-kissed pie fresh from the oven. Even people who aren't big pizza fans (yes, they exist!) seem to appreciate the difference in quality and flavor between a fresh-made pizza cooked with fire and one that went from the freezer to the kitchen oven, or even most delivery options.
The cooking area is over 16 inches in both directions, giving you plenty of room for a large pizza or a couple of small ones.
Having the option to cook with the fuel of your choice is fantastic. You can use your favorite or just use whatever's most convenient at the time.
I also love the glass door. Unlike with barbecue, where we say "if you're looking, you ain't cooking," it's essential to keep an eye on your pizza. This is the easiest way to tell if your cheese is bubbling and the crust is crisping and getting those delicious charred bits that are the signature of fire-cooked pizza.
Another plus for the Karu is the increased height inside the oven. That's right, you get extra cubic inches to go with your extra square inches. This means you can bake more than just pizzas and flatbreads. Bake a loaf of bread or dessert loaves with ease, thanks to the 5.71" opening.
Finally, I love the integrated digital thermometer! Knowing the temperature you are cooking at is super, super important. Typically I would have to use an infrared thermometer to measure the stone surface temperature, but with the Karu 16, a thermometer under the front window shows me the temperature inside the oven at all times. This just makes everything so much easier.
What Could Be Improved
I know it's stylish and streamlined, but I think a fourth leg would improve overall stability, especially on an uneven surface like a picnic table. You could argue that a tripod is more stable on any uneven surface, but surely this will always be placed on a table or flat work surface?
And, not that I recommend cooking in the rain, but a chimney hood could be a useful addition to keep light drizzle out of your pipe. It would also be helpful on windy days. There is a cap for storage, however, if you're not putting on the cover.
Who is this Pizza Oven Best Suited to?
First and foremost, the Ooni Karu 16 is for people who love flame-cooked pizza. It's a different experience from a standard oven-baked pizza, especially if you use wood and or charcoal. You also have to love making it from scratch because that's mostly what you'll be doing.
Secondly, it's also for people who want the best and largest that Ooni offers, with the ability to cook more than just pizza. There is a 12-inch option that is smaller and cheaper, with slightly fewer features, but is also still a really good oven. So unless you want to roast meats, bake breads and more inside an oven large enough to do so, you could be better off saving some dollars and going smaller.
Finally, you should be reasonably comfortable with a barbecue before you take this on. Not that it's difficult to operate, but you'll want some familiarity with charcoal and wood fires (or gas) before making your first pizza, particularly when it comes to operating the vent and chimney baffle to control your temperature and smokiness.
Unboxing and Assembly
If there's a universal truth, it's probably "Some assembly required." But let's face it — secretly, we love it because we feel like we actually built it.
Let's open this box, see what's inside, and try to put it all together with a minimum of fuss and bad words in front of the little one.
What's Included
Inside the box, you'll find the main body largely in a single piece. You also find:
The ViewFlame glass oven door
Two-piece cordierite pizza stones
A chimney
A chimney cap
A charcoal and wood burner tray and grate
A draft defender plate
The fuel hatch
A digital thermometer plus batteries and fixings.
A couple of small guides
Although you get the body in a single piece, you'll need to install the door, chimney, chimney cap, draft plate, fuel hatch, burner tray and grate, a pair of cordierite pizza stones, and the digital thermometer.
Naturally, an instructional manual is included. And you also get the Essentials Guide, a handy booklet that shows you how to get started and use your new oven. They even include a few recipes to try out.
What you don't get is the gas burner. Unfortunately, that useful add-on is a separate purchase, one that I made so, I could test it out and on which I report my findings later.
Ease of Assembly
So, we have all the pieces. How easily did it go together?
Pretty easily, actually!
The legs are already attached, and the chimney drops and turns into place — no hardware is required.
Installing the thermometer takes a little more work, but not much. A bracket attaches with a couple of thumb screws; Next, install the batteries and attach the thermometer to it with a small bolt. Run the attached cable under the oven using a pair of clips to hold it in place. You'll find a small port resembling a headphone jack; plug in the cable, and it's ready to go.
The draft plate hangs on a pair of screws at the back, so that was a piece of cake.
Sliding in the two pizza stones is a bit awkward just because they fit so snugly. But it still only took me a few seconds to do.
Lastly, you hang the door in place on a pair of hooks before adding a pair of screws on the hinge.
With that done, I was ready to make pizza! Or at least to fire it up for seasoning. And all in all, it took less than 15 minutes.
Seasoning Before First Use
Ooni recommends seasoning your new oven for 30 minutes before using it for cooking.
So after assembly, you need to fire it up and let it burn for 30 minutes, which burns away and removes any oils and residues present from the manufacturing process. So plan ahead for this required time.
Overall Build Quality
The Ooni Karu 16 is impressively built and strikes a pretty good balance between being sturdy enough to withstand a lot of use while remaining (barely) light enough to move around when necessary.
Even stone temperatures are essential to making good pizza, and the Karu 16 does a great job in this area. The powder-coated carbon steel is fully insulated, and even the glass door efficiently keeps the heat inside where it belongs. This means a fairly consistent heating of the stones on which your pizza cooks.
Of course, any pizza oven will have hot spots toward the flame, where radiant heat is highest. And the flame is always at the back in the Ooni Karu 16, so the side of your pizza facing the back of the oven will receive a lot more heat energy, and any pizzas will need frequent turning to ensure an even cook.
The Karu 16 is weather-resistant, too, so you'll find it has no trouble getting up to searing-hot temperatures, even on a chilly day.
Ooni has made it easy to access the burner tray in mid-cook. Just lift the fuel hatch, hang it on the provided hook, and add your wood or charcoal. The whole process takes only a few seconds so you won't lose much precious heat.
Multiple Fuel and Cooking Options
Unlike most cookers available, the Ooni Karu 16 can run on various fuels.
Out of the box, your options are wood or lump charcoal, or a mix of both. For me, this is the best way to cook pizza. There's nothing quite like the taste of lightly charred crust with that real wood smoke flavor. It's sincerely divine.
The charcoal runs a bit cooler than wood, so I like a mix of both, not unlike when I'm using a smoker. That being said, it's a breeze to toss in wood only and treat it like a campfire, or load it up with charcoal just like a kettle grill.
Do note that Ooni says not to use briquettes; the grate isn't designed for their regular shape, and you'll end up reducing your airflow and may not be able to reach high enough temperatures for fast pizza cooking.
Ooni offers an add-on gas burner for an additional charge, and, of course, I went for it. Hooking up to a 20-pound tank is easy, and so is the installation of the burner. Once it's in, the single knob activates the ignitor and turns on the gas. Once it's lit, just turn the dial up and down to adjust your flame and raise or lower the temperature.
You natural gas-users will be happy to know there's a burner for you, too. You won't be happy to learn it's a good bit more expensive than the propane kit.
While I think you get the best flavor from wood, the gas fire is very easy to manage. Just leave the chimney vent wide open and make your adjustments as you would with any gas grill. It's very consistent, and there's next to no learning curve.
Cooking with gas is also excellent for any food that may not benefit from a hit of smoke flavor or for those who simply don't like it.
And, in case you think this is a one-trick pizza oven, think again. With that wood fire in the back and the baffle in the chimney, you can perfectly manage temperatures to use the Karu 16 as a roasting oven, or even to smoke meats low and slow, too.
Plus, Ooni sells a variety of cast iron cookware so you can sear and cook meat and veggies or cook on a skillet.
User Experience and Performance
So what's it like cooking in an Ooni Karu 16?
I own a lot of outdoor cookers, including many different smokers, grills, hibachis, and kamados, and I cook with every fuel type available. In comparison, I found the Karu 16 easy and fun to operate and amazingly versatile.
My primary reason for owning one is to make awesome pizzas. To be honest, I'm unlikely to cook much in the way of meat in it, though I'm sure I'll give it a go at least once so that I can report on how well it does. I'm stoked to try baking some bread in it, too.
Multi-Fuel Capability
I picked up the optional propane gas conversion kit to go along with my Karu 16. I'm not typically one for propane, but the idea of nearly instant gratification was hard to pass up.
Switching out the backdraft defender plate (an epic name for a simple part) for the burner is not difficult. Loosen off two bolts with the included Torx (6-point star) screwdriver to remove the plate, and then insert the burner and hang it on the same bolts. Tighten them up, and that's it – installation complete!
Connect the hose to your 20-pound tank, and you're ready to fire it up. It gets up to baking temperatures in 10-15 minutes. That's a bit faster than with charcoal and wood, but wood cooking also includes time spent choosing your lumber, arranging it, and lighting it up.
Overall, cooking with gas is the least rewarding method for my money. The fire never gets as hot as when using wood or charcoal,and you don't get as much of that smoky goodness, either.
Cooking with wood is more labor intensive, for sure, but the results are just sublime. You simply can't top real wood-fired pizza flavor, and the fact I can do this at home so easily, is kind of mind-blowing.
I enjoy charcoal grilling, too, so I thought I'd give it a go with lump charcoal. The oven got super hot, and I got that added charcoal flavor you do not get with gas.
In the future, after testing all three methods, I'll use lump charcoal mixed with wood. That'll give me more burn time before I have to reload, but still give me the high temperature and wood smoke I want.
I'll comment more on my real-world testing of the three different fuels a little later.
Large 16-Inch Floor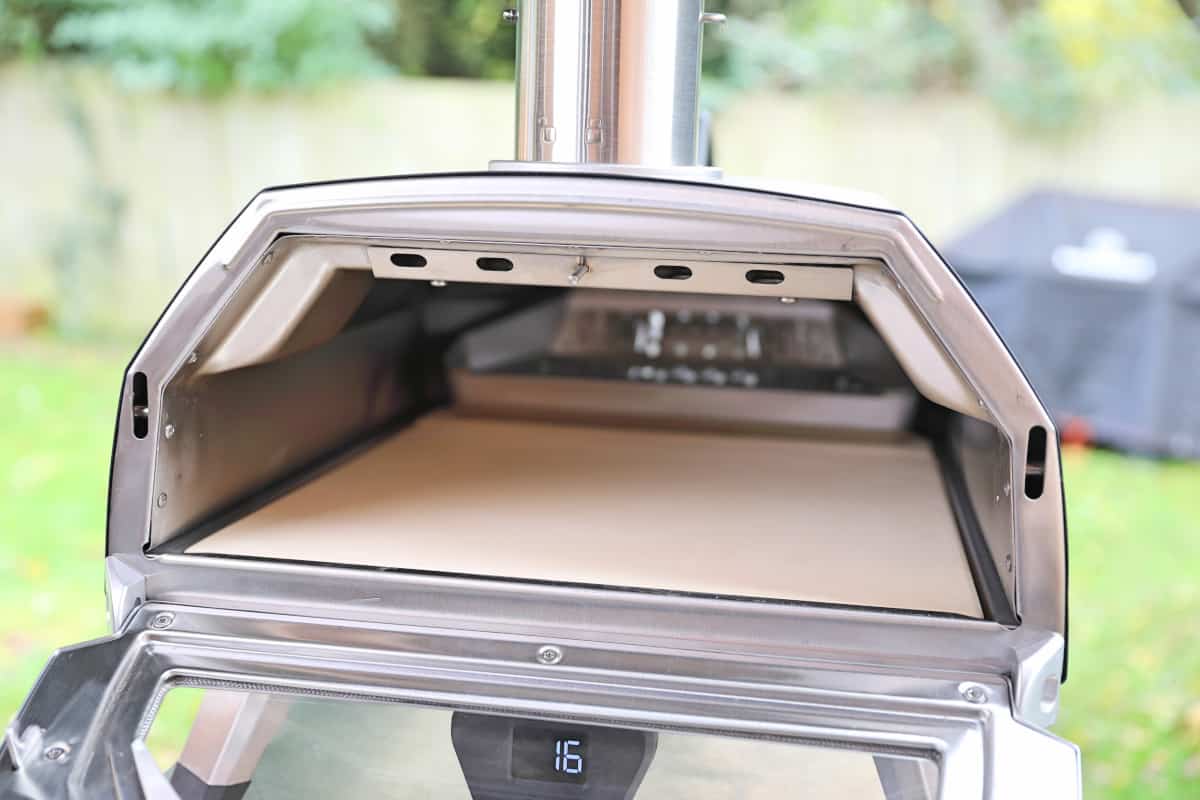 The full width of the main pizza stone is 16.7" by 16.7". I can cook a large pizza with room to spare all the way around, or I can do a couple of personal-size pizzas simultaneously.
With my pizza peel, I feel like a complete pizza pro, sliding in my big pie, pulling it out for a spin, and then serving it with a flourish. Hey, part of a good meal is the show!
See-Through Window in Front Door
Having a door keeps the heat in, so the pizza cooks faster and more evenly. Plus, it reduces my turnaround time before I can cook my next pizza because the air and the stone stay hot.
A solid door, of course, makes it impossible to check on your food unless you're Superman or have X-ray goggles handy.
So the glass window is an excellent innovation, and I use it repeatedly to make sure I can see my pizzas as they cook and never burn my pizza.
Built-in Digital Thermometer
As I said elsewhere, the thermometer measures the ambient temperature in the oven. This gives you a clue whether or not the stone is hot enough for a pizza yet, but it's not the whole story.
The only way to know for sure is to give it a zap with an infrared thermometer. Still, it's better than no thermometer at all.
With this in place, you can fine-tune your oven temperature for baking and roasting or low-heat cooking. It's part of what makes the Ooni Karu 16 more than just another pizza oven; it really is a multi-function outdoor cooker.
The thermometer has a single button, that when you press and hold turns it on and off, and a quick press changes the scale from Fahrenheit to Celsius.
Gas Vs Wood Vs Charcoal Fired – Which is Better?
Well, that's the age-old debate, isn't it? With the Ooni Karu 16, you can switch back and forth if you pick up the optional gas burner. I've tried them all; here are my thoughts on each.
Cooking With Wood
No two ways about it, I love making pizza with a wood fire. It feels like the proper way, you know? Like going to a really good restaurant.
It's a bit fidgety, setting up your wood for the best burn possible, and you may need to spend some time cutting wood to the right length. Mind you, it's a roomy box and holds a lot of lumber; the individual pieces just can't be too large.
Getting up to temperature with wood alone takes maybe 15 minutes, but it'll be ripping hot inside. I could easily exceed 900 °F.
For my money, this is the best way to cook the pizza for flavor, but it requires the most attention because the wood needs regular replenishing, and temperatures can run away from you, resulting in a burned crust with the toppings not fully cooked. You need the most fire management skills when cooking with wood.
Cooking With Gas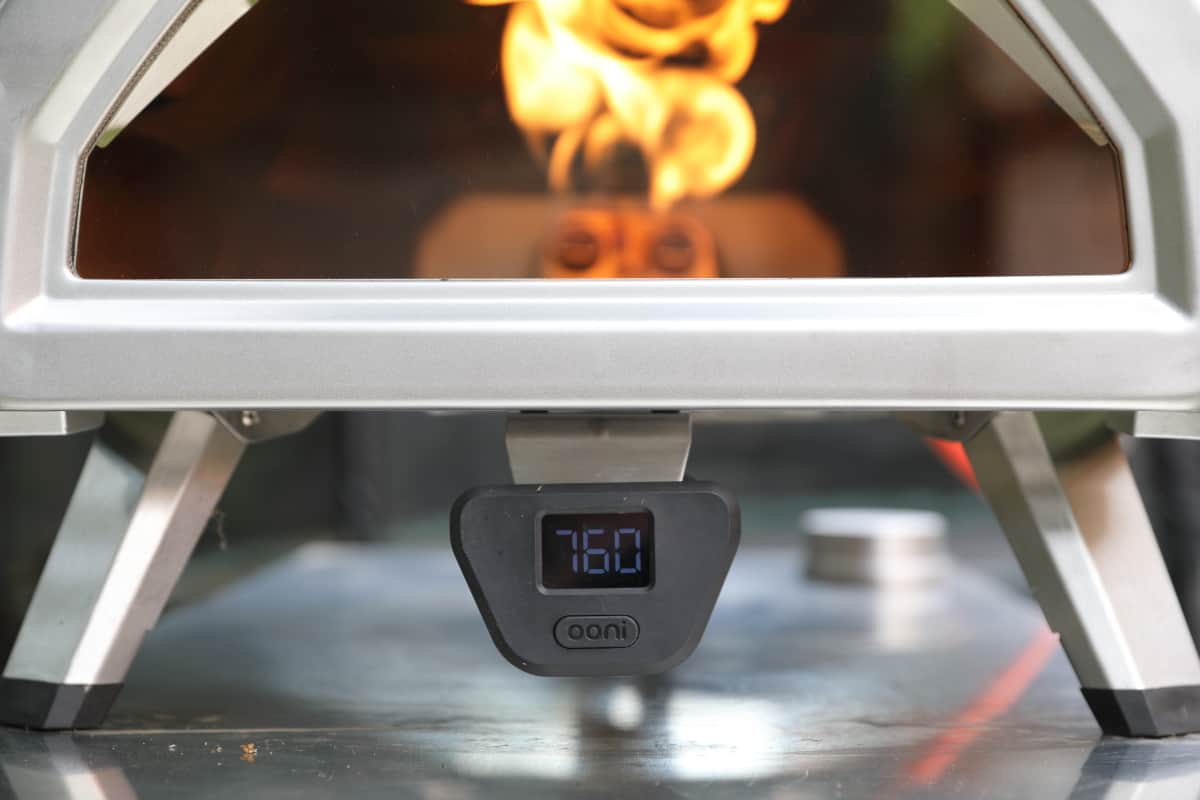 Like with a gas grill, this is a fast and easy way to hit those highs in a hurry. However, I could only get up to 760 °F with gas, when 900 °F is recommended for Neapolitan-style pizza crusts. The pizzas still came out good, but took longer to cook.
The burner lights up instantly and starts cranking out the heat. Of course, you can opt to keep it down low if you're not looking to speed cook a pizza.
You won't spend any time monitoring your fuel level or adjusting the baffles with gas. You need to keep the chimney and vent wide open, and only adjust the dial on the gas regulator. You then simply wait until the thermometer tells you it's time for the pizza to go in, slide it home, and shut the door.
I appreciate the simplicity of this method, and it's certainly the easiest way to hold a constant temperature. The pizza comes out piping hot and delicious, though it doesn't quite have the same flavor without the wood smoke.
Cooking With Charcoal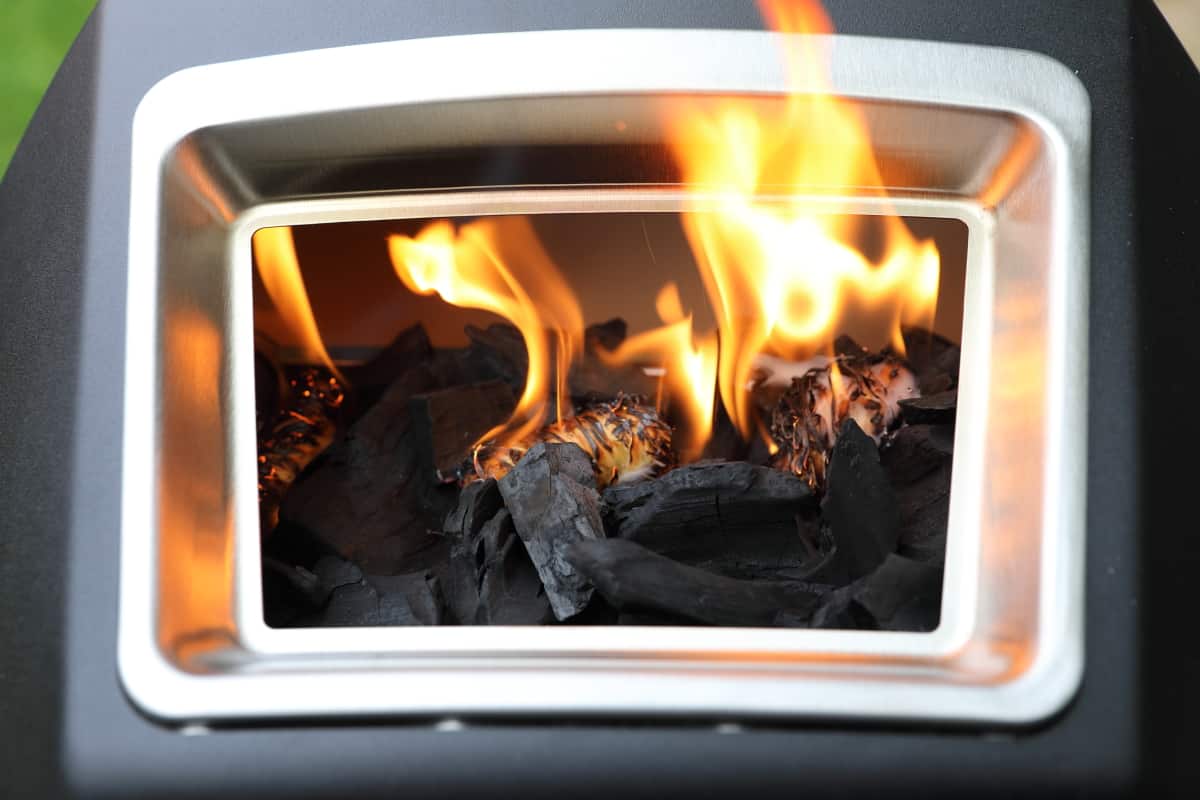 I like cooking with lump charcoal anyway, so I was looking forward to trying it in my Ooni Karu 16. I was not disappointed.
In all honesty, this is the slowest fuel for getting up to cooking temperature. But, the flavor is a notch up from cooking with gas, so it's a bit of a trade-off.
My Preferred Fuel Choice
I probably won't cook with pure charcoal often. But, mixing charcoal with wood is a great way to use less fuel and spend less time refilling the grate, while getting that wood-fired flavor on your pizza.
This will be my preferred way of cooking — unless I'm feeling lazy, when I'll reach for the gas option.
Fuel Consumption
The manufacturer suggests the average fuel consumption for 10 pizzas is 4.9 pounds of wood/charcoal. That seems like a lot, especially when compared to other Ooni ovens. But, I expect that's a lot to do with the additional cubic inches and the incredible temperatures it reaches.
Gas consumption is also higher on the Karu 16 than on other Oonis (except the Pro 16), with average consumption pegged at 1.1 pounds per hour.
How Good are the Pizzas?
I'll be the first to admit that my pizza-cooking skills aren't the best. In fact, they are worse than that!
I have only ever cooked pizzas after making my own dough 5 or 6 times now. I am getting better, but a lot of improvement can be made.
The pictures in the carousel above were my first ever go at making pizza, and a couple of them were shaped and topped by my children, hence the, erm, esoteric shapes! Lol.
However, what I can say is that the pizzas tasted absolutely amazing! You really do get the wood-fired flavor — if using wood, of course — and we have cooked pizzas a few times since that look far better. I must revisit this review to post some better images soon.
Ooni Karu 16 Multi-Fuel Pizza Oven
A large multi-fuel pizza oven that can accommodate up to 16-inch pizzas and cook them with charcoal, wood, or gas (with an optional gas burner accessory) for maximum versatility.
Can reach 950°F (500°C) in just 15 minutes and cook a Neapolitan-style pizza in 60 seconds!
A glass door keeps heat in while allowing you to see your cooks, and an integrated thermometer informs you of your oven temperature.
In Ooni's own words: "The first pizza oven to be 'Recommended for Domestic Use' by the Associazione Verace Pizza Napoletana, the acclaimed international authority on true Neapolitan pizza."
Overall Ease of Use
How easy the Ooni Karu 16 is to use partially depends on what fuel you use. If you go with gas, it's ridiculously simple to use. Using wood and/or charcoal requires a bit more effort, from adding fuel to adjusting the vents.
Overall, though, I'd call it moderately to very easy to use, depending on your level of comfort cooking with wood and charcoal.
There is an initial learning curve to how much solid fuel you need to use, and hitting and maintaining your desired temperatures. But once you have this down, it's easy enough and very rewarding with the authentic flavors produced.
I must also say that for the best pizzas, you need to make your own dough and will want to go for a 24-hour or more proving time for fermented flavor crust. You could always use the 'pizapp' smartphone app for this or join one of many Facebook groups for pizza making where you will find numerous instructions for making the perfect dough.
Making and handling dough is the hardest part of pizza making for me. The fire management skills come quickly, but you need experience — and are likely to fail a few times — making dough before you truly nail this.
Temperature Control and Accuracy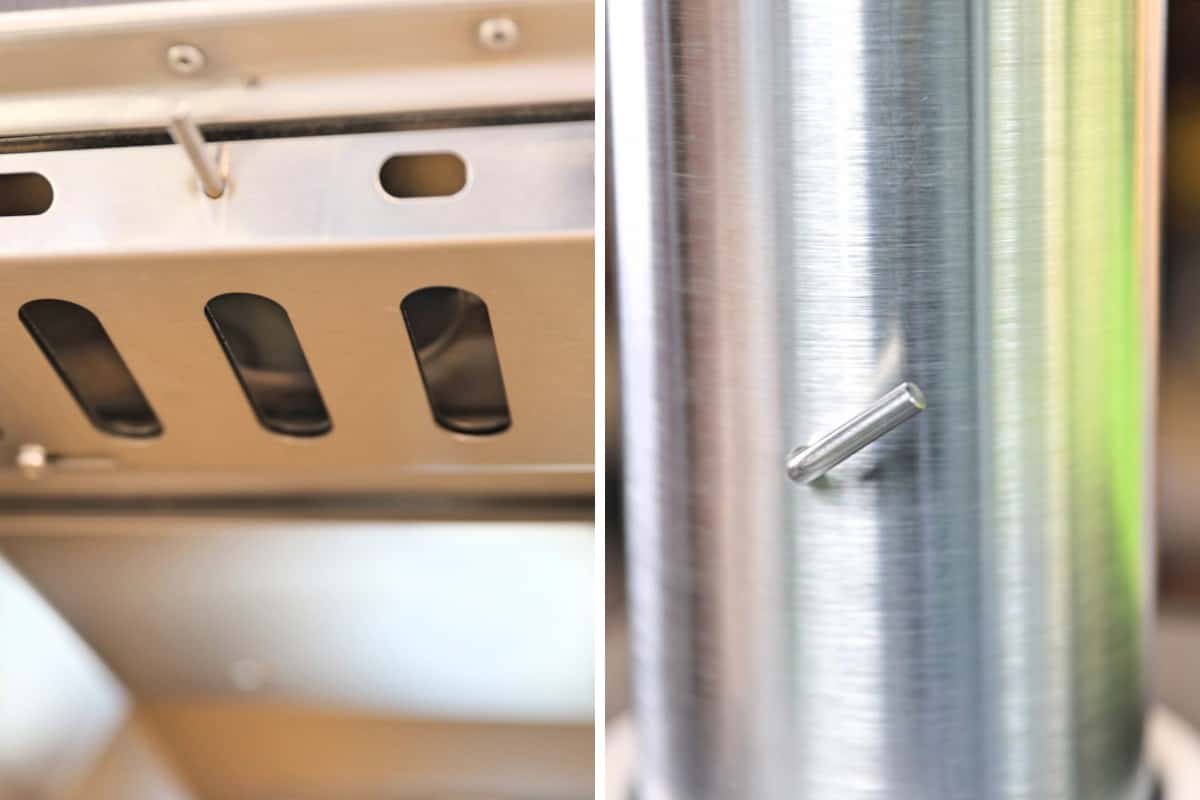 It's important to know that the digital thermometer that comes with the Ooni Karu 16 measures the temperature of the air inside the oven. While that's a useful statistic, it's also very helpful to know the temperature of the pizza stone.
To read the temperature of your stone, you'll need an infrared thermometer to get the surface temperature. Not too surprisingly, Ooni can sell you one if you don't already have one.
There are two ways on the Karu 16 to help control airflow and temperature. There's a vent just inside the front door, which you can only adjust with the door open, and a baffle inside the chimney that you can operate with a small lever on the outside.
The best way to control the temperature of your oven is by managing the fuel. Easy to do with the gas dial, but somewhat harder when using charcoal and wood.
What I found works best is loading it up, letting it burn until it's super hot, and then starts to dwindle down, and then just add fuel a couple of pieces at a time to see if it maintains the temperature I want. If not, add 3 pieces at a time. If not, add 4. You soon see how much it requires.
I also found that for lower temperatures, it's best to play the inner vent and baffle, having it half-way, to lessen airflow and keep the temperatures slightly lower, but this only works if you also manage your fuel. I need to play with this over a low and slow cook to nail down the process, and I will then report back.
Ease of Cleaning
A good habit to get into is letting your Karu 16 run hot for a while after you're done cooking. This will burn off bits of food, flour, or semolina left behind on the pizza stones.
Once the fire is out and every surface is completely cooled, you can use a 'wire pizza brush' to sweep out the interior, then wipe out the interior with a dry cloth or paper towel if there's any remaining residue. Just make sure you never leave behind any wire bristles!
For the exterior, just wipe it down with a damp cloth and then towel it dry. Any marks on the stainless steel will come off with any stainless steel cleaner or wipes.
If your fire creates a lot of soot on the glass, once it's completely cool, you can wipe it off with a dry towel. Warm soapy water should do the trick if that doesn't do it.
The two-piece fuel tray allows ash to fall into a collection pan and allows air to keep flowing around the burning wood or charcoal. Pull the entire tray out, remove any unspent fuel, remove the top section, and dump the ash into your ash can. Remember, always use a metal can and never dump ash that isn't completely cooled or fully extinguished charcoal.
All in all, it's not a difficult cooker to keep clean.
Portability
Yeah, that's pretty much a "no" on being portable. This is not an easy item to transport at over 60 pounds and lacking any kind of handle, not to mention the 18-inch chimney sticking out the top. (OK, fine; the chimney does come off easily.)
Mind you, the legs fold up, which helps a bit. Let's just say you probably won't take this out on a picnic, but you might take it to a cottage or trailer for a week.
If you want pizza on the go, check out the Ooni Karu 12. (My review is on the way!)
Care and Storage
I think a protective cover is a must for any outdoor cooking equipment. Wind, rain, snow, and even dust will take a toll on your gear if you leave it uncovered.
So, I bought the fitted cover for my Ooni Karu 16. It's a good fit and even covers the chimney. A strap wraps underneath the oven and stays in place with a hook and loop system; it's been out in strong wind and never looked like it would come off.
The edge is elastic, helping the cover stay put by tensioning a string under the main body. And the whole thing is 100% waterproof, so no worries about rain leaking through.
My only concern is for the digital thermometer. The cover doesn't reach far enough under the oven to fully protect it, leaving the back exposed. I know the oven itself shelters it, but I'd be happier if this sensitive piece of electronics were snug as a bug under the cover.
Accessories
Like any company that knows how to market its wares effectively, Ooni offers a variety of accessories you can purchase separately to enhance your experience. Let's check out a few and talk about how they can help you enjoy your Ooni Karu 16 even more.
Gas Burner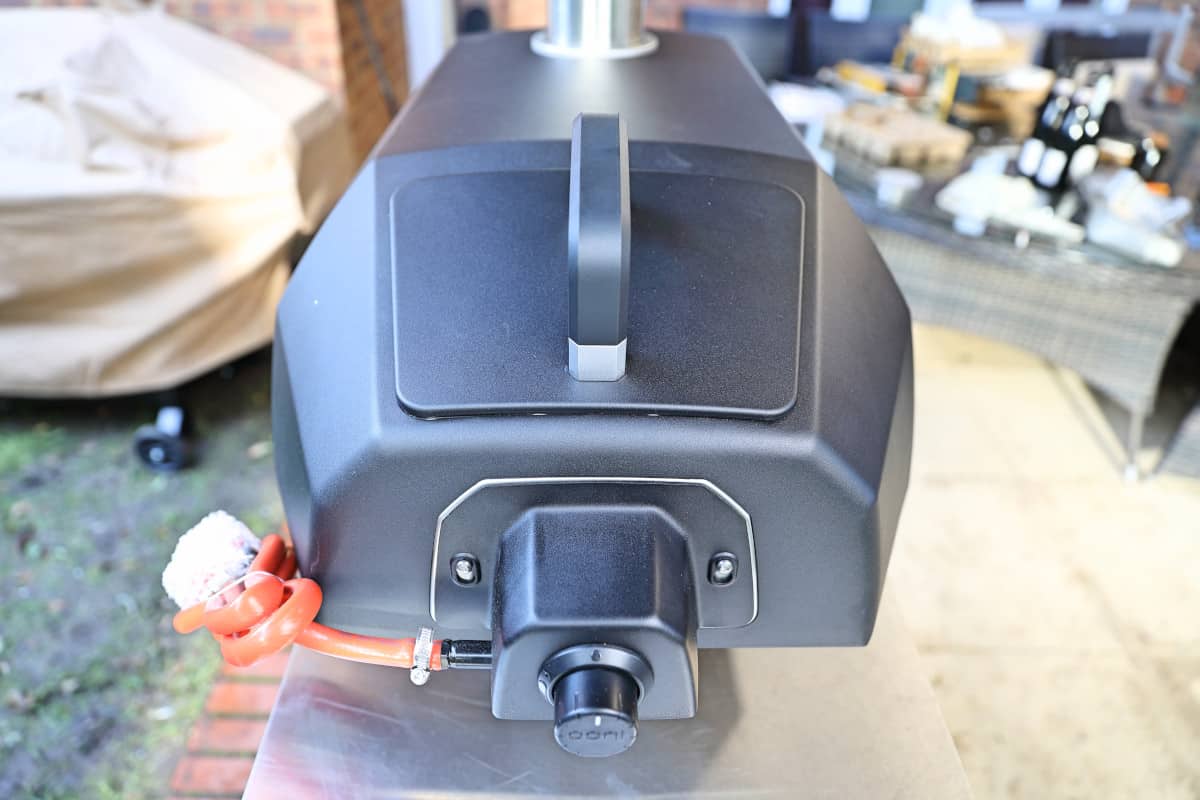 Available for natural gas or propane, the burner add-on affixes easily to the back of the oven. It's fast, efficient, and easy to operate.
If you're used to gas grilling or want consistency without any fuss, this is a must-have option. (Yes, that's an oxymoron.)
Pizza Peels
Wanna do pizza like a pro? Get a pizza peel. Actually, get several in different sizes. Basically, they're giant flat spatulas. Their purpose is to quickly insert and retrieve pizzas without reaching into a scorching oven. (Heatproof gloves are still recommended!)
Ooni sells peels in 12-, 14-, and 16-inch sizes, in stainless steel and bamboo. I recommend — and bought myself — a bamboo peel for making your pizza and sliding it into the oven and then a perforated metal one for taking them out, as the bamboo may burn.
Grab a turning peel, too. They are smaller, circular, and a really handy device for rotating your pizza while it's still in the oven to ensure all sides are cooked perfectly.
Cover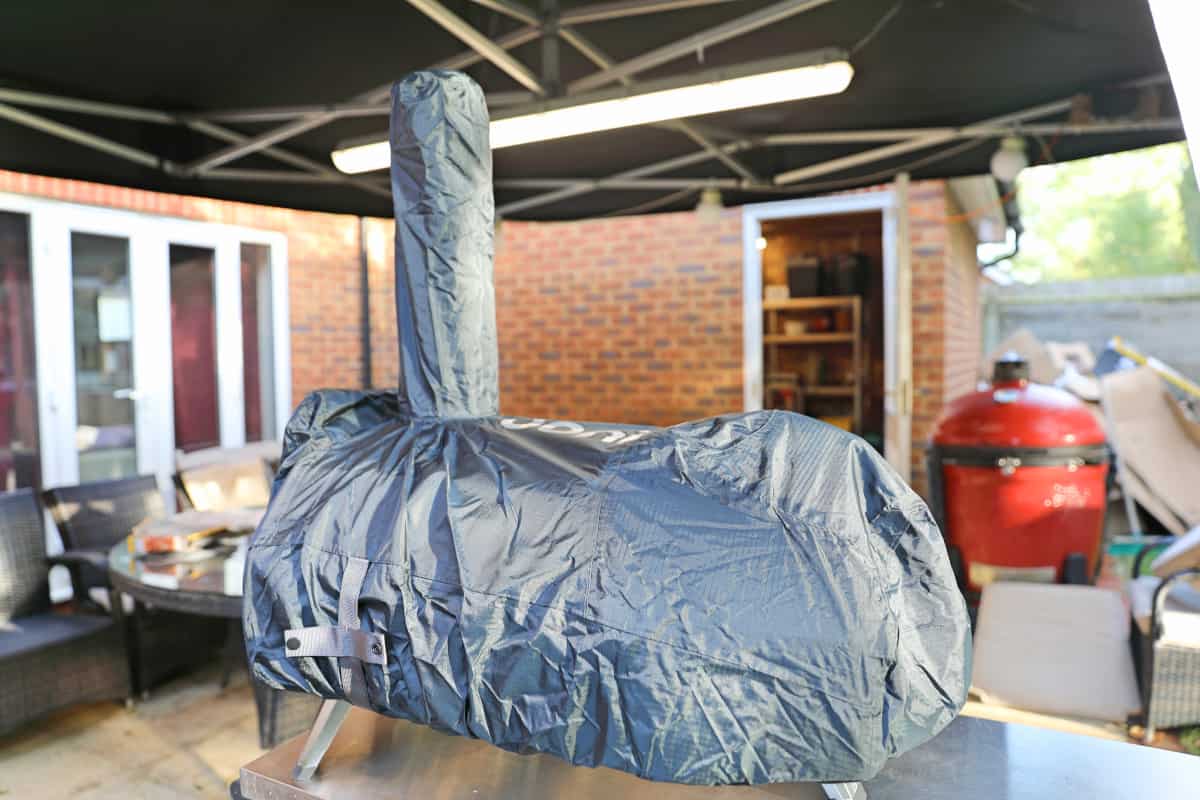 I've talked about the cover already. And, despite its slight flaw, I still recommend it. It's the best way to protect your investment from Mother Nature.
Skillet
The cast iron skillet comes with a detachable handle, so it's always cool to the touch. You'll love this add-on for roasting veg to go alongside your pizza or for putting some sizzle into a couple of steaks or chops.
It's just a fun way to get more out of your pizza oven and save you from firing up a second cooker when you want some variety.
Modular Table
Not sure where you'd set up a pizza oven? Ooni has you covered with its modular tables.
Place the oven on top and your propane tank or bagged fuel on the bottom shelf. The middle shelf, you can position where it best suits your needs. Plus, there are hooks for hanging your pizza peels and more when not in use.
Four casters make it much easier to move your oven in and out of storage, from sun to shade or rain to shelter.
Ooni Company Overview, Warranty and Support
Like so many businesses in the outdoor cooking market, Ooni began because someone was fed up with either paying a fortune for high-quality equipment or making do with subpar food.
The founder set his sights on building a pizza oven that achieved the high temperatures needed for restaurant-quality pizza but didn't cost a fortune. He nailed it.
Currently headquartered in Scotland, Ooni makes and sells a range of pizza ovens that have won awards and acclaim from the harshest critics. Even mainstream media, like CNN, have picked up on this very progressive company.
Ooni provides a one-year warranty on all their ovens. If you register your purchase with them, they'll triple that. The extra peace of mind is well worth the few minutes of your time.
As for support, a small library of videos and a short FAQ section on their website is available. The Essentials Guide that comes in the box offers some troubleshooting tips that might be helpful in a jam. If none of that helps, there's an online form you can fill out, including a spot to attach a picture.
They have social media presence on all the usual platforms, and there are a few community groups you can join for additional support.
The bottom line is that this is no fly-by-night company; we trust them, and their reputation for quality keeps growing.
Should You Buy the Ooni Karu 16?
Ooni Karu 16 Multi-Fuel Pizza Oven
A large multi-fuel pizza oven that can accommodate up to 16-inch pizzas and cook them with charcoal, wood, or gas (with an optional gas burner accessory) for maximum versatility.
Can reach 950°F (500°C) in just 15 minutes and cook a Neapolitan-style pizza in 60 seconds!
A glass door keeps heat in while allowing you to see your cooks, and an integrated thermometer informs you of your oven temperature.
In Ooni's own words: "The first pizza oven to be 'Recommended for Domestic Use' by the Associazione Verace Pizza Napoletana, the acclaimed international authority on true Neapolitan pizza."
If you enjoy gourmet pizza and want to add to your outdoor cooking repertoire, you'll love owning the Ooni Karu 16. It isn't cheap but does what it does SO well; it's worth the investment.
It's a terrific piece of equipment; well-built, versatile, user-friendly, and very rewarding. Highly recommended, especially for families and frequent party hosts!
If you want to experience authentic wood-fired cooking over multiple days, this isn't the oven for you.
Larger, brick and cement, highly insulated wood-fired ovens you can cook pizza on in the afternoon, and they will then hold heat for up to 24 hours! So you can — without adding more fuel — use it to then cook an evening meal by roasting some meats and veggies, and after that, bake some bread to eat over breakfast. This is the 'authentic wood-fired oven experience' aficionados sing about!
The Ooni, though, is for constantly monitored cooks. It can only hold a small amount of fuel, so constantly refilling and tweaking will be needed to maintain heat for multiple cooks. But it's perfect for doing single meals on, at a fraction of the cost of much larger ovens.
Final Thoughts
Well, that's a lot of words about a pizza oven. What can I say? I think this is fantastic! I've always liked cooking pizza on the grill or kamado, but it's always felt like an afterthought – and truthfully, it is. To cook a pizza in a purpose-built wood-fired oven is a joy. We will be eating a LOT of pizza at my place.
If you still have questions about the Ooni Karu 16, please send them along through our response form or find Food Fire Friends on social and send a message.
Thanks for taking the time to read my Ooni Karu 16 review, and we'll see you on another page soon. Until then, it's been a slice!