Today, we're going hands-on with the Weber iGrill 3 Bluetooth probe thermometer to see who it's for and if it's worth the investment.
Here is a universal truth: every barbecue brand wants all your money.
Need proof? Go to any website for any major manufacturer. Not only will they have a full roster of grills, but they'll also sell you all the gear you need to go with it. That includes wood chips, pellets, charcoal, grilling accessories and tools, and branded clothes. Some of this stuff is useful, and some of it not so much.
Which of those two categories does the Weber iGrill 3 Bluetooth probe thermometer fit? Let's figure that out together.
Myself, I own the Genesis II E310. It's a nifty gas grill, and I couldn't resist trying out the iGrill 3 after looking at that iGrill 3 Ready plaque repeatedly.
To help you make an informed choice, I'm giving the iGrill 3 a complete hands-on review. I'll tell you what it does, how it can make your life better, and who it's best suited for.
Ultimately, I'll give you my thoughts on whether or not it's worth your money.
Let's start with a bottom line up front to save some of you time unnecessarily reading this review, because this thermometer is definitely not for everyone!
Weber iGrill 3 Review Key Takeaways…
The iGrill 3 can only be used with Weber gas grills that are 'iGrill ready.'
It's a capable thermometer, with a nice enough design and good features.
You can only use the iGrill 3 with a smartphone app. It has no display! If you have no smartphone, you cannot use this thermometer.
If you want or need a thermometer to use with other grills, not just a Weber Genesis or Spirit, you should look elsewhere.
If you have brand loyalty and wish to 'complete' your iGrill ready Weber gas grill, then this might be the thermometer for you.
With those takeaways out the way, let's start with a quick summary of what the Weber iGrill 3 is all about.
General Overview
Weber iGrill 3 Bluetooth Four-probe BBQ and Grilling Thermometer
A four-probe smartphone app connected Bluetooth thermometer specially designed to mount directly into Genesis II or Spirit II gas grills from Weber.
With 250 hours of battery life, notifications for temperature alarms, and color-coded probes, it's an effective tool for precision cooking, removing the guesswork from your grilling adventures.
The iGrill 3 is a leave-in probe-style digital thermometer system made by Weber. It's made specifically for the Weber Spirit II and Genesis II E, S, and LX series grills.
If you own a Weber, but it's not one of these, I suggest checking out our Weber iGrill 2 review.
If you do have one of the appropriate grills, you'll undoubtedly be familiar with the mounting space on the side shelf, where you can see the 'iGrill ready' badge. This is where your iGrill 3 lives, whether you're using it or not.
The iGrill 3 supports up to four probes and comes supplied with two out of the box.
All information collected by the probes transmits to your smart device via the free Weber iGrill app using Bluetooth.
Using the app, you can do all the usual stuff, including setting doneness targets, timers, and alarms for high and low temps, and more.
What We Like
Because the weather-resistant base unit stays in place all the time, you've got one less thing to store and to remember to set up when it's time to cook. Plus, it's never in the way since it mounts to the front face of the shelf.
Supporting up to four probes allows plenty of flexibility when you're cooking. Frankly, I think four probes should be the default for all thermometers, never less.
Lasting up to 250 hours on three AA batteries, you're not tethered to the wall and relying on AC power.
What Could Be Improved
I resent that it doesn't come with an ambient grill temperature probe. It comes with two food probes, and I had to buy a pit probe separately.
I'd have preferred one pit probe, and one food probe myself (other's opinions may differ?)
If you buy one, the pit probe does have a nice angled shoulder making it easy to handle, a clip for fixing the probe to your grates, and colored sleeves on the probe and plug for easy identification.
If the iGrill 3 worked with WiFi, it would significantly increase the distance you can move from the grill. Bluetooth signals are easily interrupted by walls, meaning it can be hard to stay connected when you go indoors.
Even a small LCD screen cycling through the temperature readings would be helpful; you'll always need your smart device handy to check what's happening under the lid. It would be good to see temps right at the grill without having my phone.
Having the battery compartment separate from the base keeps the base unit size down, but it greatly complicates installation and battery replacement.
Key Features and Benefits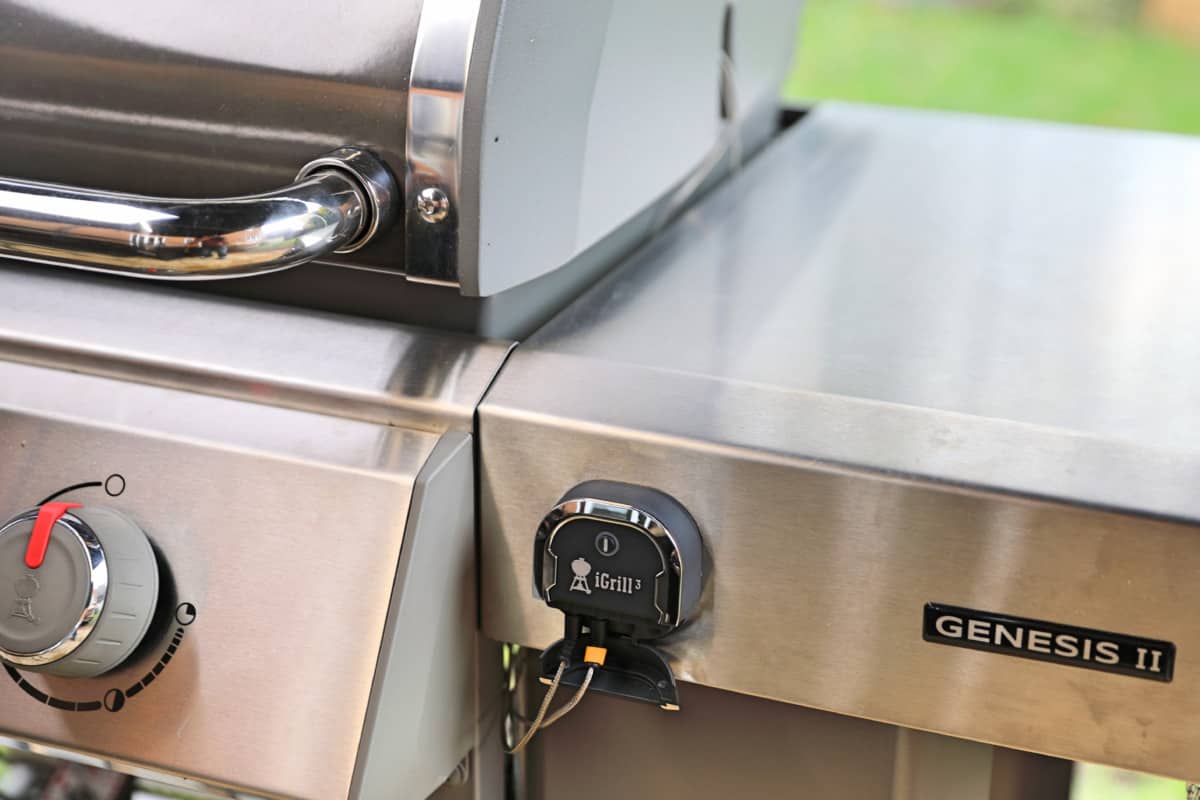 The general benefits of probe thermometers are essentially the same for any model, really; you have a real-time monitor of the internal temperature of your meat, so you have no excuse for overcooking your food.
What sets the iGrill 3 apart is how it works with your Weber Spirit II or Genesis II E, S, or LX series grill. It's designed to install permanently on the front of one of the side shelves and integrates the LP fuel gauge into its data collection if you have a propane and not a natural gas version of your grill model.
The iGrill 3 supports up to four probes of your choosing. You could have them all set as meat probes or dedicate one for an ambient monitor. (Weber sells an ambient probe separately.) Plus, you can keep tabs on a variety of cuts that may not cook at the same rate or need to be finished to different doneness levels.
Manufacturer's Specs
Base unit dimensions: 2.2 x 2.6 x 2.5 inches
Connectivity: Bluetooth
Power: 3 AA batteries (included)
Battery life: up to 250 hours
Number of probes: Supports up to 4; 2 included
Probe length: 5 inches
Thermometer range: -22 to 572 °F (-30 to 300 °C)
What's in the Box?
Pop open the impressive box (it's big, and there is a LOT of info printed on it), and you'll first find the Quick Start and Installation Guide.
Lift that out to reveal the iGrill 3 base unit, 2 meat probes with colored sleeves for easy identification, 2 cable wraps for storing your probes, 3 AA batteries and the battery compartment, a mounting bracket for the battery compartment, wire bundles for the batteries and a sensor attachment for your propane gas scale, and a peel-and-stick clip to hold the wires up and out of the way.
First Impressions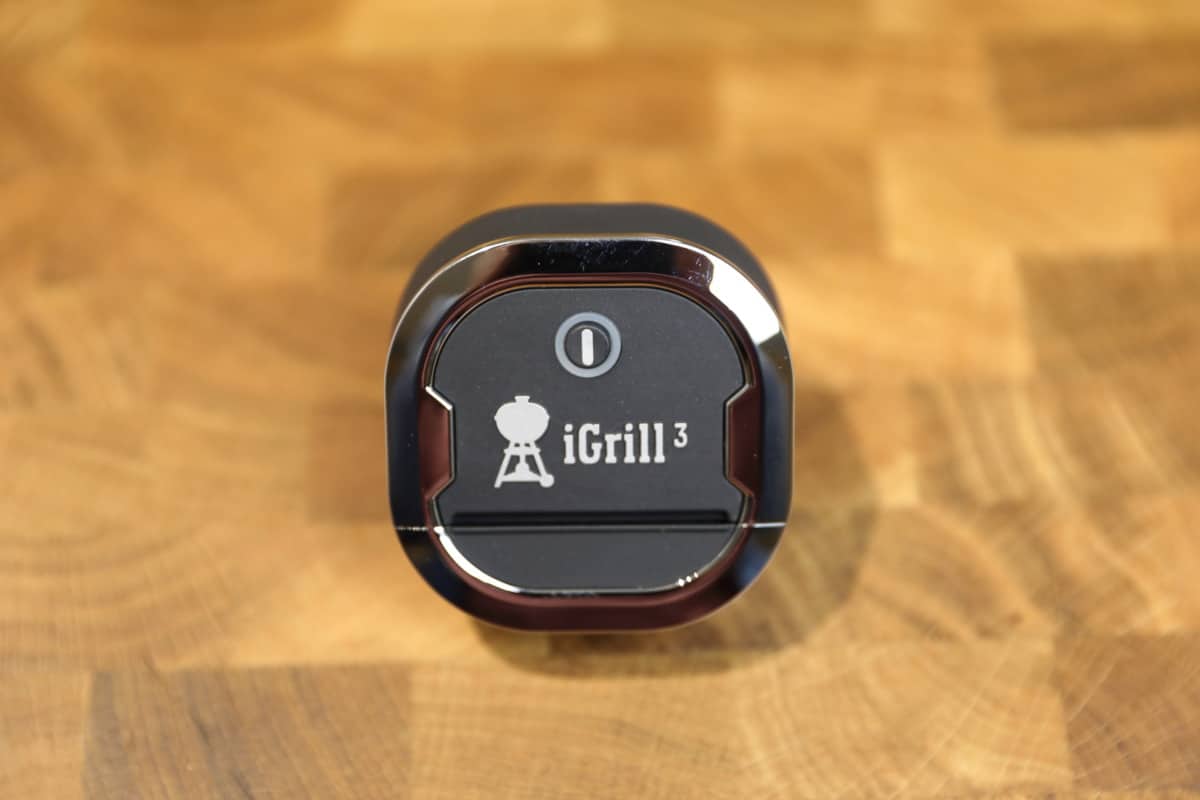 It's a sleek base unit, I'll say that for it. Maybe too sleek. There's a disturbing lack of buttons or LCDs on the iGrill 3. I can see right away that I won't be handling it much.
Or will I? It turns out you have to open a hinged panel on the base unit to access the probe ports. That's kinda snazzy; it certainly will help keep the weather out when it's not in use.
There are a lot of parts in the box, though, so I'm moderately concerned about how long installing the iGrill 3 might take.
Design and Build Quality
Weber has a well-deserved reputation for making good-quality products. Never the best, mind you, but always a few steps above the main part of the pack.
The iGrill 3 looks pretty good, especially when it's installed nice and flush into the front of the side shelf on your Weber grill. That might be the number one thing it has going for it – it's so nicely integrated with the barbecue.
I love that the probes feature 90-degree bends towards the wire connection. This simple feature makes it far easier to insert and remove probes from your food. And I love the colored identification sleeves at each end, so you know which probe is going where.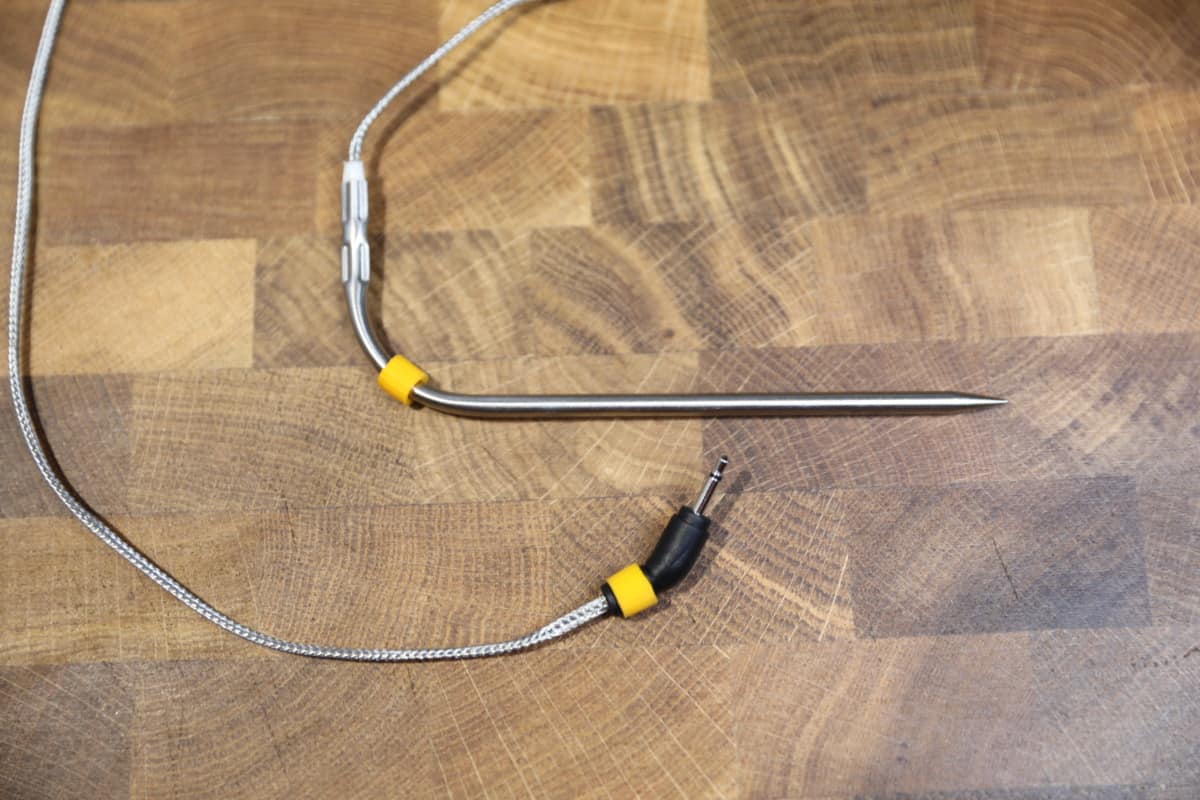 What I don't love as much is the fact the probes connect at the bottom. This means I have to run the wire from underneath the base and up to a gap where the lid meets the bottom of the grill. Having the probes connect at the top might be easier and cleaner (no loops hanging down).
Setup and Connectivity
Installation was finicky and awkward, to be perfectly honest. It's not simple to get under the shelf and remove the screws from the back that hold on the "iGrill 3 Ready" plate.
The battery mounting bracket and the battery compartment are a little easier to install, but you still have to get under and behind the shelf.
Also, installing the propane gauge attachments has to be done mostly by feel.
Then, you have to run the wires from the tank scale and the batteries underneath the shelf, through the clip — after you stick it where you want it.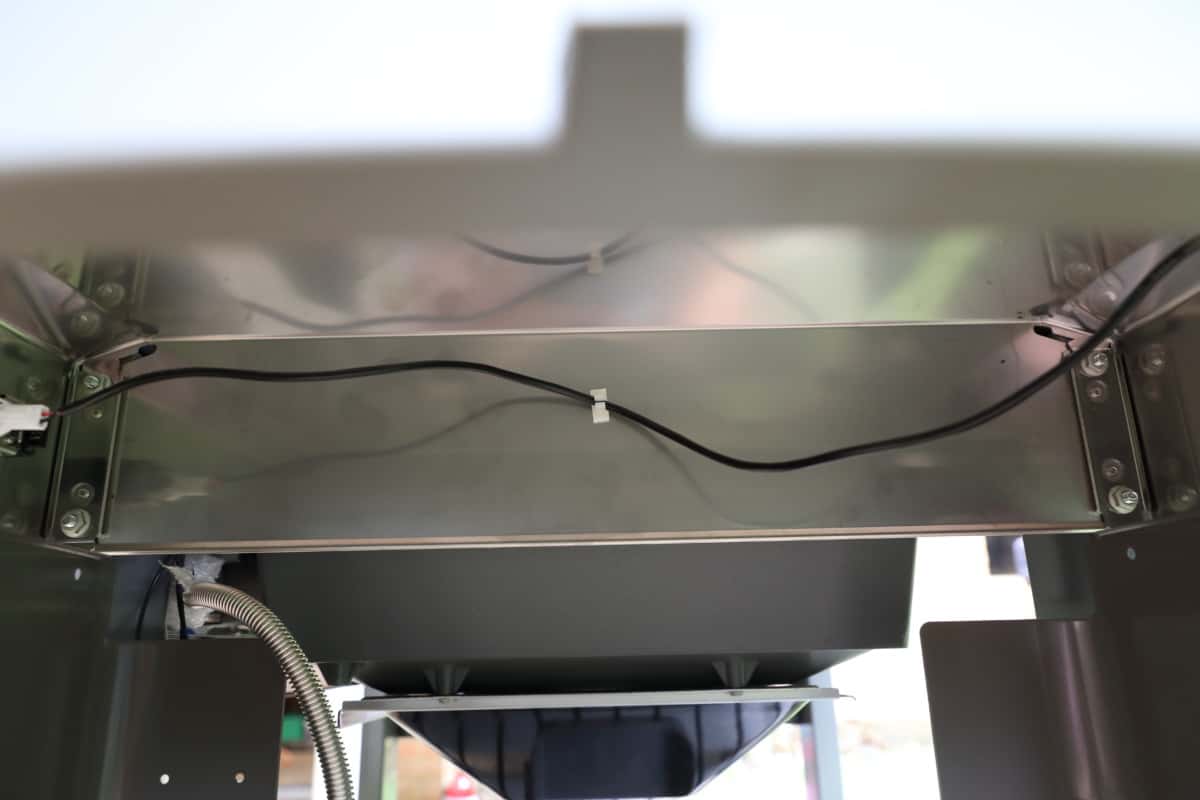 Then plug everything in, connecting the batteries and tank scale over to the thermometer base.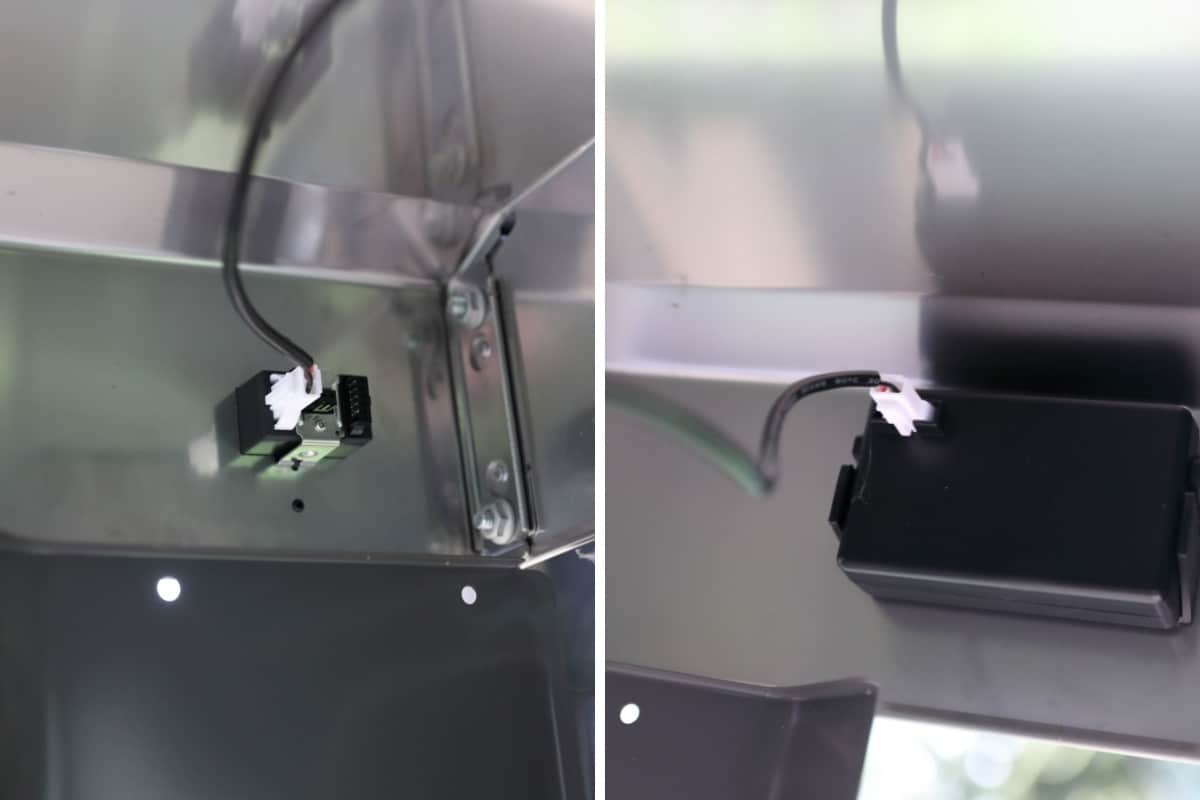 If you aren't much for kneeling or squatting, you may want to get someone young and agile to help with installation.
Once it's physically installed, it's time to connect to your phone.
The Weber app is a free download from the Google Play store or the iOS App store. Install it on your phone, turn on your Bluetooth, and press the only button on the base unit. The LED should flash blue, meaning it's looking for a device to pair with.
From there, it's a quick process to pair your phone or tablet with the base.
Accuracy
A thermometer is only as good as it is accurate. So, I gave my iGrill 3 the classic ice water and boiling water tests. How did they measure up?
Boiling Water Test
The boiling point of water is affected by your height above sea level. I live very close to sea level, so I am able to ignore this. So for this test's sake, we can say water boils at 212 °F.
As can be seen in the screenshots, the iGrill 3's pit and food probes both measured the boiling water at 213 °F. This is very close indeed, so this thermometer easily passes the test.
Ice Water Test
Water freezes at 32 °F. As shown in the screenshots above, the pit and food probes measured the iced water at 36 °F.
I then used my Thermapen One instant-read thermometer — an incredibly accurate thermometer — to take the same measurement, and it showed 31.9 °F.
This means the iGrill 3 is out by as much as 3 °F.
From both the boiling water and iced water tests, it's plain to see that the probes and this thermometer are more accurate at medium to high temperatures than at freezing water temperatures.
For me, a 3 degree accuracy at the low end is not an issue, as the lowest we will have our grills is 225 °F, and the lowest we will cook our food to is 125 °F for rare steak. So being out by 3 degrees Fahrenheit for freezing water is not a problem, and being out by 1 or 2 degrees at higher temps is easily acceptable.
I would be comfortable using this thermometer for sure.
IGrill 3 in Use
Using the iGrill 3 isn't much different than using any other probe-style thermometer. Other than I didn't have to find anywhere to set it up, I like that it takes up none of my prep and workspace.
Inserting and removing the angled probes is a breeze, and they provide fast and accurate readings.
The iGrill app is user-friendly and fully featured, though I did have some connectivity issues, occasionally losing my Bluetooth connection when I wandered away for a fresh beverage.
Who is the Weber IGrill 3 Thermometer for?
First and foremost, the iGrill 3 is ONLY for the Weber Spirit II, Genesis II, and Genesis II LX grills owners. It is specifically designed to install into the shelf and work with the LP fuel gauge on these barbecues.
If you fall into that grouping, it's suitable for anyone.
However, if you also wish to use your thermometer with other grills — which, quite frankly, I always do! This isn't the thermometer for you, and I suggest you look elsewhere.
Using a leave-in probe thermometer is the simplest way to ensure your meat cooks to the right temperature. This applies whether you're quickly grilling burgers, aiming for the perfectly cooked steak, or slow-roasting a large cut. There is no substitute for cooking to temperature.
Final Verdict: Should You Buy the Weber IGrill 3?
Weber iGrill 3 Bluetooth Four-probe BBQ and Grilling Thermometer
A four-probe smartphone app connected Bluetooth thermometer specially designed to mount directly into Genesis II or Spirit II gas grills from Weber.
With 250 hours of battery life, notifications for temperature alarms, and color-coded probes, it's an effective tool for precision cooking, removing the guesswork from your grilling adventures.
There's nothing functionally wrong with the Weber iGrill 3 probe thermometer. It monitors your food and lets you know what's up on your smart device. And it looks pretty slick when it's installed. It's certainly better than the "iGrill 3 Ready" badge.
I kind of like the fuel sensor; it's nice not to have to bend over and check the gauge under the shelf.
Beyond that, though, I don't see any compelling reasons to own this probe thermometer over any others on the market. I'd say it has fewer features than some of the better ones I've reviewed.
For example, there's no option for WiFi connectivity or onboard display or functionality. It's a stripped-down experience that works fine but lacks the bells and whistles offered by other manufacturers.
If you feel the need to be "all Weber all the time" or love the idea of a permanent installation, then go for it. If not, I recommend going with another product with more features.
Summary of Pros and Cons
Pros
Good accuracy and speed of reading
Easy to use, intuitive smartphone app
Both preset and customizable temperature alerts
Long battery life of up to 250 hours on 3 AA batteries
Supports up to 4 probes
Good looking design
Permanently mounted to your grill so will never be misplaced and lost
Cons
An ambient pit probe has to be purchased separately
Wi-Fi would have been good to significantly increase monitoring distance
The lack of any display is a letdown. You MUST use the smartphone app to see any info
Final Thoughts
While I'm usually pro-Weber across the board, this is one product I just can't get too excited about. There's not much that's wrong with it; there just isn't enough that's right with it to recommend the iGrill 3.
So, what should you buy? To answer that question, check out some of our many reviews of other digital thermometers, including our picks for the 6 Best Bluetooth BBQ Thermometers for Smokers and Grills.
Thanks for reading our Weber iGrill 3 review! Happy grilling!