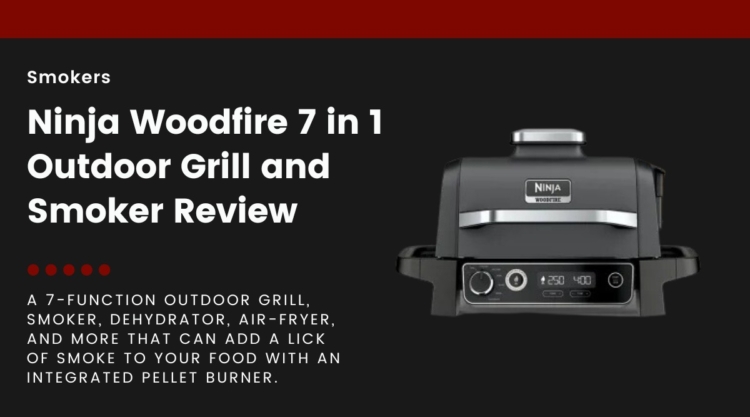 The following is our unbiased, hands-on review of the Ninja Woodfire Outdoor Grill, including specs, pros and cons, trial results, and our recommendation.
Who out there has a Swiss Army knife? Even if you don't have one, you know what the premise is: one handy device that takes the place of several. Why carry your leather punch, slip-joint pliers, and tweezer separately, right?
Today, I'm reviewing what you might call the Swiss Army knife of outdoor cookers: the Ninja Woodfire Outdoor Grill.
Full disclosure time. The good people at Ninja sent me this grill free of charge in exchange for a review. I can promise you, dear reader, that I'll be as thorough and honest in my assessment as if I'd paid for it out of pocket.
I've been messing around with the Woodfire at home, experimenting with the different settings and cook styles, and I'll cover each one later in the review. I'll also share full specs and what I feel are the critical pros and cons. And I'll tell you who I think this grill is best suited to and whether it's worth owning.
Let's start by getting to know this unique outdoor cooker.
What is the Ninja Woodfire Outdoor Grill?
Ninja Woodfire Outdoor Grill and Smoker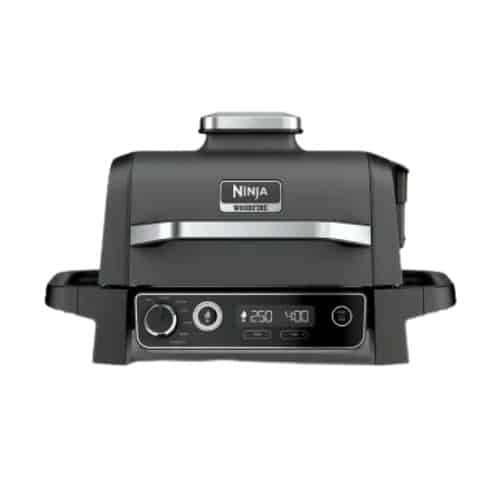 A 7-in-1 multi-function outdoor cooker that can real wood smoke flavor while grilling, smoking, air-frying, roasting, baking, dehydrating, or broiling.
Small and light, simple and intuitive to use, it produces excellent food and is weather-resistant, so can be used and stored outdoors in all weathers.
The Woodfire is an electric grill designed for outdoor use — unlike a George Foreman, it's weather-resistant and has a cover available.
Ninja touts the Woodfire as a seven-in-one unit capable of multiple cooking styles, aided in part by a fan in the lid for circulating warm air.
What truly sets it apart from other electric grills, (and indoor Ninja products) though, is the smoke box; load it with wood pellets, and you can add authentic smoke flavor to anything you cook.
First Impressions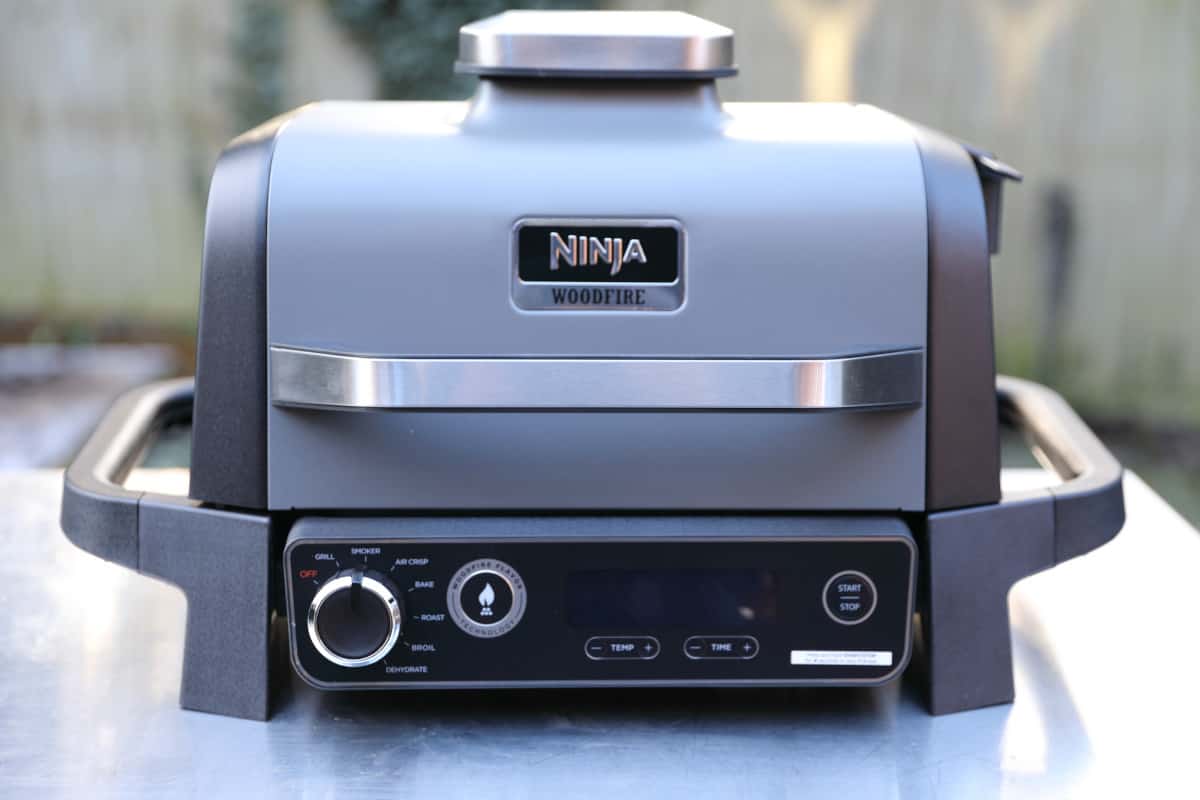 My initial thoughts were that the Woodfire looked solid and reliable. The charcoal and silver color scheme is modern and professional-looking, and the control panel promises to be easy to interact with.
I also note that it's not a big cooker by any means. The grill size is on par with some portable grills and hibachis, so I know right away it won't be my go-to for large parties; this one is just for meals with the immediate family.
How Does it Work?
Plug the Woodfire into the closest wall socket, and you're ready to choose from one of seven cooking functions. They are as follows:
Grill — Slap a few burgers, steaks, chops, or sausages on the solid cooking surface and grill just like you would on any barbecue.
Smoker — This setting activates the smoker box and keeps the temperature inside low for smoking ribs, butts, and more.
Roast — Like your oven, the Woodfire can cook beef and pork roasts, poultry, or vegetables until they are nice and tender.
Bake — The reduced fan speed on this mode creates a gentle, even heat for perfect bread, cake, pie, and more.
Dehydrate — Use this mode to draw moisture out of meat, veggies, and fruit to create jerky and chips.
Air Crisp — On this setting, high heat and quickly circulating air help wings, fries, and more cook up crispy with little to no oil required.
Broil — Finish off casseroles or melt cheese on sandwiches and burgers with a blast of high heat over the top.
No matter which mode you choose, pressing the "Woodfire Flavor Technology" button adds smoke as desired. Imagine adding real smoke flavor to your wings in the air crisper or a meat pie on bake mode? That's what you get here.
The way this grill works is:
Underneath the main grate is a heating element that heats from below.
In the lid is a multi-speed fan for circulating hot air, a bit like a fan oven.
Surrounding the fan in the lid is a second heating element that can be used to heat from above, particularly for broiling, for example.
To the side is a small box with a lid and a third heating element, used to burn wood pellets slowly to add smoke flavor.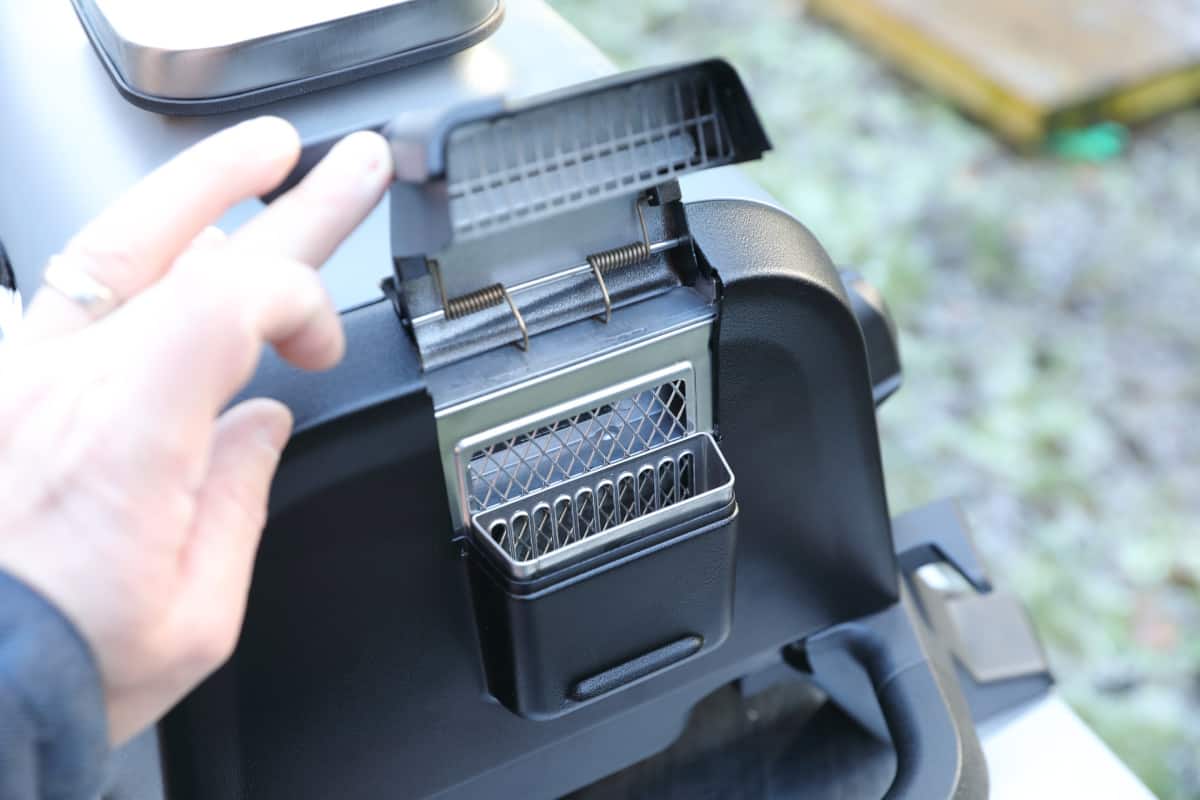 You simply select your cooking style with the rotary dial for any of the available functions. Then accept the default settings or tweak the temperature and time, and then when told to do so (after pre-heating / igniting wood pellets) add your food.
What We Like
The ability to switch between cooking styles by turning the knob makes the Woodfire a highly approachable cooker.
It's extremely easy to set a temperature and timer to start your cook, and there are literally thousands of recipes online that you can follow.
With the touch of a button, you can add smoke to anything you want, even if you're not in Smoker mode.
The compact size allows the Woodfire to smoke more quickly than many dedicated smokers on the market.
Though it's not what you'd call a lightweight, I'd still say the Woodfire is portable enough to take on the road. If you know you'll have power, by all means, take it camping, RVing, cottaging, and tailgating. We'll bet you draw a crowd wondering what you're cooking on!
Air frying is cool. Air frying with smoke is amazing. This is a chicken-piece game-changer.
Also, if you buy the Pro version (an upgrade to the one I was sent) the built-in thermometer helps you master doneness levels with either manual input or presets. It even accounts for carryover cooking, automatically shutting down as the meat approaches the target temperature.
What Could Be Improved
Our biggest issue is, ironically, the small size of the cooking surface. We've reviewed many portable grills with much larger cooking grates.
While the grease management system is well designed, we'd rather the tray be accessible from the front or side. Accessing the back of the unit may not always be easy, especially if you have it on a stand next to your house.
Twice so far, out of no more than 15 cooks, the pellets did not light on the first attempt. I had to turn off the Woodfire, start the cook again and press the 'WOODFIRE FLAVOR' button a second time to get the pellets to ignite. I would like to see the pellets light and for smoke to be generated first time, every time.
Manufacturer Specs
Weight: 30.6 lbs
Dimensions: 23.6" x 18.6" x 13.3"
Grilling Surface: 141 sq. in.
Power: Electric (AC)
Who is this Multi-Function Grill and Smoker Best Suited To?
Novices to grilling and smoking, or anyone who finds the big equipment intimidating, will appreciate the simplicity of this cooker.
Pellet grills made smoking more accessible to the average weekend warrior. But the Woodfire makes it something anyone can do daily.
Small families and couples will appreciate how much they can do with this one unit. If you hate how hot the kitchen gets in the summer, just go outside and cook everything on the Woodfire.
People who tailgate, camp, RV, and so on will enjoy the versatility, too. You can cook so much more than the usual hot dogs, burgers, and steaks without lugging around propane tanks, charcoal, or wood.
Finally, anybody who owns Ninja products such as their airfryer range will love this kit. It will be familiar and natural for you to use — almost exactly the same, just with optional added smoke flavor.
Unboxing and Assembly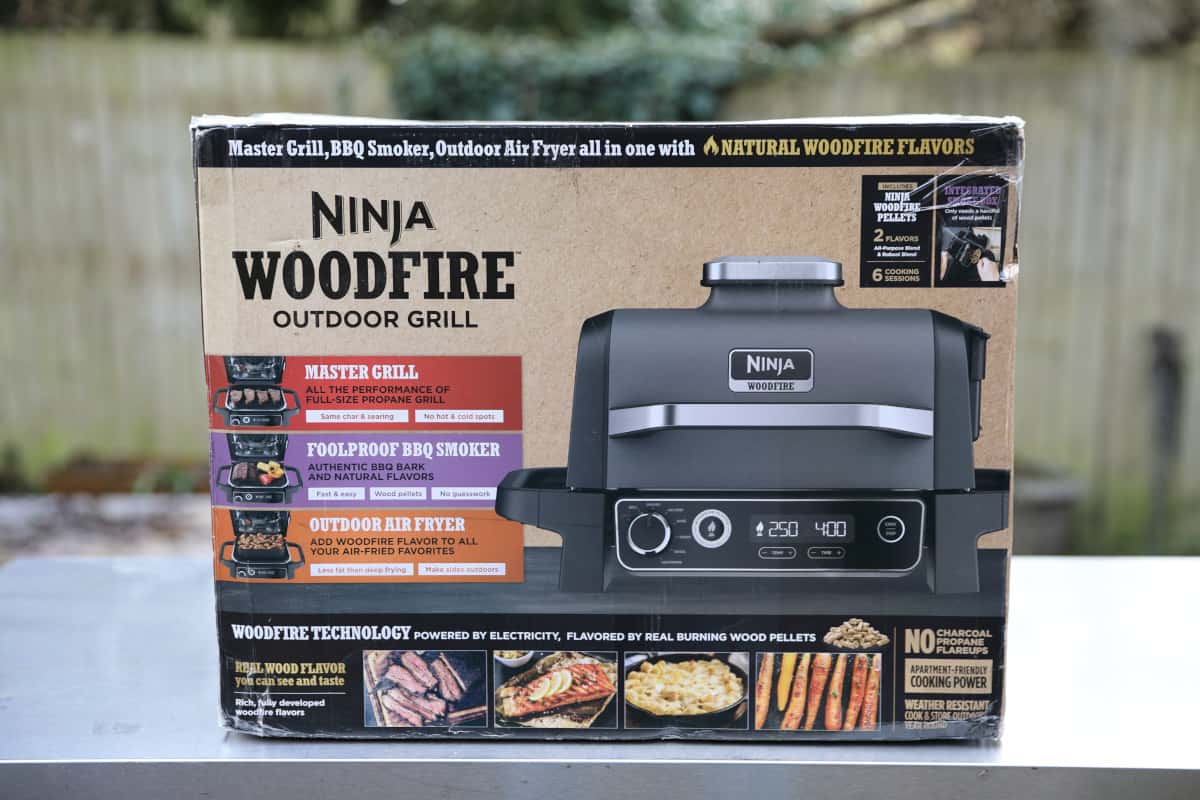 Ninja seems to switch up its promos periodically, offering different varieties of free accessories.
That being the case, I'll just go through the unboxing of the Woodfire I received and the standard inclusions.
What's in the Box?
You'll first come across the Owner's Manual and a recipe book.
In addition, you get a pellet scoop, grease tray, crisper basket, grilling surface, pellet smoker box, and a small Allen key to attach the side handles.
Also included are two sample packs of pellets, one all-purpose and one "robust blend."
Ease of Assembly
Piece of cake!
You only need to attach the two side handles, and the screws are pre-threaded. It's less than a 5-minute job.
Overall Build Quality
Like most Ninja products, the Woodfire falls somewhere between average and premium quality for build and materials.
Everything looks and feels durable; it's new yet, but I feel like it will last for many years, even without babying it. Notable is the power cord with the built-in GFI; that's fantastic if you're out on an apartment balcony or at an electrified campsite.
The grease management system is simple but clever, with all the drippings running to the back of the grill and down into the pan. The air crisper basket sits on the grill, and any grease that doesn't pool in its own wells will fall on the grill and from there to the tray.
All the cooking attachments seem to be aluminum, including the grill. While we generally prefer cast iron, aluminum does keep the cost and weight down.
Ninja Woodfire Outdoor Grill and Smoker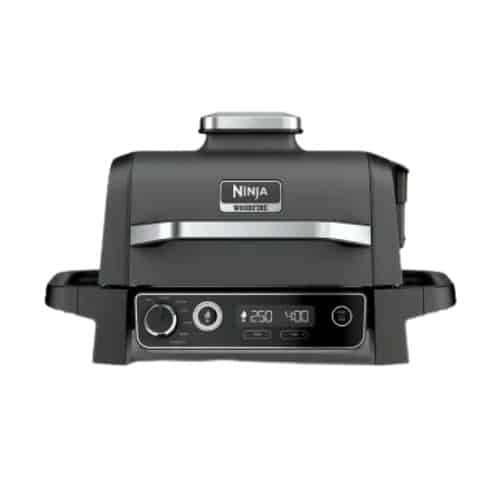 A 7-in-1 multi-function outdoor cooker that can real wood smoke flavor while grilling, smoking, air-frying, roasting, baking, dehydrating, or broiling.
Small and light, simple and intuitive to use, it produces excellent food and is weather-resistant, so can be used and stored outdoors in all weathers.
The Ninja Woodfire Outdoor Grill in Use
With seven functions on the dial, there are plenty of reasons to plug in the Ninja Woodfire.
Here are my thoughts on each setting. Is it truly the all-in-one solution it claims to be?
Overall Ease of Use
If you don't know the Ninja company (now SharkNinja), do you even have a kitchen?
They make a wide array of cookware and cooking gadgets. Their small appliances share a common design aesthetic, and the controls are also similar from unit to unit.
So, if you own a Ninja pressure cooker, food processor, or juicer, you'll find the interface on the Ninja Woodfire reassuringly familiar.
I found the Pro simple to use, with a minimal learning curve. Everything is clearly labeled, the displays are easy to read, and there are only a handful of buttons and one knob to contend with.
Grilling Performance
For the 'GRILL' function, the Ninja Woodfire has the following available settings:
Temp: HI — MED — LOW.
Time: 1 to 60 minutes.
To test the grilling performance, I went for hot and fast two flat iron steaks. One was rubbed with a general beef rub, and one was plain, the way my young daughter likes them.
As you can see the Woodfire grilled perfectly well. I was a little afraid it wouldn't get hot enough to create a great sear, and to take advantage of the Maillard reaction. But my fears were misplaced.
I grilled my steaks on the HI setting, and it was actually so hot that it burned my rub in places. So please only use MED or LOW if grilling anything with sugar in the rub, as it will burn. But this is a GOOD thing! Many grills do not get hot enough. This one certainly does. And you can always use a lower setting.
However, the sear on the plain steak was perfect. Dark, deep, and flavorful, and I could easily get a good crust with the insides staying perfectly medium-rare.
I'd be happy to use this grill for grilling anything in the future. It gets plenty hot enough, and adding a little hint of smoke flavor is a real bonus.
With the Woodfire, you can also grill with the lid open, which is slower, for a better sear without overcooking the inside). Or you can grill with the lid closed, which will be quicker, cooking the insides faster, resulting in less sear. Smaller items, grill lid open, thicker cuts grill with the lid closed.
Smoking Performance
For the 'SMOKER' function, the Ninja Woodfire has the following available settings:
Temp: CLD, or 145 °F – 400 °F
Time: 10 minutes to 12 hours.
I should say now that I was skeptical of the smoke flavor the Woodfire would produce. Pellet grills on the whole give a more subtle (weaker) smoke flavor compared to most other types of grills, and I was expecting this electric grill with just a few smoking pellets to be even weaker. But I was nicely surprised!
For my initial test of the smoker function, I did some chicken wings that I then air-fried to crisp up. I found the smoke flavor was on a par with my full-sized pellet grills. Subtle compared to the smoke flavors achieved with larger, dedicated wood fired or charcoal fueled smokers, but up there with full sized pellet grills.
I found on subsequent cooks (pork loin, and some baby back ribs) that a single fill of Ninja branded wood pellets lasts approximately 1 hour.
I'm sad to report that the pellets didn't light two times, and my cooks progressed with no smoke being generated. I've no idea why. But when it happened, I removed the box of pellets, gave them a shake, turned off the Woodfire, restarted the cooking process, and then the pellets ignited.
So my summary of the smoker setting is that it works well, adding a decent smoky flavor, but occasionally the pellets do not ignite. You must keep an eye on your cook to ensure they are lit, or no smoke will be produced.
Overall though, it smokes well.
Air Crisp Performance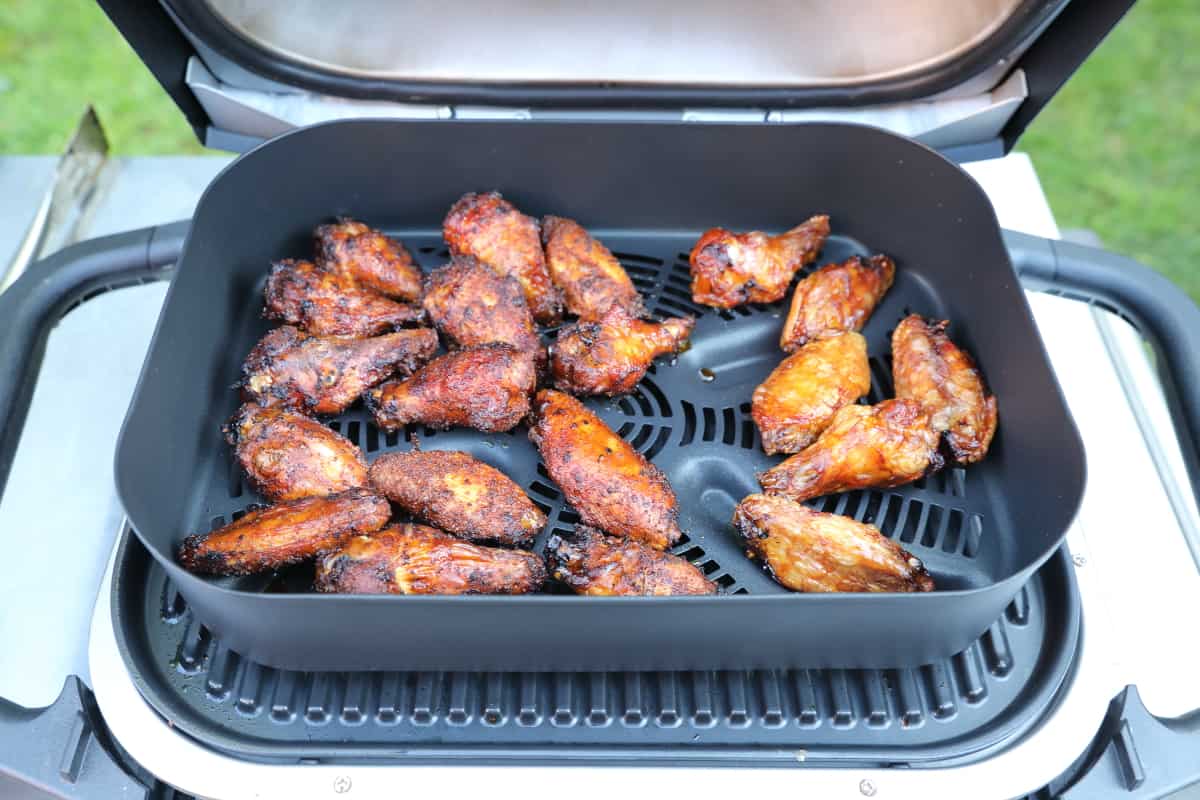 For the 'AIR CRISP' function, the Ninja Woodfire has the following available settings:
Temp: 300 °F – 450 °F
Time: 1 minute to 1 hour.
I first used the air fryer setting to crips up some wings I had smoked on the Woodfire. I air-fried for 15 minutes or so, and it worked really, very well. The skin on my wings was wonderfully crispy.
I really like this function because low and slow smoking tends to impart also no crust and leaves the skin on poultry a little rubbery. I then tend to fire up a grill super hot and potentially use a 'Vortex' accessory to crisp up my chicken after smoking.
But because I've found the Woodfire's air-frying of chicken works so well for crisping up the skin, I will use this function, potentially every time. It just works so well and is so fool-proof and easy I see no reason to use other methods from now on.
Roasting Performance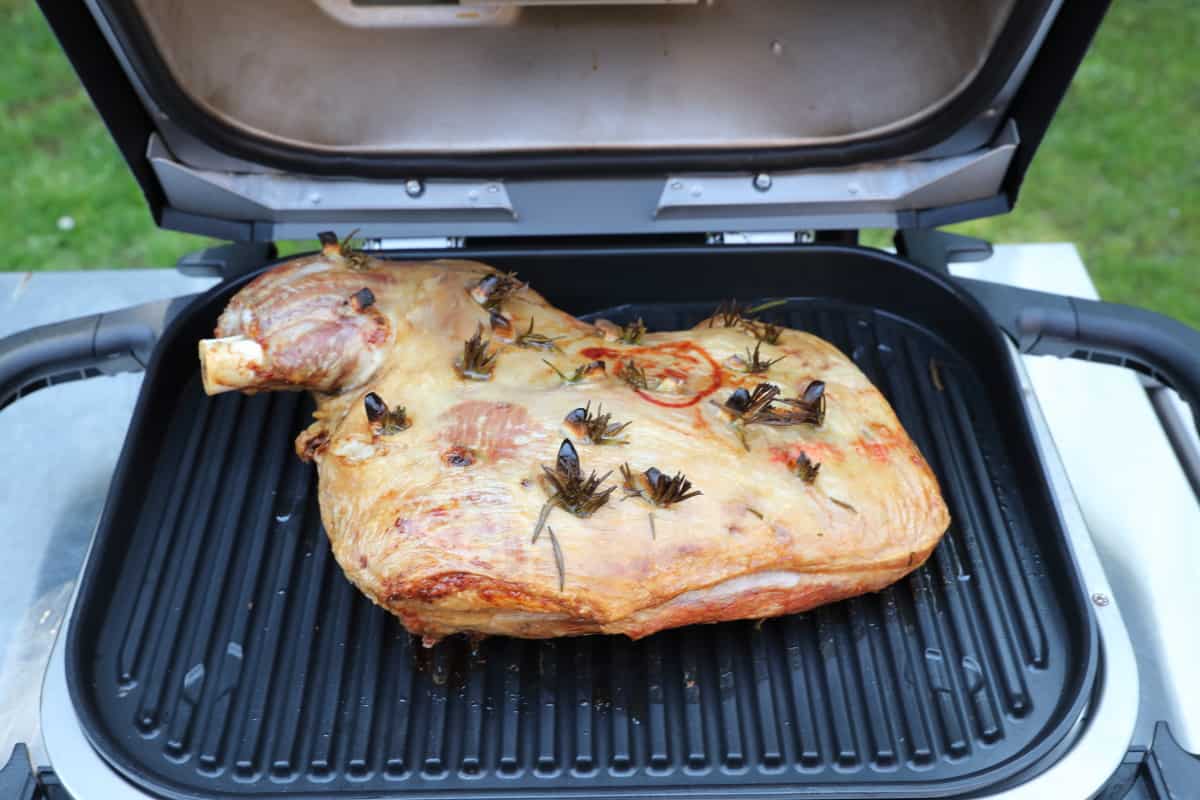 For the 'ROAST' function, the Ninja Woodfire has the following available settings:
Temp: 250 °F – 425 °F
Time: 1 minute to 4 hours.
My first 'roast' on the Woodfire was a lamb shoulder studded with garlic and rosemary. With the smoke enabled, I roasted it off for about 45 minutes before moving it to a braise inside my kitchen oven.
My second 'roast' was a whole chicken, start to end, also with the smoke setting enabled.
I'm happy to report the roasting went well. This setting works exactly as you would hope, and being able to add some smoke is fantastic.
I would have liked to have seen the temperature range available as high as 450 °F, rather than stopping at 425 °F because I like to brown off some meats this high before turning them down. But other than that, this function works as well as hoped, and I find no fault with it.
Broiling Performance
For the 'BROIL' function, the Ninja Woodfire has the following available settings:
Temp: 500 °F fixed.
Time: 30 Seconds to 20 Minutes.
I was apprehensive about the broil setting, as broiling should be 'heat from above.' Apprehensive only until I discovered the second heating element wrapped around the fan in the lid!
So when you broil, the grate does not get heated from below, and it is actually true broiling.
I did a family favorite of onion and cheese on toast for my test.
The first thing I noticed is that the fan goes double speed when broiling if compared to other settings. The strength of the fan I found is actually enough to move my slices of bread around inside of the grill. Maybe I should use larger pieces next time?
Anyhow, it worked well. My toast wasn't at all cooked further from below, there was absolutely no burning. And within minutes, my cheese had melted and started to bubble and brown.
This is a good function for finishing off foods without cooking them much further if you wish to brown off the top of foods and give a good crust.
The broil function works well. No complaints from me at all.
Dehydrating Performance
For the 'BROIL' function, the Ninja Woodfire has the following available settings:
Temp: 80 °F to 195 °F.
Time: 10 minutes to 12 hours.
I haven't been able to get around to using this setting just yet. I intend to make jerky and will circle back and update this review when I do so.
Baking Performance
For the 'BAKE' function, the Ninja Woodfire has the following available settings:
Temp: 250 °F to 400 °F.
Time: 1 minute to 4 hours.
Here's my confession: I'm not much of a baker. (As in, anything I do bake comes in a box with the Pillsbury Doughboy on it.)
So, I haven't tested the 7th function of the Ninja Woodfire, the Bake setting. But baking and roasting aren't so different from one another, and I know it does a good job roasting. From that, I conclude that it will be capable as a baking oven.
Cleaning and Maintenance
It's a sad fact of life; things get dirty. Here are my observations on keeping the Ninja Woodfire in tip-top shape.
How to Clean the Ninja Woodfire
You're gonna have to get your hands dirty to clean the Woodfire, because none of it is dishwasher friendly. Actually, the pellet box insert is, but the grate and crisping basket are not.
Luckily, it's pretty easy to keep this little grill spic and span.
Pull out the grease tray, dump whatever's inside, and then hand-wash the tray. The same goes for the non-stick grill grate and air-fryer basket; warm soapy water and a dishcloth will do the job.
Finally, you can wipe down the exterior with a damp cloth and also the inside of the lid.
Any Other Maintenance Required?
Where there's smoke, there's creosote. If you see creosote build up inside the Woodfire, scrape it down with a wire brush. If you don't, it will eventually flake and fall onto your food, which you want to avoid.
And, as with any pellet grill, dump out any unused pellets between uses, so they don't get damp. Smoking with mildewed or moldy pellets is no one's idea of a good time.
Ninja Branded Wood Pellets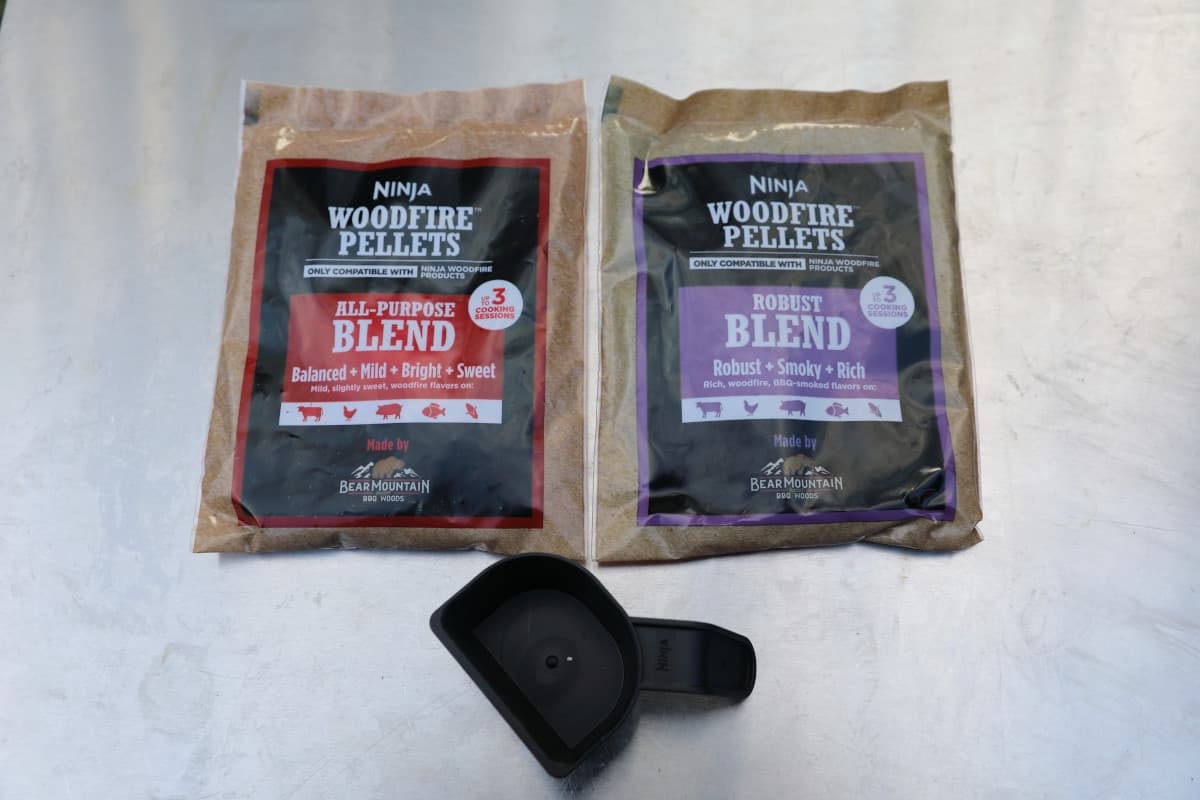 As you can see above, the Ninja Woodfire pellets are actually manufactured by Bear Mountain BBQ, one of the top brands we recommend throughout this site.
Two sample bags of pellets come with your Woodfire, each good for three cooking sessions each. These pellets are:
Robust Blend — Hickory, oak, cherry, and maple. This blend gives more depth and strength to the smoky flavor than the all-purpose blend.
All-purpose blend — Oak, maple, and cherry. A more subtle and smoother smoke profile than the robust blend.
The pellets are the standard, typical size you would find for any pellet grill.
I found the flavor profiles of the pellets as described. They give a good flavor without being overpowering.
Can You Use Other Brand's Pellets?
When you first unbox your Ninja Woodfire, you will see a label glued to the top of the device stating that you must only use Ninja branded pellets.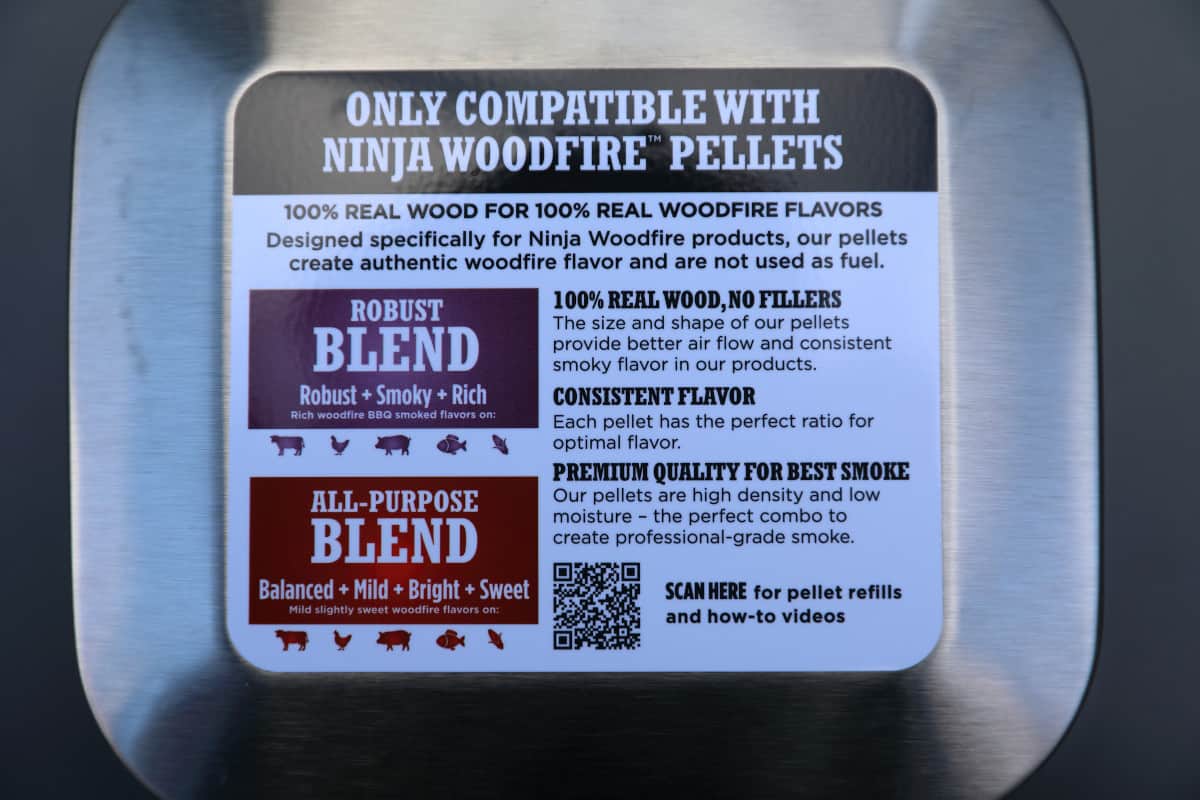 So, can you use other brands pellets? In my opinion, absolutely you can! Pellets are pellets, by and large, so long as you buy good ones.
Many manufacturers claim you should only use pellets made by them, but in my experience, this is little more than an attempt to force buying their own brand, and any quality pellets work just as well.
I've used a handful of other brands of pellets in this grill and had excellent results, including those from Traeger, Bear Mountain, and Pit Boss.
Warranty and Support
The standard model Woodfire comes with a 1 year VIP warranty.
Stepping up to the Pro model not only gets you increased functionality and more accessories, but it also gets you an extra two years on the warranty for a total of 3 years.
Ninja's VIP warranty covers failure for any reason, with either free repairs or a free replacement, plus free shipping in both directions. Now that is a good warranty!
The Ninja website offers a smattering of FAQs and how-to videos to get you started and solve minor issues.
If you like the personal touch, you can reach a live agent six days a week at a toll-free number.
Summary of Pros and Cons
Before I wrap up, here is a quick summation of the things we like most and those that missed the mark.
Pros
Incredibly simple and intuitive to use
Fast and efficient grill and smoker
You can add real wood smoke flavor to any food
Genuine 7-in-1 cooker
No propane or charcoal required
Easy clean-up
Smoked air-fried chicken!!!
Cons
Small grill size may be limiting
Can only be used where there is electricity
Grease tray would be easier to access from the front or side
Pellets may not light first time, every time
Final Verdict
Ninja Woodfire Outdoor Grill and Smoker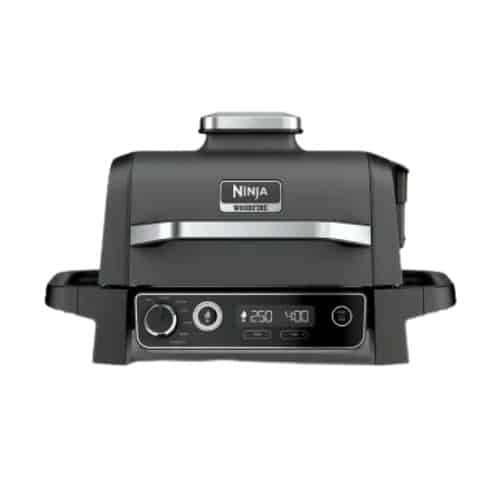 A 7-in-1 multi-function outdoor cooker that can real wood smoke flavor while grilling, smoking, air-frying, roasting, baking, dehydrating, or broiling.
Small and light, simple and intuitive to use, it produces excellent food and is weather-resistant, so can be used and stored outdoors in all weathers.
Compared to a full-size smoker, grill, or pellet grill, this is a scaled-down experience. However, that's exactly what's so appealing about the Ninja Woodfire.
I grill and smoke a LOT on a variety of equipment, including some of the heavyweights, like bullet smokers, kamados, and wood-fired ovens. But I enjoy cooking on this pint-sized grill because it's simple and versatile and does a nice job on the food!
I'm a realist, though, and I know I'm unlikely to persuade many serious outdoor cooking enthusiasts to buy one, even though I'm sure they'd love it.
Instead, I'm going to thoroughly recommend the Ninja Woodfire to anyone who wants to get into smoking and try a few new styles of cooking outdoors but doesn't want to invest the time and money into heavy-duty equipment or who simply lacks the confidence in their skills to make a go of it. (And that's ok! It's no different from a guy like me being better off without an engine hoist or a compressed air nail gun.)
Here's a final tip: when you buy, go with the Pro model and opt for the premium package. Not only does the Pro have a longer warranty and the built-in thermometer, but the package also comes with many accessories you'd pay more for separately.
At the time of writing, the premium package includes these additional goodies:
Combo Crisper Basket (a smaller basket that leaves half the grill free for cooking)
A 2-pound bag of all-purpose pellets
A veggie tray
Roast lifters
A grill cover.
Conclusion
I know most hard-core smokers will probably turn up their noses at the Woodfire.
For sure, it's a very different experience than firing up a huge offset smoker with a bunch of logs. Pellet grill fans may also dismiss this as a mere toy compared to their Traeger or Recteq.
That would be a shame, though, because this is a terrific little grill. I've enjoyed testing it out, and I'm sure it'll be in regular rotation at my place.
Thanks so much for joining us for our Ninja Woodfire review. If you have any lingering questions, leave a comment below or send us a message.