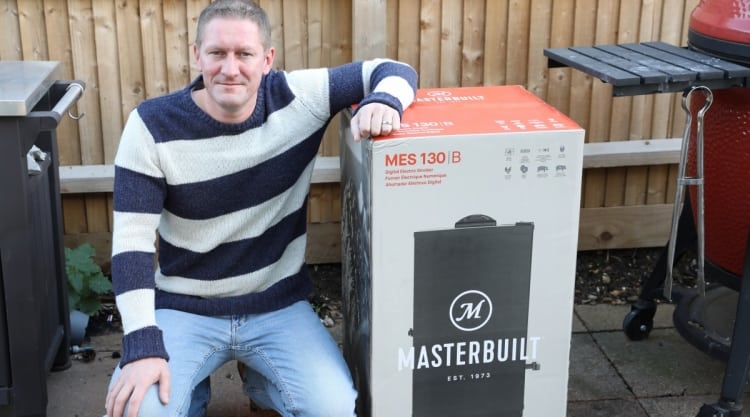 On this site we take a close look at many of the smokers out there to help you choose the right one for your specific needs. This time around, we're looking at what you might call a "plug 'n' play" model in our Masterbuilt 30 Electric Smoker review.
Are you tired of coveting thy neighbor's brisket? Do internet searches for smoked meat leave you dreaming of fall-off-the-bone ribs? Then you're probably ready to enter the wonderful world of backyard smoking.
It won't take long to realize the market is flooded with smokers, some good, and some not so good. Trying to find the right one for you can turn the dream into a nightmare in a hurry. Lucky for you, you found us before suffering through another restless night.
We pretty much always think of charcoal, wood, and gas when we imagine BBQ, so you may think smoking and electricity are mutually exclusive?
But in this review, we just might change your mind. There are many good electric smokers out there, and the Masterbuilt 30 is one of the most popular.
Though we already covered this model in our search for the best electric smoker, we felt it deserved a closer look.
OK, let's take a deep dive into the details…
What is the Masterbuilt 30" Digital Electric Smoker?
Masterbuilt 30 Inch Digital Electric Smoker
An excellent entry into the world of smoking, without the fuss of charcoal or propane. As easy to use as your kitchen oven, simply plug it in, load it with wood chips and food, set your temperature, and off it goes.
It is a vertical smoker powered by an electric heating element rather than charcoal or a gas-fueled flame.
Wood chips fed into the bottom of the unit slowly combust, releasing smoke and heat into the smoking chamber. Meat in the chamber cooks slowly at low temperature and acquires incredible smoky flavor along the way.
A Few Words About Masterbuilt
The Masterbuilt company is a family-built business formed in 1973. They are currently headquartered in Georgia.
Among their products are grills, smokers, fryers (in association with Butterball turkey), and a line of automotive accessories called HITCH-HAUL.
You can buy their grilling and smoking gear online or at retailers like The Home Depot, Cabella, and Bass Pro Shops.
Masterbuilt 30 Electric Smoker Review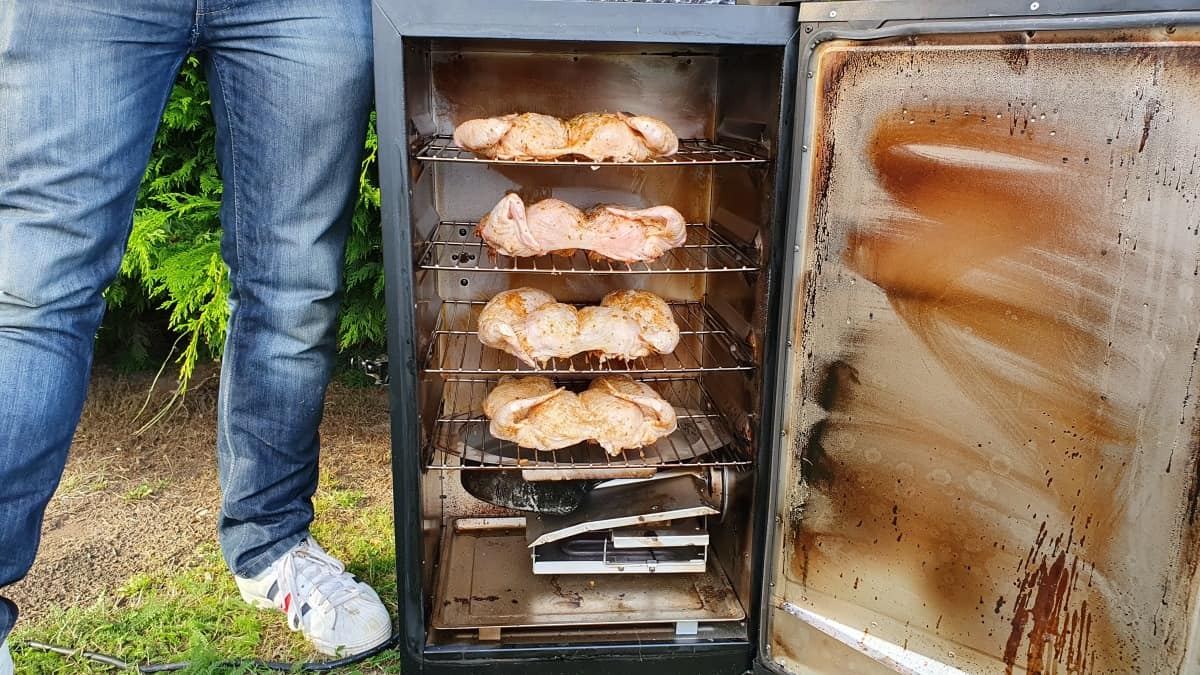 Let's take an in-depth, detailed look at this particular model of smoker, to see what's good about it, what could be improved, what we like and if we're happy to recommend it.
What Comes Inside the Box?
Open the box and you'll find a full insulated smoking cabinet, wrapped in packaging materials, with the majority of components inside the smoker.
Upon opening the smoker, you find four chrome-plated smoking racks, a wood chip tray, a water pan, and a drip pan, plus castors for moving, and the digital controller.
First Impressions
The smoker comes well-packed in styrofoam, and all the racks are wrapped and tied into place. There should be minimal risk of damage from shipping. There are a few manufacturers who could learn a thing or two from the Masterbuilt shipping department!
Once out of the box, it looks a lot like a small bar fridge — short, black, and sturdy. It has good heft and feels solid. That probably has a lot to do with the insulated walls.
It sits very low to the ground, and it's immediately apparent you're going to be doing a lot of stooping and squatting as you load and unload food, and tend to the chips. A stand would be a good investment if you have bad knees. On the other hand, you might like the fact it's low-profile.
Appearance-wise, there's not a lot going on here. It looks very basic, without any unnecessary design elements, or bits sticking out. Which may lead to sudden panic: where's the digital panel? Don't worry — it's safely packed inside the smoker, and it's easy to install.
A final word on the aesthetics: if you want a smoker that looks ultra-modern, or looms over your yard, all huge and impressive, this is not for you. But really, shouldn't it be about the meat that comes out of it?
Why Do People Choose Masterbuilt Products?
There are many good reasons why people choose Masterbuilt. The price point is certainly a key reason.
While not the least expensive smokers on the market, they offer a range of smokers from inexpensive to moderately expensive, and all offer good performance for the price.
Buying an American-made product is important to some consumers, and others probably appreciate the fact it's a family business.
Masterbuilt 30" Digital Electric Smoker Specs
Exterior Dimensions: 30" H × 20" W × 20" D
Weight: 45.9 lbs.
Material: Steel
Fuel Source: Electric
Cooking capacity: Up to 4 racks of ribs, 4 pork butts, 6 chickens or 2 turkeys.
Heating Element: 1 × 800 watts
If you'd like more details, current prices and customer reviews of the Masterbuilt 30 Digital Electric smoker, you can follow this link to Amazon:
Masterbuilt 30 Inch Digital Electric Smoker
An excellent entry into the world of smoking, without the fuss of charcoal or propane. As easy to use as your kitchen oven, simply plug it in, load it with wood chips and food, set your temperature, and off it goes.
Key Features of the Masterbuilt 30" Digital Electric Smoker
Electric Heating Element
If gas is out of the question, and you don't want to mess around with charcoal, electric smokers let you smoke to your heart's content.
It's easy to start and control, it gets up to temperature in a hurry, and you can still use real wood smoking chips.
Insulated Body and Door Seal
The body is fully insulated, which means minimal heat loss, more consistent temps and more consistent cooking times. The door is also nicely sealed.
This is especially useful for those of us who live in places where it cools off in the fall and winter that can play havoc with internal smoker temps.
Integrated Thermostat
Knowing what temperature your smoker is running at is one of the keys to good smoking. It is imperative to maintain a consistent temperature throughout the process, and having a built-in thermostat helps to hold your desired degrees.
Top-Mounted Digital Control Panel
All the information you need is displayed in the most convenient location — right on the top of the smoker. Your fingers will be well clear of any hot spots as you set your time and temperature, and it's easy to check on.
Side Wood Chip Loading System
Opening the door causes heat and smoke loss, and adds time to your smoking. To minimize the need for accessing the smoking chamber, the convenient chip loading system allows you to access the wood chip pan from the side of the smoker, without having to open the door.
Door Latch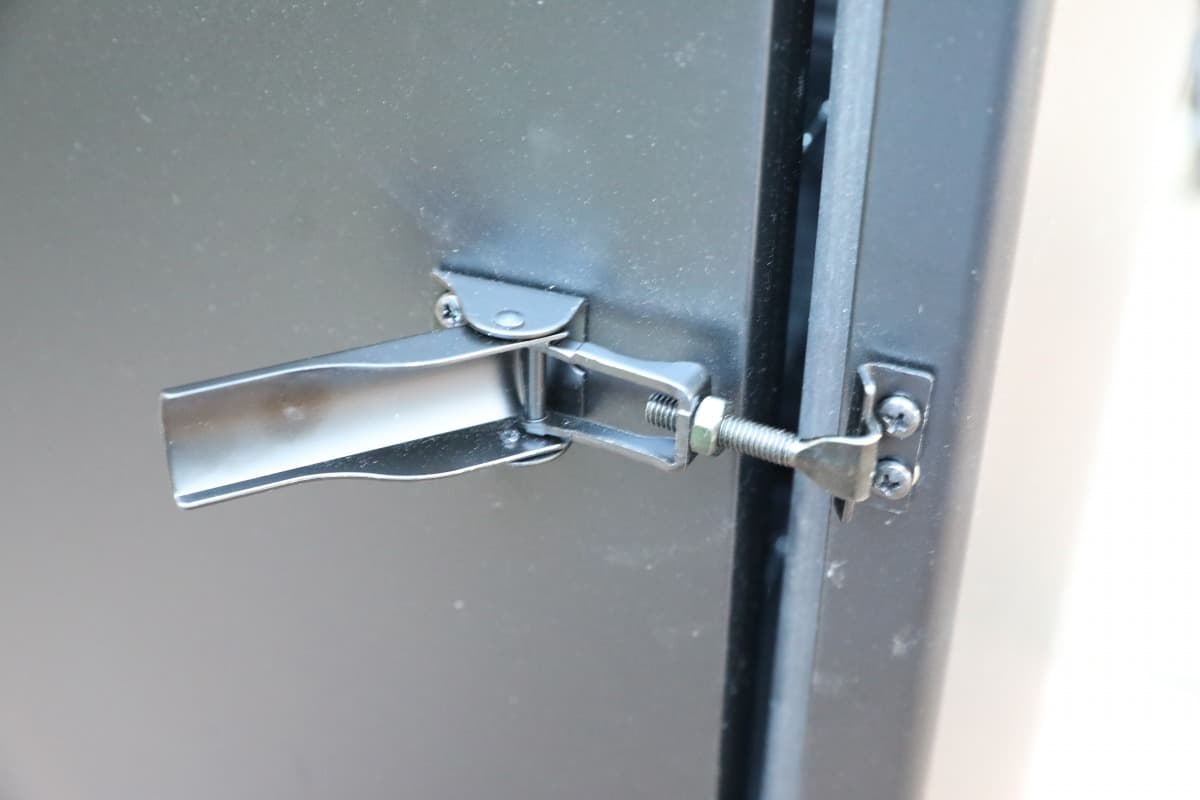 The latch mechanism pulls the door tightly shut and locks it in place. There is no chance you're going to accidentally open it and lose your heat, and it makes a tight seal to keep all the smoke inside where it belongs.
Important Details
There's more to a piece of equipment than just what's written on the spec sheet. Here are some truly useful, "real world" factors to consider as they relate to this model of smoker.
Ease of Use
Let's see — there's no gas hook up to fiddle with, no messing around lighting charcoal, and no flame to extinguish. It's tough to imagine how it could be any easier to operate this smoker!
If you can work an electric range, you'll have no problem using this unit. Where it differs from an oven, of course, are the wood chips. (PRO TIP: Don't use wood chips in your electric oven! Haha.)
Even loading wood chips is simple, however — just load the tray with your favorite chips, and use the convenient side-loader to refill.
It also has a grease collection system, ending with the collection tray seen below.
Grease and drippings inside the smoker are ferried away down into an exit in the rear of the smoker, where they then drip into a little collection tray that is simple to remove and clean with soapy water.
Cleaning and Maintenance
Masterbuilt recommends seasoning your smoker before use (always a good idea) by running the unit at 275 F for 3 hours, adding ½ cup of chips during the last 45 minutes. Do not try to smoke any meat during the seasoning session.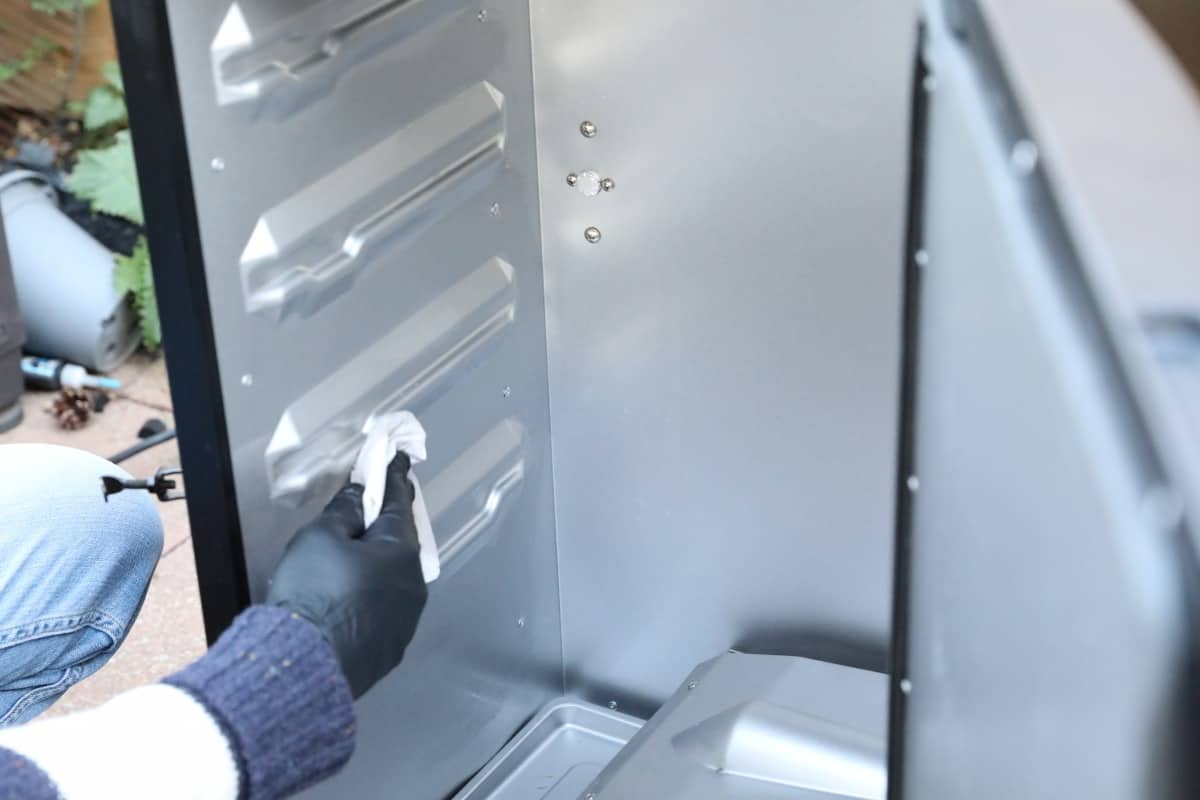 Clean up is made easy with removable racks — just take them out and scrub them down, though you should avoid using any chemicals.
For the interior, make a 50/50 mix of hot water and apple cider vinegar. Apply the mixture with a spray bottle and wipe clean with a soft sponge.
Available Upgrades, Accessories and Attachments
If you want to add on to your smoker, there are numerous accessories you can purchase from Masterbuilt — including:
Fish and vegetable smoking rack
Stand (not a bad idea, if you aren't one for bending over)
Chicken stand
Rib rack
Sausage hanger
Cover
Warranty Details
90-day warranty on defects, exclusive of paint
Repair and replacement costs covered during warranty period
Customer must pay for shipping
Does not cover misuse, abuse, accident, transportation damage, or damage from commercial use
Available Support
There is a very large and active community on Facebook of around 38,000 people. The last time I checked, they'd added more than 2,600 members in the past month, and members combined for more than 1000 posts per day. Now that is an active community!
You can find the Masterbuilt Facebook group at this link.
At the Masterbuilt website, there is an FAQ section, downloadable manuals, a place to register your product, news (including recall notifications), and contact information. There's a toll-free number to call, and an electronic form you can fill out with your questions or concerns.
The company has social feeds on Facebook, Twitter, Instagram, and YouTube, for your infotainment. There are also some good-looking recipes on the website you can try.
A browse around the net indicates that Masterbuilt takes customer complaints seriously, and they seem willing to work with consumers to set things right. I even came across a very rare occurrence: someone who increased their rating after Masterbuilt addressed the issue they'd been having.
Summary of Pros and Cons
Pros
Temperature and time are easy to set
Latched and sealed door
No glass to get dirty
Simple to load more chips
You won't run out of electricity like you can charcoal or pellets
Cons
Can't be used during a power outage (rare!)
Probably shouldn't be used in the rain
Only comes with basic racks (though they are usually all you need, and you can order specialty racks)
Warranty is somewhat limited, but customer service seems to be very good
Should You Buy the Masterbuilt 30" Digital Electric Smoker?
Masterbuilt 30 Inch Digital Electric Smoker
An excellent entry into the world of smoking, without the fuss of charcoal or propane. As easy to use as your kitchen oven, simply plug it in, load it with wood chips and food, set your temperature, and off it goes.
While there are bound to be plenty of people who feel charcoal is the only proper fuel for smoking and grilling, the fact is, this is a great unit. Not everyone wants to mess around with charcoal — or gas, for that matter — or has the time to tend to a fire and maintain a temperature.
I'm not saying this is the lazy person's smoker; I see it more as the "busy person's" smoker. You can turn this little beauty on and then go play with the kids or walk the dog, pausing only occasionally to check on the chips. Yes, you can do this with charcoal smoker temperature controllers, but it's an added expense.
There's a lot of appeal to that, and if the simplicity of electric smokers gets more people smoking, that's fantastic.
Bottom line, if you want to smoke delicious food, but you don't wish to use gas or charcoal (or you can't), this unit may be just what you need. Definitely recommended.
Other Models Might Suit You If
You don't have a convenient power outlet
You need to smoke for very large crowds
You prefer open flame
You prefer the taste charcoal imparts on food
Quick Tips To Get the Most Out of Your Masterbuilt 30" Digital Electric Smoker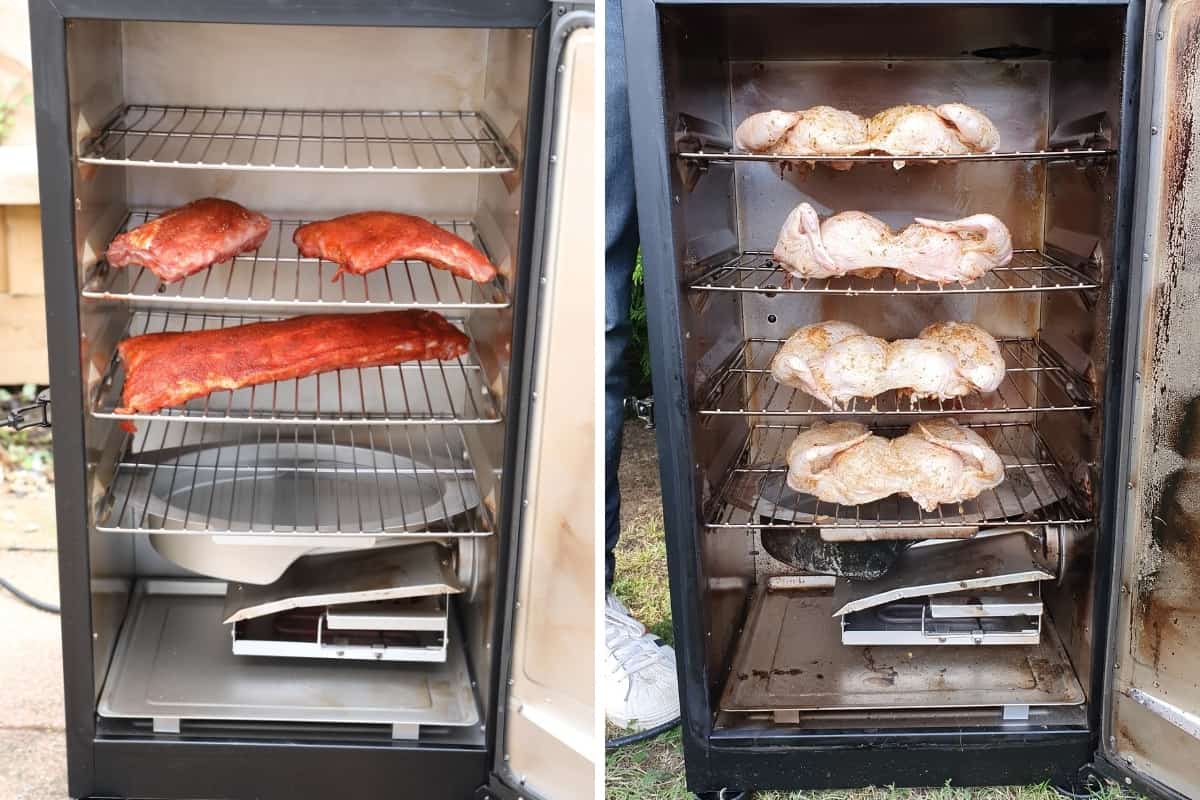 Season the smoker empty before first use
Don't use wood chunks or pellets
Line the trays with foil for easy cleanup
Store it indoors during bad weather to protect the electronics (yes, it needs a bit more "babying" than a propane smoker, or a charcoal smoker)
Masterbuilt 30" Digital Electric Smoker Not For You? Here Are Some Great Alternatives
If this wasn't the right unit for you, perhaps one of these alternatives is more like what you're after:
Masterbuilt Portable Electric Smoker
Take your smoke show on the road with this nifty little number! It looks like the large units, but it's only about 2' x 2' and weighs just over 20 pounds.
You can't hike with it, but it's great for camping or tailgating. It's big enough to do a chicken, small turkey, some wings, or a couple of racks of ribs.
For a look at this cute little guy, check it out on Amazon by clicking here.
Masterbuilt 40" Electric Smoker with Bluetooth
Perhaps you'd like a bit more space? Then step-up to the 40" unit and load 'er up! There are 975 square inches of cooking space to work with.
As a bonus, it comes with a remote control, and interior LED lighting makes it easy to see how things are coming along, even if it's dark outside.
Get further details on this great little unit on Amazon at this link.
Char-Broil Deluxe Digital Electric Smoker
You get a lot for your money with this smoker. It has a modern look, comes with four racks, digital controls, a remote control, and a meat probe for checking the temperature of your meal.
A stainless steel latch keeps the door shut tight, so the smoke stays inside where it belongs.
Sound interesting? Take a look by clicking this link to Amazon.
Wrapping Up the Review
There is a lot to like about this nice little smoker. It's great that folks who might not otherwise have the ability (or desire) to use a more traditional smoker can still get in on the fun and flavor.
And, unlike "grilling" with an electric barbecue, this is still "real" smoking, with wood smoke flavor. So this really could be a perfect solution for a would-be smoker with limited options.
While gas and especially charcoal smokers do have a bit more cachet and authenticity in the hobby, we do recommend this smoker for those consumers whose needs are best served by the convenience of electric smoking.
We've covered a lot of ground in our Masterbuilt 30" digital smoker review, but if you want more details and to check it out for yourself, you can follow this link for more info, current price and customer reviews on Amazon.
Since we believe that sharing is caring, show a friend or relation you care about the quality of their smoked meat and send them a link to this article. In fact, invite them to get to know the entire site! Admission is free, and there's a ton of great content to explore. It's like the Smithsonian of BBQ sites, only cooler.
We appreciate you taking the time to check with us on your quest for better barbecue.
Happy smoking!