This article contains a complete overview and review of the Weber Master-Touch 22" charcoal grill, including assembly and an honest assessment of grilling and smoking performance.
There comes a time in every hobbyist, enthusiast, and collector's life when you say, "I need more." More options, more control, more stuff. Sometimes I think I am perpetually at that point.
For charcoal grillers, that point comes when you realize there's more to grilling than just hot and fast steaks and burgers over a fire. To get there, though, you may need to upgrade your barbecue for the performance and features you'll require to go next level.
At first glance, the Weber Master-Touch grills seem like just the ticket. So, here I am, putting one to the test for your benefit – and mine!
I will walk you through the unboxing and assembly of a 22" Master-Touch and share the specs and core features. Naturally, I'll light it up and give it a spin for both grilling and smoking.
Along the way, I'll share my honest opinions and the pros and cons. The ultimate goal is to help you decide if a Weber Master-Touch charcoal grill is worth owning and if it's right for you.
First Impressions
Weber Master-Touch Charcoal Grill, 22-Inch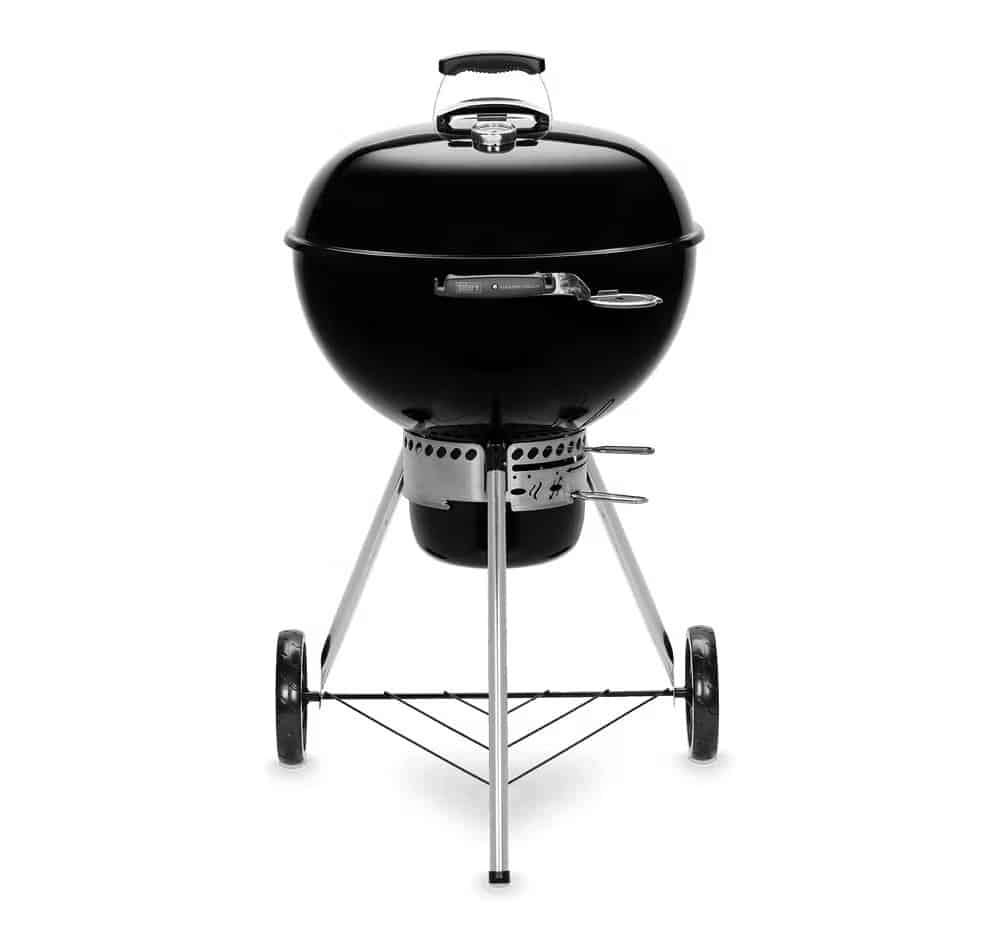 A versatile grill that can easily transform into a capable smoker, this grill can tackle everything from steak and veggies, to ribs and pulled pork. This is a fantastic grill for the price with innovative features that increase user-friendliness, such as the one-touch cleaning system, markings for the lower vent, large ash catcher, and lid holder.
If you're really into charcoal grills (which I am), it's hard not to love the look of the Weber Master-Touch. It's a classic kettle grill with a tripod base, two wheels, and enough handles and levers to make you want to start fiddling with it right away.
Depending on where you live, you'll have various color choices. Even the names change.
For example, in the States, you can pick from Black, Ivory, Smoke, Spring Green, Slate Blue, and Deep Ocean Blue. You get just three choices in the UK: Smoke Grey, Slate Blue, and Glen Blue. They all look great, and it's a rare and welcome chance to pick a grill that suits your style.
It's elegant in its simplicity, and it's a bit of a throwback to an early age of grilling. But, it's a modern BBQ that looks sturdy and well-built. I can't wait to get my hands on it, lift the lid, and fire up a pile of charcoal.
Overview and Core Features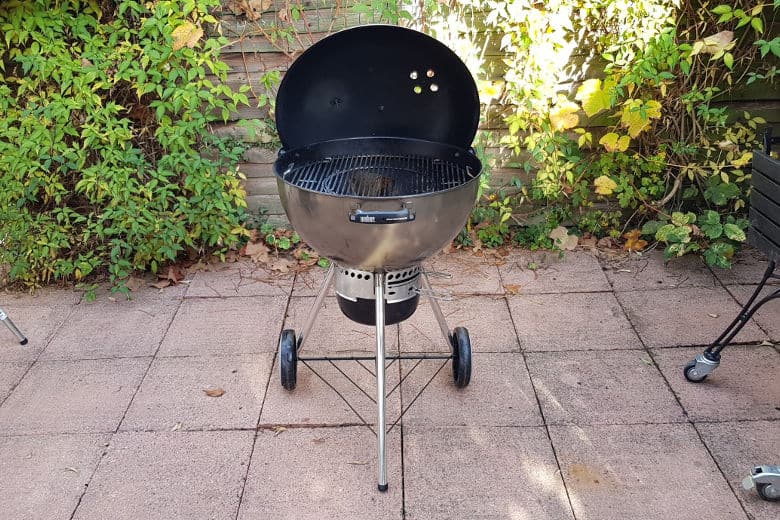 Of course, first impressions are important. But, we should never make a major purchase based on looks alone. (Hands up if you've ever broken that rule and lived to regret it!)
From the ground to the top of the glass-reinforced nylon lid handle (no heat conductivity – nice touch), the Master-Touch stands 42 inches tall. That's a comfortable height for most non-NBA-sized grillers. It's 24 inches across at its widest and 29.5 inches deep.
As the title reveals, the cooking grate is 22 inches in diameter, providing 363 square inches of primary grilling real estate. You even get a warming rack – a rarity on a traditional kettle-style grill – for an additional 80 square inches of space. Weber likes to measure in burgers, so I'll tell you this BBQ has room for 13 — assuming you use a Weber Burger Press, of course.
The Weber Master-Touch is made for life outdoors, featuring aluminum dampers and built from high-grade porcelain-enameled plated steel. The pair of large wheels are fine for rolling about the deck or patio.
Inside, the cooking grate has a hinged edge for access to the charcoal bed, to top up with fuel, or to add wood chunks or chips.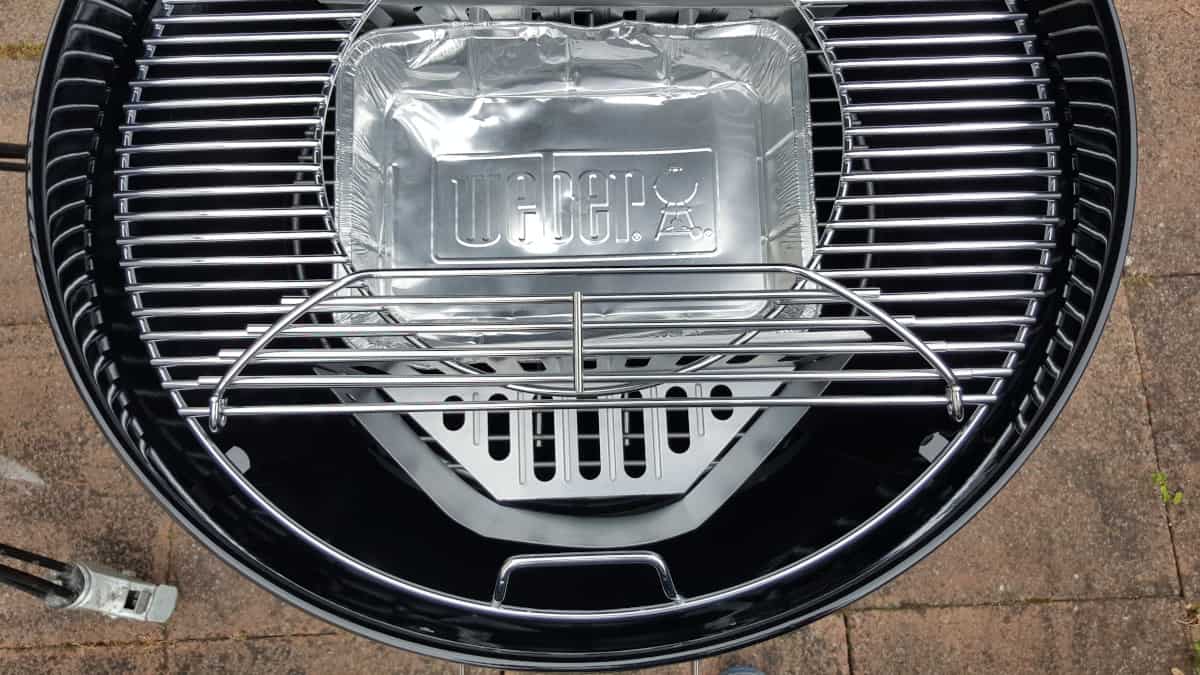 The center section for easy access to the charcoal or swapping out with one of Weber's Gourmet BBQ System inserts.
Charcoal is easily arranged in twin "Char-Baskets," and the ash clean-out system reduces and simplifies clean-up.
Adjusting the temperature and airflow in the Master-Touch is easy, too. There's a basic lid vent, again with a nylon handle, and a bottom vent, easily operated with a long handle.
Another difference between the UK and US models to note is the iGrill bracket. It comes standard on the Master-Touch 22" in the UK but only on the Master-Touch Premium in the US.
What We Like
Weber knows your charcoal grilling pain points and has addressed many of them on the Master-Touch.
For starters, there's a Tuck-Away lid holder for keeping the lid out of the way but off the ground when you're working on the grate. Older models (and many competitors) need to place the lid on the floor and risk damaging the ceramic coating or burning your grass!
Additionally, though there's no table or workspace, you do get a pair of tool hooks to keep your tongs and spatula handy.
The GBS system opens up many cooking possibilities — if you're willing to pay for the various inserts. For example, you can choose from a pizza stone, cast iron sear grate, griddle, poultry roaster (a prefab beer can-style rig), wok, and Dutch oven.
And speaking of possibilities, the pair of Char-Baskets not only makes loading with charcoal a lot less messy, but it also makes setting up 2-zone cooking incredibly easy.
When you're done, it's easy to swipe the lower grate left and right, scraping all ashes down into the ash catcher. And it's then straightforward to remove the aluminum ash catcher and dump all your ashes. It's pretty big, so if you happen to forget to empty it before your next cookout, you're probably ok.
Finally, if you master the snake method of charcoal fire management, you can easily use this grill as a smoker. I have done so numerous times! It's fun and effective and makes this somewhat basic grill a bona fide smoker too. And at a budget price compared to full-blown standalone smokers.
What Could Be Improved
The cooking grate is pretty standard, consisting of shiny plated steel wires. I'd far rather cook on cast iron, but I suppose this is what you get given the price point. I'm not saying it isn't good; I'm just saying it could be better.
Looking at the lower wire shelf, I'd say its primary purpose is to keep the tripod of legs from splaying. The wire isn't the sturdiest, and I'm not sure I'd trust it to support anything over 10 pounds at most. (There isn't much clearance between the shelf and the bottom of the ash catcher, anyway.)
Lastly, I'm not impressed with the rubber foot of the non-wheeled leg. On a level surface like a patio, it doesn't fully touch the ground. An angled foot would provide better contact with the ground and be more slip-resistant.
Who is the Weber Master-Touch 22" Charcoal Grill Best Suited To?
Weber Master-Touch Charcoal Grill, 22-Inch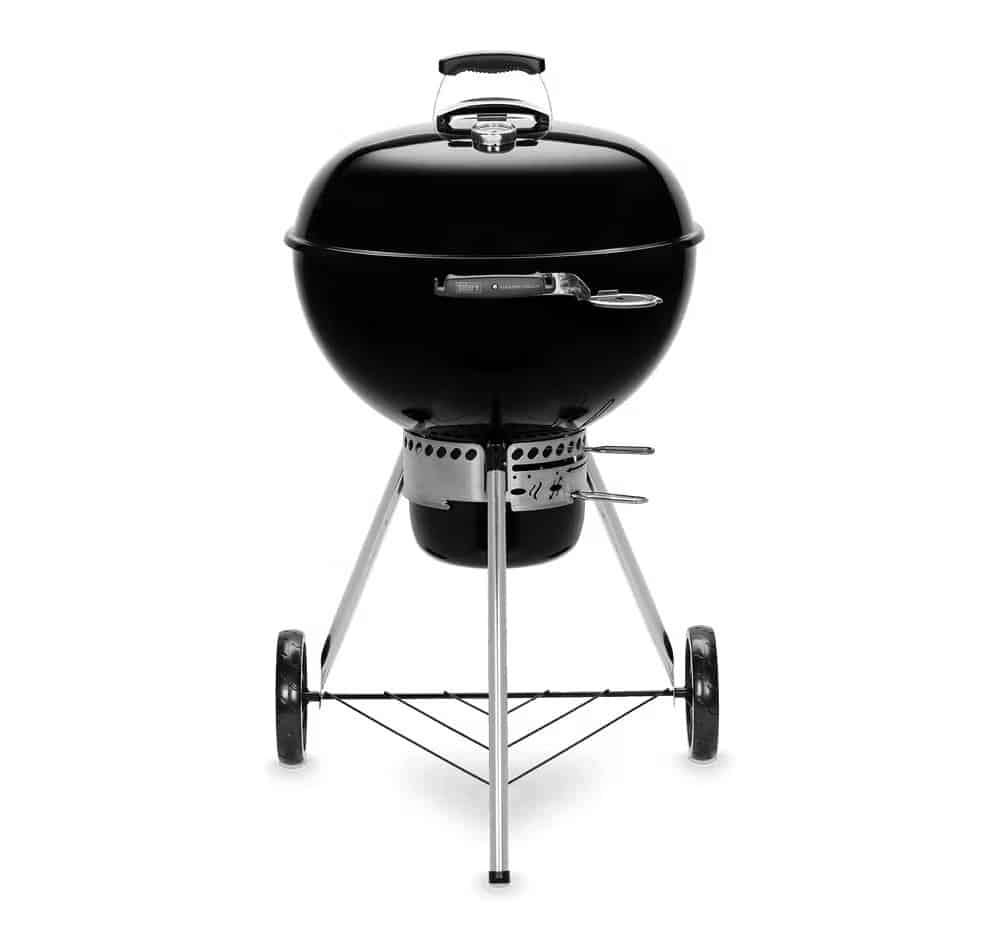 A versatile grill that can easily transform into a capable smoker, this grill can tackle everything from steak and veggies, to ribs and pulled pork. This is a fantastic grill for the price with innovative features that increase user-friendliness, such as the one-touch cleaning system, markings for the lower vent, large ash catcher, and lid holder.
Honestly, it's the go-to charcoal grill that anybody interested in charcoal grilling should place high on their wish list. The Weber Kettle Original has been that for decades, but the Mastertouch has now replaced it, being in the same vein, but with features that make it just that little bit better.
So if you're looking for an upgraded yet simple charcoal grilling experience, this is it.
Anyone familiar with charcoal barbecues who wants to step up from the basics will appreciate the enhanced control over temperature and the potential to vary their menu with the Gourmet BBQ System.
I'd also recommend the Weber Master-Touch user-friendly and versatile grill for experienced gas grillers who'd like to try charcoal for a change and discover why people love it so much.
It's a spacious grill, too, so it's suitable for anyone with a family or who hosts frequently. But, on the other hand, it's not so huge that you'd feel ridiculous firing it up to cook steaks and veg for two.
It's also a great grill for those who think of saving money over the long term. It's not the cheapest charcoal grill to buy, but with its build quality and materials, and a lengthy warranty, this thing can last you decades. So long term, it will save you money over buying cheaper grills that rust out and need replacing every 2 to 5 years.
Unboxing and Assembly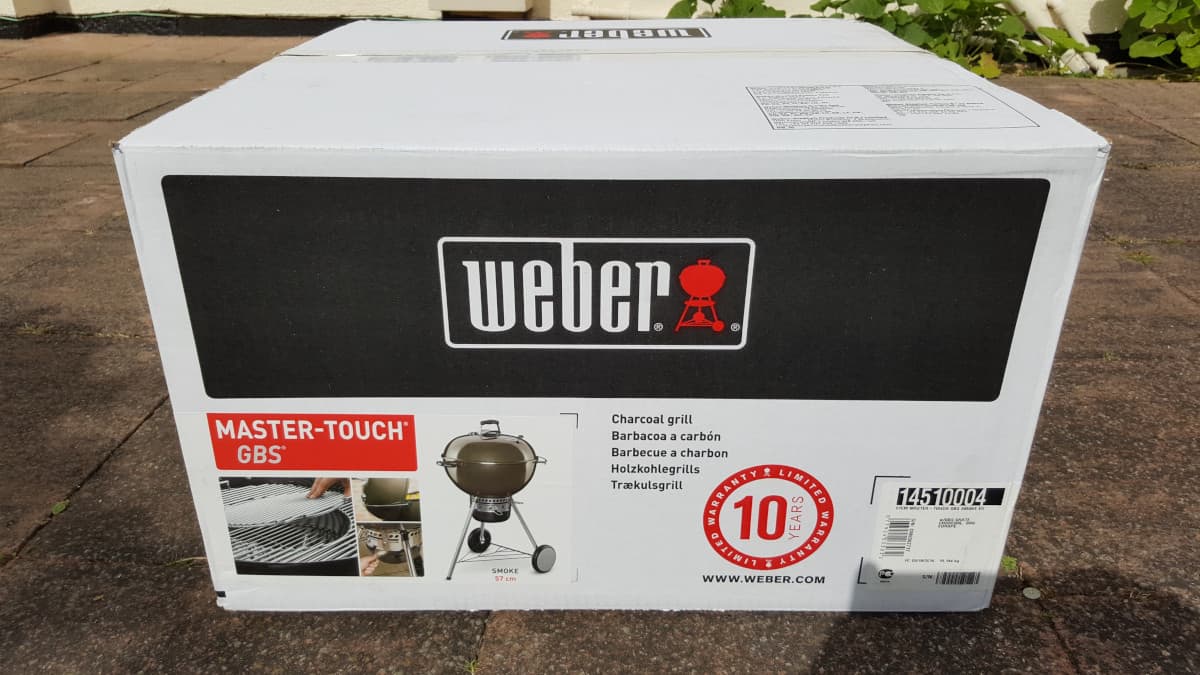 Less talk, more action! Time to grab a knife and unpack this grill. This is almost as exciting as Christmas morning if you're like me.
What's Included
Opening the flaps reveals an instruction manual (use it!), the bowl, the lid, the ring that holds the ash catcher (and where the lower vent and ash clean-out tool handles are), the catcher itself, the legs and associated hardware, two wheels, and a lower shelf.
You've also got the lid, a pair of handles, a lid hanger, and a thermometer.
You get the charcoal grate inside the bowl, a pair of charcoal bins and a water tray/drip pan, and the 2-piece cooking grate.
And, naturally, you get an array of nuts and bolts and a small wrench.
Ease of Assembly
Assembling this grill is simple and straightforward.
There aren't many parts, the instructions are clear, and there's really nothing you can mistake and get wrong.
All in all, it took me under half an hour to build, and that's with stopping to take some photos along the way.
So nothing to worry about here.
Overall Build Quality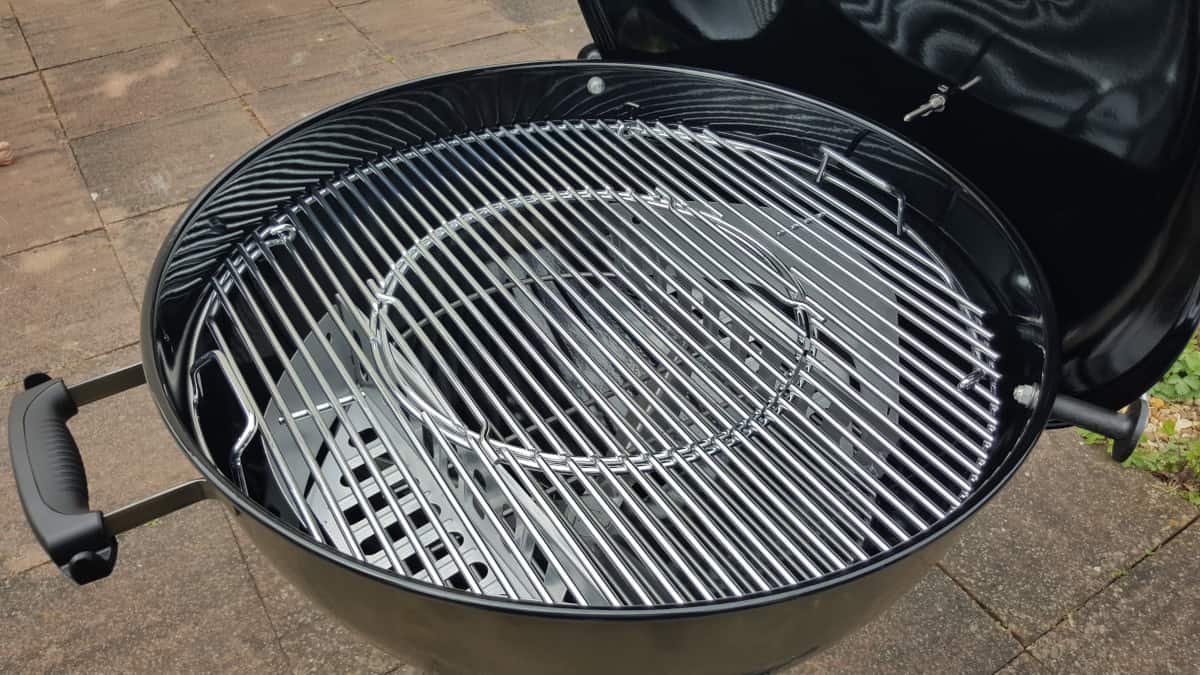 I've come to expect quality workmanship from Weber, and the Master-Touch did not let me down.
Premium materials include the porcelain-enamel coated steel lid and bowl, which are highly resistant to fading, flaking, peeling, and rust, the heavy-duty steel charcoal grate, and various rust-resistant aluminum parts.
I already owned a Weber Original Kettle grill before I bought the Master Touch, and I have owned this grill for something like 12 years now. As you can see in the picture below, it still looks as good as new (it's the black one with the rotisserie attachment ring in it.)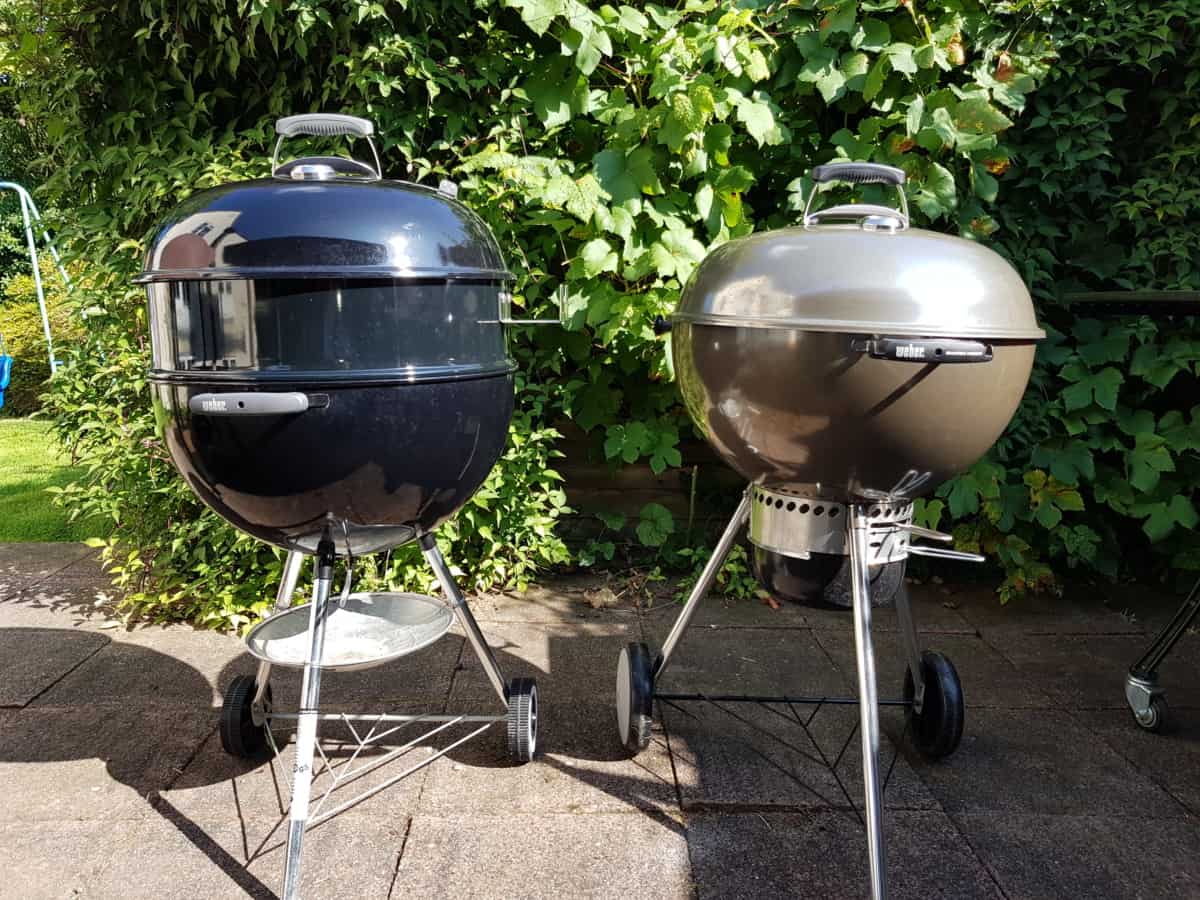 Going on how well my Original Kettle has lasted, I expect to get many, many years of use out of the very well-built Master-Touch grill.
The Weber Master Touch in Use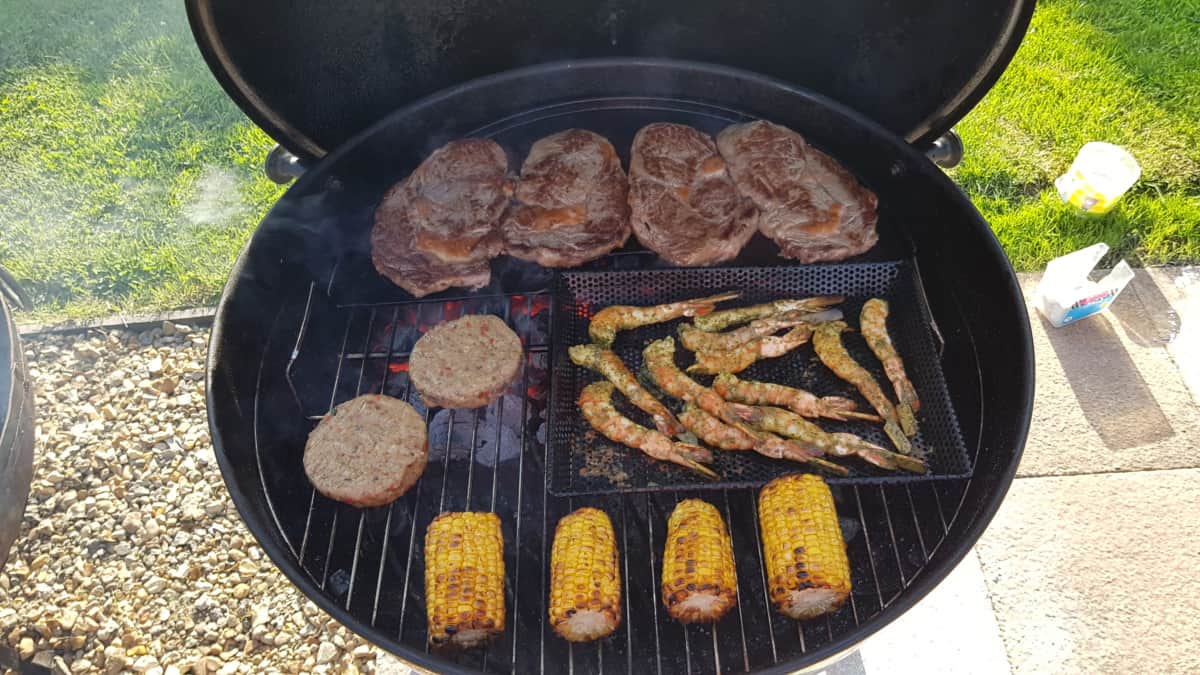 The most important aspect of any grill is how it actually performs in use! So how does the Master-Touch fare? Let's see, shall we?
Ease of Operation
Being a fairly simple charcoal grill, but one where Weber has added features to help in use, the ease of operation couldn't really be any easier.
There are a few decisions to be made and many fine nuances when it comes to using a charcoal grill, but essentially you choose a way to light your charcoal fire, and control the temperature with the upper and lower vents, get your food on, and cook.
There are very few moving parts and no electronics. There is a learning curve to getting your fire going and managing the temperature, but once learned, operation is dead simple.
Check out this guide we wrote on how to use a charcoal grill for a step-by-step, detailed guide that will have you mastering this grill in no time.
Temperature Control and Accuracy
Temperature control comes down to essentially two things:
How big a fire you light and start with.
Your control of the upper and lower vents.
There's a learning curve here, for sure. But once learned, temperature control is simple, and the top and bottom vents give you a decent level of control.
The upper vent is a standard little dial with a silicon, heat-resistant handle for you to open and close it — nothing new or different here.
One nice feature the Mastertouch has that other kettle-style grills do not is a marking system on the lower vent for how open or closed it is.
Generally speaking, you have a handle on the lower vent of kettle grills that you turn left or right to open and close the vent. The more open it is, the more air enters the grill and the hotter the fire burns. But you have no way of knowing how open or closed it is! On the Mastertouch, there are ten 'holes' that indicate where the vent is, from 1 to 10, open to closed. This is a great addition.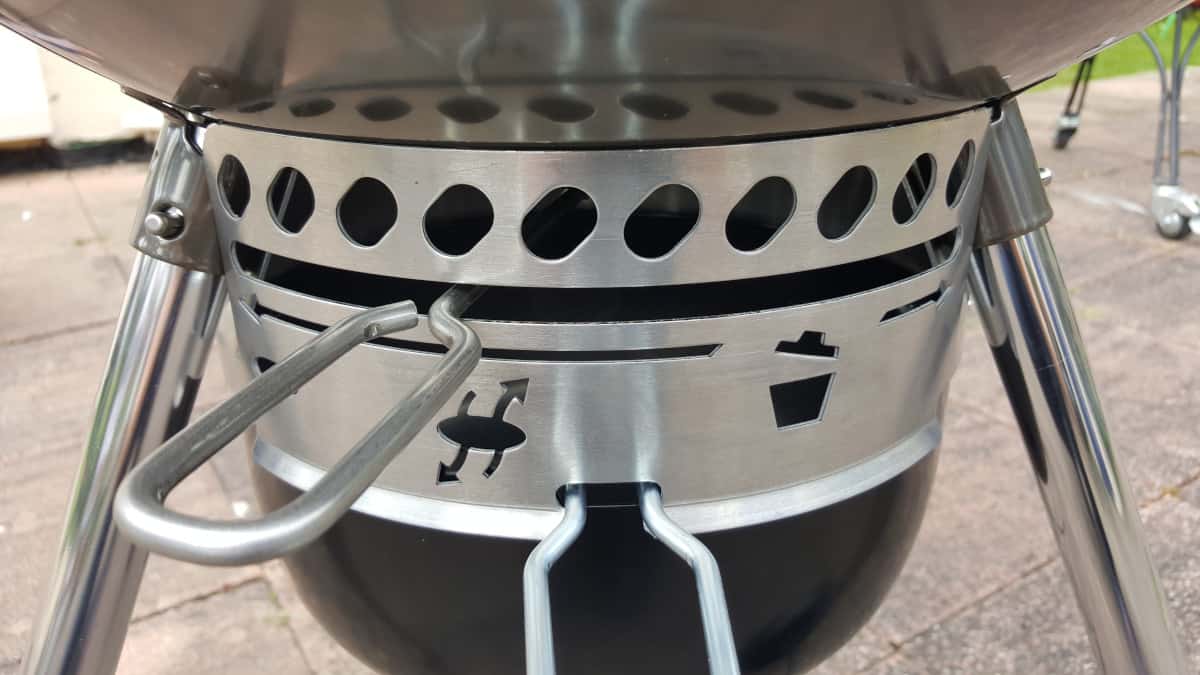 One issue you will find with this grill is that it's highly affected by cold and wind. The lids never seal tightly because there is no gasket, and the walls are somewhat thin metal (when compared to large, heavy grills costing multiple times more money that is!) But this is true of all kettle-style grills.
So on cold and windy days, you need to monitor and manage temperatures closely as they can and will be affected. But as I say, this happens with all kettle grills, not just the Mastertouch.
All in all, after a little learning, you can control temperatures on this grill effectively.
Grilling Performance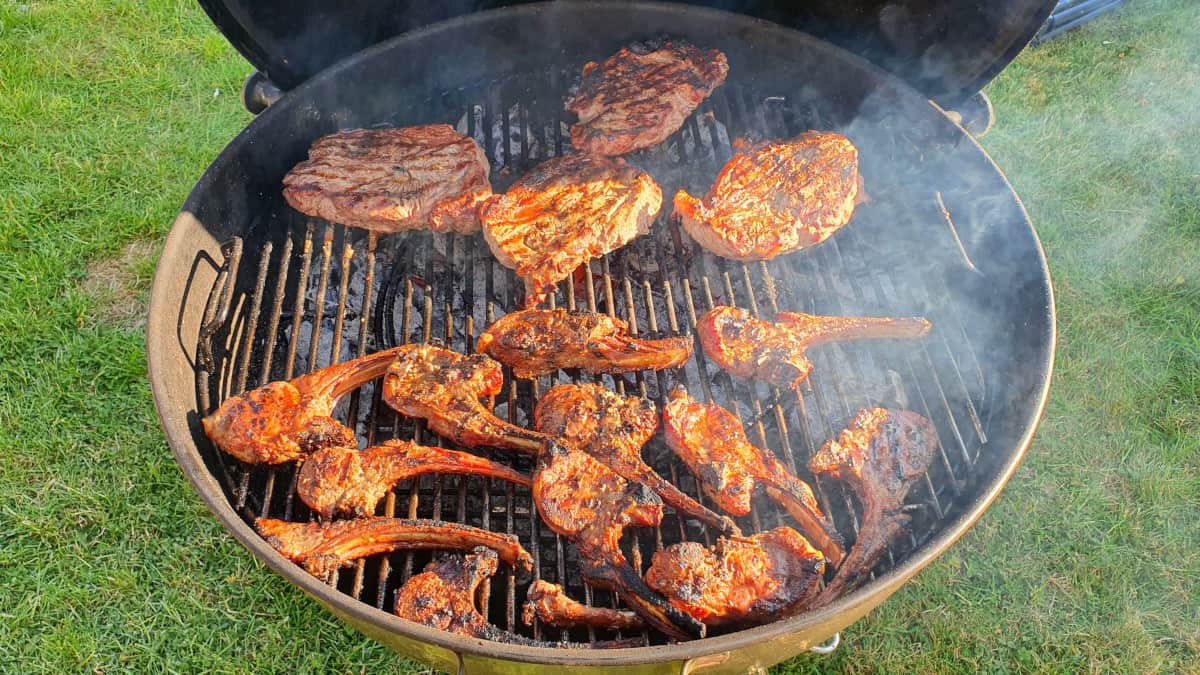 Grilling on the Weber Mastertouch is a pleasure. It performs very, very well. There is a reason Weber kettle grills have been the nation's favorite for decades now. They just plain work and work well.
At 22 inches in diameter, the grilling surface is large enough to feed a crowd, and to create dual heat zones for cooking at different temperatures or for a cool zone to get out of trouble during potential flare-ups when grilling fatty foods.
The grates are sufficiently thick and sturdy enough to hold up to the rigors of grilling.
The lid can be used to seal in heat and create convection cooking. Combined with the spacious bowl it allows you to create a small fire to one side and grill large items with indirect heat or even use the grill as an indirect convection heat oven for roasting larger joints.
I have owned and used different versions of kettle grills for decades now and have extensive experience using them. They do the job brilliantly, and I'm pretty sure I will always own at least one. The Mastertouch is my current model, and I plan to keep it. It is that good.
Smoking Performance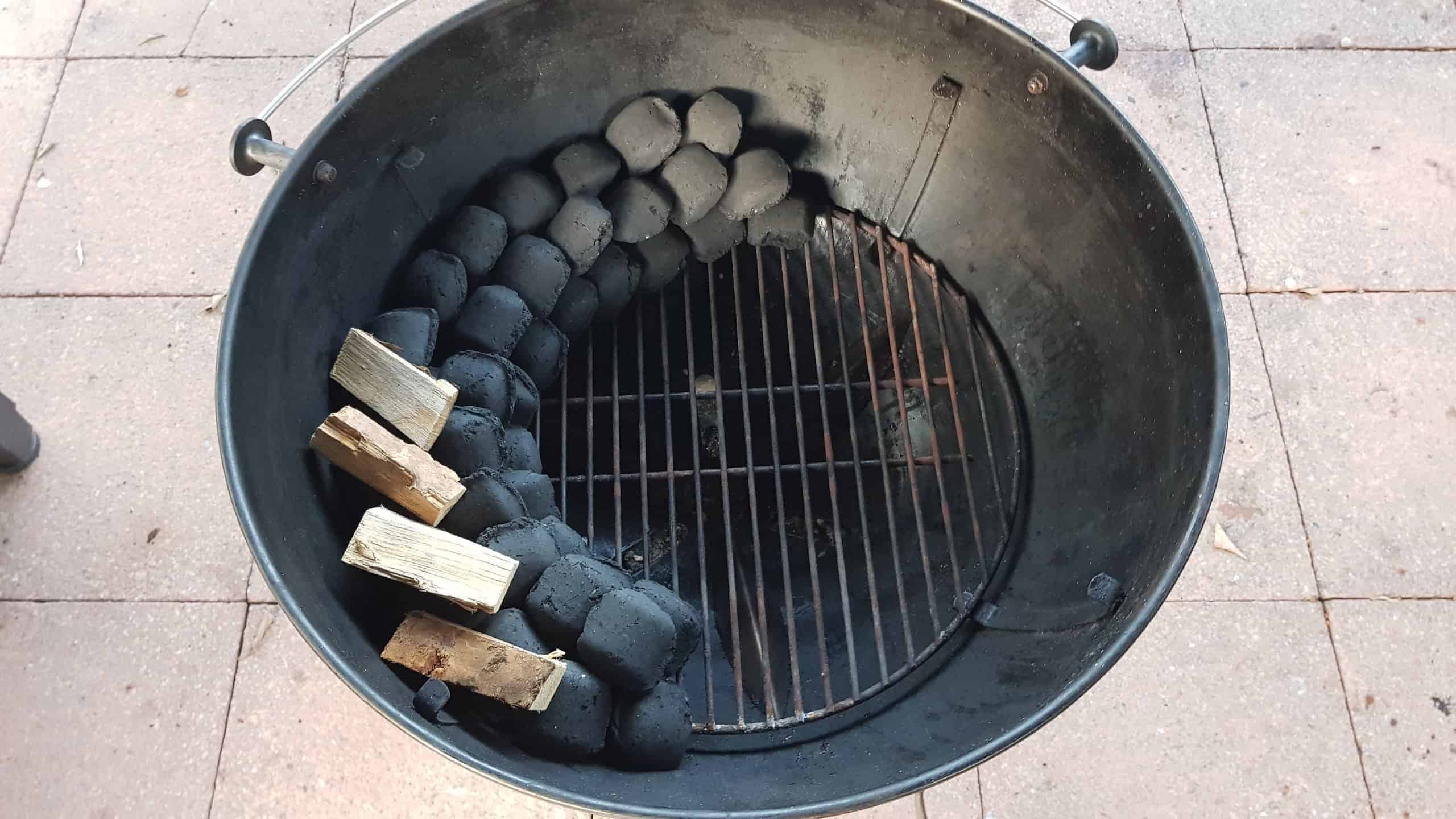 The ability to smoke on a kettle grill is one of their biggest attractions. They are an out-and-out grill, but their size and shape make them capable smokers, too, as long as you know how to go about it!
Now you have to keep in mind that this is a grill you can smoke on, it is not a dedicated smoker. So you cannot expect the smoking performance of a full-blown smoker. That's just not realistic. But you truly can smoke on it effectively.
The preferred method of smoking on any kettle grill is by using the charcoal snake, and that's the method you will have to learn and master to smoke on the Mastertouch. Check out our guide to the charcoal snake for details.
For the best results when smoking on the Mastertouch, you need to create your snake, and adjust your vents continually throughout the cook, while also turning the meat around occasionally for even cooking. This is because the heat is always higher to the side where the snake is burning.
So it's not a 'set-it-and-forget-it' method, but it's easy enough, and I and countless thousands of others have used this technique to smoke anything from ribs to brisket and large chickens to huge rib roasts on their kettles.
At the price, and considering this is a grill we are using for smoking, it's very capable. But you do need to be at your grill monitoring and tweaking things throughout the smoke. You do not get performance comparable to a dedicated smoker, so keep that in mind.
Ease of Cleaning
The Mastertouch is easy to clean for a charcoal grill.
The lower vent has 3 blades that you sweep side to side by an external handle that Weber calls the 'Stainless Steel One-Touch Cleaning System.'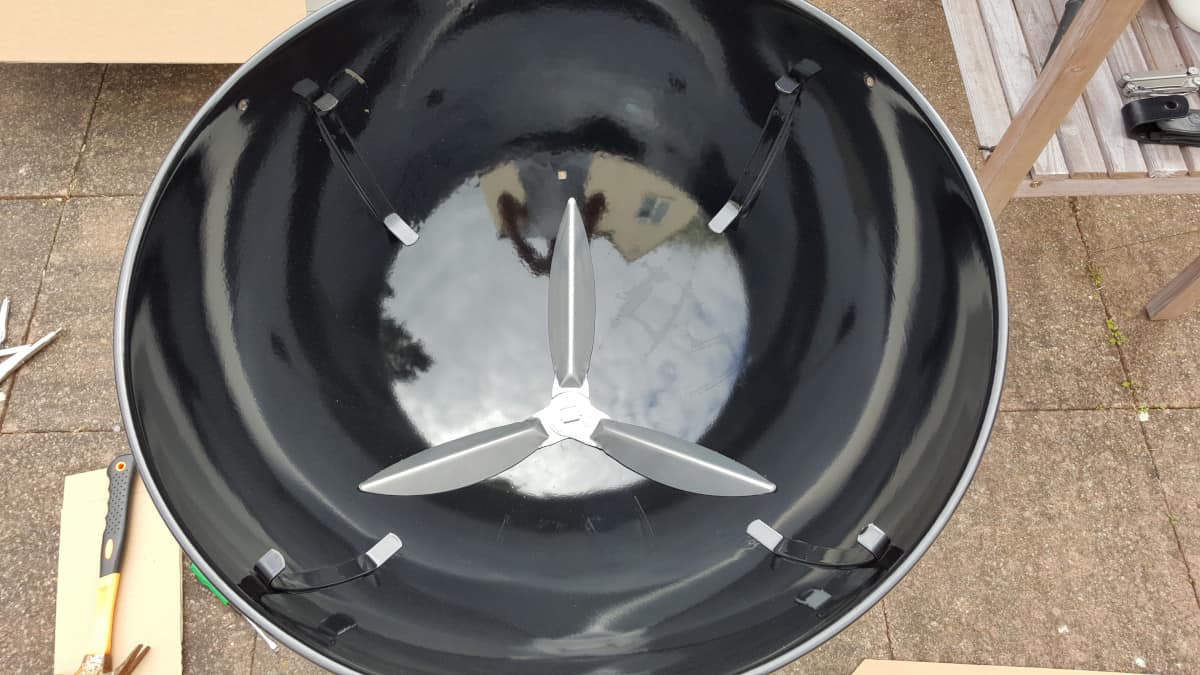 By moving the external handle side to side, all ash in the lower bowl is swept down into the large aluminum ash catcher. The ash catcher is easy to remove and dump out. So that's the ashes dealt with.
The cooking grates are coated steel and easy to clean down with a suitable grill grate brush, same as with any grill.
For a deep clean, the bowl and lid is porcelain coated, so you can simply wash the inside and outside down with a dishcloth and some mild soap, then rinse with fresh water. You will not damage the materials so long as you do not use a highly abrasive scourer.
GBS Grate System and Available Accessories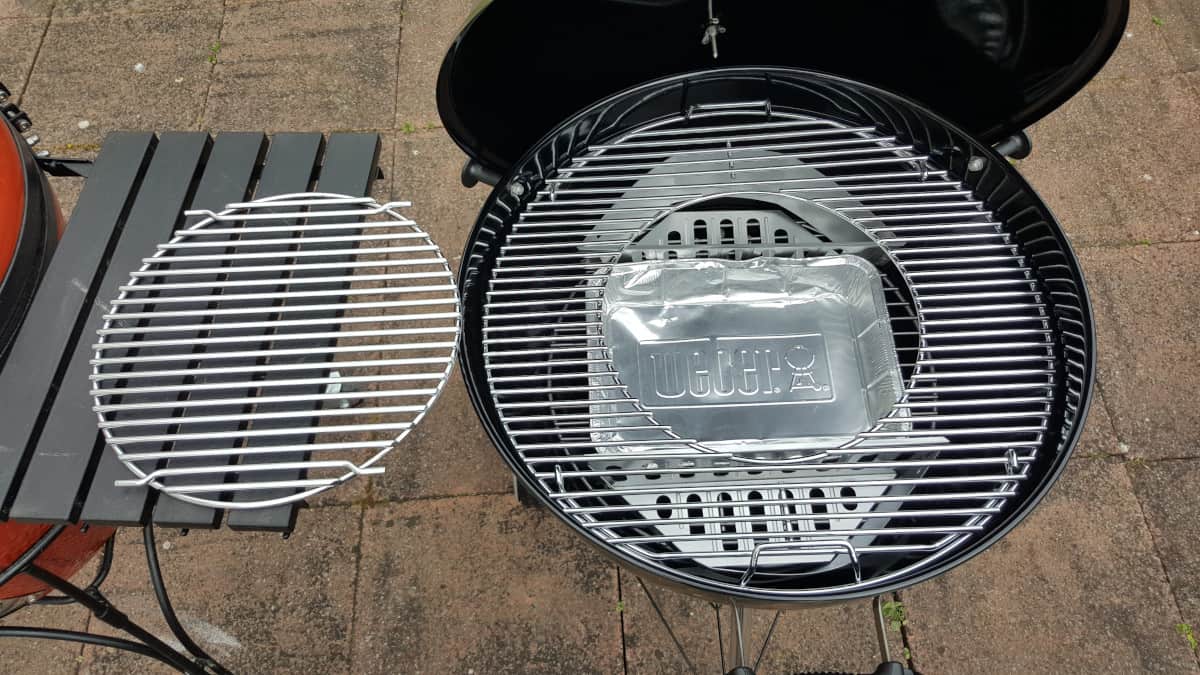 The Mastertouch has a GBS (Gourmet BBQ System) grate that opens up a whole new world of versatility and possibilities of different cooking techniques on your grill.
The GBS grate has a removable center piece that opens up a hole in which you can insert any of the following items:
Dutch oven
Wok and steamer
Cast iron sear grate
Poultry roaster (for upright, beer can style chicken.)
Glazed pizza stone
Waffle and Sandwich maker
Griddle
These items are sold separately, and are available to view at weber.com.
You can also buy a rotisserie attachment consisting of a ring between the body and lid, with a motor that turns a spit.
This is an excellent accessory, one that I use regularly and one I highly recommend.
Weber Company Overview, Support, and Warranty
Weber is one of the best-known names in barbecuing for all the right reasons. They've been in the biz since company founder George Stephen invented the kettle grill in 1952. If you haven't heard the story, he was inspired by the shape of a buoy, literally cutting one in half and adding legs and a lid with a handle.
Today, Weber has a global presence and sells pellet, gas, and electric grills alongside their iconic and little-changed charcoal kettle barbecues.
If you need support, Weber offers an extensive collection of FAQs and answers, hundreds of YouTube videos, a dedicated support email, and a toll-free number available 13 hours a day, 7 days a week.
Beyond that, there are many Weber social media groups you can join or follow (official and consumer-run), including many region-specific fan groups. Chances are, if you run into trouble, someone else has, too — ask your question and wait for the answer!
Weber provides one of the most robust warranties you'll see anywhere on a charcoal grill. The bowl and lid are guaranteed not to rust or burn through for 10 years, the cooking grates and the cleaning system for 5 years. The handles are covered for 5 years, and you get 2 years on everything else.
Summary of Pros and Cons
Pros
Excellent build quality and materials
Can use a smoker, as well as a standard grill (use the 'snake method' of charcoal management.)
Many common complaints of charcoal grills have been addressed in the Master Touch
Tuck away lid holder keeps the hot lid off the ground
Tool hooks have been added to hang your tongs and spatula
Charcoal baskets help to set up different heat zones way more easily
GBS grate system opens up a world of versatility for different cooking styles
Ash cleanout system and ash catcher make clean out a breeze
Cons
Cooking grate could be thicker, or even cast iron
Lower shelf could be thicker and more heavy duty
Rubber foot on one leg of the tripod doesn't sit flush with the floor
Do We Recommend the Weber Master-Touch?
Weber Master-Touch Charcoal Grill, 22-Inch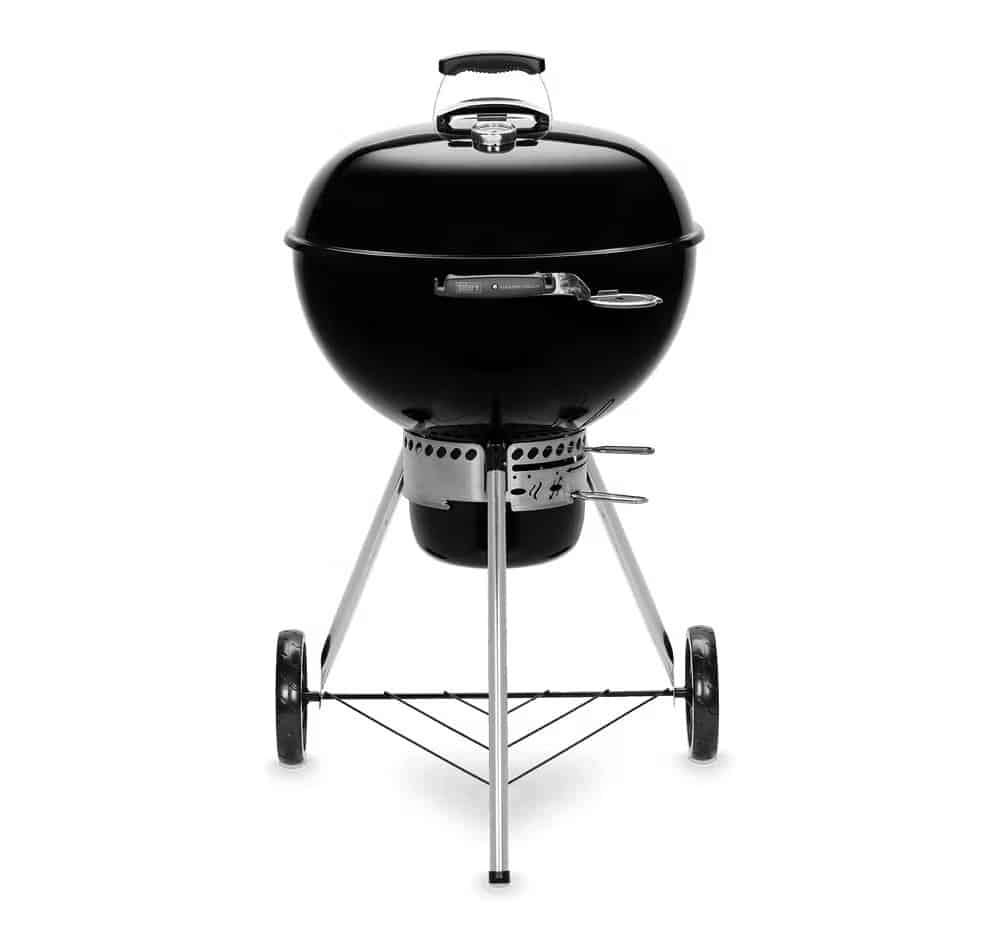 A versatile grill that can easily transform into a capable smoker, this grill can tackle everything from steak and veggies, to ribs and pulled pork. This is a fantastic grill for the price with innovative features that increase user-friendliness, such as the one-touch cleaning system, markings for the lower vent, large ash catcher, and lid holder.
The Weber Master-Touch makes charcoal barbecuing a pleasure. It doesn't reinvent charcoal grilling, but it does take everything great about it and make it even better.
I absolutely unreservedly recommend the Weber Master-Touch charcoal grill. It's actually the grill I recommend most to people because you can grill on it, smoke on it, there are lots of accessories available, it lasts a lifetime, and it's priced to be within most people's budgets.
So for a starter grill, it is perfect for easing people into the world of proper charcoal grilling and smoking. And if they fall in love with grilling, they can upgrade to more premium grills and BBQs later.
Final Thoughts
There is a lot to love about the Weber Master-Touch, from terrific looks to terrific functionality. My few minor quibbles with it are far outweighed by everything positive it brings to backyard cooking. I'd say this is a can't-miss investment made by charcoal grillers FOR charcoal grillers.
For more on Weber grills, just hit the search function at the top of the page and type in "Weber." Or, browse the site for info on charcoal grilling for tips, techniques, and must-have gear and accessories.
If you pick one up or already own one and would like to share your thoughts, send us a message or jump into the conversation on social media. The more, the merrier!
Thanks for stopping by today. May your ashes never harden.