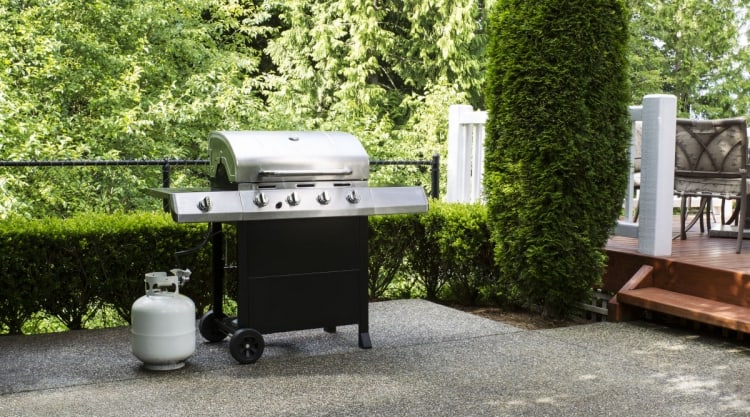 Today I'm going to show you exactly how to convert a propane grill to natural gas. I'll be covering the same process the professionals use and include two videos showing step-by-step propane to natural gas grill conversions for two major brands of grills.
Although it may seem daunting, converting from propane to natural gas is actually a straightforward process. But there are some things you need to be aware of and consider to make sure it goes smoothly and safely. We cover it all in this guide.
Let's dive right in.
Key Takeaways for Converting from Propane to Natural Gas
You must make sure you have a mains gas supply, or can get one, before you start.
Make sure your grill is convertible — not all are!
An official kit from your grills manufacturer is recommended to convert from propane to natural gas.
The work itself is easy to follow. You should be capable, just follow the videos below.
If you're not confident, many plumbers and gas companies can make the conversion for you.
Are You Sure You Want to Convert to Natural Gas? A Recap of the Benefits
Aside from never running out of fuel mid-grill, natural gas grills come with many other benefits over propane:
Lower energy costs — NG is more economical.
Better for the environment — NG is the cleanest-burning fossil fuel.
Convenience — no need to schedule deliveries or pick up new and return empty canisters.
Natural gas piped straight to the grill is safer and easier with no more canisters.
Some would say the taste is better too.
Need more details and persuasion? Be sure to check out our Propane Vs. Natural Gas Grill comparison guide.

Are you already decided?
Well, read on to find out the main things to consider before you start the conversion work, and more importantly, exactly how to do it!
Things to Consider Before Going Ahead
Before you get down and conversion dirty, think about and be sure of these things before you start.
Have You Got, or Can You Get a Mains Gas Supply?
If your house is already serviced by mains gas, extending the supply to your grill is relatively easy. However, if you don't, you will need a professional company to complete a survey about whether they can fit a connection pipe to your property.

This might be costly, and it might not be viable. And if you live somewhere remote there is a chance it's not possible at all. These costs could be anywhere from a thousand dollars to several thousand dollars, depending on the distance to the nearest NG main.
One way to find out is to jump online to see what areas gas companies cover, or if you know your neighbors already have a natural gas supply, it may be an easy fix and low cost.
Are You Sure Your Propane Grill Can Be Converted?
Not every propane grill can use natural gas, so be sure to consult your owner's manual.
Many LP grills have manufacturer 'dual-fuel labels' showing they can be converted to NG. If so, then the manufacturer will offer conversion kits via their website or other retail outlets. This is great news!

However, some grills are built for one fuel type only and therefore cannot be converted. Not so great news!
So, if your propane grill cannot be converted, do not 'MacGyver it', it's not worth the risk. You'll need to buy a natural gas grill. You can check out some models and associated costs in our natural gas grill reviews.
If Unsure, Please Speak to an Expert
If you're not confident of the laws surrounding the fitting of an NG grill or aren't confident of following the process yourself, please stop here and consult a professional.
It's illegal to run flexible hosing for NG in some areas, so you will need to fit a fixed permanent supply. You must check on this before beginning.
And of course, if you improperly fit the natural gas supply, it could leak and be a fire hazard, so you need at least some competence with hand tools.
With that out the way, let's get to the meat of the article.
But before we detail our step-by-step guide to help you complete your mission, we feel you should familiarize yourself with the process via video. Here are two of the most popular grill brands being converted on film.
Video — Converting a Weber Propane Grill to Natural Gas — Spirit and Genesis
Many of us are visual learners. Seeing something done is often better than only reading about it.
So on that note, here is a video showing how to convert two of the most popular grills from Weber, the Spirit and Genesis lines:
Video — Converting a Propane Char-Broil Grill to Natural Gas
For completeness, here is a video showing how to convert char-broil propane grills to natural gas, straight from the horse's mouth with a video from Char-broil themselves.
It's step-by-step, and shows how to use the char-broil natural gas conversion kit.
How to Convert Your Grill from Propane to Natural Gas
Here are written instructions for a gas grill conversion.
First:
Buy a Conversion Kit
At the time of writing, the conversion kits range from around $20 through to $100. Conversion kits are product-specific, and we recommended you buy the manufacturer-rated kit.

Usually, a conversion kit will contain new gas jets, sometimes called 'orifices' or 'spuds'. The holes on NG orifices will be larger as it runs at a lower pressure than LP. It will also include a flexible coupling hose to connect your grill to the new mains supply valve, and some will come with new control knob bezels to reflect the new gas flow rates.

Before you hop online to order your new conversion kit, be sure to check the extras your grill came with when you first bought it. If your grill can be converted, some come with everything you need to be able to switch between the two fuel types.
Fitting the Kit and Connecting the Grill
Turn all gas control knobs to the off position and switch the LP tank off before you disconnect and remove.
Open the lid of the grill and remove the warming rack, cooking grates and flame tamers, so you have clear access to the burner tubes and other connections.
Remove any carry over tubes if you have them. They have simple hitch pins that slide out with a firm push. Once out, the carryovers will lift off.
Remove the rear hitch pins from the burner tubes and any front ones that may be hidden from view. The burner tubes then lift out and disconnect from the gas valves with a firm pull. If they resist, double check all springs and clips have been removed, as you don't want to damage them.
Set deep within the burner connection hole will be the 'orifices', these are small and usually brass. Remove them with the orifice removal tool that comes with the kit. These are mass-produced, and unfortunately, their tolerance can be rubbish, so use a good quality ¼ inch socket if it fails to fit tightly onto the jets. If they are loose fitting be sure to take it easy, so the jets do not become rounded, and a quick squirt with some penetrating fluid should assist with removal.
If orifices are supplied simply screw them into the valves, and be sure not to over tighten as you will strip the thread on the orifices.

Editor's Note
Some grills are designed to be used without orifices if using natural gas, so don't be surprised if your kit comes without, and if it doesn't then just skip this step — after verifying with the manual or manufacturer of course!
— Mark Jenner
Pull off the burner control knobs from the front of the grill. Unscrew the screws underneath to remove the bezels and replace with the new ones that come with the kit.
Now replace the burner tubes in the reverse order that you removed them. Be sure if they're adequately seated and the portholes are facing upwards. If not seated correctly, the gas will leak, and the flow will be compromised.
Replace all hitch pins and carryover tubes. If the holes for the clips and pins don't line up, the burner tubes aren't seated correctly. So, check, adjust and try again.
Now locate the LP regulator hose that connects the canister to the grill. Use a wrench to remove the hose from the grill's connection and replace it with the new natural gas hose. Be sure to route the new hose through or around the grill in such a way that it will not get pinched or rubbed whilst in use, this will prevent damage and gas leaks.
Connect the other end of this hose to your new NG outlet connection valve. Once happy that all is in the correct place and routing, turn the gas valve to on.
Before lighting, use soapy water to cover the hose and burners to check for bubbles that would suggest a loose connection with leaking gas. If any leaks are found switch off the supply and check all fittings for correct placement and tightness. Repeat steps as necessary until no leaks are showing.
Once you're happy the connection is safe and good to go, light her up and let her do her thing!
Frequently Asked Questions
Can You Convert any Propane Grill to Natural Gas
Basically, no. Many grills are capable, and you can purchase kits to make the change. Also, many forums and YouTube videos show how to convert grills that supposedly cannot be. However, these are 'unofficial hacks,' void any warranty you have, and in case of a fire would almost definitely invalidate any insurance you have.
If you have a grill that cannot be converted but are sure you want to cook with natural gas, check out our guide to the best NG grills.
Can You Convert a Weber Propane Grill to Natural Gas
It used to be that you could convert any Weber LPG grill to NG. However, in recent years they have started to sell separate LPG and NG models.
Again though, pretty much any Weber grill CAN be converted, with required parts and instructions on how to do so readily available. However, I'd be hesitant as it may invalidate your home insurance if you convert a grill that's not 'officially' marked up convertible.
Do You Need a Regulator for Natural Gas Grill
You absolutely do need a regulator on your natural gas grill, yes. No exceptions. They regulate the pressure of gas going into your grill and ensure smooth, safe, and controllable operation while preventing damage to the gas line components.
Are Natural Gas and Propane Regulators the Same
They are…but they're not. They do the same job and serve the same purpose, but they aren't interchangeable. You MUST use the correct regulator for your type of grill and the source of gas it is connected to.
Are Natural Gas Grills Better Than Propane
There's no right or wrong answer to this. Both have their pros and cons when you compare them. It's too much to discuss here, so please check out our article comparing of LPG and NG grills.
Why are Natural Gas Grills so Expensive
This is a bit of a common misconception. They are SLIGHTLY more expensive, but this simply covers the costs of the slightly different burners, regulator, hose, and way it connects to the gas supply. Otherwise, they are the same grills and close together in price.
Can I Convert My Char-Broil Grill to Natural Gas
Convertible Char-Broil propane grills will have a sticker on the inside the door that tells you if they can be converted or not. Look for the sticker and the 'dual fuel' notice, or contact Char-Broil to be sure.
Are Natural Gas Grills Safe
They are no more dangerous or safe than a propane gas grill. The same safety precautions and risks apply. Click here for gas grill safety advice.
What Happens if You Don't Use a Gas Regulator
If you do not use a regulator, the gas's pressure entering your grill will be too high. This could result in damage to the components of your grill, leaks, maybe even liquid gas leaking, and there's a high probability of a fire or explosion. ALWAYS use the correct regulator.
Final Thoughts
So, there you have it! Once the hard work of fitting the gas supply to the house is done, the conversion kit fitting is simple.

If you don't feel up to it, most plumbers will happily do it for you, but it's straightforward enough and designed by the manufacturers to be relatively stress-free for the everyday grill owner, so why not give it a go?!

If you have any questions on propane to natural gas conversion, please do drop them in the comments below. Or tell us how you get on. We'd love to solve your queries if we can, and share your wins too!