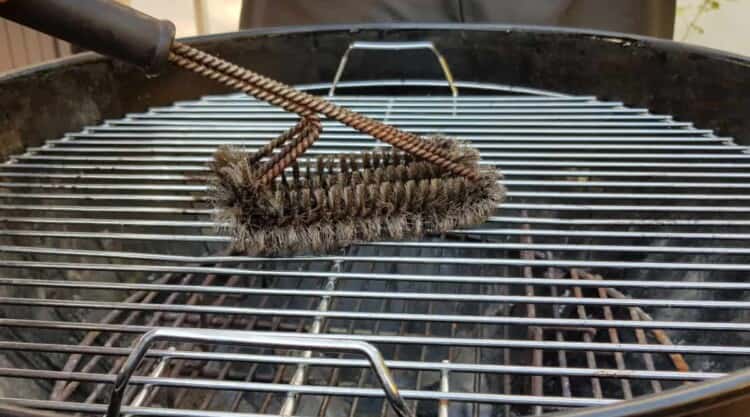 You've invited friends for a nice barbecue cookout, and they just arrive as you're about to lay your food on the grill. You watch your friends faces as their smiles turn to frowns. They stare in disgust at your pride and joy grill because it looks like a plane wreck scattered with chunks of unidentified burnt remains.
To everyone's horror, you are about to lay their food right on those dirty black crusty grill rods. Shame on you! In your defense, you've tried everything you could, but the crusty black traces of bygone barbecues seem welded to the grill.
Don't despair. You're on this page for a reason, to find a solution and simple ways to keep your stainless grill grates clean.
Through some research and testing, I've found the best-proven ways for how to clean stainless steel grill grates, to return them back to looking like new. It's really not hard once you know how, and with just a little investment of time each time after you grill, it's not even very demanding.
But before we get going, you first need to know what NOT to do.
Note: This is not the guide for you if you have cast iron grill grates. Please head over to our guide for how to clean cast iron grill grates instead.
What NOT to Do
Never use a bleach cleaner to clean stainless steel. Sodium Hypochlorite, the active ingredient, will pit stainless steel and is not a good degreaser anyway.
Worse yet is Sodium Hydroxide — or Lye — found in commercial spray on oven cleaners. This will also pit stainless steel, and it's toxic, so don't use them.
We have a safer, more natural solution that works great on your grate. Let's start with the list of items you need.
Gear You Need for Cleaning Your Stainless Steel Grates
Here's what you need to clean your stainless steel grate:
Stiff nylon brush or metal scraper
Quality dishwashing soap and water, or a special purpose grill cleaner
Container that fits your grates
Paper towel or sponge for drying
Vinegar
Baking Soda
Aluminum foil
Cleaning stainless steel grill grates is a simple 4-step process:
Scrape
Soak
Scrub
Rinse
Allow me to walk you through this simple process of how to keep your stainless-steel grill grates clean. Ready? Let's dive in.
Two Cleaning Techniques
The amazing thing about stainless steel grill grates is they can tolerate intense heat and are highly rust and corrosion resistant. They are simple to clean and look almost new when you're done.
These are two of the best approaches you can take to keep your grates clean.
Technique # 1 — The Burn, Brush, and Rinse
No! Don't set your grill on fire. You simply wrap the grates with heavy-duty aluminum foil, close the lid and crank up your grill to a high heat temperature (500 to 550 °F) for approximately 15 minutes.
The food and grease sticking on your grate will be burnt off and become brittle. Use a quality scraper or grill brush to remove the remaining carbon.
Then you can hose off any remaining debris and residue. Now, you're ready for the next barbecue.
You may see a similar technique online where you put the grates in your home oven to burn them by setting the oven to the "cleaning" mode. Bad idea. The smoke can set off your smoke alarm, smoke is never good in a house, and there is the distinct possibility of a grease fire in your oven.
Besides ruining a perfectly good oven, do you really want to hear about it from your spouse?
Technique # 2 — Soaking
Soaking your grates is an easy way to loosen the burnt carbon and grease. You will need a container large enough to house the grates within a water solution for this.
Here is a safe and easy soaking solution
Use a plastic tub large enough to hold your grates.
Pour in ½ cup of strong liquid dish detergent, fill the tub with enough hot water to cover the grates with at least two to three inches of water. (Make sure the grates are cold, or you'll melt the tub!)
Stir in ¼ cup of baking soda until dissolved and the water is foamy.
Drop in the grates and soak for 1 to 2 hours. You can leave them overnight if you have the time.
Scrub with a heavy-duty synthetic scrub pad. Avoid steel scrub pads as pieces can break off and find their way into your food.
Rinse the grills with a hose, and you're ready to start grilling
If you don't want to buy a plastic tub, you can get by using a heavy-duty lawn trash bag. Just be sure if there are no leaks. The black water will stain almost everything it touches.
Another alternative to soapy water is vinegar and baking soda.
Put the grates in a tub or plastic bag
Mix 2 cups white vinegar to 1 cup of baking soda and pour the mixture directly over them. The mixture will foam instantly so work fast.
Just soak for between an hour to overnight
Scrub and rinse as above.
Here is a quick video titled 'how to clean stainless steel grill grates' from eHow, showing the vinegar & baking soda method.
Grill Brushes and Grill Cleaning Tools That Work
Having a quality grill scraper or brush handy is essential to avoiding food build up on your grill. There's nothing worse than having your chicken breast taste like last week's salmon.
Simply scrape and brush your grill grates after each use as part of an upkeep and maintenance routine, preferably while the grill is still hot and the remnants of food are at their easiest to remove. It becomes a lot harder once fully cooled.
Some manufacturers have scrapers designed to fit their grill grates, so there is no chance of finding a stray wire in your food. Alternatives to wire grill brushes include:
Metal scrapers
A block of wood that has matching grooves for your grill
stiff nylon brushes molded into the head.
A wad of heavy-duty aluminum foil
Heavy-duty abrasive grill pads — Your grill shop or restaurant supply store has them.
Rule of thumb — Whatever you use to clean your steel wok or cast iron skillet is also safe enough for a stainless-steel grill.
Two other methods related to soaking and rinsing are steam cleaning and pressure washing.
If you happen to own these tools, go for it, they work well. But, you don't need them, so don't spend the money just to clean your grills.
Grill Brushes Can Be Hazardous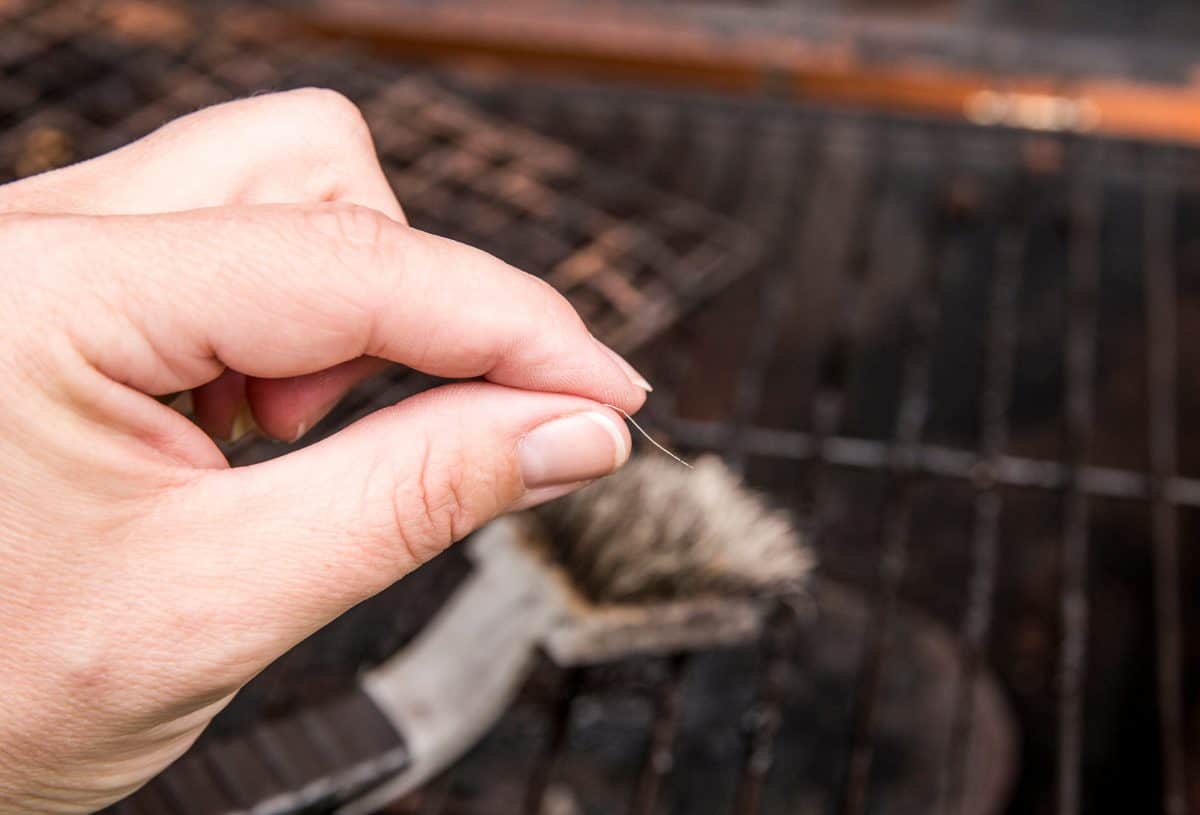 Grill brushes are like a balding man. When one hair falls out, more are sure to follow. The difference with metal bristles is they can be fatal if swallowed. (Don't believe it? Here is one such story — Doctors Remove Grill Brush Bristle from Wallingford Woman's Intestine).
If you do use a grill brush, choose a brush with a solid head. Check to see tightly packed bristles before and after each use.
If you notice missing bristles, discard that brush immediately. Friction is what holds bristles in place. When one bristle falls out, there is less pressure holding the remaining bristles in, and they start to shed en masse.
Use the brush only after you are finished cooking where you can rinse or inspect the grate before cooking again.
Caring for Your Stainless Steel Grill Grates
Keeping your grates clean and free from food will prevent them from pitting.
While some people recommend wiping oil on the grill, it can lead to faster build up. Instead, oil your food. It accomplishes the goal of preventing the food from sticking and uses less oil.
Cleaning your grill after each use will make the job of keeping your grates clean easier. And…food just tastes better on a clean grill.
Have the Guests Arrived, but the Grill Is Not Clean?
In the event that your grill still doesn't look great, and you don't have time to clean it, just copy Emeril Lagasse's approach:
"Wrap fish fillets, sliced veggies, and other quick-cooking items inside foil packets with bundles of fresh herbs and throw them directly on the grill; the steam will release the herb's perfume and flavor anything contained inside the pouch."
I'm sure no one will notice.
Do you know any other techniques for cleaning stainless steel grill grates? Let us know in the comments below.