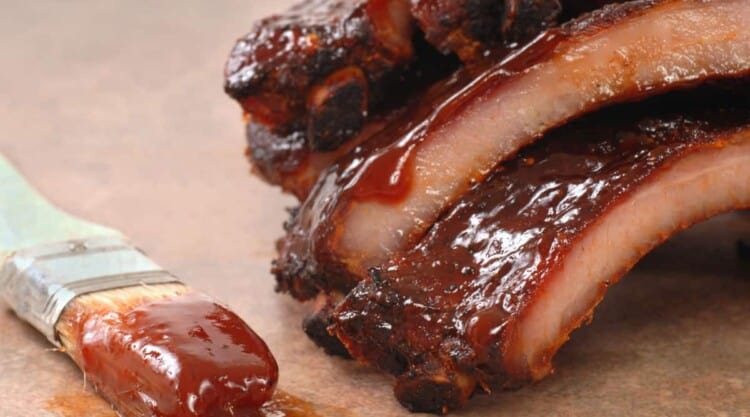 Know what a runny sauce is called? Broth. Drippings. Stock. Something so thin, it's left in the bowl — it would just run off a plate — and requires a spoon. Like soup.
Sauce, on the other hand, travels from plate to mouth with your food, so it hits the taste buds with added force or subtle nuances.
Sauce dates to ancient times as a little something to add flavor and moisture to foods. The phrase "barbecue sauce" first appeared in the U.S. In the late 19th century. Over the decades, it has progressed from a vinegar-butter-seasoning combination to the tomato-based classic we all know and love.
Louis Maull began selling a bottled tomato-based sauce for barbecue in 1846 as part of a line of food seasonings. Today it is the only thing they sell.
But, homemade or store-bought, there are times when the sauce just isn't thick enough to meet a griller's preference. What does it take to thicken barbecue sauce? The remedy can be very basic or not, as we'll see.
Read on to discover how to thicken BBQ sauce, with 11 commonly found ingredients in anybody's kitchen. There's bound to be at least a couple of methods anybody can try, all without needing to buy anything in!
What Does Thickening Accomplish?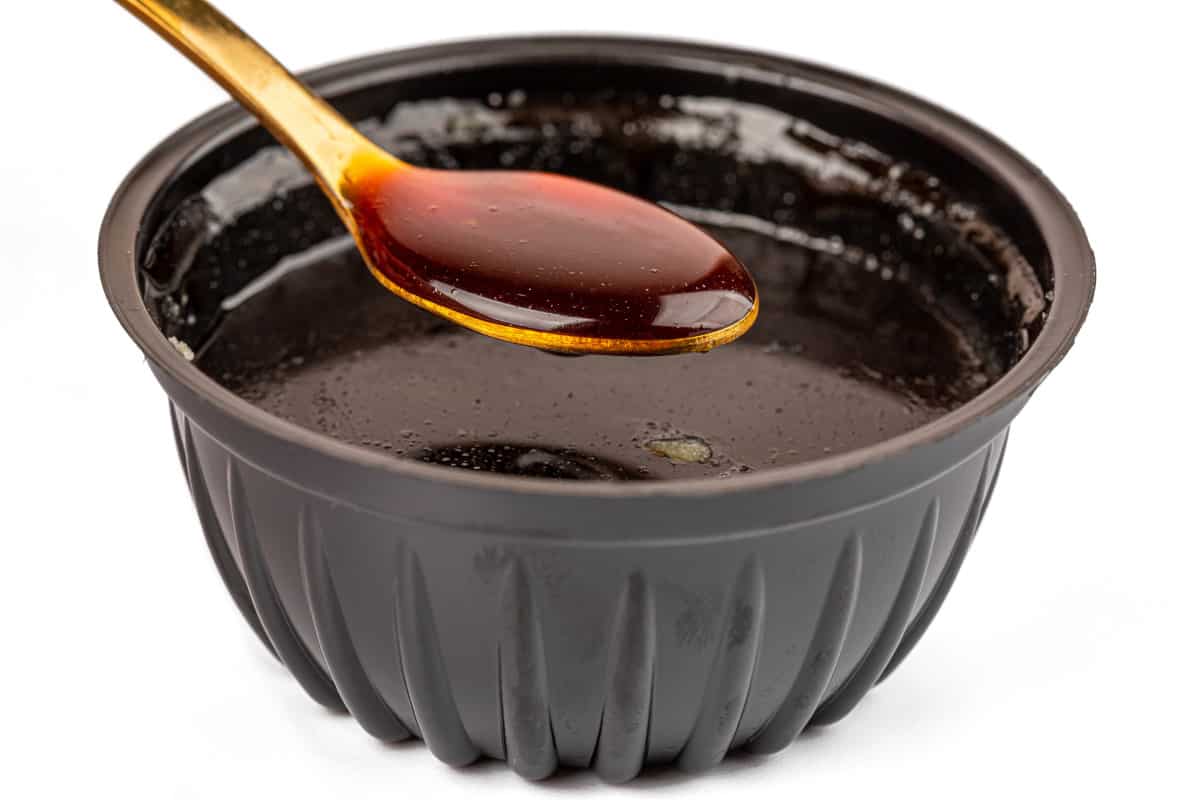 Improves mouthfeel,
An actual word defining the food's texture says The Kitchn; in the case of barbecue sauce, the smoothness. It also defines the taste perceived from the chemical properties or flavor combinations of the sauce — tangy, smoky, fruity.
Cling,
How well the sauce holds onto food. This is an important point because, if you've taken the time and care to craft a good sauce, you'll want to eat it with your barbecued food, not leave it on the plate.
Little things,
All those teeny bits of herbs and peppers are kept from settling at the bottom of the container, perhaps never reaching the plate at all. And if they do pool in the lower part of the sauce on your plate, you'll need bread or fingers to capture them. Because upending a plate to slurp down tasty sauce is just not cool.
In the following short video, Chef Susan Odell demonstrates four methods of thickening sauce.
Although she's discussing soups and gravies, you'll find the demonstrations and explanations helpful in understanding how to take your sauce from thin to thick.
We'll further explore these thickening methods, and a few others, below. We'll start with the most basic method, reduction.
The Easiest Method: Reduction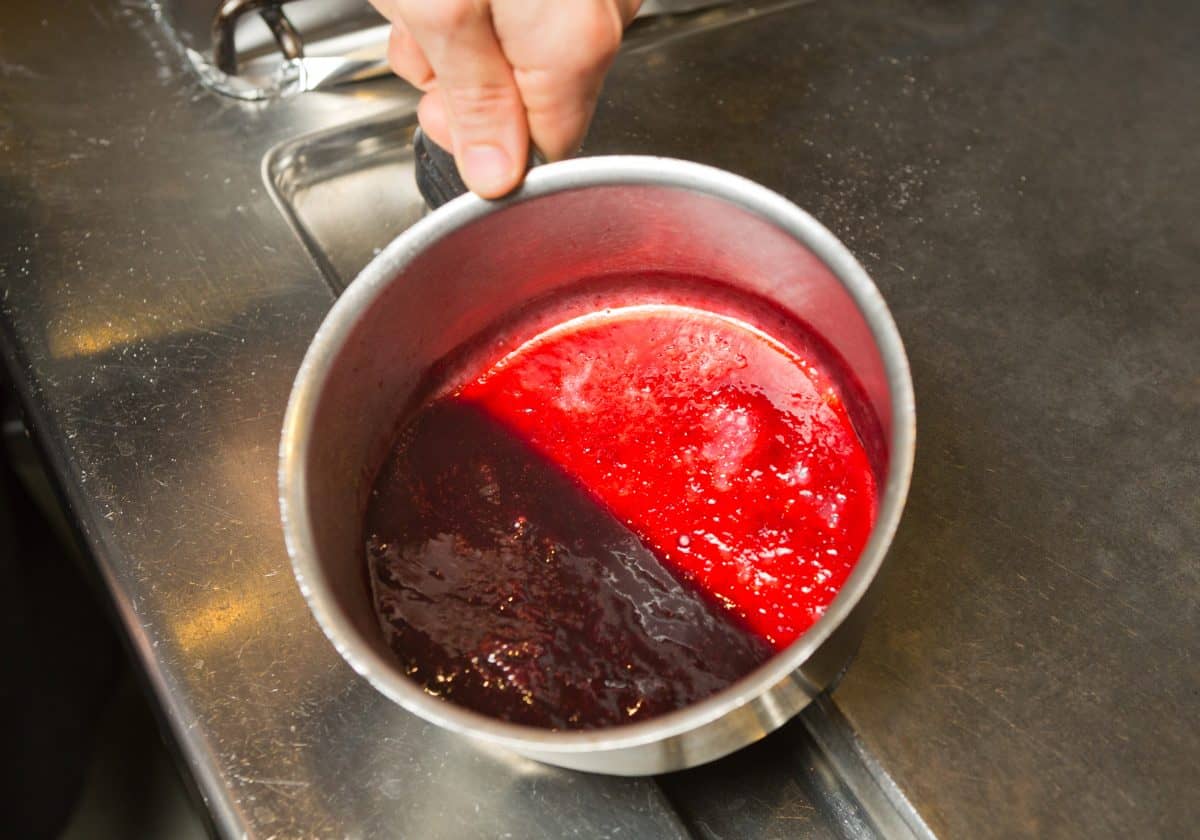 One of the easiest ways to thicken a sauce, this very basic process is all about evaporation, using heat to 'dry' a liquid. The flavor is intensified and the liquid becomes denser or thicker.
This method is great to use with any simple mop sauce you have left over, to which you can add drippings or meat juices, then reduce to a sauce that compliments and heightens flavors already on the meat.
Reducing a sauce is another instance of low and slow cooking, it may take 30 minutes or so to get the degree of thickness desired. Here's what you do:
Remove all solids from pan. Anything other than liquid slows the process.
Use a shallow pan; increasing the surface area increases the reduction time.
Use more than one pan to get through a large quantity of liquid.
Set pan on medium to low heat.
Leave it uncovered, exposing it to air will speed evaporation.
This is the least complicated way to thicken a sauce although additional seasonings and fats can be added during the process for taste and texture. But adding a fat like butter or other ingredients defeats the main point of reduction, notes The Reluctant Gourmet, which is to thicken or create a sauce without adding fat or calories.
Other thickening methods involve adding one or ingredients that will also change the texture and denseness of the sauce. Thickening agents for sauces fall into four categories — starches, gums, fats, and purées. We'll look at each of these in turn.
Starch Your Sauce without Making It Starchy
Starch is a complex carbohydrate made up of sugar molecules and is found mostly in cereals. Their function is to fuel our bodies.
Starches are white, powdery, and mostly tasteless which makes them ideal for thickening a sauce.
When added to liquid, the molecules expand, absorbing the liquid. As a result, the texture of the liquid is changed.
The source of the st arch governs the appearance, how it responds to liquid, and how it will hold.
There are two types of starches, as described by DifferenceBetween.com:
Grains, which are high in amylose, one of the two molecules found in starch. This molecule makes up 20% of the starch and

Dissolves well in water, especially hot water
Does not form a gel or paste
Produces a sauce with a dense and dull appearance

Roots and Tubers, which are high in the other starch molecule, amylopectin which makes up 80% of the starch. It

Doesn't dissolve as well in hot water as amylose
Will form a gel or paste
Produces a sauce with a clear and shiny appearance
Commonly used starches are:
| Grains | Root and Tuber |
| --- | --- |
| Wheat Flour | Arrowroot |
| Corn Starch | Potato starch |
| Rice Starch | Tapioca flour |
If that doesn't sound appealing, try a root or tuber starch. Their flavor isn't nearly as pronounced, and they produce a clear and shiny look. Compared to grain starches, the mouthfeel is better, silkier. Being high in fats and proteins, grain starches yield an opaque and matte appearance, according to Emma of The Kitchn. She also notes these may add a cereal taste to your sauce.
Wheat
Is the most commonly used starch. I guess this would always be white flour, not whole grain, which would lend a nutty flavor but a grainy texture. Flour contains the protein, fat, and starch of the grain which makes for a dense, thick sauce which could become gummy if too much flour is used. Can be dissolved in hot or cold water.
Cornstarch
Is what's left when the protein and fiber are removed from corn, and it's dried then powdered. It absorbs liquid, expands, then gelatinizes. It is a staple in a gluten-free kitchen. Because it produces a glossy sheen, it's mostly used for sweets rather than a sauce. But if you want to literally make your ribs shine, corn starch is the way to go.
Compared to flour, it's lighter and has twice the thickening capacity. On the downside, its effectiveness is diminished by acidic foods (like tomatoes or citrus); if frozen then thawed, its texture turns spongy; and if over-stirred, it thins out. Dissolve in cold water to prevent it from gumming up.
Rice starch
Is produced from raw white rice. It's also a gluten-free staple and is said to improve digestion. It behaves more like wheat flour than cornstarch.
Arrowroot
Comes from a West Indies plant used traditionally for medicinal purposes. It is a common staple of gluten-free (GF) cooking. The flavor is neutral — it won't contribute anything to the flavor profile of your sauce. It tolerates acidic foods well and freezes well.
However, it does not tolerate high temperatures nor does it reheat well. It also creates a nasty slimy texture if mixed with dairy.
Arrowroot can be a little pricey as a thickener, costs more than flour or cornstarch, but of course, it's still relatively cheap in the grand scheme of things.
How to Thicken BBQ Sauce with a Starch
Whatever the source of the starch, never add directly to the pan. Instead,
Put a tablespoon or so of cooled stock or broth into a small bowl.
Sprinkle in the starch and stir to form a smooth paste.
Stir paste into stock or broth
Allow to simmer, occasionally stirring.
Another method is to combine starch with a fat. We'll get to that later.
Food Gums to Thicken Your Sauce
Gums are also polysaccharides, sourced from seaweed or land plants. Staples in an Asian or gluten-free kitchen, gums increase the texture and consistency of sauce without changing its flavor or appearance.
Gums also reduce or eliminate the amount of fat or oil used.
Their contribution to flavoring a sauce comes from the way they hold spices and liquid molecules together.
Of the many gums out there, generally only guar gum, xanthan gum, and pectin are used for sauce.
Guar Gum
Guar gum comes from a plant. According to WebMD, it's used for several health benefits including lowering cholesterol and keeping you regular.
High in fiber, it thickens without gelling and keeps water from separating from the sauce.
Guar has a sticky paste mouthfeel. Some note an almost beany flavor with it.
Xanthan gum
Is from a bacterium, Xanthomonas campestris. Like guar, it dissolves in hot or cold water and does better with a range of temperatures than guar.
It has a very elastic nature and yields a creamy mouthfeel.
There are rumblings linking xanthan with gastric and other problems so if you're prone to GI troubles, you may want to bypass this thickener, just to err on the side of caution.
The gums work well together. Both can be dissolved in cold or hot water. A very little goes a long way; the general ratio approximates to a teaspoon of gum to a quart of liquid.
Too much and the texture becomes more grotesquely mucous-like. Unlike starches, gum can be lightly sprinkled into the liquid and absorption begins almost immediately. As you stir it in, you'll easily see how thick your sauce will be.
Pectin
Comes from apple cores or citrus rinds and is readily available in powder form in the baking aisle of your grocery store. There are two varieties:
Low-methoxyl pectin which is used to thicken cream sauces and needs calcium to gel.
High-methoxyl pectin used to thicken a soup or sauce containing sugar. Very little is needed; use too much, and you'll have something you could cut into small squares and serve alongside your grilled food. If that's not what you're going for, use about 1/8 teaspoon to a cup of liquid.
Because it can quickly gel, Popular Science recommends either combining ingredients in a blender or mixing it with other ingredients like salt or sugar which easily dissolve in water. Then add to liquid and boil for about 30 seconds to activate the gelling process.
The mouthfeel of pectin is like gelatin but stickier.
Fattening Up a Sauce
Butter
The real thing, not the hybrid, margarine-esque stuff because it's the combining of fat and water which creates a creamy consistency. Use alone or make a:
Beurre Manié means "kneaded butter" in French. It describes the process of working butter into an equal amount of flour on a board or in a bowl using fingers, fork, or dough knife. Once the flour is thoroughly incorporated, add in small pieces at a time to your sauce and stir until blended.
A roux is also an equal butter-flour blend but is heated. Melt the butter in a pan and slowly stir in flour. The longer it cooks, the browner it becomes, the richer and deeper the flavor, a technique common to creating Louisiana gumbo and similar dishes. Here's where you may want to experiment with degrees of brownness, to see what it contributes to your sauce.
Coconut Oil and Cream
These have been used for centuries in Asia for cooking and body care but (happily) its benefits are just reaching the Western world.
The oil is the fat of the nut; use it alone or in a roux or beurre manié. Coconut oil has less saturated fat than butter and is high in healthy HDL cholesterol, making it an ideal way to add richness without unhealthy fat to your meal.
The cream is the puréed fruit. It doesn't require cooking so add it as your sauce nears completion.
Nuts and seeds
When puréed, nuts and seeds can lend a mildly sweet velvety creaminess to anything. Besides the taste and texture boost, nuts give a nutritional boost as well.
We don't think barbecue sauce should be considered a go-to nutritional source, but it's good to know the addition of nuts brings, as noted by OneGreenPlanet, the following benefits:
Nuts in BBQ sauce
| | |
| --- | --- |
| Omega-3 and 6 fatty acids | Satiety |
| B vitamins | Energy metabolism |
| Vitamin E and other antioxidants | Heart health |
| Manganese and magnesium | Blood sugar and bone health |
| Copper | Bone health and iron utilization |
Of course, you'll want to consider guests who may have a nut allergy. Those watching their waistline can fend for themselves.
But back to the nutrients; since they contribute so much, I find it puzzling there should be so little found on using nut or seed butter in any kind of sauce. It inspires me to mix up a few recipes. What about you, are you ready for a challenge?
Making Fiber Saucy
Not that we're trying to sneak healthy in on those not inclined to bother, but it is possible for your sauce to make both taste buds and gut happy.
Fiber is a natural component of foods — grains, fruits, legumes, vegetables, and nuts. They can't be digested by the gut so essentially, they act to sweep out the gut. This makes for a happy, lighter body.
In the kitchen, fiber thickens while boosting the nutrition profile of whatever it encounters.
Vegetables
Barbecue sauce is commonly thickened with puréed starchy vegetables, especially nightshades (tomatoes, peppers, garlic, and eggplant) or potatoes.
What Texture are You Aiming for?:
Grainy — Use baking potatoes as a thickener
Creamy — Use waxy, red potatoes
Smooth — Use puréed tomatoes, peppers, or eggplant
Roast or grill veggies, purée, and then stir into a sauce. Vegetables can also be puréed raw. Be cautious — A little goes a long way, too much will make the sauce bitter. Use water to thin, if needed. The bitterness may be countered by adding a fat.
Puréed fruit
This is included in some barbecue sauce recipes, especially as an ingredient in sauces for chicken or pork.
They aren't basted on but served alongside the finished dish. Cherries, apricot, and lemon are covered.
Conclusion
Barbecue sauce is the grilling version of frosting on a cake. It's meant to enhance and complement, not cover up inadequacies. Thickening your sauce ensures whatever you grill — meat, poultry, seafood, or vegetable — will be at its max for flavor and moistness.
As noted, some foods listed above could use some added real-life experiences. Will you contribute to the quest for thickened barbecue sauce? Can you take a thin barbecue sauce recipe and make it sing by adding a nut butter or maybe a coconut roux?
As you experiment, keep in mind typical food pairings — apples and pork or berries and beef. We're going for an enhancement of the flavor of your grilled food, not a competition of flavors.
With a bit of creativity, you'll never again have your barbecue sauce mistaken for tomato soup. The addition of ingredients from one or more of the thickening categories above (starch, gum, fat, or fiber) will make any sauce shine and cling and tickle taste buds as a good and thick sauce should.
So get cooking!