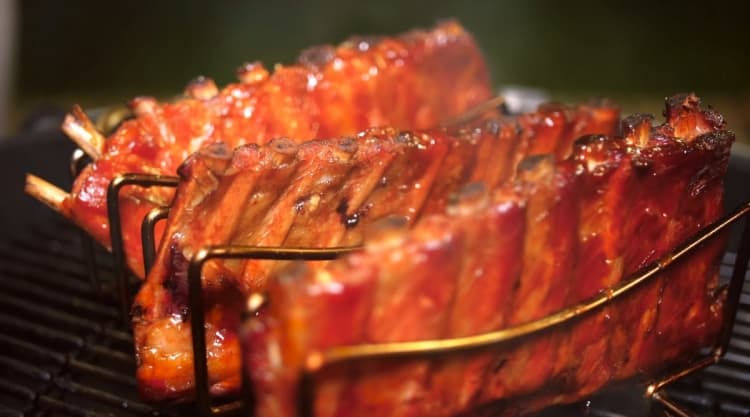 Not sure which wood to smoke your ribs with? This article covers which varieties provide the best smoke for ribs, both heavy smoke and moderate.
At some point, everyone with any backyard cooking gear will try a rack of ribs. Few cooked meats are more universally beloved or provide more options for flavoring, including sauces, rubs, and, naturally, smoke.
You might think, with so many possibilities, there's no way to go wrong! Well, that's almost true. Most woods work well with ribs, but some work better than others.
To save you from wrecking your ribs, we've curated a selection of the top woods for smoking ribs with a brief description and flavor notes for each.
Plus, we've checked in with some top BBQ chefs to see what they smoke their ribs with and why. Finally, we'll let you know the right type of wood for the job: logs, chunks, chips, pellets, or sawdust.
Let's get this smoke show started!
Why add Smoke Flavor to Ribs?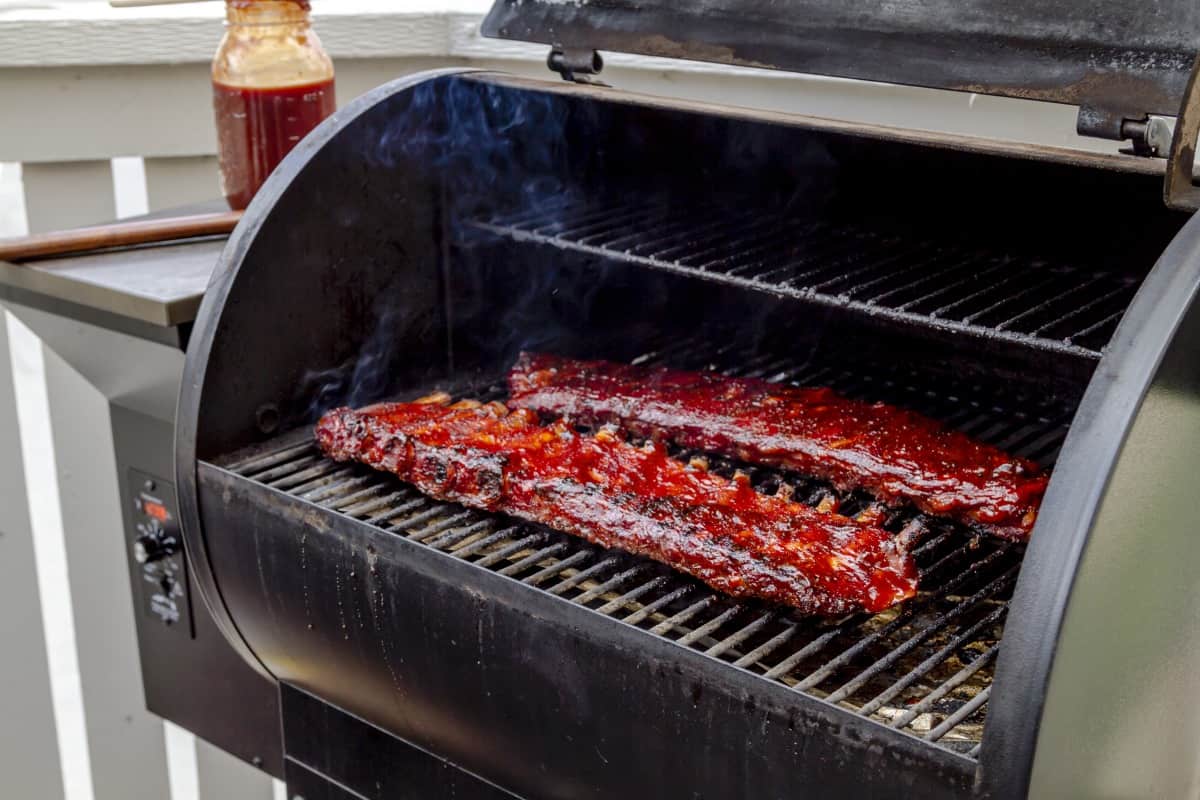 Let me ask you this: have you ever tried plain ribs? Like just plain ol' boiled or oven-roasted ribs? As Crocodile Dundee once said, "You can live on it. But it tastes like s***."
There's a reason we add rubs and sauces to ribs — it makes them delicious! And smoke can be another tool in your flavoring arsenal. Not only will the right smoke impart anything from mild to intense smoky flavor, but it can also make your ribs look incredible too.
Check out this video from Texas 2.5 BBQ. The host forgoes your typical 3-2-1 method of smoking ribs with a rub and sauce, instead smoking a rack using nothing but cherry wood — no rub, no sauce. I've cued it up for you to just before he takes his first bite. To say he was impressed is an understatement! (There are some bonus rib-eating ASMR moments in there, too.)
Best Wood for Ribs That Pack a Punch
If you're like me, you like the smoke to pretty much punch you in the face as the ribs approach your tongue. (For the record, I also love smoky bacon, smoky whiskey, and smoky beer.) Here are your heavy hitters for the smoker.
Hickory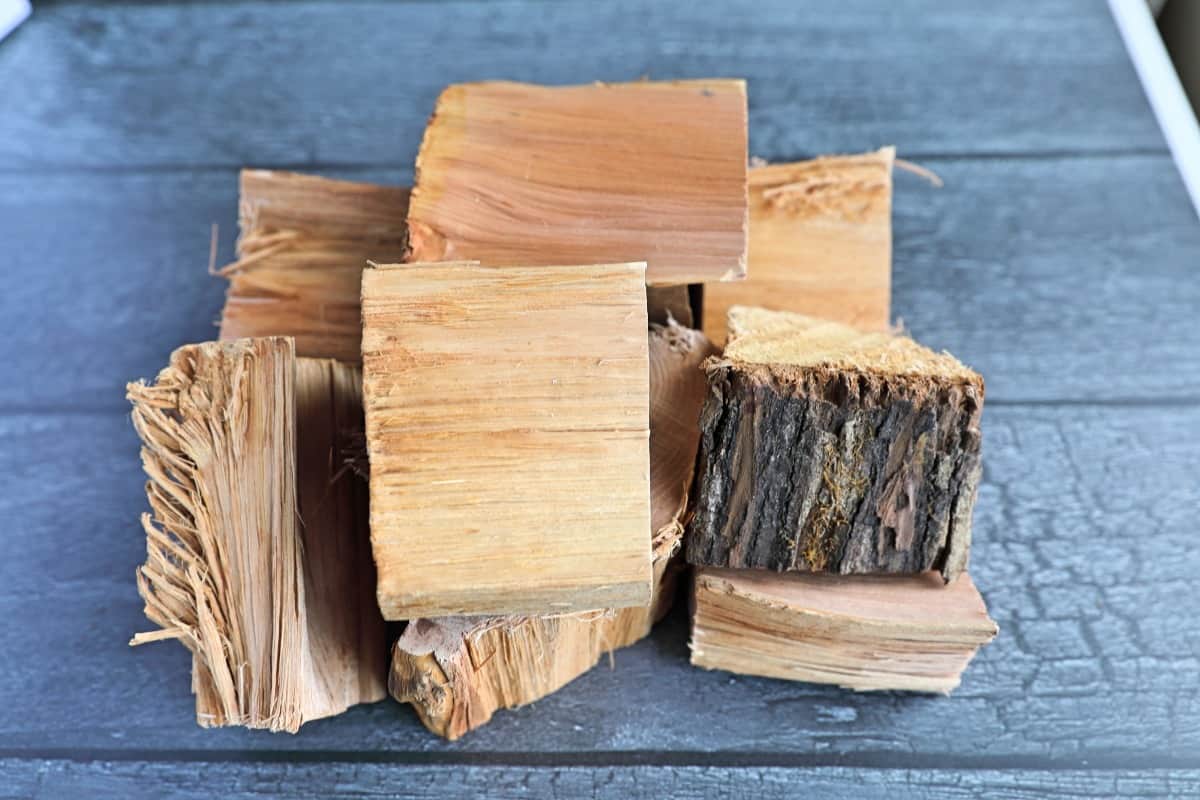 A favorite for many pitmasters (and rib lovers!), hickory is a bold wood that's much stronger than any fruit wood, yet not quite as intense as oak or mesquite.
It's highly flavorful, blending sweet and savory notes, and it's easy to love. It goes great with most BBQ sauces, too.
Oak
Oak is like the baseline for smoking. It's potent, but it's hard to ascribe any particular flavor notes to it.
It tastes like… smoke! If you want a bold smokiness but want the rub or sauce to do the heavy lifting, oak is a can't miss.
Mesquite
This is about as intense as it gets, and for that reason, it can be divisive.
Those who like it really like it, and it's fantastic for over-the-top ribs slathered in sauce.
Be careful the first time you use mesquite because it's all too easy to add too much and turn your ribs acrid and inedible.
Pecan
If you're doing any Southern-style ribs, pecan is a classic. It's strong and sweet with some nuttiness to it.
Just be sure not to overdo it, or you'll make your ribs too sweet for many folks.
Subtly Smoky — For those Who Prefer Just a Hint of Smoke
A big blast of smoke in their food isn't everyone's cup of tea. Fair enough.
Here are some delicious wood choices for smoking ribs that leave hints of smoky goodness and other flavors.
Peach
Like most fruit woods, peach is mildly smoky and slightly sweet. It's a natural choice for Southern barbecue, the peach being the state fruit of Georgia.
Maple
You won't get the fruitiness from this light wood, but the smoke is somewhat sweet.
Maple is an excellent choice for beginner smokers because it's hard to have too much of it. And, if you're from the northern States or Canada, you may find some spiritual connection to it.
Apple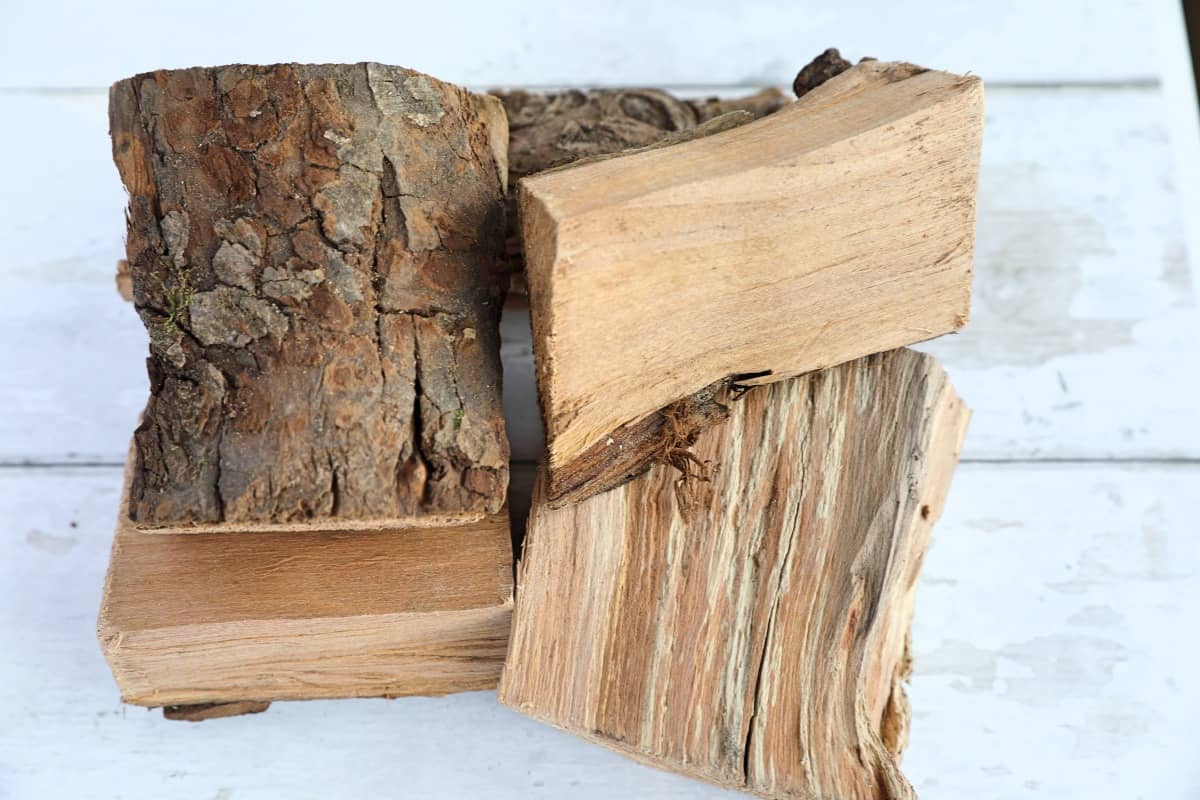 This is such an excellent wood for smoking — sweet and fruity but light on the smokiness.
Some may not find it bold enough for ribs, but if you're going with an apple butter BBQ sauce, it's perfect.
Cherry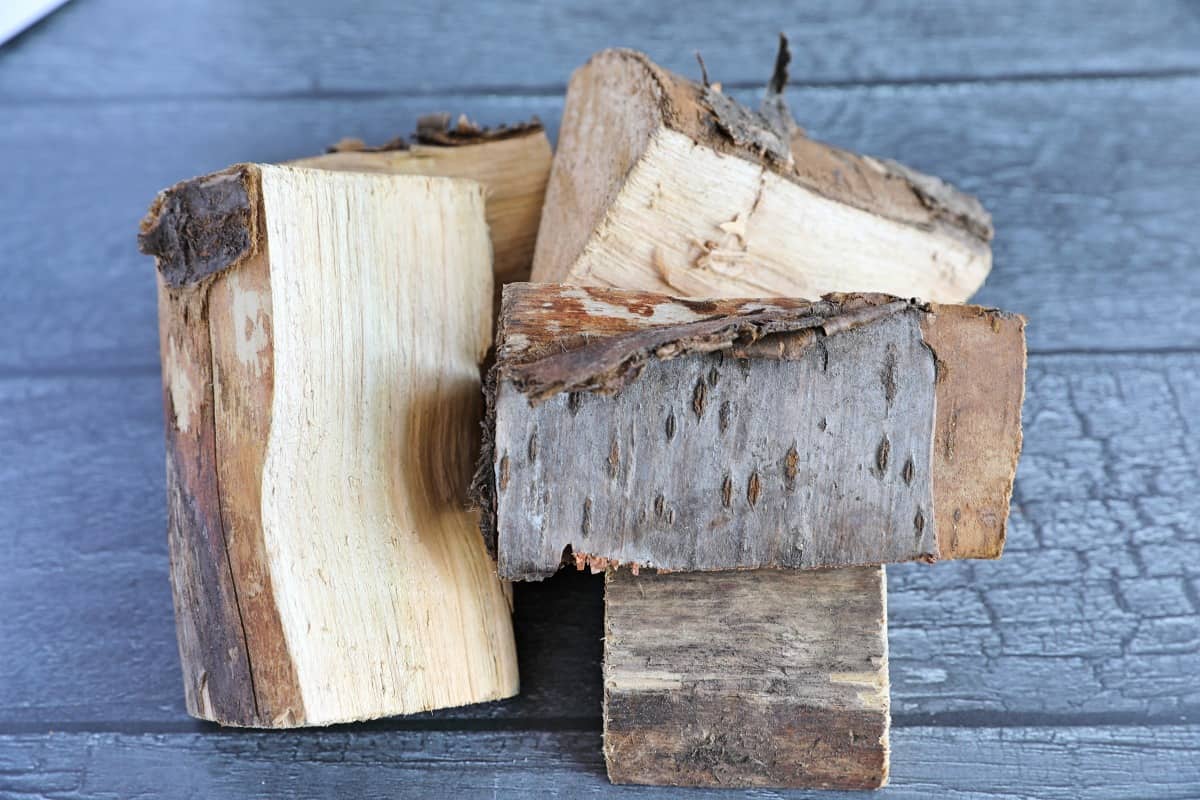 One of the very best woods for ribs, cherry delivers rich flavor, subtle sweetness, and absolutely glorious color. (Go back and watch the video I linked to in the Why Add Smoke At All? Section if you haven't already. Those are beautiful ribs.)
It's a perfect match for almost any kind of sauce, too.
You Can Mix and Match The Above Flavors!
Think of your smoking wood the same way you do other ingredients — you can combine different types to create incredible blended flavors. Mix and match to pair with sauces and spices and to create custom smoke flavor profiles.
Many smokers love to blend fruit woods with more intensely smoky varieties to either take the smoke down a notch or to add body to a mild wood — depending on your point of view. As you become more comfortable with smoking, it's a lot of fun experimenting with wood combinations.
What the Experts Use to Smoke Ribs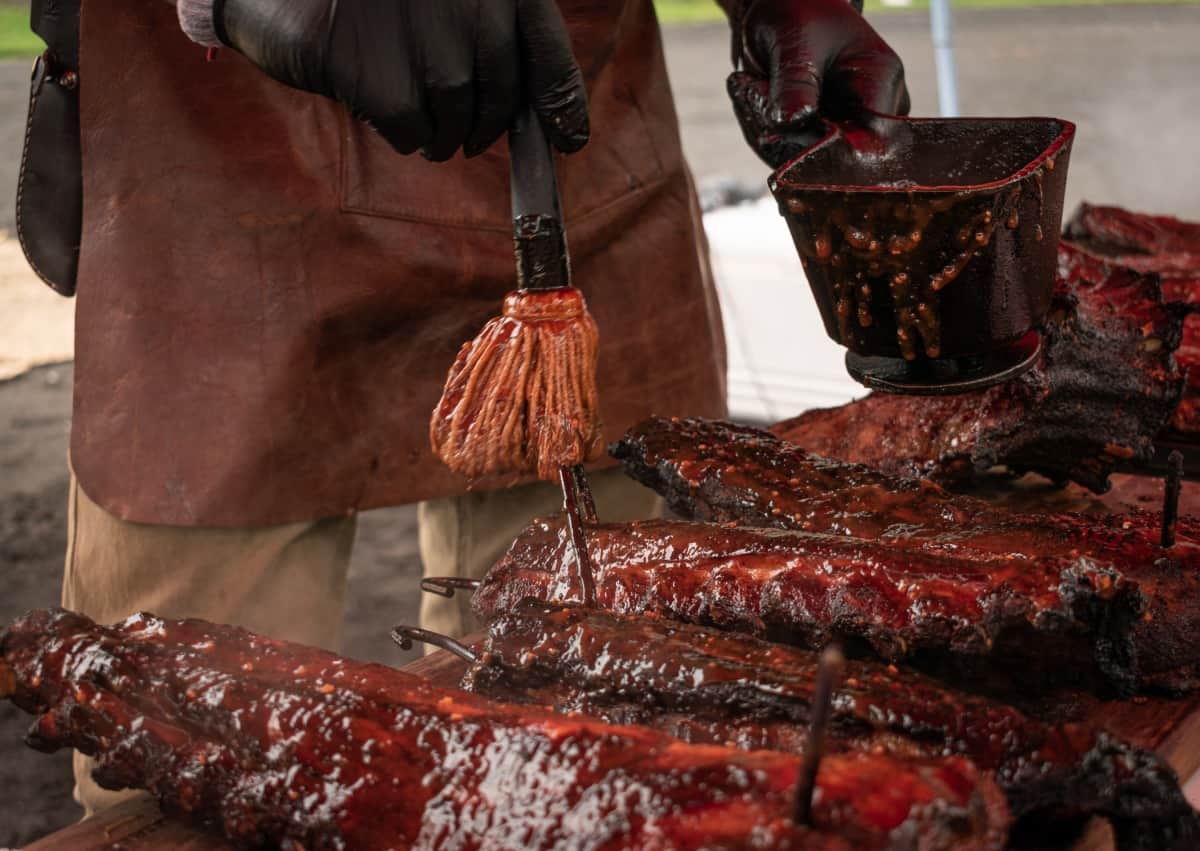 Meathead Goldwyn
A good place to start is with a guy whose website is called "Amazing Ribs." For his Last Meal Ribs, Meathead suggests using apple, hickory, or oak. Those last two will give much heavier smoke than the apple, which is more moderate and sweeter.
A LOT is going on in the rub he uses, so the bold smokes make sense — light and fruity smoke may get lost in the mix.
Malcom Reed
This man loves his ribs. One recipe, in particular, he loves so much, he named it after himself.
In this video, Malcom shares that cherry is his choice for smoking ribs because the meat is lighter and more delicate than big hunks of beef.
Steven Raichlen
The brains behind Barbecue Bible prefers hickory for pork, but likes to switch off to apple or cherry partway through, a tip he picked up watching competition teams.
This gives you the best of both worlds: rich smokiness but tempered with a bit of sweetness.
Myron Mixon
He can be unconventional, but it's hard not to listen to the "Winningest Man in Barbecue" when he tells you what's what.
Myron favors peach when he smokes ribs — it's a sentimental, smoky shoutout to Georgia that's light and just right for Southern-style ribs.
Melissa Cookston
When she's trying to impress family instead of judges, the Queen of the Smoker chooses applewood.
It's the perfect complement to her sweet rub and the apple juice she adds to the foil wrap for moisture.
Aaron Franklin
The famous BBQ chef tends to use local post oak for basically everything. But, he notes that the sweet flavor and smokiness of pecan is great for ribs, especially since ribs don't stay in the smoke as long as beef cuts.
Too much time over pecan can totally overwhelm your meat.
Jess Pryles
Everyone's favorite Hardcore Carnivore cooks her ribs on an offset smoker over a post oak and applewood blend.
The post oak is something she's picked up since moving to Texas, and it reflects the bold style of Lone Star State barbecue. Adding some apple takes the edge off the oak and adds nuances of sweetness.
What Size Wood? Logs, Chunks, Chips, Pellets, or Dust?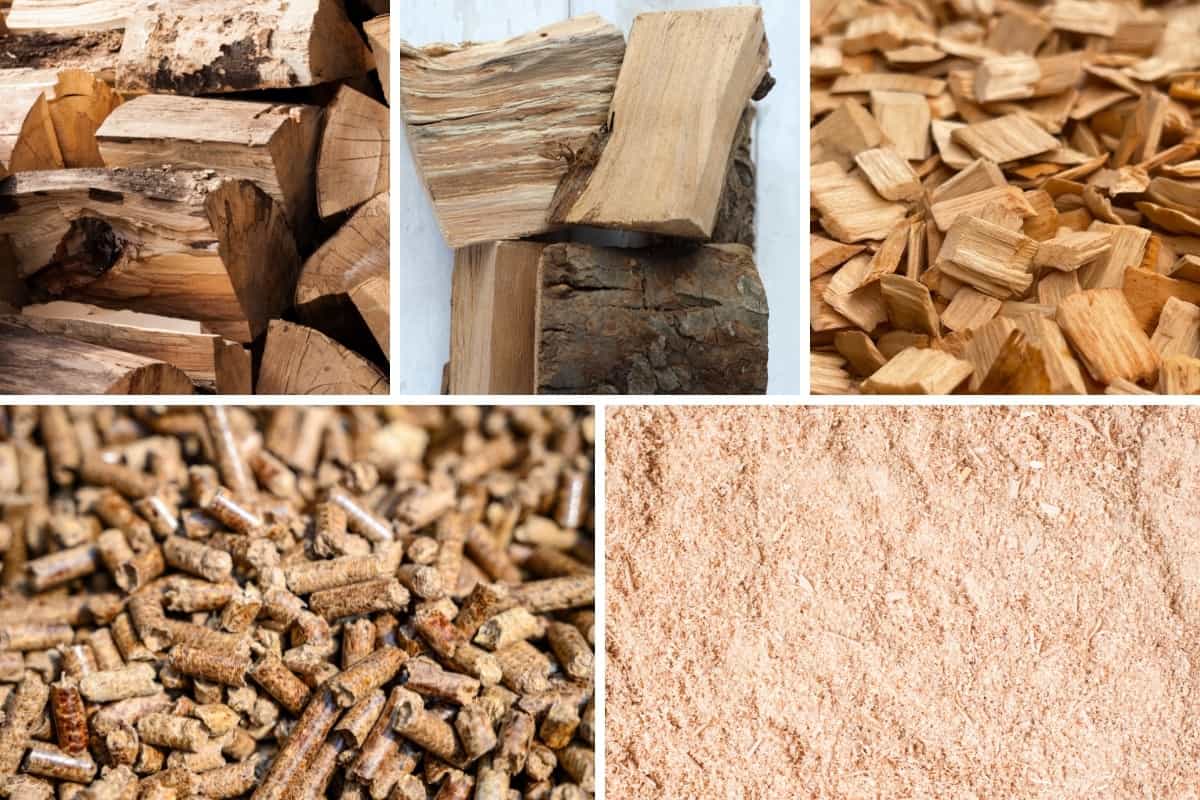 If you're new to smoking, you may not know which type of wood to use for your ribs. Does it make a difference? How do I choose?
It's easy — check below to find out what wood goes in which smoker quickly.
Logs
If you have a large offset smoker, your big, bad firebox is the place for these large pieces of wood. Hardcore DIYers with smoker pits can use logs, too.
Chunks
Like logs in appearance but much smaller, chunks are your choice for smaller offset smokers, drum or barrel smokers, or ceramic or kamado cookers. All you have to do is arrange a few chunks on top of the charcoal and let the fire take them.
Now, I've never tried this, but I have seen others talking about laying chunks of wood on top of the heat deflectors on their gas grills. It's a clever trick, really, for making smoke on a gas grill. Probably voids your warranty, but if you have an older unit, it might be worth a go.
Chips
These thinly-sliced morsels of real hardwood are easy to light and provide a good amount of smoke. They're commonly used in propane and electric smokers and on charcoal. Anyone who wants to smoke on a gas grill can try these in a foil pack or smoker box.
Pellets
Waste not, want not! Tiny scraps of wood leftover from milling are compressed into small pellets for use in pellet grills. Like wood chips, pellets are also suitable for smoker boxes for use on gas barbecues to add a bit of smoke to your grilling.
Sawdust
This fine, powdered wood will smoke readily even without direct contact with a flame. For that reason, it's sometimes used in electric smokers, but you can also use sawdust in a smoke gun or other handheld smoker.
Final Thoughts
To my mind, there is no better way to enjoy ribs than right out of a smoker.
The combination of tender, slow-cooked meat and delicious smokiness is barbecue nirvana — IF you get the smoke right. With this article for reference, there's no reason not to.
I hope you enjoyed learning about the best wood for smoking ribs and that you're fired up to get a rack cooking right now.
Thanks for reading, and be sure to share your tales of woe and success with us in the comments, or on social.
Smoke on, friends!