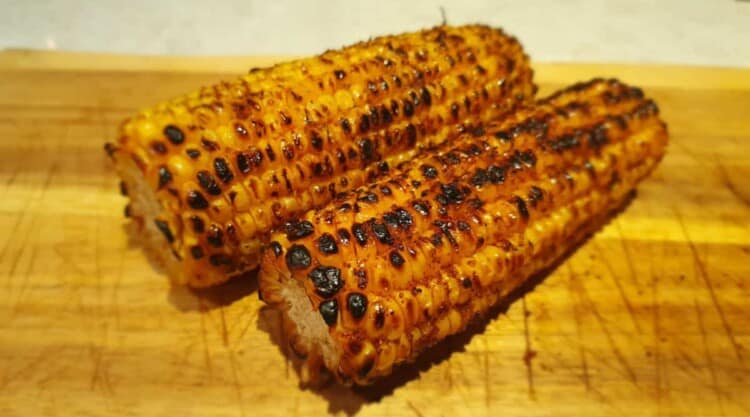 As I write this, fall is upon us in the Northern Hemisphere, and the harvest is getting into full swing. For many, this is simply known as, "corn-on-the-cob season."
Fresh corn is one of the great gastronomic joys in life. Sinking your teeth into the crunchy, sweet kernels, all slathered in butter – there's nothing else quite like it!
The most common way to cook corn is to boil it. Indeed, the 'corn boil' is a time-honored tradition across North America.
But, we all love to barbecue here, so a pot of boiling water doesn't interest us! We'd far rather toss our food on the grill when we have the chance.
Cooking cobs of corn over a fire is nothing new, of course; the indigenous people of the Americas were roasting corn in pits for millennia before the Europeans arrived.
The husk of the corn forms a natural container for the cob, making it ideal for roasting on a stick or grill. It's not unlike the manner in which Pacific Islanders wrap meat in palm fronds and banana leaves to cook in closed pit barbecues.
Husk-on is the most common way for modern grillers to cook corn on the BBQ, too, but there is another way.
If you'd like to know the trick to barbecuing corn without the husk, you've come to the right place.
Let's Get Fresh
As you might imagine, grilling corn in the husk is a sure-fire way to lock in the moisture. Any water still trapped in the husk will help steam the corn and keep it nice and juicy.
Removing the husk leaves the corn unprotected from the heat, and increases the potential for burning, or at least drying out.
To help reduce the risk, start with the absolute freshest corn you can buy. This means finding a farmer's market, or a roadside stand, and skipping the supermarket.
According to The Food Lab, corn starts to undergo changes immediately after it's picked, and corn sugars quickly lose their sweetness. If you can find fresh-picked corn, you'll be amazed at how crisp and juicy it is.
Prepping the Corn
This part is pretty straightforward – remove the husk and throw it away. No, wait; put it in the compost bin and save the planet.
Underneath the husk is the cornsilk. Try to remove as much of it as possible, but don't stress yourself about removing every single strand. If there are a few stray bits here and there, they'll simply burn off.
Here's a short kitchen hack for the quickest way to remove the husks:
Should I Add Oil or Water?
There are several schools of thought on this issue. Some folks think it's best to brine the corn first, to add salt and moisture. Others swear by a spritz of vegetable oil, preferably butter-flavored, or they rub the cob in real butter. Purists maintain you can just slap the corn right on the grill exactly the way it is.
As far as brining goes, I've seen many, many websites suggesting this is the only way to go.
A typical recipe says to soak the corn in a gallon of water with a ¼-cup of salt for up to an hour. They claim it seeps into all the pores and crevices, keeping the kernels tender and juicy. Sounds plausible…
One voice stood out above the crowd as being the most authoritative on the subject, however, probably because he or she was the only one who seemed to actually test the process rather than just reiterate what others were saying. The evidence presented is compelling.
The source actually brined some corn to varying degrees, something I didn't see anyone else trying. Photographs in the article show deflated kernels after brining, and the longer the corn sat in the solution, the worse it got.
Unlike wet brining meats, which increases moisture in the final cooked product, the salt removed moisture from the corn kernels, making it tough and mealy. Not very appealing!
I highly recommend reading the full article here at Serious Eats. Indeed my own research backed up the author's assertion that no one writing about brining corn seemed to have actually tried it, or at least not back-to-back with unbrined corn.
So, the bottom line is: if you want to use a bit of oil or butter to keep your corn from sticking to the grill, go right ahead. Just be vigilant to avoid burning. Avoid brining, however. Fresh corn is plenty tender already, and you can add salt to taste after it's cooked.
How Hot Should My Grill Be?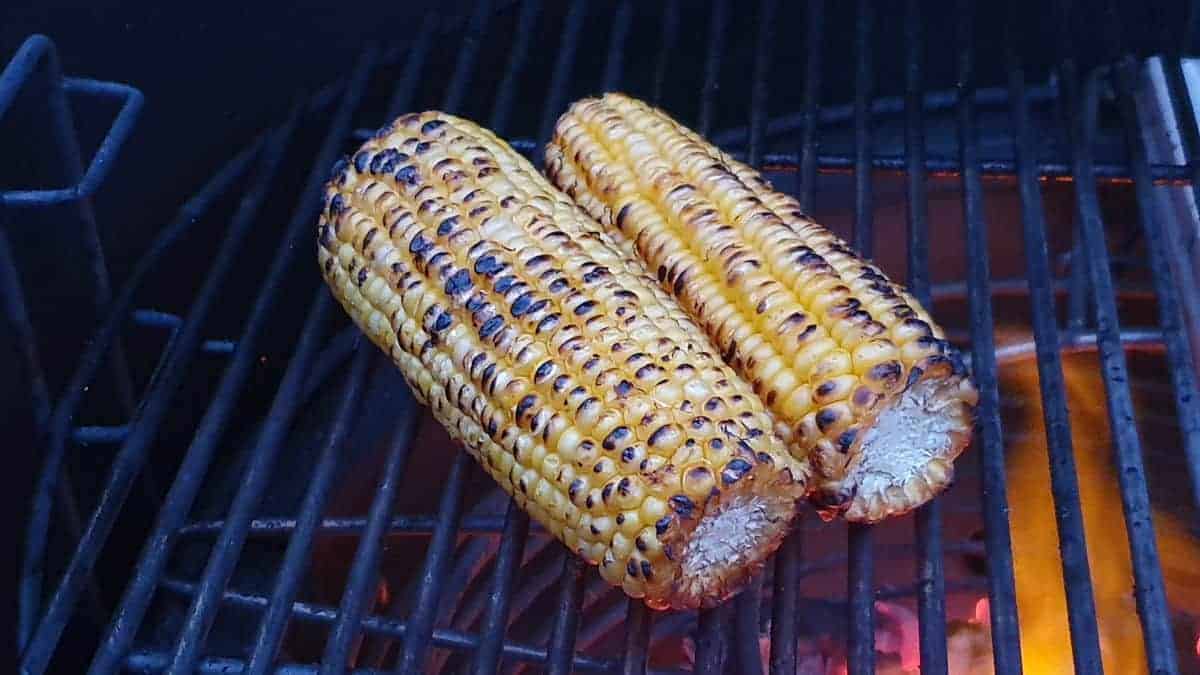 This isn't a low 'n' slow dish, so you want your grill to be at least medium heat. Some people crank up the flames or stoke the coals until they're white-hot, but I think it's better to rein it in a bit and aim for medium-high for better control.
There's no need to worry about temperature zones with corn; direct heat is the way to go. You could try to roast over indirect heat, but you're more likely just to dry out the corn.
So aim for a grill grate temp of about 350f.
How Long Should I Grill Corn on the Cob?
The surface area of the corn that's in contact with the grill at any one time is pretty small. To ensure even cooking, you're going to need to tend to your cobs and rotate them regularly at small time intervals.
Depending on how hot your grill is, plan on turning the corn every 1-2 minutes.
Watch for the kernels to start deepening in color, but don't let them get black. A basic equation of barbecuing is black=burnt=garbage.
Total cooking time will be between 10 -15 minutes.
Flavor Comparison
Make no mistake; the manner in which you cook your corn will affect the flavor.
Grilling a bare cob will reveal an entirely different flavor profile than boiling, microwaving, or even grilling in the husk.
Barbecued food always tastes… barbecued, for lack of a better word. Actually, that's probably the perfect word, because you know exactly what I mean!
Grilled naked corn has a smoky, slightly charred flavor, and can be a bit nutty, too. It still tastes like corn, of course, but may be less sweet than you're used to.
If you like your corn with a pinch of salt and/or butter (I like mine dripping!), go right ahead. It's corn on the cob like you've never tasted before, but I can almost guarantee you'll be wanting a repeat before corn season is over.
That's Why and How to Grill Corn on the Cob Without Husks
Depending on when you read this article, you may or may not have difficulty finding corn to cook. It's not one of those food items you can find even when they are out of season, like apples or carrots.
If it's corn season, we hope you enjoy a wonderful feed of corn soon, and that you try out your new technique! Corn roasted on the barbecue is incredibly delicious, and you'll want to have it often during the all-too-brief window of opportunity.
Know some other BBQ fanatics? Could you let them know about our site by sharing this article with them?
We also welcome your questions, comments, corrections, and criticisms, so don't be shy. Let us know what you thought about this article, or any others you've read, by leaving a comment below. Share your tips and tricks, or even your most epic fails!
Stay well until next time, grill-brothers and sisters – and I apologize for the corny jokes.
Printable Recipe Card
[tasty-recipe id="1009781″]

Happy Grilling!