Atomic Buffalo Turds – commonly shortened to simply ABTs – are cheese stuffed jalapeno peppers, with an added smokie or small hot dog sausage, wrapped in bacon and sprinkled with a dry rub, before being smoked at a low temperature. And finally, when done, brushed with a BBQ sauce.
They are essentially a BBQ version of the famous (and now trademarked) 'jalapeno popper.' Taken from Wikipedia:
Jalapeno poppers…are jalapeño peppers that have been hollowed out, stuffed with a mixture of cheese, spices, and sometimes ground meat, breaded and deep fried. Sometimes called an armadillo egg, especially if wrapped in bacon or sausage meat to give the appearance of an armadillo shell.
They are an incredibly easy little snack, or side dish to make, that have a flavor profile turned all the way up to 11.
But what about the name? Where did the name 'Atomic Buffalo Turds' come from? I mean, it's hardly an appetizing description for a food that creates desire now is it?
I have no idea, sorry! I did a quick search and have been unable to find where the name came from. If anybody reading this knows the origins of the name, I'd love to know myself so please do add it to the comment section at the bottom of this page.
Either way, here's my take on this classic.
Jalapenos Too Hot? Substitute Other Peppers!
If jalapenos are too hot for you, or you simply do not like any heat at all, you can safely substitute them for any other kind of pepper.
Baby, sweet red and yellow peppers work wonderfully in this recipe. All you need is for them to be small enough to be a mouthful or two max when cooked, as this is supposed to be a snack or a side, not a main element of a dish, so don't go using large bell peppers.
However, please be aware that the jalapenos tend to lose a lot of their heat during cooking, so at least try these once as they're supposed to be by using jalapenos. Even if you do not normally like 'chili heat', you might be pleasantly surprised as they are quite mild.
Where Inspiration Came From For This Cook
I've made ABTs many times over the years. They are straightforward to make, and you can adjust the flavor in many different ways by using a different rub, a different sauce, different bacon, different mix of cheeses, and more.
So where did the inspiration come from? Impossible to say as I haven't followed a particular recipe for them for years! I know the basic tune to sing to, and just riff as I go along. They're so simple, there's no right or wrong, and I change it up all the time depending on what I have to hand.
This recipe is just an indication of how to make them and in the recipe card, I will add notes on how to alter it to your liking. Try a few different ways until you find your favorite way.
For the record, I decided to make these on the day of a stag do for a good friend of mine, where we all agreed to play golf in fancy dress. I had some cooked brisket I was reheating sous vide in the kitchen so everybody playing golf could have a brisket and pickle roll, and I wanted to make an easy side to give with it so decided on some ABTs.
Here's a picture of me brushing the ABTs with sauce for the final stage of the cook, (and there's a better – or worse? – pic at the end of the article 😀 )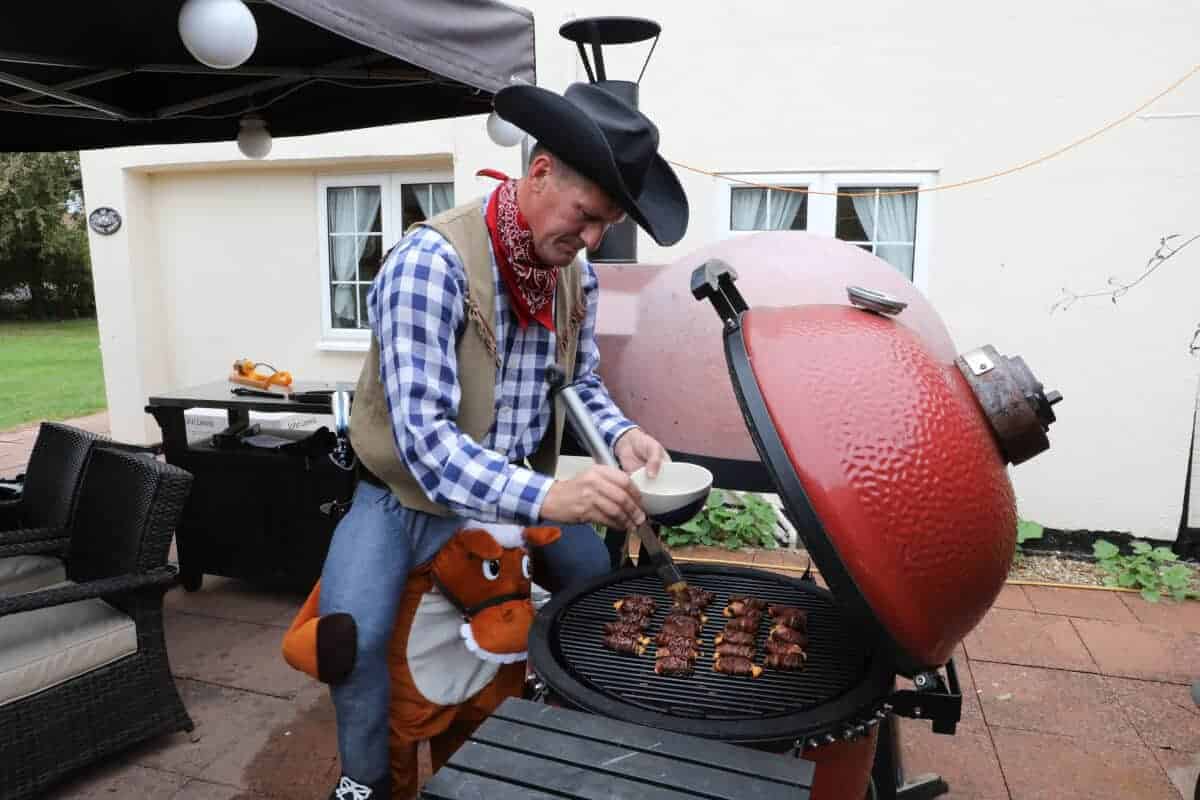 Ingredients Required
To make ABTs you need the following ingredients:
Jalapeno peppers
Cream cheese
Strong cheddar cheese (or other cheese substitute.)
30 smokies / small cocktail sausages
Streaky bacon
BBQ rub
BBQ sauce
For this particular cook I used Meat Church 'Holy Cow' BBQ rub, Bulls-Eye Original BBQ Sauce, Philadelphia cream cheese, mature cheddar, and some homemade streaky bacon (unsmoked, as we will be smoking these during cooking!)
You can substitute the rub and sauce for whatever you desire or have in your cupboard, but I would avoid anything with too much heat as the peppers have enough, and instead, I would go for a sweet-ish sauce which is excellent with the spiciness of the Jalapenos.
So how do we cook Atomic Buffalo Turds?
Halve and Deseed the Jalapenos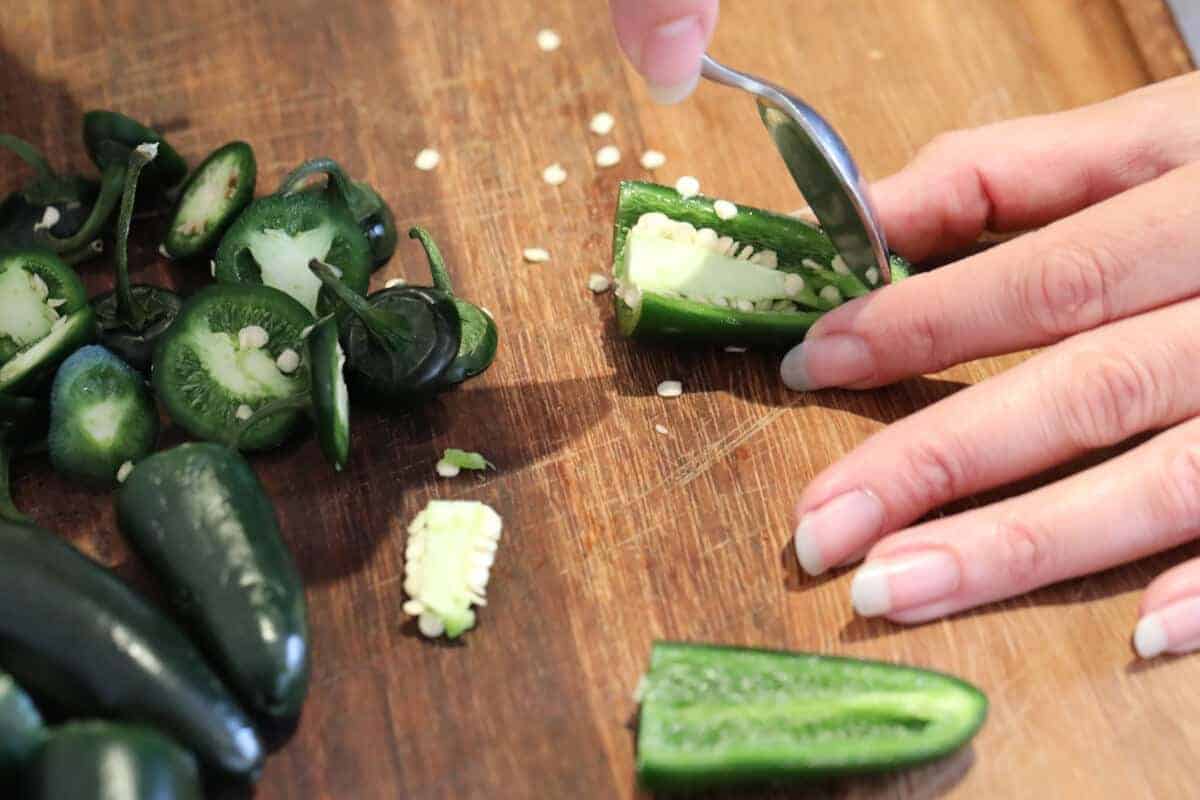 Before stuffing and wrapping, we need to halve and deseed the jalapenos.
To do this: Slice off the end with the stalk, and then cut the jalapenos in half vertically. Once done, I then take a teaspoon and use it to scrape out all seeds and the white pith, leaving only empty pepper flesh, as seen in the image below.
Note: I would strongly suggest wearing food preparation gloves for this step, especially if doing a large batch, because getting too much chili on your skin can start to burn and last for hours, despite numerous hand-washings. And if you accidentally touch your face or eyes after…ouchie!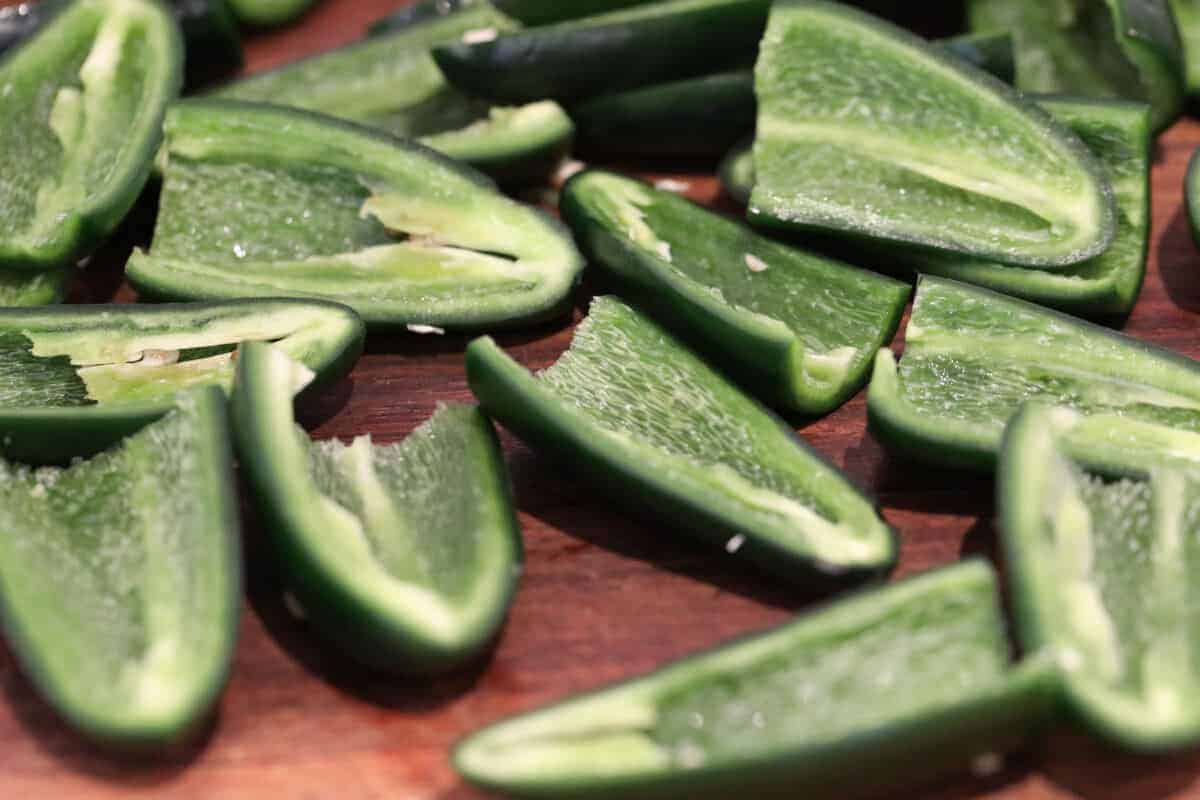 Create The Cheese Stuffing
For the stuffing, mix equal quantities by weight or volume of cream cheese and grated hard cheese, and sprinkle in 2 teaspoons of your chosen bbq rub for added flavor. Stir until thoroughly combined and smooth.
However, please note you do not have to be too precise, and I just do it by eye, aiming for roughly 50/50 of each.
If you'd like a slightly tangier, more 'mature' cheesy filling, add more strong cheddar than cream cheese. If you'd like a less tangy, more mild and creamier filling, then use more cream cheese than you do cheddar.
Stuff the Peppers With Cheese Mix and a Sausage
Once your mix is ready, simply take each half a pepper and fill with the mixture until just below level. The cheese will tend to swell slightly – and some ooze out – when cooking, so there's no use filling past just under level.
Once you've stuffed with the cheese mix, add a small sausage.
Most recipes call for a 'smokie,' but any small cocktail style sausage will suffice and be very nice.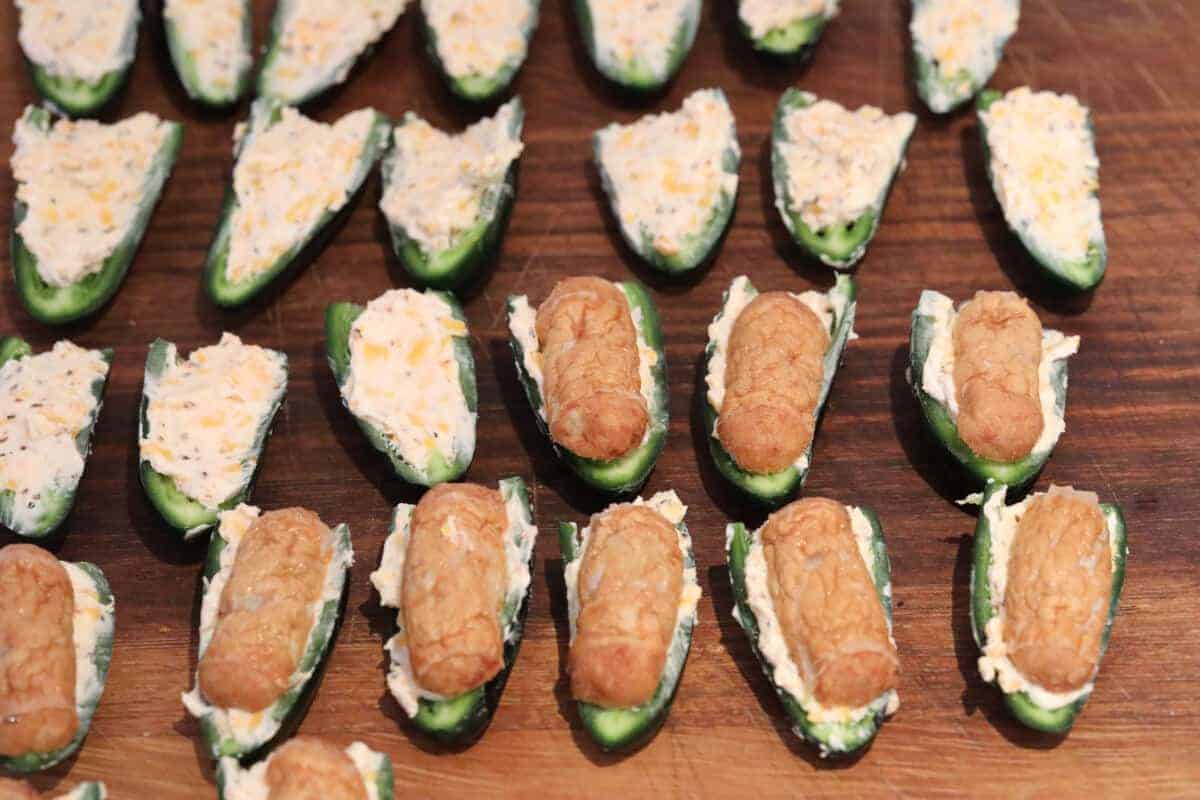 Wrap in Bacon and Sprinkle With Rub
Once all jalapeno halves are stuffed, and a sausage has been added, simply wrap them in bacon.
To do so, take a single piece of streaky bacon and halve it lengthways so that you can wrap two ABTs with each single slice of bacon. Then, starting at one end of the pepper, coil the bacon slice around it, working from top to bottom.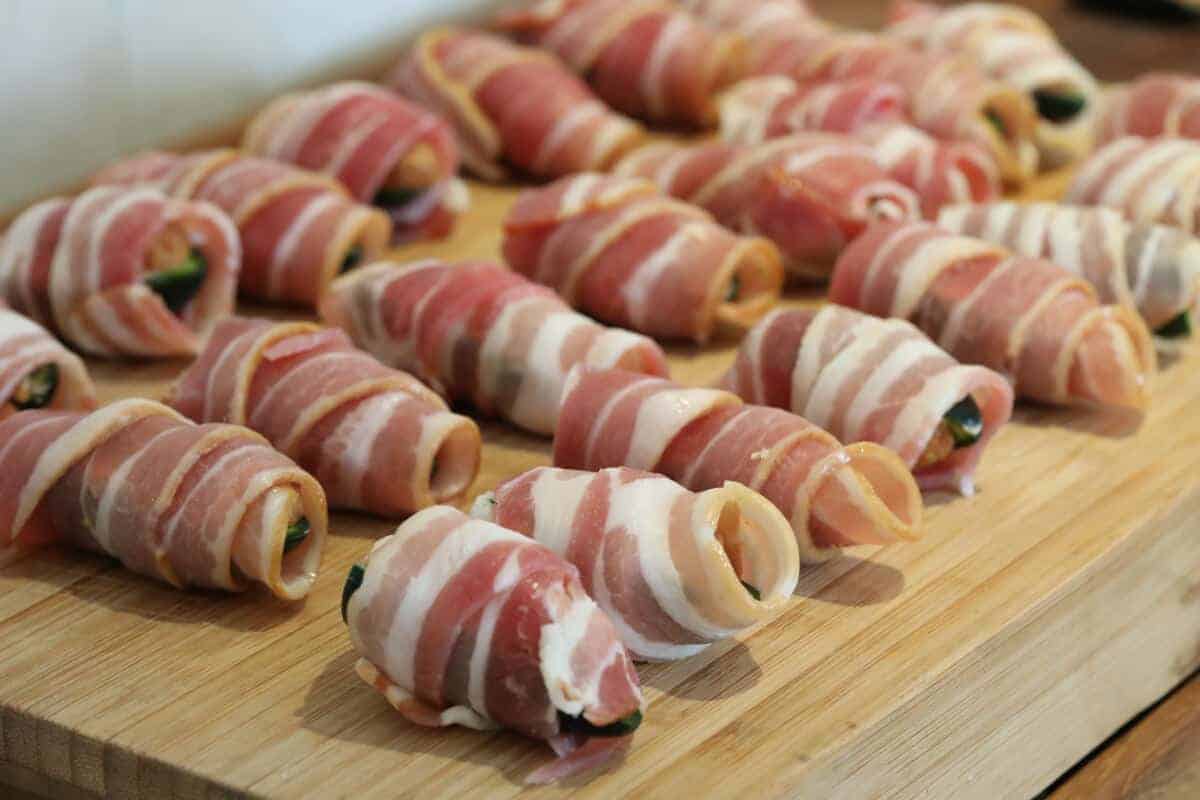 At this point, many people use a toothpick to hold the bacon in place, but I've never felt or had the need, finding they hold their shape easily anyway, particularly once cooked and the bacon is crispy.
Now the Atomic Buffalo Turds are assembled, sprinkle with rub.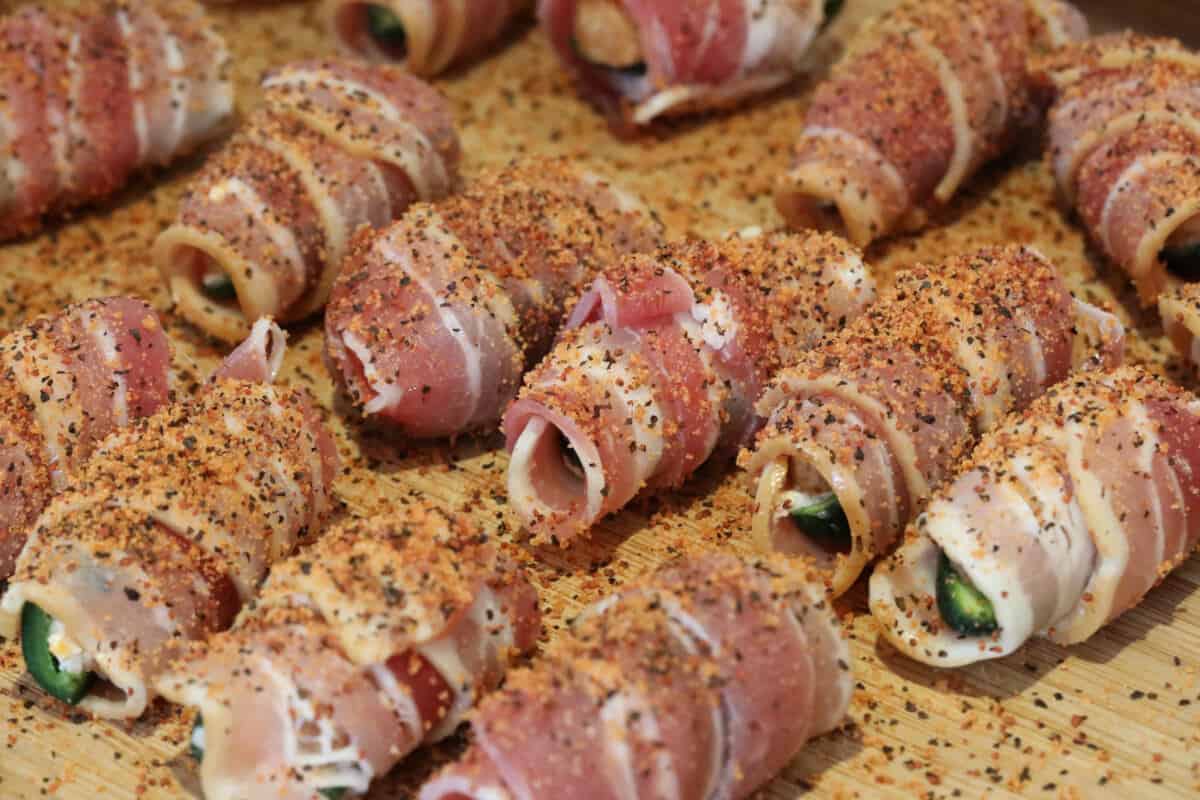 The amount of rub you add is entirely up to you.
Personally, I apply it only to the top, and a light sprinkling only as can be seen in the picture above, aiming to use it as an extra layer of flavor, not to steal attention and be the main star of the show. But experiment to find your own sweet spot.
Smoke 'em
Now, with the ABTs fully assembled, it's time to hit the grill!
Set up your grill for indirect cooking at anything from 225f to 275f, and add a couple of pieces of smoking wood for an extra layer of flavor.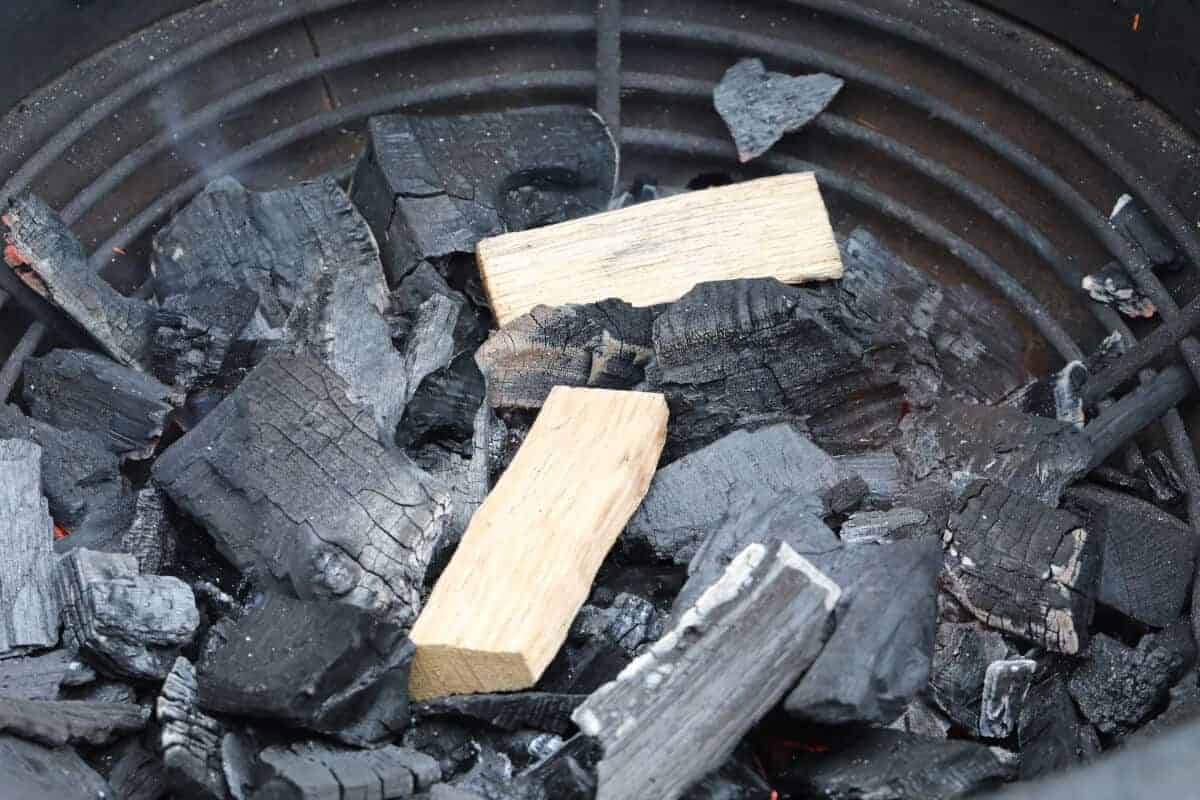 I advise using a milder wood for ABTs, such as any fruitwood, because you can make these too smoky and off-putting if you use something strong! For my cook, I used a couple of small chunks of apple wood.
Smoke Until Bacon is Crisp and Cheese is Oozing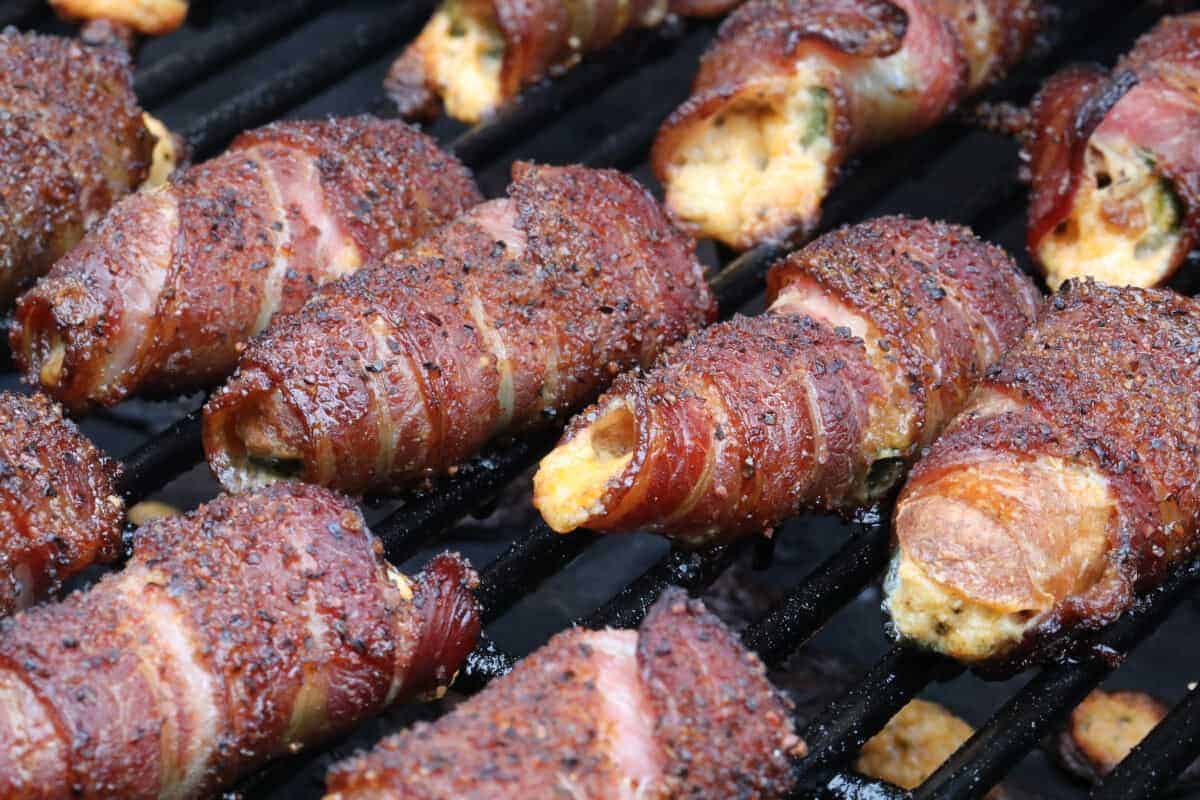 Smoke the ABTs until the bacon turns crisp, the jalapenos are soft, and the cheese is melted and oozing.
If it gets to the point the bacon is crispy and cheese oozing, you can be sure the peppers have softened, so there's no need to check on them directly. Just visually check the bacon and cheese for doneness.
It can vary, but in my experience, the cooking time is anything from 1 hour at 275f, to 2 hours at 225f.
Once Cooked, Brush With Sauce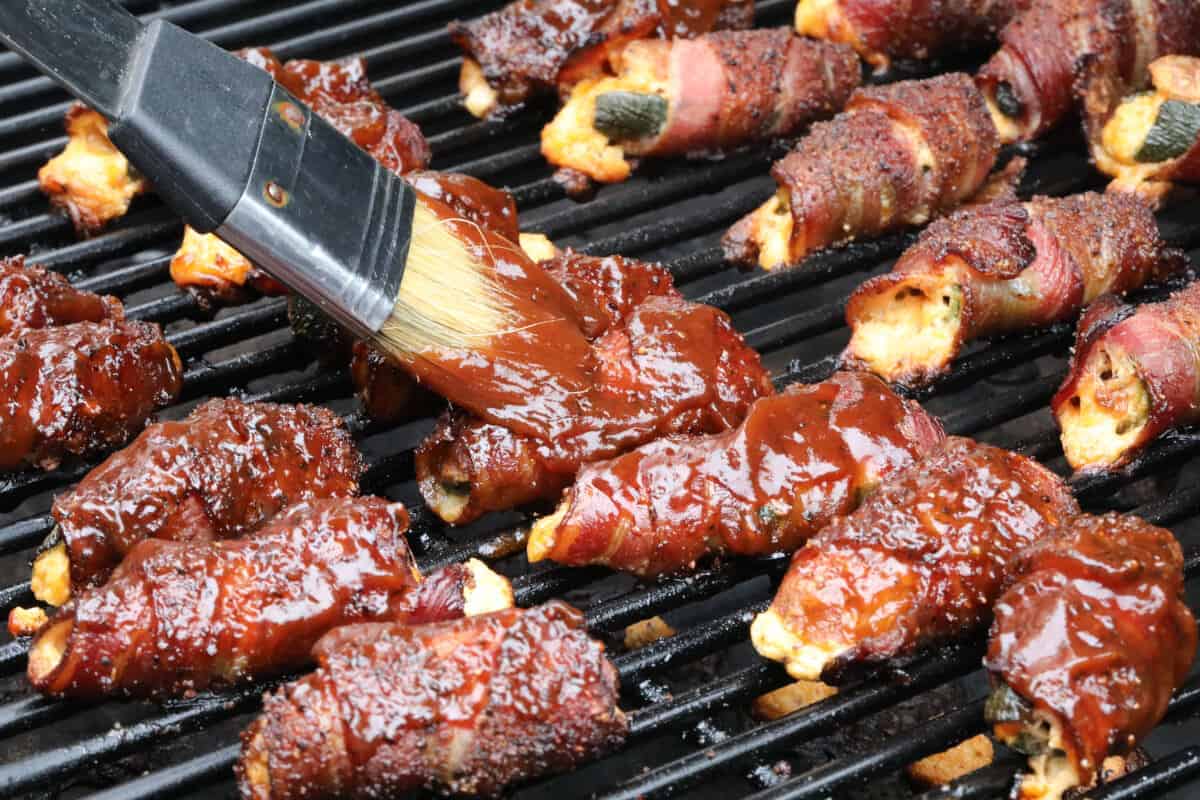 When they've reached the desired doneness, simply brush them all over with the BBQ sauce of your choice. Then close the lid and let them cook for a further 7 to 10 minutes, to cook the sauce through and get it to a thick, sticky consistency.
Once done, remove and serve. They are best served while still hot, so it's best to serve them straight from the grill.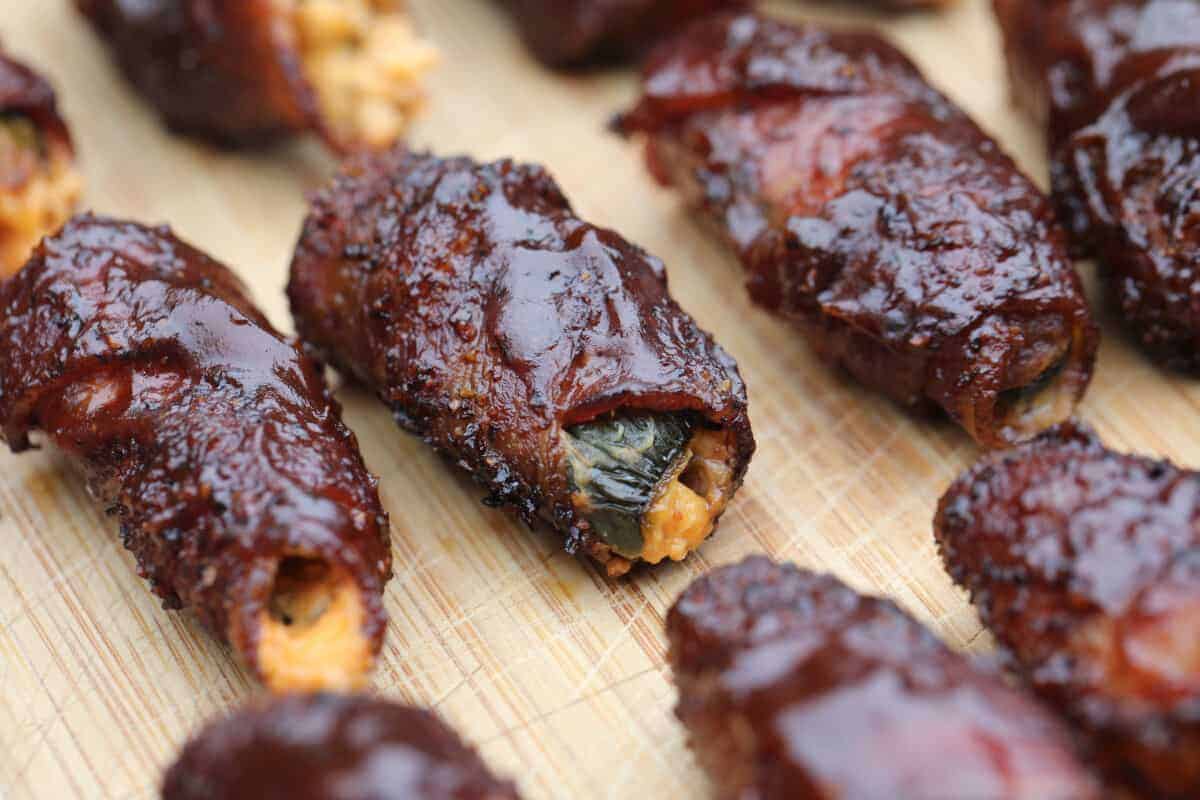 As mentioned previously, I cooked these while in fancy dress, on my way to play golf for a stag do.
Here's a couple of bonus pictures of me on the day, which might raise a laugh: One of me enjoying a taste of the finished product, and one of me on the golf course. (And please, don't ask me the score!)
Bonus points for anybody that comes up with a good caption for either of these photos and adds it to the comment section below!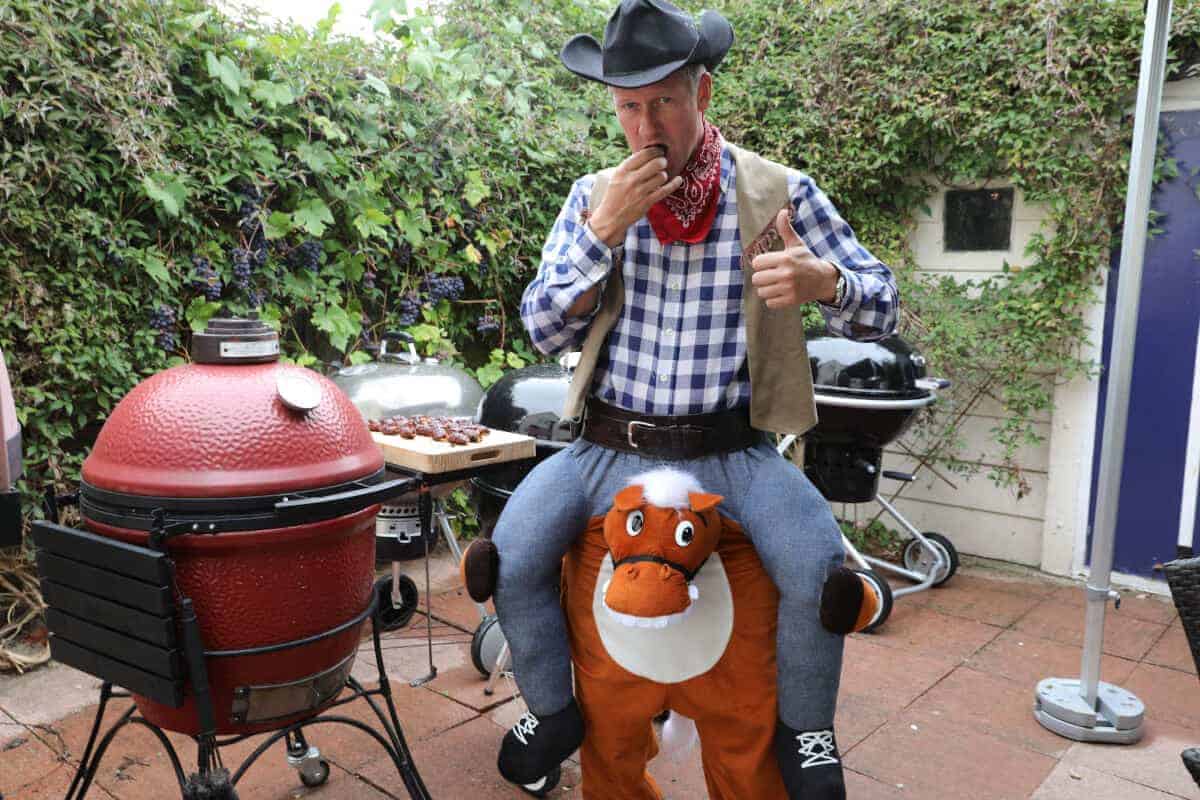 Printable Recipe Card
[tasty-recipe id="1009750″]