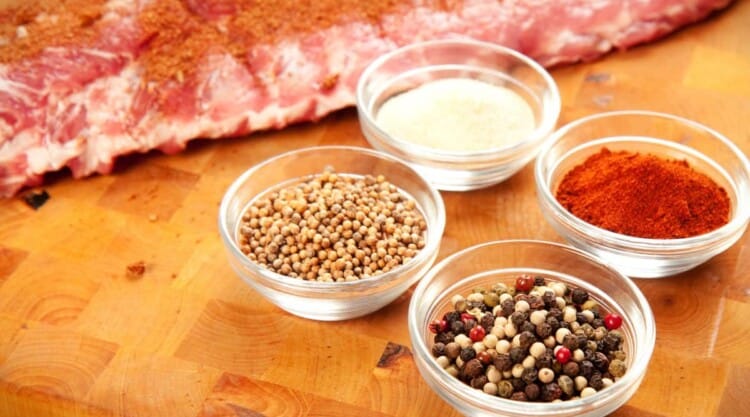 A "Rub" is a catch-all phrase for any spice mixture we rub onto meat before we grill or smoke, to enhance the flavor.
There are an infinite variety of flavor possibilities, so finding the best BBQ rubs can be difficult, with personal preference playing a huge part.
When you think of all the herbs and spices in the world, they're like colors on an artist's palette. You can mix endless combinations to get the colors, aromas, and flavors you desire.
You can do this and experiment yourself, or you can buy into the expertise of commercial rub makers.
Experimenting with infinite flavor possibilities to make your own rubs is fine, as long as you have the time and resources to dedicate towards your search for the world's greatest rub. For most of us, we just want a good tasty rub that we can buy now, so we can get to grilling.
To save you time, I've searched forums and many websites to find what people liked and used as the best BBQ rubs you can buy online. Then I broke them down into categories to help you choose the rub you need for your next cook out.
Below are the categories of rubs you will find in this guide. There are three selections in each category and five best specialty rubs.
General-purpose rubs
Pork rubs
Beef rubs
Lamb rubs
Chicken rubs
Specialty rubs
We all have our favorite herbs or spice, right? For your reference and comparison, I've included the ingredients for each one.
Note: Clicking the above links will take you to further information, current prices and customer reviews on Amazon.
Ingredients That Are Common to Most Rubs
Generally, you'll find these six ingredients in almost every rub:
Salt — Sea salt, table salt, kosher salt
Sugar- Raw, refined, brown
Pepper — white, black
Paprika — for color and flavor
Onions — dehydrated, flaked, powdered
Garlic — dehydrated, flaked, powdered
I've removed the above ingredients from the lists to make it easier for you to compare the different ingredients for each rub. If you need to see the complete ingredient list, please follow the links that I've provided in the article.
Some Things to Consider When Buying and Using Rubs
Salt can be a major ingredient in commercial rubs. It's cheap and heavy, so some big manufacturers use it to reduce costs, not to enhance flavor. Be careful with rubs that are mostly salt such as seasoning salt. A quality rub uses salt and sugar sparingly to enhance the flavor of the other ingredients and not just to add weight.
Also, keep in mind that sugar burns at 375 °F (190 °C) so if you plan on grilling meat or chicken for extended periods of time at or over that temperature, a rub with lots of sugar will burn and turn bitter.
This is important to be aware of if you plan on finish searing any meat, like chicken, on the high side of your grill.
How do you get the rub to stick to the meat? Some people let the moisture from the meat hold the rub in place, rehydrating the ingredients. Others use "glue" like olive oil or some yellow mustard.
Experiment to see which method works best for you, and be sure to check out our guide to using dry rubs correctly, including when to apply, how much to apply and more.
Best General-Purpose Rubs
These first 3 rubs are labelled 'general purpose' as they have a spice blend that's purportedly 'good for all BBQ.'
Whereas a particular rub that's formulated to enhance beef, may ruin a good chicken — and vice versa — these rubs are good for all meats and should be a stock in everybody's cupboard, for those 'just in case' times when you run out of specialty rubs.
Best BBQ Rubs for Pork
It is nearly impossible to narrow the list down to only three pork rubs. There are hundreds (thousands?) of them.
What I did was to find the brands with the most buzz in forums and reviews online. It's a popularity contest after all.
Best Rubs for Beef
Typically, you won't find much sugar in the best BBQ rubs for beef. In fact purists say you should only use salt and pepper, "Dalmatian rub," on beef.
Those two are the primary ingredients for most beef rubs along with other traditional flavorings like garlic, onion, and paprika. These are three quality rubs that work well for any beef you're cooking.
Best Rubs for Lamb
Let's face it, they've been grilling lamb in the Middle East, from North Africa, and into Turkey, for a long time and know how to make rubs that complement the meat.
Za'Atar is the name for the blend of spices and seasonings used to season lamb for grilling. You may also find it spelled Zatar, Zaatar or Zahtar.
Best Rubs for Chicken
The beauty of grilling chicken is it's so versatile. It easily absorbs any flavorings and spices you want. That's why there are so many options when it comes to chicken rubs. Like pork, chicken goes well with sweet, savory or both. Chicken becomes the delivery vehicle for your favorite rub or sauce.
I think you'll agree that these three chicken rubs are consistently good no matter how you cook your bird. In fact, these seasonings work well on any poultry from quail to turkeys.
Best Specialty Rubs
People often look for specialty spices, dried herbs, and seasoning blends because they are different. We get tired of the same old seasoning and look for something new.
Specialty rubs contain unusual ingredients or combinations that you don't typically find at a local store such as Jamaican jerk seasoning. Specialty rubs have unique flavors that make your grilling experience one to remember.
Here are some of the best and most popular.
Wrapping up this Best BBQ Rubs Roundup
I hope this list helps you discover the right rubs for your particular taste. Each one has unique flavor characteristics, even though they share many common ingredients.
Taste a tiny bit of the rub by itself before you use it. That way you have a good idea of how sweet, salty or spicy it is before you decide to add other ingredients or mop with a sauce at the end.
Did I miss any of your favorite rubs? Let me know what you think and which one is your preferred rub or seasoning.
Happy grilling!