When it comes to smoked brisket, a good flavored rub can make all the difference, taking 'just a piece of beef' to a whole new level. So today we take a look at our favorite and best beef brisket rub recipes, as well as recommend our favorite commercial brisket rubs.
Since the days of cavemen, we've been experimenting with different leaves, roots, and berries to make our grilled meat taste better. We discovered flavorings like salt, honey and spicy ingredients that we now take for granted.
It must have been one brave soul who ate the first hot chili pepper.
Today, we have hundreds of spice mixes or "rubs" from which to choose.
We can make our beef brisket a little sweet, salty, or spicy and every flavor in between. However, there are two primary ingredients which you will find in almost every brisket rub: Salt, and sugar.
What Kind of Salt is Best?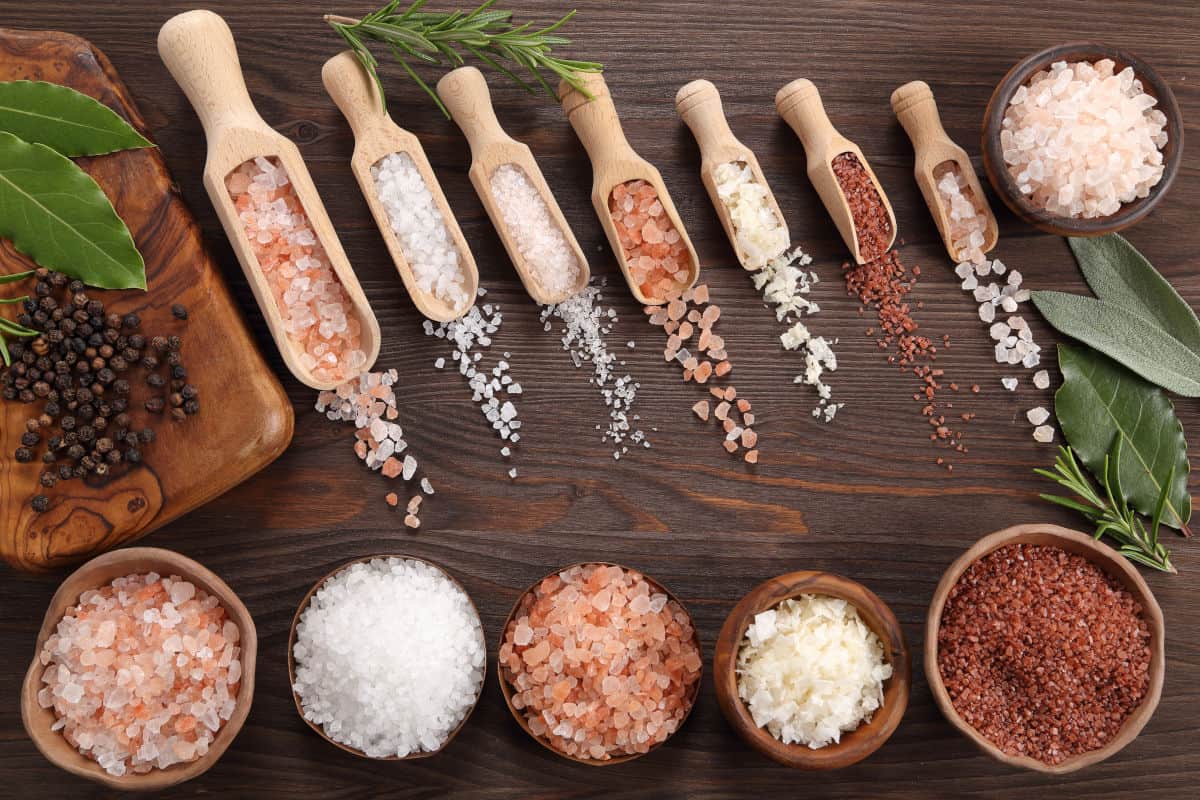 You'll find three types of salt in either commercial or homemade rub:
Table salt
Sea salt
Sea and Kosher salts have larger grains than fine table salt.
Kosher salt is half the weight of table salt by volume because they are flakes, not tiny crystals. That means a cup of kosher salt is half as "salty" as a cup of table salt. That's good to know if you are making your own rub.
Kosher salt also dissolves faster, and you can feel it in your hands while rubbing the brisket.
There's no tangible difference between sea salt and Kosher salt when it comes to making rubs.
What About Sugar?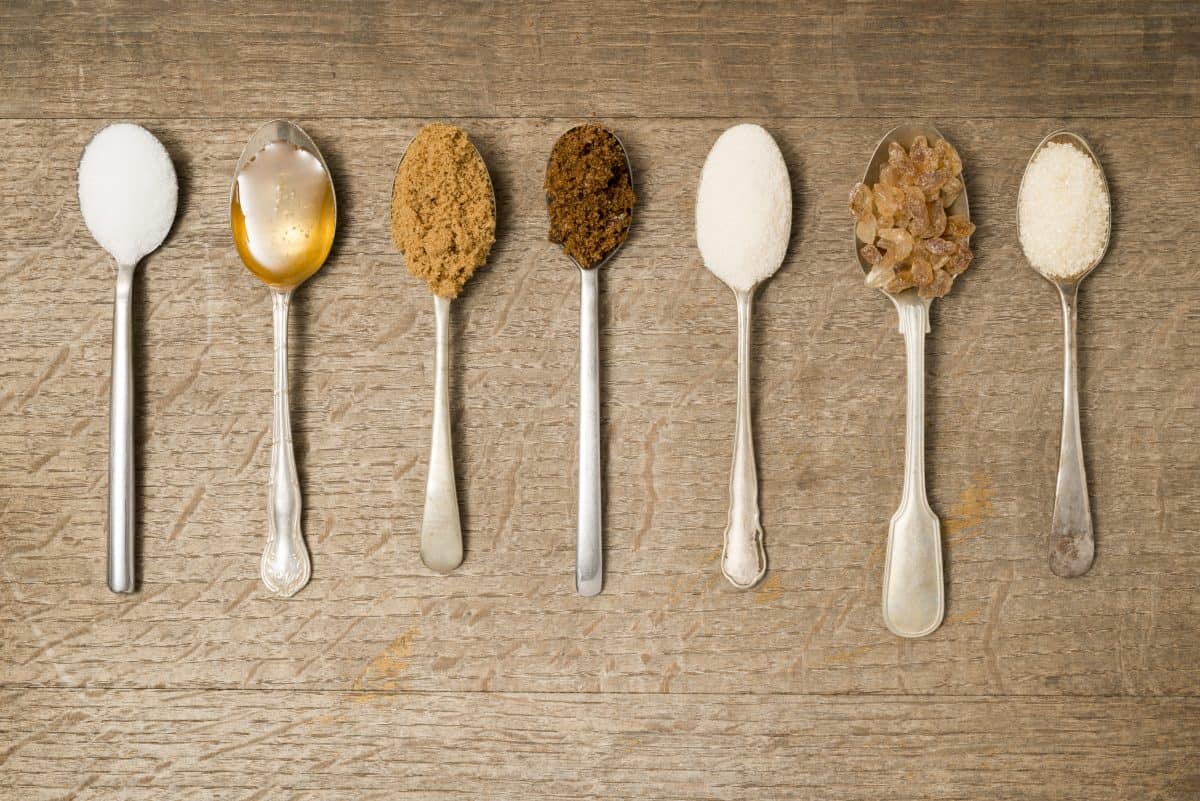 The three most popular types of sugar used in rubs are:
Refined white table sugar.
Brown sugar.
Of the three, turbinado is the one found in the best beef brisket rub recipes and is what you'll find in most commercial rubs.
That said, many Texas style rubs exclude sugar altogether. Sugar and beef aren't a good match. Sweet pork or chicken yes, but beef, no.
However, you will see sugar in some rub recipes to help balance and enhance the flavors of the salt and spices. You'll just have to try a few and judge for yourself if you like the sweetness with beef or not.
The next question is:
Should You Make Brisket Rub Yourself or Buy it?
The answer depends on how much time you like to spend shopping for ingredients, experimenting with flavors and how often you smoke?
If you like to play with your food, experiment with flavors and do a lot of smoking then make your own rubs. You can keep the best rub recipes in canning jars for a long time, and make sure to note down the ingredients and quantities somewhere, so you can recreate or tweak the flavor profile at a later date.
Conversely, if you hate the mess of mixing 4 to 20 seasonings together in your kitchen, buying a commercial rub is the best way to go, for which we review a few below, or you can check out our guide to the best BBQ rubs for more options.
Make Your Own Beef Brisket Rub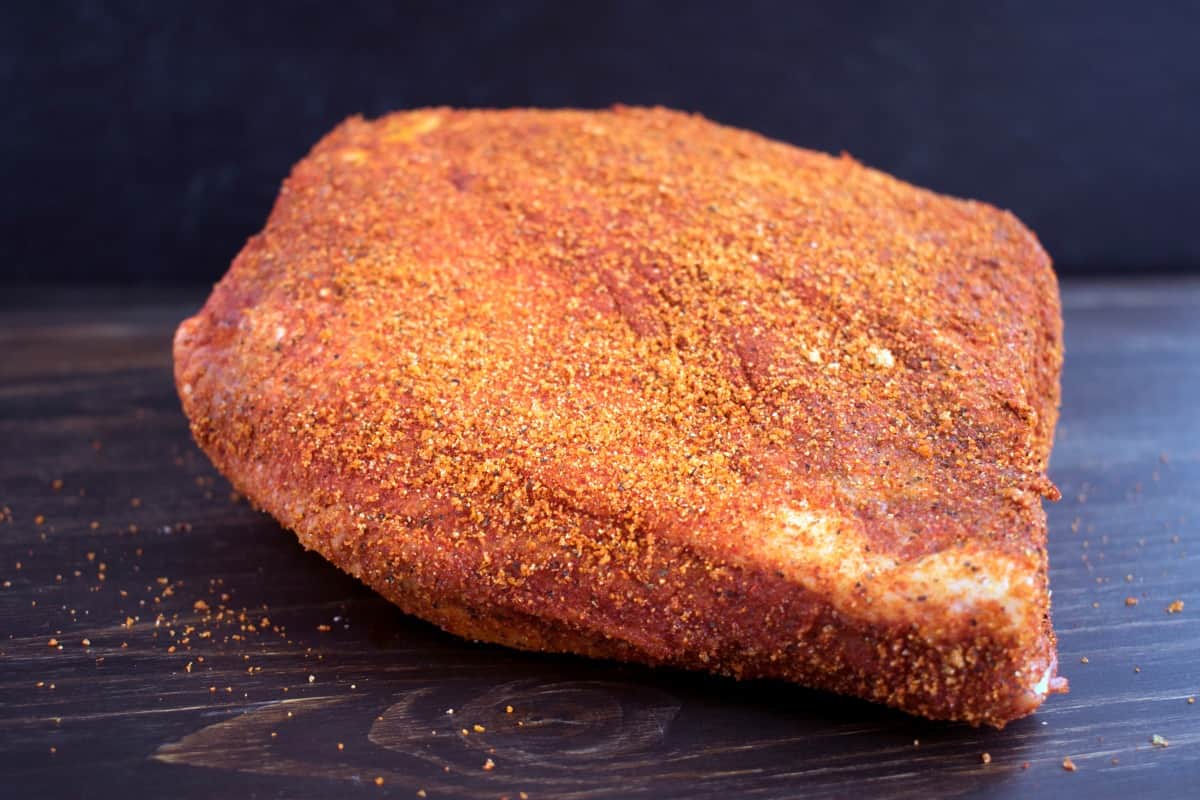 I've selected three DIY recipes that can, and have won awards. Pitmasters and backyard chefs use these three rubs all over the country. You'll get some great smoked brisket with any one of them.
I've also included the very simple and classic 'dalmatian rub.'
Big Bad Beef Rub by Meathead Goldwyn
This is a traditional Texas-style brisket rub developed by "Meathead" Goldwyn of amazingribs.com.
The testimonial posted on his site is what sold me. It comes from a California restaurateur who said his brisket won 'best beef' in the Sonoma County Harvest Fair this year (2010) and that he served over 8,000 pounds in 6 months using this recipe.
I thought that was a great testimonial and a recipe worth sharing. This recipe makes about half a cup and preparation time is about 10 minutes
Ingredients for Big Bad Beef Rub:
Coarsely ground black pepper
Granulated white sugar
Onion powder
Mustard powder
Garlic powder
Chili or ancho powder*
Chipotle or cayenne powder
* Regarding chili powder, Meathead recommends ancho chilies for flavor and chipotle for heat. If you can't find chipotle, use cayenne.
Method: Mix all the ingredients, then store the rub in a tightly sealed bottle. It should be good up to a year. Taste it first.
For ingredient quantities and more detailed instructions, head on over to Amazingribs.com.
Shooters Copperhead Rib Rub
This particular rub recipe has been around the meat smoking forums since 2009.
It has a lot of positive buzz because it tastes great with brisket and works well with game. It is a bit salty so don't put it on heavily. On butts and briskets, you can dust them lightly again before smoking.
Here are the ingredients for Shooters Copperhead Rib Rub:
Brown or raw sugar*
Hungarian paprika
Tony Chachere's Creole Seasoning
Season salt
Chili powder
Garlic powder
Ground black pepper
Onion powder
Dry mustard flour
Crushed Fennel seed
Chipotle powder
Red pepper flakes
Method: Blend all together and keep in a tightly sealed jar.
*Texas purists will omit the sugar in this recipe for their briskets. Either way, you have a good rub that will make fabulous brisket.
For ingredient quantities and more detailed instructions, head on over to SmokingMeatForums.com.
Beef Rub by Kevin Haberberger
Kevin said he won a first place and a couple of top 20 finishes using this rub. It has a coarse texture which makes a crusty BBQ bark on your brisket and a nice spicy flavor too.
Ingredients for Kevin's Beef Rub:
Sea Salt
Turbinado sugar*
Black pepper
Chili powder
Onion powder
Garlic powder
Oregano
Ground mustard
Cayenne pepper
Method: Combine all ingredients in a small bowl. Simple actually, just the way I like it.
*Again, Real Texas style brisket lovers will shun sugar in their brisket rub, but it's won awards so try it first and then make a decision.
For ingredient quantities and more detailed instructions, head on over to ExtraordinaryBBQ.com.
Dalmatian Rub
I must mention here; there is one more homemade rub that is as simple as it gets, and loved by thousands of brisket fans. It's "Dalmatian Rub" or simply, salt and coarse black pepper in a 50/50 mix.
Do you think it's too plain? Think again!
Aaron Franklin owns Franklin's Barbecue in Austin, Texas. It is a world-famous barbecue restaurant, and Aaron won the James Beard Foundation Award for Best Chef, Southwest in 2015.
The infamous Franklin BBQ brisket uses salt and pepper on his rubs, yet crowds stand in line for hours, six days a week, to taste his brisket that sells for $22 a pound.
Take a look at his video with him trimming a brisket, and rubs his award-winning briskets. Sometimes the simplest methods are the best.
However, if mixing up batches of rub and getting pepper up your nose is not your style, go for a quality commercial rub. They are consistent, taste tested and proven. Plus, you just grab and go.
Most competition pitmasters rely on one or more commercial rubs. They use them as a base then add their own special touch or use a combination of rubs.
Save Time and Buy a Commercial Beef Brisket Rub
John Henry's Texas Brisket Rub
John Henry has created a traditional Texas style brisket rub that uses no sugar. He grew up in East Texas with their long-standing tradition of flavors.
In 1989, John was asked to personally prepare President Bush's presidential inaugural dinner, cooking BBQ for President Bush and 20,000 guests. John also accompanied the president to Beijing, China to make his Barbecue for honored guests there. This rub flavored meat for presidents and premiers on two continents.
I think this is a good one to keep stocked for any brisket, tri-tip or steaks you want to grill or smoke.
Ingredients: Salt, chili powder, spices, paprika, smoke flavor, garlic powder, onion powder, lemon oil.
Signature Edition Black OPS Brisket Rub by Oakridge BBQ
Oakridge BBQ sponsors a few teams who compete all over the country. They developed this rub just for brisket. The reason they call it "Black Ops" was the secrecy they used while testing the rub in competitions. They claim to have, "Over 2,500 Top 10 Awards in Professional BBQ Contests in under 3 Years!!!"
The exotic flavorings used are coffee and Shiitake mushrooms. This flavor combination alone is probably what raised the judge's eyebrows. With so many positive comments, I had to add it to the list here.
Oakridge makes this rub in "hand-made micro-batches" which is something I like because they can control the quality and freshness better than other makers. You'll find that it has a nice balance all around between the hot, salty and sweetness.
Another thing I have to mention, they give 10% of the profit from the sale of this rub directly to support Wounded Veterans and their Families. That's a bonus in my book.
Ingredients: Sea salt, chilies (including paprika & chipotle), garlic, black & white pepper, onion, raw cane sugar, coriander, ground Bolivian Fair-Trade Org coffee, Shiitake mushrooms, & other herbs and spices. No MSG, fillers, artificial ingredients, anti-caking agents or gluten. 100% natural and nut allergy safe.
Moola Beef Rub by Slap Yo Daddy BBQ
TLC BBQ Pitmasters Head Cook, Harry Soo is the owner of Slap Yo Daddy BBQ. He has won many Grand Champions in the U.S. And even in the U.K. Part of his success is his signature Moola Beef Rub.
This rub has been competition tested and won 1st Place KCBS Ranchers Reserve Brisket Cup 2010 and 1st Place KCBS Ranchers Reserve Beef Cup 2011.
Moola Beef Rub uses powdered Shiitake mushrooms to bring out the flavor of beef. But, it also has Worcestershire powder and maple sugar that adds a unique sweet and savory flavor you won't find in other commercial blends.
Ingredients: Sea salt, maple sugar, granulated garlic, cane sugar, chili, paprika, Worcestershire powder, black pepper, shiitake powder, celery seed, citric acid, cornstarch, soy lecithin, spices, natural flavors, silicon dioxide (anti-caking). No MSG or gluten.
Briskets Need Rubs Whether You DIY or Buy
Every pitmaster will tell you that a brisket is the most challenging piece of meat to smoke properly. It is thick on one end, fat on the other and tough like chuck meat. They require long, slow cooking times and need help from rubs to retain moisture and enhance the beefy flavor.
Making your own signature rub can be satisfying knowing that you've created a unique blend of spices that you and your guests enjoy. To be consistent, you must be meticulous in keeping your recipe organized. Otherwise, if you made the perfect rub but didn't write it down, you'll have a hard time recreating it.
There is no shame in buying a good rub either. It saves you time, the expense of gathering ingredients, and they have the consistent flavor you want. Mix two or three brands together and try different blends on each half of your brisket as a taste test. After a few briskets, you'll find the ones you love the most.
And if nothing else, there is always good old salt and pepper. They will never let you down.
Finally, check out our article on how to use dry rubs for the low down on how much to use, when to apply it and more.
I hope the recipes and information help you on your journey to brisket nirvana. Pass this along to any brisket lovers out there and send me some feedback in the comments below about rubs you liked and didn't like.