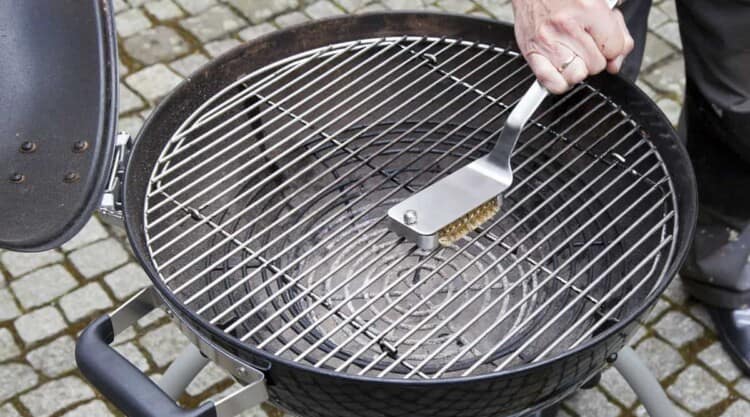 In this article, we're going to cover my recommendations of what to look for in the best grill brush or cleaning tool, and take a close look at a few products to help you in your search for the right cleaning tool for your type of grates.
When you own a grill, it's also essential that you equip yourself with the best grill brush and cleaning tools out there. Old, burnt crumbs and grease can make your freshly grilled food taste awful. Not to mention the health hazard they present.
Growing up, I don't think my Father ever replaced his grill brush. We always had a cheap propane grill, and he always used the same brush. His was old and caked in so much grease and sauce that the bristles were completely covered and there were grooves in the grease/sauce mixture from cleaning the grill grates.
I asked him once why he never bothered to replace it? He told me he was planning to get a new grill in the spring, and the stores usually give out a new cleaning brush as a bonus.
In hindsight, I think he was just trying to get me to drop the subject, because I've never seen a grill come with a free brush — especially not a cheap, $100 grill from the hardware store such as he bought.
Anyway, enough chit-chat, let's get into the reviews…
At a glance: The Best Grill Brushes and Cleaning Tools Discussed in our Guide
Best Bristle Free Grill Brushes:
Best Grill Brushes:
Best Scrapers, Steam Cleaning Brush and Brick for a Griddle:
Note: Clicking the above links will take you to further information, current prices and customer reviews on Amazon.
Something for Everyone — but No Soaps or Sprays
This article doesn't discuss specific cleaning products—we have a separate article dedicated to the best grill cleaners.
Here, we talk about the wide range of gadgets and tools that are available to help keep your grill clean. The most important thing is that the tool removes the food residue from the grates, but without causing damage.
Another thing to look for is durability. Grill cleaning tools can wear pretty quickly if they aren't made from strong materials. Unfortunately, another health hazard is ingesting pieces that have broken off from your cleaning tool.
It's estimated that between the years 2002 and 2014, around 1,700 Americans went to the emergency room due to ingested wire bristles. One in four of these got so sick they were admitted to the hospital (source).
So, you want to select tools that are strong and durable and will not leave broken pieces on your grates to potentially contaminate your food.
With that, next up are the top grill cleaning tools available today.
Best Bristle Free Grill Brush — Our Top Three Recommendations
Over recent years there's been some quite some noise in the BBQ world about the dangers of bristles coming off grill brushes, sticking to grates, making their way into food and then into peoples stomachs, causing injury and ultimately surgery to remove them.
With high-end, well-made, top-quality grill brushes it isn't really a problem as the bristles do not come loose. But with cheaper, lower quality products this is certainly something to worry about.
There are precautions you can take, such as wiping down your grates with an oil soaked kitchen towel after brushing, and then inspecting to make sure no bristles are present, but the safest course of action is to do without bristles altogether.
So for those of you who really must do without bristles on your grill brush, here are two of the best bristle free options we're happy to recommend.
Kona 360 Clean Bristle Free Grill Brush
1
This brush is designed for people who are both worried about bristles getting stuck to their grates, and want a product that is safe to use on their ceramic or porcelain coated grates.
The Kona 360 clean does not feature any bristles. Instead, it features a continuous spiral of metal that can be used to get in and around the grill grates with ease.
In addition, it features a long handle and leather strap. It's also gentler than typical metal bristle brushes and can be comfortably used on ceramic or porcelain grates.
One thing the manufacturer does not do is tell us what materials it's made from. If it is not made out of stainless steel, it may easily rust.
Pros
Long/sturdy handle
Bristle-free design
Safe to use on any grill grate surface
Metal hook
10-year guarantee from the manufacturer
Grill Grubber Bristle Free BBQ Cleaning Brush
2
This brush is designed for people who are both worried about bristles getting stuck to their grates, and want a product that is safe to use on their ceramic or porcelain coated grates.
The Kona 360 clean does not feature any bristles. Instead, it features a continuous spiral of metal that can be used to get in and around the grill grates with ease.
In addition, it features a long handle and leather strap. It's also gentler than typical metal bristle brushes and can be comfortably used on ceramic or porcelain grates.
One thing the manufacturer does not do is tell us what materials it's made from. If it is not made out of stainless steel, it may easily rust.
Pros
Long/sturdy handle
Bristle-free design
Safe to use on any grill grate surface
Metal hook
10-year guarantee from the manufacturer
Cook Time Safe Grill Brush – Bristle Free
3
Sometimes, bristles just aren't enough, especially if you're a frequent griller. This is why many enthusiasts opt for a brush and scraper combo. These will usually get the job done as expected, but it's still important to find one with the right material.
That's why I've chosen to include this brush and scraper combo from Grillart. This combination cleaning tool is bristle free and durable. It's made from hard-wired stainless steel.
When taking a look at both the brush and scraper, you'll notice how wide and thick they are. This enables you to get the greasy gunk off even faster. But they're still flexible enough to reach in between the grates.
Additionally, this cleaning duo is compatible with different types of grills and smokers. It won't cause damage if you use it properly and follow the manufacturer's instructions.
The next feature to mention is the long handle. It's 18 inches long and made from durable plastic that won't melt away. And it will keep your hands a safe distance from the hot grill while you're cleaning.
Grillart recommends that you begin by preheating your grill. Then when it's warm, use the scraper to remove the first layer. After that, dip the brush side into some water, and proceed to clean the grates.
Pros
The brush and scraper combo.
Bristle free.
Thick wires and a wide scraper.
The 18-inch-long handle.
Cons
May not work as efficiently on wider
If a brush/scraper combo tool is what you're looking for, I can highly recommend this one from Grillart. It's lightweight yet durable and will get the job done.
Best Grill Brush and Scraper Combos as Recommended by Us
Many times you'll find an incredibly hard, baked-on crust on your grate when you go to cook. It can be so hard in fact, that a standard brush may fail to remove it. This is when you'll want a scraper in your arsenal of grilling accessories.
With a scraper, you can forcefully remove the worst of the baked on food with ease, before then using your brush to finish the job.
Following are 4 great grill brushes with built-in scrapers that we're happy to recommend.
Grillinator Dual Direction Bristle Brush and Scraper
4
This is a real high quality, premium product, made from durable materials, designed to last — and even has a replaceable head to keep costs down when the bristles are worn and need replacing.
It is a lifetime guaranteed, stainless steel handled brush, with a contoured grip for comfort during use.
The main selling point of this brush is it's patented bi-directional bristle head, that has two sets of bristles arranged in a perpendicular design, so as you stroke across the grate it cleans in 2 directions at the same time, potentially cutting out half the required work.
For those who fear bristles working lose and getting stuck to the grates, they are very tightly bound and rarely come loose (though of course, always inspect your grates before cooking!).
The handle is 18 inches, so keeps your hands safely away from the hot grates, and has a built-in bottle opener at the end which is a nice touch.
Finally, the tip of the head is a scraper that is very effective at removing hard baked on residues.
This brush is certainly one worth adding to your shortlist!
Pros
Lifetime guaranteed, durable stainless steel design
Patented bi-directional brush design that cleans grates in half the time
Long handle to keep hands away from hot grill
Comfortable grip, with built-in bottle opener
Integrated scraper
Cons
None — We struggle to find anything bad to say ?
Best Grill Brushes as Recommended by Us
Personally, I still use a bristle brush on my grates. I just find they do a better job, are cheaper and tend to last longer. Or maybe I'm just stuck in my ways?
Anyhow, I usually replace mine once or twice per year, and after going through 15 to 20 in my life, I've been able to come up with a short list of requirements when I set out to purchase a new one:
I want a long handle, so I don't burn my hand.
I want the closest part to the grill to be either wooden or metal, so not to melt onto the grate like plastic might.
I want the bristles to be stiff and secure — or not have bristles at all
And finally, I want to be able to hang the brush up when not in use.
Below is a selection of brushes that meet these requirements, and I give my thoughts on each.
Colibyou Grill Brush cleaner
5
The Calibyou 18" Grill Brush checks off all the boxes on my list when it comes to the must-haves; it comes with a long handle, the wire bristles are stiff and secure, the end of the handle is metal, and you're able to hang it up.
It also has a unique advantage of coming with three brush heads. This increases the surface area you can clean, so in theory, you will be able to clean your grates a little faster as well.
There are a couple of detractors that I noticed: the leather strap that is supplied appears to be a little flimsy and may not last very long, and the handle is not galvanized or stainless steel and may rust when left outdoors.
Pros
Long handle with metal on end
Sturdy bristles
Large cleaning area
Cons
Leather strap may not last very long
Metal handle is not stainless and may rust
Weber 12-Inch 3-Sided Grill Brush
6
Weber have been in the grill business since George Stephen invented the iconic Weber Kettle in 1952, so it's no surprise to see one of their brushes make this list.
The 6494 12-Inch 3-Sided brush does indeed come with stiff, sturdy bristles, a handle that is sturdy and has metal at the end, and a hefty leather strap to hang it up with.
The unique design allows the user to use three sides when cleaning, so the brush can be tilted and used to get into hard to reach angles.
On the down-side, the handle is short. When they say 12 inches, they mean total length — not just the handle. So you may end up getting a little closer to the fire than you perhaps wanted to.
I think this model may best be used if you have a small travel grill and want to be able to easily pack up your brush to take with you.
Pros
Sturdy/Stiff bristles
Metal on end of handle
Strong leather strap to hang up the brush
Compact for taking on trips
Cons
Shorter brush may result in losing a few hairs off your forearms
The following are grill cleaning tools, but not in your standard, brush-like typical sense. Anyway, check 'em out! They're super effective.
Universal Barbecue Grill Scraper
7
Scrapers are great in many ways. One of the main advantages is the fact that there is zero risk of ending up with wires in your food.
That said, sometimes when working with a scraper, you'll need to put in a bit more effort. So it's important that the material holds up.
The Universal barbecue grill scraper does just that. It's simple, yet amazing at getting the grates truly clean. This handy little tool consists of an aircraft grade aluminum shaft with a wooden handle and brass scraper disc.
The heavy-duty aluminum shaft is ready for extra pressure when faced with stubborn grease. The scraper has a universal brass head, suitable for a variety of grate racks from the top manufacturers.
It might take a bit longer to cover everything since it doesn't have a wide span. But it's well worth it since you only have to go over it once or twice before the grates are clean.
One feature I'm sure you will love is the wooden handle. Combined with the shaft, it measures a generous 16 inches. This helps you to get a better grip when the grease decides to fight back.
The scraper itself weighs in at just four ounces, making it lightweight to use. One downside of cleaning your grill is that it can get tiring on the arms. Fortunately, with a lighter tool, you won't end up with sore biceps.
You can easily use it on either hot or cold grates. Simply glide it across the grates, turn it, and go back, then switch to another grate. Once in a while, stop to wipe off any gunk from the scraper.
Pros
Sturdy aluminum shaft.
Long wooden handle.
The universal brass head.
It's lightweight.
It comes with a lifetime warranty.
Cons
It might take longer to finish the clean.
Can scratch the grill if you use too much force.
Doesn't fit as well for some rounded grates.
If you don't mind taking a little longer to finish your cleaning, or putting in a little extra effort, then this is for you.
Woody Paddle Grill Scraper
8
Wooden scrapers may seem outdated, but they remain a very popular tool to have beside your BBQ. The Woody Paddle grill scraper from The Great Scrape is a hardwood scraper, with a long handle to protect your fingers while cleaning.
This one is the longest scraper in the Great Scrape collection, measuring in at 20 inches long. Other lengths and widths are also available.
The handle is the perfect length, giving you enough room to place both hands for extra grip.
I definitely have to praise the material, which is a blend of solid red oak and beech woods, topped with a coating of all-natural mineral oil. The oil is 100 percent free of toxins and is safe to use around food. This scraper is really a natural and safe alternative for keeping your grill clean.
Now don't let the straight design fool you. As you use it, the scraper will adjust quickly to your grill. The tip is extra thin, speeding up the formation of grooves as soon as you begin to use it.
One downside with wooden scrapers is that at some point, you'll no longer have anything left. Fortunately, the manufacturer has already thought about this.
Further up the paddle, you'll notice that it gets a bit thicker. This is to slow down the groove formation once you've gotten that far.
To create the grooves, Great Scrape suggests you heat up the grill to get it really hot. Then begin to work in lanes, back and forth. Apply firm pressure, at a slow pace.
Repeat this motion several times. Remember to align the grooves each time. Otherwise, you'll end up with multiple grooves, which won't work.
Pros
Long handle helps to get a better grip.
The thin tip and thicker top of the paddle starts the formation of grooves quickly and slows down later on.
All-natural food safe material and coating.
Cons
It can be awkward to handle until you get used to the shape.
If you're a frequent griller, it probably won't last too long.
Wooden scrapers are amazing, and the Woody Paddle is no different. Once you've created the grooves, it will get all the gunk from your grill without leaving toxic traces behind.
Grillfloss Ultimate BBQ Cleaning Tool
9
Floss is excellent for getting all the grime in between our teeth where the brush can't reach, so why not try a similar concept for your grill? If you're looking for something different yet effective, check this one out.
Don't worry, you won't be using a piece of string to floss the grease away. This tool is made from stainless steel that will last for years to come, even through rigorous cleaning and bad weather.
A notable feature is the head of the tool, which can be adjusted to fit four different-sized grates. It's important to mention that this tool only works with rounded grates.
What's so good about this scraper is it will get everything off without leaving any bristles behind. It also cleans the surface faster and with less effort than some other tools.
Another amazing feature is that you can turn it or angle it, to get all the sides clean. Additionally, the handle is 20 inches long. That makes it ideal for cleaning a hot grill without the risk of burnt fingers.
To use the GrillFloss, it's best to get your grill warmed up first. Then simply match the head of the tool with the size of your grates and start scraping. Now and again turn it to get another side.
Pros
The adjustable head ensures a deeper clean.
It's easy to handle and turn to the side.
The 20-inch-long handle keeps your hands safe.
Cons
Works only with round grates.
You may need to use a brush afterward.
The head has been reported to loosen or fall off, but customer service will provide a replacement.
If you're looking for the perfect tool for your rounded grates, then look no further. The GrillFloss could be exactly what you need. It may require some extra patience at first, but it seems to be well worth it.
Why Cleaning your Grill is Important
There are many important reasons to clean your grill, not least because grease and oil can turn rancid, and if left on your grates will impart a bad taste on your food and could even result in flare-ups and a grill fire.
When you're done cooking, you will probably have a build-up of black crust. This is carbon that has burned onto your grates, caused by a combination of fat and meat that stick there, and barbecue sauce. It tastes like burnt toast, and you don't want it on your food.
If the fear of rancid grease and the flavor of burnt toast on your food doesn't make you want to clean your grill, just remember: All that dirt can attract insects.
Would you like a side of ants to go with your burger and weenies? I didn't think so.
Types of Grill Cleaning Tools
Here are some of the most commonly available different types of tools available.
Grill Brush
A grill brush is one of the best and favorite tools among BBQ owners. However, make sure to look for those that are either extremely high quality or bristle-free. Otherwise, you could end up with steel in your steak.
Another useful feature to look for is a long handle. If the handle is too short while you're cleaning a hot grill, you could burn your hands.
Grill Scrapers
These are usually made from wood, generally oak. When buying a wooden scraper, be aware that they need time to customize to the grates, with their shape changing during the first few uses to perfectly fit to the spacing in your grates.
One of the benefits of a wooden scraper is you can easily turn it on its side and scrape the gunk between the grates, making for a more efficient clean.
Grill Stones
Similar to the wooden scraper, the stone will adjust to the grates the more you use it. A stone will wear down through use, so there will be no waste.
You might worry it could be difficult to clean hot grates since your hands are going to be close. However, you can find cleaning stones with a long handle, similar to a brush.
Things to Look for in a Grill Brush
When it comes to a good grill brush, there are several factors that will help determine if it will make for a good barbecue cleaning tool:
The Right Brush for your Grill Grate
Most grills have either a stainless steel or cast iron grate, and truthfully you can get away with any type of brush with these grates.
If you have a grate that is coated in either porcelain or enamel you're going to want a gentle metal, like brass, to not chip your coating.
If your coating starts to chip, you're going to start seeing it come off on your cooked food — which is just gross — as well as your grates losing their 'non-stick properties' and just looking a bit unsightly, pock marked and not in top shape.
Long Handle
This may seem obvious, but I'm constantly surprised by the number I see with short handles — i.e. less than 6 inches.
Grills are hot! The longer the handle the further away from the hot cooking surface your hand is going to be and the less chance you have of being burned.
Some Way to Hang it up
You're going to want to be able to store your brush.
Most grills come with hooks on, so you can hang your brush and other utensils. So either a sturdy leather string or metal loop to hang yours on should be a must.
You Might Also be Interested in…
Sturdy Bristles
It's been reported in the media lately that many people are having to be hospitalized due to ingesting metal bristles left on their grates from their brushes.
Obviously, you don't want that to happen to you or your guests. So you should aim to find one with very sturdy bristles that will not easily come out.
Regardless of which you buy, if it has bristles, you should make sure you have a close look at your grate before you cook on it to inspect for loose bristles.
Integrated Scraper
We all forget to clean our grates after use occasionally … Don't we? Well, I do.
When this happens, you can end up with a really solid, hard to remove crust on your grates that a brush is just not the right tool for. This is when you need a scraper.
A scraper is just as it sounds: It's a solid tool, sometimes sharp, sometimes curved to fit around individual bars of your grate, that you can use to scrape away very hard baked on residue that a brush alone isn't able to tackle.
Many brushes on the market today have a built-in scraper, and for not much extra cost. So it's wise to look for a product that has a scraper included. Trust me, you will find it useful.
Things to Avoid in a Grill Brush
Just as there are certain aspects that make a good grill brush, there are certain things you want to avoid:
Plastic Near the Cleaning Area
Many grill brushes have plastic handles. While that is all fine and good, many also have plastic that runs right down to the bottom of the brush where the bristles are attached that gets very close to the heat.
The downside to this is obvious: plastic melts. Even if you're careful, you can still accidentally touch the hot grate with the plastic and have some melt off.
The last thing you want to do is get melted plastic on your burger!
Gimmicks
As with many products these days, there are lots of unnecessary gimmicks when it comes to grill brushes. Most gimmicky models are poorly made and should be avoided.
I've seen everything from "robot grill cleaners" to plastic brushes that have a squirt bottle attached to them (water makes the bristles rust, plastic melts, and the water inside the brush can freeze in the winter).
Trust me, if it seems like it's a hokey gimmick, avoid it. The only 'extra' we can recommend is a built-in scraper.
Also See
Before rushing out to buy a new one, are you sure your current brush doesn't have life left in it? Check out our guide on how to clean a grill brush to be sure!
How to Clean Your Grill Grates
The below video by UltimatePatio.com does a great job of describing how to properly clean your grates.
It's best to clean your grill while the grates are hot. Whether you've just finished cooking, or are just starting, you should turn your burners on high and close the lid for 10 – 15 minutes.
This way, a lot of leftover grease will burn off, and what is left will harden and turn into carbon. This carbon will be much easier to clean off with a brush.
Once you have a hot grill, clean your grates by using a brush with strong bristles. The act of cleaning is pretty self-explanatory; simply apply force with your brush to the grates to remove any leftover carbon and grease.
For further information and detailed step-by-step guides on cleaning grill grates, you can see our two articles:
Conclusion
When choosing a cleaning tool, you need to think about the size and shape of your grate and the effort you're willing to put into cleaning.
Like any other piece of equipment, your grill must be maintained on a regular basis. By owning a quality grill brush or cleaning tool, you're able to regularly clean your grate surface and keep it free of rancid grease and built up carbon.
While any of the models listed above would be a welcome addition to my deck, I would have to conclude that either the Kona Safe Bristle Free Barbecue Brush or the Grill Grubber Bristle Free Brush are our most highly recommended and in our opinion, the best grill brushes in our roundup.
The bristle-free designs mean there's zero chance of bristles becoming stuck to your grates and eventually ingested with your food. They also feature long/sturdy handles and are durable and robust.
No matter what you pick, all the brushes and scrapers above will do a great job of keeping your grates spotless!