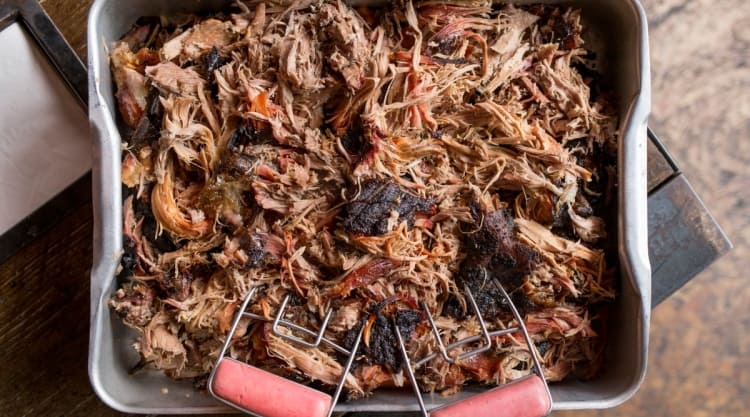 Elsewhere on the site, we have an article explaining how to reheat pulled pork. But, that's putting the cart before the horse.
Before reheating, you of course have to know how to pull pork, how first to cook it and then how to shred it.
Shredding pork isn't exactly rocket science, but it's a task that can be quite easy, or hard, depending on the technique — or lack of — that you use.
Yes, like so many things that seem like no-brainers, there is a method involved in creating pulled pork, and that's precisely what you'll learn in this guide.
This is a short article because the process is straightforward, but we will show you the two most common, traditional methods, as well as one involving an electric drill. Crazy, huh?
Ready? Let's dig in.
What is Pulled Pork?
A staple wherever barbecue is served, pulled pork starts as a (usually) bone in pork butt (or shoulder), that's given a dry rub before being smoked low and slow until it's fall apart tender.
It can be done indoors as well atop a stove in a Dutch oven, inside a traditional oven, or in a very large slow cooker. Though of course on this site, we recommend using your BBQ with few chunks of smoking wood for pulled pork, to elevate the flavor to something incredible that you cannot recreate cooking indoors.
Once the butt is cooked, and before it cools, the meat is pulled or shredded. Like coleslaw, only browner, warmer, and ridiculously delicious.
It's often served with pickles or coleslaw as is, or heaped inside a bun.
What Does it Mean to "Pull Meat"?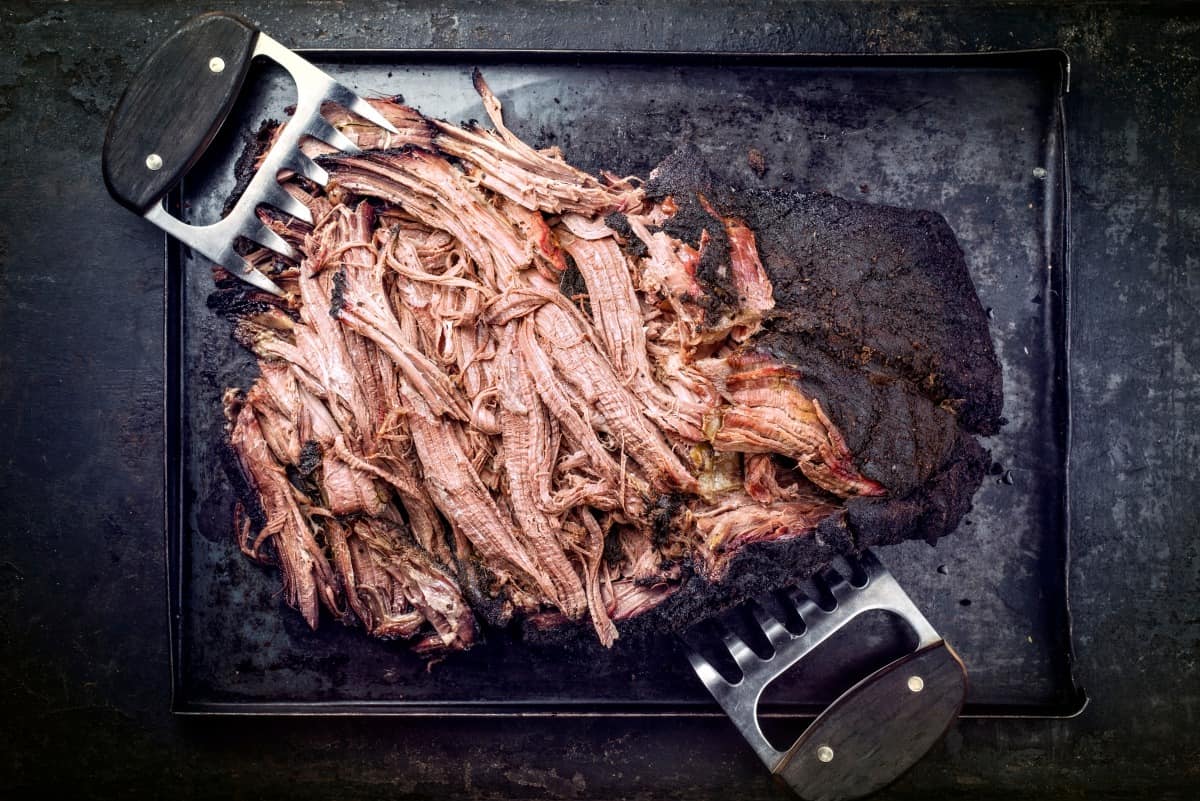 Using one of a handful of techniques, meat is separated from the bone, skin, and fat. But why is it called pulling and not shredding?
While in my research I never found a definitive source, apparently hands pull things apart, while machines shred things. Separating meat into bundles of muscle fibers was originally done by hand, so — it gets pulled.
When pulling, the meat is broken into long strands by (heat-protected) hands or tools.
Usually, pork is the meat-of-honor, but pretty much any meat or poultry can be prepared in this way. And not just the standard beef, chicken, turkey; J. Kenji Lopez-Alt, culinary director of SeriousEats, was hard hit by a craving for pulled lamb, which turns out to be not as novel as he thought.
Gloves are an essential tool in meat pulling because the meat shouldn't cool too much below its cooking temperature. The cooler it is, the harder it will be to pull because of the congealing and hardening of fat and connective tissue.
Pulling while hot enables you to serve meat which has been cleanly separated from fat, tissue, and skin, leaving the least amount of fat which simply drains away.
Because you're working with the grain, the meat will naturally come apart into little string bundles. And for the best results, you do want to work with the grain when pulling.
How to Pull Pork — Four Different Ways
We're now going to discuss the four most popular ways to pull pork.
It could have been 5, but we've chosen to leave out 'hand pulling', where you literally pull the meat apart with your bare but gloved hands, because the meat is — or should be — just too hot to do this for most.
1. Double-fork Method
Next to hand pulling, using two forks is the most straightforward method.
You just dig the forks in together and then work the forks away from each other. Or use one fork to hold the meat stable, and the other to rake it into shreds.
As recommended in the following video by Chef Raphael Vallejo III at eHow, to ensure the meat doesn't look wildly hacked you should separate off a chunk at a time, shred that and then go back for another chunk. This prevents the meat from looking like it was hacked up by someone working out their frustrations.
2. Pork Clawed to Shreds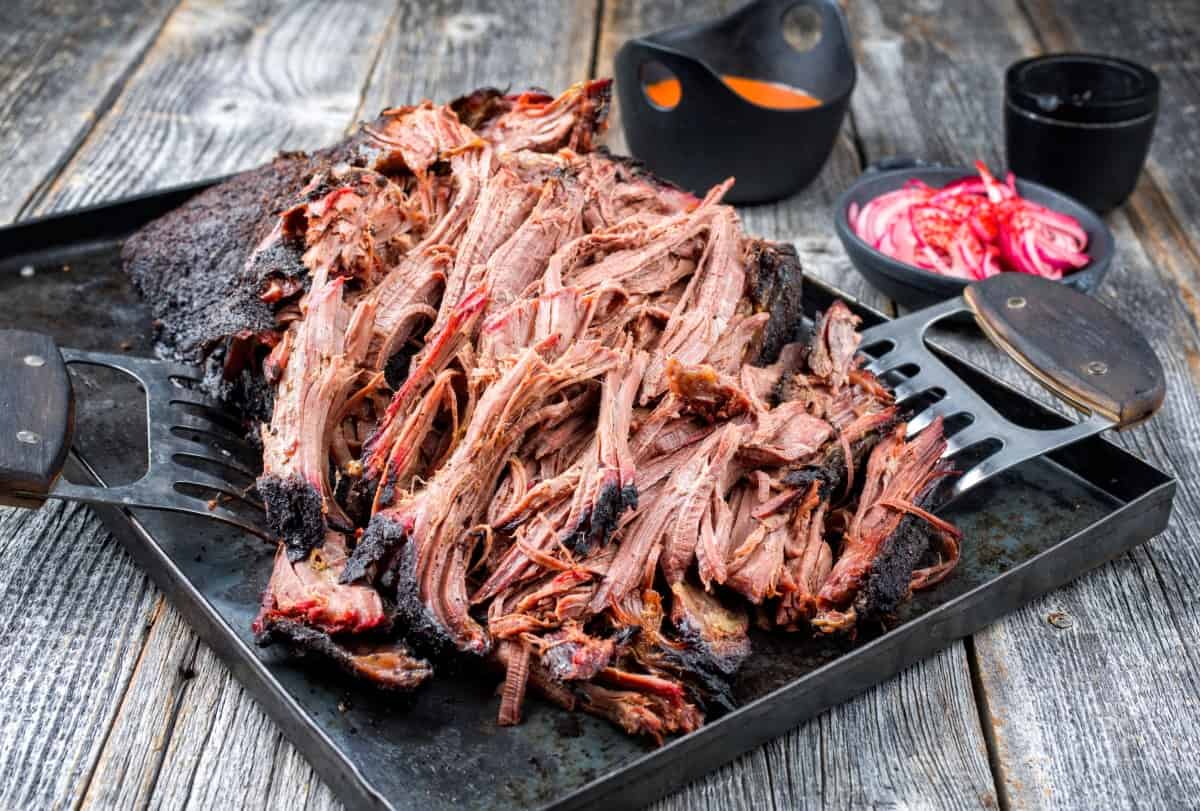 Sounds like a horrific fate, but meat claws make fast work of pulling.
Meat claws are basically large metal combs with a hand grip, making you look just a little like Wolverine as you go to work on pulling meat.
Some are light, metal tines held by a cushioned hand grip. Then there are bear claws, made of BPA-free nylon or titanium and heat-resistant up to 475 °F.
The solid shape and heft of bear claws make them sturdy enough to lift and carry large roasts. It can also serve to hold a roast in place for carving, so they have more than one use.
For manually pulling pork, bear paws really are the best tool for the job and were named "Best BBQ Tool 2013" by the National BBQ Association, Bear Paws are our favorite tool for pork pulling.
3. Using a Stand Mixer
If you have really sensitive hands or just want to save time, you could haul out your heavy-duty stand mixer to do the pulling for you.
Use a stainless-steel mixer bowl to hold the meat and attach the flat beater to do the shredding. A few seconds on low, then you have a bowlful of machine-pulled pork. Just make sure to remove the bones before you start!
You can see how it's done in the following video:
4. Monster Meat Drill Bit
Faster still, especially if you're serving a large event and have several butts to get through, try the pork puller, a round metal disc at the end of a long shaft attached to a drill.
5 or 6 tines are descending from the disc, you fit the shaft into a drill, apply the tines to the roast, and in literally seconds, see the butt get shredded to bits.
You'll want a very deep pot for this as things can get pretty messy! You can See how it's done in the video below:
Practical Sauciness
You know how quickly meat dries out once cut? Pulled pork is basically a roast that's been cut, many, many, MANY times over and this can lead to it becoming dry.
The simplest strategy for keeping the meat moist is by adding a bit of liquid to your serving pan, bowl, or tray once your roast is pulled to pieces. Commonly used:
Sauce and other things — barbecue or secret sauces are either made especially for this stage of the pulled pork or borrowed from the marinade stage (liquid is set aside from the marinade, refrigerated, then heated before use).
Apple juice — among the pantheon of liquids for barbecue. Its mild flavor and sweetness complement the flavor of the pork just right.
Chicken broth — it may seem odd to add poultry to pork but, besides being the base of the marinade, chicken broth can be heated and added to the pulled pork, with or without added seasonings.
Roast drippings — the most basic way to keep the meat moist is with the broth generated during the cooking process, if not going the smoked route.
If serving time isn't immediate, cover the pulled pork with plastic, then aluminum and refrigerate or freeze. Details are available in our article on reheating pulled pork, including how to store and serve it. And be sure to check out our guide on how much pulled pork per person you will need, to get the portion sizes and overall weight right.
Conclusion
Since we talked through the process of how to pull pork in among explanations, here are the steps at-a-glance:
When meat is cool enough to handle but still hot, identify which way the grain lies.
Using hands or another tool of choice, pull with the grain into slivers.
Place shredded meat into a container deep enough to hold some liquid.
Pour liquid of choice over the meat, just enough to moisten. (Ideally, the liquid will also be warm, if not hot.)
Serve.
Safely store leftovers within 4 hours of serving.
Barbecue is about the best kind of finger food — hot meat, well-cooked, in fantastic sauce. Pulled pork is one of the best examples and one of the best things about barbecue.
Do you have any extra tips, tricks or advice on how to pull pork that would help your fellow pitmasters? If so, please do share with us in the comments below.
Happy grilling!