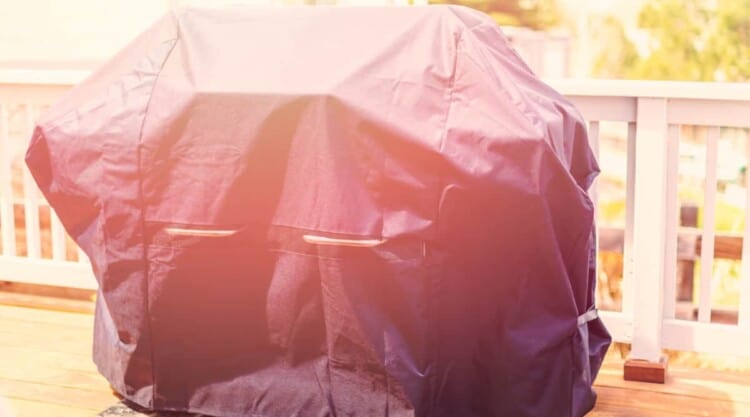 In this guide we first review five of the best barbecue covers available and tell you why we think they should be on your short list.
Then, we explain why you might want one, and even why you might not. Then we'll let you know what you should be looking for when shopping for a grill cover.
We all like to protect our valuable investments. That's why we have things like surge protectors, tie-down straps, and safety deposit boxes.
If you're seriously into grilling, then you've probably invested in a good charcoal grill, or the best gas grill you can afford, or you at least want to get as much life as possible out of what you've got, no matter what you paid for it. So what's the best way to guard your grill?
The simplest, yet most effective way to extend the life of your barbecue is to buy one of the best grill covers.
If you're in the market for some grill protection, you're going to want to read this article. Even if you've never used a grill cover before, we're confident you'll soon see the value.
At a Glance: The 5 Best Grill Covers Discussed in our Guide
Note: Clicking the above links will take you to further information, current prices and customer reviews on Amazon.
Consider The Original Manufacturers Grill Cover First
Although typically more expensive than a generic 3rd party cover, the covers that manufacturers produce to accompany their grills have many benefits over generic ones:
They are made to fit PERFECTLY! Most generic covers semi-fit, by being larger than necessary.
The manufacturers covers tend to be better looking, less plain, and look better in your garden.
Original manufacturers tend to use better, more durable materials than generic brands.
Original manufacturers covers tend to come with a longer warranty, and will have better support in case of an issue.
So for me, I like to buy the actual covers that are made especially for my grills. However, I can of course see the sense in going 3rd party in order to save money! So with that in mind, up next are the best available today.
Our Top 5 Picks in Our Search for the Best Grill Cover
Let's get up-close-and-personal with five excellent covers that should be contending for your dollars.
1
Grillman Premium Waterproof Grill Cover
♔ Recommended
This heavy-duty cover ticks all the boxes for durability, including resistance to water, UV, and tearing. It's not a bad looking cover, but we're not ready to declare it a work of art, either. The Grillman logo is the most prominent design feature.
The large Velcro straps should be easy-to-use and ought to do a good job keeping the cover securely in place. They're a little more evident on the Grillman than on some other covers we've seen, which detracts slightly from the appearance, but that's not a major complaint.
The Grillman premium waterproof grill cover covers (sorry) all the bases when it comes to protecting your barbecue. And if it doesn't, the lifetime replacement guarantee should take care of you. It's a solid product from a reputable manufacturer. Buy with confidence.
Specs
58" L × 24" W × 48" H
PVC-lined Oxford cloth
Waterproof
UV-resistant
Tear-resistant
Adjustable Velcro straps for wind resistance
Lifetime replacement guarantee
Suited to most major brands including Weber, Char-Broil, and Brinkman
Pros
Should hold up to most weather conditions
Adjustable fit for most popular grills in this size range
Best warranty we know of (you can't have a longer warranty than forever!)
Cons
Doesn't fit snug at the bottom, which may expose legs to elements
No air vents — if any moisture does get inside, it will be trapped there
For a few more pictures and to order yours now (don't let your grill suffer another day!), just click on the link.
2
Icover G21604 Grill Cover
♔ Recommended
An all-black cover with no markings, it's not a stylish tour de force. It is, however, well constructed with heavy-duty polyester that's UV protected and water-resistant on the outside, and waterproof on the inside.
All seams are double stitched for extra strength, and Velcro straps at the ends will keep it snug and secure. There is a mesh window at the front to permit airflow and to prevent moisture getting trapped inside, leading to rust or mildew.
The manufacturer provides a 100% money-back satisfaction guarantee for 60 days and a 1-year warranty.
The iCover G21604 60-Inch grill cover is a simple, no-frills option for covering just about any major branded grill. It comes with many of the key features we like to see on a grill cover, including UV and rain protection and should protect your grill for several years.
If you live somewhere where it rains a lot (I'm looking at you, Pacific Northwest and Scotland!), the mesh window may let more moisture in than it lets out, but for the majority of grillers, it won't be an issue.
Specs
60" L × 22.5" W × 41" H
Oxford polyester/canvas with a water-repellent coating
Waterproof PVC inner layer
Stain-resistant
UV protection
Mesh air vent
Adjustable Velcro side straps
One-year warranty / 60-Day money-back guarantee
Available in black or khaki
Available in 65" and 82" versions
Pros
Heavy-duty material
Easy to reach the Velcro straps
Could opt for khaki if you don't want black
Cons
No handles
Driving rain may penetrate the mesh screen
Shorter than many other covers by several inches
3
Liba Heavy Duty BBQ Grill Cover
♔ Recommended
For those who like a plain, but effective cover, this one fits the bill. It comes in basic black (or a lighter "Pebble"), and there is no logo or any kind of decorative features.
Handles near the top should make it easy to put on and take off most standard grills of this size. Velcro straps are available on each side to help keep it secure. With thick fabric and resistance to weather, fire, and ripping, this cover should last an acceptably long time.
There's nothing wrong with a product that just gets the job done without a lot of bells and whistles. The Liba 58-Inch Heavy Duty Grill Cover is a cost-effective product that will provide more than adequate protection for your grill.
While we lament the lack of UV protection, depending on where you live and the conditions where your grill is situated, this might not be a deal-breaker. It does have a 3-year warranty, and a 90-day money-back guarantee, and we think that's more than fair.
Specs
58" L × 28" W × 48" H
Heavy fabric
Handles for easy covering/uncovering
Water-resistant
Flame-resistant
Tear-resistant
Air vents
Velcro straps for a tighter fit
36-month warranty
Also available in Pebble
Suitable for many models including: Weber Spirit models, Weber Genesis Silver B models, Brinkmann, Char-Broil, Jenn-Air
Pros
Handles are a great convenience feature
Resistant to just about everything
One of the more extended warranties we've seen
Cons
No UV protection
Might be too plain-looking for some people
4
Victsing Heavy Duty Grill Cover
Recommended
A decent-looking but straightforward cover that comes in five sizes, but only one color. The logo is attractive and nicely offset; not in-your-face, but adding a splash of color.
Everything about this cover seems durable and well-made from the heavy material to the bound edges and plentiful stitches. There are five available sizes, ranging from 30" to 72". The material is resistant to most conditions, including dust for you desert-dwellers.
Not only does it look pretty good, but the VicTsing Heavy Duty Grill Cover is also carefully and thoughtfully constructed.
It has all the convenience features other covers have, plus the pleasant addition of a storage bag for those times when you're not using the cover. Yes, we'd rather see a long warranty, but our guess is this cover will hold up long enough that it won't matter. Definitely recommended.
Specs
58" L × 24" W × 48" H
Heavy-duty hydrophobic polyester
Inner PVC layer
High-density stitching
Tear-resistant
UV protected
Weather-resistant
Dust-proof
Handles for easy covering/uncovering
Adjustable Velcro side straps for tighter fit
Includes storage bag
Fits most brands
Also available in 30", 60", 64", and 72" sizes
Pros
The storage bag is handy if you only cover your 'cue over the winter
Resistant to pretty much everything
Comes in 5 sizes, covering pretty much every standard grill type
Cons
Velcro is very close to the bottom and may be hard to reach for some people
No air vents — but you shouldn't put a cover on a wet grill anyway
One-year warranty is a bit short but better than nothing
5
Classic Accessories Extra Large Hickory Series Grill Cover
Recommended
In a nice departure from the usual very dark gray and black covers on the market, the Classic Accessories Hickory Series cover is an appealing tan color. A brown stripe that wraps around the cover at about shelf level breaks it up nicely and gives a visual cue for finding the handles and putting the cover on straight.
The manufacturer's badge is tastefully small, and right below it is an air vent in the front of the cover. An elastic cinch cord is at the bottom, as are buckled straps for securing around the legs. It should fit snugly and stay in place on most popular barbecues of this size.
This is a smart looking cover that will look right at home on your patio. If you like it, Classic Accessories offers a variety of matching covers for shade umbrellas, patio furniture, table sets, fire pits, and more. There are many useful features, and it appears to be well constructed.
We are concerned about the lack of UV protection, so if you live in a very sunny part of the world or your grill doesn't get much shade, you might not get a lot of life out of it. Having said that, the limited lifetime warranty makes it an appealing purchase, and numerous consumers given the company glowing recommendations.
Recommended highly, especially for people who live in cool and/or damp climates.
Specs
72" L × 22.5" W × 49" H
Also available in S, M, L, XXL, XXXL
Water-resistant backing
Cold-resistant
Air vent
Click-close straps for tie-down at legs
Elastic hem with cinch strap
Interlocking seams
Handles for easy covering/uncovering
Limited lifetime warranty
Suitable for Weber Summit series; Char-Broil Classic Full-Size Charcoal, 6-Burner Propane, Classic 6-Burner, Charcoal/Gas combo; Dyna-Glo 2-Burner Dual Fuel, Dual Fuel DGB730SNB-D, Dual Fuel DGJ810CSB-D
Pros
Downward facing vent lets out trapped moisture but won't let any in
Adjustable to fit many kinds of grills
Light color won't show fading as obviously as dark covers
Cons
It's a long way down to adjust the straps and buckles
No UV protection
Why Use a Grill Cover?
Grills come in all shapes and sizes — and all price ranges! If you've paid good money for your grill you'll want to ensure it lasts as long as possible.
Even if you bought a bargain barbecue (and there's no shame in that — I've had great food cooked over charcoal smoldering in a tire rim), you still want it to last, and to be clean and ready for use.
Most of us keep our grills outside, and that means they're exposed to the elements. Rain, snow, wind — these can all do damage to your grill. The biggest threat to the life of your grill is rust. A good grill cover will keep the wet weather away from all the vital metal parts. Not only does rust make your grill look awful, but it will also severely shorten its life too.
Covering also discourages critters from taking up residence inside your cozy grill. I have personally turned on my barbecue and then discovered a pair of mice frantically scurrying away from the flames. Not to worry; I shut it down and escorted them off the premises without any serious damage.
When Would You Not Need One?
There are situations in which one might not need a barbecue cover. For example, if you always store your barbecue in a shed or garage between uses, then that's probably all the protections it needs.
Likewise, if you keep it under a gazebo or similar shelter you might also get away without one, especially if it's also partly protected by a wall or fence.
Of course, if it's constantly in use, maybe for commercial purposes, there's not much point in having a cover, either.
What to Look for When You're Choosing a Grill Cover
In a minute, we'll share our top five picks for grill covers. First, though, here are some of the criteria to consider if you're doing your own research or heading out on a shopping expedition.
Size
This is one of those times when size really does matter. You want the cover to fit reasonably snug, but not so tight that you struggle to get it on. If you have to stretch it and pull at it to get it on, it's too tight. You don't want to fight with it when a storm suddenly kicks up, nor do you want to risk damaging any parts that stick out, like side shelves.
On the other hand, you also don't want it too large and loose. Though it might be easy to get on, you may end up with moisture issues leading to mold or mildew. In the worst-case scenario, the oversized cover turns into a sail in a windstorm and sends your grill careening across the patio.
Most grill covers fit gas grills, so if you own and wish to cover a charcoal grill, please do make sure the cover isn't too large and your grill ends up like a pea rattling around in a sock!
Aim for a close fit to keep moisture out, and to reduce the likelihood of it lifting off in the wind. So before you buy, make sure you know the dimensions of your grill, and choose an appropriately sized cover to match, and make sure it fits your grill.
The Look
Hey, there's nothing wrong with wanting your grill cover to look good! After all, a big barbecue takes up a fair bit of real estate. So who wants to sit in the yard and have a big, ugly cover staring back at them?
Looking good is a subjective topic, so we won't tell you what you should or should not buy. Just keep it in the back of your mind that you'll be looking at your cover a lot!
Side note: A great color is of no value if it fades in the sun — see the section below on UV protection.
Material
If you like to grill a lot, then you'll be pulling this cover off and putting it on over and over. It's entirely possible you won't carefully fold it up and set it gently aside each time, either. (Gasp!) For these reasons, and because it will be exposed to the elements at all-times, you want a grill cover made from quality, strong and heavy-duty material.
Look for good stitching, and heavyweight, durable material. You can buy thin covers, and while you might save some money short term, you'll probably end up replacing it before long. If you really care about your 'cue, get the good stuff.
What's the good stuff? Most covers are some form of polyester, and the difference is in the thickness. The unit of measurement most commonly used is Dernier, often shown as the letter 'D.' The higher the number before the D, the thicker the material is. A good cover should be at least 600D.
Waterproof
As discussed, moisture is probably the number one enemy facing your grill.
If you live in a very dry climate, rain and snow won't be much of an issue. For the rest of us, a heavy-duty waterproof cover is absolutely essential for any grill stored outdoors.
Tie-Downs / Fastenings
We discussed the potential for wind to be a problem earlier. If your cover has some kind of tie-downs (like Velcro, buttons, or snaps) or a cinch string, you won't have to worry about having your cover blown off or, worse, your barbecue blown over because the cover turned into a sail.
UV Protection
Unless you don't care about how your grill looks (and a lot of us do), choose a cover that has UV protection.
Since your barbecue spends most or all of its time outside, it is constantly exposed to the sun and UV radiation. Without protection, UV will fade the color of your cover in no time. Worse still, it won't do it evenly, so you end up with a nasty, blotchy looking cover. Not an appetizing way to kick off your deck party!
Be aware, however, that constant exposure to intense sunlight, such as you might get in the southern United States, will eventually fade any cover, UV protected or not. You can help out your cover by keeping your grill in a location that gets at least partial shade.
Warranty
Although it just sits there doing not much of anything, your grill cover will be exposed to the elements. This can be very hard on the material. A good quality premium BBQ cover will come with a warranty, as should anything the manufacturer has confidence in.
Don't buy a cover with no warranty and then find yourself stuck if it can't do the job properly. No warranty probably equals low-grade materials and construction.
That About Covers it
Buying a grill cover makes good sense for almost all barbecue owners. It's an easy way to extend the life of your grill and to keep it primed and ready for use every time.
If you're in the market, we hope we've pointed you in the right direction. If you weren't in the market, we hope we've shown you why you should be and that you might pick up one of the best grill covers from our guide?
Thanks very much for making us part of your grilling journey today. If you're passionate about barbecue, this is where you want to be. We invite you to browse the site and see what else we have in store for you. I mean, you could go plunging down the Internet rabbit hole, but who's got time for that?
If you have any questions or comments about this or any of our articles, please send them our way. Contact info is at the bottom of the page.
Grill on, friends!