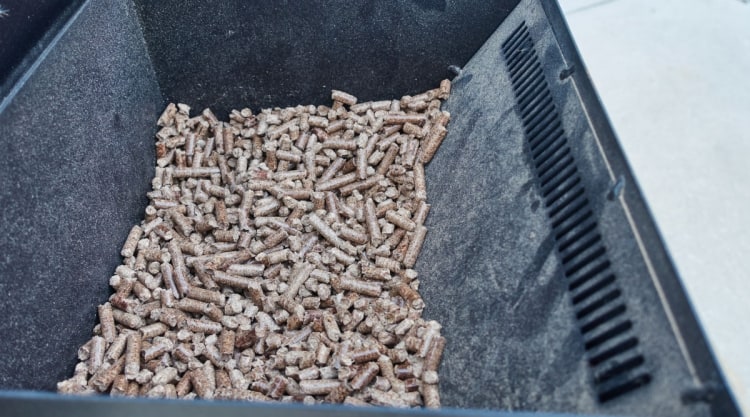 Which smoking wood pellets should you choose?
That's just one of the many questions we'll answer here in our guide to the best wood pellets for smoking.
If the pellet grilling bug has bitten you, you've no doubt discovered there are a wide variety of smoking pellets available to choose from. As you might imagine, not all are created equal.
Keep reading to learn how they make wood pellets and what goes into them. We also talk about flavor and the difference between different types of pellets.
First, though, we'll discuss and review seven of the best smoking pellets we most recommend.
At a Glance: Our Top Picks for Best Wood Pellets
Best Wood Pellet Reviews
We've chosen these products based on our experience during use, and recent feedback and general crowd-sourced opinion from enthusiasts on Facebook groups and in BBQ forums.
All the pellets listed below are a joy to cook with, and we're happy to recommend them. All have been chosen for their consistent quality, great flavor, lower ash production, and great performance with an even and reliable burn. And all these flavored wood pellets are from popular pellet brands.
Bear Mountain BBQ 100% All-Natural Hardwood Pellets — Gourmet Blend
1
It strikes me as odd that Bear Mountain BBQ is a lesser-known and seen brand, as they make some of the best grilling pellets you can buy. They've also been around for 30 years now selling made in the USA smoking wood pellets, with a commitment to sustainability.
They have a complete range of different flavors to choose from and perfectly pair with whatever you're cooking and your particular tastes. They sell a few different flavors including alder, apple, cherry, maple, mesquite, pecan, and pictured is the 'Gourmet Blend' (a custom blend of hickory wood pellets, maple, cherry, and oak.)
All Bear Mountain BBQs pellets are 100% natural premium hardwood, with no additives, binders, or fillers. They have a low moisture level, leave behind minimal ash (expected with zero-additives), burn at a consistently high heat, and produce wonderfully flavor elevated foods.
The only single species pellets are the oak and alder, being made from 100% a single species of wood. But the flavor wood pellets such as apple, oak, and cherry are blended with either oak and alder. They are not 100% flavor woods, they are a blend.
But this is ok. As explained on their website, this ensures a good, consistent burn rate and heat output across their entire range, and hence predictability in your cooks. There are no cheap filler woods or oils. The blends are all either alder or oak mixed with flavor wood.
For us, these are right up as the best wood pellets for smokers.
Give these pellets a try, we're sure you'll like them. If you want a good all-rounder, go with the gourmet blend or pecan wood pellets, which pair with pretty much anything.
If you have specific meat in mind you're cooking, check out our provided 'wood to food pairing' table at the end of this guide.
Pros
100% hardwood with a commitment to sustainability
No additives, binders, or fillers
Low moisture content, so no auger clogging and consistently good burn
A good selection of different flavors

Editor's Note
A consistently good burn rate and even heat output is a very good reason why many or most pellets are a hardwood blend of oak and alder, with flavor wood mixed in. It's not all about price and keeping manufacturing costs down.
— Mark Jenner
CookinPellets 40PM Perfect Mix
2
Founded over six years ago, CookinPellets started with a small home wood mill after an unsatisfactory pellet grilling experience by the owner.
They are now a popular product, positively-reviewed and loved by many competition cooks and backyard pitmasters alike.
People praise the great pricing, particularly for the long-lasting 40lb bulk bag, the strong flavors produced, and the consistent quality of the product.
Cookinpellets always come up as highly recommended in forum and Facebook discussions of the best wood pellets for smoking. You can't argue with that kind of good feedback and popularity.
They do, however, only have a limited range compared to most other brands. Their selections are limited to:
Perfect mix (pictured), a hickory base with hard maple, apple, and cherry
100% hickory wood pellets
100% black cherry wood pellets
A hard maple and apple blend.
All varieties contain no oak or alder, and no fillers.
Their perfect mix blend combines four of the most popular hardwoods for smoking into a single, exclusive smoking pellet package.
By using four of the most popular hardwoods, CookinPellets 40PM Perfect Mix deliver nothing but flavored smoke, (hickory, maple, apple, and cherry.).
This blend should lend itself to just about anything you want to smoke. It's a good introductory pellet for someone just starting out with a pellet grill thanks to its blend of quality pellets with a crowd-pleasing smoky taste.
It's not overpowering, nor is it too light. It burns hot and clean, and the cherry smoke gives a crowd-pleasing, great-looking reddish tinge to your meats. Highly recommended.
Pros
Impressive, budget-friendly pricing
100% flavored hardwood with no fillers
No bark
All heartwood
Pecan Flavor BBQR's Delight Smoking BBQ Pellets
3
Used by numerous competitive grilling teams — we love knowing that a product is backed and used by professionals — and increasingly popular with backyard enthusiasts. BBQr's Delight make high-quality, 100% natural wood pellets in a variety of flavors.
In the last couple of years, they've seen a HUGE increase in their fan base in the BBQ community, with many, many people recommending them strongly in forum and Facebook group discussions. And as I'm sure you're aware, the BBQ community can be quite brutal when it comes to shooting down poor quality products, so the fact they are so widely used and loved is good praise indeed!
BBQr's Delight has a wide range of products from many types of wood, so if you like what you taste, you'll want to try some of the dozen other flavors they offer. It's nice to be able to stick with one line, knowing you're going to get quality every time.
Their range includes standard staples such as oak pellets, hickory, pecan, sugar maple, cherry, apple, and mesquite wood pellets. But they also sell more esoteric orange, peach, sassafras (hints of root beer?), and a 'contest mix,' a 50/50 pecan and cherry mix.
All their pellets are 2/3rds white oak, with 1/3 of the indicated flavor wood, except for the 'contest mix,' which is 66% oak and 17% each of pecan and cherry.
This blended oak base ensures a consistent, predictable, steady burn, the same across their range, so you can plan your cooks the same no matter the flavor you use.
These are nicely formed pellets, made without filler or oil, with low moisture content, and they burn hot and clean.
This brand is a favorite of many grillers on the competition circuit. They are very well-made. If you want to grill like the pros, choose the fuel many of them use. These are a fantastic mix of performance, flavor, and price.
Pros
Burns hot
100% wood
Low ash
Cons
Milder flavor than you'd get with 100% flavor wood (this might be a "Pro" for some people)
A bit pricey for a 'blend'

Editor's Note
As well as the standard 20lb bags, BBQR's Delight also sell a super smoker variety pack of six 1lb bags, including hickory smoking pellets, apple, mesquite, cherry, pecan and Jack Daniel's. It is a great way to try out different flavors without dropping a fortune on large bags of different flavors you may not like.
— Mark Jenner
Pit Boss 55435 40 Pound Bag BBQ Wood Pellets for Pellet Grill, Competition Blend
4
Pit boss is a popular and leading brand of pellet grill manufacturer, so it's little surprise to see they sell a range of hardwood smoker pellets too. After all, there's money to be made!
But don't fall into the mistake of thinking they're only popular because owners of their grills like to stick to the brand and buy what they know. These are good quality pellets at a reasonable price.
They sell the most popular classic flavors such as oak, pecan, maple, hickory, mesquite, apple, cherry and whiskey barrel.
And they also have various blended products of different mixtures of flavor woods, going by intriguing names such as 'trophy,' 'classic,' 'competition,' 'pitmaster,' 'classic,' and 'fruitwood' blends. Too much to describe and list here, you can check out these blends and their ingredients at the pit boss website, perhaps purchase and try a few to see which you like best?
Pit boss pellets are 100% natural hardwood sourced from across North America, containing no artificial flavoring oils or sprays, no glues, and no chemicals.
Pros
Very reasonably priced
Wide range of different flavors available.
Made in the USA, with no additives.
Backed by a large, well-known brand
Cons
It's hard to ignore the fact a few buyers and reviewers have reported 'sawdust' in the bottom of bags. We like to think this is down to mishandling in warehousing and by couriers, but we feel it must be pointed out.
Lumber Jack Competition Blend Maple-Hickory-Cherry BBQ Grilling Pellets
5
This company prides itself on making premium quality wood smoking pellets suitable for anyone from weekend warriors to professional pitmasters.
Lumber Jack takes a different approach to their product — they debark the oak in the blend, but leave it on the flavor wood for a more intensely flavored smoke. This makes these potentially the best pellets for smoke flavor.
It's hard to argue with extra flavor! That's what pellet grilling and smoking is all about, right? We think a little extra ash from burned bark is an acceptable trade-off for real wood flavor.
Also, because they're 100% wood, we know they're going to burn great and provide excellent smoke.
It's also interesting to note that Lumber Jack doesn't use cast-offs from sawmills. This is a dedicated wood product business, and they use their own trees for making pellets for both cooking and heating and shavings for pet bedding.
Lumber Jack has an extensive product range of five classic and five blended flavors, meaning you can pick and choose, mix and match, and always know the quality you're going to get. Highly recommended!
Pros
Higher percentage of flavor wood than in most blends
Clean, flavorful smoke
Quality tested by an independent lab
More intense flavor than some other brands
Cons
With some quantity of bark present, you may see a bit more ash than with other brands
Louisiana Grills Pennsylvania Cherry 55404 Pellets
6
Louisiana grills is a 20-year veteran in the world of BBQ product manufacturing, well known for their popular and quality line of pellet smoker. So it's only natural they expanded into supplying wood pellets for smoking too.
These pellets are made from 100% natural raw hardwood sourced from across North America, with no artificial flavors, binders or chemicals added.
They have a wide range of flavors available, including hickory, mesquite, whiskey barrel, cherry, and apple.
We recommend the slightly sweet and lovely cherry blend to suit most meats, or the 'competition blend pellets' as a good all-rounder and to dip your toe into the product line.
Try one of those two, see if you like them and then try other flavors. This blend is a combination of maple, hickory, and cherry, making it suitable for pretty much all foods, imparting a medium strength smoke flavor rand some great color from the cherry.
All flavors are available in 20lb and 40lb bags, from Amazon or Louisiana's website.
Pros
Wide range of flavors to suit all foods.
Work well in any kind of pellet grill or smoker.
Backed by a large, reputable brand.
Reasonably priced, about in the middle, with some brands cheaper, some more expensive.
Cons
Some users have reported broken, crumbly pellets on occasion and sawdust in the bottom of bags. This can happen due to mishandling during shipping but may hint at inconsistent quality.
Traeger PEL331 Signature Blend
7
You can't go wrong when you buy from one of the most trusted names in the business.
If you've been living under a rock somewhere, you may not know that Traeger is a beloved name in the industry. They're kind of the Harley-Davidson of pellet grills. They make grills, rubs, sauces, and, of course, pellets, but they're synonymous with the term 'pellet grill.'
Traeger pellets are some of the most popular you can buy. They use 100% all-natural, pure virgin hardwood sourced from sustainable, existing manufacturing industries. There are no additives, and no trees are felled purely for production.
Traegers range of pellets includes the classics such as hickory, apple, cherry, pecan, and mesquite. They also have a 'signature blend,' which is what we recommend as a great all-rounder and consists of a mix of hickory, maple, and cherry woods combined.
However, after a recent class-action lawsuit, it's now well-known that they add flavoring oils to the base hardwoods used.
You can argue that by opting for flavored hardwood and oils instead of 100% flavor wood, you'll get all the natural flavors, but with the enhanced even burn quality of oak or alder. And this is a fair point. But if you want the actual woods you're hoping for, those listed on the bag, you may want a product higher up on this list.
But if you're happy with flavoring oils, are already a Traeger fan (a Traegermeister?), you already know you want these. And if you don't know Traeger, these are worth trying to see what all the fuss is about.
Pros
Consistent quality
All natural hardwood with no artificial fillers or binders
Excellent burn properties — clean, low ash, thin blue smoke
Cons
Flavor wood content can be low, with natural flavoring oils added to impart flavor.
What are Smoking Wood Pellets, and How are They Made?
Pellet grills are designed to use specially made wood pellets rather than charcoal or pieces of actual wood. What are wood pellets? In a nutshell, they're compressed sawdust.
They are made from bits of real wood, generally salvaged from lumber mills. (Waste not, want not!) The wood is shredded into small pieces or sawdust and dried before being forced through a small hole in a die.
The compression causes lignin, a natural polymer in plant tissue, to heat up and soften. After passing through the die, the lignin cools and hardens and acts like a glue, holding the wood in the pellet shape. Once shaped, they're cut into short lengths and packaged.
Whether you have a full-sized pellet grill or a portable pellet grill, you're tied in to pellets as your fuel of choice and will be using them for every cook.
Does it Matter Which Wood Pellets You Choose and Use?
The short answer is a resounding YES!
The long answer consists of all the following points.
Heating Pellets Aren't the Same as Those for Barbecue
We'll discuss this more in a bit, but it's important to point out the distinction.
There are unflavored wood pellets available, made in the same way as food grade pellets for smoking or grilling. However, they're not meant for grills. Instead, they're made for pellet stoves used for heating homes.
These pellets can be hardwood or softwood, contain glues, chemicals, other binders, and fillers. Many heating pellets are not 'food grade.'
So don't make the mistake of grabbing heating pellets and then wondering why your ribs aren't smoky and delicious! You MUST get food grade pellets designed to be used as fuel to cook food.
Flavored Vs Blended Vs Standard Pellets
Though many flavors exist, there are just three different kinds of smoker pellets to choose from:
Flavored wood pellets
Blended
Standard
Let's have a quick look at each type:
Flavored Wood
These are made of 100% flavored wood and no filler (think cherry, oak, pecan.) Filler is generally oak or alder, which burns well but contributes little flavor of its own.
100% flavor wood is the most expensive pellets.
Blended
Blended pellets mix filler (oak or alder) and flavor wood to keep the costs down. Typically, the ratio is about 30% flavored wood to 70% filler.
These are the most common type of pellet, burn consistently well, impart great flavor, and are reasonably priced.
Standard
It is made of random woods, with little to no flavor properties, and typically not 'food safe.' These pellets are generally reserved for heating.
Bark is Great on Your Brisket, Not on Your Pellets
You might think seeing bark on your pellets means they're more natural and, therefore, higher quality. Kind of like seeing a bit of potato skin on fresh-cut fries, right? Not the case.
You can get pellets with or without bark, but we MOSTLY recommend bark-less.
Bark doesn't burn at the same rate as wood, which can lead to inconsistent temperatures. Plus, they leave behind more ash. This can cause blockages if it builds up too much and even cause your grill to misread the internal temperature. It also makes a bigger mess for you to clean.
There are exceptions, though! Bark can impart stronger a stronger smoky flavor profile, so some inclusion into blends, with the bark from the flavor wood included can be a good thing.
But generally speaking, most manufacturers leave it out. You will need to test each type to see which you prefer.
Wood Pellets Vary in Quality
Doesn't everything, though? In our wood pellet reviews and round-up, we steer you clear of the cheap stuff, but there are some things to be aware of if you're shopping for pellets on your own.
Poorly compressed pellets won't hold together and may fall apart when the auger pulls them in, or as you're scooping or pouring from the bag. That means they won't burn well, resulting in lower temperatures, poor smoke, and generally an unpleasant time for you.
So before you buy, check the bag for dust at the bottom. If there's a lot, it means they're falling apart already. Avoid!!
So, before you blame your temperature problems on your grill and start ordering replacement parts, try switching to a better brand and see if it doesn't fix the problem.
Pellet Grill Problems are Often Caused (and Fixed!) by the Pellets Themselves
Automated pellet grills are awesome. They monitor their own temperature and add pellets as needed to hold at whatever temperature you set it to. At least, that's what they're supposed to do.
Many pellet grillers find themselves dealing with wildly fluctuating temperatures and clogged augers. That's the last thing you want when you're smoking a colossal brisket all day!
You might blame your grill, when the pellets are responsible for problems. High bark content, too damp, and falling apart, crumbly pellets leave behind lots of ash and can lead to all sorts of problems. So try some higher quality ones, with low moisture content which hold together well before blaming your smoker.
Some Woods Taste Stronger Than Others
We all have different taste preferences. Some people love a strong smoky flavor, while others detest it. Most of us are somewhere in between.
Mesquite is known to be strongly flavored, described as 'almost spicy.' If you're serving people who don't like smoked food, they will likely refuse to eat mesquite smoked offerings. Even if you love smoky flavors, you would use mesquite sparingly and avoid using it with poultry, fish, or pork because it will simply overpower them.
Beneath this, we have woods like hickory, pecan, and walnut. These are strong, but not overpowering. They pair well with big, bold flavors such as well-seasoned beef.
Milder than this still, we have the fruit woods such as apple, cherry, alder, maple, and beech. These give a mild smoky taste and pair well with pork, fish, and vegetables.
Pairing Different Flavor Woods With Different Foods
There are a ton of different wood pellet flavors you can choose from. It's hard to say what the best smoke flavor is, it being a matter of opinion.
However, some wood pellet flavors lend themselves to certain foods better than others, and after decades of trial and error, pairing different woods with different foods, there's fairly widely agreed upon matchings.
Here are a few examples of the best smoking woods for different foods:
Alder — salmon, poultry, game birds
Apple — poultry, pork, lamb, seafood
Cherry — all meats
Hickory — pork and ribs
Maple — poultry, vegetables, cheese
Mesquite — red meat
Oak — all meats, often blended with other wood
Pecan — poultry
Walnut — red meat, game
Mixing flavors is also fun. What will your go-to combo be?

Editor's Note
Controversial opinion: I find that a lot of the time, which particular flavor wood you use isn't particularly important. With all the seasoning, the herbs and spices, rubs, sauces, and more we use, the subtleties of different smoke is lost somewhat. You definitely CAN taste the difference between smoking woods. And if you use rubs and sauces sparingly, it's a big difference. But a lot of the time, it's hidden.
— Mark Jenner
Frequently Asked Questions on Pellets for Smokers
Are all Wood Pellets Safe to Cook With?
Absolutely not. You MUST buy some explicitly manufactured for use as fuel to cook and smoke food. Many pellets are made for heating and contain ingredients that you do not want near your food. Food safe — or do not use!
Do I Have to Use the Same Brand Pellets as My Pellet Grill?
You do not have to use the same brand pellets as your grill manufacturer. Many brands say you do, but this is just a revenue driving tactic, trying to tie you in to buying their product ongoing. However, it is false. You can mix and match as you please.
Do I Have to Use Traeger Pellets in My Traeger Grill?
One of the leaders in the pellet grill category is Traeger grills. Being the savvy company they are, they sell pellet grills and smokers and their own brand of wood pellets. They imply, of course, that you must use their own brand in a Traeger grill. They even warn you using other brands will void your warranty.
The truth is, while Traeger makes good pellets, it's not necessary to use them in your Traeger grill. And it would be pretty darn hard for them to prove using someone else's caused any warranty issues.
What is important is to use good-quality pellets and steer clear of cheaply made stuff that have the potential to foul up your food and your grill.
Can You Use Wood Pellets in Other Types of Smokers?
Indeed, you can. You wouldn't use them as the fuel for heat, but you can use them as the source of smoke to add flavor to food in gas grills, charcoal grills, and other types of smokers.
There are products such as the Amaze-N pellet smoker tube that you fill with pellets that will smolder and smoke to add smoke to your food. Of course, similar products are also available, but this one is best.
Do You Soak Wood Pellets Before Smoking?
You do not soak wood pellets before smoking. Manufacturers produce them with low moisture content and seal them into airtight bags to ensure if they stay low moisture. If they get wet, they start to fall apart, can become a bit 'sticky,' may clump together in your hopper, and clog up and block your auger. Never soak your wood pellets.
How Long Does 20 Pounds of Pellets Last in a Smoker?
This is highly dependent on your brand and model of grill, plus how hot you cook and the smoke setting you choose.
At low temps of 225 F, in a well-insulated smoker, perhaps  1/2 to 1 lb per hour. On a high heat setting of 350 F, with a super smoke setting, perhaps as high as 3 lb per hour. On average, though, 1/2 to 1 lb per hour averaged over an entire cook is about right.
How do I Store Smoker Pellets?
You should store them in an airtight container, away from mold and moisture, heat, and flames. They should be sealed tightly to prevent them from absorbing moisture from the air. Moisture is the enemy of wood pellets, makes them crumble, fall apart, eventually go bad, and block your grills auger during use. You need to keep them dry.
Learn more in our guide to wood pellet storage.
How Long do Wood Pellets Last in Storage?
You can keep pellets in storage for up to 6 months if they are still in the sealed bag you purchased them in. Once opened, and if appropriately stored in a sealed container, you can keep them for between 1 and 3 months, depending on the environment they are in.
Can I Leave Pellets in the Hopper?
It's recommended to empty them out of your hopper and into a sealed container after each cook. If left in the hopper, they will absorb moisture from the air and begin to rot.
Do Wood Pellets Go Bad?
Wood pellets do go bad. They absorb moisture and begin to rot, causing them to grow mold, fall apart and become unusable. This is why you must keep them in the sealed bag you purchased them in until you wish to use them, and store unused pellets in a sealed, airtight container.
How do I Know if My Smoking Wood Pellets are Bad?
They're bad if they are crumbly and falling apart from water absorption, and of course, if you can spot any mold or rot.
A good test is to take a pellet and try to snap it. If it gives some resistance, then eventually breaks with a little snap into two well-defined pieces, they are likely to be good. If when you try to snap them, they instead fall apart and crumble, they have absorbed too much water and will likely not be good for use, potentially burning poorly and maybe even clogging up your grills pellet delivery system.
Final Words
It's a bit of a strange thing to talk about the flavor of wood, but that's what sets smoking apart from charcoal or gas grilling! We love pellet grills for their convenience and the great results we get when we use them.
Which of our top 7 best wood pellets are you going with? And can we come over for some barbecue?
If you have any questions, comments, tips, and anecdotes related to smoking wood pellets — good or bad — please do share them in the comments below. We love to talk grilling with our friends!
Thanks for reading, and happy grilling!