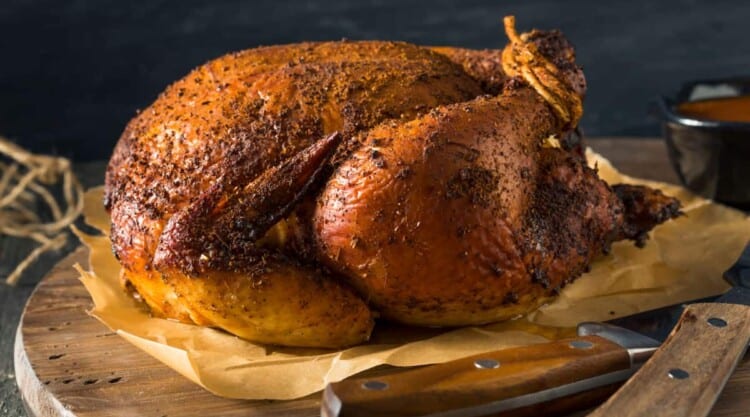 In this article, we're going to give you three of the best smoked chicken rub recipes we've tried and adore…and are sure you will too.
We also talk about what a rub is, and how to use a rub when cooking chicken.
Smoked chicken prepared on the barbecue is something extraordinary. When you've cooked it just right, with smoky wood flavor throughout, with a flavorful chicken rub and crispy skin, it is delicious.
Now, no matter if preparing a whole chicken, or just smaller pieces, you need to start with the right seasonings to truly max out on the flavor before smoking your bird.
What is a Rub?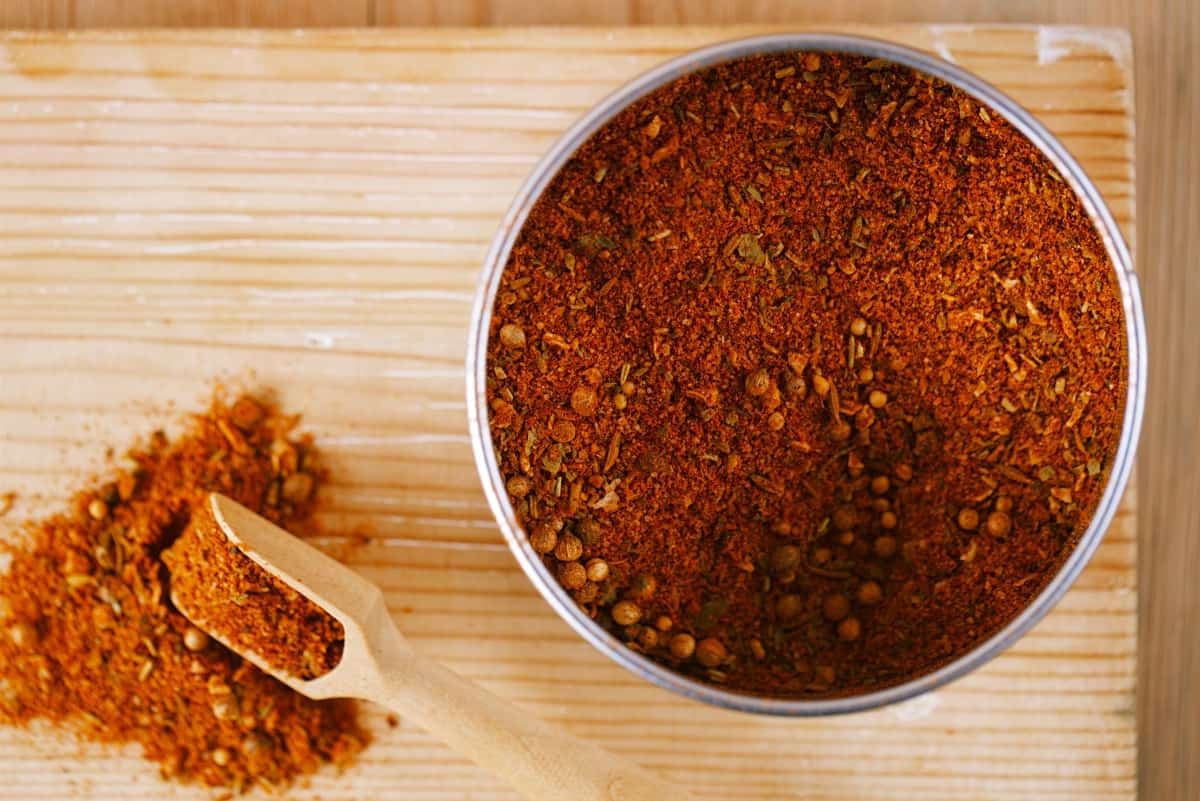 A rub is simply a spice and herb mixture added to the surface of food before it's cooked. Most BBQ rubs consist of different salts, different types of peppercorn, types of chili peppers, and then an array of other spices and herbs.
This is obviously important when talking about chicken because it's one of those meats that can be somewhat of a blank canvas.
By adding a rub, we're able to take the flavor to ever higher levels.
You can marinate chicken to get flavor deep into the meat, but this takes time and a dry rub is a great alternative for last minute prep.
How to Rub Chicken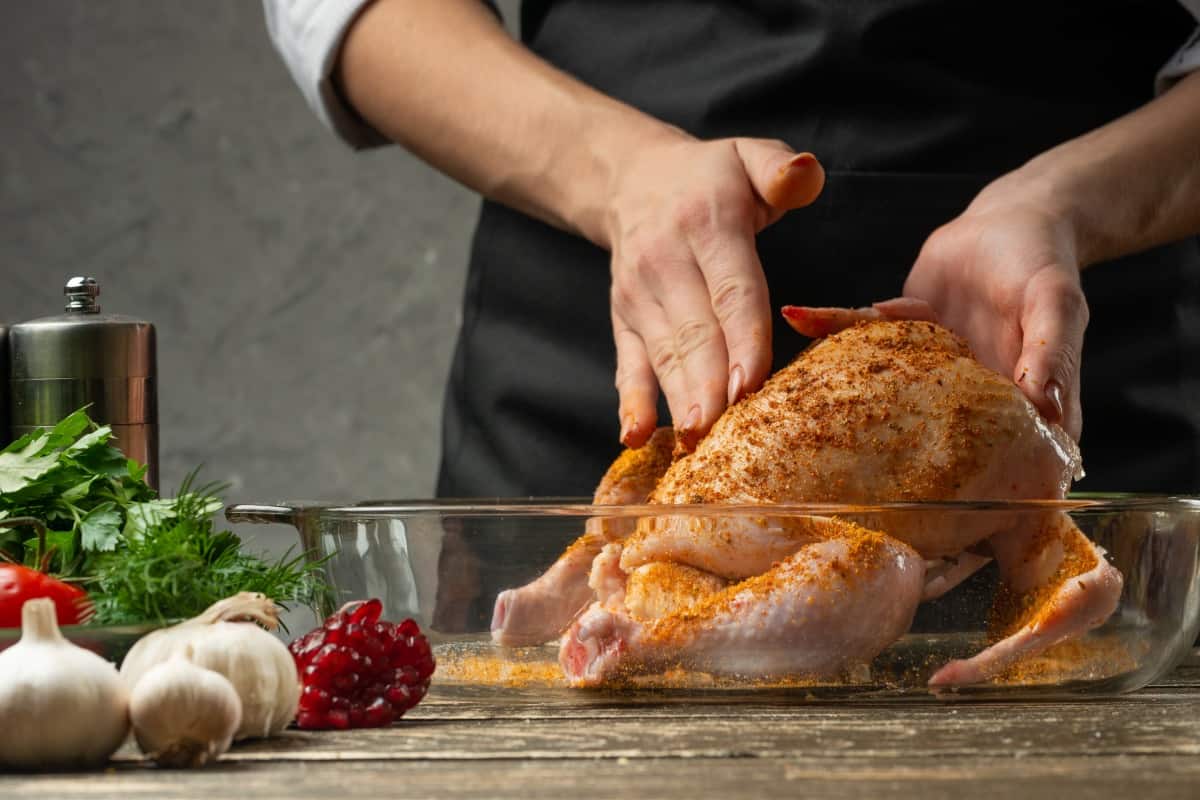 No matter what cut of chicken you're cooking, or which rub you've decided to use, you want to be careful around raw chicken.
Never touch raw chicken and then place your hand into a jar of rub. Instead, spoon out only the rub you plan to use, or store your rub in a shaker jar and shake out what you need. This will avoid contaminating any rub saved for future use, by your hands that have touched raw chicken.
It's recommended to use just enough rub so that it's evenly coated on your chicken. If your chicken still has the skin on, don't be afraid to work your fingers in under the skin and get some rub under there as well. If you need a guideline, ½ TBSP is enough to rub one whole medium chicken.
After you have rubbed your chicken, let it sit in your refrigerator for at least an hour. This gives the salt in your rub a chance to make the chicken sweat and help dissolve the rubs before the moisture is reabsorbed back into the chicken, taking the flavor with it.
Best Smoked Chicken Rub Recipe — 3 of the Best on the Web
The sky is the limit when it comes to flavors that go well with chicken.
I'm partial to flavors that are either savory or spicy, but your tastes may differ. Below are some great tried, tested, and true rub recipes that in our opinion, you should definitely check out!
Simon & Garfunkel Spice Blend & Baste
For anyone that remembers the 60s, Simon & Garfunkel were a folk duo who recorded many albums. One was the aptly named "Parsley, Sage, Rosemary and Thyme", also sung by the chorus of the first track on the album — Scarborough Fair/Canticle.
Meathead from AmazingRibs.com used these four spices as the main ingredients to this smoked chicken rub recipe.
The flavors in this rub are obviously very herby (for lack of a better word), and will pair excellently with smoked chicken.
Note: there is no salt in this particular rub. If you've taken the time to brine your chicken you can apply the rub as-is. If you've not brined your chicken, simply season with ½ TSP of kosher salt per-pound of chicken before applying the rest of the rub.
Ingredients:
Dried crushed parsley
Dried crushed sage
Dried crushed rosemary
Dried crushed thyme
Dried crushed oregano
Dried crushed basil
Dried crushed bay leaf
Ground black pepper
Sugar
Instructions:
Measure your ingredients and place them into a blender. Pulse the ingredients until it is a fine powder.
Store in an airtight container until ready to use.
For ingredient quantities and full instructions, please check out Meatheads recipe here.
Spice-Rubbed Grilled Chicken
We have Dara Michalski from Cookin' Canuck to thank for this smoked chicken rub recipe. The brightness from the paprika and chili powder will give your chicken a great red color that will turn a dark shade of reddish brown when cooked.
Combining the savory flavors found in the rub with a sweet glaze (also found in the recipe) will help create delicious sweet and spicy chicken. It should also be noted that Dara recommends grilling chicken thighs with this recipe. While we agree that would be great, we think this rub and glaze would go great with smoked chicken.
Ingredients:
Paprika
Chili powder
Ground cumin
Ground thyme
Salt
Garlic powder
Ground pepper
For the Glaze:
Instructions:
Measure your spices and stir to combine.
Place them into an airtight container until ready to
Regardless if grilling or smoking your chicken, prepare the glaze just before your chicken is ready to come off the grill. Prepare glaze by whisking the vinegar and honey in a small bowl and brushing it onto the chicken.
You can find ingredient quantities and full instructions to make it by clicking here.
Walter Jetton's Dry Poultry Seasoning
Walter Jetton ran a successful barbecue catering company in Fort Worth, Texas, just a stone's throw from President Lyndon Johnson's ranch.
After LBJ became President, Walter became somewhat of a celebrity as the first Pitmaster to prepare an official Presidential state dinner barbecue.
Ingredients:
Salt
Black pepper
MSG (optional)
Garlic powder
Ground bay leaves
Dry mustard
Paprika
Instructions:
Measure your spices and stir to combine.
Place them into an airtight container until ready to
For ingredient quantities and full instructions, please check out Walter Jetton's dry rub recipe for poultry.
Pair With the Right Smoking Wood for the Best Results
You now have three choices for the best rubs to use, but the layering of flavors shouldn't stop there! Add a hint of smoke to ramp up the flavor even more.
Smoked chicken is tasty, but chicken is also somewhat delicate, so you don't want to overpower it with strong flavored smoke, or it can taste like you're eating an ashtray!
Pick a flavor from our guide to the best wood for smoking chicken, and then you can't go wrong!
Final Word
We hope you enjoyed this article and these recipes!
For more excellent ideas, don't forget to check out our article on how to make your own dry rubs at home. Or if you'd prefer something a little less hands on, check out our list of our favorite and best BBQ rubs for every type of meat, including poultry.
What do you think of these rubs? Would you use any of them on your next smoked chicken? Do you have your own rub you'd like to tell us about?
Leave us a comment below and tell us all about it.