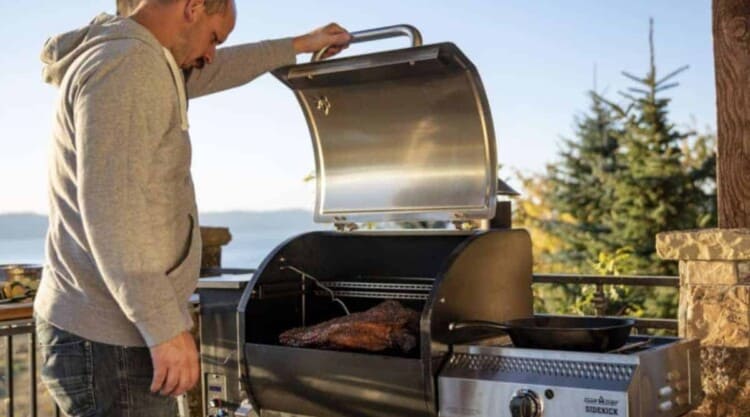 This guide gives our expert opinion, formed after days of intensive research, into the nine best pellet smokers for the money available today to suit different needs and budgets.
We review top picks in a few different categories, detailing why we love them and highlighting any disadvantages one pellet grill may have compared to others.
After detailing our top picks, we finish the article with an extensive buying guide. Discussing the specifications and features you want to look for, how a pellet smoker works, how to use one, the benefits of smoking with wood pellets, and where they fall short of other types of smokers.
By the end of this guide, you will be armed with the knowledge to make the right decision for choosing the model matching your personal tastes, needs, and budget for your backyard parties.
At a Glance: Our Top Picks for Best Pellet Grill
Reviews of the Best Pellet Smokers
Here are our reviews of the nine best pellet smokers on the market.
They're of various sizes, budgets, and feature sets, all meeting our quality guidelines and suitable for different people with different needs. In this list, you are sure to find the right model for you.
The following list is, with one exception, all full-sized pellet grills. We have a separate guide to the best portable pellet grills if that's what you're after.
Let's get into the recommendations.
1
Camp Chef 36 in. Wi-Fi Woodwind Pellet Grill & Smoker with Sear Box
♔ Top Pick
Founded in 1990, Camp chef has earned a solid reputation for creating quality pellet grills at affordable prices with their SmokePro and Woodwind range of pellet smokers.
And with their latest pellet grills, they have raised the bar, particularly with the Woodwind Wi-Fi enabled series with its 'Sear Box' accessory!
Yes, the Camp Chef Woodwind Wi-Fi does it all, from 160 F low and slow smoking to 650 F searing in the main grill to 900 F searing on the propane fueled side attachment. This unit can do anything from smoking to grilling, braising, roasting, and anything you could wish to do on an outdoor cooker.
The first impressive feature is the PID temperature controller with smoke control.
The PID has a constant feedback loop helping to keep temps more accurately than the majority of its competitors. Temperature control is second to none. And it has 'smoke level settings' from 1 to 10.
Pellets must smolder to create smoke, not burn. But this is hard to control, so temperature fluctuations occur and can be as much as 20 F in most pellet grills. In this unit, they have this way more under control.
In higher smoke levels, the grill concentrates on optimizing smoke production while allowing some temperature fluctuation. But after the initial smoking period, you turn down the smoke setting to a lower number, and the unit concentrates on keeping the set temperature consistent as possible instead.
It does this by burning the pellets in a more controlled fashion and not worrying about smoldering them for smoke. Temp accuracy is best in class in this setting.
The second impressive feature is the Wi-Fi connectivity.
You can connect this unit to your home Wi-Fi and use the 'Camp Chef Connect' app to monitor your cook from anywhere you have a mobile internet phone signal.
This means monitoring both smoker and food internal temps, receiving notifications, and changing settings on your unit from the palm of your hand, anywhere in the world. No being tied to the grill, so you can enjoy more time with family or guests while you cook.
The third impressive feature setting this grill apart for me is the addition of a 'Sear Box' attached to the side.
Although pellet smokers are also called pellet grills, they have never been good at searing, which is an important flavor-adding stage of grilling due to the Maillard reaction.
Good searing has to happen at high temperatures, and most pellet smokers cannot reach them. Well, Camp Chef came up with a solution.
The Woodwind series has a selection of 'Sidekick' attachments, including a flat top griddle, pizza oven, or sear box attachment. It is the Sear Box that's grabbed my attention!
A 16,000 BTU propane fueled searing burner that can reach up to 900 °F, powers 180 square inches of cooking space, so you can smoke foods low and slow in the main unit before searing to perfection on the side box. Or flip the process for reverse-seared steaks.
With this, Camp Chef has laid to rest the main argument of pellet smokers being unable to sear and enables users to do away with having to fire up a second grill for searing. A time and money saver, and making this one of the very best pellet grills for actual grilling!
Other standout features that help the cooking process include:
Slide and Grill — With the simple pull of a knob, you can move the 'flame deflector' out of the way of the fire pot for 650 F searing inside the main unit.
Simplified Ash Clean out System — With a simple pull of a knob, ashes from the firebox fall into a removable cup underneath the grill. It couldn't be easier!
4x Temperature Probes Included — This enables you to monitor the internal temperature of 4 meats simultaneously without having to purchase a separate smoker thermometer.
Near full-sized upper and lower grates — Camp Chef has made the Woodwind extra tall and included a near full-sized second cooking grate, increasing room to 1236 square inches of cooking space.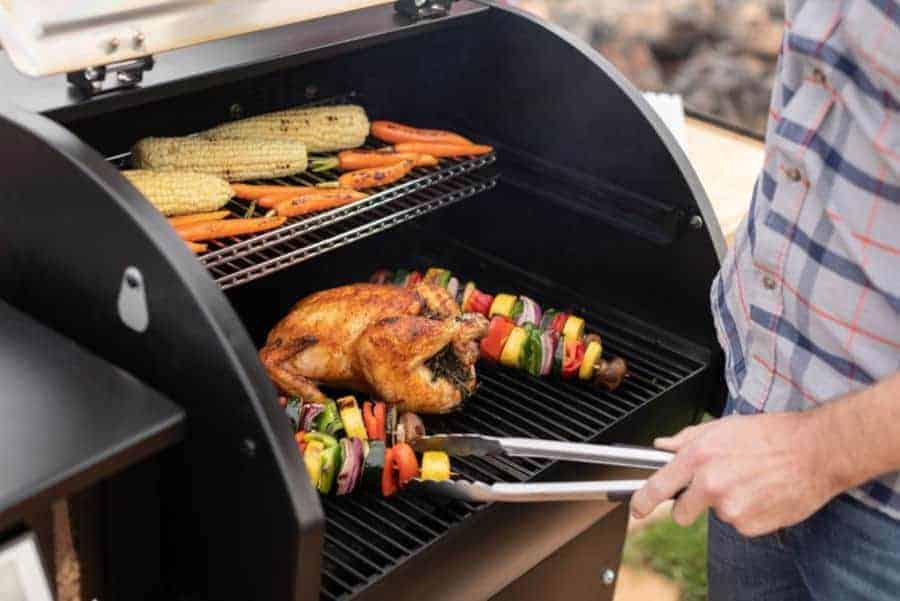 22 lb pellet hopper capacity with Window and 'easy empty' — Most bags of pellets are 20 lb. Most hoppers are less than this. The Woodwind has a 22 lb hopper meaning you can dump in a full bag. I'm not the only one who hates having to store partial bags of pellets, I'm sure? The hopper also has a window, so you can see how much is left inside with ease.
Also, you can empty the hopper by way of a chute. Pull a knob, a trapdoor opens, and pellets fall down a chute into whatever container you use. No more scooping out pellets if you wish to store your smoker or change your smoking wood pellets.
Pros
Smart smoke, best in class temperature control and monitoring (160-500 degrees F)
Wi-Fi enabled for monitoring and control anywhere
Can sear at 900 F
Durable and stable
Easy clean-up and emptying of unused pellets
Huge cooking area
Extremely versatile
3-year warranty
Cons
A lot of new to market technology, so longevity is as yet unproven
The Woodwind Wi-Fi pellet grill smoker with side sear box is probably the most versatile, fully-featured, easy-to-use, maintain and clean pellet grill I have seen come to market, and all at a reasonable price making it great value for money.
It helps that it's pleasing to look at too! There's honestly nothing I don't like about this product, and a hell of a lot I do. This is why I've awarded it 1st prize in my search for the best pellet grills. Better ones exist, sure. But they cost thousands of dollars! In our professional opinion, this is the best pellet smoker for the money, at a reasonable price.
2
Traeger TFB57GZEO Pro Series 575 Grill
♔ Runner-Up
Traeger is the original brand of pellet grill and (at the time of writing) the most popular brand with the highest number of worldwide sales. They've produced quality and reasonably priced grills for decades, so they were bound to feature high in this list.
Of their stable of products, the updated 'Pro series' are their proven bestsellers that bring new advanced controls and Wi-Fire technology to what was already a versatile outdoor cooker that can smoke, roast, bake, braise, and grill.
Many of the features in the Pro 575 were reserved for their high-end Timberline range, costing a fair whack more, so they've now brought their top tech to the Pro range in this iteration. Let's look at what you get.
Wi-Fi Connected D2 Controller
Traegers new D2 PID temperature controller with constant temperature feedback and variable speed fan work together to hold temperatures steady. An improvement and fix to complaints of swinging temperatures in older models.
It ships with a meat temperature probe connecting to the control panel for monitoring your food's internal temps, so there is no need for a separate 3rd party smoker thermometer.
The Pro Series 575 controller provides Wi-Fi connectivity with technology Traeger call the 'Wi-Fire Controller.'
This allows you to connect the smoker to the internet, so you can monitor and set temperature, set timers, and more, from a smartphone app in the palm of your hand. Pellet smoking doesn't get easier than this!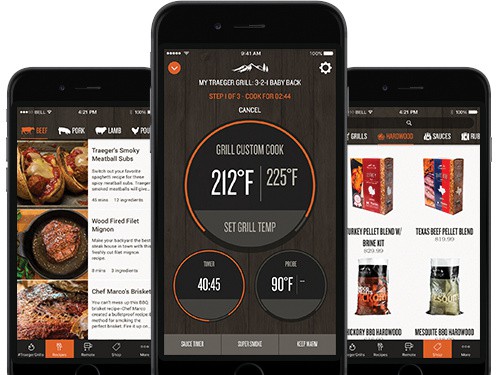 The app contains a grilling guide full of recipes that can upload settings to your smoker to automatically control the entire cook from start to end with optimal setting changes throughout, all done hands-off for you. Cool feature, I'm sure You'll agree?
Wi-Fire makes the Pro 575 'Alexa Enabled', so you can ask Alexa to make setting changes with voice commands.
D2 Direct Drive Auger Motor
Albeit rarely, the auger in a pellet smoker can clog and become stuck. This means no further pellets can be fed into the fire pot, and of course, cooking stops.
Traeger upgraded the pellet delivery system with a higher torque, lower RPM brushless direct-drive motor, and drivetrain in the Pro series. It's more resilient, stronger, less likely to clog, and allows a longer time frame between necessary maintenance.
Turbotemp
Turbotemp is a feature combining the new PID controller and D2 drive train motor, along with the variable speed fan to accomplish faster warm-up and start-up times.
And this combo creates a strong vortex of heat and smoke throughout the cooking chamber, enveloping the foods uniformly and helps stabilize temperature gradients, so you get more consistent cooking.
Pros
Push-button easy operation.
Fast starting and accurately maintained temps.
Good sized capacity to cook for a crowd
More efficient and cost-effective use of wood pellets compared to previous models.
Wi-Fire technology to monitor and control temps and timers from your smartphone.
Cons
Max temp of 450 F a little on the low side, when many competitors reach 500 F.
Dual (or more) temperature probes would have been nice.
The Traeger Pro Series 575 is a capable and versatile outdoor cooker, hitting the right balance between affordability, features, and advancements in technology.
I'm a huge fan and happily recommend this grill, awarding it second place only to the Camp Chef Woodwind, despite the fact the Traeger does come in at a more affordable MSRP at the time of writing.
For current prices, more pics, and customer reviews, follow this link:
3
Camp Chef SmokePro DLX Pellet Grill w/New PID Gen 2 Digital Controller
♔ Budget Friendly
The market for budget-friendly pellet smokers has grown in recent years, and after extensive research we found many lower priced pellet grills to be lacking essential features. But Camp Chef DLX wood pellet smokers come with features you don't find even on more expensive pellet grills.
This is a capable smoker with a generous 429 cubic inches of cooking space, which, when you include the removable upper warming rack, provides 570 square inches of cooking space.
It comes with a built-in meat probe that runs through a special port in the sidewall. It attaches to the smart digital temperature control panel that provides a cooking temperature range from 160 °F up to 500 °F (71 °C to 260 °C). You can set the smoke level to low or high, which is about 225 °F (107 °C).
This smoker holds two large chickens or three racks of baby back ribs. And with attachments available — including an optional pizza stone — you can even bake pizza! Also available are a sear box, and flat-top griddle.
Two of the nicest features are the ash cleanout system and pellet clean-out door. There's no vacuuming needed to clean the ash pan, you simply pull a lever and the ash empties out from the firebox into a cup mounted underneath the burn area.
This smoker has an 18-lb pellet capacity hopper with an easy release trap door so you can empty it fast. Leaving pellets in your hopper can cause them to become damp and hard to burn. Plus, there are times you want to change wood pellets to enhance the smoke flavor.
It has two plastic wheels on the right side while the left legs are stationary, making for a sturdy, stable platform.
Camp Chef makes it easy to set up and get cooking with seven online training videos in their multimedia selection window.
This smoker comes with a one-year warranty.
Pros
Built-in meat probe and port for easy monitoring.
Trap door access to easily clean the burn pot.
The hopper clean-out door for quick and easy pellet changes.
Rear-mounted smoke stack leaves right side open as a prep area.
Big enough for six beer can chickens.
Cons
The lid is thin and doesn't seal tightly, so temperature can swing on cold, windy days unless sheltered.
The temperature controls are not programmable, so you will need to monitor more often.
If you're looking for hassle-free clean-up and a pellet grill and smoker which can smoke two chickens and one brisket at the same time, all at a budget-friendly value for money price, this grill is for you.
For a closer look at this model, you can check out our in-depth Camp Chef SmokePro DLX review. Or for current prices, more pics and customer reviews, click here:
4
Recteq RT-700 Wi-Fi Enabled Wood Pellet Grill
High-End
The REC TEC RT-700 wood pellet smoker is a unique, good-looking BBQ with its bullhorn handles!
The construction is sturdy, most of the internal parts are made of stainless steel including the cooking chamber, grill grates, towel ring, controller shelf, hopper lid and handles, lid piano hinge and a lot more.
This model has 700 square inches of cooking space, one of the largest cooking areas of the grills we've looked at, capable of cooking for a crowd.
You can cook 6 large racks of ribs, double if you have rack holders. Or it can hold a brisket and two pork ribs at the same time. If this isn't enough, you can expand to 1045 sq. In. With the optional second storage shelf.
This smoker has a generous 40 pounds pellet hopper capacity, making it suitable for the longest of cooks.
The RT-700 uses Smart Grill Technology™, a PID (proportional-integral-derivative) controller to adjust the temperature and keep it steady. The smoker has a working temperature range of 200 °F to 500 °F (93 °C to 260 °C) programmable in 5 °F degree increments for better cooking results.
Recteq includes an internal hood light wired into the system for better visibility. A nice feature is the control panel box on the left that doubles as a small side shelf with tool hooks attached. The hopper lid on the rear works as a nice warming shelf.
Moving this unit is easy with 2 wheels and 2 casters, plus the grab handle located under the chimney.
Pros
Large 40 lb. Hopper and grill size gives plenty of room to cook for a crowd.
The internal parts and grill are stainless steel for long life.
It looks striking on your patio.
Internal hood light for 24-hour cooking.
6-year warranty is one of the longest for any pellet smoker.
Cons
No pellet hopper release should you want to change to a different pellet.
The fire pot doesn't come out for cleaning, but you can always vacuum it out.
We take a more in depth look in our Recteq RT-700 review . Or you can click here for current prices and customer reviews on Amazon.
5
Green Mountain Grill Davy Crockett Pellet Grill
Portable
Drive other campers crazy with the smell of smoked meat. The Green Mountain Grills Davy Crockett Pellet Grill and smoker combines portability with a digital Wi-Fi controller's convenience. You can control and monitor your meat with the iOS or Android mobile app.
Take it camping, set it up, and go off and play while controlling it from your smartphone.
It uses a thermal probe, and the digital heat control adjusts in 5-degree increments. The "Sense-Mate" thermal sensor monitors the meat's temperatures and the grill, keeping it stable and in check. It's fully programmable from any Wi-Fi enabled device.
The Davy Crockett has three power options for the ultimate in portability. It runs on the 12-volt cigarette lighter, a 110-volt converter or 12v jumper cables that come with the kit. At 69 pounds (and a little help) it fits in the trunk of a car. The fold-down legs acts as handles.
The lid is peaked instead of rounded, adding height for ribs or whole birds. It comes with an attachable tray with utensil hooks and a grease management system catching cup on the outside for easy cleaning.
Pros
Three power source options including your vehicle's cigarette lighter making it portable.
Wi-Fi enabled digital control so you can monitor and adjust the cooking from anywhere.
Large enough to simultaneously cook a brisket and beef tenderloin.
Has an open flame option to go up to 500 degrees for searing.
Only 69 pounds, and the legs fold into handles for easy carrying.
Cons
The hopper only holds 8 pounds of pellets.
The left side tends to cook hotter due to the slanting grease plate below the grill.
The Davy Crockett is the best pellet grill for almost automatic, hands-free tailgate smoking. It's compact, portable, and runs off your car cigarette lighter.
Check out our GMG Davy Crockett review for a more in-depth look.
6
Cookshack PG500 Fast Eddy's Pellet Grill
Stainless Steel
The two big differences between the Cook Shack PG500 pellet smoker and other pellet grills are construction and access.
The PG500 is made in the U.S. using riveted, all-stainless steel construction. And this grill/smoker uses two doors, left and right. The cooking chamber is rectangular instead of rounded, providing a flat warming shelf on top.
The reason for the two doors is the way they configured the main cooking surface. By dividing the primary level into a direct flame and indirect flame, they created four cooking zones:
Zone one is a 10" wide x 18" deep direct cooking area directly above the fire pot and diffuser plate for grilling and searing. It does a nice job of searing and grilling steaks.
Zone two is on the fire pot's right, an 18" x 18" indirect zone for high or low temperature roasting with or without smoke.
Zones three and four refer to the upper 10" x 28" nickel-plated steel rack. Zone three is above the fire pot, making it much hotter than Zone four above the indirect cooking area.
In all, the PG500 has 784 sq. In. Of the cooking area, which you can turn into four zones of cooking: Direct, indirect, cold-smoking, and holding. It has the versatility of either grilling steaks or smoking cheese.
It requires a 120 VAC power source with five amps for the 36,000 BTU burner. The digital controller has a temperature range of 180 °F – 600 °F (82 °C to 315 °C) and maintains a constant temperature of a few degrees from start to finish.
The 22-pound pellet capacity should give you about 33 hours of smoke time at 225 °F (107 °C).
They've designed a convenient front access ash drawer for easy clean-up. The grease management system directs drips into a pail hanging off the spout on the right side, and it has two casters and two stationary legs for maximum stability.
CookShack covers the grill with a 2-year limited warranty and gives you a 30-day money-back guarantee.
Pros
All-stainless inside and out provides maximum durability.
The 4-zone cooking gives you more cooking options with the same grill.
Clean out is simple with two pull out drawers for grease and ash.
Large 22 lb. pellet hopper capacity for longer cook times.
The direct fire zone gets hot enough to grill steaks perfectly.
Cons
Because of the fire pot's open design for the high heat zone, ash can blow onto the food from the fan forced convection air.
The high heat area of Zone 1 is relatively small and holds only four strip loin or 6-8 burgers.
No meat probe option for the controller means you have to check the internal temperatures by opening the door, losing heat in the process.
The PG 500 also comes with a side shelf for food prep, and a 40-pound bag of pellets to get you up and smoking right away.
We take a deeper look at this grill in our Cookshack PG500 review.
7
Traeger Grills Bronson 20 Pellet Grill
Small
At 77 pounds this compact Traeger pellet grill is perfect for small areas and small families. It's only 38 inches wide and 22 inches deep.
One interesting feature is it has no open flame complying with most HOA rules. The 300-sq. In. (20" x 15") cooking space will hold up to four chickens, or a 20 lb. Beef brisket. The grill grates are porcelain coated steel for easy cleaning and rust protection.
The frame and body feature powder-coated steel combining economy and durability. It has the "sawhorse" frame for stability, and oversized plastic wheels make it easy to roll around.
The temperature controller has an LED display and an oven-type knob for settings. It's not as accurate as other models with 25 °F increment settings and a +/- 15-degree fluctuation.
The 10-pound pellet hopper provides between 8 and 16 hours of smoke time, depending on cooking temperature. It comes with a 10-minute cooldown cycle where the fan blows out excess ash from the fire pot.
This pellet smoker is perfect for smaller households, tailgating or as a second grill for your vacation home.
Pros
Compact size makes this a perfect smoker for small areas.
This smoker complies with most HOA rules regarding open flames on balconies.
Oversized plastic wheels make it easy to move.
Porcelain coated steel grill grates for long life.
3-year warranty overall, 1-year warranty on the grates.
Cons
The controller is not as sensitive as it could be.
No option for temperature probes.
The Traeger Bronson 20 is a small pellet grill and smoker that's a good choice for a second smoker or ideal for a small balcony or patio. It's economical and has all the basic features larger or more expensive pellet grills have.
8
Memphis Wood Fire Grills Pro Cart 430 SS
Extreme High-End
If you're looking for the highest quality construction, materials, features and design, the Pro-28 inch pellet smoker by Memphis Grills is what you want.
They built this pellet smoker out of 430 stainless steel, double-walled where it counts. There is a 304-stainless steel upgrade available. All internal and extra parts are stainless, so you'll never worry about corrosion. The lid has a commercial-grade oven gasket for a tight seal.
It weighs 213 pounds and has four locking casters for mobility and stability on hard surfaces, but don't try and roll it over soft ground, the wheels are too small.
The cooking area is 562 sq. In., expandable to 834 sq. In. With the optional grates. This grill has one of the highest temperature ranges from 180 °F to 650 °F (82 °C to 343 °C).
All internal parts are stainless steel for long life. You switch from direct to indirect heating using the "Genie Tool" they provide. This tool also cleans the cooking grates and grips the grill's various parts for access and cleaning.
You can program your cook from start to finish using the Intelligent Temperature Control (ITC) at the grill or from any Wi-Fi enabled device.
This unit has two fans for better heat circulation and cooling down. And it ships with one stainless steel meat probe, but the control has jacks for two more if you want to monitor different meats.
The rear-mounted dual hopper holds a total of 18 pounds of pellets. You can add two different pellets at the same time for different flavor profiles.
Two excellent features unique to the Pro-28 are the combination storage shelves left and right. The tops flip up to reveal stainless steel holding pans to hold all your secret ingredients.
The Memphis Grills Pro-28 comes with a direct flame insert, Genie tool, one meat probe, and a free 20 lb bag of pellets. Manufactured in the U.S., this grill has a 7-year limited warranty.
Pros
All stainless-steel construction makes it durable for a lifetime.
7-year limited warranty means the company stands by their product.
Dual hopper for mixing wood pellets.
Two shelves with hidden storage is a feature no other smoker has.
Wi-Fi enabled, so you can set it and forget it. Monitor the cooking from any device.
Cons
The hopper doesn't have a clean-out making for a difficult pellet change.
You must clean out the burn pot after each use, or it could make too large a fire the next round due to startup cycle misreading.
You must purchase the Direct Flame Flavorizer separately to achieve higher temps for grilling steaks.
If you're looking for a high-tech grill with low maintenance, this is the one. And its double-walled stainless-steel construction will last a lifetime.
This grill is on the higher end of cost but pays for itself over time. The convenience of Wi-Fi connection and programming, plus the ability to use three separate meat probes make this pellet smoker competition worthy, right in your backyard. Certainly one of the very best pellet grills on the market today.
9
Yoder Smokers YS640s Pellet Grill with ACS
High Capacity
Yoder is a well-known brand in the competition and commercial barbecue world. The YS640 is their attempt to capture the home market, and this smoker hits the mark.
It has all the features the commercial pellet grills have plus the quality of materials and construction you expect from a commercial manufacturer.
The Yoder YS640 Pellet Grill is true "set & forget" smoking, but they opted out of using a common PID temperature controller. Instead, they custom-built the controller with software specifically for Yoder and the many variables of cooking and smoking meats. It has proven to be accurate and reliable.
Set from 150 °F to 600 °F (65 °C to 315 °C) in 5 deg. Increments. It stays within a few degrees of your set point. With the optional "Direct Grilling Package," the left side will climb to 700 °F (371 °C) for steakhouse-style grilling.
Another feature unique to this unit is the Variable Displacement Damper. It's a metal plate you adjust from left to right along the smokebox to help concentrate or disperse the heat.
The main grill offers 640 square inches of cooking space with two 16" x 20" grates. Adding the second 15.5" x 28" slide-out shelf provides a total cooking area of 1,070 sq. In. This is plenty of room for competition or feeding large crowds at backyard parties, making this our top pick for best pellet grill for feeding large numbers.
Featuring a 20-pound pellet hopper, you get plenty of smoking time before you need to refill. It's about 12" tall, plenty of room for a turkey or beer can chickens.
The heavy-duty auger with high torque motor prevents jams. The offset burn pot allows for both direct and indirect heat and acts as an offset smoker.
The YS640 weighs a substantial 335 lbs. And has a 10-gauge steel cooking chamber with 14-gauge steel for the hopper and cart.
The finish is a high-heat, satin-coated paint. It's not powder coated. The reason is grills get scratched, it comes with the territory. Yoder decided to use paint because it's easier and cheaper to touch up when you need to.
Pros
Heavy-duty construction using 10 and 14-gauge steel.
Warranty is 1-year on the igniter, 3-years on the control system and 10-years on the cooking body, the longest in the industry.
Custom built controller.
20-pound hopper pellet capacity for long cooking times.
Chrome-plated ¼ inch steel bars for the cooking grates.
Cons
You must vacuum the fire pit because it's not removable.
The casters are too small to roll on anything besides concrete.
What to Look for in the Best Pellet Grills
Most people will be looking at pellet grills for their high tech features that makes them one of the best type of smoker for beginners, incredibly easy-to-use, yet highly capable.
So with this in mind, you want to make sure the model you choose has the features you care about. Here's what to look for.
Size and Cooking Capacity
From small portable models suitable for tailgating to giant 1000+ square inch cooking surface monsters, pellet smokers come in all different sizes…with prices to match.
If you will only ever cook for 2 to 6 people, there's little point splashing out on a model that can cook four full-sized briskets.
So know what size you need before looking at what to buy.
The Pellet Delivery System
Things to look for:
The auger and tube should be large enough to avoid jamming.
There should be enough separation from the end of the auger tube and fire pot, so there's no chance of fire going back into the hopper.
Will the hopper stay dry in the rain?
The larger the hopper, the less you have to babysit.
Hopper Cleanout. Is there a clean-out door or do you have to scoop them out manually?

Editor's Note
The vast majority of pellet grill blockages are down to the use of wet or old pellets. They MUST be stored in an airtight container, or they will soak up moisture from the air, then block the auger. Keep your pellets dry, and use within 3 months of opening.
— Mark Jenner
The Combustion System
There are two parts to the combustion system, the fire pot, and the igniter.
The fire pot is nothing but a thick steel can with some holes punched in it for ventilation. The igniter rod works much like the cigarette lighter in a car. The tip glows red-hot during the initial startup, and once the controller senses the heat in the grill, the igniter shuts off.
Look for stainless steel or thick metal fire pots. Igniters can burn out over time so ask about how difficult it is to replace and availability.
Grate Materials and Overall Construction
In general, the more stainless steel used in the construction, the less chance for corrosion, but the higher the cost. Most manufacturers build using steel that has either been painted or a baked on powder-coated enamel-like coating.
Look for internal parts like the grill grates and fire pot made with stainless steel for the longest life. A porcelain-coated cast iron grate is the next best choice.
Digital Controls and Wi-Fi Capability
Most modern pellet smokers come with programmable digital heat control. Some are Wi-Fi accessible and programmable with your smartphone.
One newer innovation is PID controllers (proportional–integral–derivative.) It calculates the variables in the grill and keeps the temperature within 5 degrees of the set point. These controllers make cookers as close as you can get to smoking meat on auto-pilot.
Other older types of controllers, such as the three-position and multi-position controllers that have three temp settings or step-up in 5 or 10-degree increments, often suffer from 15-degree Fahrenheit swings either way.
In addition to a temperature probe for the smoker, look for controllers with at least one meat probe to monitor the meat's internal temperature for better results. Some other pellet grills can have up to three separate meat probes.
Also See
The best smokers in a few other styles — make sure you've considered all the options!
The best electric smokers — As easy-to-use as a pellet smoker, though admittedly not as capable.
Ease of Use
Do you want a simple, analog dial model with an on / off switch and 3 to 10 temperature control settings? Or an 'all bells and whistles' controller with Wi-Fi connection, Bluetooth enabled, smartphone-controlled, advanced model?
In all fairness, all pellet grills are easy-to-use, just some more than others. But make sure you know which you'd prefer.
Versatility
All pellet smokers can smoke, but do you want to sear at high temperatures too? Perhaps you'd like a flat top griddle attachment? What temperature range do you want out of your purchase?
I think it pays to decide before looking to avoid getting sucked into added features you may not want or need.
Easy to Clean Features
Most of us hate to clean. So, finding features to make the job easier becomes an important consideration. Some features to look for are:
Removable fire pot or access door to clean it
Easy access to grease and ash clean out system
Pellet hopper clean-out door or easy access
Some cheaper or older pellet cookers, you have to open the lid and scoop out the pellets from the top to empty it. Worse, you need to disassemble the insides to clean out the firebox.
Definitely look for modern time-saving and effort-saving design features. Your future self will thank you.
Pellet Hopper Capacity
Generally speaking, a good pellet grill will run at between 1/2 and 1 lb of pellets per hour of smoking.
A large full packer brisket can take up to 18 hours of low and slow coking.
Therefore, if you want to load your pellet smoker once during a long cook, make sure it has an 18 lb pellet hopper capacity or higher, so you can go through an entire cook on one fill.

Editor's Note
I feel you're missing a trick if you buy a pellet grill with Wi-Fi connectivity so you can control it from anywhere in the world, but with a hopper capacity that will not last for the duration of a long cook so you need to be home to refill it. 18 lb capacity minimum will cover all scenarios.
— Mark Jenner
Pellet Consumption and Running Costs
Higher quality pellet grills made from thicker materials are more insulated, better sealed, and retain heat better than cheaper models made from thinner materials. This affects your ongoing running costs and often means spending more on a better grill in the first place, saves a lot of money over years of life.
So do take pellet consumption into account. Spending more on a grill that consumes fewer pellets can save a small fortune over time when it comes to pellet grilling.
Warranty
You will find warranty periods from one to ten years from different manufacturers. Although the warranty isn't a deal-breaker, it can give you an idea of what the manufacturer thinks about their product and whether they're happy to stand by their products.
We feel a robust warranty is a must with a pellet smoker because they have many mechanical and electronic parts compared to other straightforward types of smokers, there's just more that can go wrong.
You will see the guarantee in each one of our reviews.
Other Considerations
Power — Think about how far your smoker will be from the nearest outlet because all pellet grills require 110v/120v AC power. Unless you plan on a permanent installation by an electrician, you want to buy a heavy-duty outdoor extension cord with at least 12-gauge wire.
Maintenance — Anytime you mix steel, electronics, and weather, you can have problems. Motors, igniters, and electronics can and do wear out. Consider the age of the company and ask about the availability of replacement parts for the future. Some parts are common, and others are custom. Will you be able to get spare parts later?
Your Cooking Style – Before you decide on a pellet smoker, think about how much pellet grilling you're actually going to do. Are you opening a restaurant serving smoked meats or will just smoke an occasional brisket for you and the wife?
Pellet grills are smokers first and a grill second. Typically, the burn pot is small and will not do as good a job of grilling large quantities of steaks and burgers as your standard charcoal grill. Most of them do well with one or two burgers if that's all you need.
Alternative Options
There are, literally, hundreds of different models of pellet grills available, from numerous manufacturers. We have a growing collection of articles looking at all there is offer, and we recommend you to check them out, so you're sure you've looked at all your options.
Green Mountain Grills pellet grills
Pit Boss Pellet Smoker Reviews
We also have the following articles comparing the popular pellet smoker brands and their offerings against each other, to see how each manufacturer line up squares against the competition, as well as brand history, support and more:
Camp Chef vs Recteq
Green Mountain Grills Vs Traeger
Pit Boss Vs Green Mountain Grills
Z Grills Vs Pit Boss pellet grills
Z Grills vs Traeger grills
Benefits of Pellet Smokers Compared to Other Types
Pellet grills are unique in their operation, or at least fuel choice. There is nothing else like them to grill and smoke with. So are pellet grills worth it? Let's look at the main benefits.
Ease of Use — No charcoal or wood fire to get lit, and no top and bottom vents to first master and tweak to control airflow and temperature inside the cooking chamber. No topping up of wood chunks or chips to produce smoke, and no topping up of fuel mid-cook.
Getting a pellet grill started is easy as turning it on, setting the desired temperature on either a rotary dial or digital push buttons, and off it goes by itself, maintaining a near-perfect cooking temperature and smoke output until the cook is done.
Versatility — Most are able to hold temperatures ranging from under 200 F to 500 F more. This means a pellet smoker offers multiple cooking methods such as smoke, roast, braise, bake, and grill.
You can pretty much cook anything on a pellet smoker that you can cook in your kitchen, on the hob or in the oven.
Low Maintenance and Easy to Clean – Pellet grills couldn't be easier to fill up, simply pour a bag into a large opening in a hopper.
And when cooking is finished, because the pellets produce little ash, cleaning after is easy too.
Most models these days will have a door or flap you pull to discharge ash out the bottom, though some cheaper models do require an ash vacuum.
They also have a grease management system, where oils and fats dripping from food collects into a grease pan for easy removal and cleaning in a kitchen sink or a dishwasher.
Fuel-Efficient — Wood pellets are dense, high energy, and cost-efficient to burn, similar in cost to run as using gas.
Most models are also very well constructed, sealed, and insulated so they hold heat well. They also have a convection fan that blows heat around the cooking chamber.
All this adds up to them being reasonably fuel and cost-efficient.
Quick to Start-Up — Charcoal and wood-burning smokers take a good amount of time, sometimes as much as 45 minutes, to come up to cooking temperature after being lit.
A good pellet smoker will be ready in 15 minutes after turning them on, saving time and avoiding occasional frustration.
Disadvantages Compared to Other Types
You can't decide if pellet grills are worth it without discussing the cons! Here are some characteristics of pellet grills that don't weigh up favorably to other types of smoker.
Not Great at Grilling — The biggest bugbear of most opponents to pellet grills is the fact they are called a 'grill', but they don't do grilling well! (They are officially smokers that happen to grill too.)
Because most pellet grills are limited to between 450 and 500 F at the top end, they will never sear as well as a charcoal or gas grill. However, as you can see from the top pick in this list, manufacturers are finding solutions!
High Initial Cost to Buy — You can get a perfectly good charcoal, electric smoker or gas smoker for between $200 to $400. Pellet smokers average between $500 to $2000. So the initial outlay to acquire one is far greater.
Availability of Fuel — You can buy charcoal or gas refills at any convenience store, you are never far from a source. However, wood pellets used for food smoking aren't so readily available.
You must make sure you keep a good stock of pellets and aim never to run out, because often the only source to buy pellets for you will be online, and mean a 24 hour or more delivery.
Don't ever run out of pellets mid-cook!
Weaker Smoke Taste — Many people accustomed to smoking on charcoal grills, or offset wood burners, find the taste from pellet cookers is lacking a certain…something. The smoke flavor not strong or deep enough.
While this is somewhat true, it's a cleaner taste, a bit more refined, and some say allows the ingredients of the food to shine through.
Limited Maneuverability — With most pellet grills you are tethered by the power cord's length and being near to a mains supply running on electricity. If you wish to relocate to another area of your garden, it's not always easy to do.
Conclusion
We've chosen the Camp Chef Woodwind as the best pellet smoker for the money after our extensive research and tests.
It has unparalleled performance, incredible temperature control, a large cooking area, a direct flame portion that can cook a steak properly…but with a side sear box capable of hitting 900 degrees Fahrenheit just in case.
It's highly advanced and good-looking to boot. It's easy to maintain, well-built, and should last many years, making this the only smoker/grill combination you need.
If you have any comments about these wood pellet grill reviews, or experience with any of the products here, please let us know in the comments below!