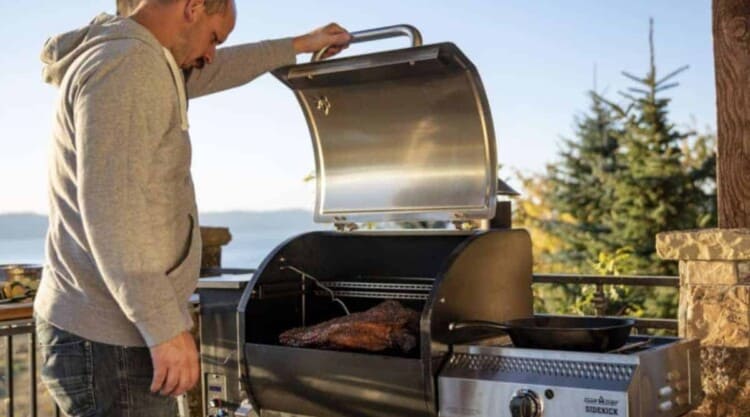 This guide gives our expert opinion into the best pellet grills and smokers available today to suit different needs and budgets.
We review top picks in a few different categories, detailing why we love them and highlighting any disadvantages one pellet grill may have compared to others.
After detailing our top picks, we finish the article with an extensive buying guide. Discussing the specifications and features you want to look for, how a pellet smoker works, how to use one, the benefits of smoking with wood pellets, and where they fall short of other types of smokers.
By the end of this guide, you will be armed with the knowledge needed to make the right decision when choosing the model to best match your personal tastes, needs, and budget for your backyard parties.
A Detailed Look at Our Top Choices
Here are our reviews of the top 14 models on the market today.
We recommend various sizes, for different budgets, with different feature sets, all meeting our quality guidelines and suitable for people with different needs. In this list, you are sure to find the right model for you.
All picks are, with two exceptions, full-sized pellet grills. We have a separate guide to the best portable pellet grills if that's what you're after.
Let's get into the recommendations.
What to Look for in the Best Pellet Grill
Most people will be looking at pellet grills for their high tech features that makes them one of the best type of smoker for beginners, incredibly easy-to-use, yet highly capable.
So with this in mind, you want to make sure the model you choose has the features you care about. Here's what to look for.
Size and Cooking Capacity
From small portable models suitable for tailgating to giant 1000+ square inch cooking surface monsters, pellet smokers come in all different sizes…with prices to match.
If you will only ever cook for 2 to 6 people, there's little point splashing out on a model that can cook four full-sized briskets.
So know what size you need before looking at what to buy.
The Pellet Delivery System
Things to look for:
The auger and tube should be large enough to avoid jamming.
There should be enough separation from the end of the auger tube and fire pot, so there's no chance of fire going back into the hopper.
Will the hopper stay dry in the rain?
The larger the hopper, the less you have to babysit.
Hopper Cleanout. Is there a clean-out door or do you have to scoop them out manually?
The Combustion System
There are two parts to the combustion system, the fire pot, and the igniter.
The fire pot is nothing but a thick steel can with some holes punched in it for ventilation. The igniter rod works much like the cigarette lighter in a car. The tip glows red-hot during the initial startup, and once the controller senses the heat in the grill, the igniter shuts off.
Look for stainless steel or thick metal fire pots. Igniters can burn out over time so ask about how difficult it is to replace and availability.
Grate Materials and Overall Construction
In general, the more stainless steel used in the construction, the less chance for corrosion, but the higher the cost. Most manufacturers build using steel that has either been painted or a baked on powder-coated enamel-like coating.
Look for internal parts like the grill grates and fire pot made with stainless steel for the longest life. A porcelain-coated cast iron grate is the next best choice.
Digital Controls and Wi-Fi Capability
Most modern pellet smokers come with programmable digital heat control. Some are Wi-Fi accessible and programmable with your smartphone.
One newer innovation is PID controllers (proportional–integral–derivative.) It calculates the variables in the grill and keeps the temperature within 5 degrees of the set point. These controllers make cookers as close as you can get to smoking meat on auto-pilot.
Other older types of controllers, such as the three-position and multi-position controllers that have three temp settings or step-up in 5 or 10-degree increments, often suffer from 15-degree Fahrenheit swings either way.
In addition to a temperature probe for the smoker, look for controllers with at least one meat probe to monitor the meat's internal temperature for better results. Some other pellet grills can have up to three separate meat probes.
Most manufacturers offer Wi-Fi connectivity with their pellet grills these days. Once connected, you install an app on your smartphone and can use this to monitor and control your grill from anywhere in the world you have an internet connection. This means you can set up a smoking session, then go off to run errands or play golf, and keep tabs on your cook and even adjust things right from your phone.
Ease of Use
Do you want a simple, analog dial model with an on / off switch and 3 to 10 temperature control settings? Or an 'all bells and whistles' controller with Wi-Fi connection, Bluetooth enabled, smartphone-controlled, advanced model?
In all fairness, all pellet grills are easy-to-use, just some more than others. But make sure you know which you'd prefer.
Versatility
All pellet smokers can smoke, but do you want to sear at high temperatures too? Perhaps you'd like a flat top griddle attachment? What temperature range do you want out of your purchase?
I think it pays to decide before looking to avoid getting sucked into added features you may not want or need.
Easy to Clean Features
Most of us hate to clean. So, finding features to make the job easier becomes an important consideration. Some features to look for are:
Removable fire pot or access door to clean it
Easy access to grease and ash clean out system
Pellet hopper clean-out door or easy access
Some cheaper or older pellet cookers, you have to open the lid and scoop out the pellets from the top to empty it. Worse, you need to disassemble the insides to clean out the firebox.
Definitely look for modern time-saving and effort-saving design features. Your future self will thank you.
Pellet Hopper Capacity
Generally speaking, a good pellet grill will run at between 1/2 and 1 lb of pellets per hour of smoking.
A large full packer brisket can take up to 18 hours of low and slow coking.
Therefore, if you want to load your pellet smoker once during a long cook, make sure it has an 18 lb pellet hopper capacity or higher, so you can go through an entire cook on one fill.
Pellet Consumption and Running Costs
Higher quality pellet grills made from thicker materials are more insulated, better sealed, and retain heat better than cheaper models made from thinner materials. This affects your ongoing running costs and often means spending more on a better grill in the first place, saves a lot of money over years of life.
So do take pellet consumption into account. Spending more on a grill that consumes fewer pellets can save a small fortune over time when it comes to pellet grilling.
Warranty
You will find warranty periods from one to ten years from different manufacturers. Although the warranty isn't a deal-breaker, it can give you an idea of what the manufacturer thinks about their product and whether they're happy to stand by their products.
We feel a robust warranty is a must with a pellet smoker because they have many mechanical and electronic parts compared to other straightforward types of smokers, there's just more that can go wrong.
You will see the guarantee in each one of our reviews.
Power
Think about how far your smoker will be from the nearest outlet because all pellet grills require 110v/120v AC power. Unless you plan on a permanent installation by an electrician, you want to buy a heavy-duty outdoor extension cord with at least 12-gauge wire.
Maintenance
Anytime you mix steel, electronics, and weather, you can have problems. Motors, igniters, and electronics can and do wear out. Consider the age of the company and ask about the availability of replacement parts for the future. Some parts are common, and others are custom. Will you be able to get spare parts later?
Your Cooking Style
Before you decide on a pellet smoker, think about how much pellet grilling you're actually going to do. Are you opening a restaurant serving smoked meats or will just smoke an occasional brisket for you and the wife?
Pellet grills are smokers first and a grill second. Typically, the burn pot is small and will not do as good a job of grilling large quantities of steaks and burgers as your standard charcoal grill. Most of them do well with one or two burgers if that's all you need.
Alternative Options
There are, literally, hundreds of different models of pellet grills available, from numerous manufacturers. We have a growing collection of articles looking at all there is on offer, and we recommend you to check them out, so you're sure you've looked at all options.
We also have the following articles comparing the popular pellet smoker brands and their offerings against each other, to see how each manufacturer line up squares against the competition, as well as brand history, support and more:
Benefits of Pellet Smokers Compared to Other Types
Pellet grills are unique in their operation, or at least fuel choice. There is nothing else like them to grill and smoke with. So are pellet grills worth it? Let's look at the main benefits.
Ease of Use — No charcoal or wood fire to get lit, and no top and bottom vents to first master and tweak to control airflow and temperature inside the cooking chamber. No topping up of wood chunks or chips to produce smoke, and no topping up of fuel mid-cook.
Getting a pellet grill started is easy as turning it on, setting the desired temperature on either a rotary dial or digital push buttons, and off it goes by itself, maintaining a near-perfect cooking temperature and smoke output until the cook is done.
Versatility — Most are able to hold temperatures ranging from under 200 F to 500 F more. This means a pellet smoker offers multiple cooking methods such as smoke, roast, braise, bake, and grill.
You can pretty much cook anything on a pellet smoker that you can cook in your kitchen, on the hob or in the oven.
Low Maintenance and Easy to Clean – Pellet grills couldn't be easier to fill up, simply pour a bag into a large opening in a hopper.
And when cooking is finished, because the pellets produce little ash, cleaning after is easy too.
Most models these days will have a door or flap you pull to discharge ash out the bottom, though some cheaper models do require an ash vacuum.
They also have a grease management system, where oils and fats dripping from food collects into a grease pan for easy removal and cleaning in a kitchen sink or a dishwasher.
Fuel-Efficient — Wood pellets are dense, high energy, and cost-efficient to burn, similar in cost to run as using gas.
Most models are also very well constructed, sealed, and insulated so they hold heat well. They also have a convection fan that blows heat around the cooking chamber.
All this adds up to them being reasonably fuel and cost-efficient.
Quick to Start-Up — Charcoal and wood-burning smokers take a good amount of time, sometimes as much as 45 minutes, to come up to cooking temperature after being lit.
A good pellet smoker will be ready in 15 minutes after turning them on, saving time and avoiding occasional frustration.
Disadvantages Compared to Other Types
You can't decide if pellet grills are worth it without discussing the cons! Here are some characteristics of pellet grills that don't weigh up favorably to other types of smoker.
Not Great at Grilling — The biggest bugbear of most opponents to pellet grills is the fact they are called a 'grill', but they don't do grilling well! (They are officially smokers that happen to grill too.)
Because most pellet grills are limited to between 450 and 500 F at the top end, they will never sear as well as a charcoal or gas grill. However, as you can see from the top pick in this list, manufacturers are finding solutions!
High Initial Cost to Buy — You can get a perfectly good charcoal, electric smoker or gas smoker for between $200 to $400. Pellet smokers average between $500 to $2000. So the initial outlay to acquire one is far greater.
Availability of Fuel — You can buy charcoal or gas refills at any convenience store, you are never far from a source. However, wood pellets used for food smoking aren't so readily available.
You must make sure you keep a good stock of pellets and aim never to run out, because often the only source to buy pellets for you will be online, and mean a 24 hour or more delivery.
Don't ever run out of pellets mid-cook!
Weaker Smoke Taste — Many people accustomed to smoking on charcoal grills, or offset wood burners, find the taste from pellet cookers is lacking a certain…something. The smoke flavor not strong or deep enough.
While this is somewhat true, it's a cleaner taste, a bit more refined, and some say allows the ingredients of the food to shine through.
Limited Maneuverability — With most pellet grills you are tethered by the power cord's length and being near to a mains supply running on electricity. If you wish to relocate to another area of your garden, it's not always easy to do.
Conclusion
We've chosen the Camp Chef Woodwind as the best pellet smoker for the money after our extensive research and tests.
It has unparalleled performance, incredible temperature control, a large cooking area, a direct flame portion that can cook a steak properly…but with a side sear box capable of hitting 900 degrees Fahrenheit just in case.
It's highly advanced and good-looking to boot. It's easy to maintain, well-built, and should last many years, making this the only smoker/grill combination you need.
If you have any comments about these wood pellet grill reviews, or experience with any of the products here, please let us know in the comments below!