In this article, we will take a close look at two cuts that are commonly confused, and look at the similarities and differences in our face off of Prime Rib vs Ribeye.
Your word of the day is, "nomenclature." It's a big, fancy word that essentially means, "big, fancy words." The specific words related to a topic are its nomenclature.
So, for beef fans, nomenclature would include tenderloin, short rib, and brisket.
There are so many names to keep straight, that it can be a bit intimidating. Even knowing the names might not always leave you confident which cut is which, or which one you want to take home for your grill.
When it comes to prime rib and ribeye, the names are similar, but the cuts are quite distinct. So today we will locate them on the carcass, see how they differ, discuss the correct ways to cook them, and the situations in which you might serve each cut.
This is sure to be a tasty article, so let's get started!
Where Do Prime Rib and Ribeye Come From?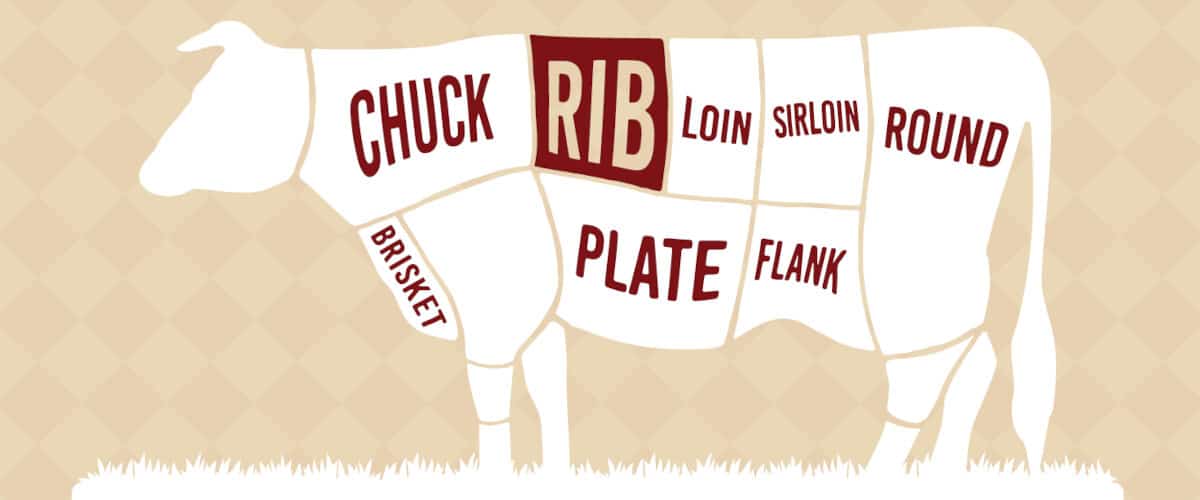 As we've already established, these are both beef cuts.
The word 'rib' is in both names, and that's our clue that they both come from the Rib primal of the cow. (For more on primal cuts, check out our complete guide to every cut of beef and how to cook them.)
Prime rib and ribeye are both cut from the back ribs, further adding to the confusion.
Note: For a comprehensive look at all beef cuts and where they come from, head over to our cuts of beef chart and diagram.
What Is Prime Rib?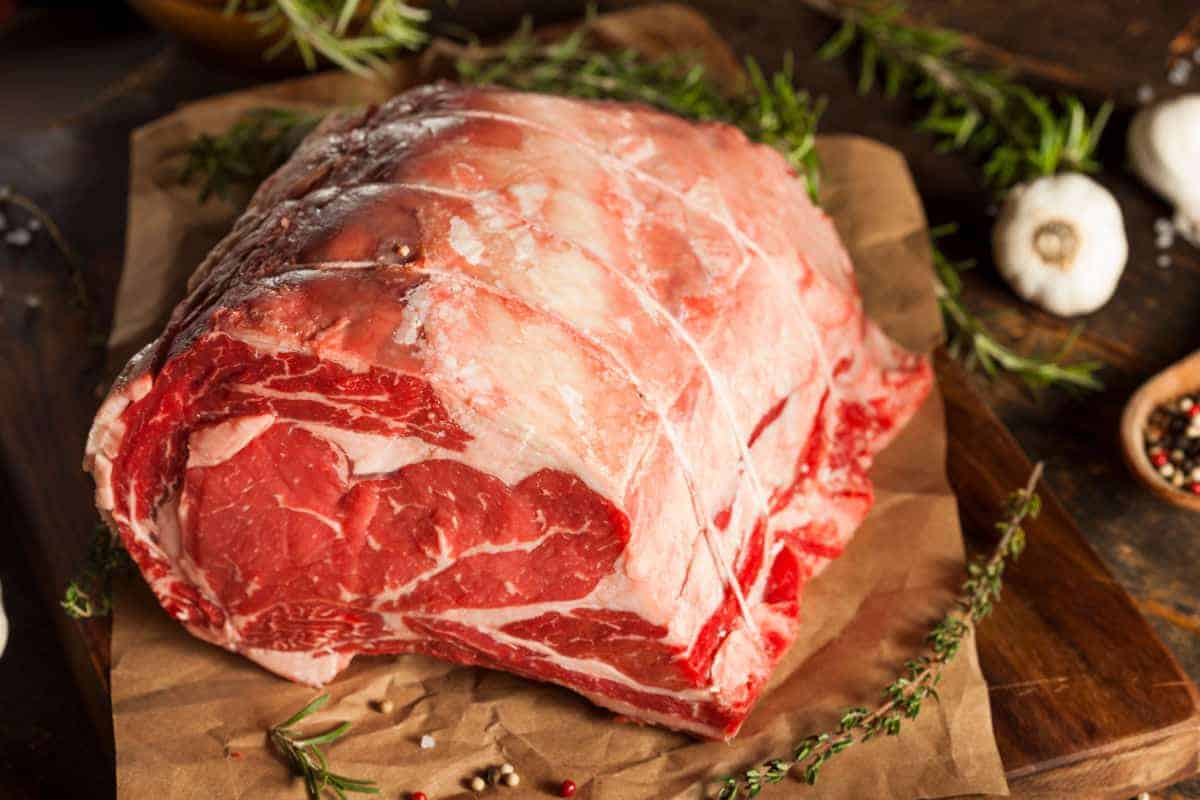 Prime rib is cut from the Rib Roast after the roast is cooked. The roast comes either bone-in or boneless, but many people prefer the bone-in for added flavor.
Once the Rib Roast is cooked, it can be sliced and served. This is the typical Prime Rib found at a restaurant carving station.
Prime rib can also be served as a steak. The bone is still attached to the steak, typically all the way to one side of the cut, making it easy to remove or cut around.
A Note on the Term "Prime"
Just because it's called "Prime rib," that doesn't mean it's a prime cut. Confused?
If you live in the United States, you're probably aware that the USDA grades meat. 'Prime' is the designation given to the very best cuts. So, a prime rib doesn't necessarily have a prime rating.
Remember when you pick up a pack of 'prime rib,' you still need to check for the USDA grading to know the quality. (You could, in fact, have prime prime rib from the rib primal. Did no one think this through ahead of time?)
What Is Ribeye?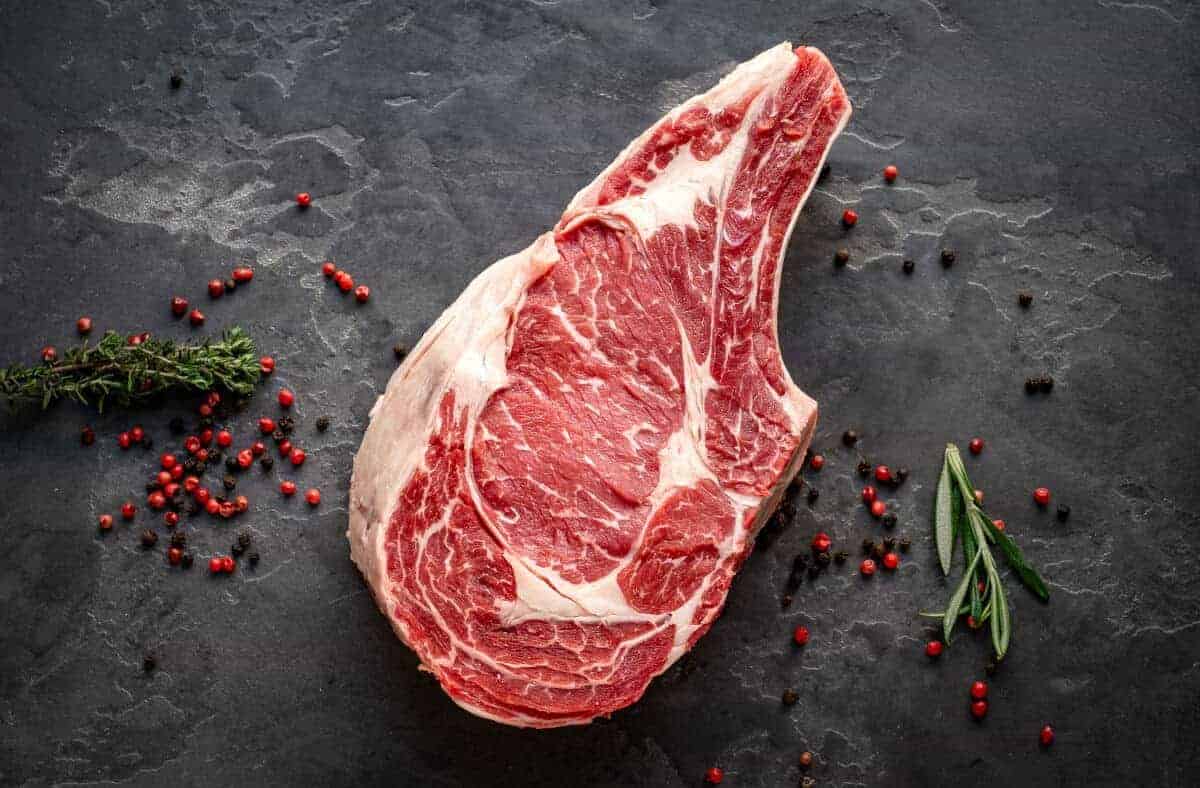 'Ribeye' is actually a bit of a misnomer as used by the majority of people.
What I mean is, almost everybody that mentions ribeye are referring to a rib-eye steak, when the ribeye is in fact a cut of its own.
Ribeye steak is made up of 3 different muscles:
Longissimus Dorsi – The actual 'eye' of the ribeye. This is the center of the cut, a well-marbled, circular-shaped cut surrounded by fat and two other muscles that make up the rib steak.
Spinalis – The ribeye cap or the 'rib crown.' This is a muscle connected to but separated from the eye (the longissimus dorsi) by a layer of fat.
Complexus – This is a small 3rd muscle that is attached to the 'eye', the longissimus dorsi, and makes up the 3rd muscle seen on a rib-eye steak.
So the actual 'ribeye,' or 'eye of the rib' is just the central part of what makes up a rib steak. However, pretty much everybody means the 'rib-eye steak', comprising of all three muscles when they use the term ribeye.
OK, getting back on topic: The rib steak and ribeye are pretty much the same meat as prime rib, but cut differently.
The ribeye comes from the primal section named the beef rib, from the exact same area as the rib roast that becomes the prime rib. In fact, the rib steak and ribeye are sub-parts, they are cut from the rib roast (or prime rib).
A rib steak is cut from the rib roast at the top of the rib primal. Cut from the rib roast. it will then have the fat cap removed and be trimmed and tidied up. Rib steak can be bone-in or boneless.
A TRUE rib eye will be just the 'eye' of the meat, the longissimus dorsi muscle alone, with all surrounding muscles and fat removed.
Commonly, people will use the term 'ribeye' to mean the rib steak with the bone removed, and consists of the 3 muscles described above, not the actual separate 'eye of the rib.'
Clear? I apologize the explanation is a bit messy, but hopefully that explains it somewhat.
Anyhow, like prime rib, ribeye might be cooked and served as a roast, or cooked and cut into steaks.
A ribeye steak is tender, and easy to cut, and may be very large; ribeyes can top 20 oz. A ribeye roast is also very juicy and is excellent for carving off smaller pieces.
Prime Rib Vs Ribeye: Why Choose One Over the Other?
If they're essentially the same cut, what should be the deciding factor when it's time to go shopping? There are a few factors to consider:
Cost – Prime rib steak often cost more than ribeye steaks because they have a bit more meat on them. Boneless roasts will almost always cost more than bone-in roasts, too.
The love of steak – If you or your guests are steak junkies, you might want to go with the ribeye. Specifically, try and find rib eye cap steaks, thought by many to be the ultimate steak cut.
Time – this is more about steak roast, but since prime rib steaks aren't usually cut from the roast before buying, it's important. If you don't have time to cook a whole roast and then cut off your prime rib steaks, buy the ribeye steaks (much easier to find) and direct grill them in minutes.
The Basics of Cooking Prime Rib and Ribeye
If you have an entire rib roast on your hands, then you'll want to use a grill set up for indirect cooking and roast method on your barbecue. Of course, if you have a smoker with the capacity to handle a big cut (as much as 16" long), that's a great way to go, too.
A full roast is great for serving a crowd, especially when the individuals in that crowd have their own ideas about how well done meat should be. Different parts of a roast will be done differently due to varying thickness. Carve off the piece that looks the right color to your guest.
For either prime rib steaks or ribeye steaks, direct grilling and searing is the ONLY way to grill, as far as I'm concerned. Just a few minutes on each side (time will depend on thickness) will be sufficient to cook to a perfect medium rare, which is as far as you want to take either of these steaks.
Past My Prime
That's it, we're done here. Hands up whoever's hungry!
You really can't go wrong with these delicious cuts, but we hope we've clarified the differences for you, and given you some ideas for making a fantastic meal out of either of them. These are high-end cuts, and worth taking the time to understand and prepare properly.
If you have any comments or would like to ask questions or share your tips with us – we love to hear from our readers. Even your corrections and criticisms are welcome; we can learn, too! Together, we can all become better grillers.
Thanks for reading. See you by the 'cue!