You ask any barbecue aficionado out there what their favorite type of 'que to eat is and there's a good chance ribs will make the top 3.
Sure, brisket and pork butt is great, but for many of us, there is no better eatin' than a rack of glorious, shiny, sticky ribs coated in a sweet barbecue sauce.
If you're just a beginner, you may not know the difference between each type, or how to cook them. Don't worry, we're going give you a quick rundown on the basics of everything swine.
Read on to discover the different types of pork ribs, where they come from on the animal and how you can tell each type apart.
Anatomy of and Different Types of Pork Ribs
Ever wondered where the baby backs and spare ribs are located? Would you be surprised if I told you that they're both parts of the same rib?
With the different names and cuts it's easy to get confused but simply put, each pig has between 14 – 16 ribs — depending on the breed — on each side of its body.
The baby backs are at the top and connect to the spine, the spare ribs are attached to the baby backs, and the rib tips make up the bottom of the spares, down by where the bacon is. The three combined are the entire rib and go all the way down the side of the pig from the spine to its belly.
Confused yet? Don't worry, this video from the good folks at BBQGuys.com will help explain.
Let's take a look at each rib type in a little more detail…
Baby Back Ribs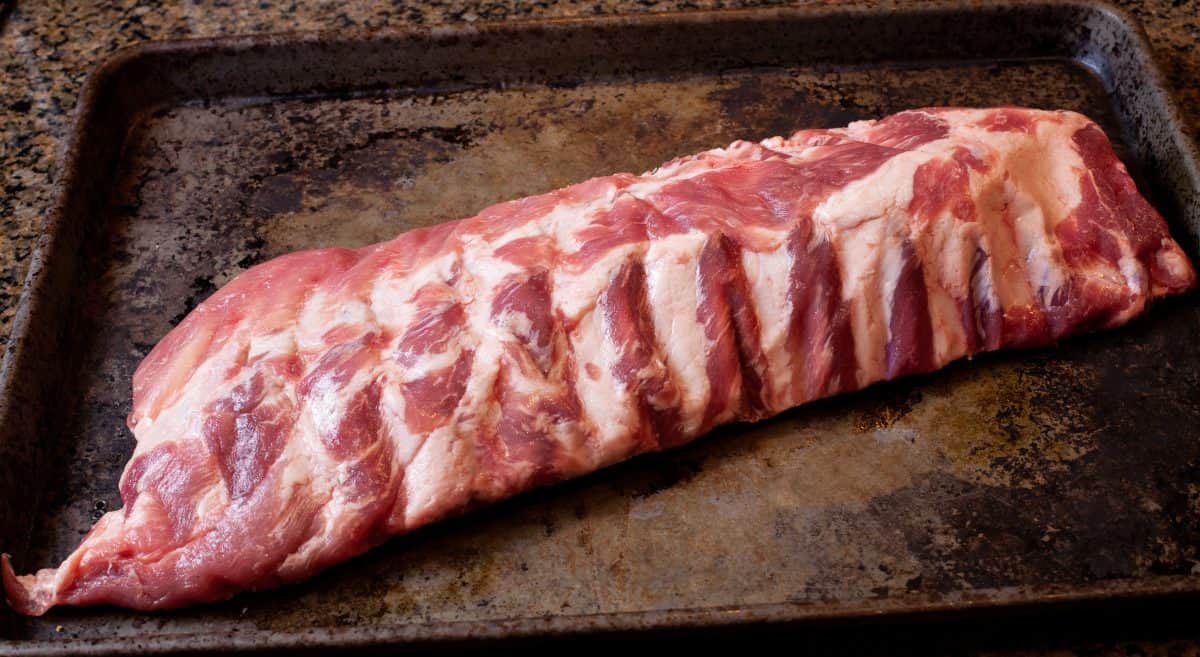 Also known as loin or back ribs, the baby back rib is the part of the rib that is highest on the pig and are connected to the backbone.
As the best-selling author and journalist Daniel Vaughn explains, baby backs do not come from baby pigs. They get their name simply because they're smaller than the spare rib and are near the top or "back" of the pig.
Baby backs are considered by many to be the "white meat" of the rib. They are a little leaner and more tender than the spares.
A rack of baby backs tapers to one end with bones ranging from 6 inches in length on the long end to 3 inches in length at the other. The bones will bend near the top where they connect to the backbone.
Buy Baby Back Ribs Online
Snake River farms and Crowd Cow sell some excellent baby back ribs that are tender, meaty, full of flavor, and will be sure to impress!
Also See
How long to BBQ ribs — An in depth guide to grilling ribs to achieve the perfect flavor, bite, and tenderness.
Spare Ribs
Spareribs seem to be the most popular of the different types of pork ribs and pick up where baby backs left off. They continue the whole way down the side of the pig and meet the breastbone.
The top of the spares shows bone and marrow; this is where the baby backs were cut and separated from the spares.
The bones will continue in a straighter line than baby backs do. The rib bones will stop near the bottom part of the slab. This is basically the chest of the pig and is where the rib tips are found, still connected to the spare rib cut.
Buy Spare Ribs Online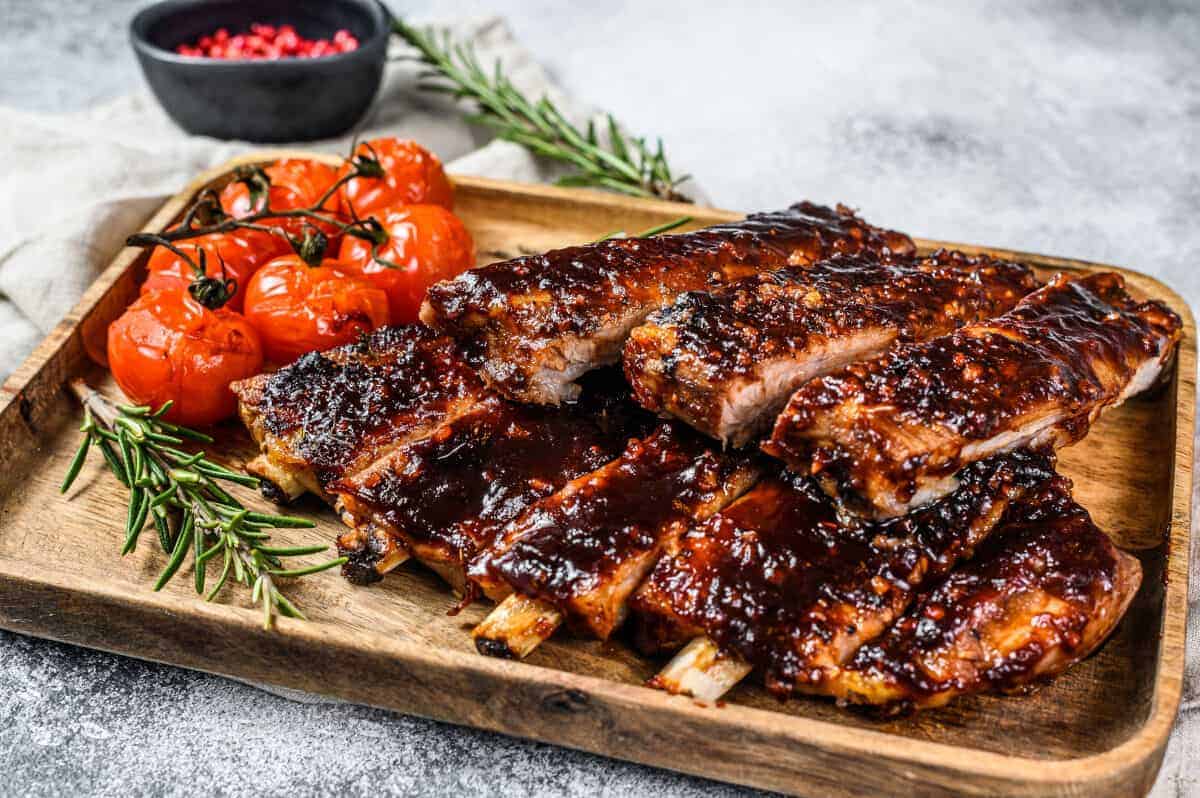 Porter Road and Snake River farms sell meaty spare ribs that are all-natural, hormone free, marbled throughout, and give fantastic flavor.
St. Louis Style Ribs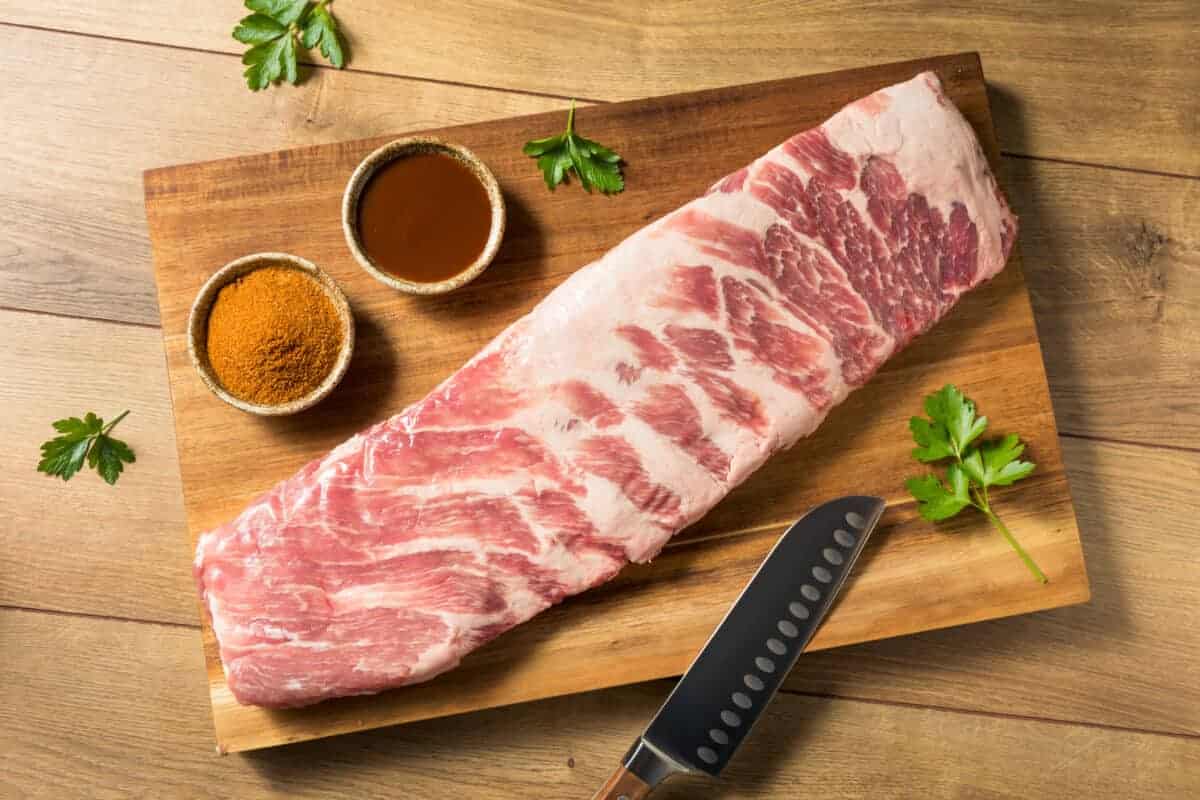 Despite what the name may suggest St. Louis style ribs are not a style of cooking ribs that was popularized in St. Louis, Missouri. In a nutshell, they are the spareribs with the rib tips removed.
The name came from the fact that this cut of pork rib came from the St. Louis meat packers that started preparing this cut in the mid-twentieth century.
This cut has the nice straight rib bones without the messy cartilage and small bones at the bottom. St. Louis ribs tend to be longer than baby backs, and are obviously shorter than full spareribs.
On the competition barbecue circuit, this cut is definitely the preferred cut due to their aesthetically pleasing straight rib bone, but aren't usually the cut used by backyard cookers.
This would be due to the fact most supermarkets do not sell this cut. Instead, they sell the whole spare rib.
Buy St Louis Style Ribs Online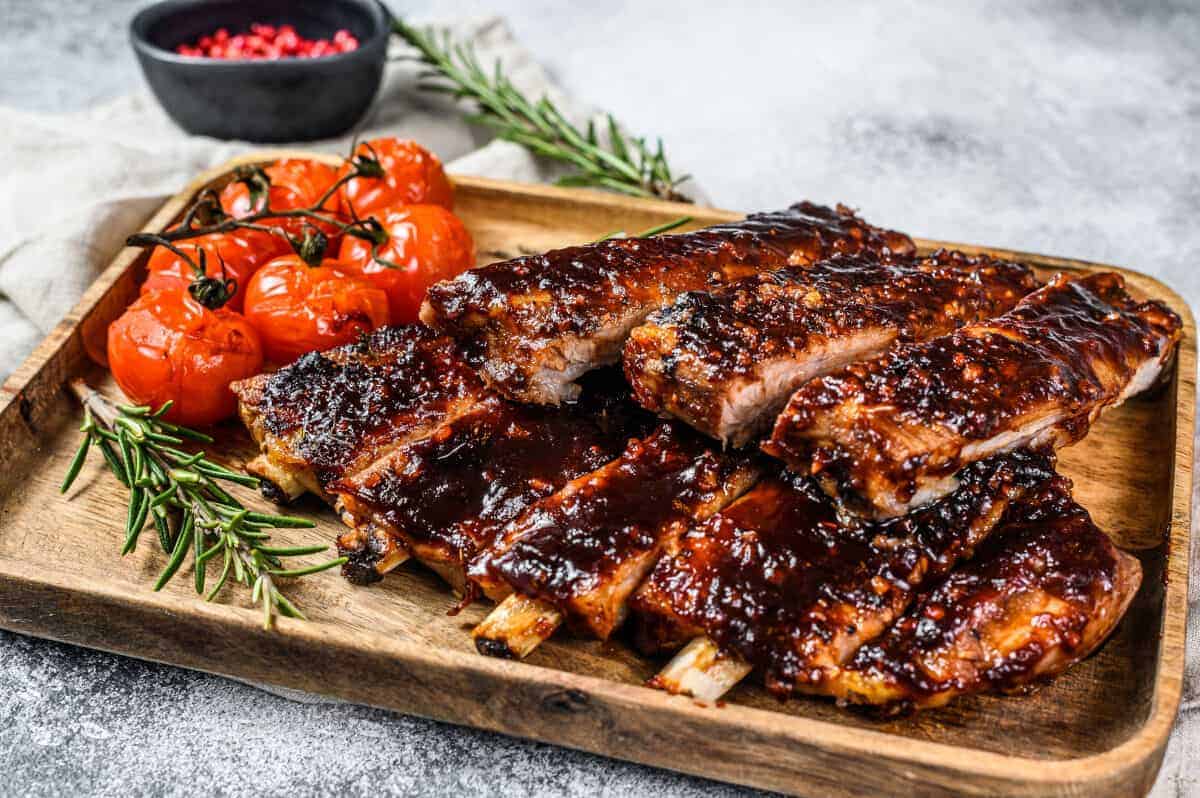 Crowd Cow and Porter Road have quite a selection of meaty St Louis style ribs between them,  from multiple different farms, covering pasture-raised, hormone free, and Berkshire Kurobota heritage breed
Rib Tips
Rib tips are considered by many to be the most tender part of the pig with a lot of fat and marbling. This makes sense, given their close proximity to the belly, aka the bacon. Along with this fat and marbling though is a lot of small bone and cartilage, which can make the rib tips a chore to eat.
Rib tips are trimmed from spare ribs when creating the St. Louis cut.
When separated from the lower end of the spare ribs, they will typically run 8 to 12" long, and 1 to 3" wide.
When served, they will sometimes just be cut into 2" wide chunks with a cleaver and left to the diner to gnaw away at the meat surrounding the small bones and cartilage.
Country Style Ribs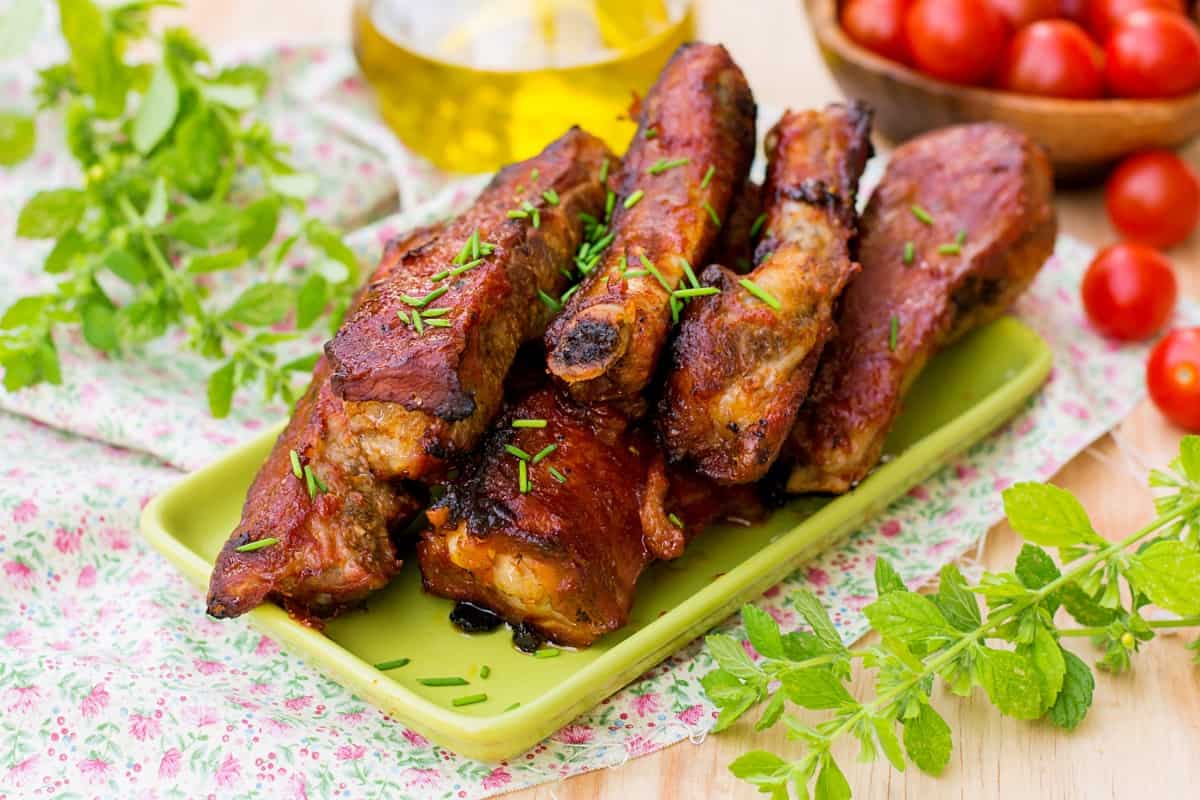 For starters, country style ribs aren't really ribs; they're basically a bone-in pork chop cut from the front of the baby back ribs, near the shoulder.
Depending on the size of the hog and how it's butchered, they may be served with one or two bone thickness, with a lot of pork loin meat attached to them.
For a real treat, try brining them in a simple salt/sugar/water solution overnight, and then cook using the reverse sear method for a melt in your mouth pork chop.
How to Cook Pork Ribs
No matter which cut of rib you choose to cook (with except country ribs), you're going to cook them virtually the same way.
The most popular method is for 3-2-1 smoked ribs, where they are smoked for 3 hours unwrapped, then 2 wrapped, then a final hour unwrapped and sauced. Though many variations on this exist, and many people prefer not to wrap at all and instead spritz ribs while they cook.
Anyway, enough small talk. Here's how to grill your pork ribs.
Prepare the Ribs
You'll start by trimming any loose fat or meat that is hanging off the rack. This is done to keep that loose fat or meat from quickly cooking then burning.
On the back of a rack of ribs is a membrane called the peritoneum. You're going to want to remove it as it will not render away while being cooked.
The best way to do this is to work a butter knife under the membrane and loosen it up, once loosened work your fingers in there with some paper towel and rip the membrane off in one fell swoop.
Lastly, you'll want to season your ribs with a heavy coating of a sweet rub. Don't be afraid to be generous here, and get it on all sides.
If cooking rib tips or country ribs there is likely no membrane to remove, so just trim them up, season or brine them, and move on to the next step.
Indirect, Low and Slow
Prepare your grill for two-zone indirect cooking and cook your ribs indirect with a little wood smoke for flavor. Choose your flavor wood carefully, because not all wood is suitable. We have a guide to the best wood for smoking ribs to help you.
Ribs are a little unique in the sense that you're not going to cook to a finished temperature, but rather you will be cooking them until the meat has cooked to the point of tenderness, and they pull easily off the bone.
If cooking at a temperature of 225 °F – 250 °F, baby backs will take at least 3 – 4 hours. St. Louis and spares will take 5 – 6 hours.
Texas Crutch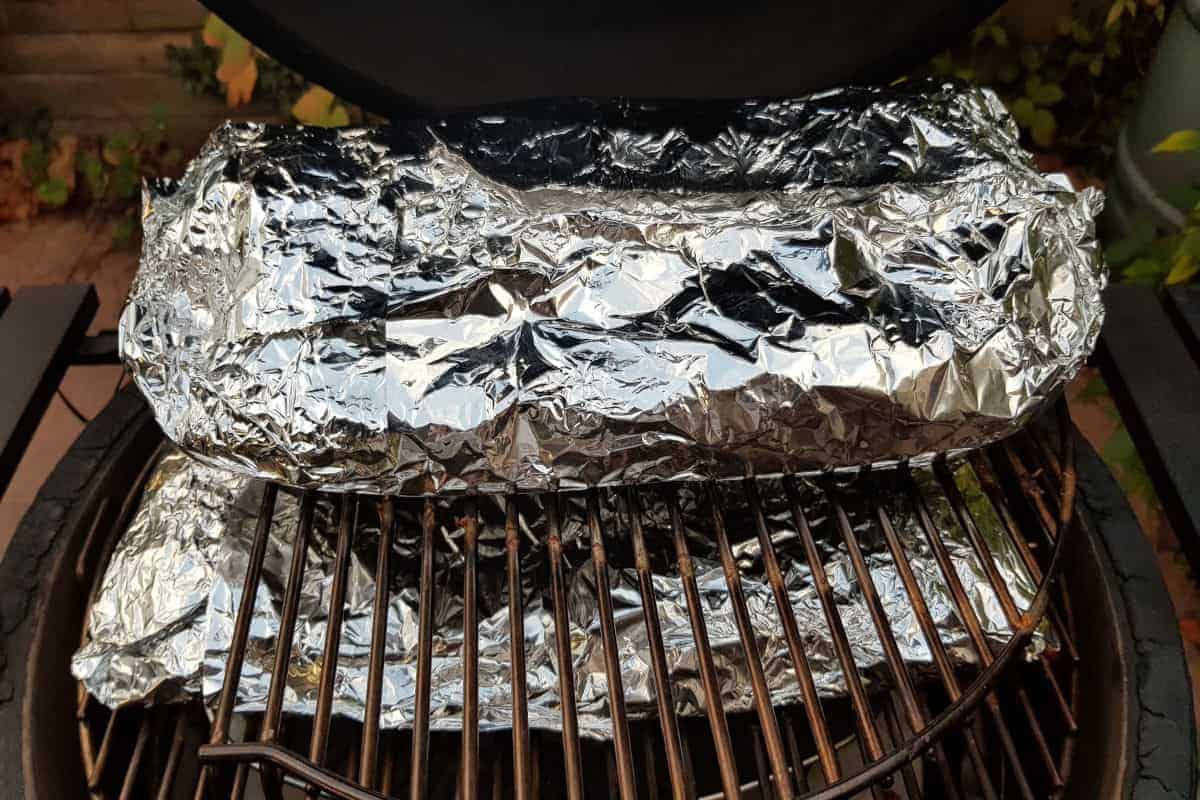 Practically all top competition barbecue teams use the Texas crutch technique for their ribs, pork butt, and brisket.
You smoke your ribs for 3 hours, then you wrap it in foil with a braising liquid for another 2 hours or so, then you take it out of the foil for up to an hour to allow the ribs to "tighten up" on the grill.
Finally, you sauce them and serve.
This step of wrapping in foil with a braising liquid is known as the 'Texas crutch.' It's completely optional, but it can be done to both help speed up the cook and increase the tenderness of the ribs.
By wrapping each rack in tin foil and adding the liquid you are essentially braising them, same as you would braise stew beef in a roasting pan filled with broth.
Sauce and Serve
Much like the Texas Crutch, the decision to sauce your ribs is entirely optional. At Charlie Vergos Rendezvous in Memphis, they've been serving baby backs without sauce since 1948.
If you do decide to sauce them, wait until the last 15 – 20 minutes on the grill. Barbecue sauce has a lot of sugar and will easily burn. Apply a tablespoon or two to each rack of ribs, close the lid, and let the sauce set and get tacky.
You can choose to serve your ribs either by the rack, half rack, or you can cut them up into individual bones. There is no wrong way to serve or eat ribs.
Conclusion
We hope you've enjoyed this article on types of pork ribs. Please leave us a comment below letting us know how you like to prepare your ribs for your family and friends!
Do you have your own secret rub or sauce recipe? We'd love to hear about it.