This article is a comprehensive hands-on review of the BioLite CampStove Complete Cook Kit, including unboxing and an honest assessment of real-world performance.
Let's face it: in this day and age, very few of us are willing to give up all of the mod cons of 21st-century living. Personally, I count myself among the majority who enjoy creature comforts, even when I'm "getting away from it all" in nature.
That's why I was excited to buy the BioLite CampStove Complete Cook Kit for my camping adventures. Because, yeah, I can dig a pit in the dirt and light and build a fire. But I'd much rather use a purpose-built steel fire pit with a battery pack and fan to do the hard parts for me!
On paper, this kit should be everything you need to make camp cooking a lot more civilized while also being convenient and portable. It's a fan-assisted fire pit, it's a portable grill, it's a kettle and cooking pot, AND it's an electricity-generating phone charger.
I'm sorry, what? This I gotta see!
Join me as I unbox and assemble my new CampStove Complete Cook Kit, explain its key features, and then put all the component parts to the test. Is it everything they say it is?
Honest opinions are coming your way.
What is the Campstove Complete Cook Kit?
Biolite Campstove Complete Cook Kit
The portable lightweight Biolite CampStove is a firepit, kettle, grill, and thermoelectric generator all rolled into one.
Using a thermo-electric generator, this kit converts heat energy into electricity to charge the onboard battery and charge your mobile phone or other USB-powered devices.
Powered by renewable biomass, you can cook, boil water, and charge devices while reducing your carbon footprint.
The kit includes a grill grate, nesting KettlePot for cooking and boiling, FlexLight for illumination, and a storage sack.
This value-added package combines the latest iteration of BioLite's portable camp stove (cleverly called "CampStove 2+") with two major accessories specifically designed for it: the Portable Grill and the new KettlePot & Coffee Set.
The CampStove Complete Cook Kit is compact and thoughtfully designed for total portability and functionality off-grid. Its small size makes it ideal for solo adventurers and couples, and it's meant to be easy to carry and use no matter where you find yourself.
This multipurpose piece of kit is:
A portable firepit.
A coffee maker.
A grill.
A thermoelectric generator that converts heat into electricity that powers the fire pits fan and storage for charging your mobile phone.
How Does it Work?
The CampStove 2+ combines a small fire pit with a battery pack/fan to help you quickly build a small but powerful fire in minutes using whatever biomass fuel you have available.
At home, you might use cuttings from any DIY projects or pellets you have on hand for your pellet grill. In the bush, you can burn whatever dry wood you find lying around.
Choose from four fan speeds for anything from a gentle burn to a roaring fire. Air blows through the holes for a constant, evenly distributed source of oxygen, the true fuel of fire.
Additionally, the battery pack contains a heat-driven generator to create and store electricity when a fire is burning. A built-in USB port allows for charging or powering low-wattage electronic devices.
How to Use as a Firepit
Without all the add-ons, the CampStove 2+ is a teeny tiny fire pit. To operate, attach the battery pack to the exterior of the burn chamber and lock it in place by folding out the legs.
Load the chamber with twigs and sticks, scraps of cut wood, or wood pellets, and light it up. You could use some of the included firestarter material to help or just stick in a long match or BBQ lighter.
The trick is to keep the wood below the top layer of holes you can see inside the chamber and not block the air vents. That, and always using dry wood; green stuff or anything damp either won't burn at all or will be very smoky with low flames.
How to Make Coffee
If you've always settled for a spoonful of Folgers or Maxwell House in a tin mug for your camp coffee, you'll love this bit. How does a steaming cup of freshly made French press sound?
To make coffee, get a hot fire going, fill the KettlePot with water, place it over the fire, and wait for it to boil. Once it's boiling, scoop in your ground coffee and let it steep.
When you think it's strong enough for your liking, use the CoffeePress (the plunger-like device) to gently push all the coffee grounds to the bottom of the pot. Next, attach the lid and pour some java!
How to Grill With it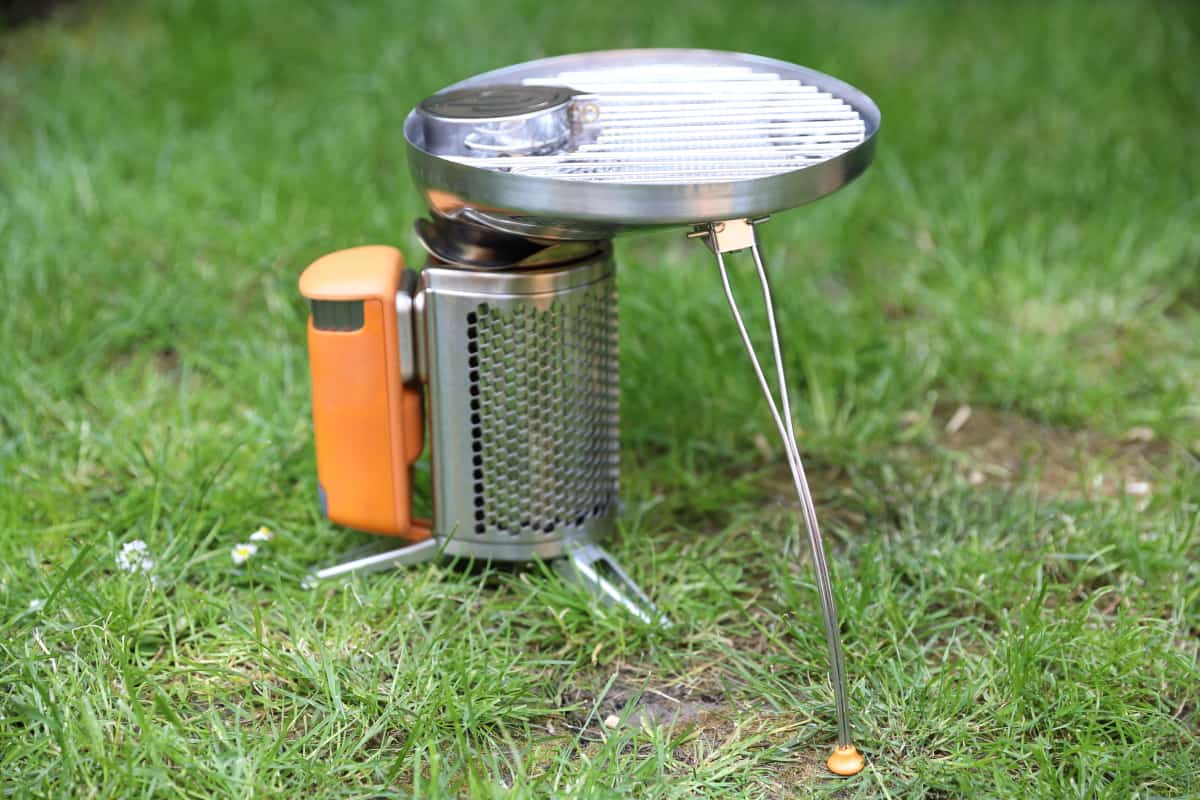 The Complete Cook Kit includes a portable grill for cooking a few bits and pieces.
The grill is oval-shaped and provides 55 square inches of cooking space on a steel wire grate. A pair of folding legs help support the grill, and it installs directly over the burn chamber of the stove.
Heat from the stove is directed beneath a perforated sheet of metal under the grill grate for even distribution, and there's a cap over the burn chamber connection you can lift to add more fuel.
How to Charge Your Phone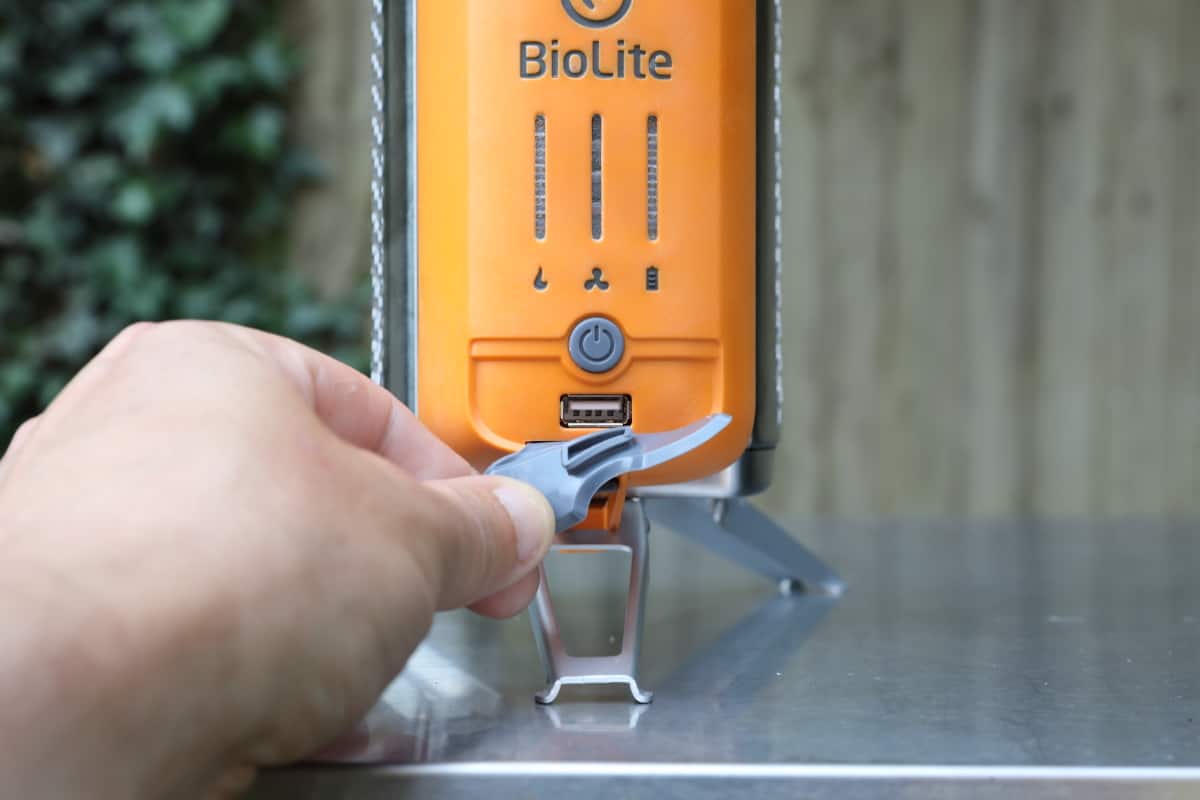 The battery pack can be pre-charged at any standard electrical outlet using the included USB/USB-C charging cord and a charging block (not included) or through one of those newer outlets with built-in USB ports.
Near the base of the pack, a fold-down plastic flap hides a standard 3W USB port to which you can connect your phone to recharge.
The phone draws from available charge stored in the battery, which is continually replenished so long as a fire is burning.
First Impressions
No real surprise here: my first impression is that it's really compact! Considering all it can do, and despite how portable it is, it's still amazingly small. And I don't mean that negatively; you don't buy this thing because you want a monster grill or raging bonfire.
It looks terrific, too. I like the bright yellow battery pack and the gleaming steel burn chamber. Mind you, it's not stainless steel, so we'll see how long it stays gleaming like that.
The KettlePot actually looks bigger than I'd expected! With a capacity of 1.5L, it has more than enough room inside to cook soup or stew, boil potatoes, or make coffee or tea.
I won't deny that the Portable Grill seems flimsy, and I'm slightly skeptical of how well you can cook on it. But, like everything in the BioLite CampStove Complete Cook Kit, it appears cleverly engineered.
I am definitely looking forward to giving this a try!
What We Like
One problem with being remote is that there's nowhere to plug in when power is getting low on your phone. However, the CampStove 2+ seems to have this covered with the TEG charging tech inside, so you never lose your lifeline to civilization.
It's a compact, portable, and safe solution for enjoying a fire anywhere you go and do a little cooking on the side.
The KettlePot is surprisingly large, allowing you to make a LOT of coffee or tea, make soup or other liquid meals, or boil vegetables.
You can use any fire-safe pot or pan over the fire, though not as easy as connecting the Portable Grill or the KettlePot.
Thanks to the efficiency of the fan, fires start faster and have the potential to burn hotter than in an ordinary fire pit. Plus, dry wood will burn nearly smoke-free.
What Could Be Improved
The power/fan control button is very close to ground level. While that's the safest place, it's also the least convenient.
The grill has no fastening to the stove, it simply rests on top. It's OK, and stable enough, but prone to knocking over if not careful. I'd like to have seen some way to fix it securely.
There's no way to empty out ashes, and it can fill up quite quickly. So you need to tip out the fire to empty the burn chamber, and then start a new fire at times. Not sure this can be improved, but it is a negative.
Wi-Fi connectivity with the option to make adjustments from an app would be nice. They have this in their larger models.
Overview and Core Features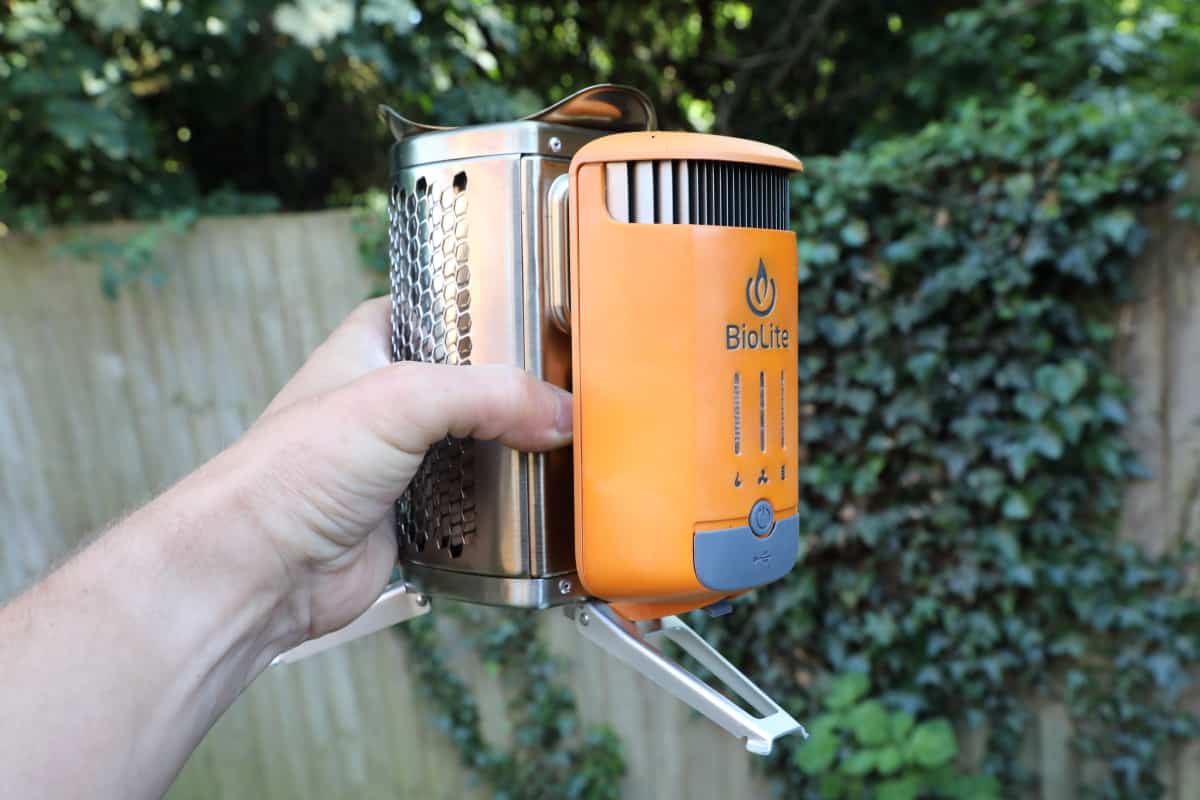 The BioLite CampStove Complete Cook Kit bundle includes the CampStove 2+, KettlePot, Portable Grill, and an assortment of accessories.
Perhaps the key reason to purchase this set is its incredible convenience and portability. The entire set doesn't weigh much over five pounds, and you can see how small it is in the picture above, looking tiny when held up by my average sized hand. You could put it in a backpack and carry it for a reasonable distance with little trouble. Plus, the KettlePot is large enough to hold the CampStove inside, making it easy to pack into even a tiny space.
Attached to the fire pit is a 3200 mAh battery pack with a built-in fan. Like on the BioLite FirePit+, the battery-powered fan forces air through holes in the fire pit to aid combustion. As a result, you can get a fire started in mere minutes and then build it up hot enough for cooking or boiling water or keep it lower for a cozy fire.
Unique to the CampStove 2+, however, is the onboard thermoelectric generator, or TEG. Remarkably, as long as a fire is burning, you're putting charge back into the battery.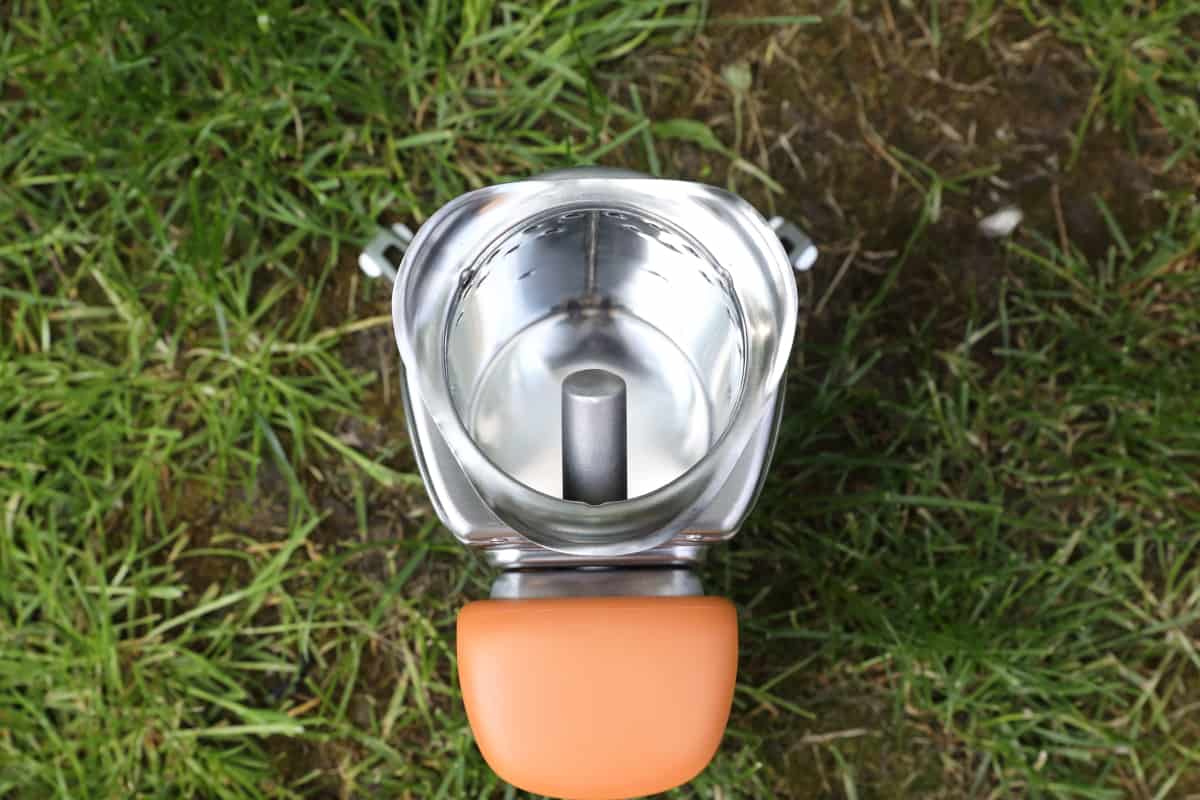 Not only is that great for keeping the fan going, but you can also charge your phone via the 3W USB port or attach the included LED light. The light is flexible and dimmable, so you have the light you need where you need it. If you've ever tried to read by a campfire or find something you dropped on the ground, you'll appreciate this feature.
The front of the battery pack has a trio of LED indicators, one displaying the fire strength, one for the fan speed, and one showing the battery's charge level.
For boiling water, pot cooking, and making coffee (key to any successful camping trip), simply place the KettlePot over the fire. It sits neatly on top and holds up to 1.5L of fluid. A French press-style plunger is included for making a pot of coffee with ground beans.
Finally, the Portable Grill allows you to harness the heat and use it for cooking a few simple items on a compact grate.
When not in use (and fully cooled), the stove fits inside the kettle for transportation. A few small storage bags are included for toting about your gear without scratching them.
Manufacturer Specs
CampStove Dimensions: 8.25" H x 5" W; 33 oz.
KettlePot Dimensions: 10.2" H x 5.2" W; 16 oz.
KettlePot Capacity: 1.5L (51 fl. oz.)
Grill Dimensions: 9.5" H x 12" W x 3.5" D; 30 oz
Grill Cooking Surface: 55 square inches
Total Kit Weight: approx 5 pounds
Battery Capacity: 3200 mAh
Battery Power: 3W peak; ThermoElectric Generator 5V, 2A USB output
Fuel: Renewable biomass (twigs, pellets, pine cones, etc.)
Any Available Upgrades and Accessories?
As the name implies, this cook kit is COMPLETE. You could add the Prep & Grill Toolkit, consisting of stainless steel tongs, a slotted spatula, and a Santoku knife in a roll-up carrying sleeve/mat.
An even better idea is a bag of BioFuel Pellets. They don't cost a lot, are incredibly easy to light, and burn efficiently. You could use any food-grade wood pellets, of course. And you can enjoy a tasty bonus smoke flavor on your meat.
Biolite Campstove Complete Cook Kit
The portable lightweight Biolite CampStove is a firepit, kettle, grill, and thermoelectric generator all rolled into one.
Using a thermo-electric generator, this kit converts heat energy into electricity to charge the onboard battery and charge your mobile phone or other USB-powered devices.
Powered by renewable biomass, you can cook, boil water, and charge devices while reducing your carbon footprint.
The kit includes a grill grate, nesting KettlePot for cooking and boiling, FlexLight for illumination, and a storage sack.
Unboxing and Assembly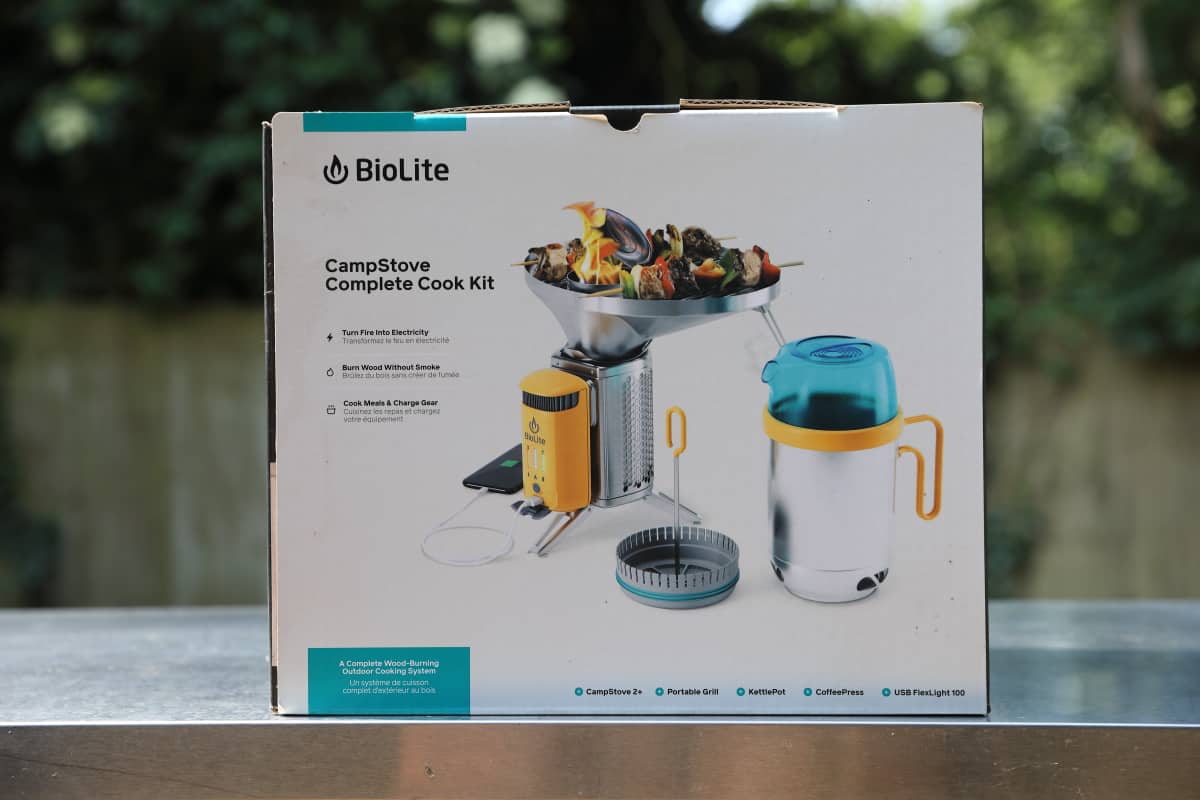 All right! I've got my toolbox handy and my box cutter at the ready. Let's do this.
What's in the Boxes?
Pop open the box, and you'll find everything pretty neatly packed. The large outer box contains three neatly labeled inner boxes.
One holds the stove and battery; one has the KettlePot, CoffeePress, and a bowl; and one contains the instructions and a variety of accessories:
3 Stuff Sacks
FlexLight 100
USB/USB-C charging cord
Firelighter
The Portable Grill and the fitted cover/plate are at the bottom of the outer box.
Ease of Assembly
OK, so I got my tool kit out for nothing. No "assembly" is needed, unlike when you get a new grill and dozens of parts must be attached.
Of course, you'll connect and disconnect all the component parts — the stove, the battery, the kettle, and the grill — as you need them, but that's not what I call an assembly.
Overall Build Quality
The efficient design and engineering genius behind the BioLite CampStove Complete Cook Kit are phenomenal. It's capable of so much, yet it packs down into a single liter-and-a-half container. I seriously can't get over that. Everything is well manufactured, with clean lines and a European design aesthetic.
Chosen materials seem to do a good job of balancing sturdiness with the need to be lightweight. There's a lot of steel, plastic, and silicone but zero paint to flake off.
Unless you give it a strong and direct kick, you're unlikely to knock over the CampStove 2+, thanks to the widely splayed folding legs. That might be a different story with the KettlePot installed, it being even taller than the stove. So, pay attention, and don't kick the kettle!
The Biolite Campstove Complete Cook Kit in Use
So, that's the Kit in a rather large nutshell. Now, let's see how it performed in the wilds of my backyard.
Overall Ease of Use
No matter what I'm doing with the CampStove, I find operating it simple.
Setup is dead easy. You slip the rod on the power pack through the upper hole on the firepit body, fold out the legs, and one of them holds the battery pack in place.
The LEDs show me most things I need to know at a glance, and turning it on and off and adjusting the fan speed between the four available speeds is easy with the single button.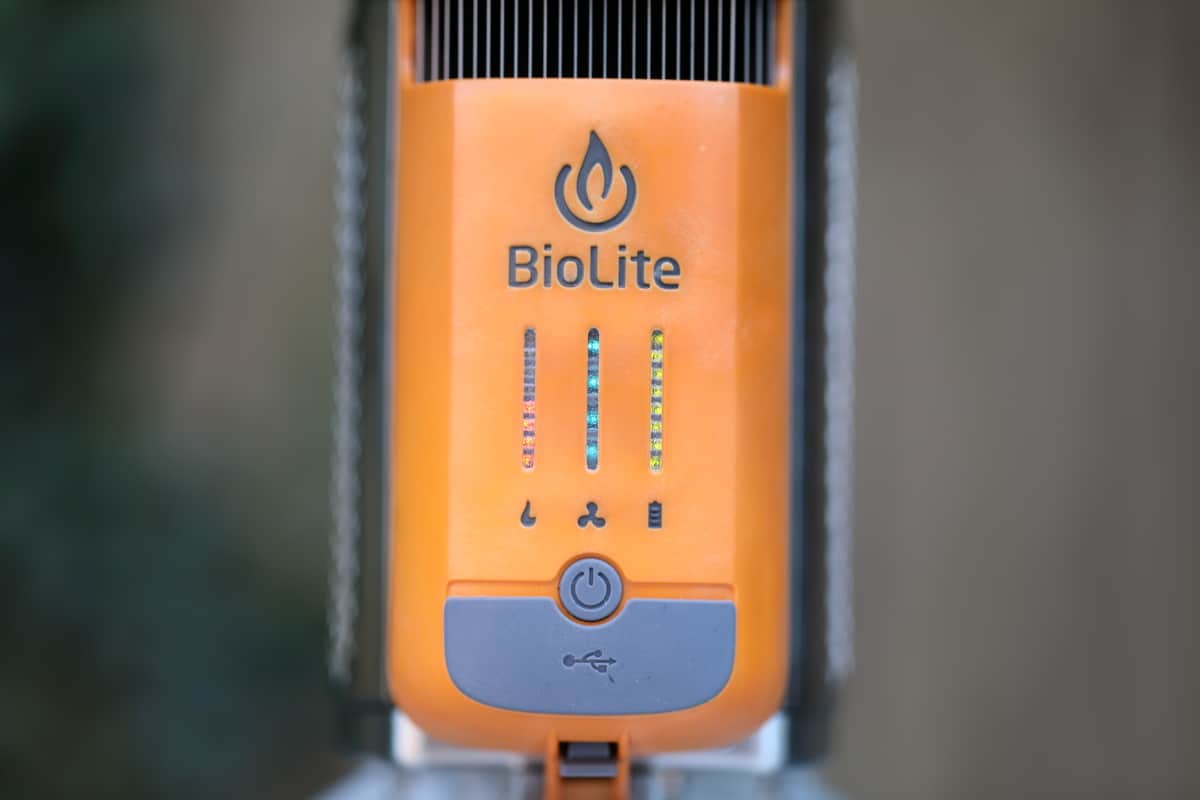 Probably the only operational issue I found was needing to get down so low to press that one button. That, and flames shooting out and threatening to singe my arm hairs anytime I want to move the KettlePot, adjust the fan, fill up with fuel, or plug something in. Mind you, if I kept the fire lower, that wouldn't be as much of an issue. But I do like a large flame!
I was surprised to learn that you cannot turn the fan off, but after some research, it's clear why. The power pack is under threat of damage if the fan is not blowing. So if heat — from a flame, or even residual heat — is detected, and you try to turn it off, it will turn itself back on to prevent any damage. A fair enough failsafe, in my opinion.
I will say that you need an absolute stack of firelighters because as the ash fills up, you get less and less space for fuel. This means this stove needs frequent emptying.
After 45 minutes of testing, during which I started the fire, tested fan speeds, and boiled 1.5l of water, the fire pit was half full of ashes, from a mix of pellets and kindling.
There's little room to add more fuel at this point without exceeding the rule of 'no wood above the internal holes. So I had to empty it, then start a fire again. So once more, make sure you have a good stock of firelighters.
Is it Smokeless?
There is the odd mention from Biolite and around the web in other reviews that this little firepit and stove is smokeless.
It is definitely not smokeless, but it does 'smoke less.'
The battery pack has a fan that blows air out through holes at the top of the fire, which causes a secondary burn of smoke particles. This definitely reduces the amount of smoke in many cases.
However, please be aware that:
Well-seasoned or kiln-dried wood will smoke far less than fresh wood.
Fresh or green wood will smoke regardless of what you do (if it even burns).
The higher the fan setting, the less smoke there will be due to higher heat and a more complete combustion.
Overall, though, it smokes less compared to a typical, open firepit with no forced air technology.
Firepit Performance
It's no challenge to start and maintain a nice little fire. Of course, "little" is the operative word here.
It creates some ambiance and makes a lovely focal point for a night on the beach or whatever. But, it's not the kind of thing you gather the family around for the night.
I found the higher fan settings very useful for quickly getting a fire and burning strong. Conversely, you can shut it down low so it doesn't burn out so quickly. But you can never turn the fan completely off.
What I did find, though, was that it burns so efficiently that I had to keep feeding it sticks regularly. Stocking up on thick pieces of wood no more than four inches long is a good idea to avoid shoving in twigs every few minutes.
After noticing Biolite sells wood pellets on their website, I tried burning some pellets that I purchased for some previous testing. These are high quality, 100% wood pellets used for fuel as a heat source, NOT the pellets you use in a pellet smoker to flavor food.
I found it easy to choke out the fire using wood pellets. Because there is little space between them, you can smother the fire. However, I discovered that adding pellets little and often kind of works OK, and I sustained a good fire for half an hour or more by adding a few pellets every couple of minutes.
Just watch your arm hair while dropping them into the fire! I found temporarily setting the fan to the lowest setting helped to stay away from flames.
Grilling Performance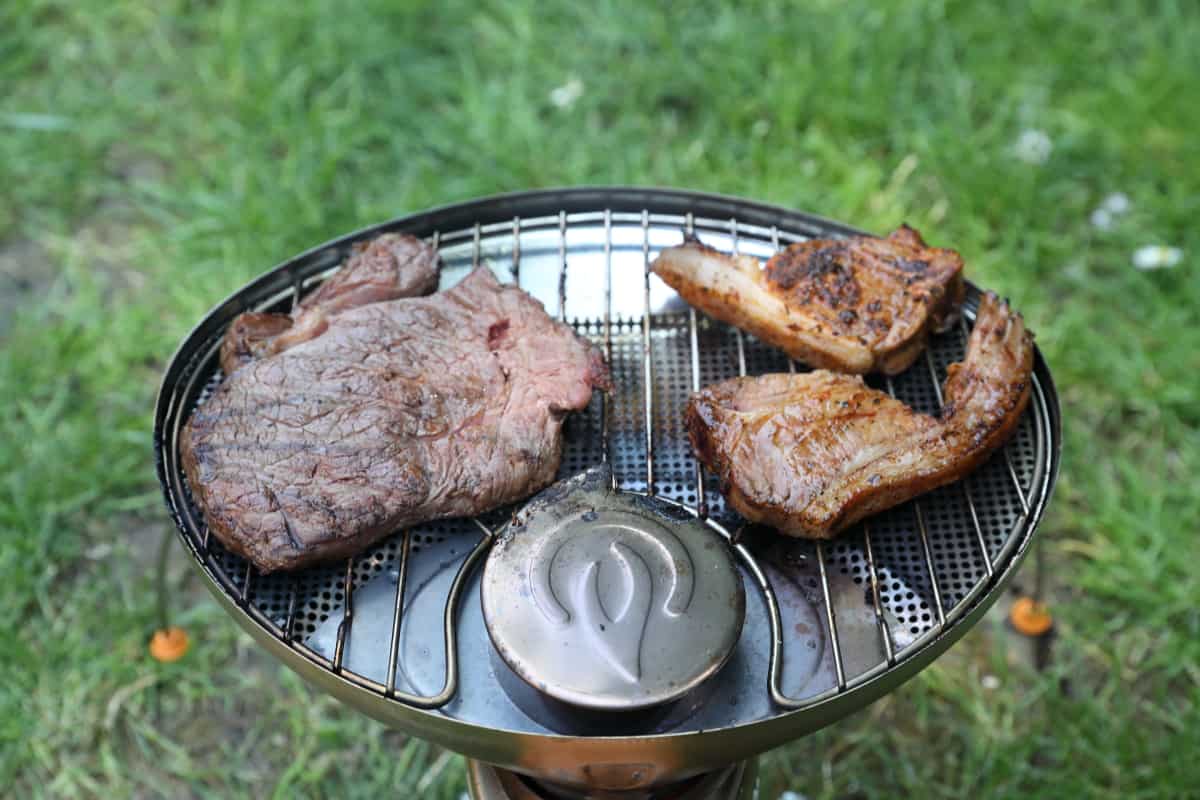 I did not have high expectations for the Portable Grill, but it did surprisingly well…once I had learned how to get the best from it!
And yes, I did have a learning curve! More on that in a minute.
Setting up the grill is easy. You simply fold out two supporting legs and then sit the grill body on top of the stove.
Sadly it only sits on top, there is no fixed connection, so it's not the most stable, and you need to be careful not to knock it. But the legs spread out far enough to keep it steady during use. Certainly, I was able to flip and turn food without any worries, but I wouldn't want to kick it accidentally.
Anyhow, how does it cook? Well, on my first attempt at grilling was some sausages using little kiln-dried oak logs. I got the fire raging, let it down about half, turned down the fan, closed the 'chimney', and added my sausages.
And then smoke poured out in large quantities, absolutely ruining the sausages! It was thick grey to black smoke that deposited a lot of soot onto the sausages.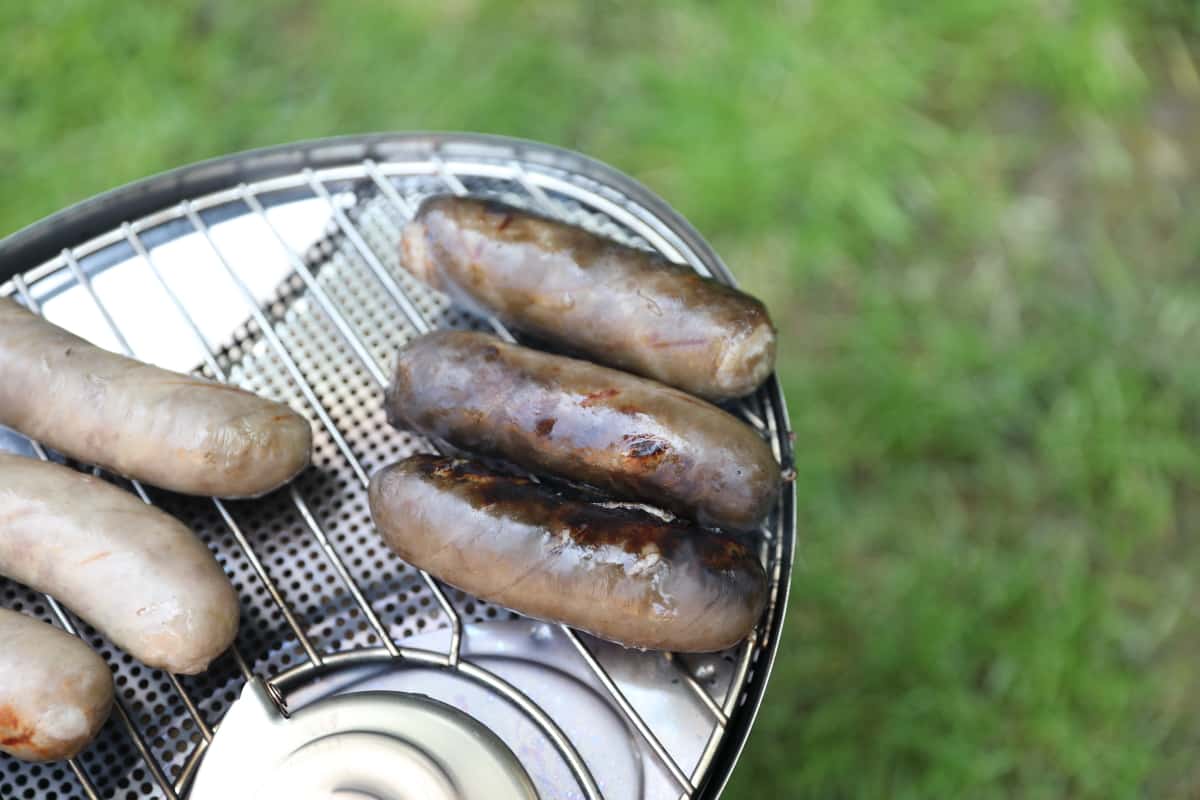 So into the bin they went, and I started again.
I then played around with the grill, with different amounts of fuel, and different fan settings, until I was confident it wouldn't ruin my food with smoke.
First of all, I learned that a large flame would generate A LOT of smoke once you close the grill cap. Anything that looks like the image below? Forget cooking on it. It will smoke A LOT.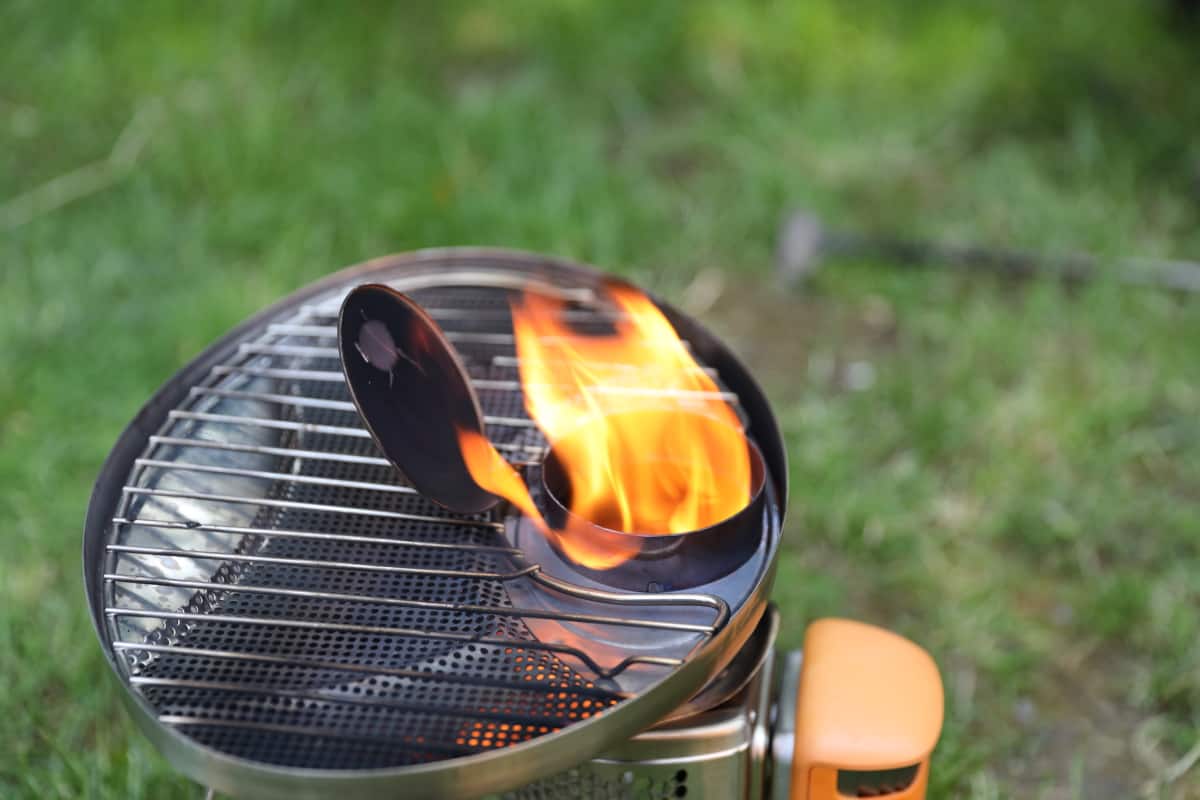 I learned that you have to feed a small fire, little and often, and as soon as you see too much smoke, open the fuel hatch until it burns down a bit. The smoke will go up and out the chimney, and not onto your food. So you do have some control.
With flames only a couple of inches high, and the fan on setting 2 or 3, the grill produced good heat and almost no smoke. The height you are looking for is like the image below.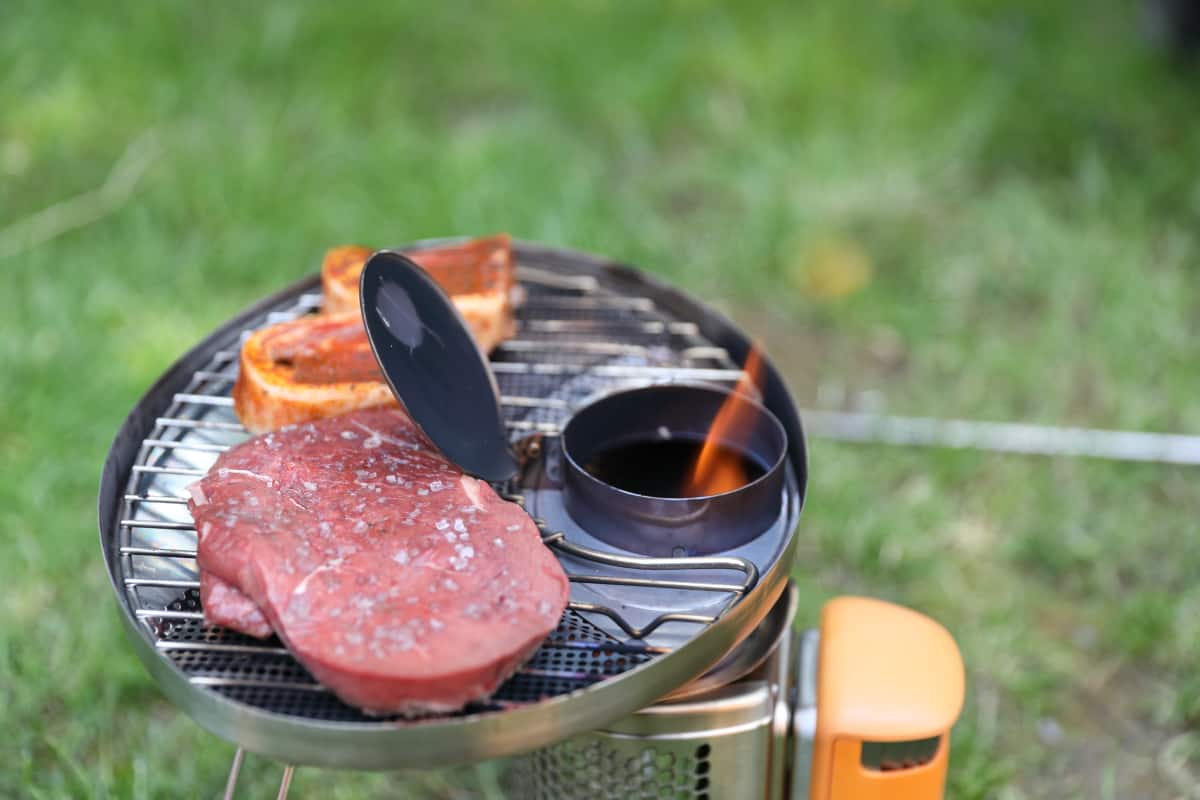 This does mean you will need to refuel little and often, but that's acceptable in my opinion, considering this stoves size.
Once I had learned how to get the best from the grill, I discovered it spacious enough to grill two lamb chops and decent size steak, up to 8 sausages, or 3 to 4 burgers.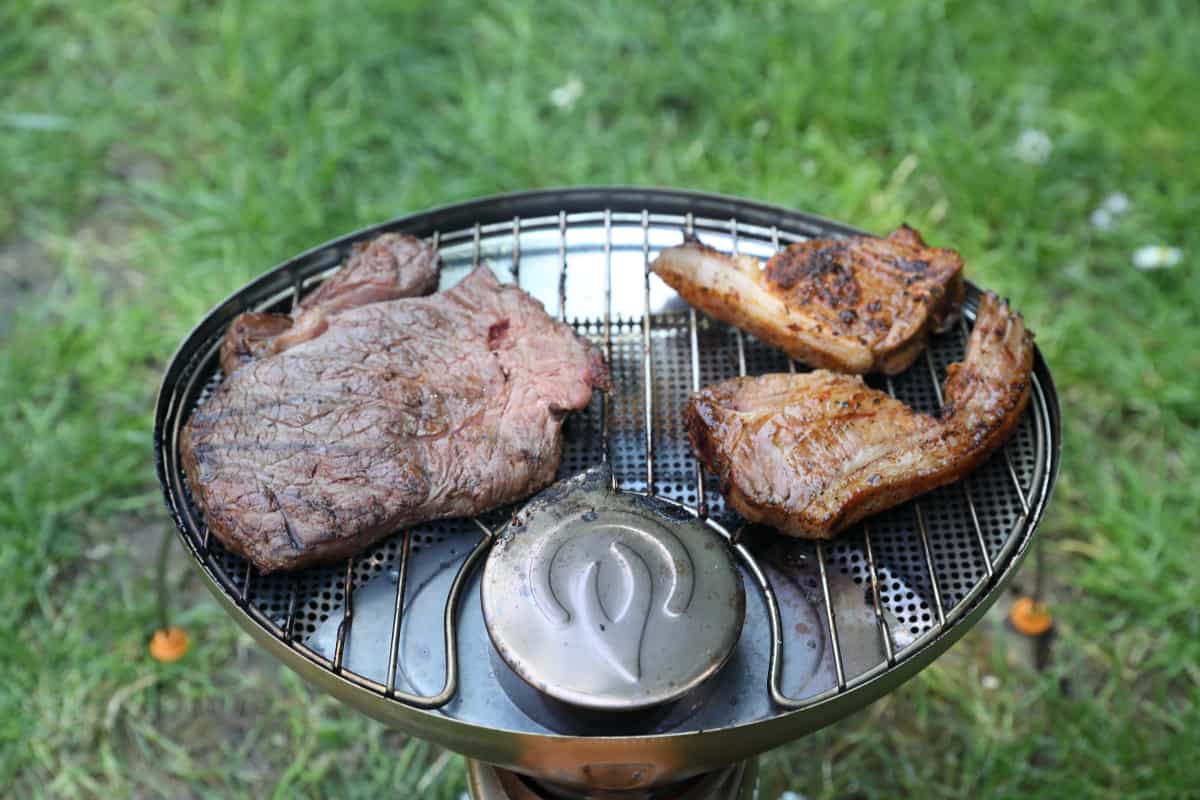 When the meat hits the grill, enough heat is generated to get a satisfying sizzling sound. However, there is the danger of a flare-up from dripping grease because the flames from the fire are directed out into the area beneath the grill grate. My lamb chops drippings caught fire and generated a lot of smoke.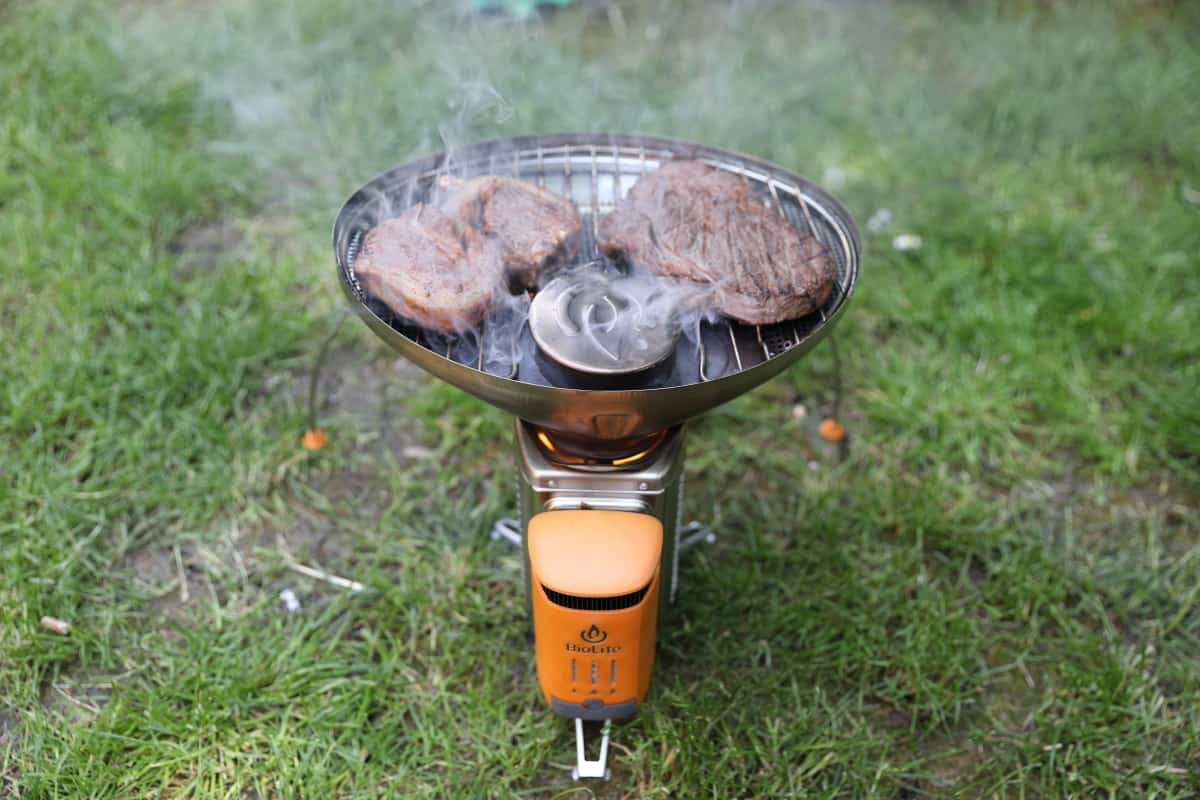 Some smoke from drippings can add flavor, but too much can be bitter. So make sure to move your food around to try to prevent a flare up or too much smoke from drippings.
I also noted a hint of smoke flavor in food cooked on the CampStove 2+. That's to be expected; I was fueling the stove with wood. And although as a firepit, it burns virtually smoke-free when using good dry wood when you close the chimney during grill use, some smoke is produced…and as described above, way too much if you aren't careful!
Anyway, I successfully grilled a couple of lamb chops and a steak. And have grilled some sausages successfully (on the second attempt) and a couple of burgers. You can see in the image below that a steak I grilled had a good sear, but was still nicely medium-rare in the middle.
Another thing I touched on before is that you cannot empty out the ash. So if you cook for a long time, ash will build up, and you will struggle to fit more fuel in. So you have no choice but to stop cooking, empty the stove of ash, start a new fire, and then continue cooking.
So fast grilling small items is good, but longer cooks could be problematic.
All in all, though, I was pleased with the Portable Grill. I won't ever use it at home, but I have packed it for a weekend away camping.
For the record: I know the idea of this stove is to collect wood in the wild, burn it, and even cook on it. But a word of caution.
If grilling on this, make sure to use only hardwoods and fruitwoods, such as maple, oak, birch, hickory, apple, pear, pecan, etc. Avoid pine, fir, cedar, spruce, and indeed anything you cannot identify! Some wood smoke is toxic to humans, and other woods can make food taste horrible.
Kettle / Coffee Making Performance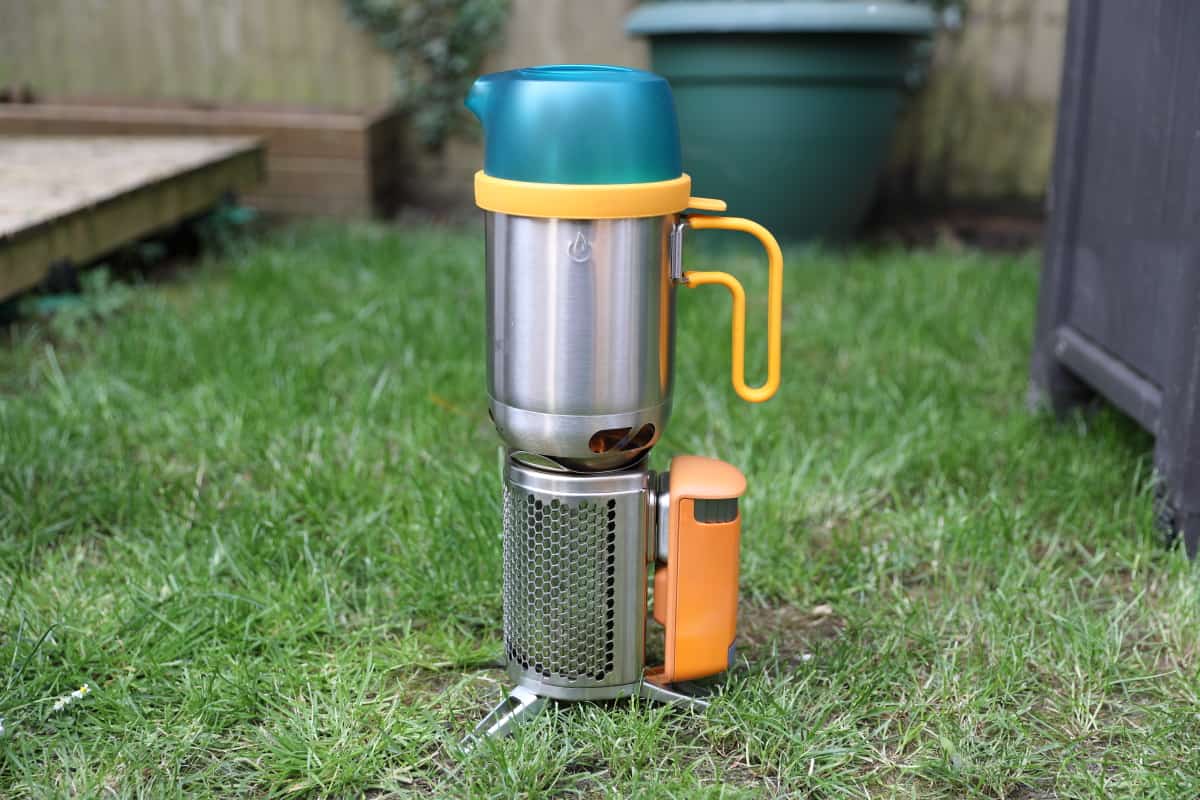 The KettlePot accessory I found brilliant!
It holds 1.5 liters of liquid, has markings for measurement on the inside, has a tight-fitting plastic top, and comes with a little plastic bowl or cup that you can eat from. The lid has a little spout that lets you see inside to check if the water is boiling and pours water well in a controlled manner.
The pot sits snugly and securely on top of the stove, and there are two fold-out, rubberized metal handles that stay cool enough to handle without fear of burning.
It also doubles up as a French coffee press and works well.
The plunger has a tight fit that, when depressed, filtered out all the ground coffee, leaving a nice coffee without any grounds floating around in it. On first use, I was drinking coffee, next to a warm fire, while charging my phone in what seemed like no time!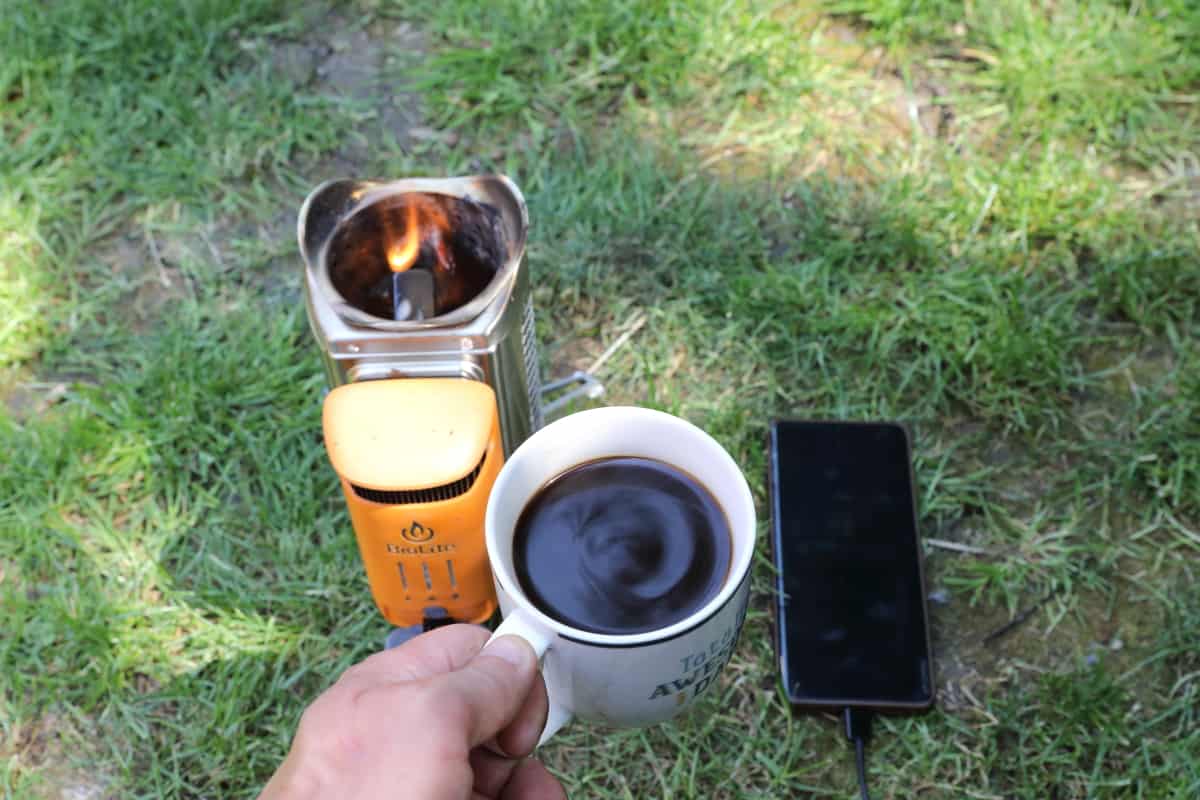 Performance-wise, with a good, strong fire going and the fan on level 3 or 4, I found:
It took 8 minutes to boil 1 liter of water.
It took 17 minutes to boil 1.5 liters of water.
Biolite claim Boils 1L of water boils in 4.5 minutes. In my tests, it took nearly double that. Weather, the ambient temperature, and amount of wind will affect this. And admittedly, I have only used this on pretty windy days. So your mileage may vary.
Because the KettlePot is sealed (apart from the spout), no smoke can ever get into the boiling liquid, so there's no fear of spoilage, and you can have the fire as hot as you desire.
USB Light Performance
The FlexLight attaches via USB-A and, as you can see in the image above, lights up a good-sized area reasonably brightly. The above photo was in absolute darkness, with no other ambient light around.
This amount of light is more than enough to be able to see what you are doing with and around the CampStove, be that cooking, preparing food, or reading a book, for example.
The flexible neck of the light is easy to manipulate too, which made it easy for me to direct the light where I wanted it.
Battery Charging Performance
BioLite claims the power generated by the fire, which you can use in real-time or save for later, will charge a phone as quickly as a wall outlet. They state that the onboard battery fully charges in about 2–3 hours with a strong fire.
Personally, I didn't find the charger as efficient as plugging into the national electrical grid, but it wasn't off by much. It's better than having nothing at all, which is what you've got when you're in the middle of nowhere.
I was running a hot fire and plugged my phone in when it was on 14%. My phone said it would need 2h 52m until fully charged.
After 2 hours of burning, my phone was at 62%. I did have to empty out ashes and restart a fire, though, and was perhaps a bit too relaxed with keeping the flames as hot as they could be, because I was editing photos for this article.
After two hours of charging my phone, though, the internal battery was only 2 LED indicators away from full. There are 8 LEDs, so that's around 25% used.
I'm happy to believe the battery would stay fully charged, and indeed my phone charged more if I paid more attention to keeping the fire raging. The hotter the fire, the more electricity can be generated after all!
So overall, it does what it says on the tin, and I think the electricity generation is an excellent feature!
Ease of Cleaning
Keeping the exterior of the stove clean is as simple as wiping it down with a damp cloth after it cools. You can use a bit of mild dish detergent if need be.
For the inside, just dump the ash and scrub the insides with a nylon brush. You want to keep the air vents clear for the best circulation. This part is a little trickier just because there's not a lot of room to work; be sure to use a brush with a long handle rather than trying to stick your hand in.
To clean the grill and other components, a couple of times I just wiped them down with a damp rag and used a brush to clean off the grate. The shine is largely gone after one or two uses, but it's still easy to keep clean.
As to the kettle, it's no different than any other; wipe off the outside with a damp cloth and scrub out the interior with soap and water and either a brush or a dishcloth.
After 3 or 4 uses, I washed everything except for the battery pack in my kitchen sink using a non-abrasive brush and washing up liquid.
Portability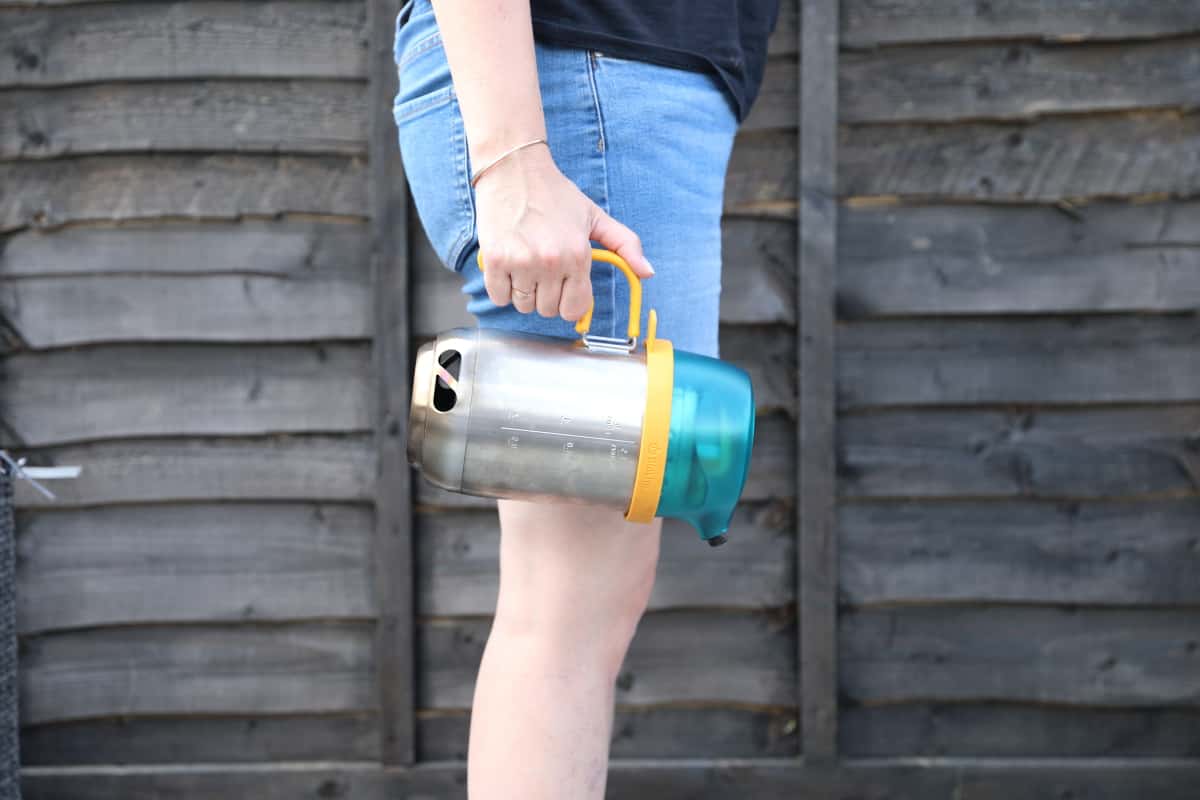 I've seen others complain that the CampStove Complete Cook Kit is too heavy for serious wilderness excursions. I mean, I guess you might not want five pounds of kit on your back for too long of a slog into the jungle. But, for the average hiker, kayaker, canoeist, or anyone on a picnic or kicking it at the beach, it's quite manageable.
I love how much stuff fits inside the KettlePot, with the silicone-rimmed lid keeping it all snuggly in place.
Of course, you have to carry the grill separately, but the included cover helps a lot, and it doesn't weigh much.
Under most circumstances, this is a very portable set-up and preferable in many ways to toting a gas stove and canisters. The entire cook kit packs away to become what you see below.
Warranty and Support
BioLite provides a one-year limited warranty on the Complete Cook Kit against manufacturer's defects in workmanship and materials. Definitely register your new Kit on the website to make filing a claim much easier, should the need arise.
If you need help, the BioLite website has a dozen FAQ articles that may be useful and an eight-minute instructional video posted on the site and their YouTube channel. Beyond that, there's a contact form you can fill out, including a spot for pictures or other attachments.
In addition to the YouTube channel, BioLite maintains Facebook, Twitter, and Instagram accounts, though these are more promotional than instructional.
Summary of Pros and Cons
Pros
Appeals to my techy nerdy side
Brings camp stoves into the 21st century
Has a lot of features, some really clever
Firepit, camp stove, kettle, and electricity generator for your mobile phone all in one
Performs all of its functions acceptably well or better
Battery pack stores electricity for future use
Can charge at home between uses
Small and portable, packs away neatly
Cons
Grill doesn't fix into place, it simply rests on the stove
No way to empty out ashes except for turning upside down.
Ash build up means frequently needs emptying, so you must restart the fire occasionally
French press cannot be stored inside during travel, when the kettle only needed to be slightly larger to do so
If all you want is fire, then there are many way more compact, lighter options available
Final Verdict
Biolite Campstove Complete Cook Kit
The portable lightweight Biolite CampStove is a firepit, kettle, grill, and thermoelectric generator all rolled into one.
Using a thermo-electric generator, this kit converts heat energy into electricity to charge the onboard battery and charge your mobile phone or other USB-powered devices.
Powered by renewable biomass, you can cook, boil water, and charge devices while reducing your carbon footprint.
The kit includes a grill grate, nesting KettlePot for cooking and boiling, FlexLight for illumination, and a storage sack.
I happen to think the BioLite CampStove Complete Cook Kit is great. It's portable and versatile and does many things very well without taking up much room.
It's not the best fire pit or portable grill, but it's good at both. Add in the ability to charge a cell phone, and you've got a handy bit of gear.
For the right person, it's well worth the money. That right person being techy people who like features and tech, sometimes where it's not really needed. People like me, for example, as I truly love it.
But because it is heavy at 5 pounds when compared to some fold-up stoves, alcohol stoves, and other options available on the market, it's not really going to appeal to survivalists and people who spend a lot of time in the great outdoors, where traveling light is of super importance.
For less than half of that 5 pounds weight, you could carry a smaller alcohol stove and fuel, or a collapsible wood burner, and a battery pack for charging your phone.
Me personally? I don't think I'll use it for cooking and will leave the grill attachment at home. I can see the benefit for a solo hiker, maybe a couple. But I only ever go camping with my family of 4 and often friends too, and I almost always have a car with me, so I will take something larger and more suitable.
I recommend the fire pit itself, and to use for boiling water and as a French press for coffee. And I love that it's a power pack that can be recharged from fire.
I will take it along with me camping for sure, for these reasons alone. But the 'grilling bit' is just too much work for my liking.
Who is this Best Suited to?
Cool as it is, the audience for the BioLite CampStove Complete Cook Kit is what you'd describe as "niche." It won't satisfy hardcore survivalists due to it's weight of 5 pounds, and it's too small for family camping.
However, it's excellent for couples and singles who occasionally like to find themselves somewhere they aren't easily found. It's probably the best choice for making a good cup of coffee when you're tenting, especially if you're somewhere without electricity.
People who like to wild-camp or portage into the backcountry — but not too far — will love it. Even for beach days and picnics, it would be just the thing, provided there's a ready supply of wood to be found.
Final Thoughts
Every outdoor adventure is better with a bit of food, a bit of fire, and… well, not more than one friend if you're packing the BioLite CampStove Complete Cook Kit.
I like this product, and while it's not suitable for everyone, some folks are going to get a lot of enjoyment from it. If you purchase one, let me know what you think!
If you're still shopping for away-from-home cooking gear, check out some of our reviews on camping grills, portable charcoal grills, and portable gas grills.
Thanks for reading!