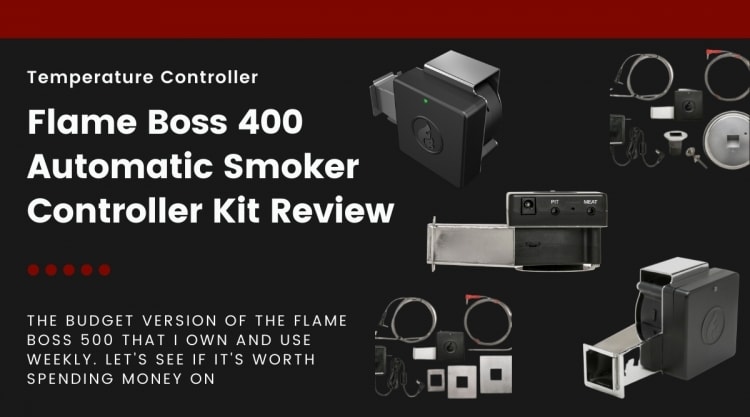 The Flame Boss 400-Wi-Fi Smoker Controller Kit is one of the latest gadgets on the BBQ block.
With so many people talking about it, we thought we'd put together a complete Flame Boss 400 review, including key features, whether it's easy-to-use, and how well it performs.
We'll also cover what we like about it, as well as what we think could be improved, and lastly whether we recommend it.
The quick answer is YES. We do recommend the Flame Boss 400-Wi-Fi Smoker Controller, ultimately because it takes the hassle and constant attention needed during a long smoking session.
But let's take a closer look and see precisely why we like it!
General Overview
The Flame Boss 400-Wi-Fi Smoker Controller Kit is a plug-in device that allows you to regulate the temperature of your charcoal grill or smoker, through airflow regulation, without having to be stood next to it fiddling with vents.
Think of it as the cruise control of your grill or smoker.
You set the temperature to what you want, and then you leave it to do its thing. The unit has a manifold that is attached to the electric-powered blower, which inserts into the lower vent of your grill.
To put it simply, this gadget is all about controlling the temperature inside your grill by precisely controlling the airflow.
If the temperature drops, it will increase the airflow that comes in through the vent by increasing the speed of the fan, and more oxygen means more flames, which in turn increases the temp.
On the flip side, if the temp gets too high, it will reduce or shut off the fan reducing oxygen to the coals, therefore starving the flames of oxygen and lowering the temperature.
The Flame Boss app means you can control it from your phone or another smart device from the comfort of your living room, bedroom, or even the local golf course for that matter, anywhere you can get a phone signal.
And the Flame Boss 400 will lovingly text you when a temperature you set for your meat is reached and is ready, or if the pit temp gets too hot or cold.
Kit Choices
With the 400, the only decision you need to make is whether you require the universal kit, or the Kamado Joe kit.
Here are the most common grills and smokers that they fit, but if you're in any doubt about which kit will cover your grill or smoker, be sure to get in contact with Flame Boss.
Universal kit — fits many vertical and cabinet styles including all Weber Smokey Mountains; Char-Griller offset and barrel; Char-Broil charcoal grills and smokers, and most drum smokers, ugly or otherwise.
Kamado Joe kit — all KJs; all Primo Grills; Saffire Grill & Smoker; all Grill Domes; Vision Grills Classic; Broil King Keg 2000 & 4000; Char-Griller Akorn Kamado.
Key Features
In our opinion, here are the Flame Boss 400's best features:
Easy to Set Up
On opening the box, you'll find a Wi-Fi controller with an integrated 12 CFM blower grill adaptor (no display screen attached like previous models.)
There's also a high-temperature meat probe, a high-temperature pit probe, a 12 V DC power supply, and fittings to attach it to your grill.
Scan the QR code in the manual, or go to www.myflameboss.com/app and follow the instructions to download the app to your device. Then connect it to your controller.
Any device can be used just as long as it has a browser.
Next, plug the power, pit, and meat temp probes into the controller, and then attach the controller to your grill using the instructions.
There are only a few steps here, so it is super easy. Here is a video demonstration of how to attach it to a Weber Smokey Mountain:
Make sure your top vent is almost closed, just cracked open a half a centimeter or so, and then you can get cooking.
Easy to Use Mobile App
The app gives you your control dashboard with clear color details of the pit temp and food temp, and it lets you adjust the temp of your pit when your food reaches the desired temperature, so your food stays warm until you're ready.
Using the app is easier than an attached manual control screen.
Everything you need to control the cook is there, and it's super convenient with text alerts when your meat gets to its desired temp, just be sure your phone is on loud rather than on silent.
While we all enjoy the labor of love that goes into barbecue, the Flame Boss 400 gives you the convenience of being able to do other things without checking thermometer every 15 minutes.
Not all of us are great at multitasking, and this allows you to do just that!
Latest Tech
This compact controller uses patented software and a newly designed variable speed blower, which makes for more precise temperature control.
You control it by connecting to the Cloud, connecting locally using Wi-Fi, or connecting directly to the controller itself if Wi-Fi is not available.
The 400 delivers the same patented, precise temperature control PID algorithm you have come to expect and love in all Flame Boss models.
The Cloud connection is the recommended method as it gives you access to your grilling history and any notes you have made directly backed up to the Flame Boss server. These notes are not available using a local or direct connection.
The Flame Boss app is available on Android or iOS, and is also compatible with Amazon Alexa and Google Home so that you can easily use voice commands too.
For example, "Alexa, tell Flame Boss to change the set temperature to X degrees", it is as easy as that!
Manufacturers Specifications
Dimensions: 19 × 12 × 6 cm
Weight: 475g
Supports 1 meat probe & 1 pit probe
iOS and Android compatible
Compatible with Alexa and Google Home devices
Display Type: Digital
Material: Resin/Stainless Steel
Weather Resistant: Yes
Ease of Use
The Flame Boss 400 is all about ease of use, the control panel is always in your hand if you have your phone. You just set the temperature that you want and let it control the airflow inside your grill or smoker.
It then holds it steady or increases or decreases the fan speed accordingly. It really is a set-it-and-forget-it conversion for any grill setup.
Performance
If you connect via the Cloud method, you can use this guy from anywhere in the world if you have internet access.
So, if you want to go to the beach for the day knowing that your dinner is being lovingly made for you ready for when you get home, it's got you covered.
Want to cook a huge pork butt overnight while you sleep like a baby? You betcha, it'll take the night shift for you without any complaints, and that pork butt will be ready for pulling and lunchin' come morning.
It does what it says on the tin, and there are no reported issues with its performance. The app is updated regularly, which goes to show that Flame Boss is heavily invested in these products and their ongoing popularity.
Your previous cooks and notes are automatically stored on the Cloud, and the app produces fancy graphs for those who like to go full nerd on their whole cook performance.
Maintenance and Cleaning
This device needs minimal cleaning, simply wipe the meat and pit probes with warm soapy water while still warm.
Be sure to keep the controller covered if it is attached to your grill permanently, so it is protected from the elements.
Design and Build Quality
This gadget is not designed to be a focal point. It's a case of function over form. It's nondescript to look at, neither flashy nor ugly, it's simply a plug-in gadget that sticks out the side of your grill.
An LED display screen on the gadget itself may help some for added usability, but Flame Boss has designed this gadget with cost and simplicity in mind.
If you do want it with the controls attached, then the Flame Boss 500 might be the better option for you.
The build quality is sturdy, which is always indicative of a good quality product. The main body is steel with a plastic housing to protect the component itself. Giving you confidence that it will last for many years to come.
Warranty and Support
Flame Boss guarantees that all their products are free from defects in both materials and workmanship, for 1-year. They will either fix or replace it and ship it back to you.
And if for whatever reason, you aren't happy with their product, they also offer a 30-day money-back guarantee, no questions asked! You cannot ask for any fairer than that!
Their website has a vast support section, with contact details or the option to raise a ticket, as well as up-to-date user manuals should you lose yours.
Final Verdict
Overall, we really like the Flame Boss 400 Wi-Fi Controller, and it made into our shortlist of top products after searching for the best BBQ temperature controller. Here's a quick recap as to why.
Pros
Compact controller with easy setup
Full temp control in app, remotely
Cloud storage for your grilling successes
Customer support and website is developed and reassuring
1-Year warranty and 30-day money-back guarantee
Cons
No readout screen on the unit itself, can only be used with a smartphone
There is only 1 meat probe output, adding a Y cable option would be good. (an issue resolved in the 500 model)
Value for Money?
Yes, this little gadget is value for money.
Not only will it ensure a consistently good cook, but it will also allow you to spend more time with the kids or entertain your guests while it does its thing.
It is among the best in its price range.
Is this a Recommended Product?
Yes, we recommend this product — it takes the hassle out of temp control and makes complex cooking simple.
Conclusion
Thank you for making it to the end of our Flame Boss 400 review. I hope we covered what you were looking for?
Not only will the Flame Boss 400 enable you to get more use out of your grill by automating the temp control, but it will also ensure entry-level smokers and grillers can now create tastier food with more consistent results.
Simple to set up, easy to control, and it allows you to multitask effortlessly. So, what's not to like?