There may be more tips for cooking brisket on the internet than there are actual cows in the world.
Perhaps that's because it's one of the most delicious cuts of beef there is?
But it's notoriously tricky to cook properly. Unlike a steak, which you can grill to perfection in a matter of minutes on just about any grill, a brisket takes hours and hours of preparation and tending to before it's even edible.
For all that, it's one of the cuts all outdoor cooks yearn to perfect. To help you on your journey to smoky nirvana, I'm going to teach you all about wrapping your brisket for part of the cook.
I'll start by discussing why you'd want to wrap your brisket. Then we'll cover what to wrap a brisket with, then onto when to wrap brisket — how long into the cook — and finally for how long. I'll finish with a complete step-by-step guide to wrapping your brisket for the best results.
By the way, let me save you the trouble of looking it up — there are about a billion cows on Earth. Now, about that, brisket…
Key Takeaways
Beat the Stall! Knock hours off your cooking time when you wrap mid cook.
Wrapping in foil can cause the bark to get soggy, and give a 'pot-roast' texture.
Wrapping in pink butcher paper allows some 'breathing', and results in a better bark.
Wrap a 7-pound brisket between the 3- and 4-hour marks.
Wrap a 10-pund brisket between 4- and 5-hours.
Wrap a 13-pound+ brisket at the 6 hour mark.
These wrap times depend on your goal, your smoker, the temperature you cook at, and what compromises you are willing to make.
Read on to learn more!
To Wrap or Not to Wrap? Bare, Foil or Pink Butcher Paper
Here are your three options for wrapping a brisket, and the advantages and disadvantages of each.
Bare Brisket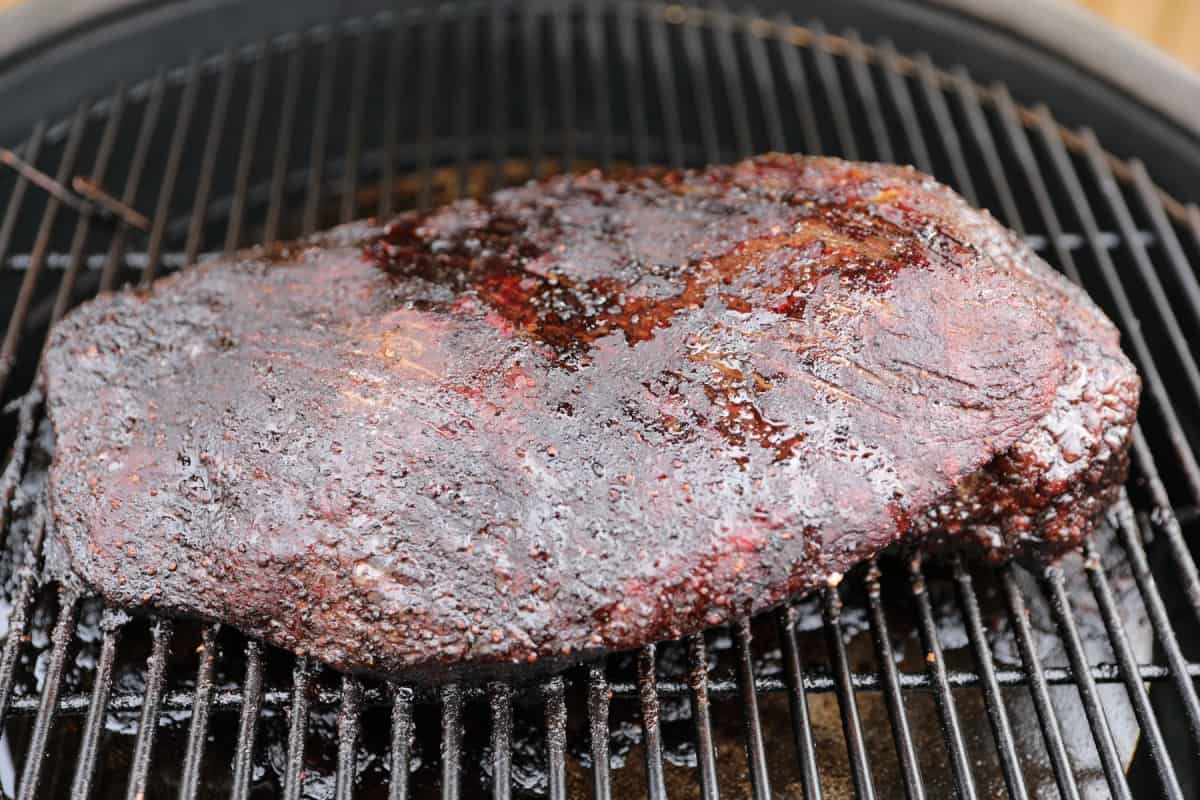 Ok, well, this is sort of the anti-option. Some folks prefer to go wrapless with their brisket and cook it low and slow the way nature intended.
Why? Partially to max out on the smoke flavor. With nothing between the smoke and the meat, you'll get constant exposure to the flavor-infusing vapors and wisps coming from your flavor wood, (click here to learn about the best wood to smoke brisket). If you can't get enough smoke flavor, you might want to try cooking brisket naked. (You know what I mean.)
However, the main reason to leave your brisket unwrapped is for bark development.
Not wrapping allows direct heat to envelop the meat, and for any surface moisture to escape, throughout the entire cook. This helps to create a thick, crisp bark, which some consider to be the hallmark of a perfect brisket.
When you wrap a brisket, it can sometimes result in a pot-roast like texture, with a damp, almost soggy bark, and meat with less 'bite' to it.
However, there are risks to leaving your brisket exposed. Primarily, you run the risk of drying it out by allowing maximum moisture to escape.
An unwrapped brisket also takes longer to cook (I'll explain why in the next section), and that extra time in the heat might make it drier and tougher than you'd like.
How much it dries out will depend on the cut; if there's a lot of fat marbling and a layer of fat on your brisket, things may turn out just fine.
Why Wrap Brisket?
So, here's why you might want to wrap your brisket. There are two reasons.
Firstly, wrapping your brisket part way through a cook will lock in the color and appearance of the meat, and fix the level of smokiness. That's the surest way to all but guarantee (well, anyone who grills or smokes knows there are no guarantees!) a gorgeous brisket that isn't overpoweringly smoky tasting.
Secondly — and this is actually the main reason — wrapping a brisket helps you beat and breakthrough what's known as "the stall." It sounds scary, doesn't it? But what is the stall?
To fully explain the stall is beyond the scope of this article. But, in a nutshell, it's a time in the middle of a low and slow cooking session when the temperature inside the meat stops climbing due to surface evaporation of moisture. It may plateau for hours after rising steadily and uneventfully, driving the chef to his or her wits' end.
By wrapping the brisket partway through the cook, you'll shave off cooking time and push through the stall without pulling out your hair.
If you'd like to learn more about the science of the stall, we've got that covered for you right here: brisket stall
Now, what shall we wrap our brisket with? Here are your two choices:
Foil Wrap — the Texas Crutch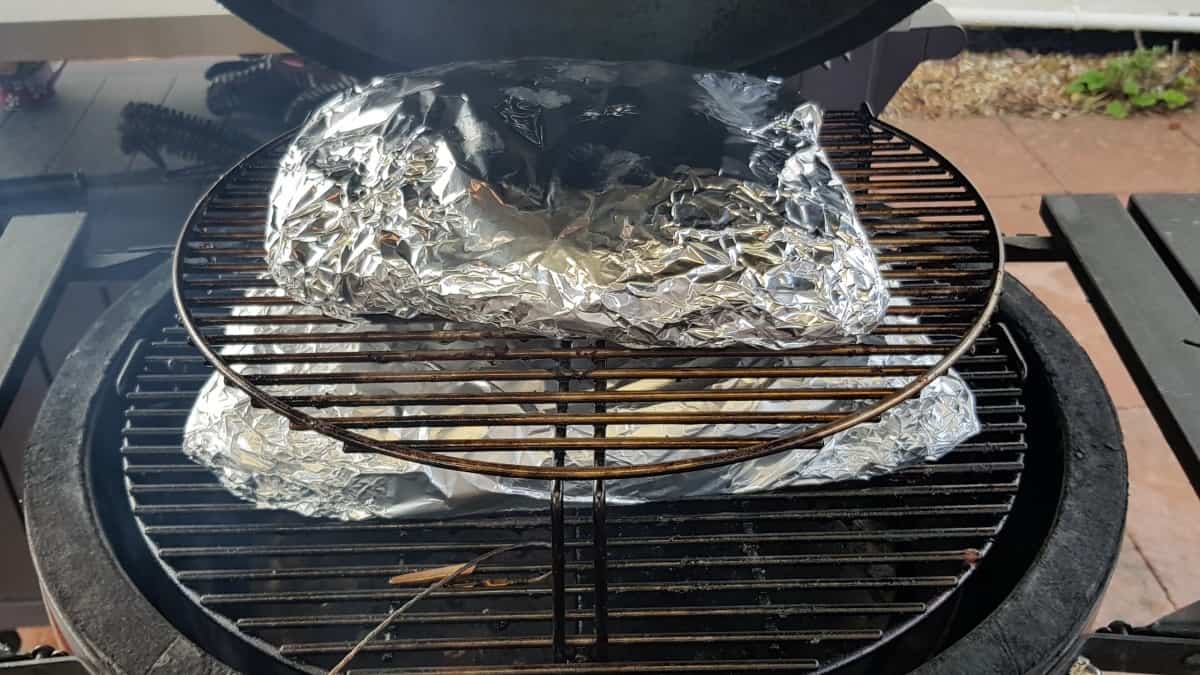 If you've ever cooked with foil before, and you've just read up on the stall, you can probably guess why foil is a popular choice.
The aluminum conducts heat to the meat, but then traps much of it inside, raising the temperature inside the wrap. It's like putting an oven in your smoker. Doing so helps get through the stall, iron out temperature fluctuations, and cut down on cooking time.
And it does all this while also trapping all moisture inside, effectively braising the brisket while it cooks. This is what's called the Texas Crutch.
But, with the good comes the not-as-good.
While the foil will conduct heat, it completely isolates the brisket from the smoke. You don't wrap a brisket right from the beginning –and we'll talk about when to wrap little further down— so there is still some exposure to smoke. There's just not as much as you'd get without any wrap at all.
And also, with all the moisture trapped inside the foil, it can result in a finish similar to being pot-roasted, rather than BBQ'd, and the trapped moisture can lead to a soft bark, softer meat fibers, and a completely different texture compared to cooking right through unwrapped.
So, it's a trade-off. You get a juicier, more tender brisket in less time, but with a less intense smoky flavor and a different texture compared to cooking all the way unwrapped.
Pink Butcher Paper Wrap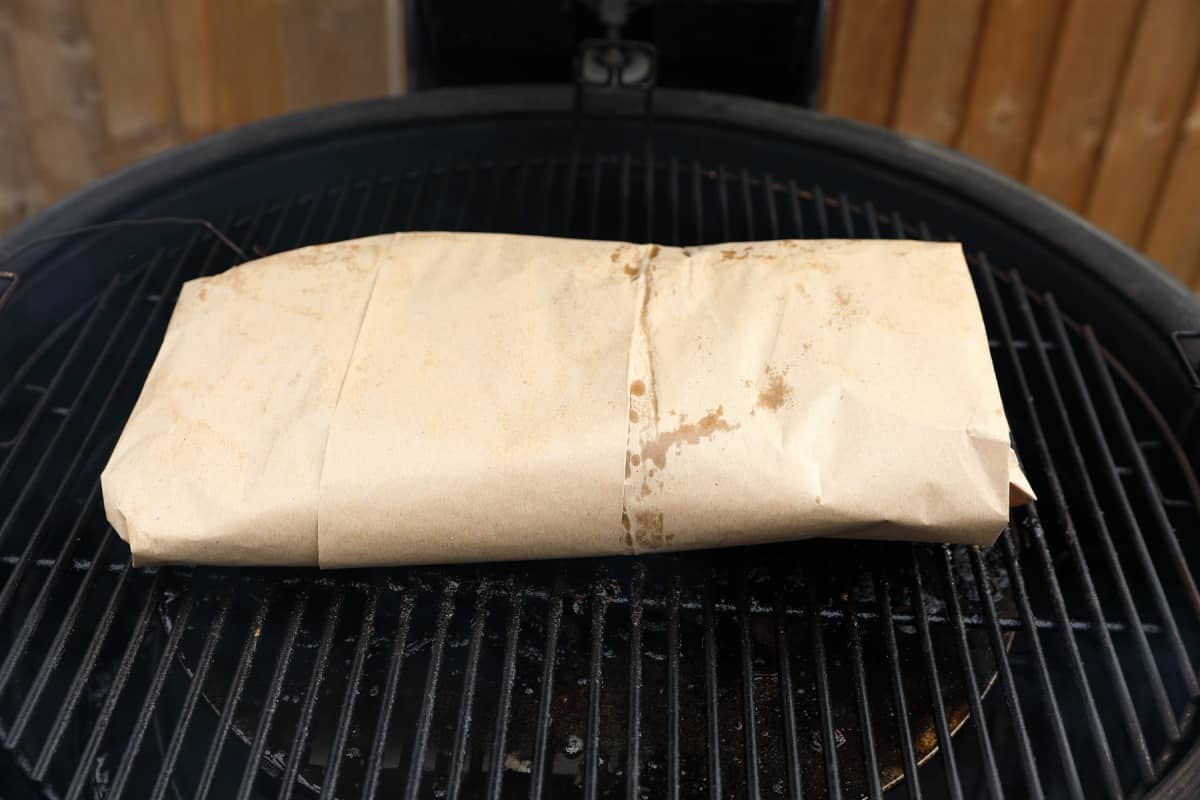 You know that pink paper you get your meat in from the butcher? Well, it's cleverly called "pink butcher paper." And, it turns out it's great for cooking meat as well as for bringing it home.
Wrapping your brisket in butcher paper is not entirely unlike wrapping it in foil: it locks in the moisture and the heat, helping the brisket through the stall without drying out. The difference is the paper 'breathes' a little, allowing some moisture out, and some of the smoke in.
The end result is a brisket that's somewhat in between having been cooked through unwrapped, or wrapping in foil partway through.
Wrapping in pink butcher shaves hours off the cooking time compared to not wrapping at all, has a less crisp and deep bark, and a moister mouthfeel.
However, compared to wrapping in foil, the bark is a little less moist, deeper and crisper. It can have a smokier flavor, and the meat is less 'pot-roasty'. However, it's not going to have bark as good as not being wrapped, and the texture of the end result has less 'bite.'
Wrapping in pink butcher paper is a good middle ground, having some of the pros and cons of both not wrapping, or wrapping in foil. It is the recommended wrapping technique for most people, and indeed what I prefer.
So in conclusion, what you wrap with all comes down to personal preference and what flavor profile and texture you enjoy most.
When to Wrap Brisket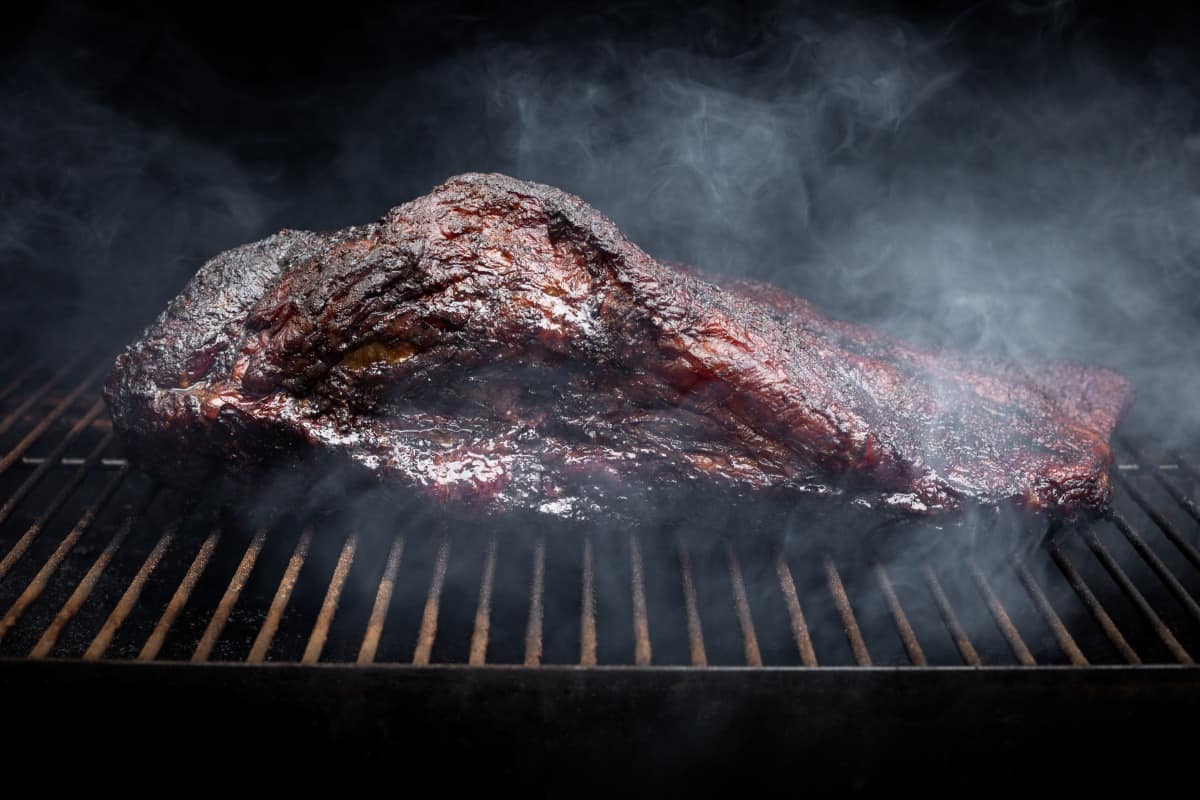 So, now that you've decided what you're going to wrap your brisket with (assuming you are), now it's time to learn when to wrap it.
Spoiler alert: the straight and totally unhelpful answer is, "it depends!"
Keep reading, and for the rest of this article, we'll guide you towards the right answer for you. Let's start with the three most important variables we need to consider.
Brisket Size
A brisket that's on the small size will, naturally, cook more quickly than a large one. Therefore, it's going to begin losing its moisture sooner than a large brisket will.
Since one of the main purposes of wrapping is to prevent moisture loss, you'll want to wrap a small brisket earlier in your cook.
For example, I'd recommend wrapping a 7-pound brisket between the 3— and 4-hour marks. A larger brisket, say about 13 pounds, I'd wait until more like 6 hours before breaking out the paper or foil.
Smoker Temperature
How hot you run your smoker will also factor into when it's best to wrap your brisket.
A lower temperature means a slower cook, which means it will take longer to get to the critical point for wrapping.
Conversely, if you smoke at the upper end, perhaps 275F, you'll want to wrap a little sooner.
Personal Preference
There's nothing scientific about this one, but ultimately, it's probably the most important.
Not everyone has equal amounts of patience. Those who are lower on the patience scale might like to wrap the second the stall hits (typically between 145F and 155F) to power through it and come out the other side ASAP. The shortest route to a tasty brisket is a tempting one!
Others, however, are all about that bark. For the thickest, crunchiest bark possible, some people won't wrap their brisket until it's thick and deep. This may mean waiting until after the brisket comes out of the stall. If that seems counterintuitive to you, you're not alone. But, the proof is in the brisket, so don't judge until you've tasted a slice!
Personally, I base my timing on the color of the bark, and just my own "feel" for when it's right. That's based on plenty of experimenting and varying degrees of success until I found what works for me. I like a deep, crunchy bark, but that's just me.
In the end, you have to decide what's right for you based on your taste and aesthetic preferences. You'll find those by eating other's briskets and asking questions and then experimenting at home.
Try wrapping at different times to see what happens. Be sure to take notes you can refer back to and avoid repeating failures and tweak your successes until you've developed a system that suits you.
Judge When to Wrap by Color and Feel — When the Bark is Set
Most of the time when we talk about smoking meat, we talk about the precision required. A great example is the need to maintain a constant temperature inside your smoker. Another one is how crucial it is to cook to temperature, not to time, to ensure your meat is done.
Wrapping a brisket is different. The best way to judge when to wrap brisket is based on color, and that's a fickle variable at best. It's going to take practice to figure out the perfect moment to wrap, and I can't even tell you what color to look for because it's totally based on how you like your brisket.
In general terms, one of the most sought-after attributes of a great brisket is a deep and flavor-packed bark. Wrapping too early prevents it from forming. Wrapping too late results in a dried-out brisket — with the added insult that you had to wait longer for it.
So, when's the ideal time to wrap a brisket? When the color looks right to you and the appearance of the bark lines up in your mind with what you've enjoyed in the past.
In short, wrap when the bark is set. This is going to vary from brisket to brisket, and session to session. I know that's not the precise answer you were hoping for, but it's the correct answer.
But, we can discuss knowing when the bark is set, and that's a perfect first step towards our ultimate goal of a killer brisket.
Testing for a Set Bark
Here's my incredibly complex and scientific approach to checking if the bark is set.
Scratch a section of the bark lightly.
That's it. One step 🙂
Did it come away easily? If the answer is "yes," it's not set. If the answer is "no," it is. That really is all there is to it.
So, how long will it take for the bark to set? Let's explore that in the next section.
When to Wrap: a Rough Time and Internal Temp
I've cooked a lot of briskets, and in my experience, a 10+ pounder cooked between 225F and 250F takes about 4 to 5 hours before the bark is where I like it.
This combo of temperature and time equates to an internal temperature (which you should be monitoring with your digital probe thermometer) of between 150F and 160F.
Therefore, I recommend wrapping your brisket no earlier than when it reaches 150F internally. You can wrap it anytime after based on the look and feel that best suits your tastes.
Again, I can't stress enough that this is how I like my brisket. Try using it as a baseline for your first efforts and then adjust your timing up or down to see what you prefer.
How to Wrap a Brisket — Step-by-Step
It's vital to know how to wrap your brisket. There are numerous schools of thought on this.
As a student of all things smoked and grilled, I've tried many techniques. Recently, I discovered the 'Franklin smoked brisket recipe', from Texas barbecue-master Aaron Franklin's neat & tidy, 6-step method, and I love it.
Starting with a piece of butcher paper that's about 5 times as long as your brisket measures across the short side, here's how it's done:
Place your brisket on the paper widthwise with the presentation side facing up. Position it far enough in that you can fold the bottom edge of the paper (closest to you) completely up and over the brisket. Pull it as tight as possible. Fitting the paper snug to the contours of the brisket is essential, so keep every fold tight to the edge of the meat.
Fold the paper tightly over the flat, still keeping it tightly fit to the shape of the brisket, until you have a long triangle running out and away from you. Use your hand to flatten and smooth the paper.
Turning to the opposite side from your triangle, tuck some of the butcher paper under the point to hold it in place. Repeat the triangle fold on the point side so that it mirrors the one on the flat side. Again, smooth and flatten the paper with your hand.
Use both hands to keep the paper fitted to the brisket and roll it towards the far end of the paper. Pull the paper in tightly, and fold in the sides after completing the roll.
You should now have a fully wrapped brisket and a long rectangle (more or less) of paper sticking out and away from you. Fold the rectangle over itself and back towards the brisket to halve its length and double its thickness.
Keeping everything tight, roll the brisket forwards and over the remaining rectangle of paper. The double-thick section of the paper will be underneath the brisket, and the presentation side will be facing up again.
Your brisket is now ready to go back in the smoker!
If you like, you can check out Aaron's original post. The man is an artist.
Testing Unwrapped Vs Foil Wrapped Vs Butcher Paper Wrapped Briskets
Last, but very far from least, how do the different ways to wrap — or not — brisket compare when eating?
Who better to let us know than the brisket master himself, Aaron Franklin.
In the following video, Aaron cooks three briskets, one unwrapped, and one each wrapped in foil and butcher paper, to compare the results when eating. (Hint: He says butcher paper is best, though loves all three.)
Final Thoughts
Can't you just taste that perfect brisket already?
While there may be some trial and error before you settle on your signature style, I promise it's going to be a tasty journey you'll never regret taking. There's nothing quite like the "ooohs!" and "aaahs!" from your family and friends when you start carving off gorgeous slices of beautifully smoked meat, while you cut against the grain of course!
If you're feeling ready to try your hand at a brisket, go for it! If you still have more questions, just get in touch, and we'll tell you what we know. Try searching the site, too; we've got tons of helpful articles on all things barbecue, smoking, and grilling, including many articles on brisket.
Thanks for spending some of your day with us!