If you're looking for the best electric smoker, you're in the right place.
The idea of cooking with electricity may be frowned on by charcoal purists. But, the top electric smokers can deliver tender, smoky food quicker and with less effort than other types of smokers.
So below, we're going to look at how these smokers work, and examine what features to look for when you decide to go shopping for one.
We also make recommendations and review some of the top models in several categories, from largest to most portable. From most advanced, to some of the more affordable ones for those on a budget.
And of course, we name our top pick, because everybody loves a winner!
At a Glance: Our Top Picks for Best Electric Smokers 2021
Best Electric Smoker Reviews
After extensive research, we consider the following nine products to be the best available on the market at various price points, to suit different needs and budgets.
We discuss each model's features and qualities, as well as what we and previous owners like and dislike, so you'll be able to make an informed decision on the smoker best suiting your needs.
1
Masterbuilt 30-Inch Digital Electric Smoker
♔ Best Overall
Known for an extensive, varied, and respected product range in this niche, you cannot discuss electric smokers without mentioning Masterbuilt. It's the product on which they built their brand, so naturally, they appear high in our list of the top-rated electric smokers.
This Masterbuilt 20070910 is one of their older models, available in three colors – black, silver, and stainless steel – and is a classic and still bestselling favorite of many. It's a particularly good smoker for beginners.
If it ain't broke, why fix it?
This is a 30" tall, powder-coated steel vertical cabinet style smoker that won't take up much space in your yard while providing delicious smoked treats with its easy cooking process.
It has an 800-watt heating element to power the cooking chamber with its 730 square inches of cooking space spread over four chrome-plated cooking racks. It can reach internal temperatures between 100 and 275 F, the perfect range for all kinds of smoking, from delicate fish and vegetables at the low end to briskets and ribs at the higher end.
There's a dual-purpose removable pan that slips inside, acting as both a water pan to add moisture to the cook and as a drip to collect fats as they fall.
This drip pan makes it incredibly easy to clean. Just pull it out and soap it down. If you've ever used a smoker without a pan to collect drippings, you know how grim it can be as it accumulates over time and how hard it can be to clean once it's baked on!
On the top of this unit, you find a damper to help you regulate airflow for increased or reduced smokiness of your food, and a control panel with an easy-to-read blue-lit, digital LED display.
This display shows cooking temperatures and times set with the digital control panel pushbuttons. With both programmable temperature and cooking time, it's incredibly simple to operate with almost no learning curve.
Wood chips can be conveniently added through a side loader during your cook, so you don't have to open the door to add more smoke, losing heat. So you avoid all the issues of: "if you're lookin', you ain't cookin!"
Overall, this Masterbuilt electric smoker has a great mix of build quality, effective cooking process, ease of use, and all at a great price point. Yes, better models exist if you're willing to pay the premium price, there's even some in this guide, but you cannot go wrong with this product for a balance of greatness and price.
This earns it our top pick for the best electric smoker for the money.
Pros
Well built from durable materials. Will stand up to the rigors of being permanently outdoors.
Build quality means it's well insulated for efficient heat retention.
Adjustable top vent allows control of smoke levels and flavor.
Easy to use 24-hour timer and digital programmable temperature control panel.
Adjustable rack system makes for flexible cooking options and makes it easy to clean.
Cons
Lack of a meat thermometer probe, which many models do have these days, (Though there are many affordable 3rd party wireless meat thermometers available .)
800W heating element not the most powerful on the market, so can take a while to heat up. However, it's more than sufficient for successful cooking.
At 90-days, a longer warranty would be good.
For a more in-depth study of this model, please see our full review of the Masterbuilt 30 digital smoker.
2
Masterbuilt 30-Inch with Window and RF Controller
♔ Best High End
Another entry from Masterbuilt in this list, the 20077515 is arguably the most 'premium' product we feature and the best digital electric smoker in the Masterbuilt range, with the highest build quality, an extensive feature list, and a price to match.
This product stands out with the addition of an RF remote monitoring and control system. This allows you to monitor and control the smoker temp, meat temp, internal light, and turn the unit on and off from a short distance away, so you're no longer tied to the cooker.
Unlike many models on the market, it also comes with a meat probe so you can monitor the cooking temperatures of your meat from afar too.
On the inside are four adjustable chrome-plated cooking plates providing 730 square inches of cooking area, with flexibility for height and configuration of different foods.
It has a removable, front access drip pan making grease removal and clean up a cinch once you've finished cooking.
This unit measures 20.3" x 19.7" x 32.1", weighs 53.35 pounds, and on top is a blue-lit LED digital display with a digital control panel you use to set up temperatures and the cooking time.
This unit has an 800-watt heating element that can heat up to 275 degrees Fahrenheit and has foam insulation to ensure it holds heat well, with a lockable door and viewing window so you can see your meat smoking.
Wood chips can be added with ease through a convenient side-loading system, meaning no need to open the smoker door just to refill with chips and add more smoke to the cooking process.
Finally, top and side vents give complete control over airflow and smoke generation, plus a rear handle and wheels making it easily portable for you to move it just where you want to cook in your yard, and easy to move into storage.
Pros
Large cooking area in a small footprint, can cook for a crowd.
Manoeuvrable with the addition of a rear handle and wheels.
Simplicity of the digital control panel to set the temperature, and easy-to-read blue-lit LED screen.
Front access drip pan, and side loading wood chips mean a joy to use and easy to clean.
Remote RF monitor and control system mean managing your cook while away from the smoker.
A good-looking bit of kit.
Cons
800W heating element isn't the most powerful, so can take up to 45 minutes to reach the highest cooking temperatures.
Some owners have reported the assembly has many steps and could be easier if it arrived in fewer parts / was more 'partially assembled' in the factory.
Only a 90-day warranty period.
If you want a high-quality, feature-packed high end electric smoker with a premium feel and features to boot, with ample room to cook for large crowds, this may be the one for you.
3
Smoke Hollow 26-Inch Digital Electric Smoker
♔ Budget Pick
Compact but functional best describes this steel smoker.
It stands 35.5" x 19" x 16.5" and weighs just under 40 pounds. The 26-inches refers to the height of the cooking space, not the width; this limited interior space may not appeal to some as it may require halving large pieces of meat.
Powered by a capable 1500-watt heating element, this electric smoker generates heat and smoke with ease, has a working internal temperature range of 175 to 325°F, and comes up to cooking temperature quickly.
It comes with two chrome-plated grids, four sturdy-looking legs, and a single-latch, cool-touch door handle.
It has adjustable analog temperature control, a porcelain-coated water pan, and easy to fill chip tray that is easy to remove and clean. An extension cord is also provided.
This should be your pick if you want to smoke on a budget, are happy to accept it's an entry-level model and not a premium best of the best product. However, it works well!
Another model may be better suited if you're looking for something a little more 'premium' or advanced, or if you want a smoker capable of accommodating whole packer briskets without having to halve them.
Pros
Detailed and easy instructions so you can be up and running in short time.
Powerful heating element for a smaller unit, so it gets up to temperature quickly and stays there.
Ease of use is up there with the simplest.
1-year warranty
Cons
Lack of a catch pan can lead to grease leaking out. Something to keep in mind if you don't want to stain your patio!
The narrowness means you have to slice very large cuts in half, such as a whole packer brisket.
If you're still on the fence, you can read more in our Smoke Hollow Electric Smoker review.
4
Masterbuilt MB20073716 Portable Patio Smoker
Best Portable
Another entry from Masterbuilt smokers, this mini-marvel is our favorite portable electric smoker.
Although relatively small, with it's 2x chrome plated smoking racks you can easily smoke 4x medium-sized chickens, a couple of racks of ribs, or 2x pork butts which is easily enough to feed a medium gathering.
However, the main appeal of this product is its portability.
It measures 15.9 x 23.6 x 23.3 inches – just under 2 feet tall – and with folding metal legs, this is a compact unit that folds away into a square shape making it easy to pack inside your trunk, and the perfect model to take tailgating, camping, or to store in your RV for road trips.
Basically, you can take and use it anywhere that there's an electricity supply. The compact size also makes it an excellent option for small apartment dwellers or those who don't have a lot of space for an outdoor smoker.
Surprisingly, this model comes with a 1,400-Watt heating element, more powerful than many much larger models from the same brand! It enables it to quickly get up to cooking temperature and cook between a temperature range of 100 to 275 degrees F.
You will find a built-in temperature gauge on the door, and to control the temperature is an analog dial simply labeled: low, medium, and high.
Unfortunately, the vague analog temperature controller does mean control isn't as simple and intuitive as on digital models where you simply key in an exact temp. You will instead have to 'guesstimate' the temp with the dial, then use a smoker thermometer to measure and make fine adjustments after the temp settles to get it to the internal temperature you want.
The water and wood chip trays sit at the bottom, just above the heating element. They are easy to access, top-up or remove, and clean, but you do have to open the door to gain access. This does mean heat will escape if you need to top it up, but this is to be expected in such a small, portable model.
This is a great little travel smoker, and if you can get past the lack of features compared to larger and more advanced units, you won't be disappointed with this little beauty.
Pros
Most of the standout features relate to portability, hence choosing this as the portable category's top pick.
Compact and square, great for packing and travel.
Small but with a capacity to cook for a crowd.
Simple to use with minimal features, and quick and easy to clean.
Cons
Analog controller has no temperature scale, just low, medium, and high.
90-day warranty period can be considered somewhat short.
5
Bradley Digital 6 Rack Smoker
Large Capacity
Bradley is a famous name in the barbecue industry, and this digital electric smoker is the largest, and one of the pricier ones, in this review.
This 17" W x 14" D x 39" H, 60-pound smoker has a powdered epoxy steel exterior and a polished stainless steel interior.
Six removable chrome plated smoking racks make up the 780 square inches of cooking space.
This model features separate burners for smoking and oven; 125 and 500 watts, respectively. Together, they are capable of generating cooking temperatures up to 280°F.
It features a digital control panel that manages temperature and the amount of smoke. A pellet feeder attaches to the side of the smoker for feeding just the right amount of fuel, and an alarm sounds if the feeder is ever to jam. Once the jam is cleared, power then has to be reset.
Generally, it's easy to use and easy to put together. You need only insert the cooking racks and connect the smoke generator.
Wood pellets burn for about 20 minutes, but with the automatic feeder, this unit is capable of generating smoke for up to 8 hours. The manufacturer recommends a 20-minute preheat time.
This is the model for you if you want a HUGE cooking capacity above all else. But you'd be better off with a different pick if you will rarely, if ever, be cooking large quantities of food.
So unless you know you will smoke meat in large quantities, some of the other smokers in this list have better heating elements, comparably simple set it and forget it controls and would be better options for you.
The many cons have easy remedies, so there's little to put you off buying this if capacity is what you need, making this our pick for the best large electric smoker.
Pros
The sheer size of this unit means it can cook for a huge crowd.
6 cooking racks provide incredibly flexible cooking options. There isn't a cut you can't fit inside this smoker – except maybe whole animals!
Easy to operate, with push-button start, stop, timer and temperature settings. It couldn't be simpler.
Bradley provides 9 different flavor woods for their bisquettes. A good variety of flavors.
Dishwasher safe racks, drip pan, and bowl.
Cons
Heating elements aren't exactly powerful, particularly for a smoker of this size.
Because it's so tall, a temperature gradient exists from top to bottom with the bottom nearer the heating elements being hotter. Rotating the racks is necessary for a more even cooking experience.
Max of 9 hrs 40 min timer, so has to be reset for long smokes.
If you're interested in more details, you can check out our more in-depth bradley electric smoker review.
6
Masterbuilt MES 130P Bluetooth Enabled Smoker
Most Advanced
If, like me, technology is your thing, then you're going to love this next smoker from Masterbuilt: It has Bluetooth technology, enabling you to monitor and control it from an app on your smartphone!
This means you can smoke meat while you can chill out elsewhere, as long as you are within Bluetooth range, enabling you to socialize with guests, or put your feet up in front of some sport while smoking food from your phone. What's not to love about that?
The app allows you to monitor and adjust the smoker's temperature, check on the internal temperature of your meat, and turn the smoke on and off.
This unit also has another unique feature that I've not seen in other electric smokers: A top heating element used for broiling, to put a deep seared crust on food when finishing off recipes.
The Masterbuilt MES 130P measures 19.9 x 20.7 x 33.5 inches, weighs 61.8 lbs, has 4x adjustable height, chrome-plated smoking racks, and provides 720 square inches of cooking space. This is high enough capacity for, in Masterbuilts own words: "…up to 6 chickens, 2 turkeys, four racks of ribs, or four pork butts."
If that's not enough, then there is a 40" model, large enough to smoke "…up to 16 chickens, two turkeys, eight racks of ribs, or eight pork butts." That is BIG.
This smoker also has Masterbuilts signature, side-loading wood chip feature, so you don't need to open the door and let heat escape, just to add more chips when you want to generate more smoke.
An 800-watt heating element can bring the cooking chamber up to temperatures between 100 and 275 degrees Fahrenheit, and two vents / dampers on the top allow you to control the flow of smoke around your food.
Electric smokers are all about being plug n play, and that's what you get here. It's good at doing what it's supposed to do. However, it's the addition of Bluetooth that makes this product stand out from the crowd. It's not just for show, it's a great feature, with real-world benefits.
This smoker is packed with features to make it easy and fun to use, it can cook up a meal for a large crowd, and you don't have to use the Bluetooth. Just be aware you are paying a little extra for it.
Pros
Smartphone app for monitoring and control truly brings the most modern of tech to this product.
The ease of the digital, top-mounted, push-button controller with lit LED display.
Large cooking volume, so you can easily cook for a large crowd.
Simple side loading of wood chips without having to open the smoker door is fantastic.
Highly insulated cooking chamber for good heat retention, stable cooking temperatures and fuel efficiency.
Rear handle and wheels make it easy to move around.
Cons
The Bluetooth range is quite limited. We'd have preferred to see WiFi, as then you could monitor and control away from home.
A 90-day warranty period is somewhat short.
7
Char-Broil Deluxe Digital Electric Smoker
Recommended
Char-Broil's 'Deluxe' model is a desirable looking, well-built stainless steel electric smoker with many features making the smoking process as easy and almost hands-free as possible.
This is a straightforward, incredibly easy-to-use smoker, with many thoughtful features to make smoking a breeze. From setting up (it's pre-assembled), through use (it's plug n play), and at the end of it all, cleaning (removable grates, water tray, and drip pan), this barbecue is simplicity at it's finest.
At just a shade over 50 lbs in weight, and 18.1" W x 16.5" D x 32.5" H, it stands just shy of 3 feet. It's a medium-sized unit, with 4x chrome plated cooking grates offering a respectable 725 square inches of grate area and cooking space.
If that's not enough, there is a larger model with all the same specs and features but with a whopping 1000 sq in of cooking surface area.
Onto some of the features and tech:
This smoker has an integrated digital controller on top, providing push-button control of temperature and time, as well as an easy-to-read LED display.
It also has an integrated meat thermometer probe to monitor meat's internal temperature, so you know when your cook is finished scientifically, not just by look and feel. But that's not all…
It comes with a remote control too, allowing you to see the pit and meat temperatures remotely and provide a means to change temperature, set a timer, and turn the unit on and off. This means you can monitor and control your cook while sitting enjoying time with guests instead of having to keep tending to the smoker.
To round of the feature set, it has a glass window door, so you can see what's going on with your cook without opening the door. It has wheels for portability, a large wood chip box providing up to 8 hours of smoke, and a removable water tray and drip pans for easy cleaning.
All in all, this is an excellent bit of kit.
Pros
Large and flexible cooking space can accommodate any traditional cut of meat.
Easy to use, intuitive digital controller makes setting cooks up a breeze.
Integrated meat thermometer probe saves on buying one 3rd party!
Remote monitoring and control mean you get to spend more time with guests.
Larger than average wood chip box compared to most, provides up to 8 hours of smoke without a top-up.
Desirable, dual-tone black and stainless steel look with a glass door. Not many smokers look this pleasing.
Cons
It's not wholly waterproof, so you need to place it undercover in the rain.
Some have complained about a limited range for the remote control, particularly if inside and the signal must go through walls. However, the unit is manoeuvrable, so you can move it to the closest window and it'll be good from there.
8
Char-Broil Vertical Electric Digital Smoker
Recommended
There's a lot to be said for the simple approach. Sometimes we can get so caught up with specialized bells and whistles, that we fail to focus on basic functionality. This vertical Electric Smoker is purely bare bones.
The insulated, double-walled construction is porcelain-coated and great at holding temperature.
This 17.50 x 20.00 x 37.80 inches, 49.6-pound unit provides 505 square inches of cooking space spread over 3 adjustable, chrome-plated wire cooking grates. Ample room to cook for a large party.
It has a variable digital timer with auto shut-off, configured by way of 6 buttons found near the LED display. But the internal temperature is controlled with a dial simply labelled: OFF-LOW-MED-HIGH. Not the most accurately adjustable.
The interior is stainless steel and has separate burners for smoking and oven cooks.
The nearly identical water and chip trays can be used interchangeably, and its double walls are insulated, which enables it to do an 8-hour cool smoke.
It comes with a built-in temperature gauge, but you may want to purchase a separate digital thermometer as almost all smokers built-in analog thermometers are known to be somewhat inaccurate.
So if you want a simple, medium-sized, no-frills electric digital smoker that does the job, without any fancy features, this may be the model for you.
It's large enough to cater for medium-sized parties, while not being too oversized – or energy hungry – to make it suitable for couples or a small family.
Pros
A highly affordable, easy to use smoker, that almost made it to be our best budget model.
Large enough to cook for a good crowd.
Pretty much plug 'n' play (after assembly), and produces fantastic food.
1-Year warranty
Cons
Some have complained of minimal ventilation, and too great a sensitivity to ambient air temperatures.
Would like to have seen a meat probe included.
The OFF-LOW-MED-HIGH temperature dial instead of clearly labeled measurements can mean tweaking before you hit desired temp.
You can learn more in our in-depth review of the char-broil vertical electric smoker.
9
Smokin-It Model #2 Analog
Recommended
I'll readily admit I'm a stainless-steel snob. I love that clean, surgical look and in my experience, it's durable, and stainless steel cookware is known for its ability to quickly turn out flavorful food without the need for a lot of water or oil.
So naturally, this 100-percent 18-gauge SS Model 2 smoker immediately had my attention. I'll try to be objective here.
This 114-pound 24 x 30 x 22 inches behemoth glides along on four 3-inch rubber caster wheels and comes fully assembled. A hanger on the back of the unit provides a neat way to store the 12-foot power cord when not in use. A handle on either side offers a convenient grip when moving the unit.
It's one of the few, perhaps the only smoker in this review with a double-latch closure on the door. While some intrepid owners report adding extra latches or replacing the existing one outright on some other models, the Model 2 has solid latches ensuring the door closes tightly, leading to an enhanced smoking experience.
The four SS cooking racks racks hold around 35 pounds of food on a 841 sq. in cooking surface.
The 800-watt heating element manages a temperature range of 100 to 250°F, while fiberglass insulation holds in heat and keeps the exterior from heating up.
If this sounds like more than a casual smoker would need, the Model 2 is certified for professional restaurant use. It's one of the few models in this review to have a drip pan underneath the unit too.
The weight, material, design, and cost show this is a model for those who are serious about smoking.
You can pack a whole of meat to smoke in this tidy little unit. It's intuitive and straightforward to use, and with build materials and construction made to last. What's not to like?
Pros
It has a relatively large capacity for such a small footprint.
Easy start-up and operation.
100% stainless steel construction.
No gaskets to wear out and need replacing.
An extra-long power cord – which many competing products fail at!
Configurable shelf positions so you can cook food of varying heights
Dishwasher safe, removable water and drip pans making cleaning simple.
3-year warranty – the longest of any model in this list.
Finally, being certified for professional restaurant use makes this the top pick for commercial use.
Cons
You could argue the thermostat is placed too close to the heating element, instead of up near where the food is.
We prefer digital controls instead of analog, but this does keep the cost down and means fewer things can break or go wrong.
It's very low to the ground without purchasing a cart as an accessory. All the bending down can be a pain. Literally.
You can learn more about this compact unit in our smokin-it model 2 review.
What to Consider When Buying
The best electric smokers are widely known for their simplicity and ability to produce quality smoked meat without any steep learning curve, being a huge selling point for beginners.
But being easy to use doesn't mean they should be featureless. There are still qualities making some models stand out against the crowd and more worthy of recommendation.
This buying guide should help you better make sense of which model is right for you, by focusing on the importance of various features you can find when buying. Let's take a look.
The Most Important Factor is Size and Capacity
Many models are tall, but not so wide. However, you don't stack meat up on end when you smoke it, you lay it flat. So when looking at different models, make sure they're wide enough for you to place in it the foods you intend to smoke.
Will you be smoking ribs? They're a good 16 inches wide or so. How about a full packer brisket? They can be a good 18 to 24 inches.
Make sure the model you choose can hold something of this size. 16 inches wide at least is what you need to smoke ribs, chickens, turkeys and nearly everything but brisket. Though brisket can easily separated into the point and flat and smoked in 2 halves.
Performance and Effectiveness
So many factors determine performance, but the key one is power. Power determines how long it takes to get up to temperature, how long the smoker can sustain it, and how much food can be handled at one time.
Wattage ranges between 500 and 1500 watts, with 800 watts being about the sweet spot and best compromise between sufficiently capable, yet not too power-hungry and costly to run.
Be aware that the lower the wattage, the longer a unit will take to come up to temp before you can cook. You should be willing to accept 30 to 45 minutes to come up to temp. This is somewhat the norm and a standard many aim for.
Ease of Use, Features and Provided Instructions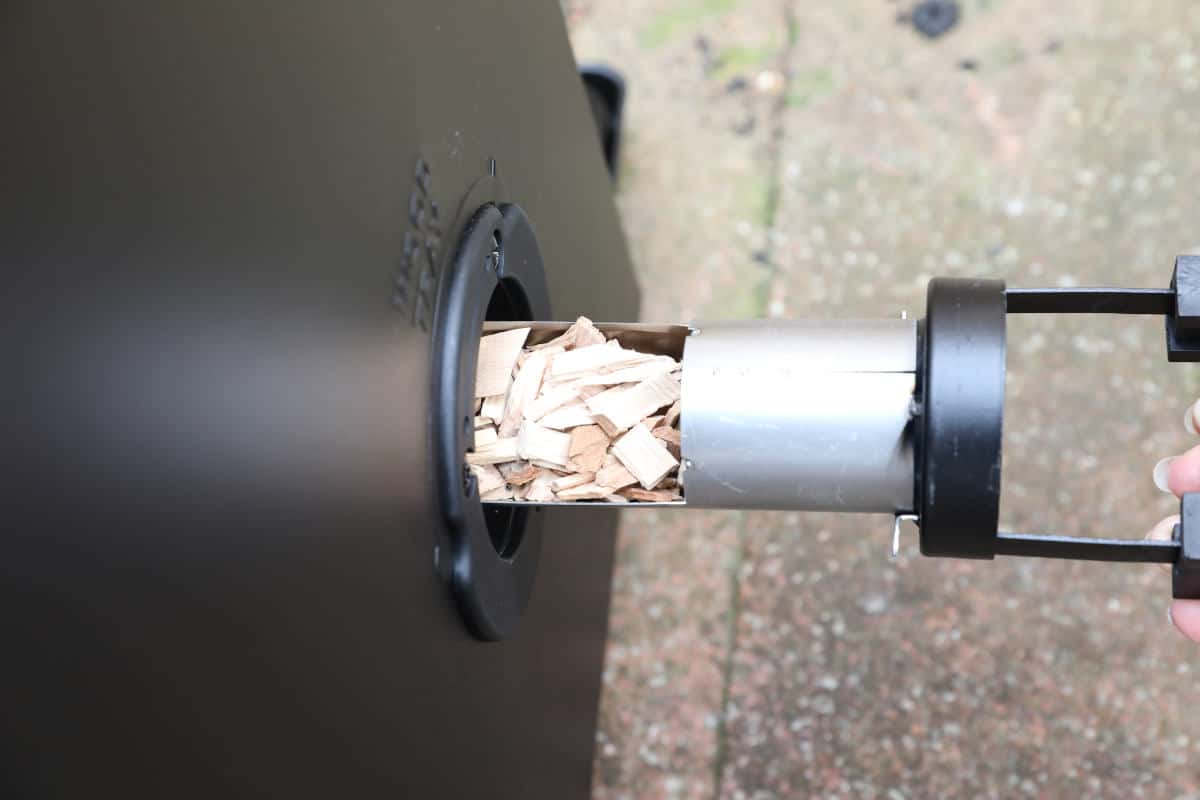 Features and clear instructions on how to use them can impact any product's usefulness, especially if the smoker has to be assembled. Clear wording and pictures are a must. Luckily, comprehensive instructions aren't a deal-breaker with so many resources to be found online, but it is a consideration for some people.
Other important information can include using automated or easy to access wood chip feeders, replenishing water; electrical capacity; use of vents; and setting digital timer, temperature, and smoke-level settings.
People look toward electric smokers for their ease of use. They want plug n play, set and forget it functionality that produces wonderfully smoky flavored foods. Therefore, ease of use should be a determining factor in the buying journey.
Temperature Stability
Many electric smokers come with temperature probes, and some even have wireless thermostats enabling you to monitor the temp on your smartphone. These are great features so you know your cooker's temp and can monitor the temperature of your food, ensuring everything goes smoothly until your desired cooks' doneness' is achieved.
Depending on the construction, be aware that the following can impact the stability of the temperature:
Power rating (watts) – ability to reach and sustain a temperature; how long it takes to recover from a temperature drop caused by opening the door.
External temperatures – especially dependent on the density of metal the smoker is made from. Judge it by overall weight.
Type of insulation – governs how well internal temps are held and protection from outside weather conditions (wind, rain, ambient temperature changes, etc.)
Seal integrity of doors – and window, if one is present.
With many cheaper models, users complain of the inability to hold a good smoking temperature of 225 to 250 F once the weather outside hits freezing or below. So pay attention to design features aimed at temperature stability.
Ease of Cleaning
How hard (or easy) to clean your equipment is important because it can affect a product's longevity and how much enjoyment you get from it. Especially dealing with water, components can rust if not properly seasoned and cleaned after use.
And realistically, if you know you'll be a long time scrubbing, scraping, and wiping afterward, your smoker isn't going to get as much use as it otherwise might.
So look for easy to clean products…and keep in mind that some on this list have dishwasher friendly components. It doesn't get any easier than that.
Drip and Water Pan Quality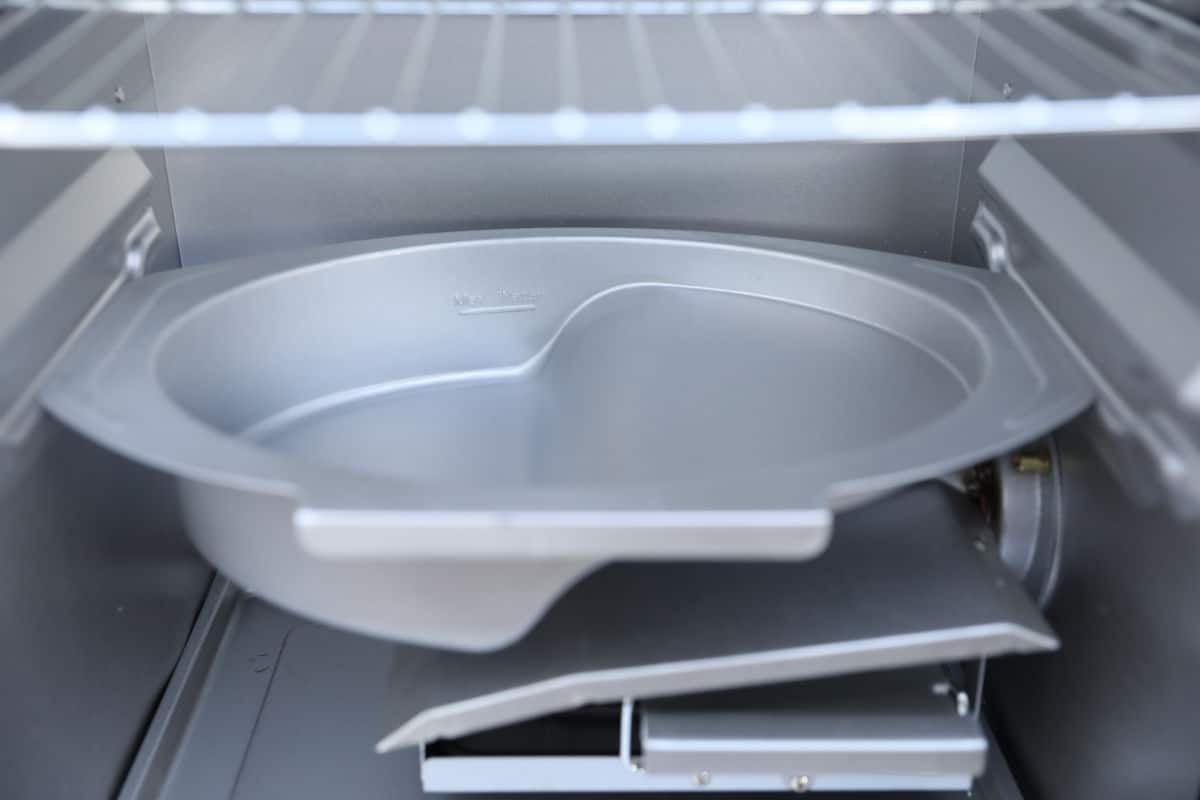 Water pans can seem a simple thing, but those provided with some smokers can be remarkably inadequate.
Some cooks will simply purchase a roasting pan or use disposable aluminum baking pans to capture drippings and be deep enough to reduce the number of times water has to be added.
However, the smokers featured in this guide have all done a great job with their water and drip pans. Made to fit, easy access and cleaning, you shouldn't have to let this factor into your decisions too much.
Does Portability Matter to You?
This may not be a concern if you decide to dedicate a spot in the yard or patio for your smoker. If not, you'll want to be able to easily move it from storage to cooking spot (which can vary depending on weather and yard logistics).
Look for sturdy handles for picking up the smoker or, even better, hefty wheels to provide maneuverability without heavy lifting.
Build Materials, Durability, and Longevity
The materials used in the construction can dictate how well it can hold an optimal temperature and overall durability.
Commonly, the materials used for the body are:
Powdered steel
Stainless steel
Aluminum
Stainless steel and Aluminum have better rust-resistance and should last a lot longer.
The cooking racks can be made of:
Chrome
Aluminum
Stainless steel
Stainless steel will have the best longevity, but it comes at a pretty price. Chrome-plated are more common as they're easy to clean and long-lasting enough to be a good balance of cost and longevity.
When it comes to durability and longevity, how long an item will last is a sensible consideration when spending a few hundred dollars.
The warranty period can give a general idea of how long you can expect to enjoy your smoker. If a brand stands by their product with a longer warranty, that's a good sign. You can also read existing owners reviews on Amazon and other retailers sites to see what previous owners say about longevity.
Warranty
This may matter a lot or a little, depending on how many things can go wrong with your smoker. Automated wood chip feeders, rheostats – the more and relatively complicated the parts, the more things can break or go wrong.
Some manufacturers will go beyond the mostly standard one-year warranty. Some may even offer extendable contracts which you may consider worthwhile based on how much you invested and how regularly you will use your new cooker.
Frequently Asked Questions on Electric Smokers
How do Electric Smokers Work?
You can pretty much equate them to your kitchen oven.
Whereas many smokers burn solid fuel or gas, and have their temperature controlled by intake and exhaust vents that control airflow, electric smokers quite simply have an electronically controlled, electric heating element.
On the outside, you have a controller on which you set the desired temperature. On the inside in the base sits the heating element, which heats up until turning off when the desired cooking temperature is reached.
This is all done electronically, with no input required from the cook. No fires to manage, no vents to control. Though there are usually one or two vents, they are purely to allow smoke to flow, not to control temperature.
Once an electric smoker reaches the desired cooking temp, it's a simple case of turning on the heating element if the temperature drops and turning it off when it's back to temp. As I said, exactly like your kitchen oven!
To generate smoke, sitting on top of the heating element will be a wood chip tray. The wood chips get heated by the element until they smolder and produce smoke. The wood chips do not burn with a flame, they smolder. They aren't to provide heat, they are for adding smoke only.
How do Electric Smokers Compare to Gas and Charcoal Smokers?
They differ quite wildly, but there are some good reasons to buy an electric smoker.
They have a lot more technology compared to basic charcoal or even gas models. This is both a benefit and a disadvantage.
The technology makes them by far the easiest of all types to use, but it also means more that can break and go wrong. A charcoal grill may last for decades. An electric smoker will likely last only a few years with consistent use or at least need parts replacing.
When it comes to the food produced, which is best is an entirely personal thing. Most people will say you cannot beat the flavor from cooking with charcoal. But it does come with more learning to do, and more managing of the cooker to produce food. You can learn about the differences in our guide to electric vs charcoal smokers, and in the following guide can pick up some electric smoker tips.
If you want a low maintenance and push-button easy operation, go electric. If you want max flavor, go charcoal.
And where do gas smokers fit in? Somewhere in the middle.
They tend to produce a similar end product to electric without being tethered to an electricity line, though you have to make sure you have a ready gas supply. Check out gas vs electric smokers for a comparison between them.
Is a Pellet Smoker Better than an Electric Smoker? Aren't they Similar?
Although both require electricity to run, they are entirely different beasts and produce food with altogether different flavor profiles.
In an electric smoker, the heat is produced with electricity, and wood chips are only there to provide smoke for added flavor.
In a pellet smoker, the electricity is there only to ignite the wood pellets. The burning wood pellets flame provides both the heat to cook with and the smoke for flavor.
This also results in the smoky flavor from a pellet grill being stronger and more defined.
They are entirely different types of cookers. You can learn more in our guide to pellet smokers.
How Does an Electric Smoker Produce Smoke With no Flames?
When smoking, we don't want a roaring flame from our wood, we want just a gentle smolder. The smoldering produces smoke. If fully alight, almost no smoke is generated from properly dried, burning wood with a flame.
In an electric smoker, a wood chip tray sits at the cooking chamber's bottom, just above the heating element. This tray gets hot enough to cause the wood chips to smolder, but not to fully combust and produce a flame. And hence smoke is created.
How Much Wood Chips Do They Burn Through? Does this Get Expensive?
I cannot put an exact figure on this as it will vary wildly, but it's less than you might think or fear.
The wood chips are only to provide smoke, they aren't for providing heat. You only need a handful or two at the start of the cook to provide smoke for anything from 1 to 6 hours, depending on the model of smoker you have, how hot you cook and the capacity of the wood chip tray.
Also, once food exceeds 145 degrees Fahrenheit or so, it stops taking on smoke anyway, so you do not use wood chips for the entire cook, only at the start.
Learn more in our article looking at wood chips and electric smokers.
How Hot do Electric Smokers Get?
Most only get up to about 275 F at the high end, though some can go as high as 350 F.
Generally speaking, they work between 200F and 275 F for most models. Plenty hot enough for low n slow smoking, which is the purpose they are made for.
Can You Use an Electric Smoker Indoors?
No. It is a smoker, and you do not want and cannot have one inside in your house! It will choke you out.
OK, that's a bit simplistic. You could install a commercial-style extractor to remove the smoke generated, but this will be a huge expense and quite a significant addition to your kitchen. A bit unsightly even.
Or I guess you could use it inside without adding any wood chips so it makes no smoke? But then, why get such a smoker? It will be just like your kitchen oven in this instance.
So no, don't use it inside. It's for outdoor use only.
Do You Need to Season a New Electric Smoker?
You do, yes. All new smokers should be seasoned before first use, to burn off oils and contaminants from the manufacturing process.
You will find that all manufacturers have instructions on how to do so written in their manuals. And we also have a guide which you can find here: How to season an electric smoker.
Final Thoughts
There's a lot to be said for electric smokers! They produce tender, smoky goodness without a lot of fuss or effort. Ultimate simplicity.
Of the 9 products reviewed in this list, and snobbery aside, the Masterbuilt 20070910 30-Inch Digital Smoker is our top choice.
It's sturdy, simple to use, has a wealth of useful design features, is well-insulated, easy to clean, and is backed up with great customer support. And it also looks impressive.
Perhaps you'll find another model more suited to your taste, but the Masterbuilt is an investment worth making for us.
What's your experience with electric smokers? Do you have anything to add to the above, or a question or two you'd like answered? We'd love to hear from you in the comments below and will answer every one!
Here's to years of electrically powered, smoky flavor and goodness!