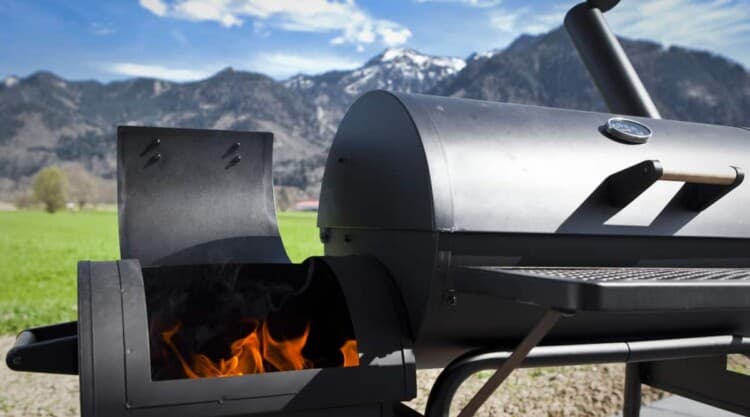 So, you've decided to take the plunge and buy a dedicated smoker? Good decision!
While you can smoke meat on a standard grill, it's far more difficult to achieve the results you want and deserve.
If you're serious about smoking (and if you're reading this, you must be), an offset smoker may be your preferred choice of cooker. Many guys and gals who love to grill have both a "standard" barbecue and a dedicated smoker.
Now, if you've ever been through the process of selecting a grill before, you won't be at all surprised to find out there are many offset smokers available to choose from.
In this article we aim to help by taking you through all the points you should consider when looking for the best offset smoker, and we narrow the field for you to just a few of the top options out there.
We've done the research, and here we'll present our findings. We look at what features you should find in the best offset smoker, as well as a few that are just unnecessary or can even hinder your cooking enjoyment.
We've selected a small group of recommendations of what we believe are some of the best on the market, and we'll be going over the pros and cons of each, so you can shop with confidence, armed with your newfound knowledge.
Let's get this smoke show on the road! But before we do…
At a Glance: Our Top Recommendations for Best Offset Smoker
Note: Clicking the above links will take you to further information, current prices and customer reviews on Amazon and other select retailers.
Reviews of Our Recommended Offset Smokers for Home Use
These aren't the only good smokers on the market, but they're ones we believe offer excellent value, and cover a range of budgets and needs.
Oklahoma Joe's Longhorn Reverse Flow Smoker
1
Oklahoma Joe is actually a real guy named Joe from Oklahoma, which is cool. He started the company back in 1987, using his knowledge as a competition-level pitmaster to help shape a quality smoker.
OJ's offer 6 different models of smoker, but we've decided to single out the Longhorn Reverse Flow.
Also appearing in our list of the best charcoal smokers, this entry level offset is a great first step into the world of smoking with an offset style cooker.
This smoker overcomes one of the fundamental problems with offsets by using 'reverse flow technology', forcing the smoke to flow over the meat and back again before exiting through the chimney. This helps provide even smoking and heating.
You do also have the option of locating the chimney in the standard position, if you prefer.
Dampers in the chimney help regulate airflow and adjust the temperature. Baffles under the grate help direct heat and smoke under the meat and then over the top, again for more even cooking.
The whole unit is made of steel, including the wheels. It weighs nearly 275 pounds, so you'll be glad for the heavy-duty rollers, and you know it isn't going to lose much heat.
There's 751-square-inches of cooking space on the main grate, which isn't huge, but it should be plenty for most folks. There's also 309-square-inches of secondary cooking space.
There's a thermometer on the lid, at the side closest to the firebox, so you'll always know the temperature at the hottest spot. At the opposite end, you'll find a spot to insert a second thermometer, which is an excellent idea so you can see the heat differential across the whole smoker.
There is a narrow mesh shelf in front of the lid suitable for resting utensils, and a larger one below the main barrel for setting down extra fuel. As a nifty bonus, there's a flat spot on the lid of the firebox where you can heat up any side dishes and sauces on a frying pan or in a pot.
Pros
A great entry level offset smoker for the price
Thickness and quality of materials is about the best at this relatively cheap price point
Reverse flow design ensures a more even heat distribution and fewer hot spots
Dampers are easy to use and allow for accurate temperature control (after a learning curve!)
Can also be set up as a regular charcoal grill, not just a smoker
Can direct heat grill inside the firebox for added versatility
Easy clean with removable baffles and large ash door
Handles and wheels make it easy to move around
Cons
A bit leaky around the doors and joints
A few owners have suffered paint peeling on the firebox
While some argue that Oklahoma Joe's has lost its edge, we think there is great value in their smokers for anyone who wants to enter the world of smoking with confidence and style. This is a great-looking, well-built smoker that should impress with its ease of use and durability.
Broil-King Smoke Offset Charcoal Smoker
2
Broil-King is a name you probably already know in the world of grilling. They are famous for their gas and portable grills, but they also make some good smokers.
This is a good smoker for a practical person looking for a mid-range smoker backed by a familiar name — and a 5-year warranty!
With 625 square inches of primary cooking surface, this isn't a monster, but it will cook up a decent amount of meat. Hey, there's nothing wrong with being suburban backyard-friendly!
The steel is 2 mm thick, which is slightly lower than optimal, but better than most of the cheap models. Total weight is 186 pounds, so it's a pretty solid unit.
The grates are porcelain-coated cast iron, so they should be good and durable.
On the outside of the unit you'll find an attractive chrome-coated cast aluminum handle at each end for opening the lower doors, and adjustable dampers for controlling the airflow.
A single thermometer sits in the center of the lid, so you'll get the average temperature of the cooking chamber, but you won't know what's going on at the ends.
Nice bonus features include removable ashtrays, a generous front shelf, a lower storage shelf, utensil hooks, and even a bottle opener.
The lid has a large handle, and it swings wide open to allow full access to the interior of the main cooking chamber. The legs are thick, and angled nicely to provide stability when you're moving your meat around.
So, is it the best smoker out there? Not by a long shot. But there are FAR worse ways to spend your money!
Pros
Mid-priced, and good value for money
2 mm thick steel is better than most at this price point
625 square inches of primary cooking surface can cook a lot of meat
porcelain-coated cast iron grates will last a long time and are easy to clean
Removable ash trays for easier cleaning
5-year warranty
Cons
This thickness of materials will have issues holding temperature in cold and windy weather
This smoker is a great option for anyone who wants a good smoker at a reasonable price for occasional use. If you want competition grade, you're in the wrong place.
Char-Griller Competition Charcoal Grill
3
Ok, I'm pretty sure anyone who actually smokes competitively would find this unit doesn't meet his or her needs. So ignore the words "competition pro" and focus on the smoker itself.
If there were a level between low-grade and mid-grade, this would be it. Lower mid-grade perhaps? However you care to categorize it, the 8125 is a pretty decent grill.
There are features on this low-cost unit that elevate it above the level of other similarly priced and cheaper smokers. You may need a little extra patience with this one, but it likely won't just frustrate the heck out of you.
There is a lot of space under the lid, with a 719 square inch cooking area. The large 293 sq. In. firebox allows for a good, long-lasting fire, too.
Adjustable dampers will help you make the most out of that heat; though I'm concerned the center-mounted thermometer won't give a good enough temperature reading. If you already own a remote-sensing thermometer, though, this isn't a deal-breaker.
The bottom is "doubled-lined", so you shouldn't lose much heat here as the smoke moves from the firebox into the main chamber and begins to circulate. There's an adequate front shelf, and a large bottom shelf for storage, and there are handy hooks for hanging utensils.
The wheels are steel and should easily support the unit. Unlike on many other smokers, the wheels are under the firebox side. Why you'd put them anywhere else, I have no idea.
The handle for the lid is a little close to the lid for my liking, but it is designed to stay cool. Nevertheless, I'd watch my knuckles on that if I were you. Anecdotal evidence from owners suggests there may be some heat leakage at the seals, but this may vary from unit to unit. But you do get a clean-out tool, so that's a nice bonus.
Pros
Very cheap for an offset smoker
Large grilling surface
Cooks well enough, and adds a great smoky flavor to food
Easy to use
Cons
Difficult to clean
Flimsy construction
This is a good choice if you're not 100% you want to be a big-time smoker, and you're trying to stick to a modest budget. Not our top recommendation, but not a bad deal, overall.
Pitts and Spitts Ultimate Smoker Pit U1830
4
Since 1983, the wonderfully named Pitts & Spitts has been making high-quality smokers in Houston, Texas.
Their team of craftsman build superior gear from steel plate and high-grade stainless steel. They make everything from backyard smokers to portable kitchens you need a fifth-wheel to haul. For our purposes, we've gone with a "reasonable" alternative to needing a new vehicle just to smoke meat.
If you're already a barbecue pro (or highly skilled enthusiast), or if you've been smoking for a while and are ready to level up, this might be the offset smoker for you.
It's on par with some of the pricier items on this list, but, viewed as an investment, it'll pay off in the long run if you want to do a ton of smoking over the next couple of decades.
The model number denotes the dimensions of the barrel, 18" x 30". (There are two other models available — the U2436, and the U2448. I'm sure you can work out their measurements.) That's a very large cooking chamber! There are 853 sq. In. Of cooking space in this 350-pound mini-monster.
Thankfully, it comes standard with a set of rubber tires by the firebox, and heavy-duty castors at the opposite end allow for total ease of movement.
The wood/charcoal-burning firebox is quite generous, and it comes ready for an LPG tank for fast ignition.
Dampers at the firebox and on the chimney allow for temperature control, and the ¼-inch thick firebox will hold the heat nicely. The chamber is a bit thinner at 3/16", but should still keep the heat inside where it belongs.
A nice feature we see on this unit is the chimney cap. Snow and rain will not get down inside your stack and cause corrosion where you can't see it, and wind shouldn't hamper your smoke circulation.
I'm not fond of the little handle on a large lid, but then you shouldn't be opening the lid often, anyway.
There's no lower shelf, thanks to the LPG tank bracket, but the upper shelf is fairly large. Just don't expect to have your extra wood stowed handily at your feet.
For some people, this unit is complete overkill, both regarding capacity and price. However, there really are FAR more expensive units out there.
There's a lot of bang for the buck in this big guy (ever wanted to smoke four briskets or 8 chickens at the same time??), and it's well worth the investment if you intend to be a serious smoker.
Pros
Unique design will appeal to many
Excellent build quality and materials
Easy-open roll top lid
Dual cooking grates that are easily removable
Built in water reservoir for a moist cooking environment
Propane log lighter for hassle free, quick fire lighting
Robust wheels for easy maneuvering
Cons
Some people aren't fans of the roll top lid if they are used to a standard one
Break the cost down and look at it from a per year perspective, and you might just see that this is worth the extra dollars if you want to get a taste of the big leagues of smoking.
Horizon Smokers 20 Inch RD Special Marshal Smoker
5
The Horizon Smokers 20 Inch RD Special Marshal Smoker is large, incredibly well-built, and features desirable add-ons as standard that many smoker owners pay good money to have retrofitted.
Admittedly, it doesn't come cheap. But, as Horizons puts it on their website, the RD Special Marshal Smoker "…could be the last smoker you ever purchase." A bold statement, and I suspect they can back it up. This would be one heck of a good investment for anyone who loves to smoke as often as possible.
At first glance, there isn't much to distinguish this offset from a host of others. Oh, except maybe the massive counterweight attached to the lid! It looks like a spoiler on a car, but this offset weight makes opening the large cover on the cooking chamber much easier.
Got one hand full? No problem! You can easily flip this lid with a single hand.
That's no mean feat, considering this is a 650-pound smoker made of heavy structural steel and ¼-inch pipe, all fully welded together for excellent heat and smoke retention. It's so solidly built Horizon Smokers provides a Lifetime Warranty against burnout.
The counterweight is just one feature that makes this smoker "Special." (Incidentally, "RD" stands for Roger Davidson, the owner of Horizon Smokers.) Another convenience upgrade included is the pair of 20" wagon wheels. Their large diameter will help you more easily reposition this huge offset smoker.
But, the bonus feature you'll love most is the Sliding Convection Plate. This simple but brilliant addition helps reduce one of the critical issues almost all offset smokers face.
Because the fire is entirely to one side of the cooking chamber, the part of the chamber closest to the fire gets hot before anywhere else. The sliding plate fits below the cooking grate but above the portal to the firebox. It's perforated, with the holes getting progressively larger the further they are from the fire. The design and materials allow it to distribute the emanating heat more evenly, so you don't end up with an early hotspot at one end of your cooker.
The cooking chamber features two 19×21" cooking grates, and there's a 19×17" grate in the firebox for direct heat grilling. Each grate is built to hold up to 100 pounds of food. Yeah, that should do!
Pros
Fantastic overall quality, it's built like a tank!
Over 1200 square inches of cooking space
Ash clean-out tool included
Probe port for digital thermometers
Front, side, and lower shelves
Large 20" wheels
Cooking grate for grilling in firebox
Warming plate on firebox
Two lid thermometers to monitor different heat zones
Cons
Honestly cannot find any cons
Any purchase from Horizon Smokers is a good one. But, the RD Special Marshal Smoker is one of their absolute best buys and is well worth the upgraded price compared to the standard 20" Marshal.
Lone Star Grillz 24″ X 36″ Offset Smoker
6
Right up front, let me tell you, this is a hard-core smoker. It's designed by a hard-core smoker and for hard-core smokers. Casual smokers need not apply for a Lone Star Grillz 24" x 36" Offset Smoker. And yes, that is its name. Don't worry; they're better at building smokers than naming them.
As it stands, before any customization, this is arguably one of the finest smokers on the market.
The quality of the fit and finish is almost beyond belief, and they've seemingly thought of every detail. There's no doubt this unit provides a superior smoking experience. Plus, it will handle virtually all of your outdoor cooking needs, thanks to the remarkable firebox.
There's an almost dizzying array of upgrades to choose from, too. From off-road wheels to a warming oven and even a vertical smoker. You could make your final version virtually unrecognizable from the original.
One of the key features of this cooker is the trio of heat deflector plates. Depending on how you position them, you can direct and adjust the heat inside the cooking chamber.
For example, with all three slid over towards the firebox, heat will be evenly distributed, with minimal hot spots. Take them all out, and it could be as much as 100°F warmer on the firebox side than on the chimney side.
This unit is also built to hold its smoke. (At this point, I need to throw in this link to the Breakfast Club – "Chicks cannot hold they smoke!") The lid boasts a wide flange welded all the way around. This — combined with excellent craftsmanship — ensures a snug fit without a gasket, which would wear out eventually.
Sticking with smoke for a minute, the chimney is carefully positioned to enhance the flow of smoke through the chamber. The opening to the chimney is just above the main grate on the side opposite the firebox. That means the smoke is pulled across your food all the way from right to left — top- or rear-mounted chimneys can release smoke before it has a chance to engulf the entire cooking chamber.
There are two large cooking grates inside, each framed diamond-shaped mesh. They slide out, and there are three positions to choose from for maximum flexibility. The upper rack has 5.25" of clearance below the lid, allowing for larger cuts than many smokers can accommodate up top. The total cooking area in the cooking chamber is 1312 square inches.
The amazing firebox is just as thoughtfully constructed. It's fully insulated for heat retention, and access is easy through the side hatch. There are two positions for the laser-cut, ¼" thick fire grate, and it slides in and out just like the cooking grates.
And yes, there's a cooking grate in the firebox, too! It's perfect for taking advantage of the heat generated by your fire for direct heat grilling.
Additionally, if you open the lid on the top of the firebox, you'll find a flat-top griddle for frying smash burgers, making bacon & eggs, cooking vegetables, and more.
Pros
All-new ¼" steel construction
Multi-function firebox includes griddle and direct heat grill under the lid
Welded flange to seal the lid tight
Slide-out grates
Baffle system for heat distribution
Gas-assist ready firebox
Four 5-inch polyurethane-wrapped casters, including 2 that swivel
Cons
Nothing. I simply cannot fault it
In summary, if smoking is your life — and money is no object — you could own the smoker of your dreams. Actually, it would be the smoker of ALL our dreams.
Texas Original BBQ Pits Luling 24 Offset Smoker
7
I had to look up "Luling" to see what it meant. Turns out it's a city in Texas. While anyone living there may argue the point, its main claim to fame seems to be a shooting location for films, including Texas Chainsaw Massacre. Let's hope this smoker can keep us from massacring our dinner!
While we wish there were more standard features and fewer options, if you really deck out the Texas Original BBQ Pits Luling 24 Offset Smoker, it can be a one-of-a-kind smoking monster.
The quality of the build is exceptional, and we love all the cooking options it provides. Definitely opt for the upper cooking rack to expand your capacity. Hey, you never know when you may need to cook 31 chickens simultaneously!
As standard, this enormous smoker features 1046 square inches of space on the main cooking grate. You can add 780 square inches with an upper grate, but this is only available as an upgrade for an extra cost.
The firebox also provides 418.5 square inches of direct heat cooking space for grilling.
The classic look of the Luling 24 is undeniably appealing, and it's built like an absolute tank. All that heavy-duty ¼" steel pipe and plate adds up to a whopping 932 pounds. Fortunately, the oversized steel wheels make it possible to move your smoker around at least a little bit.
Over on the firebox, in addition to cooking inside of it, the lid features a pot warmer. This is a nice bonus for keeping some sauce, beans, or what have you simmering away over the heat of the fire. Here you'll also find a larger damper for controlling airflow and a stay-cool handle for safe access to the hatch.
Numerous convenience features come standard with the Luling 24, including three shelves: one on the cooking chamber, one on the firebox, and one lower shelf. That's a lot of storage and prep space! Both the upper shelves are removable, too, should you want them out of the way.
You also get an ash clean-out tool and a chrome temperature probe port to make using your digital probe thermometer a breeze.
Check out this video overview from BBQGuys for more detail on this excellent offset:
Pros
Excellent build quality and materials
Heavy-duty ¼" steel construction
3 shelves for storage and prep
Stay-cool handles
Firebox includes cooking grate and pot warmer
Hand-welded
Huge capacity
Nice large wheels for moving it around
Cons
Lid does leak some smoke, but this can be solved with aftermarket gaskets
This is a competition-grade smoker made for the discerning outdoor chef.
Yoder Smokers Loaded Wichita
8
While the name sounds like it's for a pulled pork sandwich or something, it's actually a kick-butt smoker "loaded" with premium features that are either optional or unavailable on many other cookers.
The Yoder Smokers Loaded Wichita is a champ in terms of construction quality and features. We like that the options are just that — nice-to-haves to enhance the experience, not stuff that should have been included in the box as standard.
Made from ¼" steel, the cooking chamber is built for maximum efficiency. This includes using a removable heat management plate to ensure even cooking without hotspots and a lid with a welded baffle all the way around for a tight fit. That means more smoke inside the cooking chamber where it belongs.
Between the upper and lower cooking grates, you'll enjoy 1265 square inches of space. If you need extra height (clearance between the upper and lower grates is 5.5"), the upper grate slides out neatly.
Another 342 square inches of direct heat cooking space is available under the firebox's lid (also with a welded baffle).
Speaking of welds, the entire Loaded Wichita features solid and complete welds. No wonder this thing is warrantied for life.
Other premium features include a removable smokestack for easier cleaning, a counterweight to make lifting the main lid a whole lot less cumbersome, and three shelves for prep and storage.
Both lids feature chromed stay-cool handles, and there's an access port for probe-style thermometer wires.
Consider adding on the cooking chamber charcoal grate for even more cooking options. This sits down at the bottom of the main chamber, allowing you to cook directly over charcoal, just like you would on a standard barbecue.
Charcoal fans might also want to pick up the charcoal basket for the firebox, as well — it's also set up with inner walls to create a snake-style charcoal set-up for a slower, more controlled burn.
Pros
Includes many premium features as standard
Huge cooking area
Durable ¼" steel build; warrantied for life
Efficient design for heat distribution and smoke retention
Dual temperature gauges
Optional inserts available for charcoal smoking and grilling
Cons
Some owners have complained of flow issues (google this and read the forum threads), but it's only a small minority
This grill is amazing as standard, but those who like to mix things up should consider the add-ons for charcoal grilling and smoking. With those available, there's almost nothing you can't cook, and you could do away with any other grill you already own.
Meadow Creek SQ36 Barbeque Smoker
9
Wow! It looks like someone decided to build an offset smoker without bothering to look at what virtually everyone else's looks like!
Meadow Creek considers the SQ36 Barbecue Smoker an "entry-level" cooker. While the price tag may suggest otherwise, there's no denying that the simple, compact design is approachable and appealing to anyone not used to smoking.
If you appreciate standing out from the crowd, you're probably already sold. Well, knowing how well it works will only reinforce that feeling.
While the Meadow Creek SQ36 has the appearance of toolboxes on wheels (all kidding aside, we love the design), it's also a killer smoker, even for a rookie.
You can use either charcoal or wood, or a combo. Access to the firebox is easy, with the large hatch featuring a coiled stay-cool handle, a second one on the slide-out ash pan, and a simple vent for airflow control.
There are no shelves, but the flat surface of the firebox provides a warm space for pots of sauce or food waiting to be picked up by hungry guests. Four access panels make it easy to feed through probes from your digital thermometer.
Inside the cooking chamber, a clever smoke distributor prevents uneven smoke coverage. A simple steel wire cooking grate provides an ample 507.5 square inches. That should be plenty for most casual home chefs.
Thanks to the angled design of the lid, you'll find a ton of cubic space inside the cooker. Turkeys, giant briskets, and even whole suckling pigs are no problem should the need arise.
The quality of the materials and build is impressive. The cooking chamber is fashioned from 13 gauge steel, and the firebox is ¼" plate steel.
Meadow Creek cookers are assembled in Pennsylvania by Amish craftsmen, and their skills are world-famous.
These days, it's virtually a given that any barbecue or smoker will feature a grease management system. The SQ36 one-ups most of the competition with a ball valve drain, eliminating the need for a bucket and allowing you to decide when to drain out the grease.
Optional upgrades include a second-tier grate to nearly double the square inches of cooking area and a charcoal grill pan. The pan fits in the cooking chamber and effectively converts your smoker into a charcoal barbecue. That's a great option for making quick and easy steaks, burgers, and more without the need for a second cooker.
Pros
Built by Amish craftsman
Smoke distributor for even smoking
Large air-filled tires
Heavy-duty steel construction
Flattop firebox for warming
Ball valve drain for grease/cleaning
Cons
The firebox opening to double up as a grill would have been nice
Sure, there are cheaper smokers out there aimed at novices. But, they're cheaper for a reason — they aren't built to last or perform consistently. The SQ36 is built to last.
For the occasional smoker who appreciates quality, wants to enjoy the experience, and doesn't want to buy a new one every few years, you won't be disappointed.
To say there's nothing else quite like The Beast by Hamrforge on the market is an understatement. Even if it weren't an exceptional smoker, it would still be a heck of a conversation piece.
Steampunk meets Mad Max in this unbelievable-looking smoker. We cannot keep our eyes off this thing, and neither will anyone you invite over. It could legitimately pass for WWI army surplus, and we mean that as a compliment.
Hamrforge is a Canadian company, but the ¼" steel is touted as "American made." Each Hamrforge grill is custom-made in rural Quebec with incredible attention to detail, including laser-cut parts and riveted seams.
The Beast comes with a single 758.5 square inch cooking grill, made from ¼" grade 100 carbon steel and featuring laser-cut holes, including the Hamrforge's hammer and anvil logo.
You have the option to add up to two more grates to increase your square inches to 2275.5. Choose from standard or sliding grills with a slide-out center section for easy access to your food.
You've never seen finishes quite like what's on The Beast, either, unless you've operated a steam locomotive. The entire end of the cooking chamber opens with a bank vault-style mechanism, and the firebox vents are operated with a wheel and a toothed gear.
The word "bad-a$$" comes to mind frequently when you look at this smoker.
Let's talk about that huge door on the cooking chamber. Not only does it allow for easy clean-out and removal of the cooking grate (or grates — it comes with one but supports up to three), but you can also use it to slide pizzas in and out.
Pizza night will never be the same!
The Beast is a reverse-flow smoker. That means heat and smoke from the firebox are channeled under a panel at the bottom of the cooking chamber until they reach the opposite end. Here, a gap allows them to rise and enter the chamber.
The dual chimneys (which look insanely cool) are at the firebox end, so the natural flow of air draws the smoke back across your food before ultimately escaping.
The firebox has a double-wall construction for superior heat retention and better fuel efficiency. A removable charcoal/wood basket makes loading and cleaning the firebox simple, and an optional
charcoal basket for the cooking chamber converts The Beast into a charcoal grill for direct-heat cooking.
On the front is a fixed metal shelf that nicely includes four tool hooks, something we rarely see on an offset smoker.
And did you know The Beast is "portable?" That's right; it was purpose-built for loading onto a pick-up truck with a winch and ATV ramps. OK, so you may not take it for a picnic, but you could run it up to the cottage for the summer. You can even roll it around your patio surprisingly easily, despite it weighing about 1200 pounds.
Pros
Extremely well made
Lifetime warranty against corrosion
¼" steel construction
Locking side door for easy access/pizza oven
Four large wheels and towing handle
Reverse flow smoking for total smoke coverage
Looks incredible
Cons
Might look a little too industrial for some
It goes without saying that this is an elite smoker. It's versatile, too, opening up endless possibilities for smoking, roasting, baking, and grilling. And it's all backed up by a "no questions asked" lifetime warranty.
May you live a long and happy life full of delicious food made on your Beast.
What is an Offset Smoker?
If you're thinking about buying an offset smoker, then you probably already have a good idea what they are, and what you can do with one.
In a nutshell, to avoid preaching to the choir, as it were, a smoker is a device designed to cook food indirectly at low temperatures in a smoky environment. Not only do smokers cook food, but they also impart flavor from the smoke generated by the cooking fire.
There are three major categories of smokers:
Vertical
Cabinet,
Horizontal Offset.
An offset smoker typically looks like a regular charcoal grill but with 2 separate chambers, one for cooking in and a second small firebox attached to one side. The position of the firebox is what makes it a horizontal offset smoker.
How Does An Offset Smoker Work?
Charcoal and wood go in the firebox, where it is ignited. This is the sole source of heat used for cooking.
The heat and smoke are channeled through an opening between the firebox and the main cooking chamber of the smoker, eventually exiting from a chimney or stack.
A damper on the firebox and a vent on top of the chimney of the smoker allows you to control the temperature and amount of smoke inside the cooking chamber.
Why Choose An Offset Smoker?
It's unarguable that other types of smokers are easier to use, particularly electric smokers and pellet smokers. So why buy an offset?
Most offset smokers have a large cooking area, often comprised of 2 or 3 individual racks, which means you can smoke a lot of meat all at once.
Want to smoke an entire pig? There's an offset for that. Just be sure to choose one that's a size that makes sense for your purposes.
Over the course of many hours of smoking, it may become necessary to stoke the fire or add more fuel. With an offset, you can access the fire without lifting the lid on the cooking chamber. As a result, you'll lose far less heat, and you won't significantly prolong your smoking time.
One of the real beauties of owning an offset smoker is that you won't need to find room for both a smoker and a charcoal grill — many are combo smokers and grills where you can just light up your charcoal in the main cooking chamber and grill the way you're accustomed to.
Not that this is a practical reason to buy an offset, but they also look so cool in your backyard!
Many of them look like something cowboys or pioneers might have cooked on. To my eyes, they look like little steam engines. There's just something about the appearance of an offset that says serious smoking is going on here.
Things to Consider Before Buying an Offset Smoker
There are some points to ponder before you dive in and pick up an offset. As with anything, there are cons to go with the pros, and they ought to be on your mind, too.
Consider the weather conditions where you live and the degree of exposure in your primary grilling site. Bad weather, like high winds, heavy rain, and low temperatures all have a negative impact on smokers, and can hinder performance.
If you have a tiny yard, or you're an apartment-dweller, an offset may not be the smoker for you. Most of them have a large footprint — make sure you've got space before you plunk down your money.
Running a smoker is not like lighting up a standard charcoal grill, and it's certainly not like flipping a switch on a gas barbecue! The fire needs constant attention and care to ensure it's continuously burning at the right size for hours.
There's a learning curve with smokers, and if you don't put the time into honing your skills, you may grow frustrated with your purchase.
What to Look For in an Offset Smoker
If you've thought things over and decided that yes, this is the style of smoker for you, here are some general features to look for before settling on a particular make and model.
Heavy Metal
If you've any grasp of physics, you'll probably quickly realize that the biggest drawback of an offset smoker is the very thing that makes it what it is — the offset firebox.
If all the heat is generated at one side, won't the far side of the grill be significantly cooler than the closer side?
A smoker made with lightweight metals will probably bleed heat all along its length, leaving you with a hot zone at one end and a cool zone at the other. You could compensate by moving the meat around, but that's something you'll want to minimize at least, if not eliminate entirely.
Look for a heavy-duty smoker to minimize heat loss and keep the temperature as consistent as possible from end to end. What's heavy-duty? Think ¼-inch steel. Having said that, it's not easy to find this level of quality in a non-budget destroying model.
Good Ventilation
The way to control the temperature on an offset smoker is by controlling the flow of oxygen.
Oxygen is a necessary element for fire, and the more oxygen present, the more burn there will be. This is how we control temperature in our grills via vents. But if vents are too small or too hard to adjust, you won't be able to manage your temperature, and holding a consistent temperature is the key to good smoking.
Internal venting is also important, so check to see where the connection between the firebox and the main chamber is. If the two meet at the grill height or higher, you won't get good heat distribution.
Heat likes to rise, so it's no good to have the heat starting at the same height as the meat. Look for a lower connection for better heat dispersion. Or better yet, seek out a reverse flow technology smoker where the heat and smoke goes twice the length of the cooking chamber, enveloping all the food before it can get to the exhaust stack.
Quality Paint Job
A fancy paint job isn't necessary for good smoked meat, but it does have to be a quality job done with high heat paint.
If the paint can't stand the heat, or if it's so thin it chips off, you'll soon find yourself with exposed metal that due to the elements soon begets rust.
Not only is rust ugly (and your smoker should be a point of pride!), it also causes thinning of the metal, and that can lead to heat loss and reduced performance.
Thermometer
As with all grills and barbecues, temperature is very important with a smoker.
While you can (and should) use an instant read thermometer to help determine doneness, it is also extremely helpful to know what the temperature is inside your smoker throughout the process. It is especially handy to know when the grill has gotten up to the right initial temperature.
A good quality, calibrated built-in temperature gauge is an absolutely non-negotiable element of an offset smoker. If it isn't there, it isn't here!
Handy Rollers
A good quality smoker is going to be a weighty item. We're talking a team-lift item here!
If you're planning on moving your smoker around (and even if you're not), you'll appreciate having a good set of sturdy wheels for rolling your new baby around the patio.
Storage Space
This applies to any grill — storage space will never go to waste! Good models will use the dead space between the legs for storage, usually with a solid shelf or grate for keeping larger items off the ground.
Hooks for utensils are also great, but for me the most important thing is a side or front shelf. I insist on having a space to put plates, sauces and spices, and my beverage of choice!
Beware of Bargains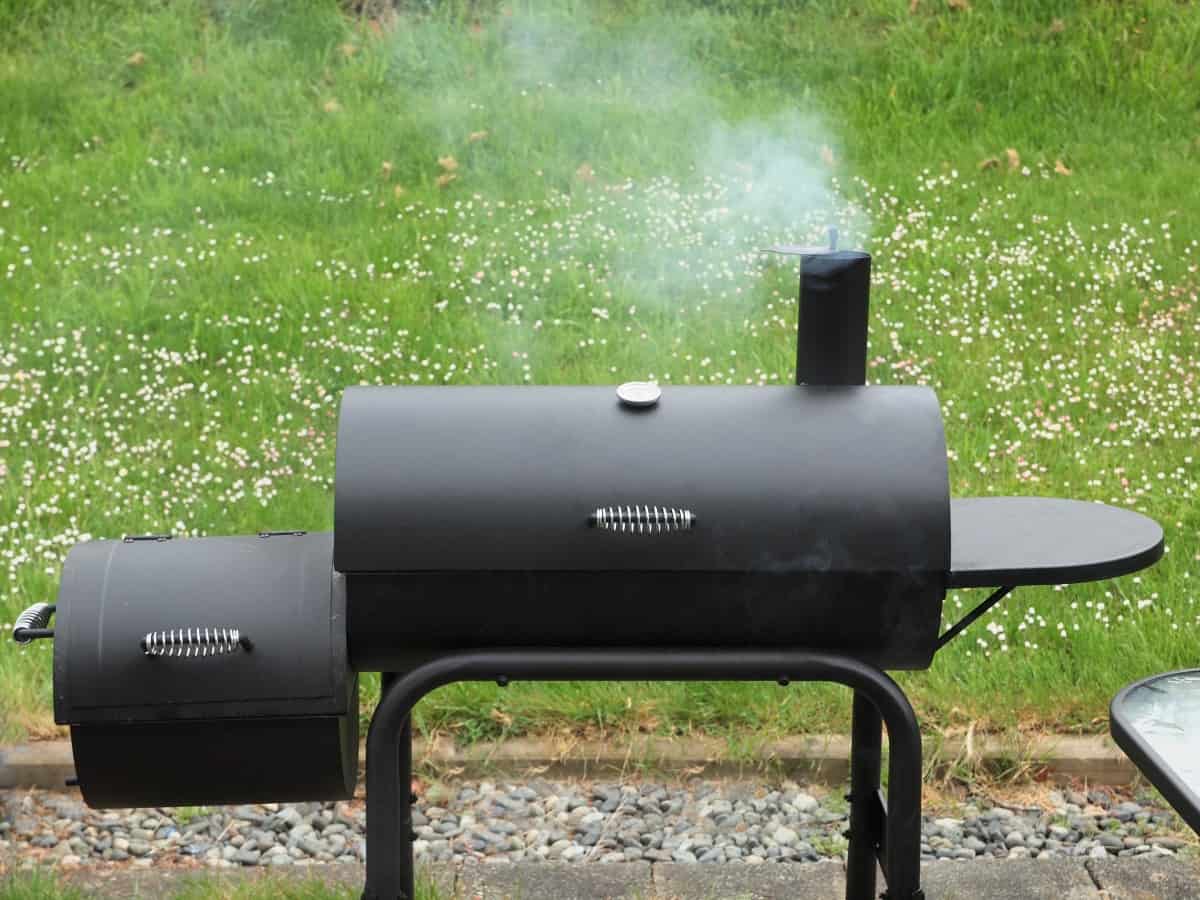 The market is full of low-cost offset smokers, and they are easy to find online and in stores. While a bargain-basement price might seem appealing, be warned that these smokers might be enough to make you quit smoking altogether. They are cheaply made and make smoking very difficult.
But, if you think you'd enjoy the challenge of smoking tasty meat with bad seals, inadequate ventilation, cheap hinges, flimsy wheels, and limited temperature control, then have at it!
Now, if you are somewhat handy, it is possible to turn a cheap smoker into a decent smoker with a little customization. Many people enjoy fidgeting with baffles and applying high-heat silicone to try and upgrade a low-cost unit.
The Internet is full of success stories and how-to videos, so if you want to channel your inner MacGyver, here's your chance. Be sure to share your results with us!
We believe it's possible to purchase a good-quality smoker without draining your bank account, maxing out your credit card, or spending a weekend customizing instead of cooking. With that in mind, may we present our selections for your consideration in our roundup of offset smoker reviews.
Our Top Recommendation
If you make a choice based on your budget and your needs, you'll do just fine with any of these smokers. But, if we had to pick just one unit to please the most people, it would have to be the Horizon Smokers 20 Inch RD Special Marshal Smoker.
The price point is not totally in the stratosphere, the construction is excellent, the size is ideal for many applications, and it just looks so damn good!
If you planned on spending more, you might want to reconsider. On the other hand, if it seems out of your reach, consider stretching the budget a little. You'll be glad you did.
Final Thoughts
Well, that's it! Painless, right? Now you should have a pretty good idea of at least what to look for in a smoker, and maybe even a clear picture of which smoker is right for you. You're probably so close to your first brisket or rack of ribs you can taste it!
If you want to know more about the best offset smokers and how they work, be sure to read our article about that exact topic. You might also want to check out some of our articles about various meat cuts and how to cook them to get some inspiration for your new grill-baby.
We love feedback, so please let us know what you thought about the article, and if you have your own ideas about what the best smoker is, we're all ears!
Until next time, we wish you tender meat, succulent sauces, and barbecues without rain.
Happy grilling!