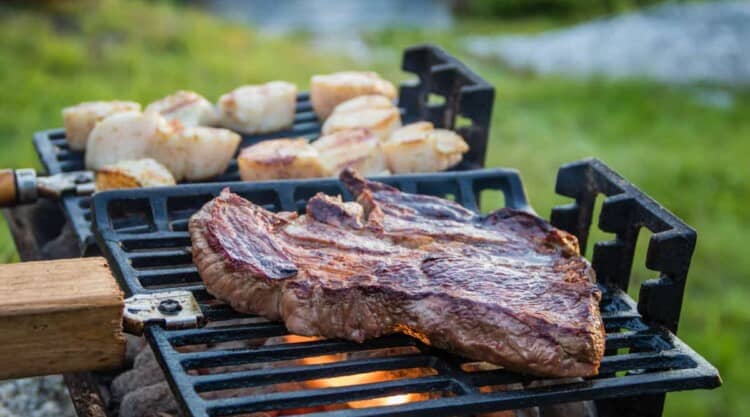 In this article we take a look at the best hibachi grills. Whether you're in the market for a new hibachi grill, or you've never considered one until this very moment, this article is a must-read if you love charcoal grilling.
Why buy a hibachi?
It must be part of human nature to turn simple things into complicated things. That's not a complaint! Who would trade their smartphone for a plastic rotary-dial mounted to the kitchen wall?
But, there's something to be said for stripping things down to the bare essential elements that make them functional and fun. That's what's so great about a hibachi — burning charcoal, hot metal, delicious food.
What more do you need when it comes to barbecue?
You're about to read up on four of the best models, with full details on what makes them tick, why you might want one, and the pros and cons to be aware of. We'll also look back on the history of hibachi, what you can cook on one, and the features to consider when you're ready to buy.
That was the smoke — here comes the fire!
At a Glance: The Best Hibachi Grills Discussed in our Guide
Hibachi Grill Reviews — A Detailed look at Our Recommendations
Before we get into our buying guide, here are the details on the top 4 models we recommend as the best.
Lodge Cast Iron Sportsman's Grill
1
If you like your companies backed by a rich history, then this grill ought to be at or near the top of your list. Lodge Cast Iron has been forging iconic cookery in Tennessee since 1896 — this is the real deal.
It's a pint-sized cooker, as all hibachis are, measuring just under 21 inches long, a foot deep, and 10 inches tall. But, it weighs nearly 31 pounds — that's some serious cast iron.
So, while you're not likely to take it backpacking, it's ideally sized for RVing, or as a drive-in camping grill, as well as a good tailgate grill, and for small patios or balconies. Even if you have a large yard and a big grill, it's fun to cook for two with minimal set-up time.
The pre-seasoned grate provides 142 square inch cooking surface. That's plenty of space for a half-dozen hot dogs or a few sausages, a couple of steaks or chops, or two or three burgers.
You might think going this simple means giving up control? Not the case! A sliding panel adjusts the airflow, allowing you to adjust the temperature up or down. Combined with the adjustable height grate (two positions), you'll be able to sear over intense heat, or char-grill to perfection, or even roast delicate vegetables for sides.
Poking the coals is easy, even mid-cook. Just open the flip-down door and make your adjustments without disturbing your food.
Strangely, Lodge Cast Iron offers no written warranty on its non-enameled products. If you dig deep, though, you'll find this tidbit:
There is not a written warranty for Lodge Cast Iron cookware; however, we do stand behind every product manufactured. For product problems, please contact Lodge Customer Care, and we will solve the problem to your satisfaction.
It's kind of a handshake agreement — whether that's enough for you, only you can say.
Pros
Black color is a natural carbon patina, not paint
Temperature control via airflow, just like a full-size charcoal grill
Durable, high-quality cast iron
Cons
Flimsy-looking handle might be a palm killer on a 30+ pound lump of iron
Heavy for a portable grill (that's the trade-off for good cast iron)
No written warranty
This attractive little hibachi offers an appealing combination of portability, durability, and great food-ability.
If you're not willing to sacrifice quality for a lower price or a lighter-weight model, keep the Lodge Cast Iron Sportsman's Grill at the top of your list.
Marsh Allen Table Top Cast Iron Hibachi
2
There's not a lot of information out there about Marsh Allen, except that they market a range of inexpensive outdoor gear, and they're owned by Kay Home Products, a well-known distributor and mainstay of Amazon.
But, given the price and versatility of this cool hibachi, we're not going to worry much about provenance.
The most obvious point of difference between this hibachi and most others is the unique grate configuration. Totaling 157 square inches, the cast iron cooking area is divided into two identical grids. You can position each one individually with the attached handles into one of four positions.
What's great about this set up is you can move them up and down together to cook larger items, or set them at different heights for two-zone cooking.
You could sear a steak on one side and then shift it over to finish on the other side. Or, cook meat on one and veg on the other. There's even a separate vent on each side for heat control. It's remarkably well-thought-out for such a small grill.
Of course, each side is so small (78.5 square inches), you'll be hard-pressed to cook more than one or two items. But, you don't buy a grill like this for family reunions; you buy it for convenience.
It measures just 18 inches long by 10 inches deep, so it will fit just about anywhere. Wooden side handles make carrying a breeze, and it weighs under 16 pounds. It's just about the perfect size for a camp or picnic grill.
Anecdotally, there may be some issues with manufacturing quality.
Reports are out there of uneven legs and ill-fitting grates. But, most of these problems can be overcome with minimal effort (if yours even has them), making the Marsh Allen Table Top Cast Iron Hibachi worth the tiny investment.
Pros
Most versatile cooking grid we've seen on a hibachi
Curved outside ends to prevent sausages and wieners from rolling to their deaths
Wooden handles to reduce the likelihood of burns
Cons
"Fit and finish" not up there with more expensive models
Flimsy wire grate for charcoal
No one, including us, would ever claim this is the best hibachi money can buy. But, for the money it costs, the bang-for-the-buck is tough to beat.
It's a fun little grill, and even if you only get a few seasons out of it, it'll pay for itself.
For casual charcoal grilling at home, or for a portable charcoal grill with more options than you'd expect, this is a good buy, not a goodbye.
Bruntmor Portable Cast Iron Hibachi
3
No, you're not seeing double, and no, we didn't make a mistake. The Bruntmor hibachi is a virtual carbon copy of the Lodge Cast Iron version. If it's true that imitation is the sincerest form of flattery, then we know for sure the Lodge Sportsman's Grill is a grill worth copying.
But why would you buy a copy? You probably already know the answer is "price."
Yes, the Bruntmor offers virtually identical specs at a lower cost, mainly because it's made in China and distributed by an international company. Bruntmor sells via many popular channels, including Amazon, Walmart, and Bed Bath & Beyond.
If you didn't read the Lodge Cast Iron review, I'll quickly tell you this is a small, but heavy hibachi, weighing over 30 pounds. It's capable of cooking enough food for 2-4 people (depending on what you're cooking) at once on its 17″ x 9″ grate.
Temperature control is achieved via an air vent with a damper on the bottom plate and a charcoal access flap on the front. The grate has two positions, and between them and the adjustable airflow, you'll have a surprising amount of control over your cook. Sear steaks, grill fish, and roast veggies with equal confidence.
In terms of durability, and that's usually where Chinese-made products stumble, it's difficult to say.
We certainly do not expect the quality of construction and materials to equal the made-in-the-USA Lodge Cast Iron model. Having said that, though, many buyers report terrific results. The key is to keep up your maintenance routine — but that ought to be a given with cast iron, anyway. Plus, there's a 1-year limited warranty.
Pros
A cast-iron hibachi at a reasonable price
Grip-friendly handle
A more robust cooking experience than you might expect from a low-cost charcoal grill
Cons
Quality of materials/workmanship might not be as high as similar models
Looking for a quality hibachi experience, but not prepared to drop a lot of cash? (Maybe you're unsure if you really need one, or you plan on limited use.) The Bruntmor Portable Cast Iron Hibachi is a logical choice.
Cajun Classic Cast Iron Hibachi
4
Looking more like a bucket, or maybe a Japanese lantern, than a grill, this hibachi is round instead of the typical rectangle shape of most competitors. The advantage of this shape is you gain cooking surface area. That means you can cook larger items than you might on other hibachis.
The cooking surface is 15 inches in diameter, and the seller says you can fit up to nine 4-inch burgers on at a time. (We'd rather have fewer but larger burgers. But to each, their own.)
Since it's pre-seasoned, you can start cooking right away, too. It's heavy, too, weighing about 40 pounds. That's your guarantee it's made from 100% cast iron.
A front vent allows airflow control, helping you adjust the heat as desired. That's your only control, however, since the grate is fixed in one position for cooking. You do get a handy tool for lifting the grate, adjusting the damper, or stoking the coals without burning your fingers.
Cajun Cast Iron is an American distributor of internationally-made cast iron cookware. While they don't actually make anything, they are a "real" and reputable company. There's no warranty with this hibachi, but the seller offers a no-hassle 45-day return policy.
Pros
Heavy-duty construction
Large cooking surface
Helpful multi-purpose tool included
Cons
Grill only sits at one height
Narrow carrying handle means 40 pounds of metal straining your hand
The Cajun Classic Cast Iron Hibachi costs a little more than some other models, but it's a solid grill and should last a long time with proper care.
It's not the most versatile, either, but for straight-up charcoal grilling, it's more than up to the task. Plus, it has you covered when you need to cook a bit more food for unexpected guests.
Consider it as a fun addition to your backyard cooking line-up or for real BBQ on the road.
What is a Hibachi Grill?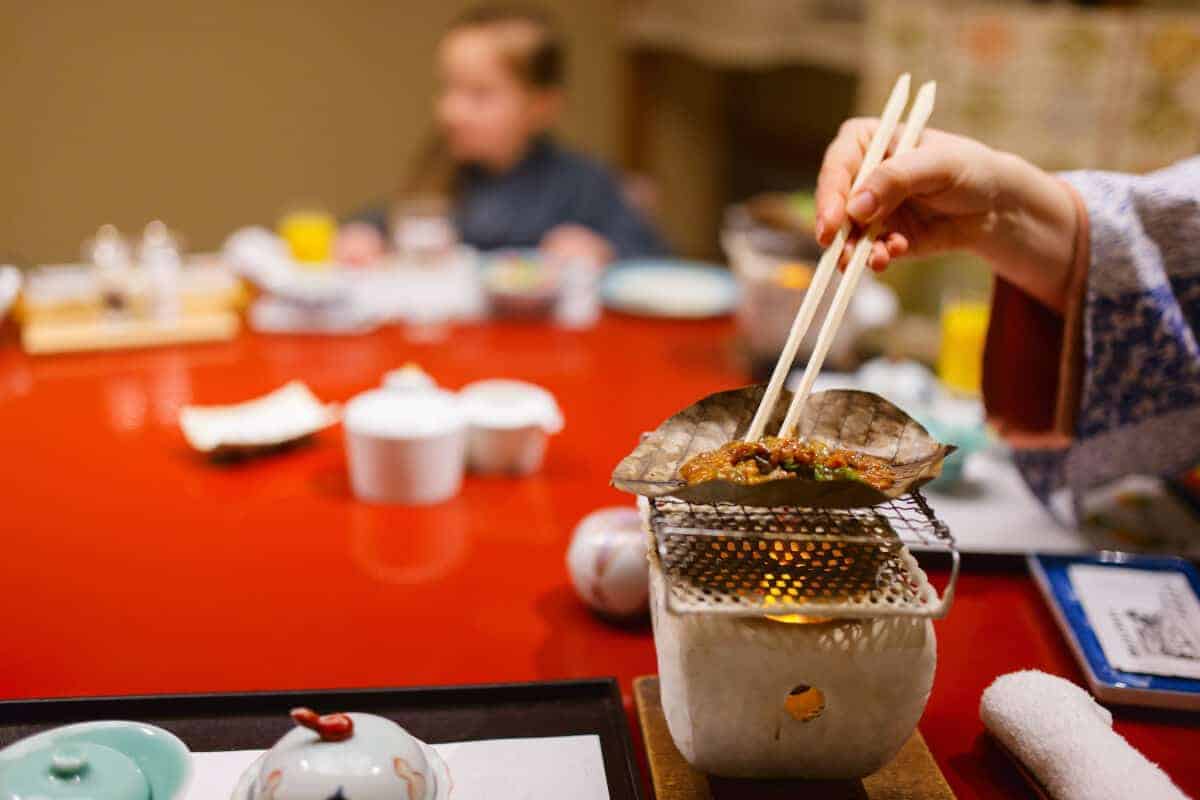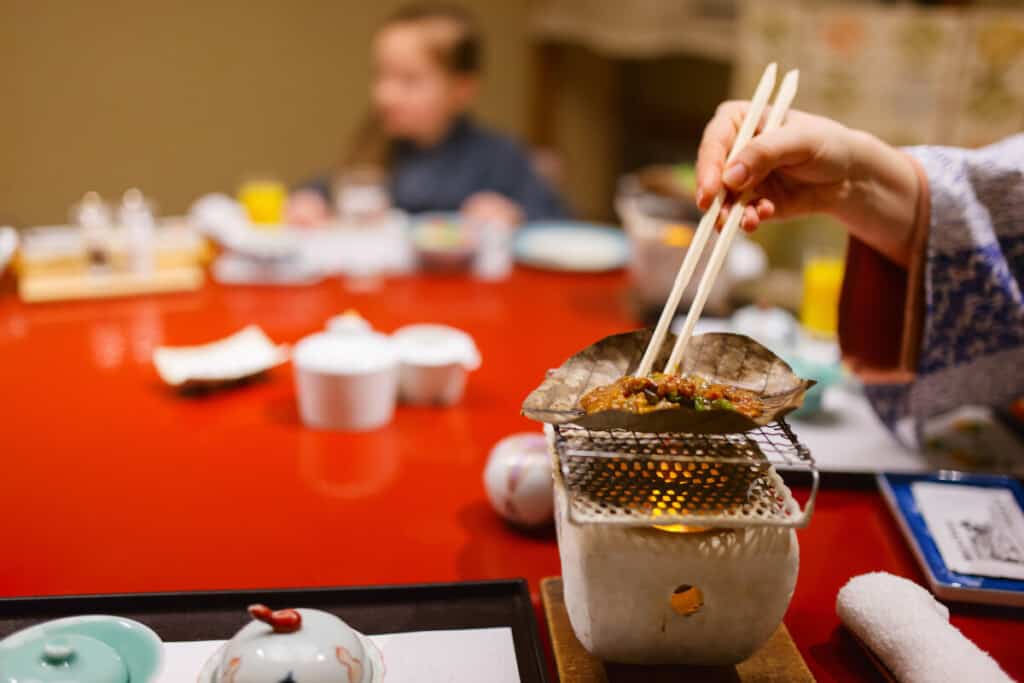 The history of hibachi is shrouded in mystery. Some sources suggest it stretches back many centuries. Others say it was invented in the middle of the 20th century. Not exactly the next Da Vinci Code, but still weird that there's so much discrepancy.
The truth is probably close to this: modern hibachi evolved from traditional Japanese cooking and came to the western world after the Second World War.
Today's hibachis are small, usually portable, charcoal grills. Typically, they're made of cast iron for durability and superior heat retention.
A hibachi uses an open grid for a cooking surface, and food is cooked over direct heat, generally positioned just a few inches above the charcoal.
When are Hibachis Grills Used? What Can You Cook on Them?
There are many occasions when you might want to use a hibachi grill. They are especially well suited to cooking away from home, thanks to their compact size and simple fuel.
It's easy to set one up for a tailgating party, and you won't need anywhere to plug in. They're great for RVing and camping, too, since you can set them on a tabletop. (Avoid plastic tops, however, to prevent a messy and dangerous meltdown.)
Similarly, you can bring one to a cottage or cabin, or even boating, provided you have a safe space to use it.
Hibachis aren't just for traveling, though. If you only have a small backyard or a balcony, a hibachi is a space-saving barbecue solution. Even people with plenty of space will find value in a hibachi.
They're ideal for cooking for one or two or as an alternative to firing up a large gas grill to cook a small amount of food. Best of all, they do all this while infusing real charcoal-grilled flavor.
Hibachis are best for basic grilling. Steaks, chops, hot dogs, sausages, hamburgers, and chicken pieces are the usual candidates, and they taste great off the grill. But, it's also easy to cook vegetables and fish at lower temperatures using just a few pieces of charcoal.
With a frying pan or skillet, you could even make a full breakfast of bacon, eggs, and pancakes. How about cooking soup or beans in a pot? Even a sturdy coffee pot could go on a hibachi grill. A hibachi can truly be your do-everything camp stove — and frankly, they're more fun than propane!
What you can't do is smoke or slow roast on a hibachi. There's no lid, typically, for convection cooking, and the food sits so close to the charcoal, you'll have a hard time keeping the temperature below 300F.
What to Look for When Buying a Hibachi Grill
If you plan to make your own choice of hibachi, or you want to know what factors were considered in making this list of reviews, here's some food for thought.
Size / Cooking Surface Area
All hibachis are small unless you have a commercial-grade unit. (And why would you?) But, you'll find a range of available sizes.
The main size factor to consider is the cooking surface. (Weight is the other, and we'll deal with that later.) They're all limited, but some more than others.
How many people will you want to cook for at once? Do you want room for pots and pans? Do you need extra length for fresh-caught fish? Think carefully about this aspect, and don't get caught short, literally.
Build Materials
Hibachis are most commonly made from cast iron. However, you'll also find models formed from aluminum or stainless steel. These lighter materials enjoy a significant advantage when it comes to portability.
However, they can't hold a candle to cast iron when it comes to heat retention and distribution, or durability. Cast iron stays hot and cooks evenly — that's why the best full-size grills feature cast iron cooking grates.
Portability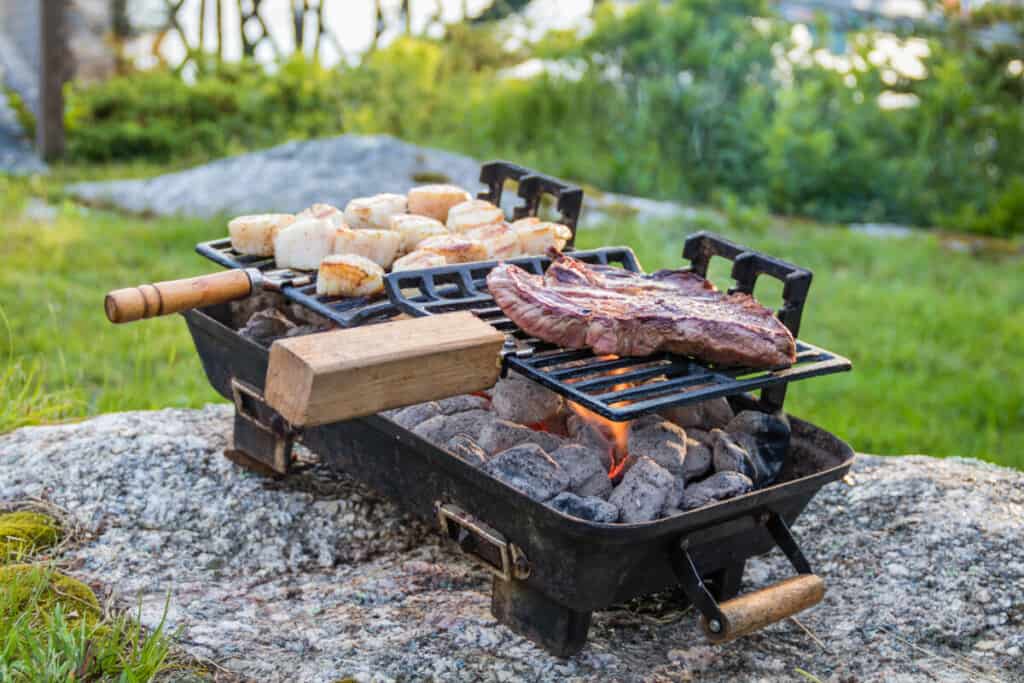 Many people buy hibachis to enjoy charcoal-grilled food away from home. How easy it is to move a hibachi around, primarily comes down to weight.
Think about where you expect to use your hibachi and how you plan to get it there. For example, a 40-pound grill isn't something you want to stow in a backpack or a canoe. But, if you're just putting it in your vehicle and driving it to your destination, that won't be a problem.
Beyond weight, take a look at how you're expected to carry your hibachi. Side handles are much easier to manage than bucket-style handles, and they're easier on your hands, too. A simple wire handle might be a deterrent to carrying your cast iron hibachi far or often.
Price
As with all barbecues, there's a wide range of price points for hibachi grills. Only you know which is right for you, but here are some thoughts to ponder.
A low-cost hibachi may not last as long as a more expensive one, but if you don't expect to use it often, you may get the most value for your money. Consider an inexpensive hibachi as an upgrade from a disposable foil grill.
Spending more, though, will usually get you improved functionality and durability. If you mean to use your hibachi frequently, and you want to try cooking lots of different stuff on it, this is a good time to splurge. You'll get more out of the experience, and you'll probably enjoy your hibachi for many years.
There's no right or wrong choice here. As always, spend what makes sense to you, and what you're comfortable with.
Final Thoughts
Now that you know more about hibachis, and you've thought about your particular needs, we hope you've found just the right compact cooker.
Hibachis are a lot of fun — you just can't top the simplicity and the pure charcoal grilling experience. Good luck with your decision and enjoy your new grill!
Even thinking about buying a new grill is exciting, so we're pretty stoked you chose us to help you out. Thanks, for checking us out today! We've got a ton more articles to help make barbecuing more fun and more rewarding, so be sure to browse all we have to offer.
You're invited to share your learning with friends, too. All are welcome!
Join us on social, too, for updates and random recipes. Around here, there are no strangers, only friends we haven't met yet.
Cheers, and may the smoke never blow in your face.