Join us as we take a look at the best manual meat grinders available for 2023.
First, we take a detailed look at the best models on the market you can buy today. Then we advise what you should look for — and what to avoid — in the best manual meat grinder for you, before taking a look at the advantages of grinding your own meat at home.
Buying your burger patties, sausages, and other processed meats from your local butcher or supermarket deli may be the most convenient option. But do you really know what goes in that meat, and how fresh it is?
Recent research has found that ten samples of ground meat out of 48 tested were mislabeled.
Nine of them were found to have additional meat forms within — some even contained horse, which is illegal to sell in the US. Try explaining that to little Katie, the horse enthusiast, while she's trying to enjoy a cheeseburger.
We're not saying that you should stop eating ground meat, but have you ever considered grinding your own? You'd be amazed by the difference in texture, quality, and freshness compared to prepackaged ground meats, and making your own burgers is a hell of a lot of fun too.
At a Glance: The Best Manual Meat Grinders Discussed in our Guide
Note: Clicking the above links will take you to further information, current prices and customer reviews on Amazon.
Our Choices for the Six Best Manual Meat Grinders
Here are our choice for the six best manual meat grinders you can buy.
LEM Products #10 Stainless Steel Clamp-On Hand Grinder
1
When looking at manual meat grinders, they don't come much more old school than this grinder from LEM Products.
It may look like something your grandparents would have used, but it works just as well as any modern mincer. Built to last, who knows, grandma may still have one from years ago, hiding in her kitchen.
You can't help but notice the smooth and shiny stainless steel finish of this sturdy-looking grinder from LEM. This is one grinder that will last you many years and won't corrode or rust.
A wider opening of the clamp stand ensures you can easily attach this grinder to almost any table or countertop.
One problem you may find is that the grinder's output sits much lower than many other manual grinders. You're going to need a shallow bowl or plate to catch the meat as it falls.
This is an efficient and powerful grinder, with a stainless steel knife for smooth blade chopping.
It comes provided with a coarse and thin plate for different grinds, and even includes a set of three sausage stuffing tubes.
Manufacturer Specs
11.5 inches by 8.3 inches by 5.3 inches.
Weighs 8 pounds.
Heavy-duty stainless-steel construction.
Includes two stainless-steel plates—coarse: 0.38-inch, and fine: 0.19-inch.
Set of three plastic sausage stuffing tubes.
Stainless steel knife and a stainless stuffing star.
Clamp at base accommodates a width of 1.25 inches.
Pros
Solid, rust-proof stainless steel construction.
Excellent wide-clamping mechanism.
Capable of grinding any meat and even soft bone.
Includes three stuffing tubes for sausage making.
A wooden crank handle is more durable than plastic and more comfortable than steel.
Easy to disassemble for cleaning.
Cons
Ground meat may be difficult to collect, as it is too low and close to the counter's edge.
A premium price for a premium product.
This LEM clamp-on hand grinder is a sturdy device, which could last you many years. It will pretty much chew up any cut of pork, beef, or game that you can throw at it.
The stainless steel will ensure it doesn't rust, with parts that don't contain any harmful chemicals to alter the taste or quality of the food.
Weston Realtree Manual Meat Grinder and Sausage Stuffer
2
Our second choice for the best manual meat grinder is another classic looking product, this time made from cast iron.
Sturdy enough to take on your hunting trips with you, it even includes a camouflage storage cover in the box.
Suction cup feet allow for mounting to any surface, including that bench in your hut.
A cast iron construction ensures this grinder's durability, even when thrown in a backpack or the included storage case. However, it is much heavier than stainless steel or aluminum grinders—weighing nearly 14 pounds.
An electroplating of all the surfaces ensures the parts are safe to handle food items. This device is just the right size for easy mounting on a countertop. Rubber suction feet can be used for a temporary mount, but there are also drilled holes for a more permanent fixing.
Those rubber feet provide extra height as you collect the ground meat from the output tube.
With two different plates for coarse or fine grinding and an included sausage stuffing set, this is ideal for sausages or freshly ground burgers at home.
A wooden handle and durable crank provide for a fluid motion as you grind.
Manufacturer's Specs
7 inches by 11 inches by 9 inches.
Weighs 13.8 pounds.
Cast iron construction
Food-safe electroplated tin coating.
Includes 0.18-inch plate for fine and 0.39-inch plate for coarse grinds.
Sausage stuffing kit, with three funnels, a stuffing star, and flange.
Precision steel grinding knife.
Pros
Old school—classic but efficient design.
Solid cast iron construction.
Food-grade electroplated tin coating.
Easy to use and disassemble for cleaning.
Extra accessories, sausage stuffing tubes, and camouflage storage pouch.
Can be permanently screwed down for extra stability.
Cons
Rubber suction cups don't work well, with wobbling as you grind meat.
Too much meat or connective tissue can cause it to clog.
Steel knife may not be as sharp as other manual grinders.
Non-stainless plates and blades may rust if not stored correctly.
Except for the wobbly rubber feet, this Weston meat grinder is a great machine. To get the most from it, we would recommend permanently fixing it to a countertop at home for more stability.
Sportsman MHG22 #22 Cast Iron Countertop Bolt Down Manual Meat Grinder
3
As the name suggests, this Sportsman manual meat grinder is designed for those who like to hunt. The manufacturer boasts that you can grind up to four pounds of beef, venison, rabbit, chicken, or turkey per minute with this hand-cranked grinder.
With the included stuffing funnels, you could be enjoying sausages on the campfire in no time at all.
Although another vintage-style machine, the Sportsman grinder's cast iron construction means it has been built tough for the task at hand.
It can easily handle with aplomb tougher chunks of beef or pork butts. The larger grinding plates can quickly chew through four pounds of meat per minute.
There's no wobble as you grind, with this grinder using bolts to anchor securely rather than weaker suction cups. The bolts are well worth the effort for a more permanent and stable fixing to your countertop.
Attachments include two plates for fine or coarse grinds, and a sausage funnel along with three plastic tubes. Unfortunately, grinding can take a lot of effort with this machine, and cleaning can take time, as the grinder can't be put through the dishwasher.
The use of cast iron without a coating also makes it susceptible to rust.
Manufacturer's Specs
10 inches by 5.2 inches by 15 inches.
Weighs 12 pounds.
Cast iron construction.
Countertop design with bolting attachments for safety and stability.
Includes one cutting knife.
Grinds four pounds of meat per minute.
Two cutting plates: fine 0.25-inch and coarse 0.5-inch.
Three sausage tubes and a funnel attachment included.
Ergonomically designed wooden handle to prevent fatigue.
Pros
Tough and rugged construction.
Anchoring system uses bolts for security rather than suction cups.
Plenty of attachments for more versatility.
Faster than most other manual grinders.
Can handle any meats, even tougher cuts.
Affordable price point.
Cons
Rough build quality, with a poor finish which lacks polish.
Liable to rust with no protective coating.
Cleaning can be difficult. Permanently fixed, no parts are dishwasher friendly.
You can almost forgive the rough edges (literally) of the Sportsman grinder, as it offers a durable and stable machine at a low price.
You could easily justify leaving one attached to a bench in your hunter's cabin. Just ensure it's properly cleaned and thoroughly dried after each use—cast iron will rust.
Gideon Hand Crank Manual Meat Grinder With Powerful Suction Base
4
From the old school metal meat grinders of yesteryear, we jump into the 21st century with this stylish household grinder from Gideon.
Using a heavy-duty plastic construction and durable steel, it will fit right into your modern kitchen decor.
The Gideon meat grinder uses a sturdy construction of both plastic and stainless steel parts, to grind meats, vegetables, or even fruits.
Every part is food-safe for no chemical or flavor interaction with food being minced. When you have finished grinding, the whole machine is dishwasher friendly for easier cleaning.
Safety is a key aspect of this grinder—with the lockable blades enclosed in a secure chamber. It will only operate when everything is enclosed, and a provided meat pusher ensures your hands don't get near the blades.
The only issue can be the suction cups, which could come loose as you grind and cause the machine to wander.
With two grinding discs included as standard, you can achieve a fine or coarse grade of mince. Although it has a reasonably large hopper at the top, don't overfill it. Meat can easily clog up and cause the blades to become jammed — it's much safer to add smaller pieces of meat, not all in one go.
Manufacturer's Specs
10.9 inches by 6.7 inches by 6.1 inches.
Weighs 2.5 pounds.
Durable steel frame with a heavy-duty plastic casing.
High-quality stainless steel blades and screens.
Includes two mincing plates for both fine and coarse mincing.
Powerful suction base.
Dishwasher safe.
Pros
Classic looks with an elegant white plastic finish.
Compact, lightweight, and portable.
Steel frame and stainless steel blades for durability.
Safety conscious with lockable enclosed blades and a meat tamper.
Versatile and can be used for meat, veggies, fruit, or pasta.
Easy to disassemble for convenient storage.
Dishwasher friendly.
Cons
Suction cups don't provide enough stability.
No sausage stuffing attachments included.
May struggle with tougher cuts of red meat, and definitely won't crush bones.
The Gideon meat grinder suffers from the same problems as many other plastic machines. It's only designed for smaller quantities and will struggle with tougher cuts.
For a household appliance for just you and your family's use, it can produce enough grinding power for burgers, making pasta, or finely mincing a few veggies.
Bellemain Manual Meat Grinder
5
The Bellemain Manual Meat Grinder is another modern-looking plastic grinder designed for home use. Simple to use, a plastic hand crank gives you full control of the grinder, with a rotating lever and included meat tamper.
The Bellemain features a tough plastic body with durable stainless steel blades on a compact and lightweight grinder.
A large suction cup at the base keeps the whole device stable, although it needs a smooth surface for the best results.
A big advantage of plastic models like this one from Bellemain is the ease of cleaning. Again, it is dishwasher safe, which should sanitize all parts for food safety. Just ensure any larger clumps of meat are removed from the many cracks and crevices before loading into the dishwasher.
With only one medium grinding plate offered with this machine, you will need to cut the meat into smaller chunks. The grinder can't handle any heavy-duty grinding of tougher cuts, but is ideal for chicken or cooked meats.
Manufacturer's Specs
9.9 inches by 6.3 inches by 5.4 inches.
Weighs 2.35 pounds.
Heavy-duty white plastic base.
Stainless steel blades and disc.
Only food safe materials used.
Strong single suction pad with a lever control.
Heavy-duty plastic meat pusher included.
Pros
Stainless steel blades and disc won't rust.
Tough plastic casing.
Easily comes apart for cleaning, all parts dishwasher friendly.
Simple hand crank control.
Large single suction cup sticks better than multiple cups.
Meat tamper included for safety.
All parts are food safe.
Cons
Shorter handle than many other models.
The suction cup needs a smooth surface—doesn't stick to tiles or wood.
Only one grinding disc provided.
Not durable enough for tougher grinding, including bones.
If used on a flat, smooth surface, this can be an extremely stable grinding machine. The compact size and light weight of the grinder make it ideal for use at outdoor events.
However, remember you're not going to be able to grind too large a quantity or tougher meats without a lot of physical effort.
At first glance, the LHS Hand Meat Grinder may look very similar to any other plastic model we have featured. But it offers so much more versatility out of the box, without the need for purchasing extra accessories.
It can grind meat and vegetables, stuff sausage, extrude pasta or noodles, and even shape cookies.
Despite being one of the most compact and lightweight manual meat grinders we have looked at, you can achieve so much more with this model.
The white ABS plastic construction stands less than five inches tall but features heavy-duty stainless steel grinding blades.
The provided discs produce a fine or medium grade mince for grinding smaller quantities of meat, suitable for burgers, chilies, or sausage stuffing.
This device even includes a sausage stuffer attachment, which is rare at such a low price.
Accessories are also included for shaping pasta or making your own cookies.
Simple to use, you and your kids could have hours of fun with this grinder. The blades are enclosed in a chamber away from little hands, and an included pusher makes it safe for the whole family to use.
The only downside is that the parts aren't dishwasher safe—you're going to have to disassemble the machine, which is easy enough, and then clean it manually.
Manufacturer's Specs
9.8 inches by 6 inches by 4.5 inches.
Weighs 1.74 pounds.
ABS body.
Includes two stainless steel blades, 0.1 mm thick.
Hand wash
Includes one sausage stuffer, one dough/cookie shaper, and one heavy-duty plastic meat pusher.
Pros
Compact and lightweight—easy to store or take on the road.
Solid ABS plastic base unit.
Heavy-duty stainless steel blades won't rust or corrode.
Enclosed blades for safer use.
Includes a meat pusher to stop hands getting close to blades.
Powerful suction base with a switch.
A wide range of attachments for more versatility and family fun.
Stainless steel hand crank can be more durable than plastic handles of similar machines.
Cons
The suction cup needs a non-wooden, dry, smooth surface to stick.
May struggle with larger or tougher cuts of meat.
Small capacity.
Not dishwasher-safe — somebody has to clean up that mess.
Although we've stressed this model's family fun, don't get us wrong, it's still a pretty decent manual meat grinder. It will still chop through meats as well as any other plastic-based model, but it can do much more, too.
Sausages, pasta, noodles, vegetables, fruits, meats, and cookies can all be processed at home with this machine.
Benefits to Grinding Meat Yourself
There are many reasons why you should consider grinding your own meat at home — it's not just for improved taste. However, this is the main reason!
Once you've tasted your own home-ground burger patties, you'll never want to go back to store-bought ground beef.
You will also need to grind your own meat if you intend to make your own sausages (which is very rewarding…and a lot of fun playing with a sausage stuffer!)
But let's look at some perhaps lesser-known reasons why you should be grinding meat at home.
Quality
When you buy ground meat from your local store, you have very little, if any, control over the meat which is used. Sure, some local butchers will allow you to select the cuts to be ground, but that's very rare in larger stores where most of us shop.
Those trays of ground meat you see in refrigerated displays could come from an older dairy cow. Is it corn fed or grass-fed? Was it locally raised, or is it an imported cheaper cut?
Grinding and mixing your own can allow you more choices. You could even use a prime cut, like Wagyu, if you'd like.
You can also control the fat content — whether you want a lean 95/5 percent blend or a more burger-friendly 80/20 mix of meat to fat content.
Hygiene and Freshness
Although stores and factories have strict health codes they must adhere to, that doesn't mean they always do. There's more chance of meat coming into contact with harmful bacteria in a factory than there is in your home kitchen.
Recent data from Consumer Reports found that nearly 20 percent of ground beef in US stores contained bacteria known to be resistant to three or more classes of antibiotics.
Despite what you may think, most of the ground beef you buy in larger stores aren't actually ground in store. It's likely to have been produced in a factory before being shipped to a store, where it then sits around for a few more days, if not a week.
Once meat is exposed to air, it creates more opportunities for bacteria to thrive, and the quality can really start to wane.
Ingredient Choice
Walking around the aisles of your local Walmart, there's often tray after tray of ground beef on display. But what about more exotic cuts, like venison, ostrich, or even your simple pork for sausages?
Shopping for simple ingredients, like ground pork, can often be hit-or-miss. If and when the store has it in stock, it's not cheap.
Considering the availability of pork butts and the relatively low cost, wouldn't it be easier to grind your own? You could even grind the readily-available turkey meat, and make a leaner, more healthy sausage or burger.
Also, there's nothing more satisfying for many hunters than knowing they shot the animal, field-dressed it, and ground it down themselves for burger or sausage-making.
Taking your own meat to a store to be ground isn't often an option. Strict hygiene codes mean that many butchers are unable to grind meat they don't know the origin of.
Cost Saving
Like most things in life, doing it yourself is nearly always cheaper. Take a walk around your local store and pick up some chuck roast, then compare the price to ground chuck.
I guarantee the chuck roast will be cheaper, despite them both being the same meat. Basically, you're paying somebody to put it through a grinder for you.
Owning your own mincer, you can grind almost any meat at a much cheaper cost. Leftover off-cuts you were otherwise going to throw away can also be ground to make sure you have no waste.
Grabbing a few of the less popular cuts, or any meats which are on special price, is the way to go. You can significantly lower the cost of your next barbecue gathering without compromising on flavor.
Complete Control Over Taste
That extra choice of ingredients, freshness, and quality means you'll have more control over the taste of your finished product. You could experiment with different meat combinations, maybe adding some pork or veal to your patty mix.
For healthier sausages, why not try using ground turkey or chicken. Most manual grinders can also cope with vegetables or fruits for varied flavor additions or even making salad and veggie options.
Adding seasoning to your meat as you grind it can impart a much deeper flavor than mixing it with pre-ground meat.
Additionally, you can choose the texture of your grind for dishes that require coarser or thinner grinds. You would be amazed by the difference the grind makes to the taste of a sausage or burger.
Manual Vs. Electric Meat Grinder
Having decided to grind your own meat, the next big choice, as with any kitchen appliance, is electric or manual?
You might assume electric would win every time, but both electric and manual grinders have their pros and cons.
Manual Meat Grinder — Pros
Manual grinders will typically be much less expensive if you want to try your hand at grinding meat at home. As there is no motor or electrical component, manual grinders will often be under a foot tall and weigh just a few pounds.
That extra compactness and the lighter weight make them ideal for use in kitchens with limited workspace, or on the go.
If you're an avid hunter, you could easily pop one in your pack. Why haul a complete deer back when you can process it back at your cabin? Just make sure you dispose of the carcass responsibly.
Not being tied to a power outlet is another big advantage if you want to use it outdoors, or maybe your kitchen simply doesn't have many spare sockets?
The lack of powerful motors or electrical innards also makes them easier to disassemble and clean down.
Manual Meat Grinder — Cons
The main downside of a manual meat grinder is the physical effort it requires—not recommended for people with mobility issues.
You will have to manually feed the meat through the grinder while twisting the crank. You do, however, get a great arm workout.
A manual grinder may have a clamp that attaches it to a surface. You'll need a counter or tabletop, which is very straight and not too thick, to clamp the grinder properly.
Rubber suction cups are an alternative, but the machine can easily move with these, yielding it unsafe as you crank away.
For larger quantities of meat, it can be quite laborious and time-consuming. Most domestic manual grinders have only been designed to handle small amounts of meat.
To avoid meat warming up to unsafe temperatures, it's advisable only to take small batches from the refrigerator as you grind it, rather than a lot at once.
Electric Meat Grinder — Pros
Let's start with the big one — they're incredibly easy-to-use! Just plug it in, load the feed tube or hopper with meat, and flick the power switch on.
The most physical effort you will have to exert is reloading the feed tube, or maybe tamping down the meat.
Since many of the electric models include powerful motors, they will make much lighter work of tougher cuts, or meat with bones in. The powerful motor will enable you to chew through much more in a shorter time.
All of this adds up to a safer and cleaner grind. You don't have to use both hands with an electric grinder, and there's less physical contact with the meat.
The faster grind time means you don't have to worry too much about exposing the meat to the air or higher temperatures for longer periods.
Note: For those interested, we have a detailed guide on the best electric meat grinders.
Electric Meat Grinder — Cons
The motor and power of an electric grinder will push its price up. Most electric meat grinders are significantly more expensive than their manual counterparts. They will also be much heavier and take up more counter space.
The motors of electric grinders are often quite noisy, which can be a problem if you live in a smaller apartment building. Those powerful motors can be unreliable too, with overheating issues if the grinder should get clogged. If the motor is too powerful, it can strip cheaper gears over time, resulting in costly repairs.
The need for a power socket can also limit where you use an electric grinder. No more grinding meat on your camping trips, unless you have a hook-up. Most of them would be too heavy for you to take on your travels anyhow.
What to Look for in the Best Manual Meat Grinder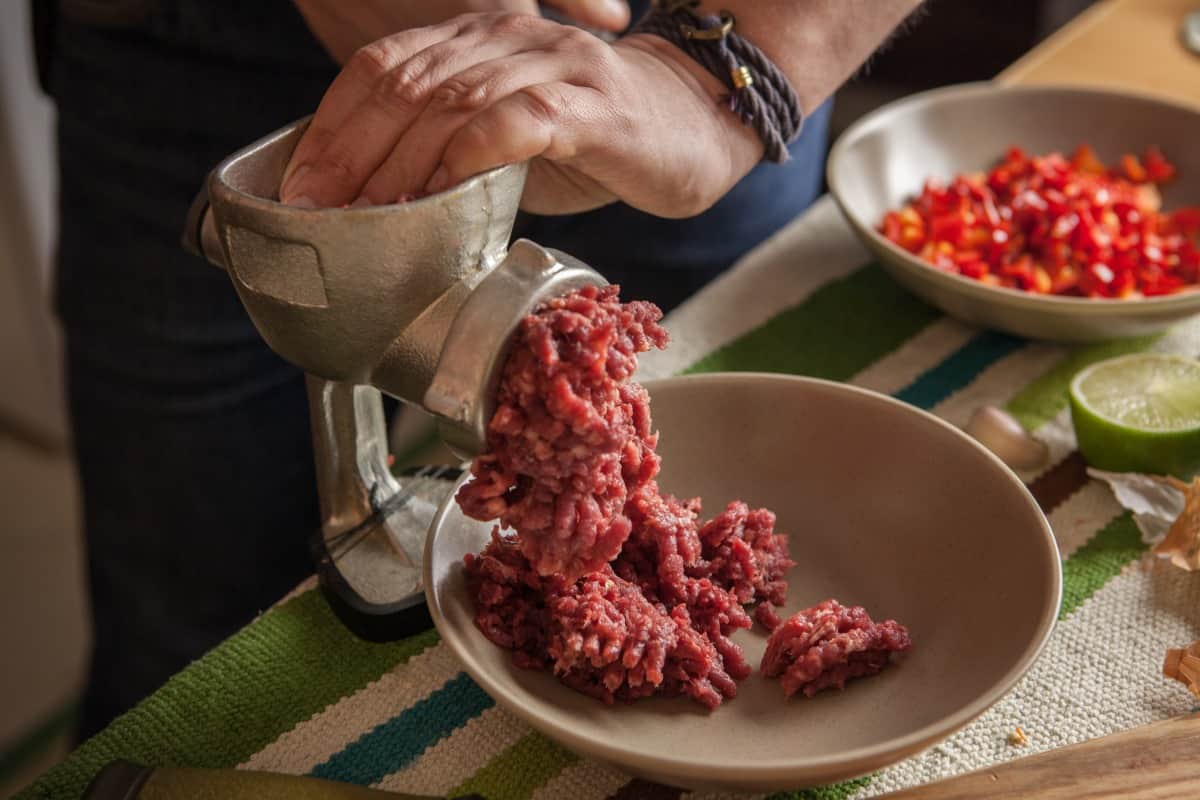 Assuming you've decided to purchase a manual meat grinder, what should you look for? Below are some of the most important factors to consider when choosing the right model for you:
Performance—How Well Does it Grind Meat?
Meat grinders, even manual versions, aren't always cheap, so you'll want to get the best value for your money. What types of meat are you going to be grinding, and does it offer enough versatility?
The flexibility of a manual grinder is very much dependent on its blade and the grinding discs. Sharper blades will allow you to cut tougher cuts, like game or red meat. If you're going to be processing meat for your pets, does it have the power to grind bones?
Consider the grinder's versatility, and whether the blades allow you to adjust the thickness of the grind? How will the meat come out? In chunks or as a thin string? How much can you load at a time? And finally, how quick will it grind the meat?
Materials and Durability
Modern, more compact, domestic manual grinders tend to use plastic in their construction. They will generally use tough ABS plastic for durability, but this should be graded as BPA-free and food-safe. Plastics have the advantage of being more lightweight, with modular designs that can be easily taken apart for cleaning.
Like those you may have seen your grandparents use, older style grinders will typically feature an all-metal construction. They typically use cast iron, stainless steel, or an electroplated metal for increased food safety.
These metal grinders will offer the best performance when dealing with tougher cuts of meat, and won't jam or clog as often as plastic models.
As a rule, you can't beat a metal grinder for durability and efficiency, although they may be more prone to rust.
Try to choose a grinder which uses stainless steel for the blades and body, for greater food safety. Always check the durability of the crankshaft and handles—and make sure if they can withstand constant usage.
Anchoring Mechanism
The best manual meat grinder should feature a reliable system of anchoring it to your countertop for maximum safety. Instability when grinding renders the device not only less efficient but also unsafe.
Suction cups are normally found on cheaper models due to their affordability and ease of set up. You won't need to alter your countertops to use suction cups, and they can be quickly affixed to almost any surface. However, suction cups don't work too well on uneven or rough surfaces, including tiles, and are prone to coming loose or wobbling.
Clamps will offer more stability for your grinder than rubber suction cups but can take longer to attach. Sometimes you may need to make structural alterations to your countertop, and they can be incompatible with thicker counters. Make sure you choose a clamp which has enough width to deal with the thickness of your worktop.
The most permanent solution is a grinder which can be bolted to the countertop. They will offer the most stability of any anchoring system but at the expense of portability. You will also have to modify your kitchen counter, although the superior stability can make it worthwhile.
Cleaning, Maintenance, And Care
As you're working with food, it is of the utmost importance to keep your grinder sanitized and thoroughly clean.
A recent study found that ground beef and veal, in particular, were more prone to heat-resistant strains of E. Coli, due to the excess moisture in the ground meat. Even cooking your meat isn't going to kill that bacteria spore, and many are resistant to antibiotics too.
Check how easy the machine can be disassembled for cleaning. Are there any special requirements for cleaning, like handwash only?
Ideally, you should try to choose a grinder which can be put in the higher temperatures of a dishwasher.
What Meat Grinder Size do You Need?
How much space do you have in your kitchen? Have you got the counter space for a bulky machine, and can your counter support it? Or do you want something which is more compact and easier to move, maybe even to take on the road with you?
Will you be using the grinder for commercial use or just light use at home for the family? If you're only going to be grinding meat for family meals or smaller parties, many of the more compact plastic designs will be easier to store and move about.
For commercial use, you will need to consider a more solid, and normally bulkier grinder to cope with the larger amounts of meat.
Some metal tabletop-mounted grinders can produce up to four pounds of ground meat per minute — but it will be hard work. For commercial use, you may be better off considering an electric grinder.
Features and Attachments
Sometimes, adults can be as clumsy as small children, so ensure the blades of any grinder you choose are fully covered.
Many of the modern designs feature blades enclosed in a chamber which can't be operated unless fully locked. An included meat pusher can also prevent fingers from getting too close to the blades.
Different grinder plates provided with the grinder can help you achieve different textures and grades of grind thickness. Some sausage recipes may require a thinner grind of meat, while burgers will need a more coarse thickness to hold them together.
Sausage-making funnels or pasta and noodle plates are sometimes included with some grinders or purchased as optional attachments.
Although not as efficient as dedicated sausage stuffers or pasta machines, they can add versatility to your grinder.
Cost
Manual meat grinders will normally be much cheaper than electric models, although some famous brands often add fancy extras.
Do you really need the extras, which will usually come at a higher price? Set a budget and try to stick to it.
Plastic countertop grinders tend to be less expensive but generally won't last as long. If you intend to grind meat on a regular basis at home, an all-metal grinder can be worth that little extra cost.
Additionally, it will allow you to grind more varieties of meat, including tougher cuts, like deer or elk.
Warranty
Whenever you buy any kitchen appliances, especially those with moving parts, check the warranty terms and conditions because there's always a small percentage of new items break quickly after purchase, and anything with moving parts is more prone.
Most manual meat grinders will come with at least a one-year manufacturer's warranty. What types of faults or parts are included under warranty, and is a replacement service available?
Conclusion
We hope our look at manual meat grinders has inspired you to try grinding your own. The results can be not only more cost-effective but better for your whole family's health.
A manual grinding machine is an ideal way to start producing your own ground meat at home. Whether it's the latest haul from a hunting trip, or simply grinding some burgers for a barbecue party, you can easily do it all. You could even grind those leftover bits of a roast and make a tasty meatloaf.
If you have any questions or suggestions, we'd love to hear your feedback in the comments below. We will try to answer all your questions.